My homemade pastry cream recipe (AKA crème pâtissière) comes together easily and flawlessly. I'm sharing my simple technique that requires no tempering (!) for silky smooth results. You only need a few common ingredients to make this rich, decadent filling that's perfect for eclairs, cream puffs, and more! Recipe includes a how-to video!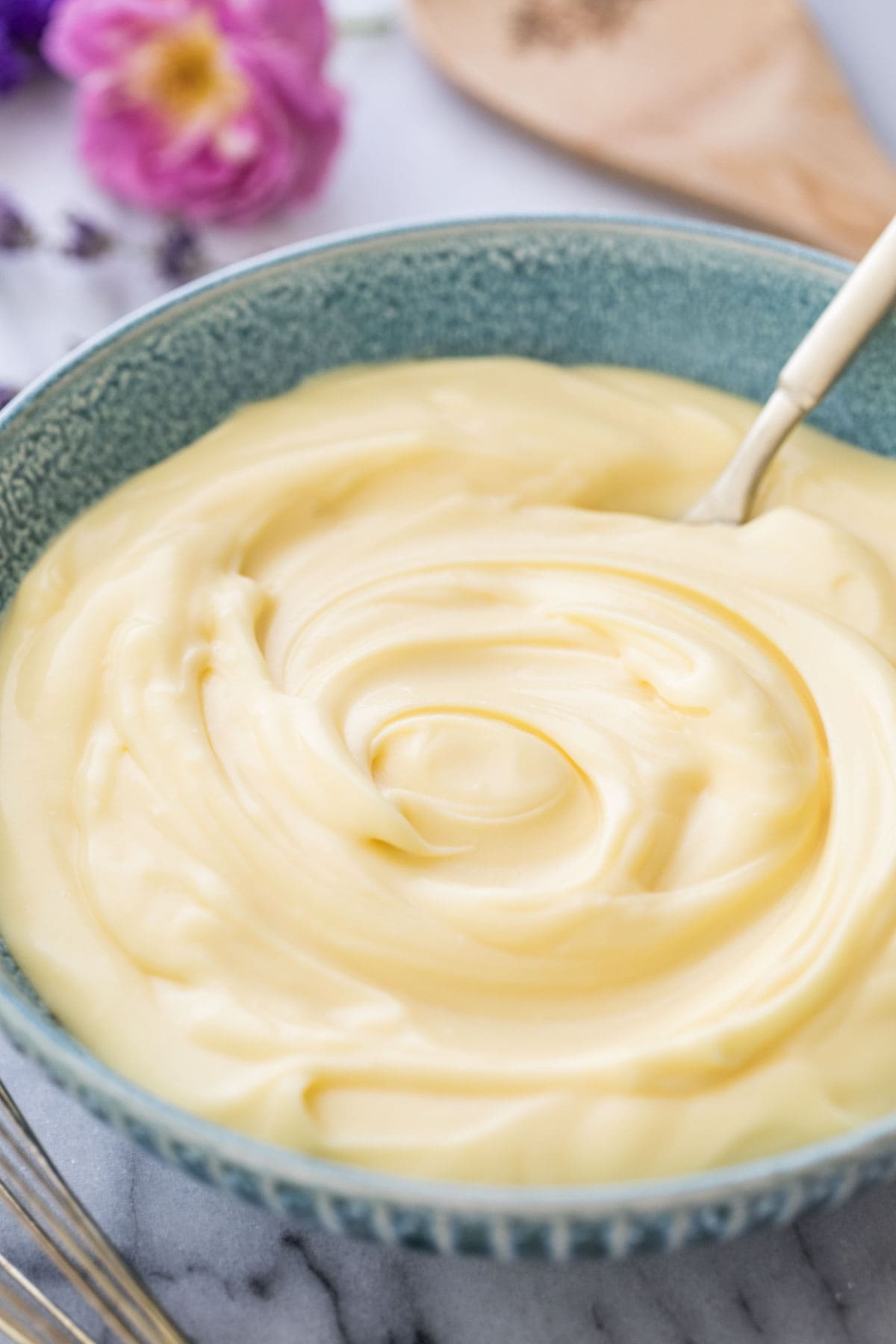 Crème Pâtissière (No Tempering Required!)
Often tucked inside chocolate covered éclairs or cream puffs or layered into fruit tarts, silky smooth pastry cream (also called crème pâtissière or crème pât) has a reputation for being not only irresistible, but also a bit complicated and fussy.
For this reason, far too many home bakers shy away from making their own and reach for box-mixes of powdered pudding instead. I get it, tempering eggs especially can be a bit intimidating and I won't say that there's no technique or extra attention required.
Traditional recipes (including the one I shared previously on the blog) rely on tempering the eggs to yield a glossy, uniform cream. This process, while important, can be complicated and stressful, and I wanted quicker, easier results (without sacrificing anything in terms of the end result!).
Today, my recipe uses no fussy egg tempering and is much simpler and faster than the method you may be familiar with. The results are exactly the same: rich, creamy, smooth pastry cream… and you use fewer dishes!
Let's get started!
What You Need
Here are a few of the key ingredients that make this recipe so rich and velvety:
Milk. I recommend using whole milk for the best, creamiest texture in the finished product, but some readers have reported using low fat milk with success! I would anticipate a thinner end product if you opt for a lower fat milk.
Heavy cream. "Heavy cream", "whipping cream", or even "double cream" will work here. This lends a rich creaminess to the finished product. If you're in a pinch, you can substitute both the milk and cream for half and half.
Egg yolks. You only need the egg yolks for this recipe. Be sure to whisk them until they're nicely broken up.
Cornstarch. This assists in thickening our crème pâtissière without contributing a floury flavor or gluey texture that can happen when using flour as a thickener.
Sugar. Unlike boxed puddings and fillings, this cream isn't overpoweringly sweet. You'll use just a small amount of sugar to let the vanilla and cream flavors shine!
Butter and Salt. I use unsalted butter and add salt to best control the flavor.
Vanilla. Pastry cream is neither overly sweet or overpowering in flavor, but it does have a quintessential vanilla taste. Now is the time to break out the good stuff, Use your homemade vanilla extract, if you have some! Vanilla beans will also work wonderfully (and leave beautiful little specks throughout!) and I've included recipe notes on how to use either..
SAM'S TIP: You'll have some extra egg whites after making this recipe. While you could just toss them, I suggest using them for one of my egg white recipes! Scroll down to the recipe notes for a few recipes that use up leftover egg whites.
Remember, this is just an overview of the ingredients I used and why. For the full recipe please scroll down to the bottom of the post!
How to Make Pastry Cream (Crème Pâtissière)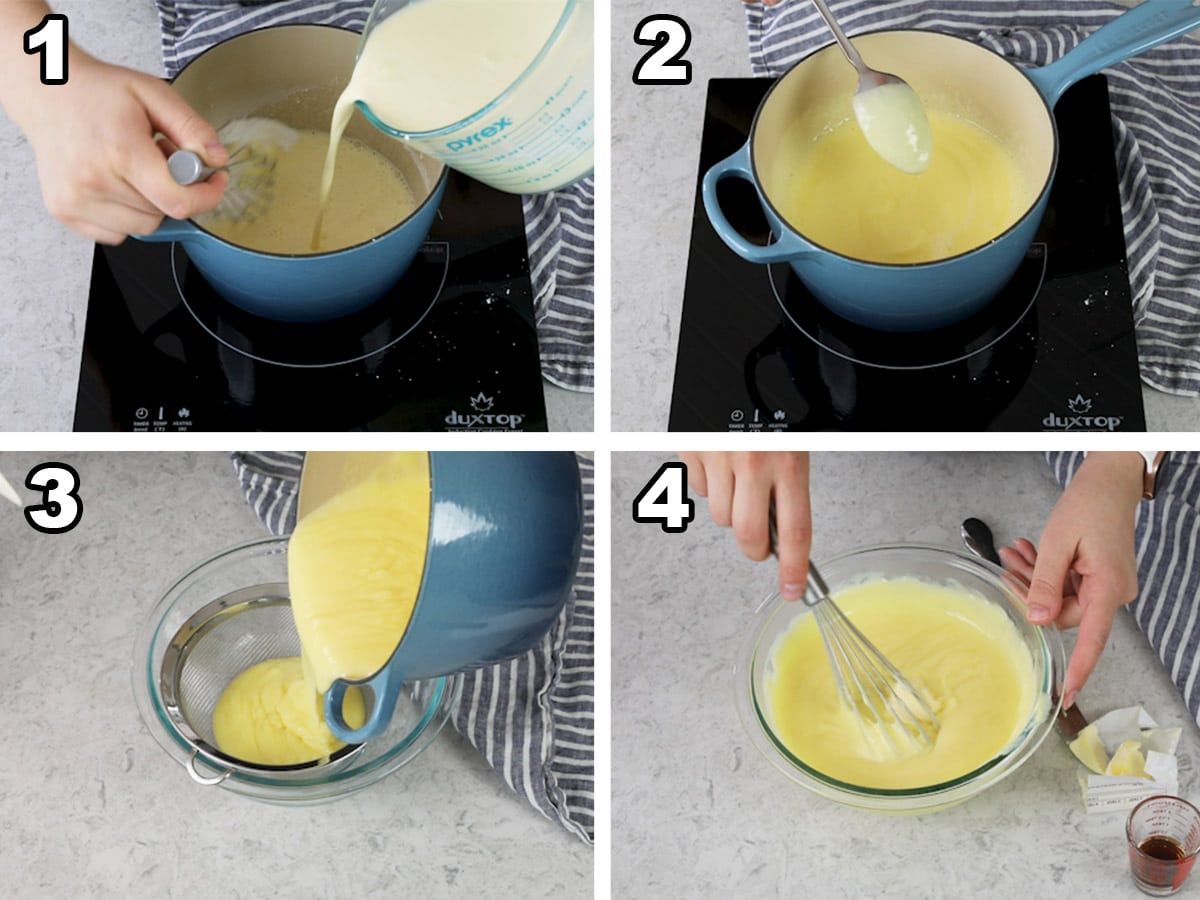 If you've made my banana pudding before, you've already made pasty cream this way. I removed the tempering step from my original recipe to make this process simpler. To avoid overcooking or scrambling your eggs, you need to make sure you go slow, keep the heat at medium (do not turn it up to make things go faster), and stir constantly. This requires patience and a diligent eye, but is otherwise very simple.
Combine wet ingredients in a large measuring cup. In a medium saucepan, whisk together sugar, salt, and cornstarch. While still whisking the dry ingredients, very slowly pour in the wet ingredients, whisking to combine and avoid any lumps.
Cook mixture over medium heat until thickened, whisking constantly. You'll know the cream is ready when it's approaching a pudding-like consistency; your whisk should leave a trail through the cream and it should coat the back of a spoon.
Remove from heat and immediately pour through a fine mesh strainer (this is important to catch any lumps or small bits of cooked egg!) into a heatproof bowl.
Whisk in butter and vanilla until smooth. I recommend covering the surface of the crème pâtissière to prevent a skin from forming before placing it in the fridge to chill for a few hours before using.
SAM'S TIP: Don't crank up the heat to speed up the cooking process. Not only is this a guaranteed way to cook your eggs, but slowly cooking the sugars is also critical to allow the sugar to melt properly and allow the crème pâtissière to thicken to the correct consistency. Heat that's too high will leave you with a runny pastry cream or, possibly worse, scrambled eggs!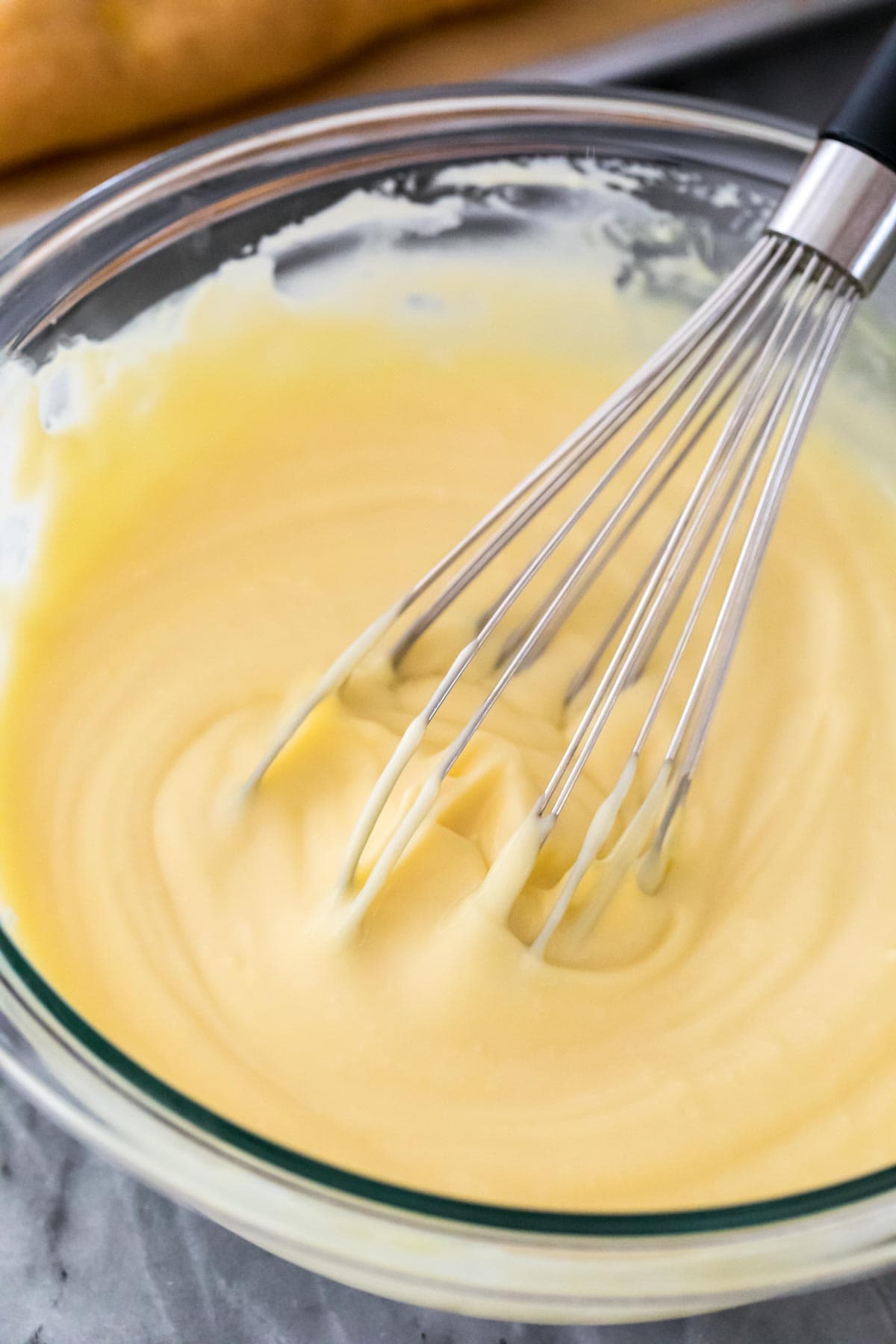 Frequently Asked Questions
Can I freeze my pastry cream?
While I've occasionally frozen my cream puffs, I don't typically recommend freezing pastry cream because it separates as it thaws and ruins the consistency. If you have extra, you can always use it to fill some donuts.
Does pastry cream need to be refrigerated?
Yes! It should always be kept chilled and should be stored in an airtight container for at most three days.
What is the difference between pastry cream/crème pâtissière and custard?
They are similar, but not quite the same. The main difference is that custard is actually less firm. Custard is typically thickened only with eggs (which you might recall is how we made the custard for our Creme Brulee), while pastry cream is thickened with a starch (corn starch, in this instance).
Vanilla pudding is also similar and in the same family, but not quite the same thing.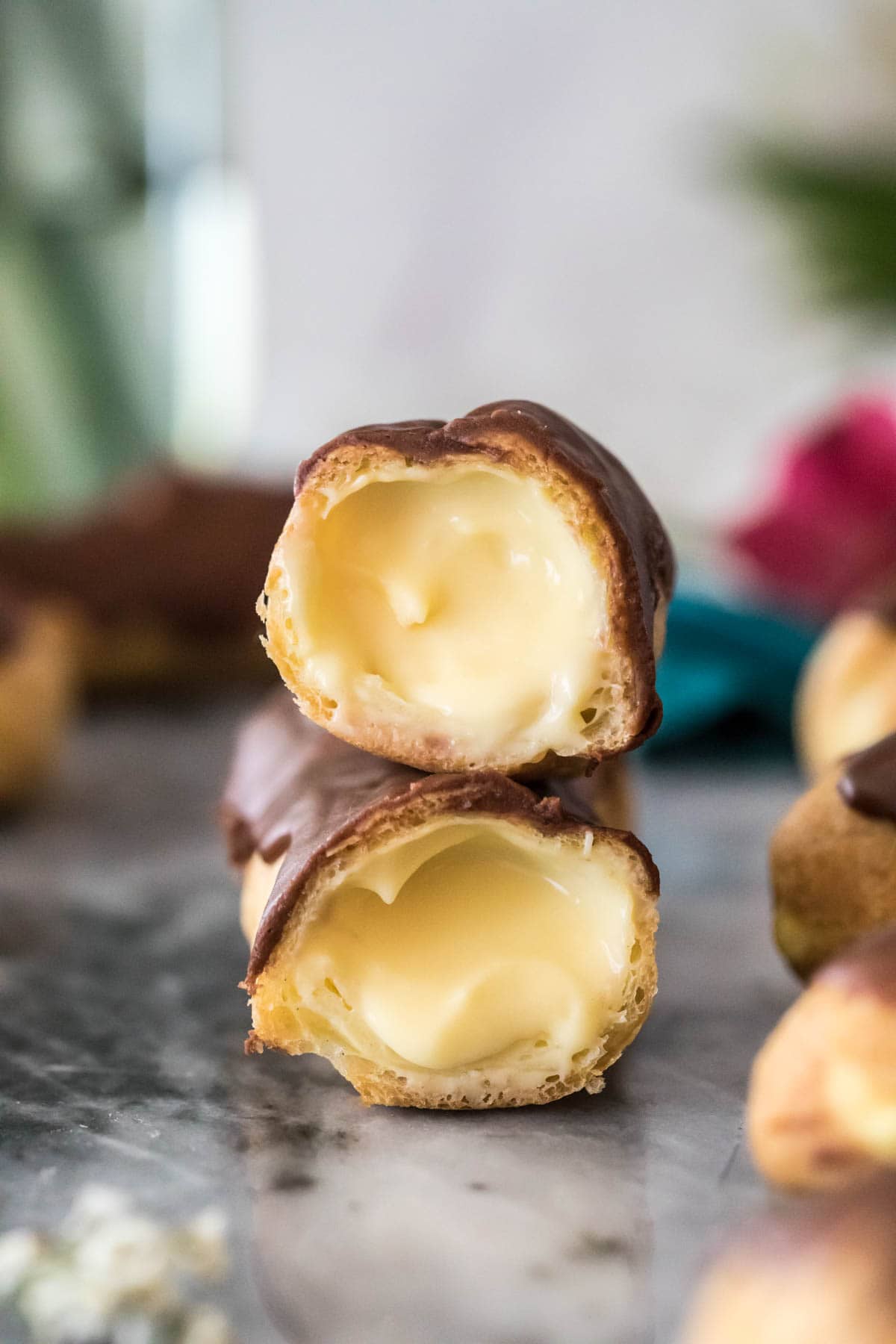 Enjoy!
More Recipes You Might Like
Let's bake together! I'll be walking you through all the steps in my written recipe and video below! If you try this recipe, be sure to tag me on Instagram, and you can also find me on YouTube and Facebook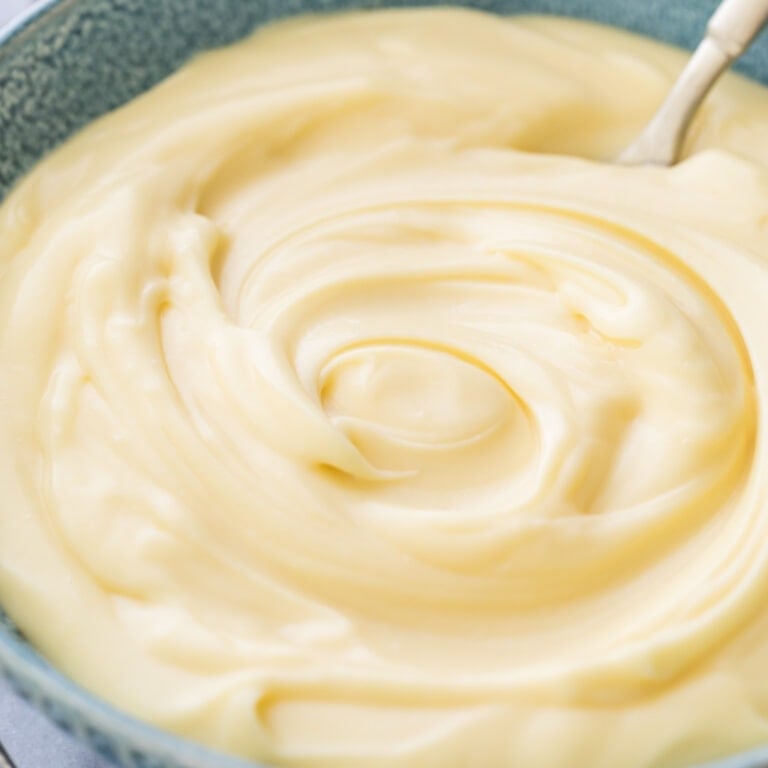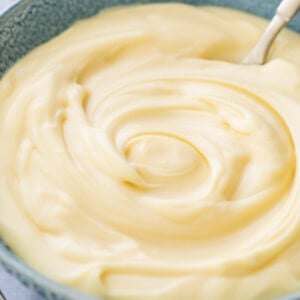 How to Make Pastry Cream (Crème Pâtissière)
My homemade pastry cream (AKA Crème Pâtissière) comes together flawlessly. I use a simple technique that requires no tempering for silky smooth results. You only need a few common ingredients to make this rich, decadent filling that's perfect for eclairs, cream puffs, and more! Recipe includes a how-to video!
Print
Pin
Rate
Ingredients
1

cup

whole milk

236ml

1

cup

heavy cream

236ml

5

large egg yolks

discard whites or see note for ideas on how to use leftover egg whites

⅔

cup

granulated sugar

133g

¼

teaspoon

table salt

3

Tablespoons

cornstarch

4

Tablespoons

unsalted butter

cut into 4 pieces (57g)

1 ½

teaspoons

vanilla extract
Instructions
In a large bowl or large measuring cup, whisk together milk, cream, and egg yolks until the egg yolks are well-broken up and the mixture is thoroughly combined.

In a medium-sized saucepan, combine sugar, salt, and cornstarch and whisk together.

While still whisking, slowly drizzle egg yolk mixture into the saucepan. Go slowly so you have time to evenly incorporate the ingredients and eliminate any lumps that might otherwise form.

Turn stovetop heat to medium and whisk constantly until it begins to thicken to a pudding-like consistency. How long this takes depends on your particular saucepan and stovetop, but you can tell it's done when the whisk leaves trails through the mixture and it coats the back of a spoon (see video for visual).

Remove from heat and pour immediately through a fine mesh strainer into a large, heatproof bowl.

Add butter, one tablespoon at a time, whisking until completely melted after each addition.

Stir in vanilla extract. Mixture should be smooth and completely combined.

Allow pastry cream to cool at room temperature for 15-20 minutes, stirring occasionally to prevent a skin from forming, then place a piece of wax paper or plastic wrap directly against the surface of the pastry cream (to prevent a skin from forming as it chills).

Transfer to refrigerator and allow to chill for several hours or up to 3 days before using.
Notes
Leftover egg whites
If you don't want to throw out your leftover egg whites, here are a few recipes that can be made to use them up:
Vanilla Bean
A vanilla bean adds unparalleled vanilla flavor to your pastry cream (and beautiful vanilla bean specks!). If you'd like to substitute a vanilla bean for the vanilla extract, you'll need one bean split lengthwise. Add it to the pastry cream after you've combined the ingredients in step 3 and cook with the cream. It will be caught and can be removed/discarded when you strain the cream in step 5.
Storing
When storing pastry cream, always store in the refrigerator in an airtight container and place a piece of plastic wrap directly against the surface to prevent a skin from forming. It will keep in the refrigerator for up to 3-5 days. Unfortunately I do not recommend freezing pastry cream as the texture degrades and it begins to separate when frozen.
Nutrition
Serving:
0.25
cup
|
Calories:
762
kcal
|
Carbohydrates:
59
g
|
Protein:
9
g
|
Fat:
55
g
|
Saturated Fat:
32
g
|
Polyunsaturated Fat:
3
g
|
Monounsaturated Fat:
17
g
|
Trans Fat:
1
g
|
Cholesterol:
482
mg
|
Sodium:
277
mg
|
Potassium:
208
mg
|
Fiber:
1
g
|
Sugar:
49
g
|
Vitamin A:
2197
IU
|
Vitamin C:
1
mg
|
Calcium:
188
mg
|
Iron:
1
mg
Nutritional information is based on third-party calculations and should be considered an estimate only. Actual nutritional content will vary based upon brands used, measuring methods, cooking method, portion sizes, and more.
Here are some recipes that use pastry cream!