A classic vanilla cake recipe, made completely from scratch! Ditch the box mixes — you'll love how easy, moist and fluffy this homemade vanilla cake is!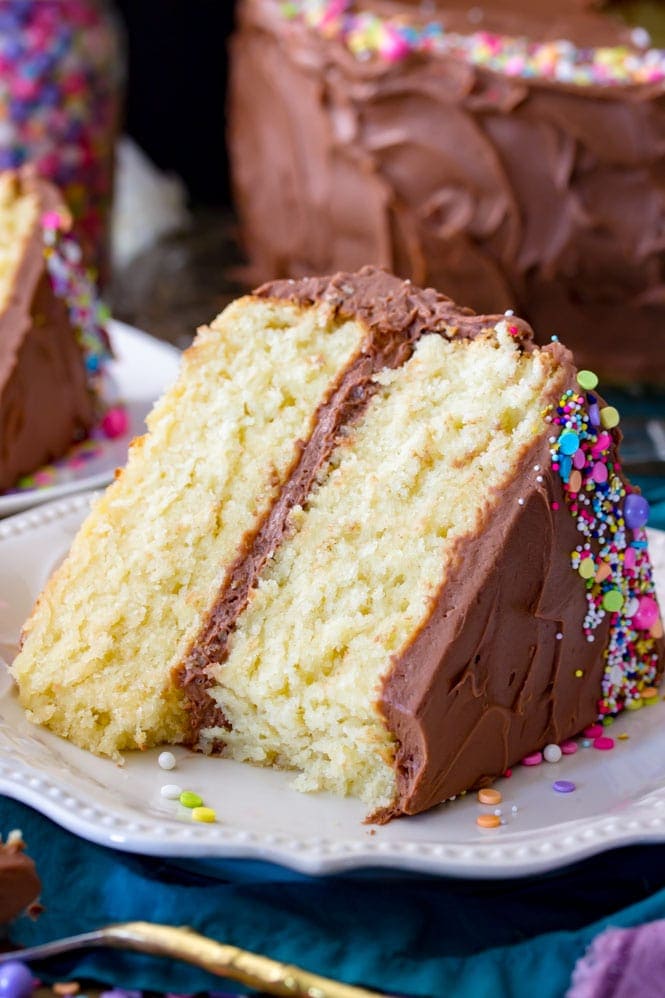 I'm back in cold, snow-covered Pennsylvania after a long, wonderful (if not very warm… we arrived in the midst of a cold spell!) weekend in Florida with family.  My cousin and my sister both ran in the Disney marathon and I nearly screamed a lung out on the Tower of Terror 😱.
My sister had a bad cold for the trip but still managed to run the Disney marathon and beat her own time, despite being barely able to even talk.  I caught the cold on the way back home and don't seem to be able to muster up the energy to change out of sweatpants or cook myself anything other than vanilla cake. The endurance gene skipped right over me, I swear.
Orrrrr, maybe it just exhibits itself in different ways.  There's no way I could run a marathon, but I can endure recipe fail after recipe fail after recipe fail until I land on the most perfect vanilla cake recipe there ever was.
Completely cloaked in chocolate frosting, naturally.
This vanilla cake recipe has been a long time coming.  The journey began with my pineapple upside-down cake and was continued with my marble cake recipe — if you recall it took me almost a dozen attempts to get the vanilla cake base of those recipes right.  A few more tweaks were still needed to make this a perfect standalone vanilla cake recipe, but, after a lot of wasted ingredients, we have arrived.
Looks like I can endure after all.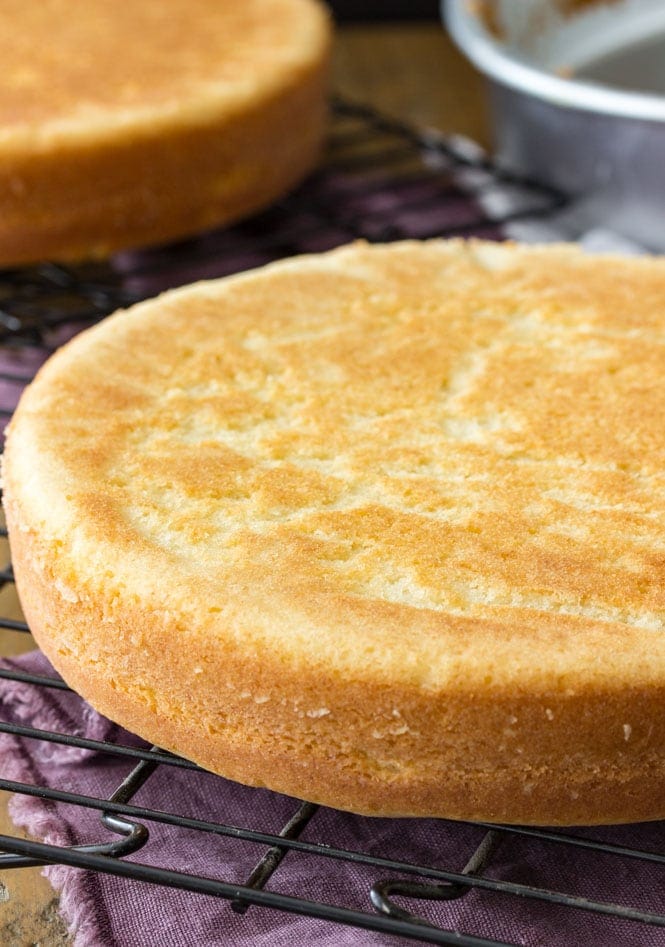 Tips for making the perfect vanilla cake recipe
It's best if all of your ingredients are at room temperature.  I like to set out my butter, eggs, and buttermilk early in the morning so that they have reached room temperature by the time I am ready to bake.
Don't switch out the oil for more butter.  This vanilla cake recipe uses both butter and oil because it gives it the best possible taste while still preserving the soft, fluffy texture that you want.  Using all butter will actually likely make your cake more dense and dry.  You can, however, substitute vegetable oil for the canola oil without issue.
Make sure that your vanilla cake cools completely before frosting!  If it's warm at all, it's likely to melt the frosting, leaving you with a big mess (ask me how I know…).
Store your finished vanilla cake in an airtight container (like an airtight cake carrier).  It will keep at room temperature for several days, or longer if stored in the refrigerator.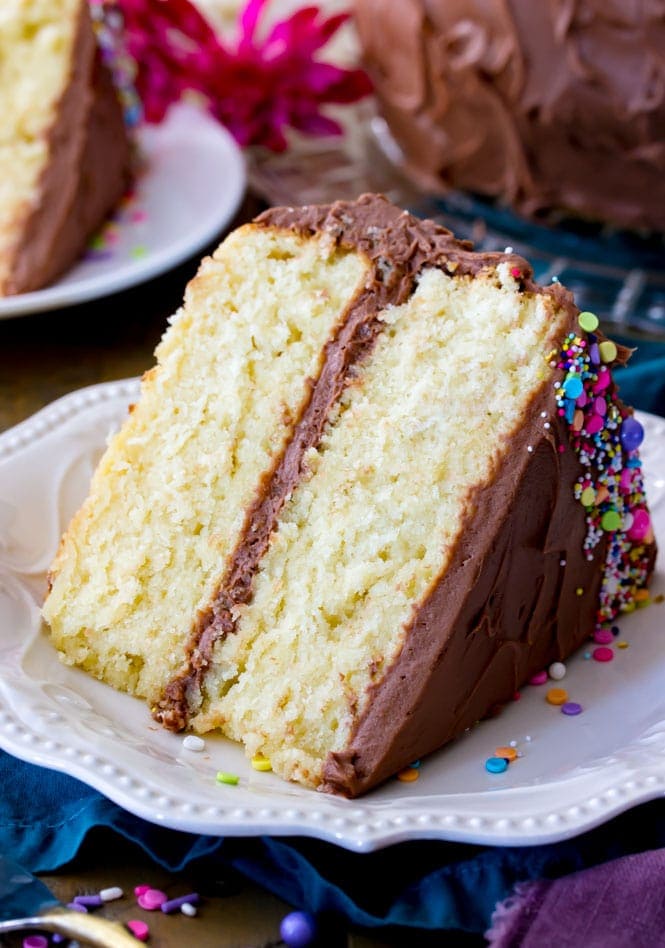 Be sure to check out my most recent video where I walk through all the steps to make the perfect vanilla cake, completely from scratch (printable recipe is just below the video).
Make sure that you also check out my favorite chocolate cake recipe!!
Enjoy!
How to Make Vanilla Cake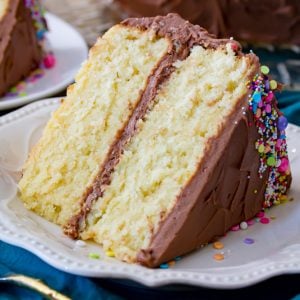 Instructions
Preheat oven to 350F (177C) and prepare two deep 8" round cake pans** by lining the bottoms with parchment paper and lightly greasing the sides. Set aside.

In the bowl of a stand mixer (or in a large bowl using an electric mixer) cream together the butter, canola oil and sugar until creamy and well-combined.

Add eggs, one at a time, beating well after each addition.

Stir in vanilla extract.

In a separate, medium-sized bowl, whisk together flour, baking powder, and salt.

Using a spatula and gently hand-mixing, alternate adding flour mixture and buttermilk to the butter mixture, starting and ending with flour mixture and mixing until just combined after each addition. The batter should be smooth and completely combined, but avoid over-mixing.

Evenly divide batter into your prepared cake pans, and bake on 350F (175C) for 30-35 minutes. When the cake is done, the surface should spring back to the touch and a toothpick inserted in the center should come out mostly clean with few moist crumbs (no wet batter).

Allow cakes to cool in their cake pans for 10-15 minutes before inverting onto cooling rack to cool completely before frosting.

Frost cake using my chocolate frosting (or see notes for other favorite frosting options) and decorate with sprinkles (if desired).
Notes
*You may substitute vegetable oil or another neutral oil instead
**You may use 9" cake pans instead, but watch the cooking time as they may need less time in the oven.
Frosting Options
The chocolate frosting I linked to in the ingredients is my favorite pairing with this cake, but here are some other great options:
How to Make Into Vanilla Cupcakes:
Fill cupcake liners no more than ¾ of the way full. Bake on 350F for 17-18 minutes or until a toothpick inserted in the center comes out with a few moist crumbs or clean. This recipe will make approximately 24 cupcakes.
Nutrition
Serving:
1
slice
|
Calories:
402
kcal
|
Carbohydrates:
51
g
|
Protein:
6
g
|
Fat:
20
g
|
Saturated Fat:
7
g
|
Trans Fat:
1
g
|
Cholesterol:
78
mg
|
Sodium:
147
mg
|
Potassium:
193
mg
|
Fiber:
1
g
|
Sugar:
26
g
|
Vitamin A:
357
IU
|
Calcium:
88
mg
|
Iron:
2
mg