How to make homemade Creme Brulee with just 5 simple ingredients! This is a simple smooth vanilla custard served beneath a caramelized sugar shell; a sophisticated dessert that you can make in your own kitchen. Today I'll be walking you through all the steps complete with plenty of tips and tricks. Be sure to check out my how-to video at the bottom of the recipe!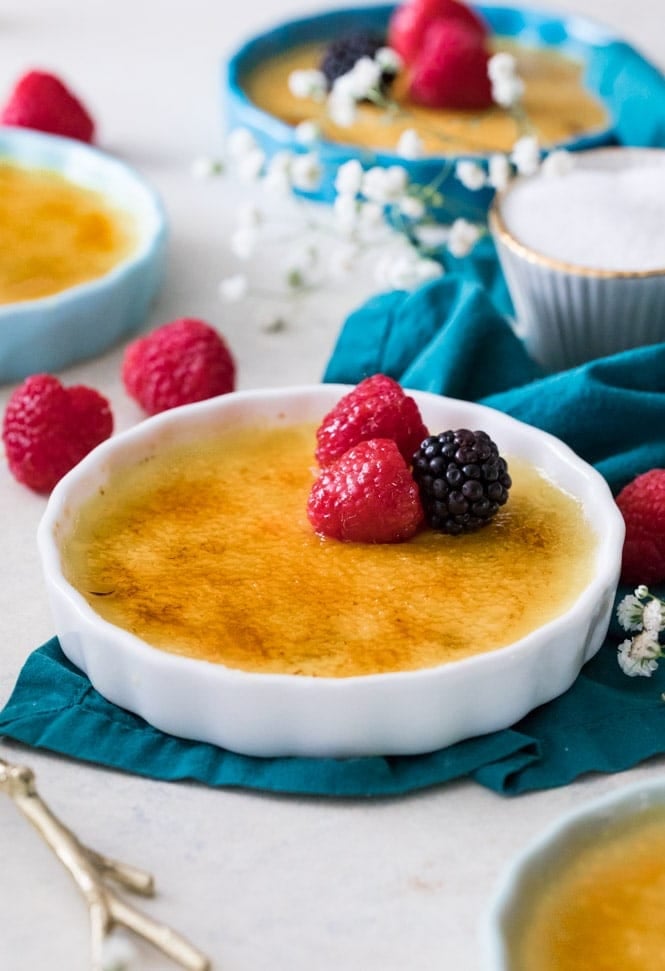 I'm adding Creme Brulee to my list of recipes that looks fancy and sophisticated (that caramelized sugar topping! Those elegant accents over the letters!) and that you would think are complicated to make, but are really quite simple.
This recipe is going straight to the top, right next to my deceivingly simple Chocolate Lava Cakes (another must-try this Valentine's Day!).
While it may appear elite and intimidating, Creme Brulee really isn't that difficult to make. There is some technique involved and a few tools you will need (ramekins and a kitchen torch, both listed in the recipe, and I've linked to the exact ones I use!), but I'll be walking you through every step of the process. I've even included a step-by-step video at the bottom of the recipe.
How to Make Crème Brûlée
Making the custard is similar to making pastry cream.
Combine 1 ½ cups of cream, sugar, salt, and a vanilla bean in a pot and bring to a boil. Remove from heat and let cool for 15 minutes.
Pour in remaining ½ cup heavy cream and discard vanilla bean pod.
Meanwhile, whisk together egg yolks.
Temper the egg yolks by gradually drizzling a small amount of the cream into the egg mixture while whisking. Continue to slowly add all cream, whisking nonstop until combined.
Pour mixture through a strainer for completely smooth custard.
A photo of the strained cream mixture for you to admire, not much to discuss here 🤷🏼‍♀️
Prepare shallow ramekins (I linked to the ones I used in the recipe below) by lining with foil (to protect from any splash from the water bath). Make sure the foil covers all sides of the ramekin and extends at least 2″ above the top of each ramekin to prevent any water from the water bath from ruining your Creme Brulee.
Place ramekins in a large roasting pan (or you can use two 9×13 pans). and fill ⅔ of the way with the custard. Fill pan with enough water that it reaches about ⅔ of the way up each ramekin (not the foil, the foil should be much higher). Bake, remove from waterbath, and then chill several hours.
Sprinkle generously with sugar then use a kitchen torch to brulee the tops. I've linked to my kitchen torch in the recipe.
Water Bath Tips
I'm not a fan of water baths when baking. I never use one for my cheesecake or for my flourless chocolate cake. However, despite a series of my best attempts, I had to accept the fact that you really need a water bath for this recipe. If you want a smooth, creamy, crack-free Creme Brulee (which, um, yes, you do), anyway.
Because I like using shallow ramekins, it's really important to protect the custard so that no water can splash in when you're transferring your pan to and from the oven. The easiest way to do this is to take a square of foil and fold that around each ramekin, providing at least two inches of a protective shield. This also makes it easy to lift the ramekins out of the water bath once they're finished baking. So maybe baking with a water bath isn't all that bad, after all.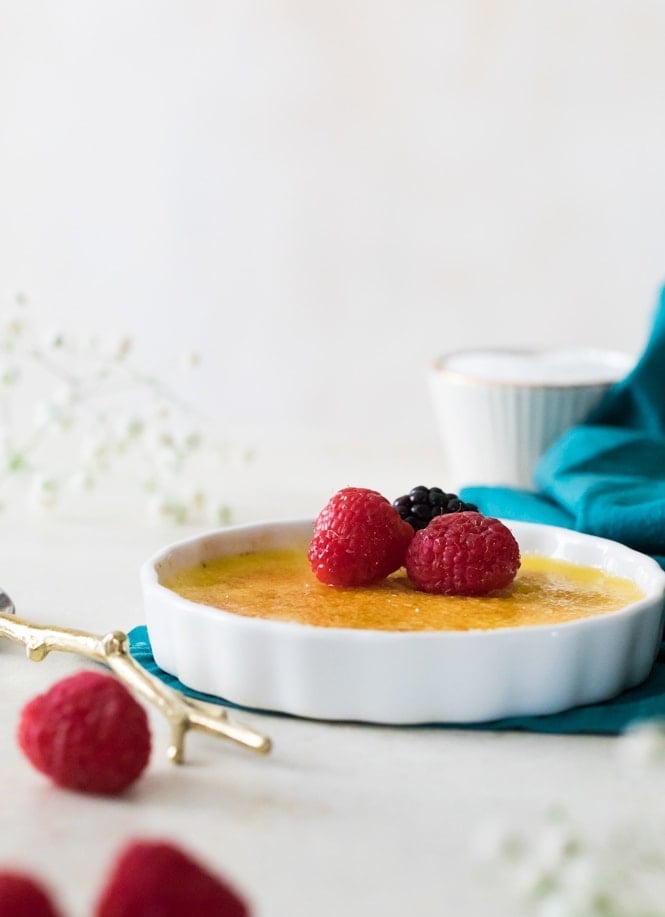 How to Caramelize Sugar
Once your Creme Brulee has chilled and you are ready to serve, generously sprinkle the top of the custard with granulated sugar. Shake the ramekin from side to side gently to evenly distribute the sugar — you want an even coating. Next you'll need a culinary torch (this is the culinary torch I use, affiliate). Turn on your torch and barely touch the tip of the flame to the sugar, moving constantly in a circular motion until all of the sugar is melted and caramelized.
Make sure you keep that torch moving to avoid burning your sugar and cooking your custard!
Which Sugar is Best?
I've tried this recipe with everything from superfine (caster) sugar to coarse turbinado sugar, and honestly all of them have worked for me. However, my preference for an even sugar coating is just regular granulated sugar. Thank goodness for keeping it simple and not having to run out and buy more sugar!
How to Store
Creme brulee will keep in the refrigerator for up to 3 days. I recommend storing in an airtight container to keep the custard from absorbing any odors that might be in your fridge. Don't add the sugar topping until you are ready to serve, as it will soften and even dissolve in the refrigerator.
Enjoy!
More Recipes You May Like:
More of a visual learner? Check out the how-to video at the bottom of the recipe! If you enjoy watching, make sure to subscribe to my YouTube channel where I've already uploaded hundreds recipe videos that you can watch for free!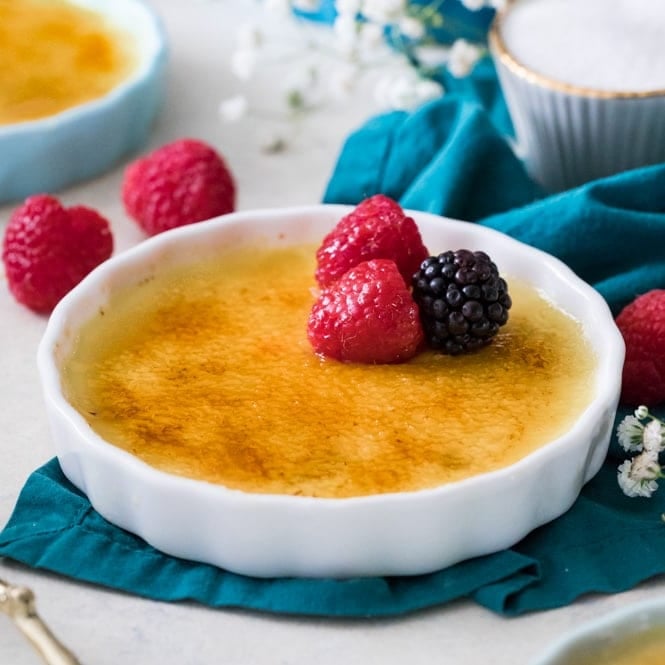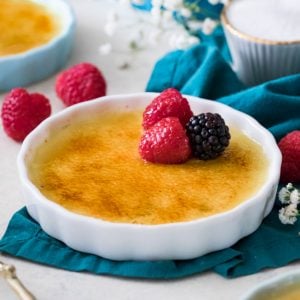 Creme Brulee
My homemade creme brulee recipe uses just 5 ingredients! It's surprisingly simple to make despite its sophisticated name and appearance. Recipe includes a how-to video!
Print
Pin
Rate
Ingredients
TOOLS
6 shallow ramekins¹

(see notes for a link to the ones I used)

Culinary Torch²

(see notes for a link to the ones I used)

Instant read thermometer

recommended
Creme Brulee
2

cups

heavy cream

divided (475ml)

⅓

cup

granulated sugar

(66g)

⅛

teaspoon

finely ground sea salt

1

vanilla bean³

6

large egg yolks

room temperature

Hot water

Additional granulated sugar for bruleeing
Instructions
Preheat oven to 300F (150C). Prepare 6 ramekins by wrapping the bottom and sides with foil (see video below or images in post for a visual, the foil should be reaching at least 2" up the sides of each ramekin to protect the creme brulee from the water bath). Set prepared ramekins inside a large roasting pan⁴ and set aside.

Combine 1 ½ cups (355ml) heavy cream cream, sugar, and sea salt in a medium-sized saucepan. Split vanilla bean, scrape out seeds and add to saucepan and then toss in the vanilla bean as well. Stir mixture well and bring to boil over medium heat, stirring occasionally.

Once mixture comes to a boil, remove from heat and allow it to cool for 15 minutes.

Meanwhile, combine your egg yolks in a separate medium-sized bowl and whisk well.

Once cream has cooled, retrieve vanilla bean and discard. Pour remaining ½ cup (115ml) heavy cream into warm cream mixture and stir well.

Take approximately ⅓ cup of the cream mixture and slowly drizzle it into egg mixture while whisking yolks constantly (this gradual addition while whisking will keep the hot cream mixture from cooking your eggs)

While whisking, drizzle remaining cream mixture into egg yolks until mixture is combined.

Pour mixture through a strainer into a separate bowl.

Divide mixture evenly into prepared ramekins, filling each ⅔-¾ full (do not overfill, if you have any extra mixture discard).

Carefully, making sure to not get get any water into the ramekins, pour hot water into the roasting pan, using enough so that the water height is about ⅔-¾ as high as the top of the ramekins (not the foil!).

Carefully transfer to oven and bake on 300F (150C) for 25-35 minutes or until center is set on top but still jiggling, I recommend using an instant read thermometer to check that the temperature is at 175F (80C).

Gripping the foil, carefully lift each creme brulee out of the roasting pan and set on a cooling rack to cool for at least 20 minutes. Discard foil, transfer to refrigerator and allow to chill for at least 4-6 hours.

When ready to serve, generously sprinkle the top of each creme brulee with about 1 teaspoon of granulated sugar. Holding a culinary torch several inches from the sugar, cook the sugar (moving the torch constantly) until sugar is melted and golden browned (about 90 seconds).

Serve and enjoy!

Hint: Creme Brulee is great topped with fresh fruit!
Notes
¹Ramekins (these are the ones I use, affiliate link). You can use ramekins of a different size, measure a little over ⅓ cup of liquid per ramekin and note that the baking time will likely vary (be longer) for smaller ramekins, so keep an eye on them!
²Culinary Torch (this is the one I use, affiliate link)
³If you don't have a vanilla bean, you can substitute vanilla extract. You would use 1 ½ teaspoons of vanilla extract and stir this into your cream mixture in step 5.
⁴If you don't have a roasting pan, you can use two 9x13 pans instead.
Here are a few ideas for your leftover egg whites!
Nutrition
Serving:
1
creme brulee (assuming 2 teaspoons of sugar are used for topping each serving)
|
Calories:
377
kcal
|
Carbohydrates:
14
g
|
Protein:
4
g
|
Fat:
34
g
|
Saturated Fat:
20
g
|
Cholesterol:
304
mg
|
Sodium:
87
mg
|
Potassium:
79
mg
|
Sugar:
11
g
|
Vitamin A:
1426
IU
|
Vitamin C:
1
mg
|
Calcium:
75
mg
|
Iron:
1
mg
Nutritional information is based on third-party calculations and should be considered an estimate only. Actual nutritional content will vary based upon brands used, measuring methods, cooking method, portion sizes, and more.
This post contains affiliate links, which means that if you purchase anything through these links I will get a small commission at no extra cost to you.  Please view the disclosure policy for more information.