This easy Chocolate Ganache recipe needs only two ingredients and just ten minutes to make! It's perfect for spreading over desserts and dripping down cakes, and it even whips up into a luscious frosting. Keep scrolling to watch the how-to video, where I show you to prepare this recipe and use it for a drip cake.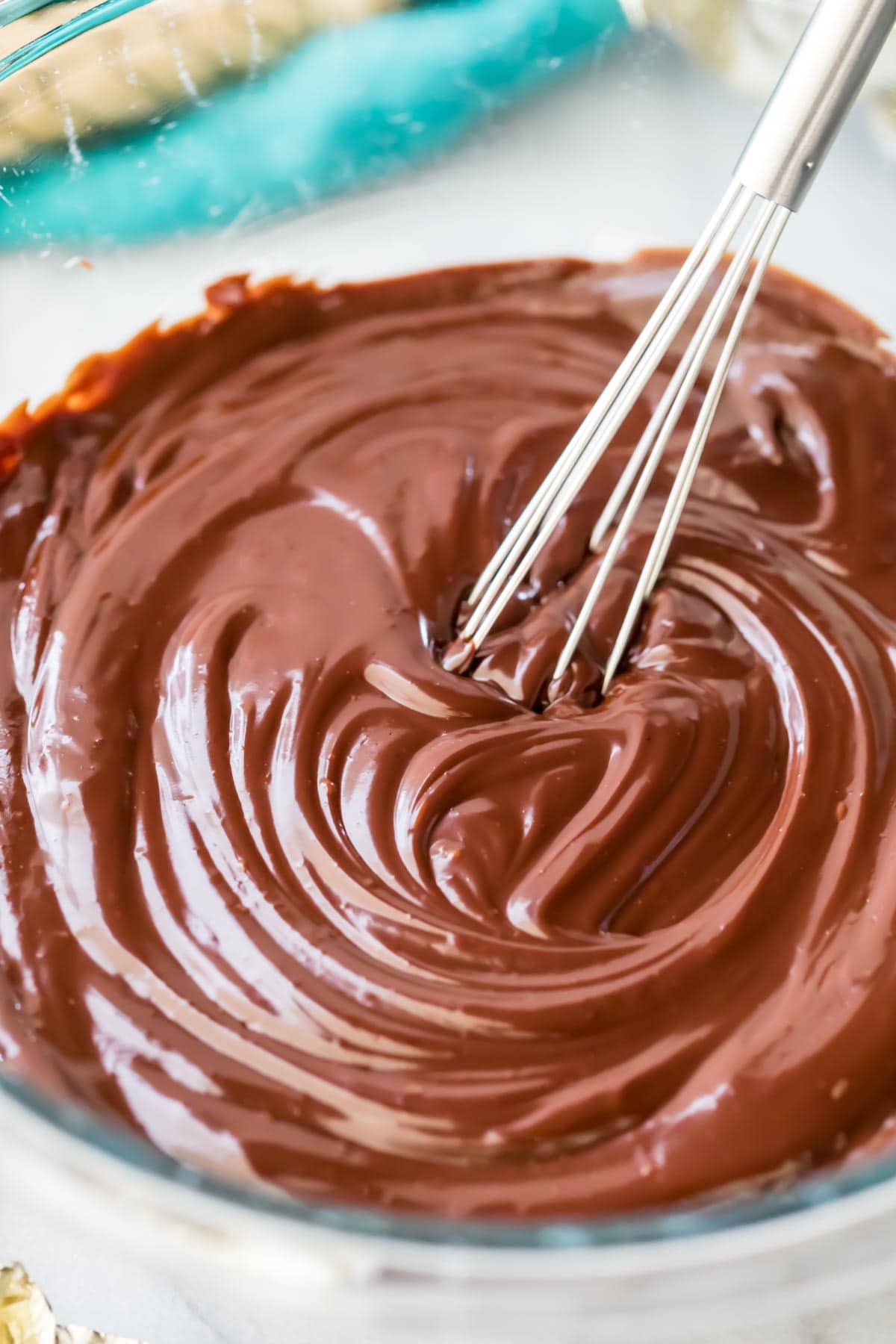 Two-Ingredient Chocolate Ganache Recipe
It's the smooth glaze on Boston cream cupcakes, the fudgy layer that tops millionaire's shortbread, and the creamy base for truffles: chocolate ganache. Rich, shiny, and surprisingly easy to make, chocolate ganache is a staple recipe that every baker should have in their repertoire.
Besides being deliriously decadent, chocolate ganache is extremely adaptable. Depending on how you plan to use it, you can tweak the ratio of chocolate to cream to create a thinner chocolate that's perfect for dripping down cakes (today's recipe is ideal for that!) or, you can use more chocolate and less cream to create a thick, fudgy spread for bars, cheesecake, and just about anything else. You can even whip your ganache after it cools to make a a fluffy ganache frosting–more on that below.
If you feel like you're having déjà vu, there's a good reason. I shared a similar chocolate ganache recipe a few years ago; however, that recipe used a different ratio than the one I'm sharing today, and as a result, yielded a firmer ganache. While I still like that recipe, I wanted to share a general all-around ganache that be used for many desserts.
Let's get to it!
What You Need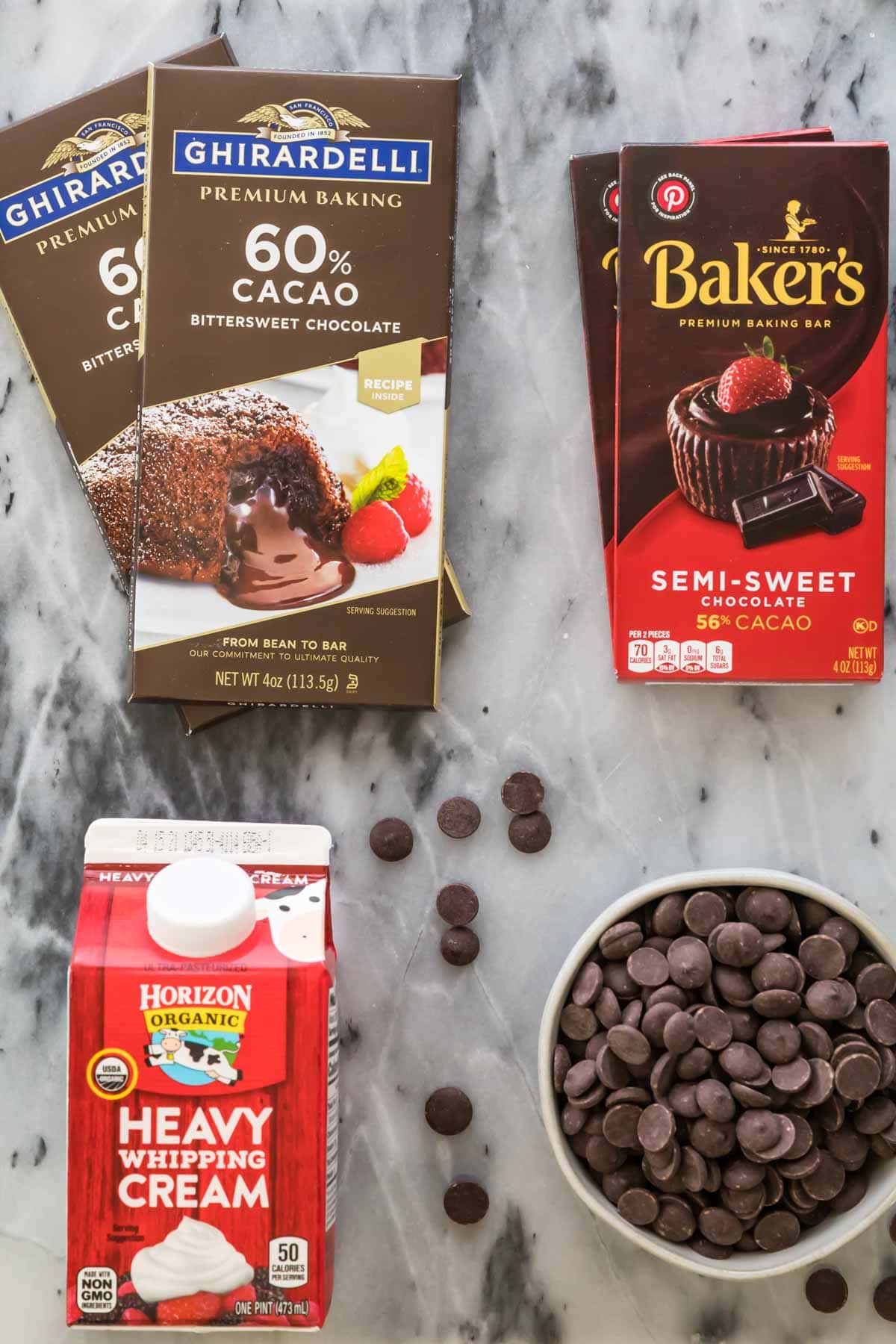 Regardless of whether you're making a thin or thick ganache, you'll still only need the same two ingredients:
Chocolate. I recommend using couverture or high quality baking bars with a high cocoa butter content, but chocolate chips will also work in a pinch. If you want to make a white chocolate ganache, you must use a high quality white chocolate or couverture–you should not use white chocolate chips. You'll also need to reduce the amount of cream for white chocolate ganache; see the recipe notes for details.
Heavy Whipping Cream. Heavy cream, double cream, or heavy whipping cream will work perfectly for this ganache recipe. The more heavy cream you use, the thinner your ganache will be, and vice versa.
SAM'S TIP: For added richness and a flavor boost, you can add a pinch of salt and a teaspoon of vanilla extract after melting everything together. This works for both whipped ganache frosting or just regular ganache!
How to Make Chocolate Ganache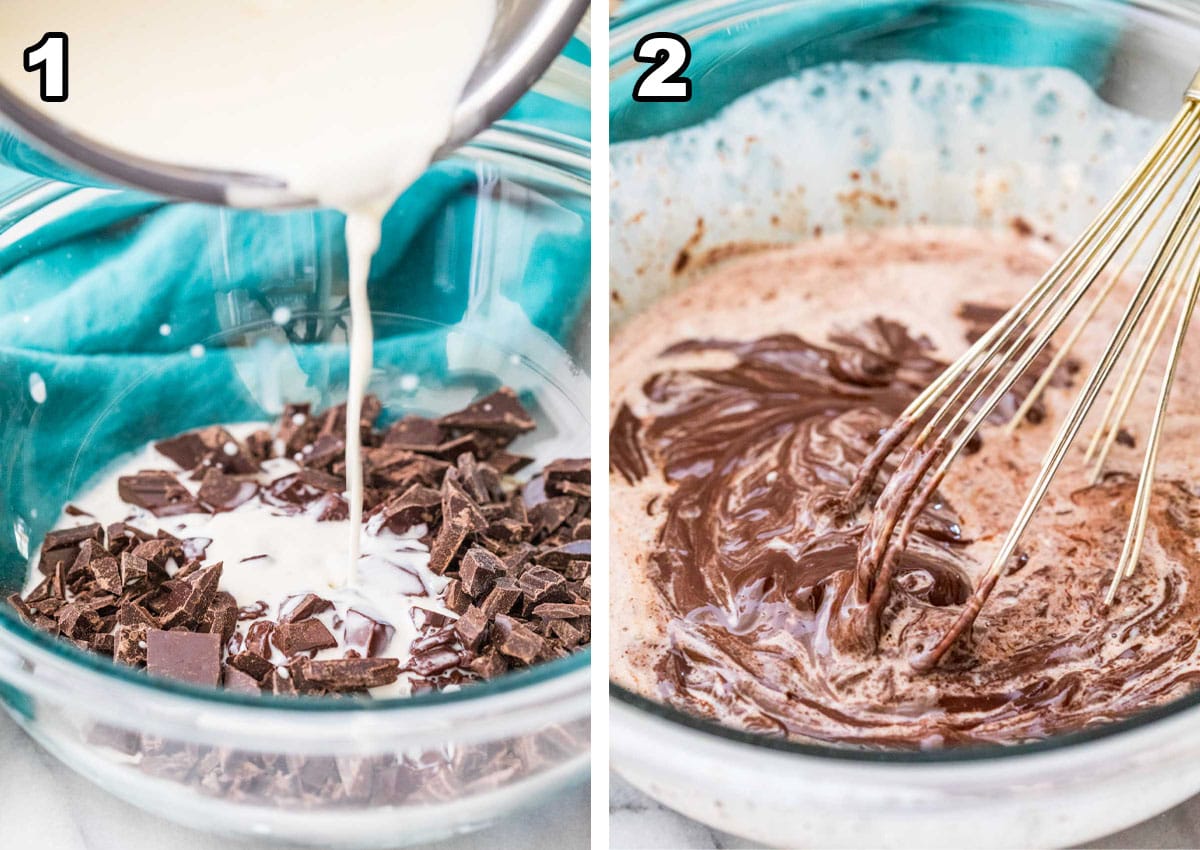 I've included notes in the recipe card below to help you alter this ganache for different uses. No matter which ratio of chocolate to cream you use, the process will still be the same.
Bring cream to a simmer over medium/low heat. Pour the cream over chopped chocolate–do not stir yet! –and cover with foil for five minutes.
Remove cover and gently whisk together cream and chocolate until smooth and combined. Use as desired. At first it might seem like it wants to stay separated and won't become smooth, but it will!
SAM'S TIP: If you plan to use your ganache as a drip decoration on a cake (like the one pictured at the bottom of this post), it's best if you chill your cake before using. This will help to slow the ganache as it runs down, creating a tidy, defined drip.

If you're new to drip cakes (or just need a refresher) watch the video below for step-by-step instructions on how to use ganache for a drip cake!
How to Make Whipped Ganache Frosting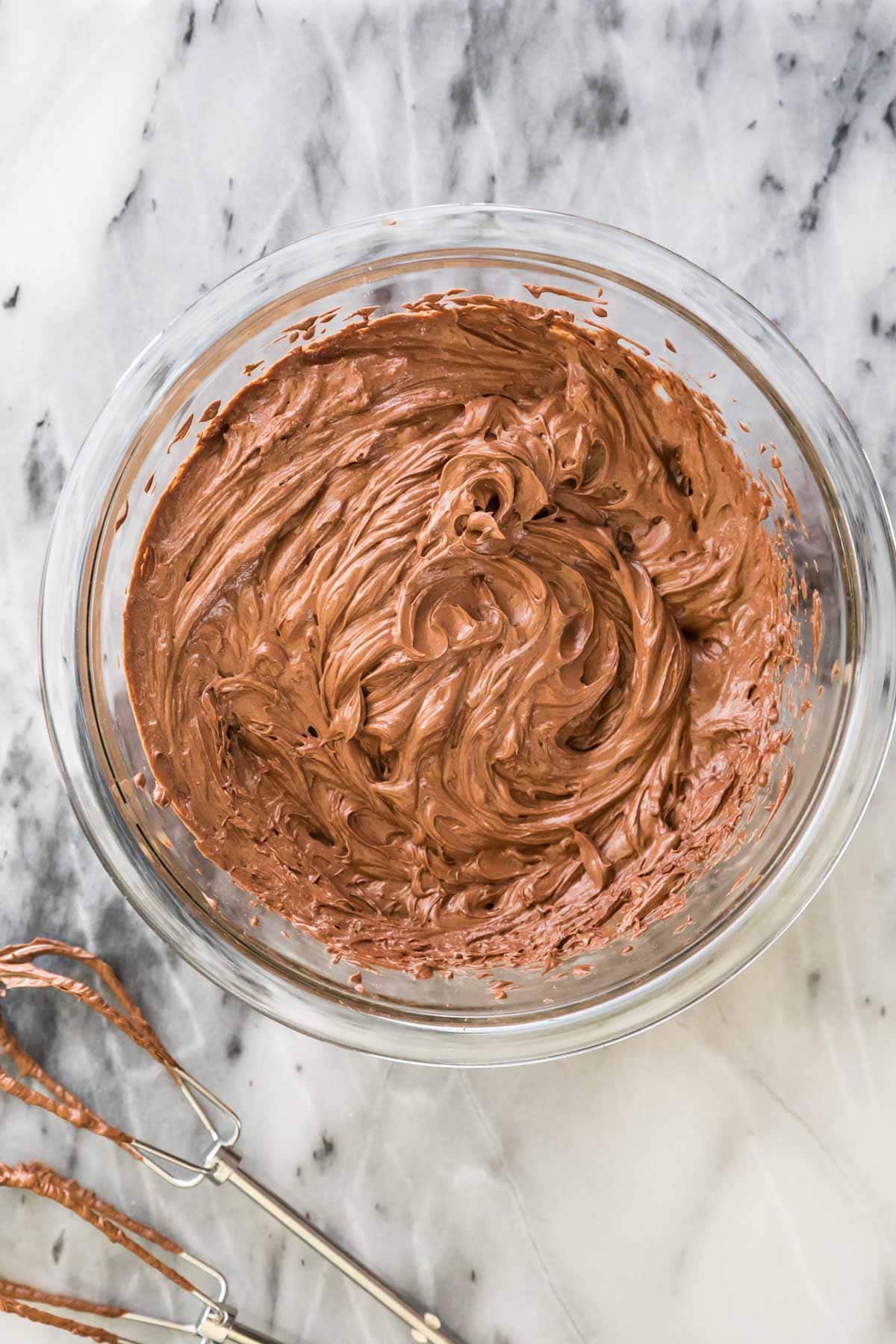 While you could simply cool this chocolate ganache until it's a spreadable consistency, you can also whip it into an airy, pipeable frosting that beautifully tops cakes and cupcakes.
To make whipped ganache frosting, simply prepare the ganache as instructed, let it cool completely, then beat it with an electric mixer until you have a whipped, frosting-like consistency.
This frosting will be softer immediately after whipping but can be piped or spread over a cake and will become more firm over time.
You can also use this recipe to do a beautiful chocolate ganache drip over a cake. If you've never done this before, I do include a guide in the video on how I did the ganache drip on the cake below.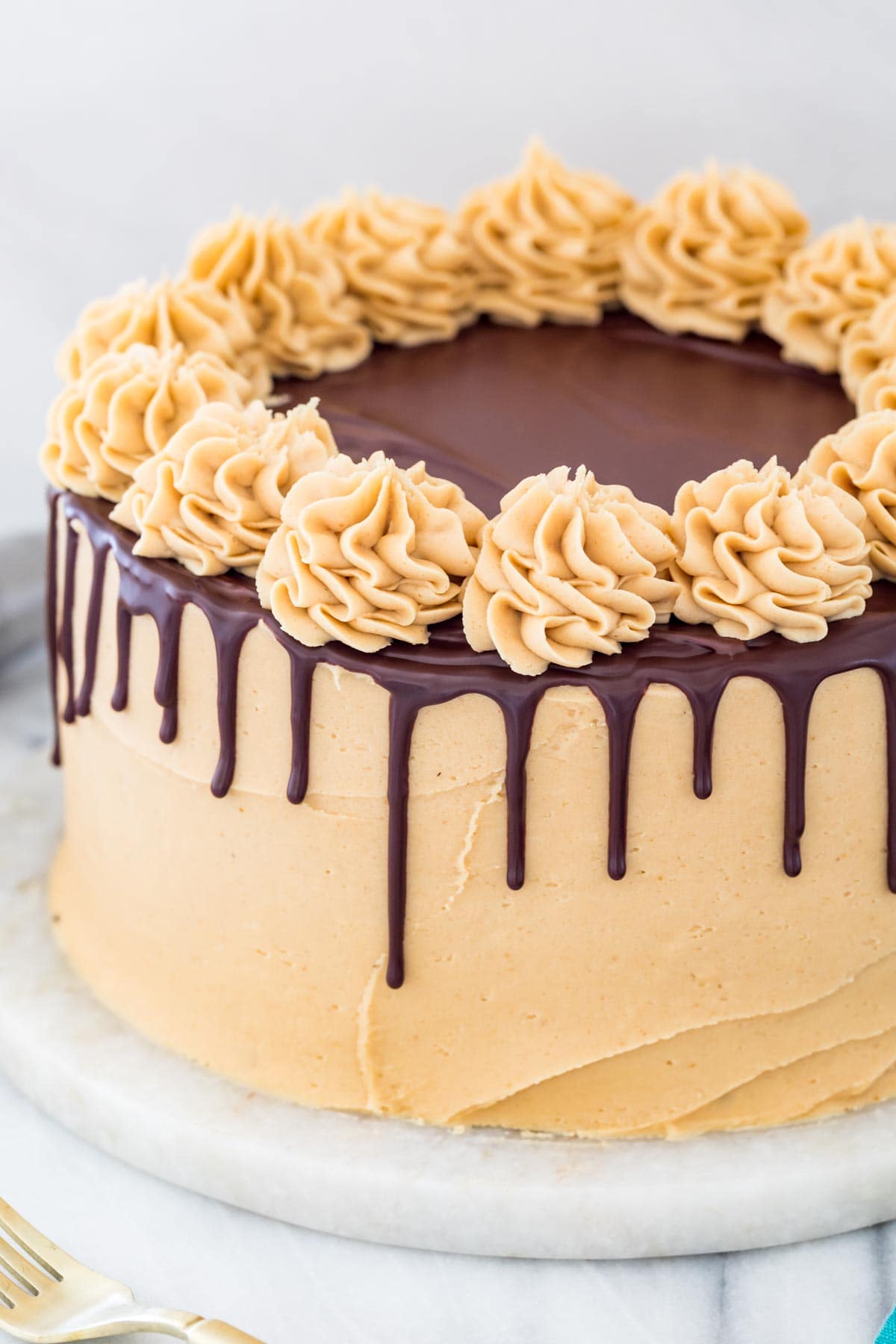 Frequently Asked Questions
Does chocolate ganache harden?
As it cools, your ganache will thicken and harden to a stable fudge-like consistency. It will never reach a point where it is rock hard (you'll always be able to smudge it if you apply enough pressure with your finger and it will always give to your teeth if you take a bite) but it will completely firm up once cooled.
How long does it take to set?
This will depend a bit on the surface that you are spreading your ganache onto. I've found that from the time I take it off the stovetop to the time it is completely set is usually about two hours. You'll want to use it before its set completely (so pour it over your cheesecake, drip it over your chocolate cake, or spread it on your petit fours layers once it's thickened and no longer warm, but not once it has cooled completely and is no longer malleable!).
You can expedite this setting up process by placing your ganache in the refrigerator.
Can chocolate ganache be left out overnight?
Yes, you can leave chocolate ganache out for several days. However, if you're in a particularly warm/humid climate, I would recommend keeping this in the refrigerator instead.
Enjoy!
More Recipes You Might Like
Let's bake together! I'll be walking you through all the steps in my written recipe and video below! If you try this recipe, be sure to tag me on Instagram, and you can also find me on YouTube and Facebook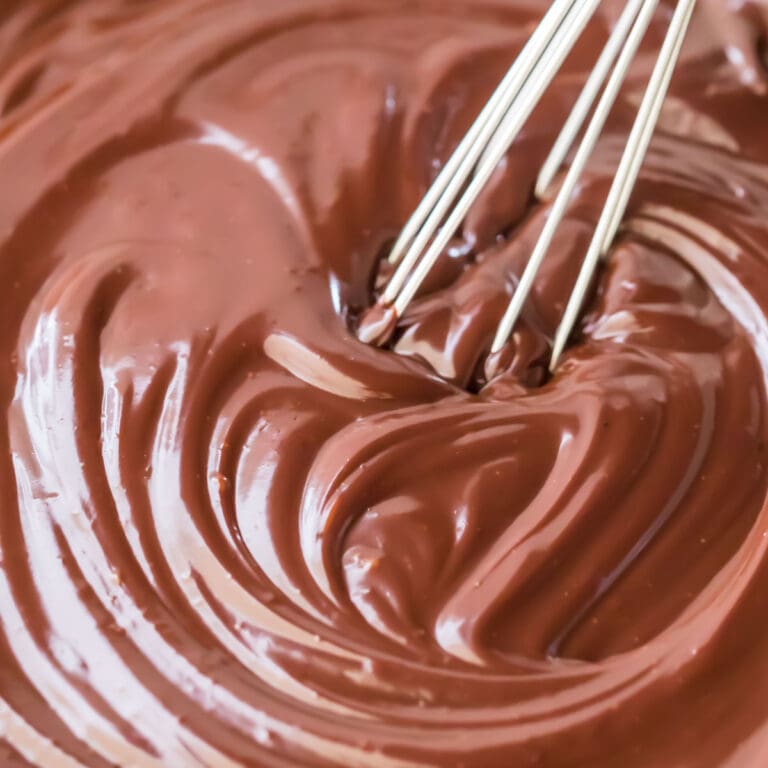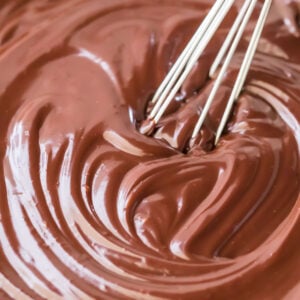 Chocolate Ganache
This easy Chocolate Ganache recipe needs only two ingredients and just ten minutes to make! It's perfect for spreading over desserts and dripping down cakes, and it even whips up into a luscious frosting.
Keep scrolling to watch the how-to video, where I show you to use this ganache for a drip cake.
Print
Pin
Rate
Servings:
12
servings (1.5 cups)
Ingredients
8

oz

semisweet or dark (I like to use 60%) chocolate

finely chopped (alternatively you can use couverture chocolate, see note) (226g)

1

cup

heavy whipping cream

(236ml)
Recommended Equipment
Heatproof bowl (link to the mixing bowls)
Instructions
Place chopped chocolate in a medium-sized heatproof bowl and set aside.

Pour heavy cream into a small saucepan and heat over medium/low heat just until cream comes to a simmer.

Once cream is simmering, remove from heat and pour evenly over chocolate (do not stir). Cover with foil or plastic wrap and let sit for 5 minutes.

After 5 minutes, remove cover and use a whisk to gently whisk chocolate and cream together until completely melted and smooth (note that this may take a minute and the mixture may look separated and piece-y at first, just keep stirring!). Try not to whisk too vigorously or you may incorporate air bubbles into the ganache.

Use as desired! If ganache is too thin immediately after preparing, let it sit for several minutes before using.
Notes
Chocolate
I recommend using a quality chocolate with a high percentage of cocoa. Chocolate chips are not ideal for this recipe, but I have had success using them in the past. Use a quality brand like Ghirardelli.
White chocolate
This recipe can be made with white chocolate, but you will need to reduce the cream to only ⅔ cup (157ml). Do not use white chocolate chips, only premium white chocolate or couverture. Keep in mind that many white chocolate brands are slightly yellow in color, and the resulting ganache often is as well.
Cream
Heavy cream, double cream, or heavy whipping cream will work for this recipe.
Thickness of ganache
This recipe makes a thinner, softer ganache. I use this exact ratio for dripping on a cake (just let it cool enough so that it's not runny), but if you'd like a thicker/firmer ganache you can use 8 oz of chocolate and only ⅔ cup (157ml) of heavy cream.
Drip Cake
This ganache recipe can be used to do a drip cake. I recommend frosting and then chilling your cake for 15 minutes then using a piping bag or bottle with a nozzle to drip the slightly cooled ganache over the chilled cake. I demonstrate how to do this in the video above. Let the ganache set before putting any decorative frosting on top of the chocolate.
Whipped ganache
To make whipped ganache (ideal for frosting a cake or piping on cupcakes), let ganache cool completely at room temperature. Use an electric mixer and beat until you've achieved a whipped, frosting-like consistency.
Nutrition
Serving:
1
serving
|
Calories:
168
kcal
|
Carbohydrates:
10
g
|
Protein:
2
g
|
Fat:
15
g
|
Saturated Fat:
9
g
|
Polyunsaturated Fat:
1
g
|
Monounsaturated Fat:
5
g
|
Cholesterol:
27
mg
|
Sodium:
9
mg
|
Potassium:
15
mg
|
Fiber:
2
g
|
Sugar:
6
g
|
Vitamin A:
292
IU
|
Vitamin C:
1
mg
|
Calcium:
13
mg
|
Iron:
1
mg
Nutritional information is based on third-party calculations and should be considered an estimate only. Actual nutritional content will vary based upon brands used, measuring methods, cooking method, portion sizes, and more.
Related Recipes