Today I'm sharing a staple chocolate ganache recipe that everyone ought to have in their recipe repertoire. I'll actually be sharing two simple techniques, which includes my preferred "lazy" method for making ganache.
Chocolate Ganache is perfect for topping off cakes, cheesecake, and even brownies and is simple to whip up with just two ingredients. You might even recognize it from its past appearances on my site (see my Millionaire's Shortbread), but today I'm giving this easy recipe its own post. Recipe includes a brief video at the bottom of the post!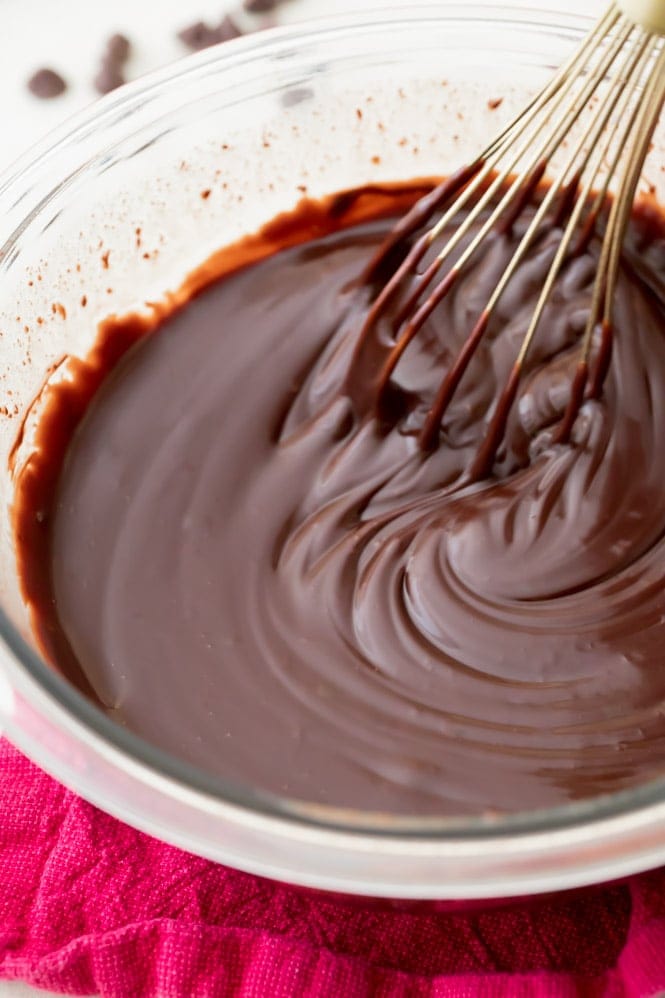 Chocolate ganache is such a simple recipe, but I've found that too many people don't have a good solid classic staple recipe.
I've shared some of my favorite basic kitchen tips in the past, from making a buttermilk substitute, how to make whipped cream, and a basic pie crust, and today we're adding how to make chocolate ganache to the list.
Not only that, I'm actually sharing two simple ways to make ganache. One is a traditional method that you may have used before, and the other is my preferred way (which I call the lazy way).
Method 1: The Lazy Way
AKA The Lazy Way.
This is my preferred method for making chocolate ganache. One pan, one dish to clean, it's quick and easy.
How to make chocolate ganache in a saucepan
Combine chocolate and heavy cream in a small saucepan over low heat.
Stir frequently until chocolate is melted and mixture is smooth.
Remove from heat and use as desired.
That's it!
The only downside of using this method is that it does require a bit more of your attention. If you turn your heat up too high, walk away from the saucepan or forget to stir, your chocolate could get too hot and seize.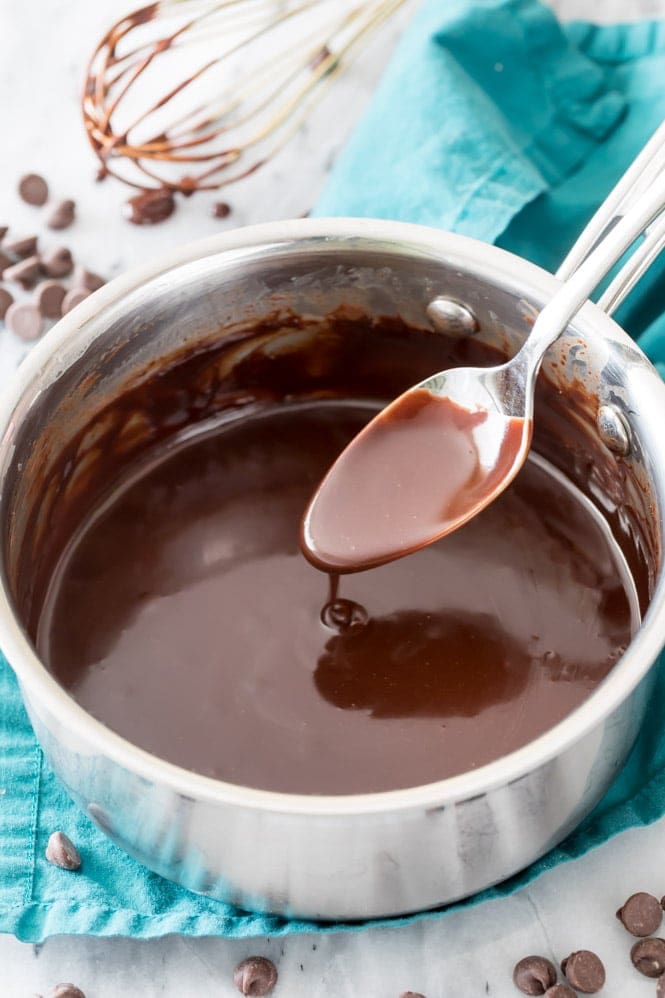 Silky smooth ganache in just one dish. Can you see why it's my preferred method?
Method 2: The Traditional Way
Don't get me wrong, even though I prefer my "lazy" method, there's nothing wrong with making chocolate ganache this way! This more traditional way requires a few extra steps and an extra dish, but is still simple.
How to make chocolate ganache the traditional way:
Place chocolate into a heatproof bowl and set aside.
Pour cream into small saucepan and heat over medium/low heat until simmering
Pour simmering cream over chocolate and cover with foil or plastic wrap (do not stir!). Allow to sit undisturbed for 3-5 minutes
Remove cover and whisk slowly (starting from center) until chocolate is completely melted and mixture is smooth.
Use as desired.
One pro of using this method is that you don't have to worry about forgetting to stir frequently enough or seizing your chocolate. It's a bit more foolproof than my lazy version.
No matter which option you choose, the ganache at the end will be the same. Rich, thick (after having a bit of time to set), and luxuriously smooth.
What Kind of Chocolate Should I use?
This is just a matter of preference. I'll often use chocolate chips, but instead you can use baking chocolate (my favorite is Ghirardelli 60% chocolate bars).
If you do opt for chocolate bars rather than chips, make sure you chop your chocolate into small pieces that are roughly the size of chocolate chips!
Does Chocolate Ganache Harden?
Yes, this ganache recipe hardens! Or rather, it sets and becomes firm.
As it cools, your ganache will thicken and harden to a stable fudge-like consistency. It will never reach a point where it is rock hard (you'll always be able to smudge it if you apply enough pressure with your finger and it will always give to your teeth if you take a bite) but it will completely firm up once cooled.
How Long Does it Take to Set?
This will depend a bit on the surface that you are spreading your ganache onto. I've found that from the time I take it off the stovetop to the time it is completely set is usually about two hours. You'll want to use it before its set completely (so spread it over your cheesecake, drip it over your chocolate cake, or spread it on your petit fours layers once it's thickened and no longer warm, but not once it has cooled completely and is no longer malleable!).
You can expedite this setting up process by placing your ganache in the refrigerator.
Is it Safe to Leave it Out Overnight?
Yes, it is OK to leave chocolate ganache out for several days once you've poured it over your cake (or filled your chocolate thumbprint cookies, etc.). However, if you're in a particularly warm/humid climate, I would recommend keeping this in the refrigerator instead.
More Recipes You Might Like:
Alright, now that you've seen both methods, which is your favorite?
How to Make Chocolate Ganache (Two Ways!)
This Chocolate Ganache will cover one 8 or 9" layer cake or a 9x13 cake. This recipe can be doubled or tripled.
Be sure to check out the how-to VIDEO below the recipe!
Print
Pin
Rate
Ingredients
1

cup

chocolate chips

or 6 oz chopped premium chocolate bar (170g)

½

cup

heavy whipping cream

(118ml)
Instructions
Saucepan Method (my preferred method):
Combine chocolate chips and heavy cream in small saucepan over low heat. Use a whisk to stir frequently until chocolate is completely melted and mixture is smooth.

Remove from heat and use as desired!
Traditional Method:
Place chocolate chips or chopped chocolate in a medium-sized heatproof bowl and set aside.

Pour heavy cream into saucepan and heat over medium/low heat until cream comes to a simmer.

Once simmering, pour cream over chocolate but do not stir. Cover with foil or plastic wrap and let sit undisturbed for 5 minutes. Once 5 minutes has passed, remove foil and use a whisk to slowly stir from the center until mixture is completely melted and smooth (this may take a minute and the mixture may look separated and piece-y at first).

Use as desired!
Notes
Keep in mind that ganache will be very thin while still hot. Let it cool for at least 10-15 minutes or until desired thickness is reached before pouring over your cake etc.
Nutrition
Serving:
1
entire serving of ganache
|
Calories:
1314
kcal
|
Carbohydrates:
126
g
|
Protein:
11
g
|
Fat:
86
g
|
Saturated Fat:
53
g
|
Trans Fat:
1
g
|
Cholesterol:
190
mg
|
Sodium:
168
mg
|
Potassium:
89
mg
|
Fiber:
5
g
|
Sugar:
113
g
|
Vitamin A:
2153
IU
|
Vitamin C:
2
mg
|
Calcium:
286
mg
|
Iron:
2
mg
Treat yourself to a FREE E-BOOK!