I've been waiting a long, long time to share this 'recipe' with you.
Mostly because, despite how incredibly easy it is to make your own vanilla extract, it also takes a long time. Two minutes to prepare, then two months at least before you can use it.
Those two months are going to pass anyway. Get your vanilla extract started today.
Let me show you how to really quickly.
First, Collect your ingredients. You will need 7 Grade A or B Madagascar Bourbon Vanilla Beans*, 1 ¾ cups vodka (equivalent to 350ml) (or bourbon, which is what is inside my purple-labeled bottle), and a glass container (such as a mason jar) in which to combine and store your ingredients.
Step 1.) Split your vanilla beans. Starting about ¼ inch down from the top of the bean, split the bean in half lengthwise using a sharp knife.
Step 2.) Place your beans in a resealable container and cover them with the alcohol of your choice. Unflavored, mid-shelf alcohol is your best bet as it allows the flavor of the vanilla bean to really shine through. As you can see I used Smirnoff for the vodka-based vanilla, and for my bourbon-based vanilla (not pictured) I used Jim Bean.
Make sure your vanilla beans are fully submerged in alcohol. If you need to, you can cut them in half.
Step 3.) Sit back and wait! Seal up your container and place it in a cool, dark space (I keep mine under my bed). Try to remember to shake the container a few times a month to create as much vanilla-infusion as possible. I recommend labeling the container with the contents and date as I did below.
As time goes on, your vanilla will darken to the deep caramel color that you are used to associating with vanilla extract, as you can see with my most recently finished and bottled batches.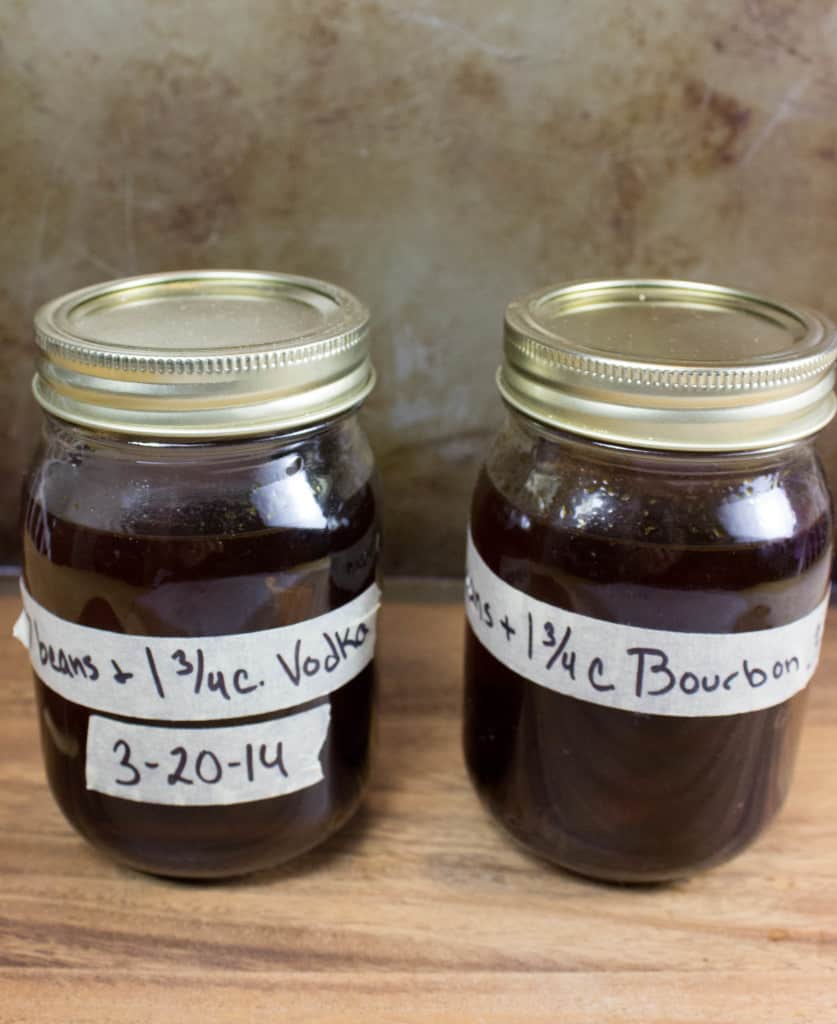 While the extract will be ready to use after 2 months, I chose to bottle my vanilla after letting it sit for about 3 months (the longer you wait, the stronger the extract). If you would prefer to keep your vanilla in its original container then the longer it takes to use it, the stronger your vanilla flavor will be as you get near the bottom of the bottle. Just be sure to keep your vanilla beans submerged, either by cutting them as the liquid diminishes or by adding more alcohol (which in turn will dilute the vanilla, so add only as much as is necessary).
*When I initially set out to make vanilla, I was incredibly discouraged by the price of a single bean in the grocery store. I found a website online called Beanilla (affiliate link, code: 4528601) where I paid $25 for 25 Grade A Madagascar Bourbon Vanilla Beans, AND I got free shipping (I think the free shipping was a special and am not sure if it's still going on).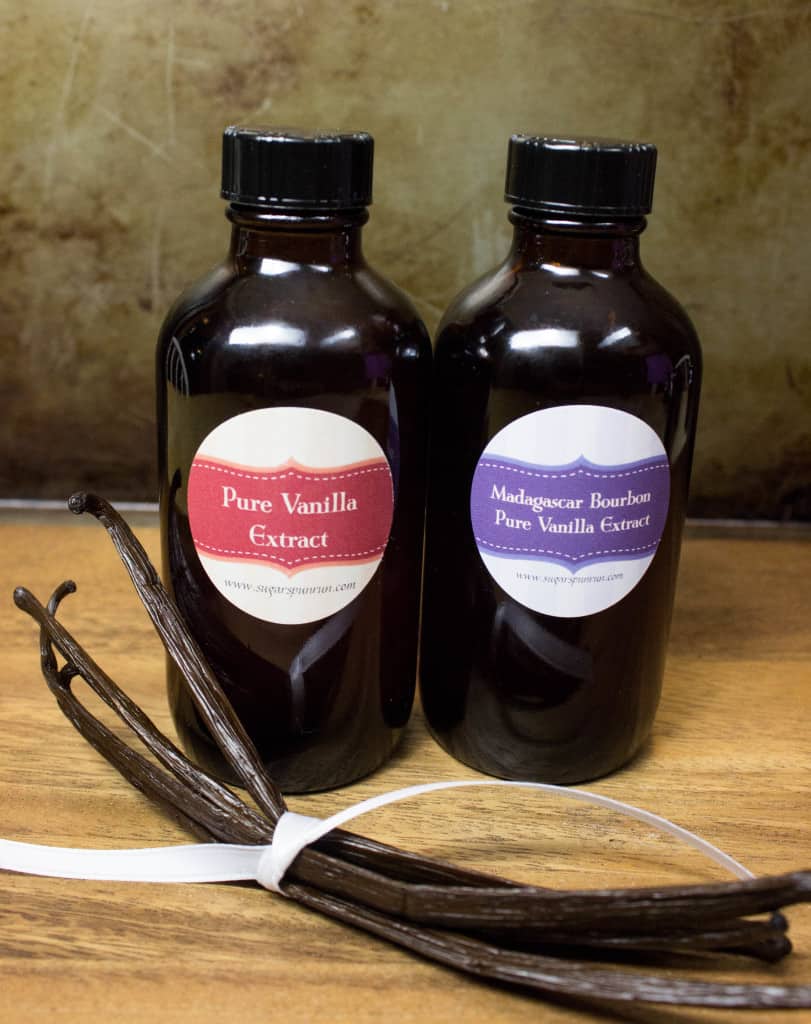 And that's it. 3 steps to your own, homemade vanilla extract. The hardest part is the wait!
Make Your Own Vanilla Extract
How to make Homemade Vanilla Extract - it's so easy and only requires 2 ingredients! This will become your secret ingredient for baking.
Print
Pin
Rate
Servings:
1
16 oz mason jar
Ingredients
7

Grade A or Grade B Madagascar Bourbon Vanilla Beans

1 ¾

cups

mid-shelf liquor--either Vodka or Bourbon

(350ml)
Instructions
Keeping the beans connected at the end of the stem, slice vanilla beans lengthwise.

Place in a resealable glass container, such as a mason jar.

Cover beans with liquor. Make sure that beans are fully submerged. If necessary, cut beans in half width-wise so that they are completely covered by alcohol.

Place in a cool, dark space for 2-3 months, being sure to shake the container at least 4 times a month.