A classic chocolate eclair recipe! I'll show you how to make a simple choux pastry (for the shells), a classic vanilla pastry cream filling, and that glossy chocolate coating. It might sound like a lot, but the steps are actually pretty simple and you'll be making French pastry like a pro in no-time! This recipe also includes a how-to video, in case you're more of a visual learner!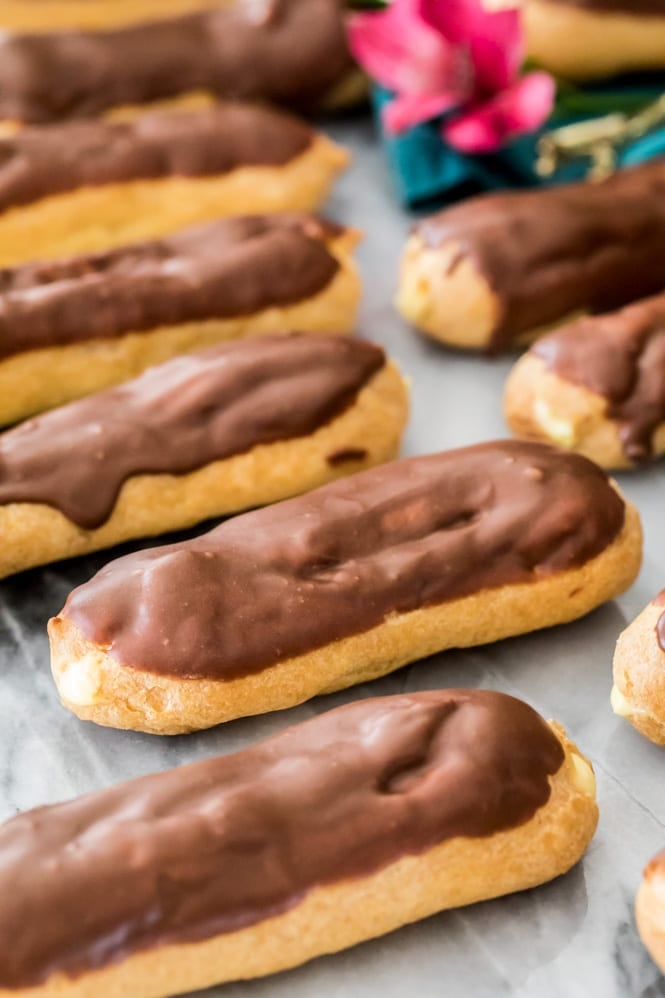 If you've ever been intimidated by the thought of making eclairs, I get it. They seem intimidating, right? Those glorious French pastries filled with silky vanilla cream and topped off with a chocolate glaze. They're decadent and delicate, exquisite pastries that take a bit more time than your average dessert (if your average dessert is a terrible cookie like mine is, anyway).
Eclairs involve more steps than many of your average desserts, but I really believe anyone can make these at home, and I'm excited to walk you through all of the steps today. In plenty of detail and plenty of photos (and a video, for good measure).
If you've made my cream puffs before you won't have any problem with this recipe. We start with a choux pastry (sounds fancy for a batter that's just butter, water, flour, and eggs), fill it with pastry cream, and top it off with a chocolate glaze.
Let's break it down, starting with the pastry…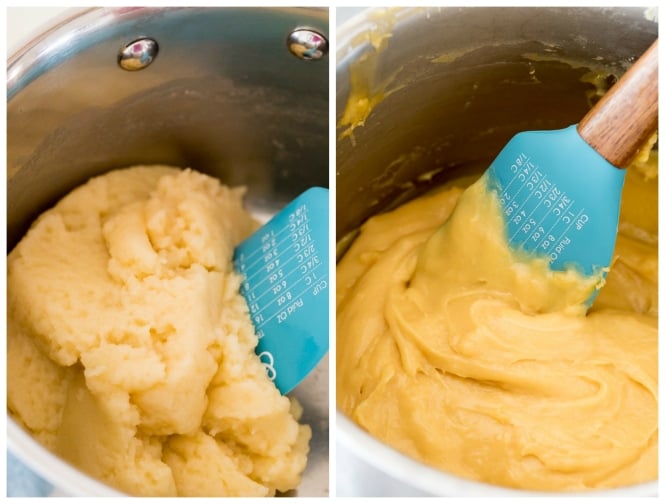 Choux Pastry, & How to Make It:
The oblong shells that we'll be baking and filling with pastry cream are made of a pastry called "choux pastry" (pronounced like "shoo") or "pâte à choux". It's the base for many pastries like cream puffs, French crullers, gougères, profiteroles, and more. It may sound fancy, but the dough is simple to make:
Start by bringing water and butter (and a bit of salt, for flavor) to a boil.
Add flour and stir until the dough clings together and the moisture is absorbed. See the first image above.
Remove pastry from your stovetop and allow it to cool for a few seconds while still stirring. You don't want it to be too hot, or you might cook the eggs that you'll be adding in a moment.
Add eggs, one at a time, stirring until combined after each addition. When you first add the eggs the mixture might look like it is going to separate, but keep stirring and ultimately you should have a velvety batter. See the second image above.
At this point you have your choux pastry, and now it's time to bake it into shells for our eclairs. Since eclairs are oblong in shape (this shape and the chocolate topping are the only things that differentiate eclairs from cream puffs), we will pipe 4-5″ stripes onto our parchment-lined baking sheet and  bake our eclair shells.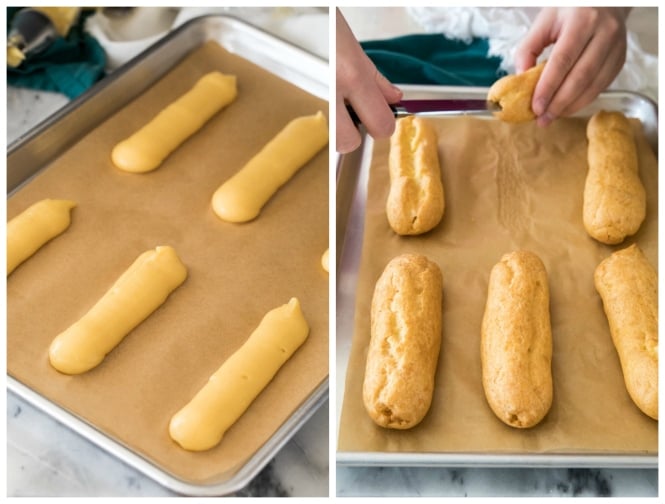 Choux Pastry Tips
Baking the pastry is probably the trickiest part of the whole eclair recipe. Don't bake your pastry enough and the shells will collapse. Bake them too long and they will be too crisp or, worse, burnt. Here are some key things to remember when baking choux pastry (whether for eclairs or not):
Give your pastry space. The shells will grow in the oven, as you can see the difference in size between the first and second images above.
Make sure your oven is completely preheated. It's important that choux pastry be baked on high heat. If your oven hasn't reached 400F when you add your pastry, it may not bake properly. I really recommend keeping an oven thermometer in your oven at all times, as many ovens run hotter or cooler than they indicate, and often they indicate they are completely preheated before they actually are!
Do not open the oven door! Each time you do, your oven temperature drops drastically, and this can keep your eclairs from puffing properly or from staying puffed once they have cooled.
Look for golden brown pastry. You do not want to remove your pastry from the oven too soon or it's likely it will collapse. Use your oven light so you can watch for the pastry to be golden brown and appear dry on the surface. I indicate that the pastry will need to bake for about 30 minutes, but if your eclairs are larger or smaller they could take more or less time.
While your pastry is still hot, you'll use a sharp knife to pierce each end of the eclair to the center (see second image in collage above). Work quickly and be careful not to burn your fingertips. Once you do this, you'll return your pastry to the oven and allow it to cool and cook a bit longer to help maintain the structural integrity of the shells.
Let them cool completely before filling with pastry cream…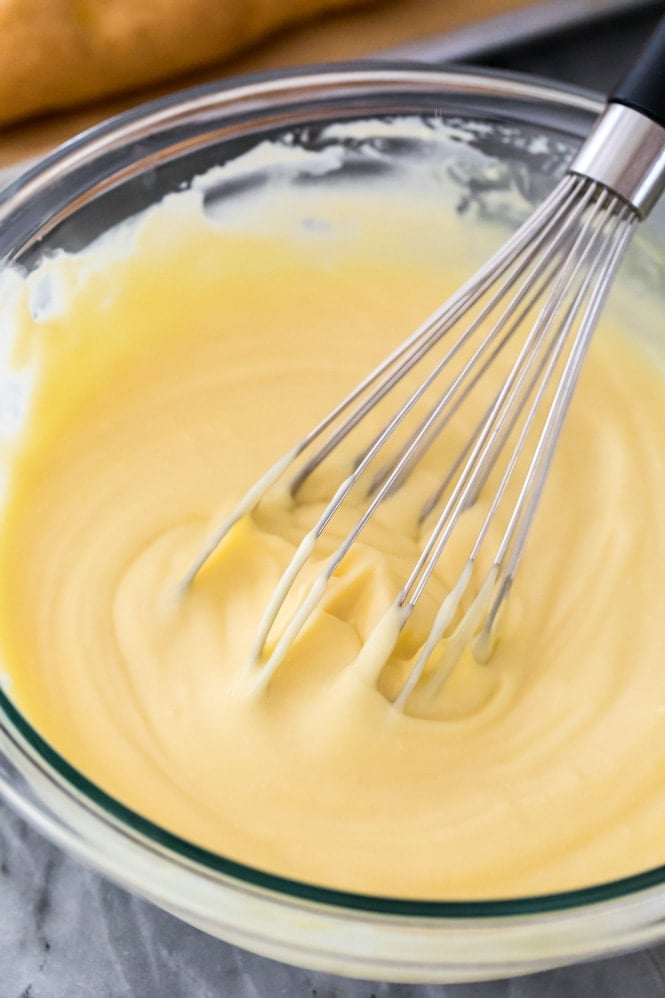 Vanilla Pastry Cream (Eclair Filling)
Pastry cream is wonderful. It's simple to make, absolutely delicious, versatile, and serves as the base for some of my favorite dessert recipes (like my banana cream pie and coconut cream pie). Here we're using it as the silky smooth vanilla filling for our eclairs (because let's face it, choux pastry isn't all that great to enjoy by itself).
I have a step-by-step guide on how to make pastry cream if you need a detailed walkthrough and I make it for you on camera below the recipe, but here are a few key tips:
The pastry cream will need to be made at least several hours in advance; it will need to cool and be chilled before you can use it. You can make pastry cream up to 2 days in advance, if desired.
Cook over medium heat. Don't crank up the heat or your sugars will not dissolve and your mixture will not thicken properly (/it will not be usable!) and may burn.
Tempering your eggs is important. I walk you through this in the recipe, but gradually adding a bit of hot cream into your egg mixture prevents the eggs from cooking.
When filling your eclairs, fill from both ends.  This ensures that the eclair is filled with pastry cream, and not just loaded with it on only one end.
Don't over-fill your pastry shells! The first few times I made this recipe, I absolutely stuffed every shell and only was able to fill a little more than half of them. My eclairs were much too full and were an unpleasant mess to eat. You want to be able to bite into yours and not end up wearing the filling.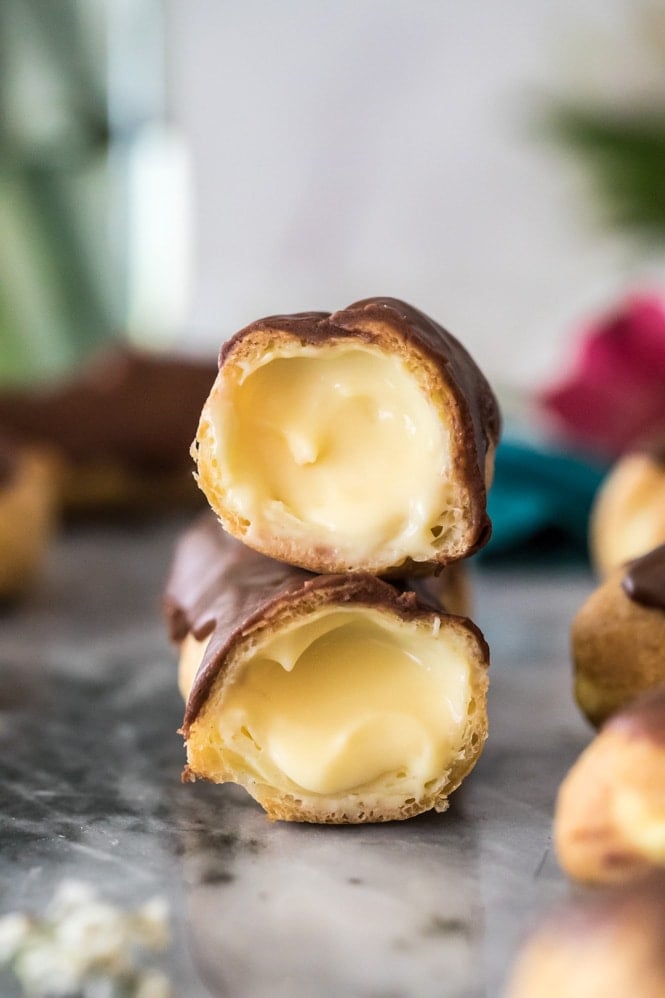 The chocolate is the simplest part of this recipe, just whisk together melted chocolate, butter, powdered sugar, and water until you have a glossy chocolate coating and then spread it over your eclairs or dip each shell in chocolate.
How to Store
Store eclairs in the refrigerator in an airtight container for up to 3 days. They may be frozen for up to several weeks (again, in an airtight container).
Enjoy!
More Recipes You May Like:
Let's bake together! Head on over to my YouTube channel where I've already uploaded hundreds of recipe videos that you can watch for free!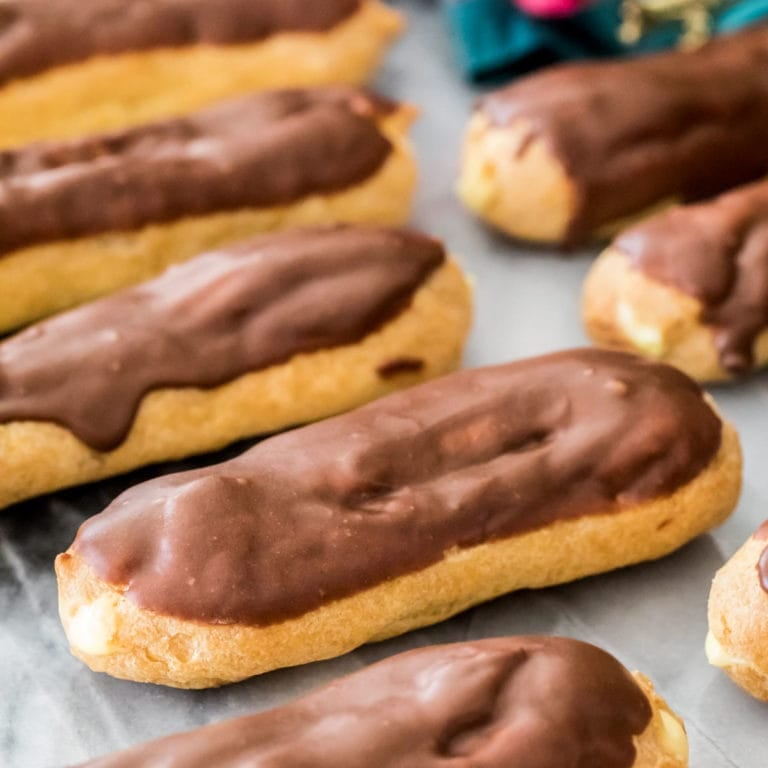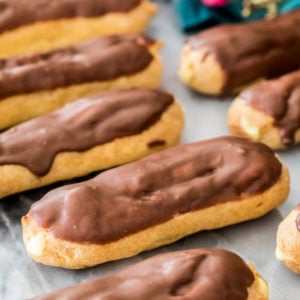 Eclairs
A classic chocolate eclair recipe! I'll show you how to make a simple choux pastry (for the shells), a classic vanilla pastry cream filling, and that hallmark chocolate coating. It might sound like a lot, but the steps are actually pretty simple and you'll be making French pastry like a pro in no-time! This recipe also includes a how-to video, in case you're more of a visual learner! 
Print
Pin
Rate
Ingredients
PASTRY CREAM
1

cup

heavy cream

(235ml)

1

cup

whole milk

(235ml)

⅓

cup

(65g) + 3 Tablespoons granulated sugar

divided

¼

teaspoon

salt

5

large

egg yolks

room temperature

3

Tablespoons

cornstarch

4

Tablespoons

unsalted butter

softened

1 ½

teaspoons

vanilla extract
CHOCOLATE TOPPING
2

oz

semisweet chocolate

or ⅓ cups semisweet chocolate chips (55g)

1

Tablespoon

butter

salted or unsalted will be fine

1 ½

cups

powdered sugar

(185g)

2-4

Tablespoons

hot water

or more, as needed
Instructions
PASTRY CREAM¹
Combine heavy cream, milk, ⅓ cup (65g) of the sugar, and salt in a medium-sized heavy bottomed saucepan over medium-heat. Stir frequently until the sugar is dissolved and mixture comes to a simmer, then remove from heat and allow to cool for 10-15 minutes (stirring occasionally).

While cream mixture is cooling, in a separate large, heat-proof bowl whisk together egg yolks and remaining granulated sugar (3 Tablespoons). Whisk vigorously for 15 seconds (sugar will begin to dissolve but will not dissolve completely).

Sprinkle cornstarch over egg mixture and whisk until no lumps remain and mixture is slightly thickened.

Once the cream mixture has cooled (it won't be completely cool), slowly drizzle about ½ cup into the egg mixture while whisking constantly. Slowly, while whisking, drizzle in the remainder of the cream mixture until completely combined (don't get rid of your saucepan, you'll need it again in a moment). This slow combination of the two mixtures tempers the eggs to prevent them from being heated too quickly and cooking, otherwise you'll have scrambled eggs in your pastry cream!

Pour mixture back into your saucepan and return to the stovetop. Heat over medium heat whisking constantly, until mixture is thickened.

Remove saucepan from heat and pour through a fine mesh strainer (to catch any lumps bits of egg that might have cooked) into a medium-sized heatproof bowl.

Cut butter into 4 pieces and whisk into mixture, one tablespoon at a tie, until melted and completely combined. Whisk in vanilla extract as well.

Take a piece of plastic wrap, wax paper, or parchment paper and place it in direct contact with the surface of the pastry cream (this will keep a skin from forming). Allow to cool at room temperature for 30-60 minutesm, then transfer to the refrigerator to chill for another 3-4 hours. Meanwhile you can prepare your pastry.
CHOUX PASTRY
Preheat your oven to 400F (200C) and line a large baking sheet or two jelly roll sheets (make sure they can both fit in your oven) with parchment paper and set aside.

In a medium-sized saucepan over medium heat, combine water, butter, and salt and bring to a rolling boil.

Once boiling, sprinkle flour over the water and turn heat to medium/low. Stir constantly with a spatula until the moisture is absorbed and your mixture forms a ball that pulls away from the sides of the pot (see photos above in post or video below for visual).

Remove pastry from heat and stir for several minutes to cool down. Add eggs, one at a time, stirring very well after each addition until the mixture is velvety and smooth.

Transfer pastry to a large piping bag fitted with a ½" round tip (I use an Ateco 808) and pipe 5" long strips onto prepared baking sheets, spacing at least 2" apart.

Transfer to preheated oven and bake for 30 minutes or until light golden brown and pastry appears dry.

Remove from oven and use a sharp knife to pierce each end of each eclair Return to baking sheet and return baking sheet to the oven. Turn off your oven and let pastry sit in the oven with the oven door cracked for another 10-15 minutes.

Once time has passed, remove eclairs from oven and allow to cool completely on baking sheet.
ASSEMBLY
Once cooled completely, take a wooden skewer and stick all the way through the eclairs (from the hole on one end through the hole on the other) to make sure there is a clear path for our pastry cream.

Now you can fill your eclairs with pastry cream. To do so, fit a piping bag with a small pointy tip (I like to use a Wilton 5 or 6) and fill piping bag with chilled pastry cream. Insert the tip into one end of the eclair and fill with cream. The cream most likely will not go all the way to the opposite end of the eclair, so turn the eclair around and now fill the other end. Do not overfill eclairs! This recipe makes enough pastry cream to fill all 12-14 eclairs.

Prepare your chocolate topping by melting together chocolate and butter. Whisk in powdered sugar and water until desired consistency is reached. Dip tops of eclairs in chocolate or use an icing spatula to spread chocolate over the top of each eclair.

Allow chocolate to harden, then serve and enjoy!
Notes
¹Pastry cream will need to be made at least 3-4 hours in advance, and can be made as far as 2 days in advance.
How to Store
Store leftover eclairs in an airtight container in the refrigerator for 2-3 days, or you may freeze for up to several weeks.
Nutrition
Serving:
1
eclair
|
Calories:
333
kcal
|
Carbohydrates:
30
g
|
Protein:
5
g
|
Fat:
22
g
|
Saturated Fat:
13
g
|
Trans Fat:
1
g
|
Cholesterol:
166
mg
|
Sodium:
128
mg
|
Potassium:
96
mg
|
Fiber:
1
g
|
Sugar:
20
g
|
Vitamin A:
763
IU
|
Vitamin C:
1
mg
|
Calcium:
53
mg
|
Iron:
1
mg
Nutritional information is based on third-party calculations and should be considered an estimate only. Actual nutritional content will vary based upon brands used, measuring methods, cooking method, portion sizes, and more.