My favorite homemade Strawberry Shortcake recipe! Today's post is jam-packed with plenty of tips, tricks, and even a video so you can see exactly how to make this sweet, simple, recipe from scratch.
A Summertime Classic
While many strawberry shortcake recipes these days are made with pound cake or sponge cake, today we're taking the traditional route and making classic shortcakes from scratch.
Buttery shortcakes (which are basically just lightly sweetened biscuits with sugar on top), freshly whipped cream, juicy ripe strawberries, this is all you need for a refreshing summertime dessert. Traditional strawberry shortcake is lightly sweetened but not tooth-achingly sugary. Most of the sweetness comes from the juicy berries and the freshly whipped cream, with just a hint in the shortcakes.
Sound like your thing? Let's get right to it! I've included plenty of tips and step-by-step photos.
The first thing you'll want to do is slice and macerate your strawberries (we just did this the other day with my Eton Mess).
How to Macerate Strawberries
Macerating strawberries is a critical but oh-so easy step for making strawberry shortcake. Macerating is simply the process of softening the berries and making them juicy. How do you do this? Just cut your berries, toss them in some sugar, stir, and let them sit.
That's it. seriously.
What macerating does is it softens our strawberries, and the sugar draws out the fruit's juices, making for extra juicy and flavorful strawberries. Fancy name, important step. Make sure you prep your strawberries first, as the longer they sit the juicier they will get. Once you have your strawberries prepped, we'll move on to making those actual shortcakes.
What is a Shortcake (And Why Is It Called That)?
Shortcakes are essentially slightly sweetened biscuit. They get their name from the English word "short", which was used to describe something made crisp by the use of fat (the fat in question was often shortening, but we're using butter here). You can read more about the origin of the name here.
My strawberry shortcake recipe gives us light, fluffy, perfect shortcakes with buttery, flaky layers. If you've made my biscuits (possibly the most popular recipe on the blog), you'll recognize that this recipe is quite similar, though these remind me a bit more of my scones. I have a few key tips you want to heed when making them:
Tips
Use cold butter, cream, and milk. This keeps your shortcakes nice and flaky with buttery layers. Toss your butter in the freezer for a few minutes before you begin.
Use real butter! Some classic recipes use shortening, but nothing beats the taste of real butter. You won't get the same flaky, flavorful layers if you substitute shortening, either.
Don't overwork the dough! You want to use cold ingredients and you want them to stay cold while you are making your dough. The more you handle the shortcake dough, the warmer/softer you will make your butter, which can minimize the fluffiness and leave you with flat, dense biscuits.
Don't be afraid to add a little flour. If your dough is too sticky when you are handling it, dust it with flour so that it's manageable.
Homemade Whipped Cream (Don't Skip It!)
Once your shortcakes are in the oven you can make your homemade whipped cream. Three ingredients and three minutes, that's all you need (and an electric mixer). I recently shared a step-by-step tutorial on how to make homemade whipped cream, but here's the gist of it:
Combine heavy cream, powdered sugar, and vanilla extract in a large bowl.
Use an electric mixer to beat ingredients together until you reach stiff peaks and mixture is thick and billowy. It should resemble the consistency of Cool Whip (see photo below), but it'll taste so much better.
There is no substitute for homemade whipped cream on a strawberry shortcake, trust me. Want to them to the next level? Add a dollop of lemon curd!
Making in Advance
You can make all of the components for strawberry shortcake up to 24-48 hours in advance, but do not assemble until you are ready to serve.
Store shortcakes in an airtight container at room temperature and the berries and whipped cream each in their own airtight container in the refrigerator. Those juicy, perfectly macerated strawberries will make your strawberry shortcake soggy if they sit for too long.
Once you're ready to serve, slice your shortcakes in half. Top the bottom half with those juicy, macerated strawberries, then a healthy dollop of homemade whipped cream, the other half of your shortcake, more whipped cream, and then more strawberries. Wasn't that easy?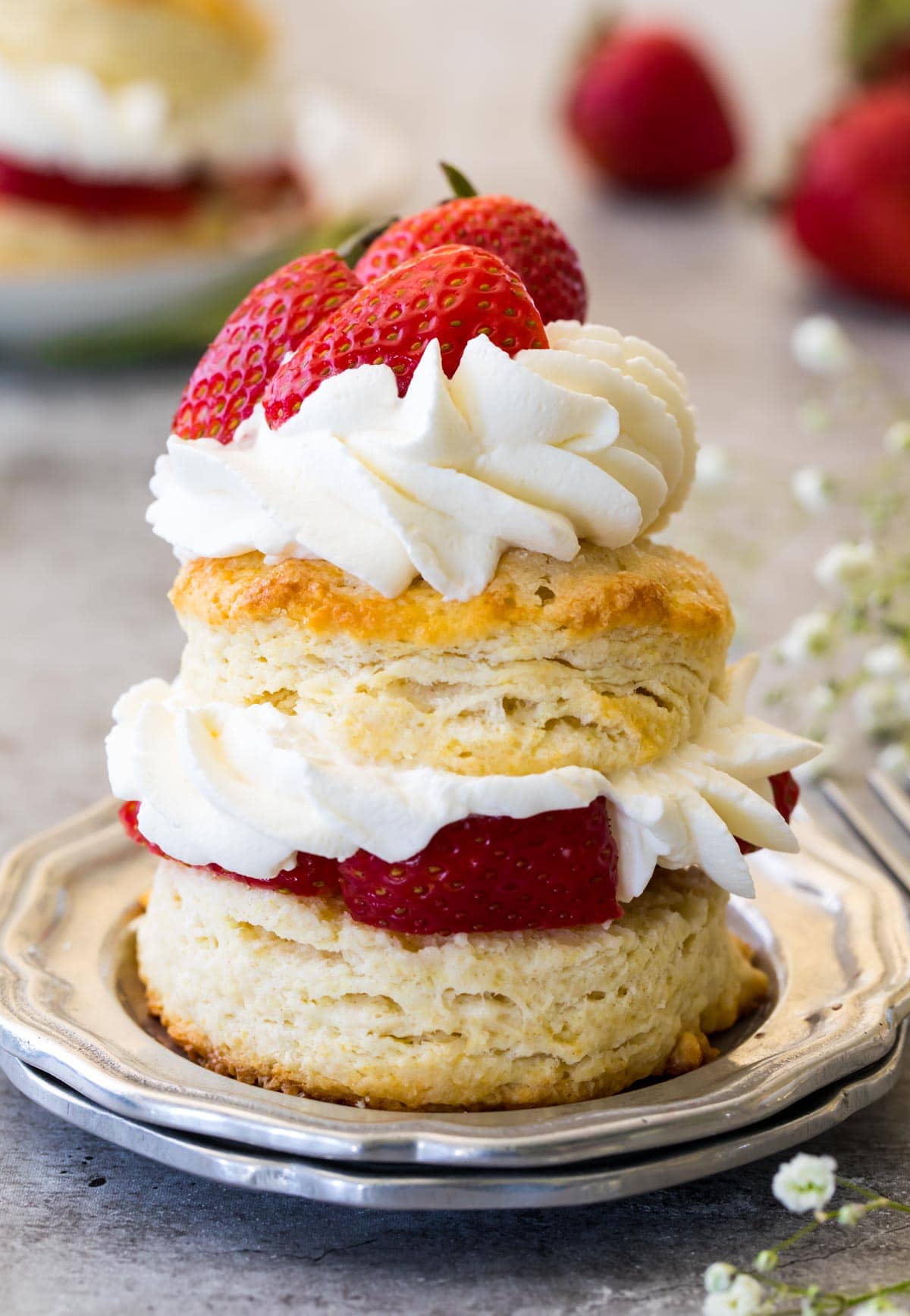 Alright, I think I've talked enough today and I think you're well on your way to the best strawberry shortcake of your life. Enjoy!
More Recipes You Might Like:
Enjoy!
Let's bake together! Be sure to check out my video in the recipe where I'll show you exactly how I make these in my own kitchen!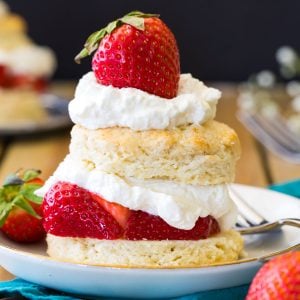 Strawberry Shortcake
This is the BEST Strawberry Shortcakes Recipe! With easy-to-make, buttery, perfectly sweetened shortcakes, homemade whipped cream, and juicy berries!
Print
Pin
Rate
Servings:
6
strawberry shortcakes
Ingredients
Strawberries
1

lb

fresh strawberries

washed, stems removed, quartered (450g)

3

Tablespoons

granulated sugar
For Shortcakes
2

cups

all-purpose flour

(250g)

¼

cup

granulated sugar

(50g)

1

Tablespoon

baking powder

1

teaspoon

salt

6

Tablespoons

unsalted butter

very cold (85g)

½

cup

cold heavy cream¹

(120ml)

⅓

cup

cold milk¹

(80ml)

Additional heavy cream

for brushing

Coarse sugar

for sprinkling (if you don't have coarse sugar, regular granulated will work just fine!)
Homemade Whipped Cream
1 ½

cups

heavy cream cold

(355ml)

½

cup

powdered sugar

(60g)

1

teaspoon

vanilla extract
Instructions
For best results I recommend chilling your butter in the freezer for about 15 minutes before beginning. Cold butter yields light, buttery shortcakes.  A chilled metal bowl will also make whipping your cream easier and faster, so while it is not mandatory it would be helpful to place one in the freezer at this point that you can use it for your whipped cream.

Start by preparing your strawberries. Place sliced strawberries in a medium sized bowl and add 3 tablespoons of sugar. Stir well and set aside so they can get nice and juicy while you prepare your shortcakes.
For Shortcakes
Preheat oven to 425F (220C) and line a baking sheet with parchment paper. Set aside.

In a large bowl combine flour, sugar, baking powder, and salt and whisk to combine.

Use a box grater² to grate cold butter into the dry ingredients. Stir until mixture resembles coarse crumbs. Add heavy cream and milk and use a spoon or spatula to stir until ingredients are combined. Don't over-work the dough, but stir until it begins to cling together.

Transfer shortcake dough to a floured surface and work the dough together with your hands, adding more flour as needed if the dough is sticky.

Once the dough is a cohesive ball, fold it in half over itself and use your hands to gently flatten the layers. Rotate dough 90 degrees, then fold in half again. Repeat this step 5-6 times, taking care to not overwork the dough (see video below the recipe for a visual if needed). This is laminating the dough and gives you those flaky layers!

Using your hands, gently flatten the dough to 1" thick. Lightly dust a 2 ¾" round biscuit cutter³ with flour, and press the biscuit cutter straight down (don't twist) to cut out shortcakes. Place shortcakes on prepared baking sheet, less than ½" apart.

Once you have cut as many shortcakes as possible out of the dough, gently re-work the dough to get out another shortcake or two until you have at least 6 (sometimes I'm able to get 7. Brush with additional heavy cream and sprinkle generously with coarse sugar (if you don't have coarse sugar, regular granulated will also work just fine).

Bake on 425F (220C) for 14-15 minutes or until tops and bottoms of shortcakes are beginning to just turn lightly golden brown.

Prepare whipped cream while shortcakes cool.
Whipped Cream
Combine heavy cream, powdered sugar, and vanilla extract in a large bowl (if you chilled a bowl before starting, use that now).

Using an electric mixer, beat ingredients on low speed, gradually increasing speed to high, and beat until stiff peaks form. Don't over-beat, but don't stop beating until cream has reached a billowy Cool-Whip consistency.
To Assemble Shortcakes
Slice cooled shortcakes in half and place the bottom half cut-side up on a plate.

Stir your strawberries once more (they should be nice and juicy by now) and top one shortcake half generously with your prepared strawberries, and then with a dollop of homemade whipped cream.

Top the whipped cream with the top half of your shortcake, and then top with additional whipped cream and finally additional strawberries. Serve immediately after assembling.
Notes
¹I like to use a blend of heavy cream and milk for the most tender shortcakes, but in a pinch you can leave out the cream and increase the milk to ¾ cup (2% milk or buttermilk would also work).
²If you don't have a box grater, use a pastry cutter to cut the butter into the flour. 
³If you don't have a biscuit cutter, use the rim of a clean glass or just use a knife and cut the shortcakes into squares. The important thing is you press straight down when cutting and don't twist or saw, which will keep your biscuits from rising properly.
Nutrition
Serving:
1
strawberry shortcake
|
Calories:
656
kcal
|
Carbohydrates:
66
g
|
Protein:
7
g
|
Fat:
42
g
|
Saturated Fat:
26
g
|
Cholesterol:
140
mg
|
Sodium:
429
mg
|
Potassium:
440
mg
|
Fiber:
3
g
|
Sugar:
29
g
|
Vitamin A:
1547
IU
|
Vitamin C:
45
mg
|
Calcium:
175
mg
|
Iron:
2
mg
Treat yourself to a

FREE E-BOOK!
Recipe originally published 05/02/2018. Updated for clarity and to provide more information 07/16/2020.