Ever wanted to make perfect Cream Puffs at home? Today I'm showing you exactly how to make them completely from scratch in the comfort of your own kitchen. And guess what: It's not even that hard!
I start with my grandmother's easy recipe for choux pastry and fill it with my simple vanilla pastry cream. For extra tips and visual hints be sure to check out my how-to video at the bottom of the post!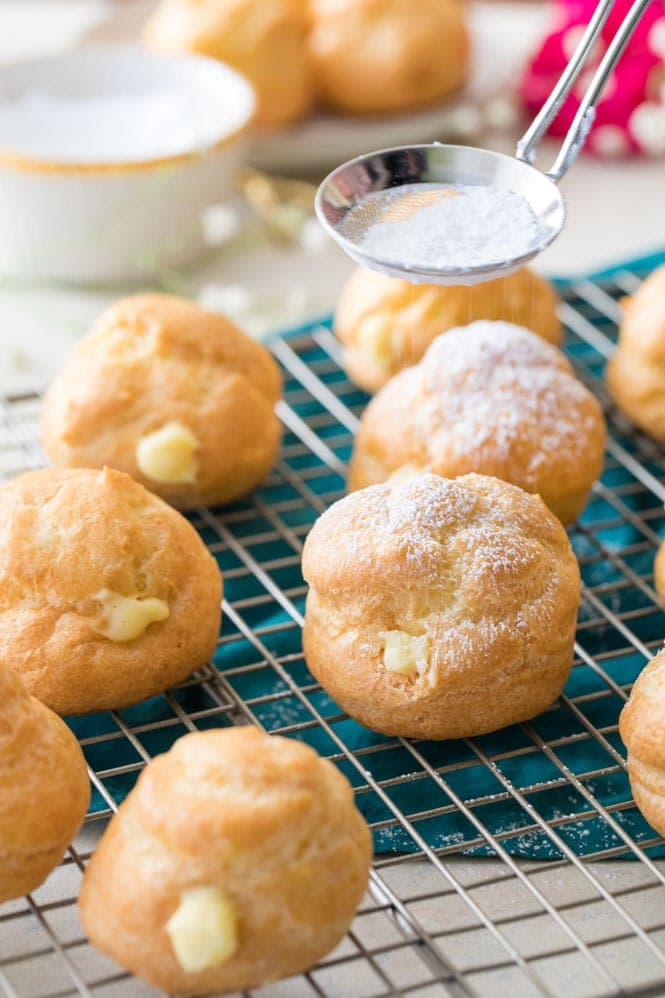 Ready to feel like a fancy French pastry chef? Today we are tackling choux pastry (also known as pâte à choux) and pairing it with the vanilla pastry cream that I shared earlier this week to make perfect cream puffs completely from scratch.
You've got this! Besides, by now we've tackled crème brûlée and fancy lava cakes, we can handle a little choux pastry. Let's get right to it.
How to Make Choux Pastry for Cream Puffs
Choux (pronounced "shoo") pastry may sound fancy but it's actually shockingly simple to make. You need just 5 humble ingredients: water, butter, salt, flour, and eggs.
Start by combining the water, butter, and salt in a saucepan over medium heat and bring the mixture to a rolling boil.
Once boiling, add your flour and turn heat down to medium/low. You can add the flour all at once, there may be some lumps but stir constantly with a rubber spatula and try to work out any clumps of flour as you go.
Once the dough clings together and forms a ball and all moisture has been absorbed, remove from heat.
Stir the pastry dough to cool it down for several minutes, then add 4 eggs, one at a time, stirring until completely combined after each addition.
Once you've made your pastry dough, simply pipe it into mounds on a parchment paper lined baking sheet.
The dough will need to bake on high heat (400F) for half an hour. Make sure your oven is completely preheated and do not open the oven door until the cream puffs look golden brown and dry. Before they are finished they will have a greasy, wet-looking exterior.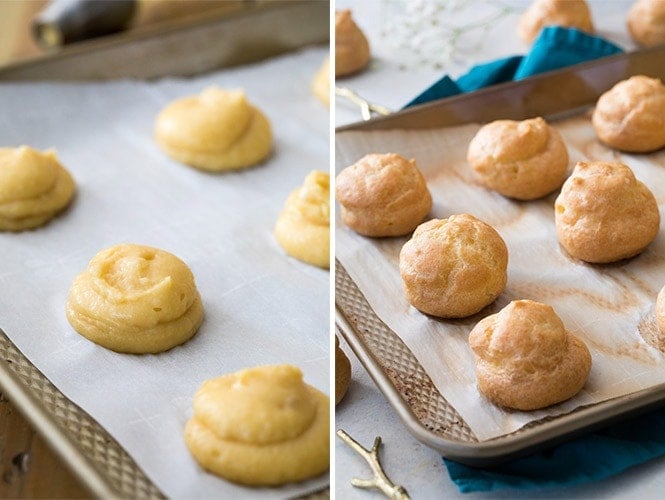 Once the cream puffs have finished baking, remove them from the oven and use a knife to pierce a hole in the side of each puff. This is where we will eventually be adding our pastry cream (which is much better than the common alternative of hacking our beautiful puffs in half and filling them that way!).
Remember, they will be very hot at this point, so move carefully and quickly and take care not to scorch your fingertips! You do want to pierce them while they are still hot because as soon as you've stabbed each puff you'll immediately return them to the oven. Turn off your oven and crack the door and let them sit in there for another 10 minutes.
This will keep the cream puffs from cooling too quickly, which can cause them to collapse on themselves. More on that below.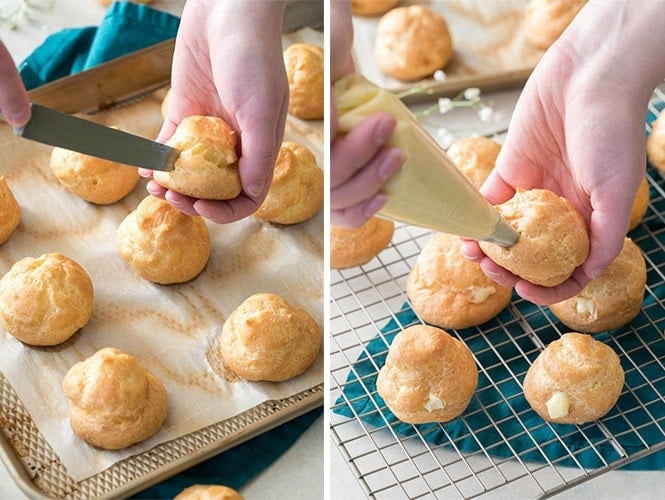 Why Did My Cream Puffs Deflate?
Cream puffs usually collapse in on themselves for any of the following reasons:
The oven wasn't properly preheated before adding your pastry or is not at the right temperature.
High heat is critical for getting these puffs to rise and bake up structurally sound.
You opened the oven door during the baking process. 
Every time you open the oven door, the temperature drops and the rush of cold air can keep your cream puffs from rising properly or staying puffed once cooled.
You removed the pastry from the oven too soon.
It's important that they be golden brown and dry and firm. Make sure you have a working light in your oven so you can check without opening your oven door! If you make your cream puffs larger or smaller than indicated in the recipe, your baking time will vary so it's important to check for these visual cues.
Can You Make Cream Puffs in Advance?
Yes, you can make these cream puffs 2-3 days in advance. Store them in an airtight container in the refrigerator. Alternatively, you may freeze them for up to several weeks. Fun fact: Frozen cream puffs are known as Profiteroles.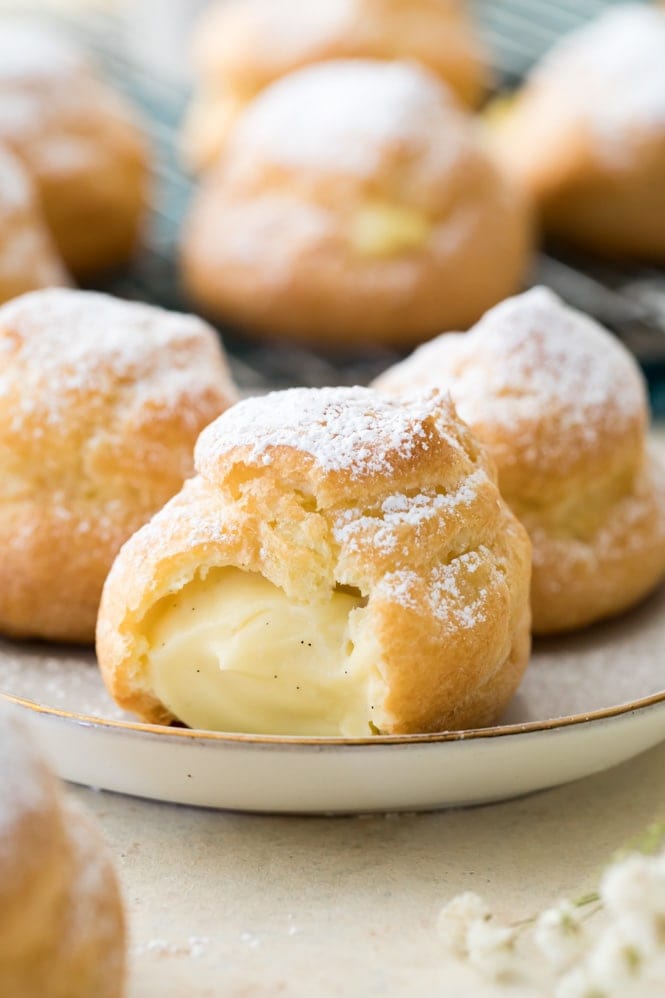 I spent most of today's cream puff recipe focusing specifically on the choux pastry aspect. This is because I covered all of the ins and outs of making pastry cream in Monday's post. While I cover all the essentials for making homemade pastry cream in the recipe and video below, if you would like more tips/details/photos for that portion of the recipe, please check out my Pastry Cream recipe.
Other Recipes You Might Like:
Be sure to check out the Cream Puff video at the bottom of the recipe! If you enjoy watching, make sure to subscribe to my YouTube channel where I've already uploaded over 100 recipe videos that you can watch for free!
Cream Puffs Recipe
Ever wanted to make perfect Cream Puffs at home? Today I'm showing you exactly how to make them completely from scratch in the comfort of your own kitchen. And guess what: It's not even that hard!
I'm sharing my grandmother's easy recipe for choux pastry and filling it with my simple vanilla pastry cream. For extra tips and visual hints be sure to check out my how-to VIDEO at the bottom of the recipe!
I recommend preparing the pastry cream first as it will need to cool for at least 2 hours. It can alternatively be made a day or two in advance.
Print
Pin
Rate
Ingredients
PASTRY CREAM:
1

cup

whole milk

(236ml)

1

cup

heavy cream

(236ml)

⅓

cup (67g) + 3 Tablespoons

granulated sugar

divided

1

vanilla bean¹

split in half lengthwise

¼

teaspoon

salt

5

large egg yolks room temp

3

Tablespoons

cornstarch

4

Tablespoons

unsalted butter

softened and cut into 4 pieces
CHOUX PASTRY
1

cup

water

(236ml)

½

cup

unsalted butter

cut into 8 pieces (113g)

¼

teaspoon

salt

1

cup

all purpose flour

(125g)

4

large eggs

room temperature

Powdered sugar

for dusting cream puffs
Instructions
PASTRY CREAM
Combine cream, milk, ⅓ cup (67g) sugar, vanilla bean, and salt in a medium-sized heavy bottomed saucepan. Place on stovetop over medium heat. Stir frequently until sugar is dissolved and mixture comes to a simmer. Remove from heat and allow to cool for 10 minutes (stir occasionally).

Meanwhile, in a separate large bowl, whisk together egg yolks and 3 Tablespoons of sugar. Whisk vigorously for about 15 seconds, until sugar is beginning to dissolve.

Sprinkle cornstarch over egg/sugar mixture and whisk until combined and slightly thickened.

Once your cream mixture has cooled, slowly drizzle about ⅓ cup of the cream mixture into the egg mixture while whisking constantly (this will temper your eggs and gradually adding the heated cream will prevent them from cooking!). Slowly, while still whisking, drizzle in the remainder of your cream mixture until the cream and egg mixture are completely combined.

Pour mixture back into saucepan and return to stovetop over medium heat. Whisk frequently until thickened.

Remove from heat and pour mixture through a fine mesh strainer into a heatproof bowl (vanilla bean should be caught by the strainer and should be discarded now).

Whisk in butter, one piece at a time until completely combined. If you didn't use a vanilla bean, stir in the vanilla extract at this point, too.

Place plastic wrap directly in contact with the surface of the pastry cream to keep a skin from forming. Allow to cool at room temperature for about 30 minutes or until near room temperature, then transfer to the refrigerator to chill for at least 2-4 hours. Meanwhile, prepare your choux pastry.
CHOUX PASTRY
Preheat oven to 400F (200C) and line a large baking sheet or two smaller baking sheets² with parchment paper. Set aside.

Combine water, butter, and salt in a medium-sized heavy-bottomed saucepan over medium heat and bring to a rolling boil.

Once mixture is boiling, add flour and turn down heat to medium/low. Stir continuously with a spatula until moisture is absorbed and mixture forms a ball that pulls away from the sides of the pot.

Remove from heat and stir for several minutes to cool down the mixture. Add eggs, one at a time, stirring very well after each addition until mixture is smooth and velvety.

Transfer mixture to a piping bag (or to a large Ziploc bag with one corner snipped) and pipe onto prepared baking sheets by mounds about 2" wide by 1" tall, spacing each mound at least 1 ½ inches apart. Lightly dampen your fingers with cold water and gently press down any peaks on the pastry mounds.

Transfer to 400F (200C) oven and bake for 30 minutes or until cream puffs appear dry and light golden brown.

Remove from oven and use a sharp knife to pierce the lower center of each cream puff, inserting knife about halfway into cream puff (be careful, cream puffs will be hot!)³. Replace each puff on baking sheet and return to oven. Turn off oven and let pastry sit in the oven with the oven door cracked for another 10 minutes.

Once 10 minutes has passed, remove from oven and allow to cool completely on baking sheet.


Allow to cool completely before piping with pastry cream.

To fill with cream, place pastry cream in a piping bag fitted with a small tip (I used a Wilton 5). Insert piping tip into each cream puff and fill until pastry cream is beginning to come out the hole.

Lightly dust the top of each cream puff with powdered sugar just before serving (the sugar will dissolve in the refrigerator if not served right away).

Enjoy! Store cream puffs in an airtight container in the refrigerator for 2-3 days or freeze for several weeks.
Notes
¹If you don't have a vanilla bean, instead use 1 ½ teaspoons vanilla extract. However, don't add the vanilla extract until step 7. 
²Make sure that if you use a large baking sheet there is enough room to fit all 20 cream puffs, and if you use two smaller ones make sure they will both fit in your oven. Choux pastry takes a while to cook and you want to be able to cook all of your puffs at once.
³If your preference is to slice the cream puffs in half rather than piercing and filling them, you can skip this step of piercing them (particularly if you wish to fill them with something that's not easily pipe-able, like ice cream). Simply turn off the oven, crack the door and allow them to cool as instructed then slice them in half once they are completely cooled.
Nutrition
Serving:
1
cream puff
|
Calories:
183
kcal
|
Carbohydrates:
12
g
|
Protein:
3
g
|
Fat:
14
g
|
Saturated Fat:
8
g
|
Polyunsaturated Fat:
1
g
|
Monounsaturated Fat:
4
g
|
Cholesterol:
119
mg
|
Sodium:
87
mg
|
Potassium:
50
mg
|
Sugar:
7
g
|
Vitamin A:
550
IU
|
Calcium:
40
mg
|
Iron:
0.4
mg
Nutritional information is based on third-party calculations and should be considered an estimate only. Actual nutritional content will vary based upon brands used, measuring methods, cooking method, portion sizes, and more.