Making perfect Cream Puffs at home is a lot easier than you think! My recipe uses a homemade pastry cream filling (no pudding mixes here!) for the best, classic taste. Recipe includes a how-to video!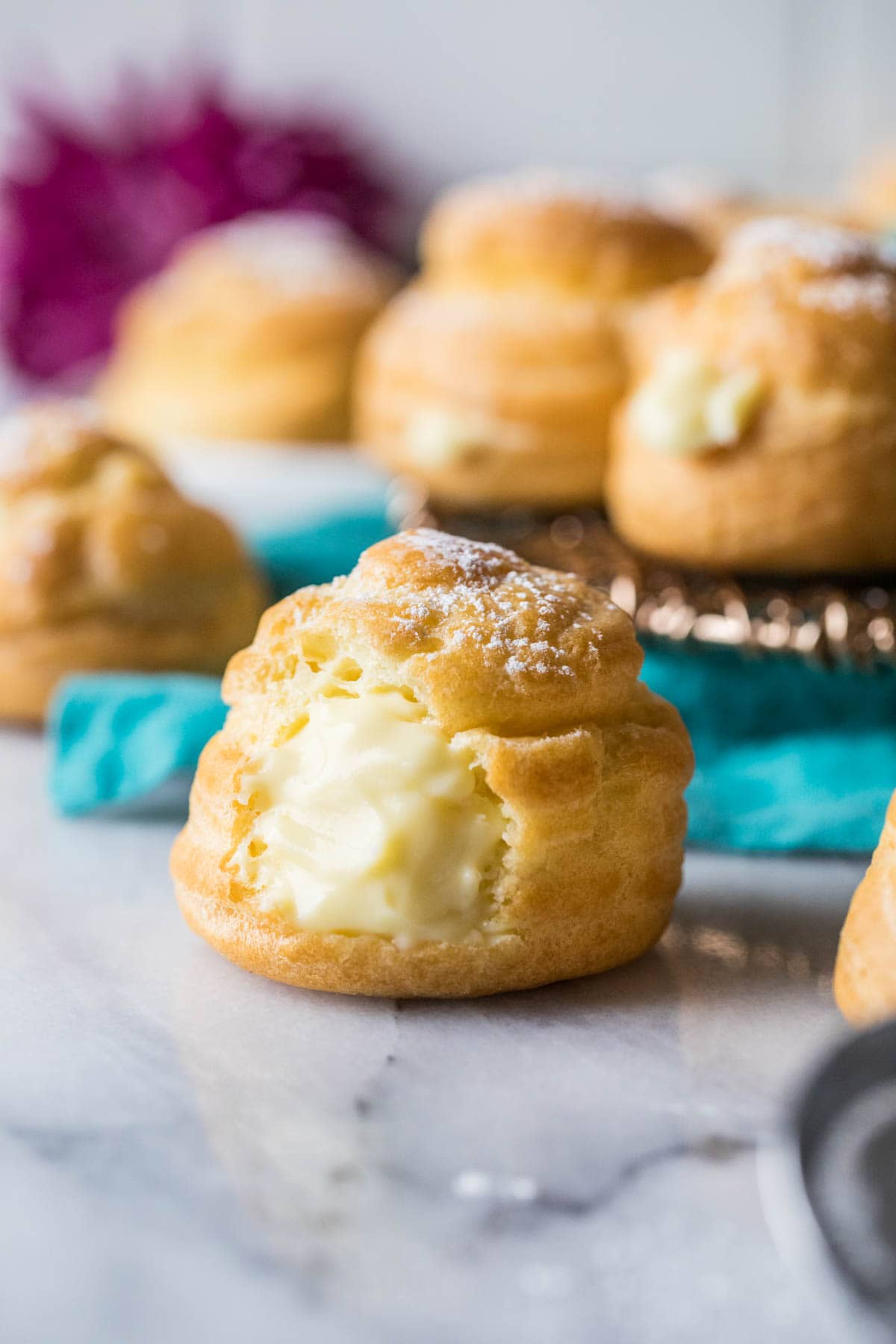 Perfect Cream Puffs From Scratch
Ready to feel like a fancy French pastry chef? Today we are making perfect cream puffs from scratch! We'll be using my grandmother's easy recipe for choux pastry (also known as pâte à choux) and filling it with my simple pastry cream. These are impressive and bakery-display-window-worthy, but also super simple to make (shockingly simple!). They are always a huge hit at parties!
A quick rant/clarification: yes, these cream puffs are filled (not sandwiched!) with pastry cream (not whipped cream!). So many cream puff recipes today involve cutting the puffs in half and sandwiching them with whipped cream or a fluffed up pudding from a box–this drives me crazy! Cream puffs should be filled, and they should always be filled with pastry cream. This is the traditional and proper way to make them, and that's how I designed my recipe.
If you'd like to go the non-traditional route, you can use my homemade whipped cream or stabilized whipped cream for a piped sandwich filling. We just won't be friends anymore 😉
What You Need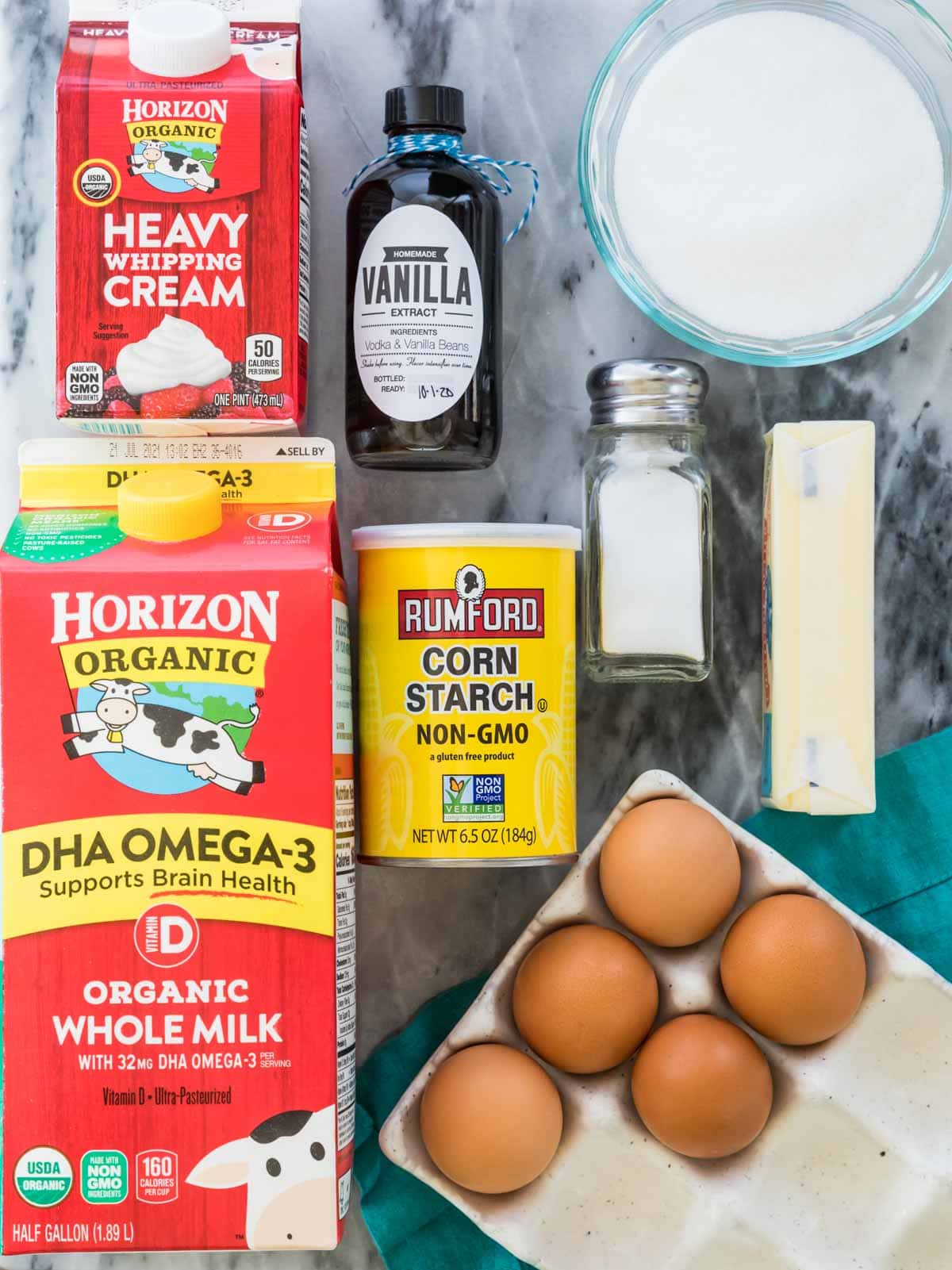 We'll start with the pastry cream, since it needs to chill before piping. You'll need:
Egg yolks. We'll be using just the egg yolks today. I provide a few options for using up your egg whites below.
Cornstarch. This thickens our pastry cream and gives it a velvety texture.
Milk and cream. I like to use whole milk, but really any kind will work. Double cream or whipping cream will work instead of heavy cream. Alternatively, you can just use 2 cups of half and half instead of the milk and cream.
Vanilla. You can use real vanilla beans or vanilla extract; I provide instructions for how to use both below.
Choux (pronounced "shoo") pastry may sound fancy but it's actually very simple to make. You need just a few humble ingredients:
Flour. Regular, all-purpose flour will work just fine here.
Butter. Use unsalted butter and make sure it's cut into tablespoon-sized pieces before adding it.
Eggs. Make sure yours are at room temperature before you add them. Forgot to set yours out? Check out my how to quickly bring eggs to room temperature post for a helpful trick!
Water and salt. For moisture and flavor.
SAM'S TIP: Don't want to waste your leftover egg whites? Use them to make my white cake, angel food cake, zebra cake, meringue cookies, swiss meringue buttercream, or marshmallow frosting.
Remember, this is just an overview of the ingredients I used and why. For the full recipe please scroll down to the bottom of the post!
How to Make the Pastry Cream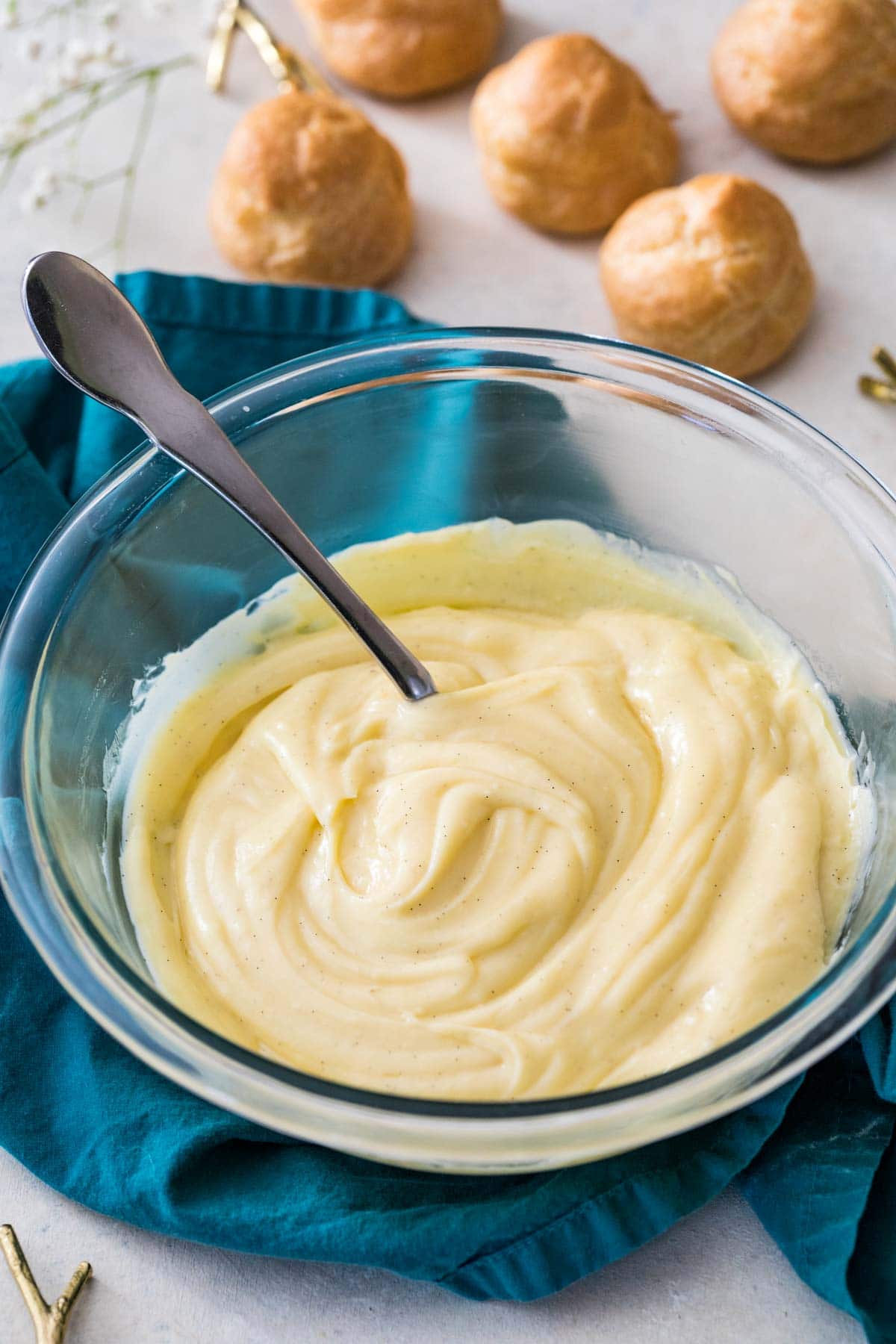 Since first sharing my cream puff recipe, I have slightly modified my pastry cream method to make it simpler. The version that I share in the video and in the post is the original method that I have used for years, but if you're looking for a shortcut version, you can make a single batch of my new pastry cream, which I've linked to in the recipe card.
Simmer and cool – Cook cream, milk, ⅓ cup sugar, vanilla bean (if using) and salt over medium heat until the sugar dissolves and the mixture comes to a simmer. Remove from heat and let cool for 10 minutes.
Combine eggs and sugar – In a separate bowl, vigorously whisk together the egg yolks and remaining sugar until the sugar starts to dissolve.
Temper the eggs – Whisk cornstarch into the egg mixture, then slowly drizzle about ⅓ cup of the cream mixture in while whisking constantly.
Add the cream – Slowly drizzle in the remaining cream mixture while whisking constantly, then return the pot to the stove and cook over medium heat until the pastry cream thickens.
Strain – Pour the cream through a fine mesh strainer and add the butter one tablespoon at a time. Stir in the vanilla extract, if using.
Cover and chill – Cover with plastic, pressing down to make sure it stays against the surface of the cream. Let cool at room temperature for 30 minutes, then place in the fridge to chill for 2-4 hours.
How to Make Choux Pastry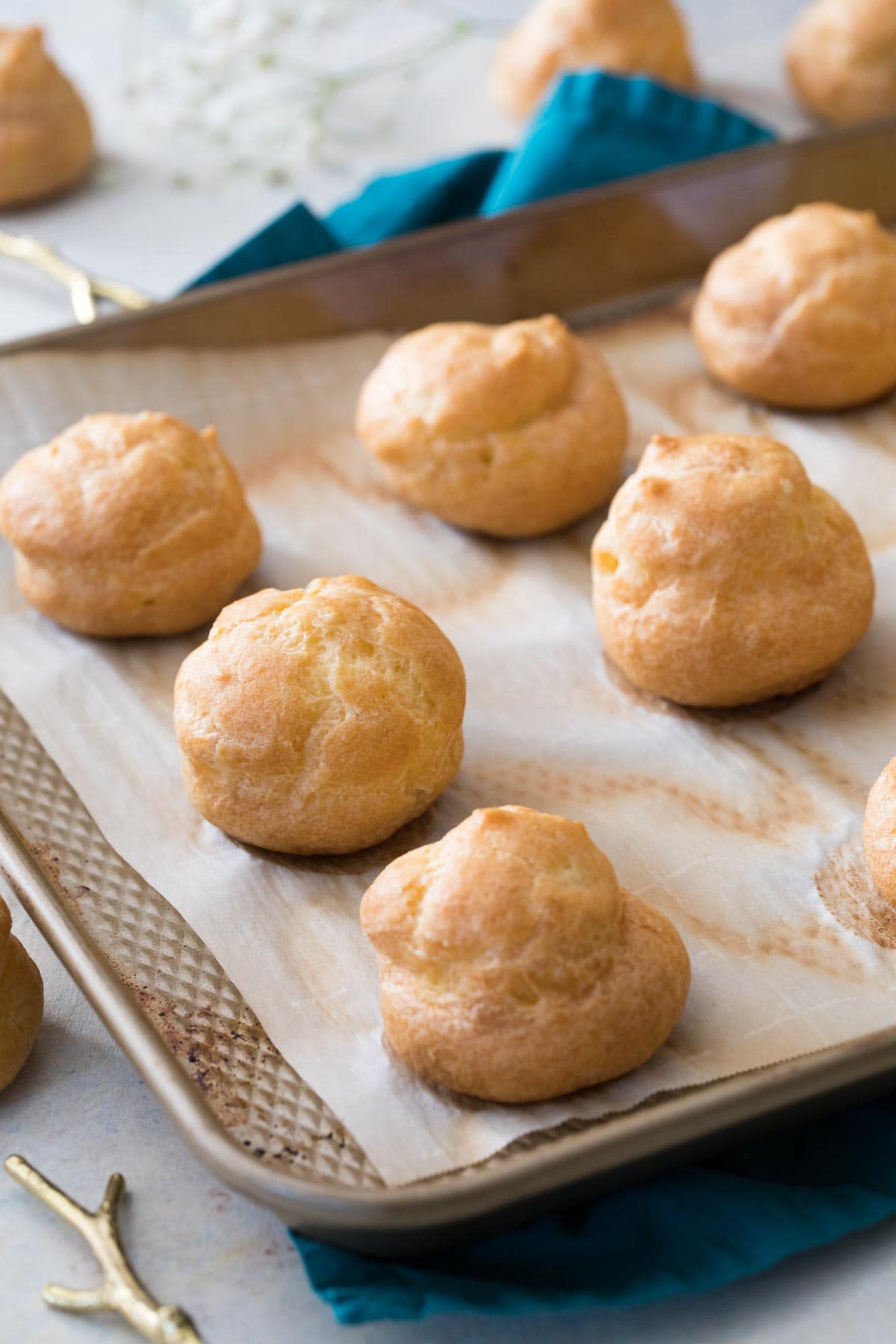 Boil water and butter – Bring the water, butter, and salt to a rolling boil over medium heat.
Stir in the flour – Add the flour and turn heat down to medium-low. Stir constantly with a rubber spatula and try to work out any clumps of flour as you go.
Remove from heat – Once the dough forms a ball and all moisture has been absorbed, remove the pan from heat and stir the dough to cool it down.
Add the eggs – After several minutes, add the eggs one at a time, stirring until completely combined after each addition.
Bake – Pipe the dough into mounds on a parchment paper lined baking sheet and bake at 400F for 30 minutes.
SAM'S TIP: Make sure your oven is completely preheated and do not open the oven door until the puffs look golden brown and dry. Before they are finished they will have a greasy, wet-looking exterior.
How to Make Cream Puffs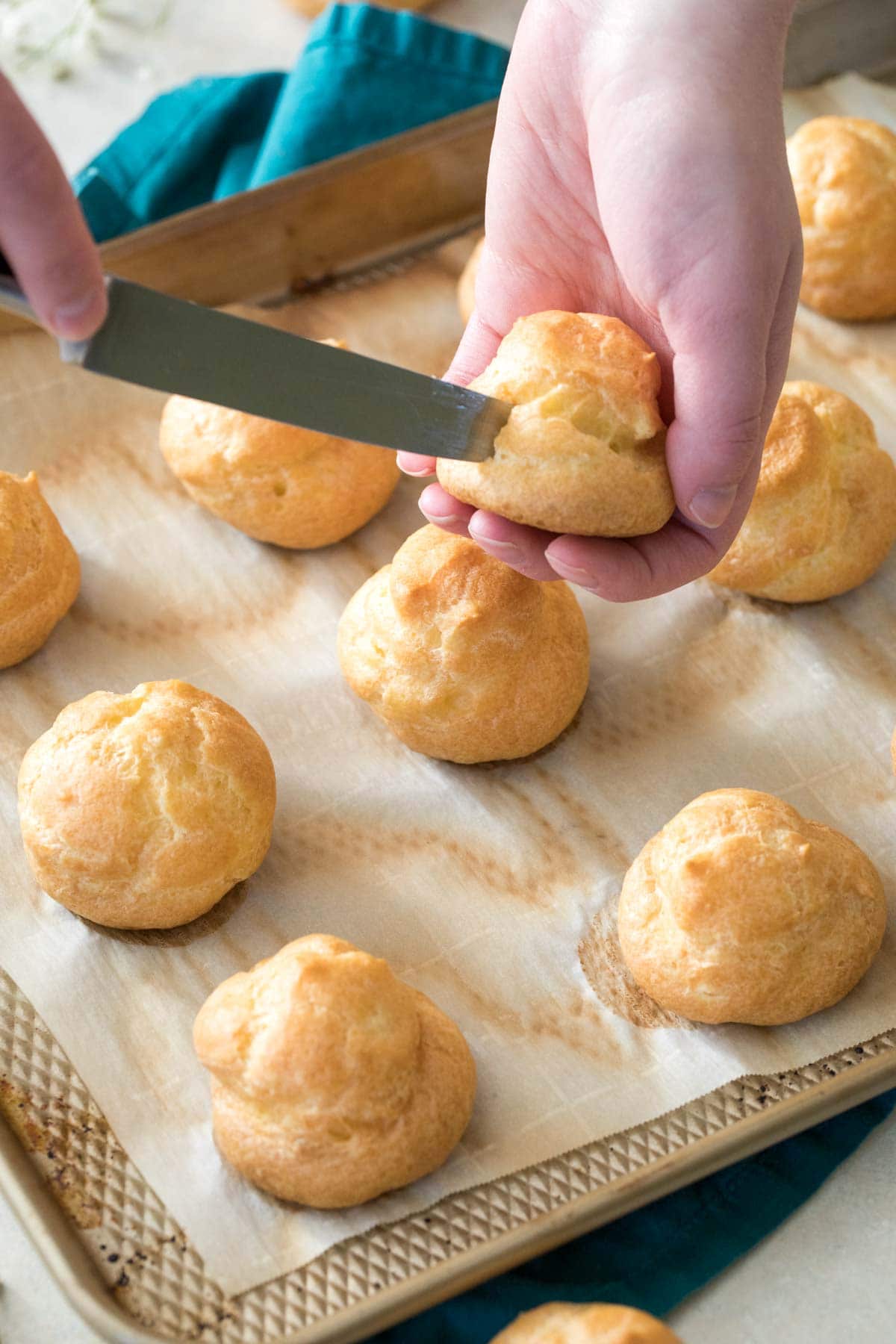 Pierce the puffs – Once the puffs have finished baking, remove them from the oven and use a knife to pierce a hole in the side of each. Remember, they will be very hot at this point, so move carefully and quickly and take care not to scorch your fingertips!
Return to the oven – As soon as you've pierced each puff, immediately return them to the oven and turn it off. Crack the door and let the puffs sit in the warm oven for another 10 minutes.
Fill and enjoy! Remove the puffs from the oven and let them cool completely before filling with pastry cream (using the holes you made earlier) and dusting with powdered sugar.
SAM'S TIP: Returning the puffs to the oven after piercing them helps prevent them from cooling too quickly, which can cause them to collapse on themselves. More on this below!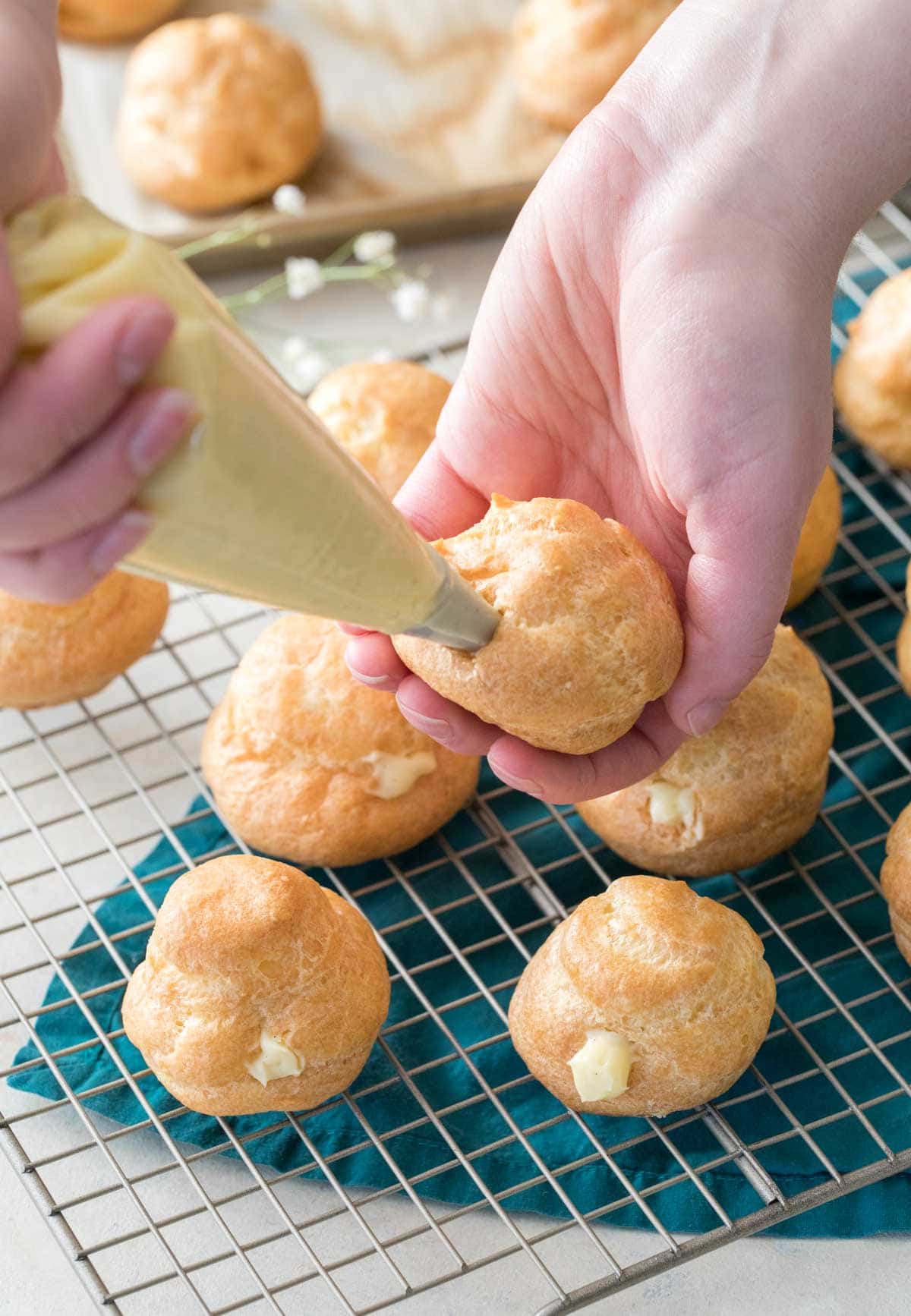 Frequently Asked Questions
Why did my cream puffs deflate?
Cream puffs usually collapse for one of the following reasons:

Your oven wasn't properly preheated or is not at the right temperature. High heat is critical for getting these puffs to rise and bake up structurally sound.

You opened the oven door during the baking process. Every time you open the oven door, the temperature drops and the rush of cold air can keep your puffs from rising properly or staying puffed once cooled.

You removed them from the oven too soon.
It's important that they be golden brown and dry and firm. Make sure you have a working light in your oven so you can check without opening your oven door! If you make your puffs larger or smaller than indicated in the recipe, your baking time will vary, so it's important to check for these visual cues.
Can they be made ahead of time?
Yes, you can make these cream puffs 2-3 days in advance. Store them in an airtight container in the refrigerator.

You can also make the pastry cream a day or two ahead of time; just be sure to keep it cold in the fridge in an airtight container.
Can cream puffs be frozen?
Yes! These can be frozen for several weeks. Let them thaw overnight in the fridge and dust with powdered sugar just before serving.
Want to take your cream puffs to the next level? Dip the tops in chocolate ganache (this essentially makes them eclairs, just shaped differently!)!
Enjoy!
Let's bake together! I'll be walking you through all the steps in my written recipe and video below! If you try this recipe, be sure to tag me on Instagram, and you can also find me on YouTube and Facebook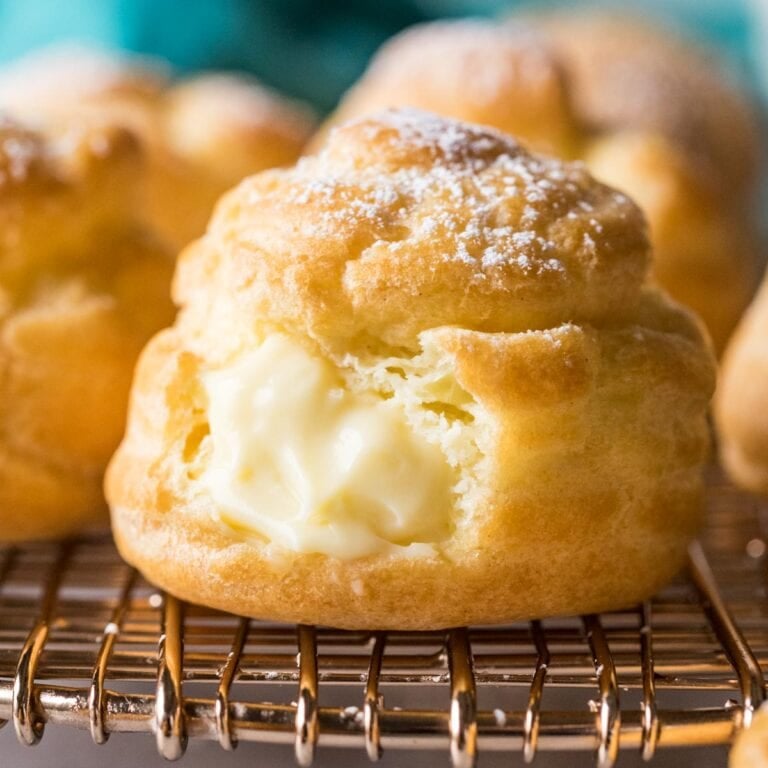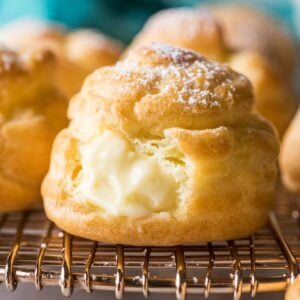 Cream Puffs
Making perfect cream puffs at home is a lot easier than you think! My recipe uses a homemade pastry cream filling (no pudding mixes here!) for that classic taste.
Recipe includes a how-to video!
Preparation note: I recommend making the pastry cream first as it will need to cool for at least 2 hours. It can also be made a day or two in advance.
Print
Pin
Rate
Ingredients
PASTRY CREAM:
1

cup

whole milk

(236ml)

1

cup

heavy cream

(236ml)

⅓

cup (67g) + 3 Tablespoons

granulated sugar

divided

1

vanilla bean¹

split in half lengthwise

¼

teaspoon

salt

5

large egg yolks room temp

3

Tablespoons

cornstarch

4

Tablespoons

unsalted butter

softened and cut into 4 pieces
CHOUX PASTRY
1

cup

water

(236ml)

½

cup

unsalted butter

cut into 8 pieces (113g)

¼

teaspoon

salt

1

cup

all purpose flour

(125g)

4

large eggs

room temperature

Powdered sugar

for dusting cream puffs
Instructions
PASTRY CREAM (see note)
Combine cream, milk, ⅓ cup (67g) sugar, vanilla bean, and salt in a medium-sized heavy bottomed saucepan. Place on stovetop over medium heat. Stir frequently until sugar is dissolved and mixture comes to a simmer. Remove from heat and allow to cool for 10 minutes (stir occasionally).

Meanwhile, in a separate large bowl, whisk together egg yolks and 3 Tablespoons of sugar. Whisk vigorously for about 15 seconds, until sugar is beginning to dissolve.

Sprinkle cornstarch over egg/sugar mixture and whisk until combined and slightly thickened.

Once your cream mixture has cooled, slowly drizzle about ⅓ cup of the cream mixture into the egg mixture while whisking constantly (this will temper your eggs and gradually adding the heated cream will prevent them from cooking!). Slowly, while still whisking, drizzle in the remainder of your cream mixture until the cream and egg mixture are completely combined.

Pour mixture back into saucepan and return to stovetop over medium heat. Whisk frequently until thickened.

Remove from heat and pour mixture through a fine mesh strainer into a heatproof bowl (vanilla bean should be caught by the strainer and should be discarded now).

Whisk in butter, one piece at a time until completely combined. If you didn't use a vanilla bean, stir in the vanilla extract at this point, too.

Place plastic wrap directly in contact with the surface of the pastry cream to keep a skin from forming. Allow to cool at room temperature for about 30 minutes or until near room temperature, then transfer to the refrigerator to chill for at least 2-4 hours. Meanwhile, prepare your choux pastry.
CHOUX PASTRY
Preheat oven to 400F (200C) and line a large baking sheet or two smaller baking sheets² with parchment paper. Set aside.

Combine water, butter, and salt in a medium-sized heavy-bottomed saucepan over medium heat and bring to a rolling boil.

Once mixture is boiling, add flour and turn down heat to medium/low. Stir continuously with a spatula until moisture is absorbed and mixture forms a ball that pulls away from the sides of the pot.

Remove from heat and stir for several minutes to cool down the mixture. Add eggs, one at a time, stirring very well after each addition until mixture is smooth and velvety.

Transfer mixture to a piping bag (or to a large Ziploc bag with one corner snipped) and pipe onto prepared baking sheets by mounds about 2" wide by 1" tall, spacing each mound at least 1 ½ inches apart. Lightly dampen your fingers with cold water and gently press down any peaks on the pastry mounds.

Transfer to 400F (200C) oven and bake for 30 minutes or until cream puffs appear dry and light golden brown.

Remove from oven and use a sharp knife to pierce the lower center of each cream puff, inserting knife about halfway into cream puff (be careful, cream puffs will be hot!)³. Replace each puff on baking sheet and return to oven. Turn off oven and let pastry sit in the oven with the oven door cracked for another 10 minutes.

Once 10 minutes has passed, remove from oven and allow to cool completely on baking sheet.


Allow to cool completely before piping with pastry cream.

To fill with cream, place pastry cream in a piping bag fitted with a small tip (I used a Wilton 5). Insert piping tip into each cream puff and fill until pastry cream is beginning to come out the hole.

Lightly dust the top of each cream puff with powdered sugar just before serving (the sugar will dissolve in the refrigerator if not served right away).

Enjoy! Store cream puffs in an airtight container in the refrigerator for 2-3 days or freeze for several weeks.
Notes
Pastry Cream Note
I recently shared a new method for making pastry cream that I think is even simpler than this method. Feel free to use one batch of my new pastry cream recipe instead, or stick with this one, either way you'll get great results!
¹Vanilla
If you don't have a vanilla bean, instead use 1 ½ teaspoons vanilla extract. However, don't add the vanilla extract until step 7. 
²Baking sheet
Make sure that if you use a large baking sheet there is enough room to fit all 20 cream puffs, and if you use two smaller ones make sure they will both fit in your oven. Choux pastry takes a while to cook and you want to be able to cook all of your puffs at once.
³Cream Puff Sandwiches
If your preference is to slice the cream puffs in half rather than piercing and filling them, you can skip this step of piercing them (particularly if you wish to fill them with something that's not easily pipe-able, like ice cream). Simply turn off the oven, crack the door and allow them to cool as instructed then slice them in half once they are completely cooled.
Storing
Store in an airtight container in the refrigerator for several days (after 2 days they can get a bit soggy). You may also place in an airtight container then freeze for a month or longer.
Nutrition
Serving:
1
cream puff
|
Calories:
183
kcal
|
Carbohydrates:
12
g
|
Protein:
3
g
|
Fat:
14
g
|
Saturated Fat:
8
g
|
Polyunsaturated Fat:
1
g
|
Monounsaturated Fat:
4
g
|
Cholesterol:
119
mg
|
Sodium:
87
mg
|
Potassium:
50
mg
|
Sugar:
7
g
|
Vitamin A:
550
IU
|
Calcium:
40
mg
|
Iron:
0.4
mg
Nutritional information is based on third-party calculations and should be considered an estimate only. Actual nutritional content will vary based upon brands used, measuring methods, cooking method, portion sizes, and more.
Related Recipes