Today I'm sharing a simple, 3-ingredient homemade whipped cream recipe.  This is an easy sweetened whipped cream, also known as Chantilly Cream.  Skip the store-bought and make your own using just heavy cream, powdered sugar, and vanilla extract.  It's a simple treat that tastes great on pies, cheesecakes, ice cream, and just about anything else!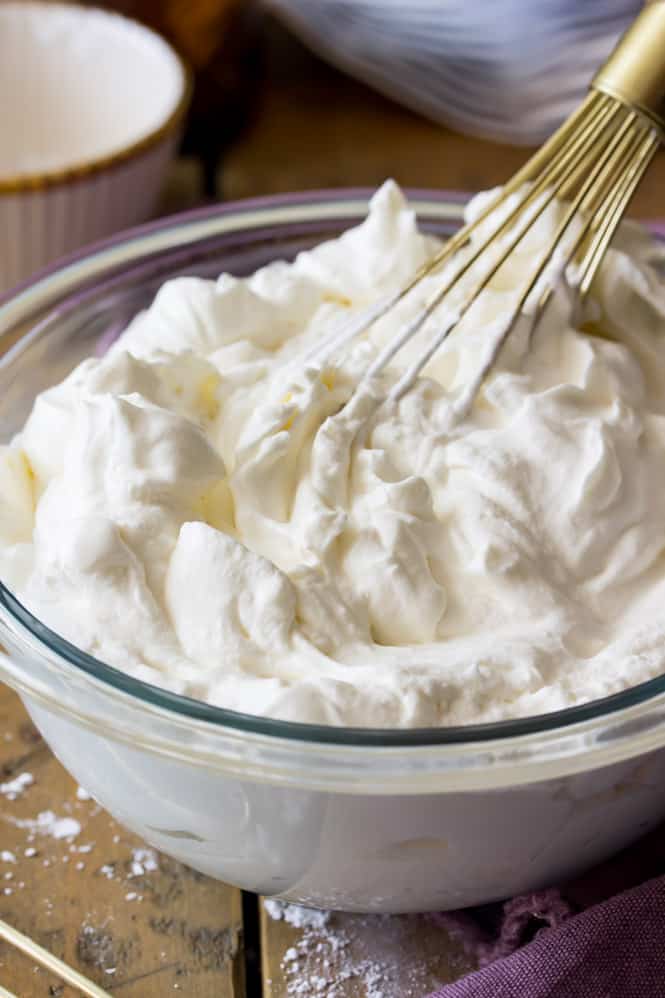 Sweet, simple, and from scratch.  That's been my motto (well, Sugar Spun Run's motto, anyway) for the past few years and whenever I'm trying to decide what recipe should I share next, I always check that it ticks all of those boxes.  Sure, sometimes I sneak in a savory recipe now and then, but at its core I think this website remains true to those 3 key components.  Sweet.  Simple.  From scratch.
Which is why I don't know how I've let so much time pass without sharing this homemade whipped cream recipe with you on its own.  I've talked about it plenty of times (as recently as my pumpkin cheesecake), used it in dozens of recipes, but never shared it by itself.
Today, my homemade whipped cream recipe finally gets its own spot on the blog.  It's simple, yes, but it's a staple recipe that comes out perfectly every time for me and if you're anything like me it's a recipe that you'll come back to again and again and again.
I'm not trying to jinx myself here, but I've never had this whipped cream recipe melt or run on me.  I've made it up to 3 days in advance and it's held its shape and consistency perfectly.  I think the key is that i add enough powdered sugar to keep it stable and whip it just enough, stopping right before I overdo it.  Still, because I know recipes can be fickle, I recommend making it the same day you intend to use it.
It pipes beautifully (I like to use a Wilton 2D tip), holds its shape, but melts in your mouth.
So let's quickly go over the super easy steps on how to make your own homemade whipped cream.
How to make whipped cream:
Chill a medium-sized metal bowl in the freezer for at least 10 minutes.
Combine heavy cream, powdered sugar, and vanilla extract in chilled bowl.
Beat with an electric mixer on high speed until stiff peaks form.
That's it, guys.  Sweet, simple, and from-scratch.
Just for that third step… Make sure you start your mixer out on low and gradually increase it to high… otherwise you'll be finding heavy cream splatters on your kitchen walls, utensils, and appliances for weeks to come.
Three ingredients, three steps, and about three minutes standing between you and your own homemade whipped cream.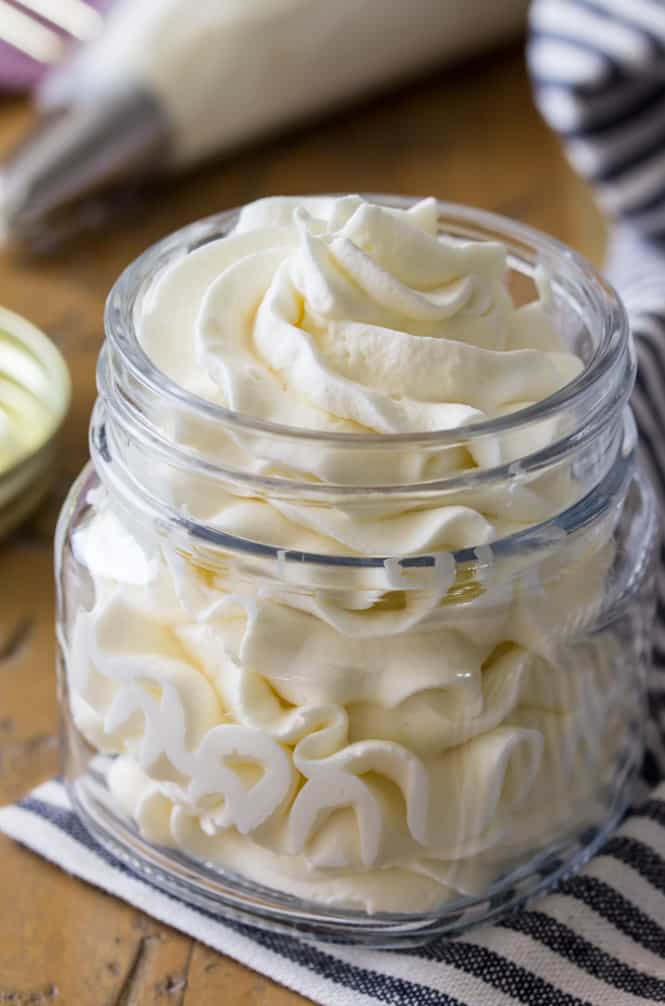 Let me know which recipe you're going to pair your own homemade whipped cream with!  I recommend my pumpkin cheesecake, peanut butter pie, chocolate pie, and no-bake cheesecake, just to name a few!!
Full recipe is just below the video… if you watch it you might be able to tell that I had a little fun with this one… 😉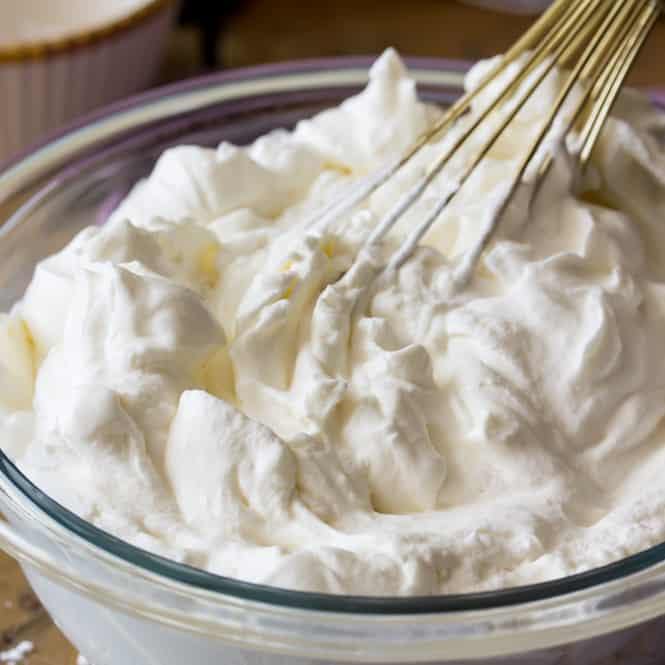 Homemade Whipped Cream Recipe
A fast, simple homemade whipped cream recipe. Just 3 ingredients!
Print
Pin
Rate
Ingredients
1 1/2

cups

heavy cream

cold (355ml)

1/2

cup

powdered sugar

(60g)

1

teaspoon

vanilla extract

(5ml)
Instructions
Place a medium-sized bowl (preferably metal) in the freezer for at least 10 minutes to chill.

Once bowl has chilled, remove from freezer and add heavy cream, powdered sugar, and vanilla extract.

Using an electric mixer, beat ingredients on low speed, gradually increasing speed to high, and beat until stiff peaks form. Don't over-beat, but don't stop beating until cream has reached a Cool-Whip consistency.

Keep unused whipped cream refrigerated in an airtight container.
Notes
I definitely recommend using an electric mixer for this.  Whisking cream to stiff peaks by hand takes forever and is not fun. If you're using a KitchenAid or stand mixer, use the whisk attachment for best results, though it's possible to make whipped cream using the paddle attachment.
Nutrition
Serving:
0.25
cup
|
Calories:
120
kcal
PIN IT: