An easy, classic Angel Food Cake recipe that uses no cake flour (all-purpose only!) and comes out flawlessly every time.  This is one of my family's favorite recipes, and I think you're going to love it just as much as we do!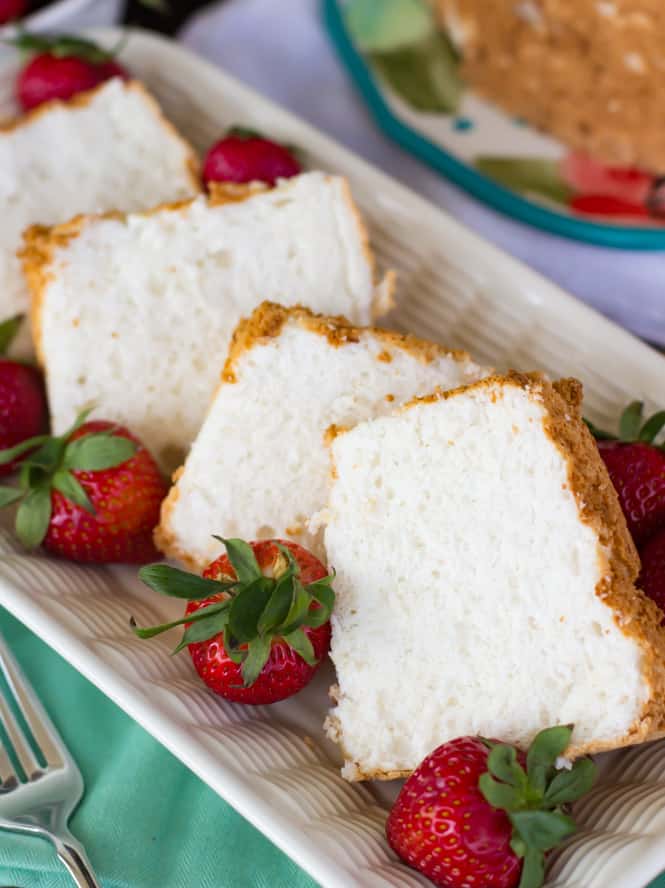 I've written about this recipe before, but I've never shared it by itself.
It's been the foundation for this, this, and this recipe and I've sung its praises time and time again (I may or may not be nearly obsessed with it).
However, I've never shared this cake by itself before, and that's a shame.
Because, while each of the recipes based off of it are (seriously) ah-mazing (and you should definitely try them out, especially this one), this cake also serves as a wonderful stand-alone classic recipe.  It's simple, but delicate, lighter than air and fluffy, and, appropriately, heavenly.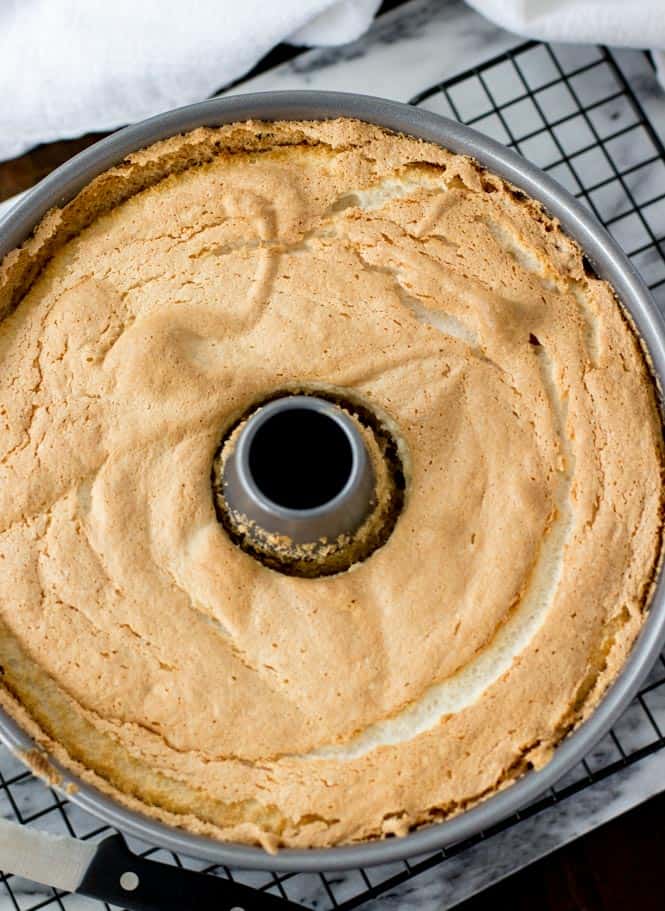 My mom has been making this Angel Food Cake my whole life, and she's practically not allowed to attend any family events anymore without at least one (preferably two) of these cakes in tow.  No matter how many she brings, they always disappear in minutes.
Now, I'm excited to share her recipe and my all-time favorite cake with you.
Angel food cake is a bit different from many other cakes recipes because it requires cracking open nearly a dozen eggs, discarding the yolks (or saving them for this chocolate pie!), and whipping the whites up into sugary stiff peaks before folding in a (relatively) small amount of flour and more sugar.
This technique is what gives the cake its signature texture, and while you may not be used to this exact cake-making protocol, it is definitely worth familiarizing yourself with the process.  Once you develop your knack for identifying stiff peaks without over-beating your egg-whites, this recipe is not difficult to make.  You'll find that it comes together quickly (especially if you have a KitchenAid to do all of the beating for you), doesn't dirty very many dishes, and the resulting product is infinitely better than any store-bought or box-origin angel food.
Slightly sticky and lighter than air, each bite seems to melt in your mouth.  The flavor is lightly vanilla with traces of almond (which you can omit if you would like), sugared, but not at all over-sweet.  Given the opportunity I could likely finish off this cake with just a fork and twenty minutes of time (or with just twenty minutes… fork optional).
It is delicate, too.  Be sure to saw/slice each piece carefully with a serrated knife to avoid smashing it with a dull straight-blade.
The cake is utter perfection on its own, but I usually keep whipped cream and strawberries handy to dress it up a little bit.  Totally not required, though.
Enjoy!
This post was originally published 3/30/16, text has been updated 10/6/17
Angel Food Cake
The best angel food cake recipe! Made completely from scratch with all purpose flour!
Recipe only slightly modified from Good Housekeeping
Ingredients
1 1/4

cup

powdered sugar

(156g)

3/4

cup + 2 Tablespoons

all-purpose flour

(90g)

1 1/2

cups

egg whites at room temperature

10-12 egg whites

1 1/2

teaspoon

cream of tartar

1 1/2

teaspoon

vanilla extract

1/4

teaspoon

almond extract

optional

1/4

teaspoon

salt

1

cup

sugar

granulated, NOT powdered (200g)
Instructions
Preheat oven to 375F (190C).

In a medium sized bowl, combine powdered sugar and flour and set aside.

In KitchenAid mixer, combine egg whites*, cream of tartar, vanilla and almond extracts and salt. Mix well.

With mixer on high, beat in sugar, about 1 Tablespoon at a time, adding more only once the previous tablespoon has been dissolved (About 10-15 seconds; as you add the sugar, you may be able to hear the faint sound of the granules scraping against the metal bowl. Once you no longer hear this, the sugar has been dissolved). Do NOT scrape the sides of the bowl as you are doing this, just keep beating.

Beat until stiff peaks** form; the mixture will be thickened, glossy, and sticky and will greatly have increased in volume.

Using a rubber spatula, gently fold in sugar/flour mix, about ½ cup at a time. Do not over-mix; fold only until the flour mixture is combined with the egg whites mixture.

Pour mixture into an ungreased 10 inch tube pan and use a knife or spatula to cut through the batter to break through any air bubbles that may exist.

Bake the cake on 375F (190C) for 35 minutes or until the top of the cake springs back when lightly touched. Any cracks on the surface should look dry.

Immediately upon removing from oven, invert the cake onto a bottle or funnel and allow it to cool completely.

Once cake has cooled, place right-side-up and run a knife inside the rim of the cake pan. Invert cake onto serving platter.

Slice and serve with strawberries and whipped cream, if desired.
Recipe Notes
*You want to be sure that you crack these into a completely grease-free bowl and that there are absolutely no pieces of yolk in with the whites. My suggestion is to crack each egg in a smaller bowl and then immediately transfer it to your measuring cup (don't crack every egg directly into the measuring cup because if you accidentally get a bit of yolk in the cup near the end that you can't scrape out, you will have to discard all of the whites and start over)
** Stiff peaks exist when you can dip a knife or spatula into the mixture and the peaks that form when you remove the utensil hold their shape firmly without the point of the peak folding or receding back into the mixture
Nutrition Facts
Angel Food Cake
Amount Per Serving (1 slice)
Calories 144
* Percent Daily Values are based on a 2000 calorie diet.
You might also like: 
Strawberry Lemon Layered Angel Food Cake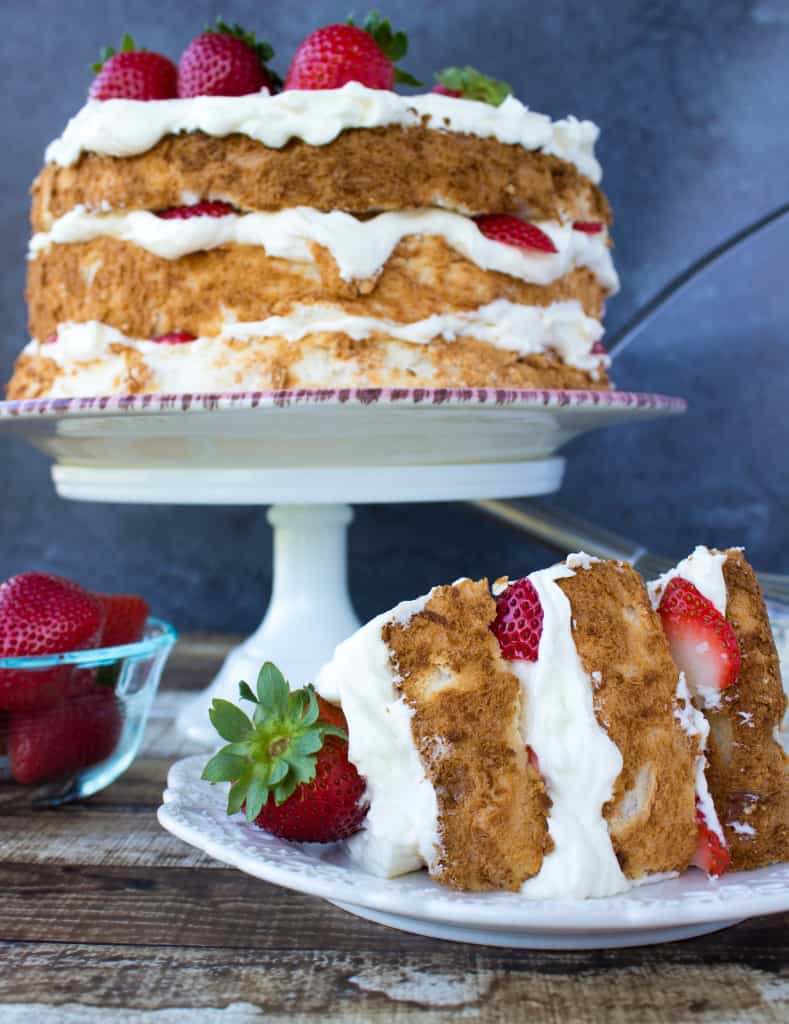 Strawberry Filled Angel Food Cupcakes