Welcome to the June Recipe of the Month: Angel Food Cake! Maybe you recognize this cake (my all-time favorite!) from when I originally shared it, but I've updated the post to include detailed instructions, critical tips, and a step-by-step video.
This is an easy, classic Angel Food Cake recipe that uses all-purpose flour (but does includes tips to use cake flour, if you choose).  Today's post is chock full of tips to make sure your cake comes out perfectly every time!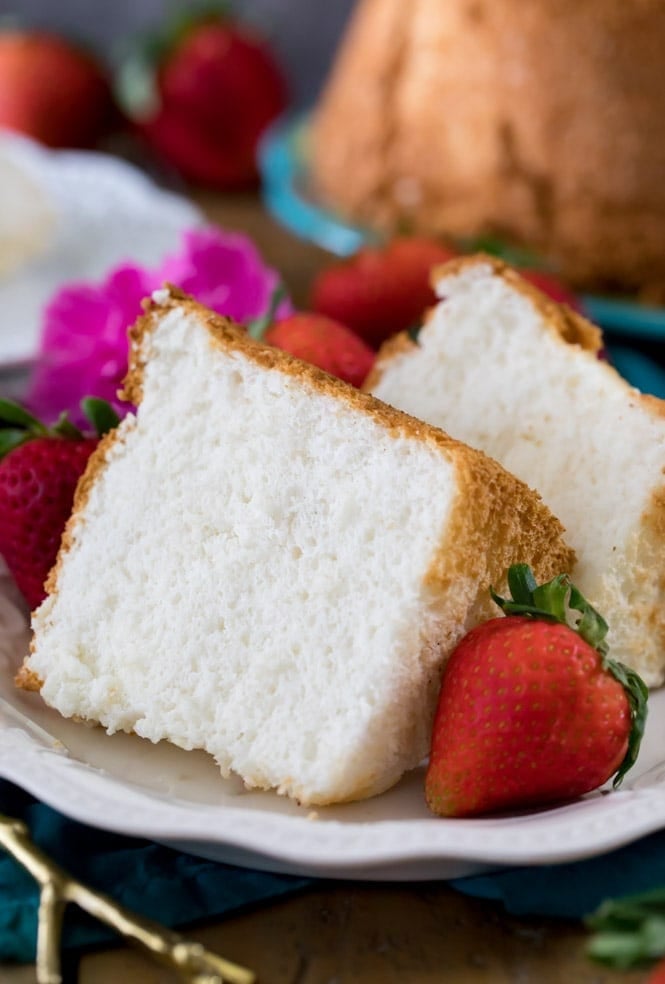 Welcome to my second "Recipe of the Month": Angel Food Cake!
In case you missed it, each month I'll be selecting a recipe that I'd love for everyone to try, be sure to check out all of the details that I shared yesterday (including how to enter to win an Amazon gift card!).
Sweet, soft, slightly sticky and lighter than air, each bite of Angel Food Cake just absolutely melts in your mouth.  While it may appear plain, the flavor is extraordinary: lightly vanilla with traces of almond, a fluffy, pure white interior with a golden brown, crackly meringue-like bottom.
This cake is my all-time favorite, my mom has been making it for years (partially due to the need to use up her surplus of fresh chicken eggs). Given the opportunity I could absolutely finish off this cake with just a fork and twenty minutes of time… or with just twenty minutes, fork optional.
I have lots of tips that I want to share with you today, so let's dig in.
First, let's talk egg whites.
Angel Food Cake requires 1 ½ cups of egg whites (for me this is usually about 11 eggs). Egg whites are what make up the majority of our batter, so let's cover some critical points here first.
Your egg whites should be at room temperature for angel food cake, so set your eggs out to reach room temperature the night before. If you forget to set out your eggs, you can set them in a bowl of lukewarm water for about 15-20 minutes to bring them to temperature faster, just make sure to dry them very well before cracking.
A clean and dry bowl is critical. Do not get any yolk into your egg white and make sure to crack into a completely grease and moisture-free bowl. Even the tiniest bit of yolk or grease can keep your eggs from whipping correctly… that's a lot of eggs to waste!
You must beat your egg whites to stiff peaks. Stiff peaks exist when you can dip a knife or spatula into the mixture and the peaks that form when you remove the utensil hold their shape firmly without the point of the peak folding or receding back into the mixture. Reaching stiff peaks usually takes me several minutes, so some patience is required. For more information on stiff peaks please see my meringue cookie recipe and I also use them when making my Funfetti Cake.
You don't have to use a KitchenAid/stand mixer, but I do recommend using at least an electric hand mixer (with a large bowl!), as whipping the egg whites by hand would be very difficult, time consuming, and exhausting!
The egg whites will increase in volume an incredible amount! Once your egg whites reach stiff peaks, they'll likely fill up your whole mixing bowl: as you can see in the photo above the egg whites fill about ¾ of my KitchenAid mixer bowl.
The mixture will be thick, glossy, sticky, and very full once it's finished. You don't want to over-mix your egg whites, but it is so critical that you beat them to stiff peaks. I think this is where many people go wrong and feel that they are mixing too long. Your egg whites should look like mine in the photo above or in the video or they aren't ready yet.
Don't know what to do with your leftover egg yolks? Try my chocolate pie!
Once you've achieved thick, glossy, stiff peaks with your egg whites, we'll add a mixture of flour and powdered sugar into the mix.
It's critical that you fold these ingredients in by hand. Using an electric mixer at this point would almost definitely over-beat your mixture and cause your egg whites to deflate and your cake to sink, so stir gently with a light hand.
Why Do You Have To Turn Angel Food Cake Upside Down?
Remember those delicate egg whites we just spent all that time whipping to stiff peaks? Well they are responsible for angel food cake's extremely light and airy texture. However, they are still rather fragile while fresh out of the oven and leaving the cake upright can cause the cake to collapse in on itself and deflate, which is why we turn the cake upside down once it's finished baking. We're using gravity to our advantage here rather than falling victim to it.
To help the cake keep its height and its fluffy interior, you'll simply turn it upside down while it cools. I recommend placing the center or neck of the tube pan on an empty bottle or a can and allow it to cool completely there.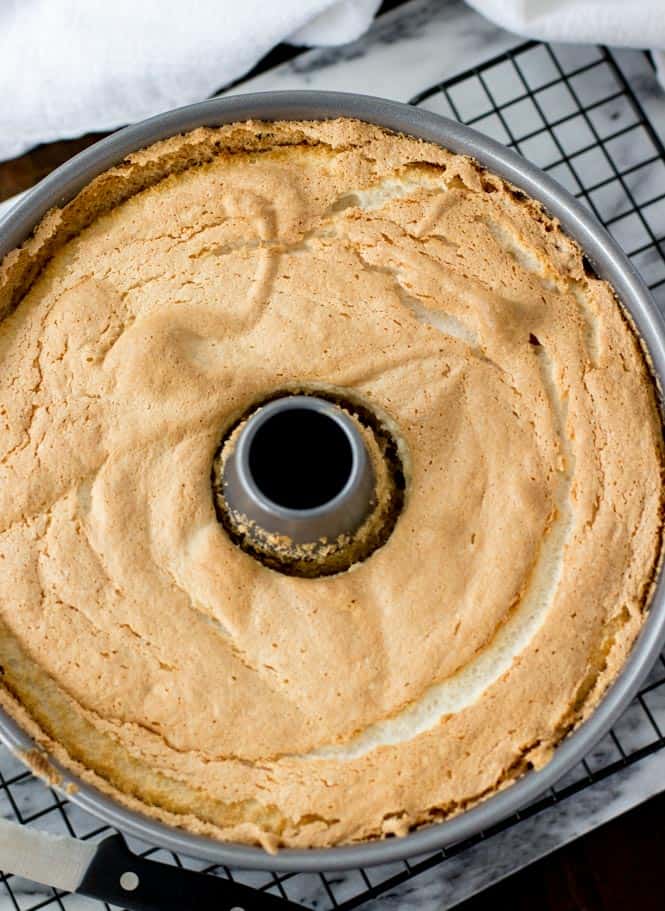 Now, some tube bans are made with little feet or prongs coming off the rim with the plan so that you can skip the bottle or can and just set the pan upside down on the prongs. However, I've never had success with this and find that doing this usually causes my angel food cake to fall right out of the pan (!), so even if you have this sort of tube pan I still recommend using a can or a bottle to cool your angel food cake.
How Long Can You Keep Angel Food Cake?
In my house, you can't keep it longer than 12 hours without it magically disappearing! However, generally angel food cake will keep for about 2 days at room temperature if stored in an airtight container.
Can You Freeze Angel Food Cake?
Yes, you can, (though I firmly believe these cakes taste best fresh). Allow the cake to cool completely and then wrap the cake tightly and completely in plastic wrap and then in aluminum foil. Angel Food Cake can be frozen for several months.
To thaw, just place the (wrapped) angel food cake in the refrigerator the night before you intend to serve it and allow it to thaw in the refrigerator.
Can I make this Angel Food Cake Recipe into Cupcakes?
You can, and I've done it before with this exact recipe. I always use cupcake liners when making angel food cupcakes, you'll fill each cupcake liner with batter (I usually fill mine right to the top) and bake on 375F (190C) for about 12 minutes.
Let them cool completely in the pan before removing. This recipe will make about 24 cupcakes.
The cake is utter perfection on its own, but I usually keep homemade whipped cream and strawberries handy to dress it up a little bit. I've also transformed this cake into a Strawberry Lemon Layer Cake, which is incredible!
Treat yourself to a FREE E-BOOK!
Alright, I hope all of you will try out this cake for yourself, and please make sure to share a picture and tag me to participate in the Recipe of the Month challenge for a chance to win an Amazon gift card.
Angel Food Cake is a simple cake, but the technique can be tricky the first time you make it, so make sure to let me know if you have any questions or ask them in my Baker's Club! Also, if you do happen to have a recipe fail, that still counts as an entry for the recipe of the month so long as you share a photo and tag me according the guidelines I shared yesterday!
Looking for more classic cake recipes? Check out my vanilla cake, my chocolate cake, my white cake recipe or my pineapple upside-down cake!
How to Make Angel Food Cake
If you enjoy these videos, please consider subscribing to my YouTube channel.
Angel Food Cake
The best angel food cake recipe! Made completely from scratch with all purpose flour!
Recipe only slightly modified from Good Housekeeping
Print
Pin
Rate
Ingredients
1 ¼

cup

powdered sugar

(156g)

¾

cup + 2 Tablespoons

all-purpose flour

(90g) OR you can use 1 cup of cake flour

1 ½

cups

egg whites at room temperature

10-12 egg whites (375ml)

1 ½

teaspoon

cream of tartar

1 ½

teaspoon

vanilla extract

¼

teaspoon

almond extract

optional

¼

teaspoon

salt

1

cup

granulated sugar

NOT powdered (200g)

strawberries and homemade whipped cream for topping

optional
Instructions
Preheat oven to 375F (190C).

In a medium sized bowl, whisk together powdered sugar and flour and set aside.

In KitchenAid mixer, combine egg whites*, cream of tartar, vanilla and almond extracts and salt. Mix well.

With mixer on high, beat in sugar, about 1 Tablespoon at a time, adding more only once the previous tablespoon has been dissolved (About 10-15 seconds; as you add the sugar, you may be able to hear the faint sound of the granules scraping against the metal bowl. Once you no longer hear this, the sugar has been dissolved). Do NOT scrape the sides of the bowl as you are doing this, just keep beating.

Beat until stiff peaks** form; the mixture will be thickened, glossy, and sticky and will greatly have increased in volume.

Using a rubber spatula, gently fold in sugar/flour mix, about ½ cup at a time. Do not over-mix; fold only until the flour mixture is combined with the egg whites mixture.

Pour mixture into an ungreased 10 inch tube pan and use a knife or spatula to cut through the batter to break through any air bubbles that may exist.

Bake the cake on 375F (190C) for 35 minutes or until the top of the cake springs back when lightly touched. Any cracks on the surface should look dry.

Immediately upon removing from oven, invert the cake onto a bottle or funnel and allow it to cool completely.

Once cake has cooled, place right-side-up and run a knife inside the rim of the cake pan. Invert cake onto serving platter.

Slice carefully, Angel food cake is delicate so be sure to saw/slice each piece carefully with a serrated knife to avoid smashing it with a dull straight-blade. Serve with strawberries and homemade whipped cream, if desired.
Notes
*You want to be sure that you crack these into a completely grease-free bowl and that there are absolutely NO pieces of yolk in with the whites. My suggestion is to crack each egg in a smaller bowl and then immediately transfer it to your measuring cup; don't crack every egg directly into the measuring cup because if you accidentally get a bit of yolk in the cup near the end that you can't scrape out, you will have to discard all of the whites and start over
** Stiff peaks exist when you can dip a knife or spatula into the mixture and the peaks that form when you remove the utensil hold their shape firmly without the point of the peak folding or receding back into the mixture
Nutrition
Serving:
1
slice
|
Calories:
194
kcal
|
Carbohydrates:
43
g
|
Protein:
5
g
|
Fat:
1
g
|
Saturated Fat:
1
g
|
Sodium:
100
mg
|
Potassium:
131
mg
|
Fiber:
1
g
|
Sugar:
29
g
|
Calcium:
5
mg
|
Iron:
1
mg
This post was originally published 3/30/16