Today I'm sharing a short and simple (but very important) kitchen tip: How to measure flour the right way. One of the easiest ways to ruin your baked goods is to improperly measure your flour, and it's shockingly easy to do! I'm going to briefly walk you through the right (and wrong) way to measure flour in this post (and I've included a super quick video below, too!).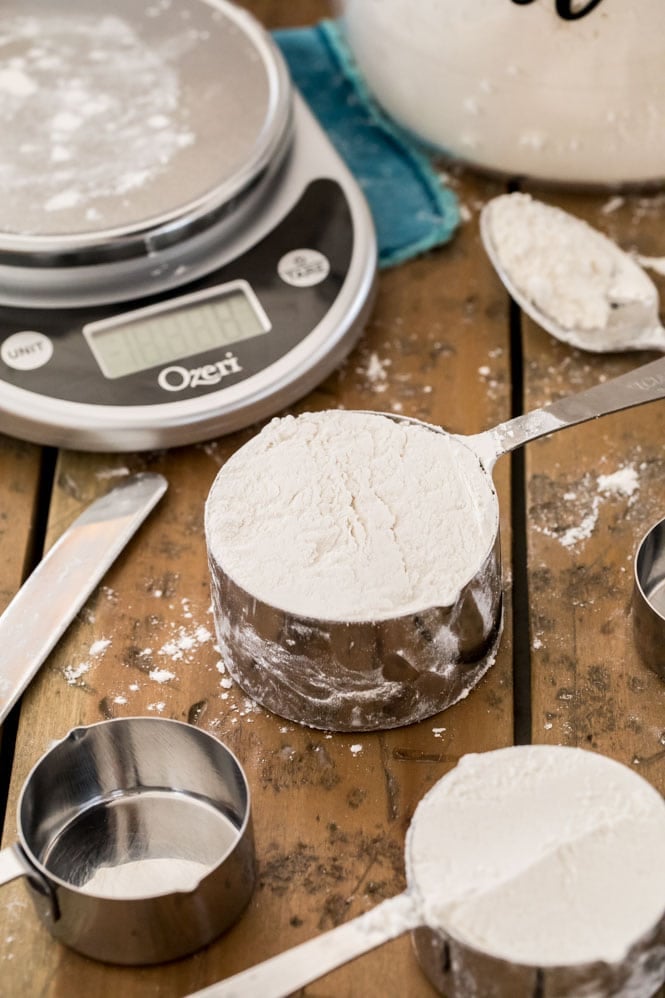 Baking is a chemistry, and it probably comes as no shock to you that the way you measure your ingredients is critical to the success or failure of your recipe. Just about every recipe on my site uses more flour than just about any other ingredient (except maybe sugar) and knowing how to measure flour properly is critical.
If your homemade brownies have ever turned out too cakey, your chocolate chip cookies too flat, your birthday cake too dry or your sugar cookie dough too crumbly, you might have mis-measured your flour. I've been there and it's not fun.
Today I want to make sure that never happens to you again!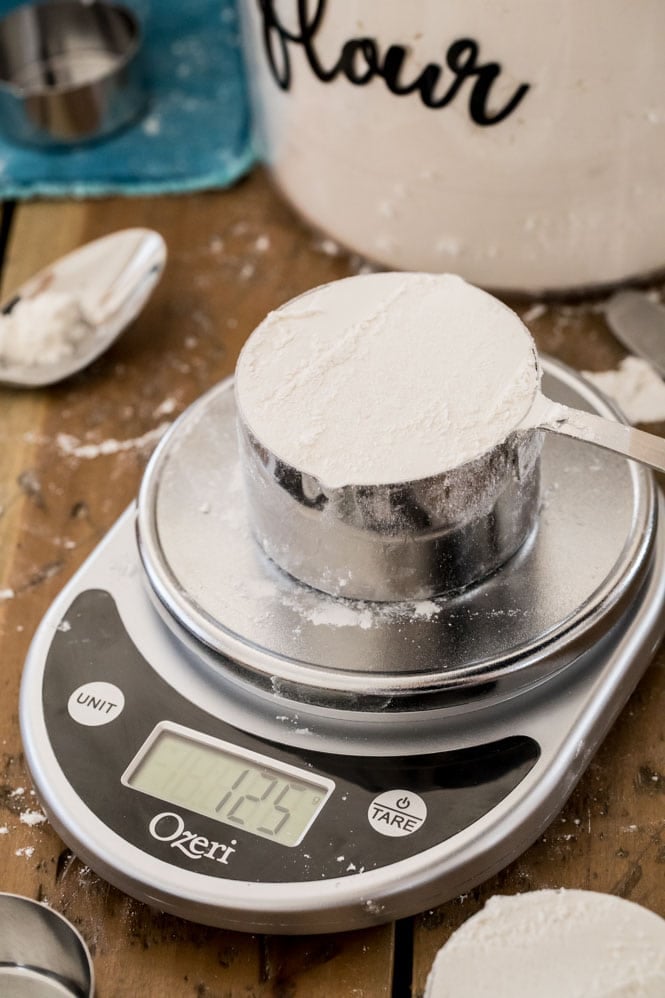 So How Do I Measure My Flour?
DO:
Stir your flour in case it is packed tightly into its container. Then, use a spoon and lightly spoon the flour into your measuring cup. Use a flat straight edge (like the straight back of a knife) to level off the top of the flour. Repeat until you have a smooth (not pock-marked) flour surface.
Voila. That's how it's done. If you weigh the flour, it should weigh 125 grams or 4.4 oz (or at least very close to it), as pictured above.
DO NOT: 
Never scoop the flour directly into your measuring cup. This packs the flour into your measuring cup and you can end up with significantly more flour than your recipe actually calls for.
In the photo below I did not stir my flour and I just dipped the measuring cup into the container and then leveled it off. You can see I ended up with much more flour (21 grams more!) than when measured appropriately. If I were to measure my flour like this for a recipe that called for 3 cups of flour I would inadvertently end up using a full ½ cup more flour than the recipe calls for! 
This leaves you with dry, crumbly cookie doughs and cookies, dense & dry cakes, and probably some confusion as to why your recipe didn't turn out like it was supposed to!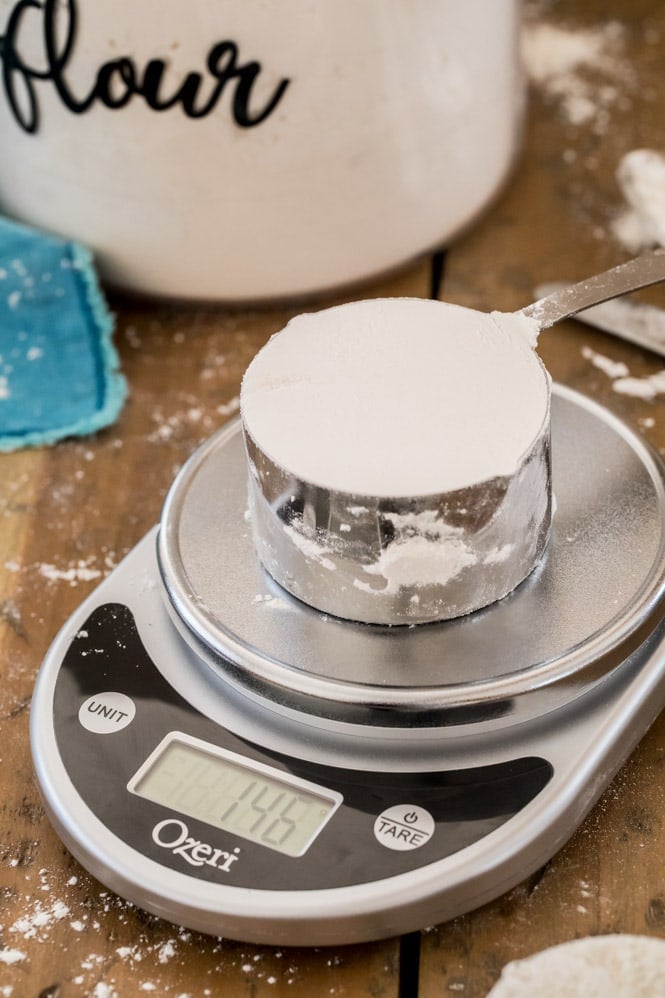 Over-measuring the flour is the most common problem that it seems people run into, but under-measuring is also very possible! Most likely this would happen if your flour is fluffed up and you dip your measuring cup into the flour and end up with air pockets in the measuring cup. A less common problem than over-measuring, but still a problem!
My Number One Tip: Get a Scale & Use Weights!
If I can leave you with one piece of baking advice that has changed my own life for the better, it would be to move away from cups and get a scale. I've standardized my cup measurements after years of baking, and on my blog 1 cup of flour = 125g (or 4.4 oz).
However, my cup measurement doesn't necessarily weigh as much as the next baker's. If you go by weight measurements rather than cup measurements you know you're using the exact amount that the recipe calls for.
I now always weigh my ingredients and it's actually made baking so much easier. Bonus: I no longer have to wash half a dozen measuring cups when I'm finished baking.
This is the scale that I use (affiliate link). I bought it off of Amazon several years ago and have since bought a second one. It's small and lightweight, inexpensive (around $12) and, most importantly, it's accurate. Possibly one of my favorite and most important kitchen tools that I own.
How to Measure Using a Scale:
A few people wrote asking me exactly how to measure with a scale, so I wanted to clarify here. If you are using a scale, there is no need for measuring cups at all. To use a scale, I place the bowl that I will be combining all of my dry ingredients in on the scale. "Tare" or "zero" the scale (after you have placed the bowl on top) so it is not weighing the bowl. Then, add the amount of flour that you need.
Instead of weighing directly into the mixing bowl you can instead weigh into a separate small or medium-sized bowl the same way. I do this if I'm weighing an ingredient that isn't the first ingredient in the bowl (for example if I'm adding sugar to an egg mixture), that way if I accidentally over-measure I don't have to worry about scooping out just the ingredient I over-measured and not the other ingredients in the bowl.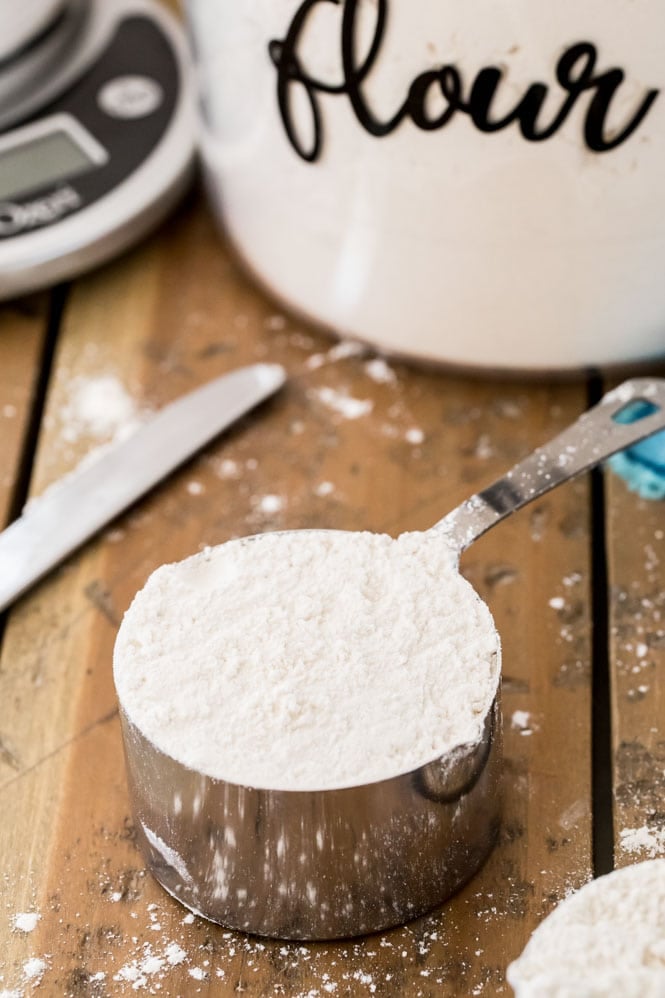 IN SUMMARY: How to Measure Flour
It's easy:
Stir your flour in its container (in case it's been packed tightly into the container or settled).
Use a spoon to spoon the flour into your measuring cup.
Level off the flour with a straightedge (I like to use the back of a knife, but make sure the back off the knife is actually flat and not curved). Repeat until the surface of the flour is smooth.
I never recommend sifting your flour unless the recipe you are using specifically indicates that you do so. Sifting before measuring will give you much less flour than you likely need.
OR
To use a scale, simply place your mixing bowl on the scale, zero or "tare" the scale (so that it is no longer accounting for the weight of the bowl) and spoon the flour directly into the mixing bowl until you have the desired amount. No measuring cups required!
VIDEO