With beautiful, bold, black-and-white Zebra stripes, this cake is a showstopper! While making a Zebra Cake might seem like a daunting task, today I'm breaking down all of the steps to show you how to easily replicate this cake in your own kitchen (with just one base batter!). I think you'll find it's much simpler than you would've ever guessed, and I've even included a how-to video!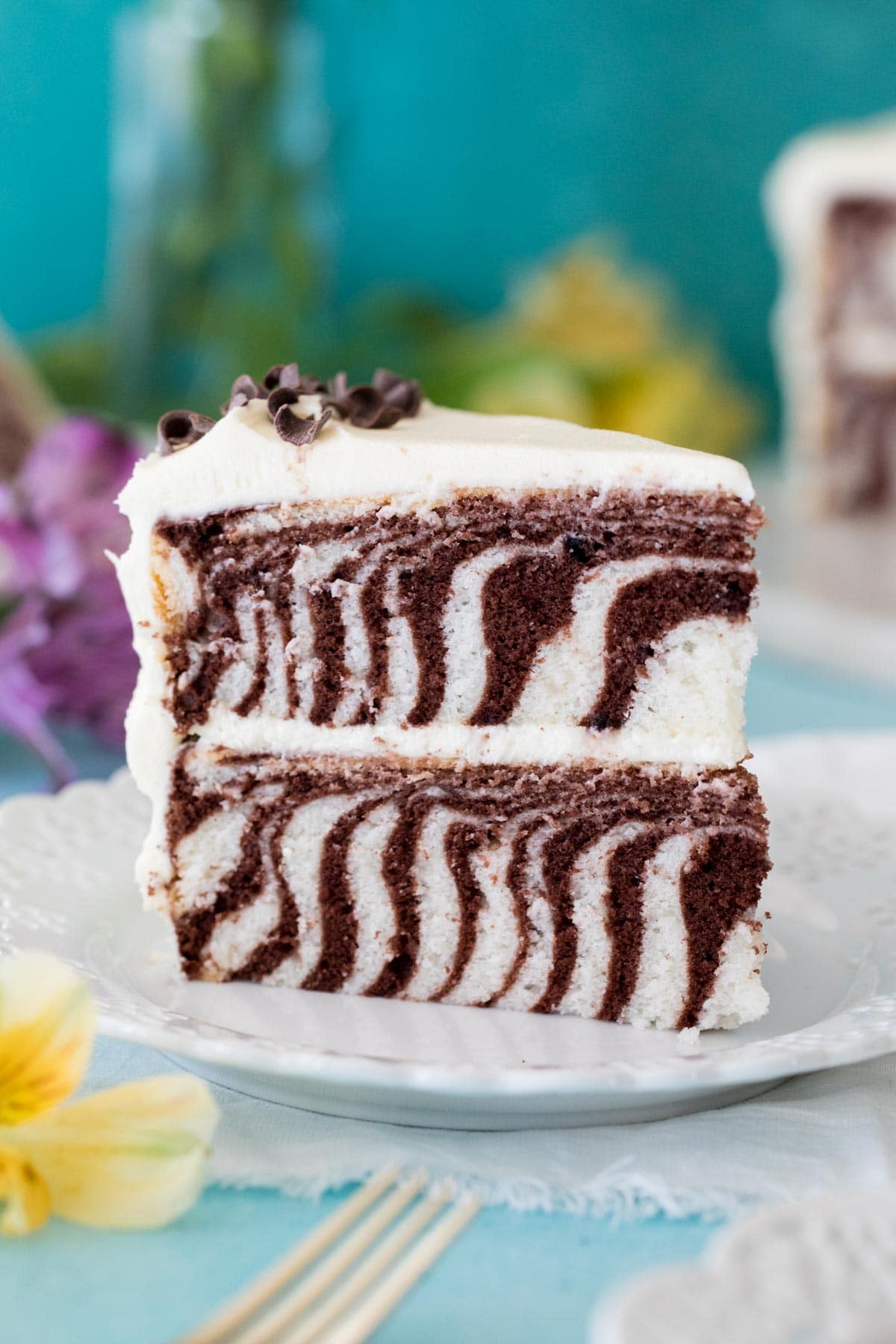 You Can Make a Beautiful Zebra Cake At Home
If today's cake looks a little intimidating, let me just assure you that you've got this! If you've made my Funfetti cake or my marble cake (or even if you haven't, really) you can handle a zebra cake.
It does require a few more dishes than your average one-color cake. It does require a little bit of technique as we'll be whipping egg whites, and it does require a bit of attention to detail as you're portioning out your batter, but it's nothing you can't handle, I'm certain of it.
I've included plenty of step-by-step photos in the post and there's a how-to video in the recipe card as well, between the two you should have no problem making a bold, beautiful, perfectly striped zebra cake.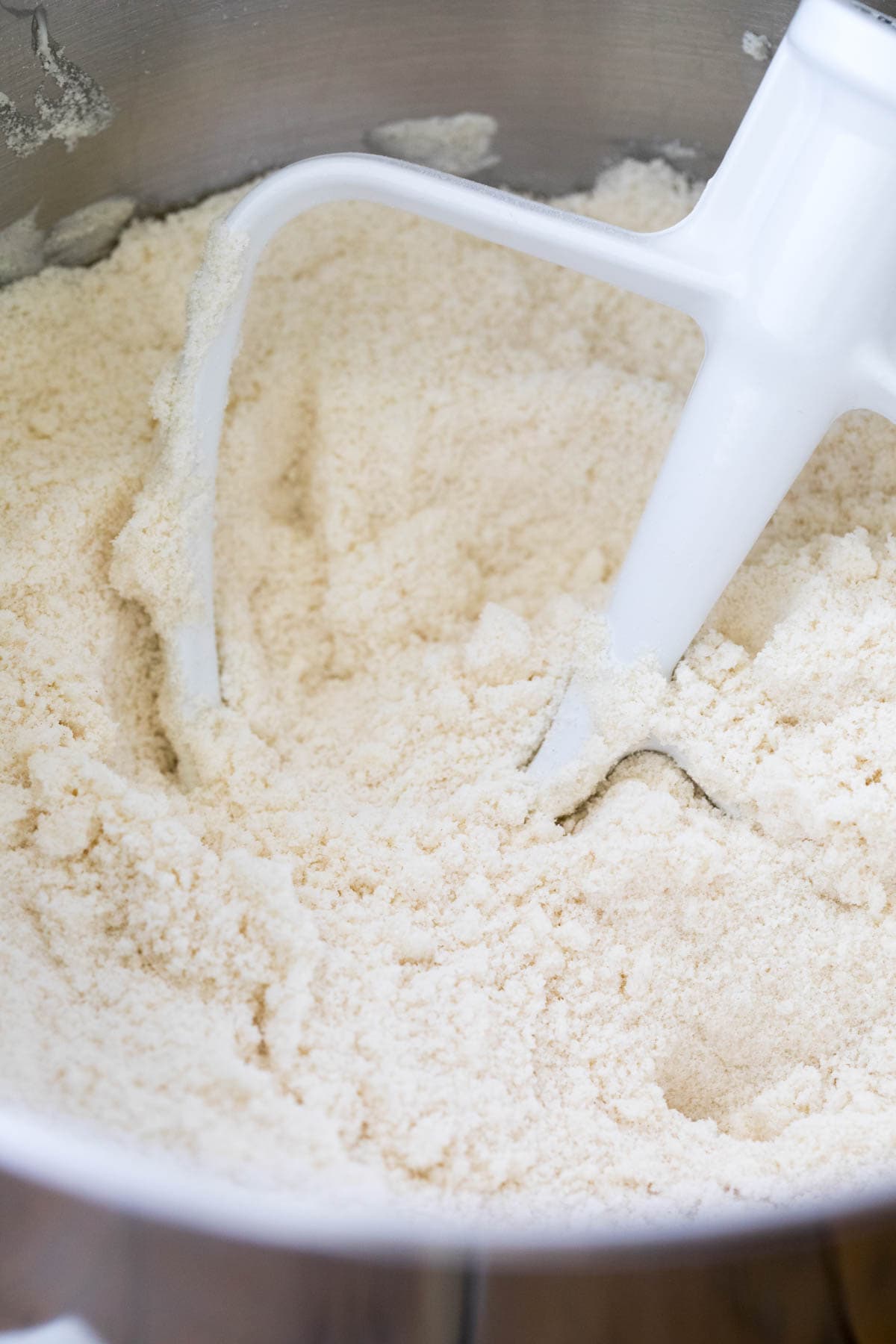 Reverse Creaming
We're using the reverse creaming method here because I like the tighter crumb that it yields. It helps to make the black and white stripes of the zebra cake more pronounced. If you've made my caramel cake, you've already used this technique before.
This method was popularized by Rose Levy Beranbaum and involves combining all of your dry ingredients (plus sugar, which technically is not considered "dry") and then gradually mixing in your butter until you end up with a sandy consistency (see photo above). Once you've achieved this consistency, you'll gradually stir in the remainder of your dry ingredients and finally your egg whites.
This method is great for producing a tight, plush crumb and, as a bonus, it makes it difficult to over-mix your batter. Accidentally over-mixing cake batter is one of the biggest culprits for dense, dry cake, so I love that reverse creaming makes it a lot less likely for this to happen (until the whipped egg whites come into play, anyway, always be gentle with those!).
Whipped Egg Whites (& Tips for Stiff Peaks)
I love using whipped egg whites in my cakes because not only do they make the cake moist and fluffy, but they also help the cake maintain a pure white color.
It's why I use them in my white cake, and since a Zebra cake ought to be black and white (not black and yellow!), it works well here, too. The egg whites must be whipped to stiff peaks, which means they will have drastically increased in volume, taken on a fluffy consistency (see below) and when you pull your beaters out of them the peak that forms holds its shape and doesn't fold over itself or dissolve.
While egg whites can be whipped to stiff peaks by hand, I don't recommend it as it's quite an arm workout. Use an electric mixer and make sure the beaters and the bowl are completely clean, dry, and grease free, or your eggs won't ever reach stiff peaks, no matter how long you whisk them.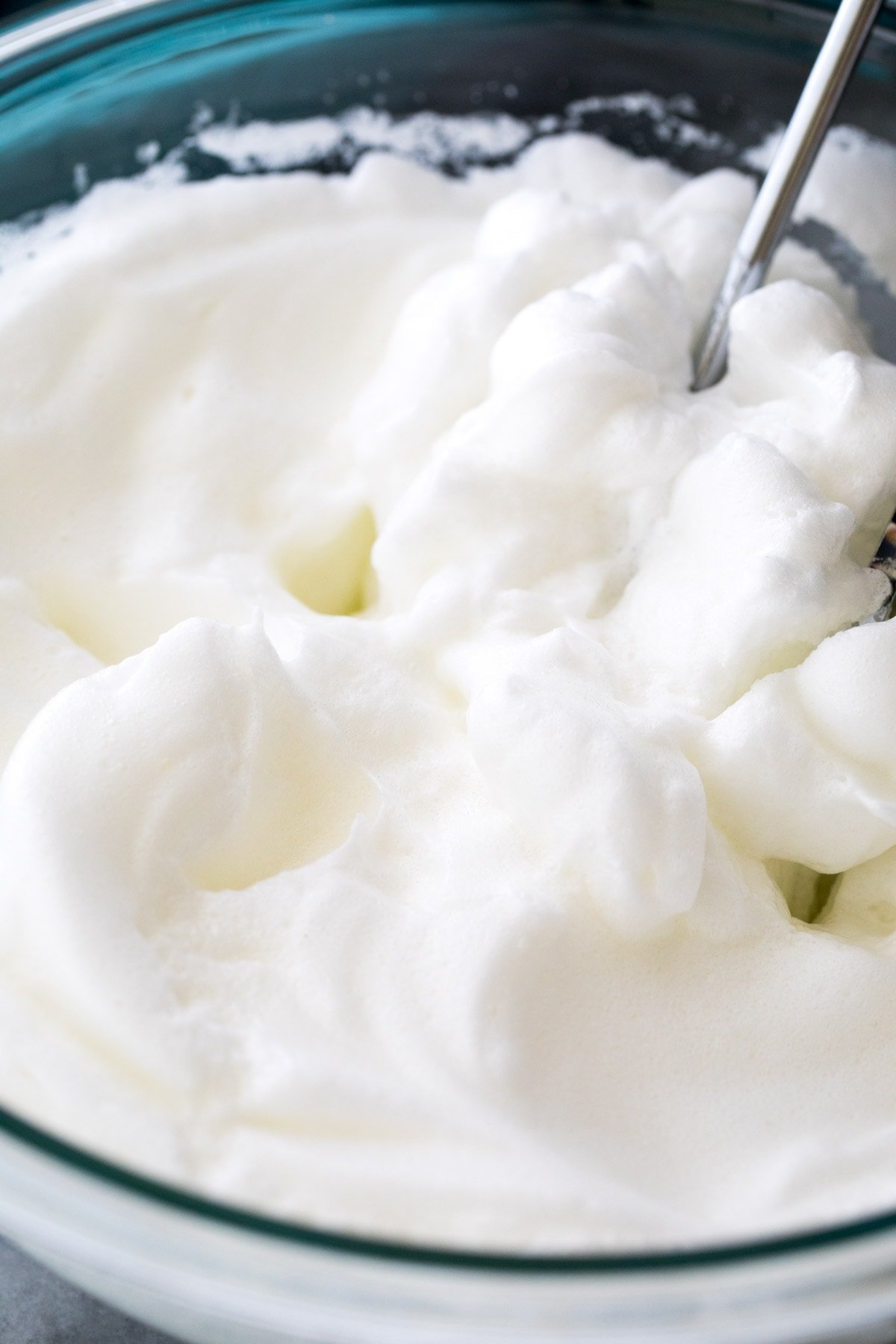 Can I Use Store-bought Egg Whites to Make Zebra Cake?
Unfortunately, many store-bought/pasteurized egg whites say right on the carton that they are not meant to be whipped. Some people have reported on my other recipes that they've tried with mixed results. If it's all you have on hand, I say give it a try and see if they'll whip for you, but I can't guarantee that they will.
A few suggestions for your leftover egg yolks: If you don't want to toss your egg yolks (or feed them to your dogs, like I usually do!), here are some of my favorite recipes to make with egg yolks: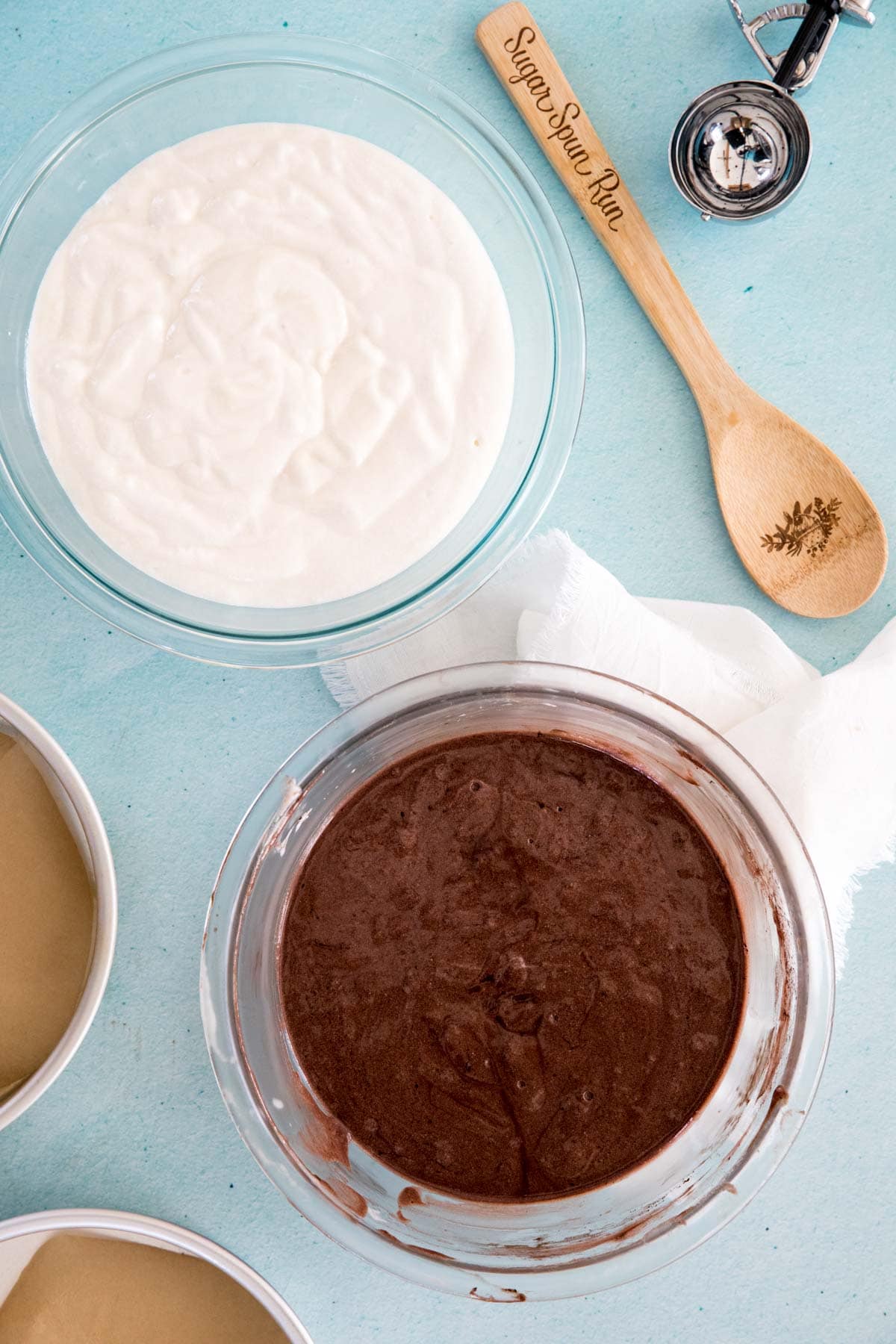 One Batter, Two Colors
When developing this recipe, I did not want you to have to make two entirely different cake batters in order to make a Zebra cake. While it would have been nice to simply stir in some melted chocolate (like I did with my marble cake) that technique just didn't work very well here and my chocolate stripes ended up much too dry.
Creating a moist, delicious chocolate batter out of our white one requires a bit of work. First, divide the batter by portioning 3 cups of batter into a medium-sized bowl (this is less than half of the batter). We'll be making this smaller (3-cup) portion into our chocolate version. To do this, bloom a bit of cocoa powder by mixing it with some very hot water (doing this helps develop the chocolate flavor, it's why I add hot water to my chocolate cake batter!). Then, because cocoa powder has a terrible habit of drying out cake, we add some more sour cream and a pinch of sugar (cocoa powder is bitter, too!) and stir this into our lesser half of batter.
The result after baking is a moist white and chocolate crumb. Because I wanted the stripes to be as dark as possible (zebras are white and black, not white and brown, after all) I used special dark cocoa, which is darker in color and usually sold in the baking aisle right next to regular cocoa. If you don't have that on hand or can't find it, natural cocoa powder will work instead.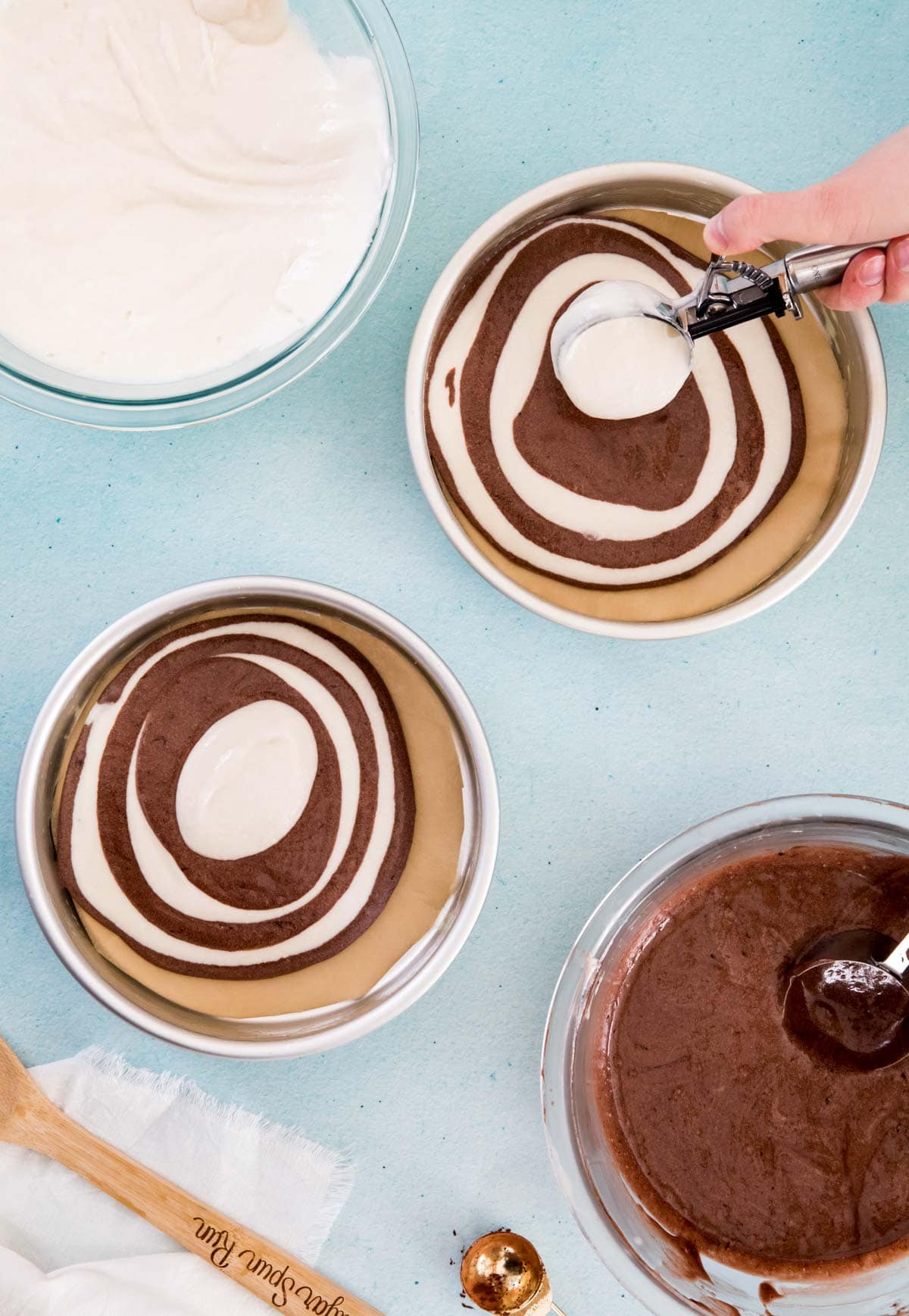 Zebra Cake: It's All About the Technique!
While it may seem like getting those beautiful black and white stripes might be impossible, the technique is surprisingly simple. After dividing your batter, Scoop about ⅓ cup of white batter into the center of your cake pan. Then, scoop slightly less chocolate batter and dollop that right in the center of your white batter. Repeat until you've used all of the batter.
Two important things to keep in mind when portioning zebra cake batter: For flawless stripes, it helps if one dollop/circle of white batter never touches another dollop of white batter. If it does, the cake takes on more of a marbled appearance. If your batter isn't spreading enough for you, take a spoon and gently nudge it out, but you should not need to spread it across the whole cake pan. The batter should naturally spread a little bit from the weight of the next dollop of batter. Watching my video may be helpful before you begin.
I always start and end with the white batter, because you have slightly more of it.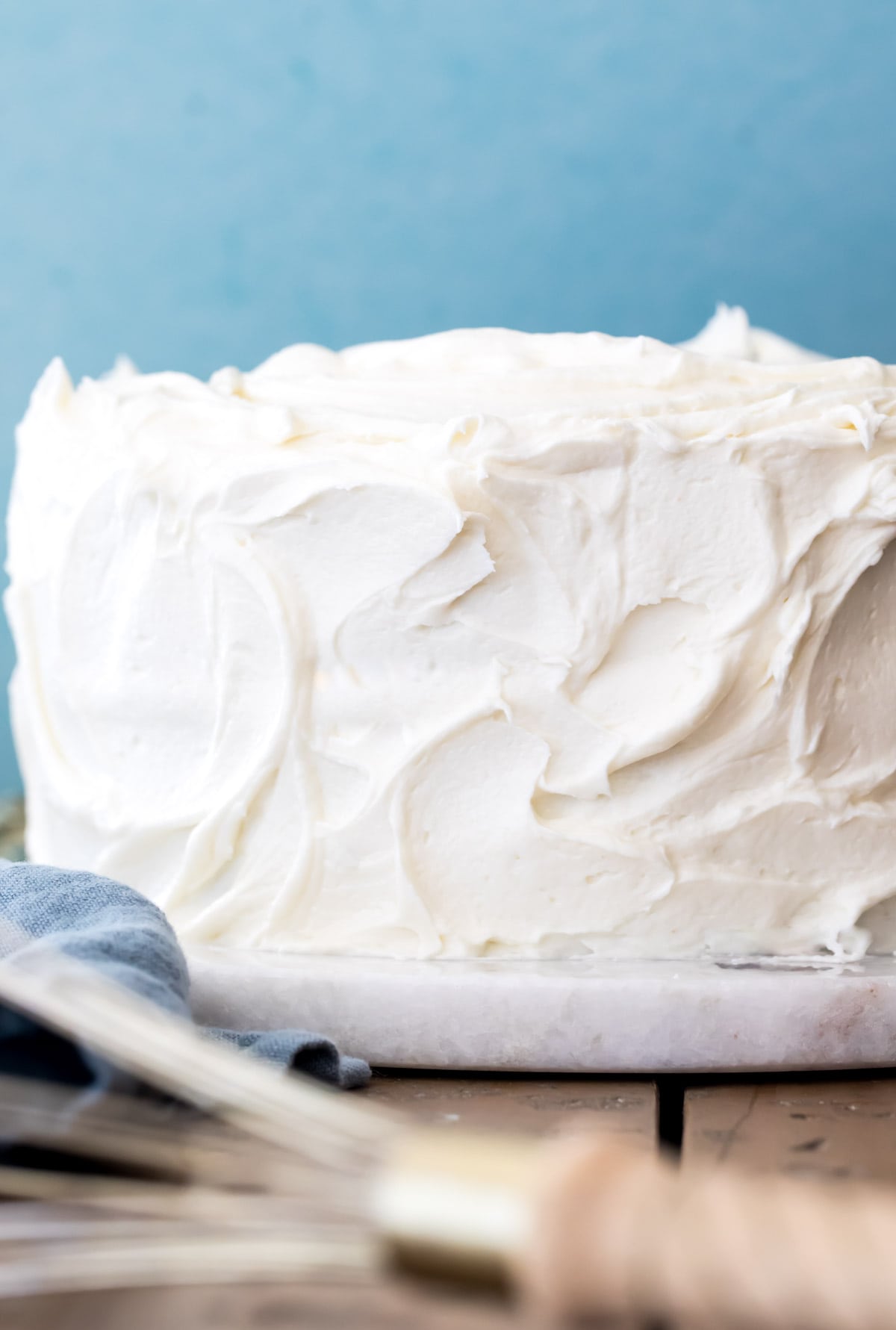 Icing Options
I recommend using my white chocolate buttercream that I just shared. It's not overly sweet and it complements the zebra cake so nicely. If you don't care for white chocolate (I actually don't either but love it on this cake), you could use my favorite chocolate frosting instead. Here are a few other options that would work here:
Storing
Store in an airtight container. At room temperature it will keep for 1-2 days or it may be refrigerated for up to a week (just keep in mind the fridge is liable to dry out your cake). Zebra cake (frosted or unfrosted) may also be frozen and will keep for 2-3 months in the freezer.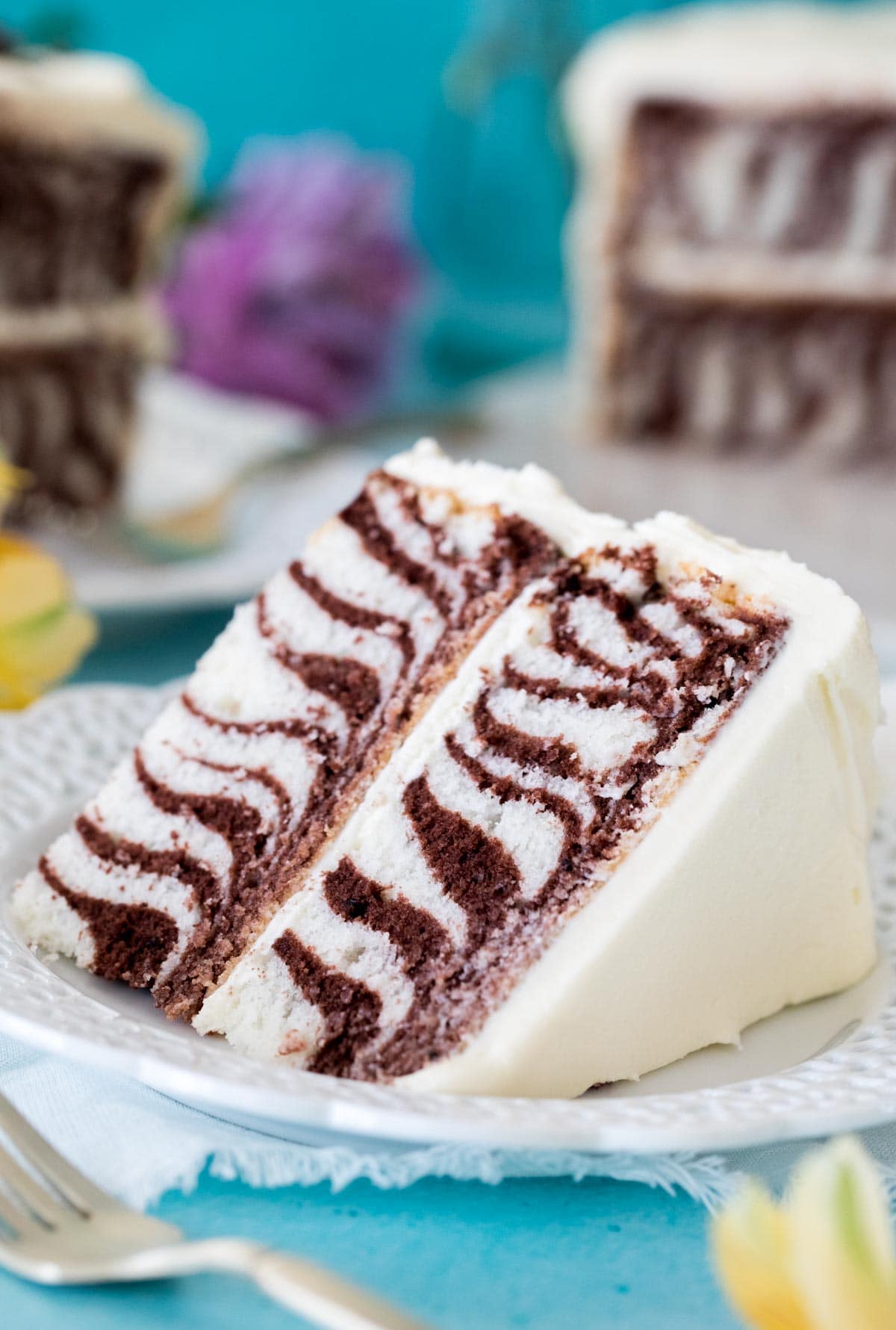 Enjoy!
Let's bake together! Be sure to check out my video in the recipe where I'll show you exactly how I make this in my own kitchen!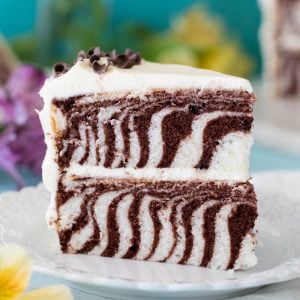 Zebra Cake
Zebra cake is such a showstopper! While it may seem daunting, I break down all of the steps so you can easily create this cake at home.
If this is your first time making this cake, I highly recommend you read through the post and watch the how-to video.
Print
Pin
Rate
Ingredients
2 ¾

cup

(

315

g

)

cake flour¹

2

cups

(

400

g

)

granulated sugar

1

Tablespoon

baking powder

1

teaspoon

salt

6

Tablespoons

(

85

g

) unsalted butter

softened to room temperature

⅔

cup

canola oil or vegetable oil

¾

cup

(

175

ml

)

whole milk

room temperature preferred

½

cup

(

120

g

)

sour cream

1

Tablespoon

clear vanilla extract²

6

large or extra large

egg whites

room temperature preferred (see note for suggestions on recipes to try with leftover egg yolks)
For the Chocolate Layer
¼

cup

(

25

g

)

dark cocoa powder³

2

Tablespoons

very hot or boiling water

2

Tablespoons

sour cream

this is additional from the sour cream listed above

2

Tablespoons

granulated sugar

this is additional from the sugar listed above

1

batch

White Chocolate Frosting

(or preferred frosting, see other great alternative icings listed in the post)
Instructions
Preheat your oven to 350F (175C) and prepare two 8-inch round cake pans (they must be at least 2" deep) by lining each of the bottoms with a round of parchment paper and generously spraying the sides with baking spray.

In a stand mixer (or you may use a large bowl and an electric mixer) stir together flour, sugar, baking powder, and salt until thoroughly combined.

2 ¾ cup (315 g) cake flour¹,

2 cups (400 g) granulated sugar,

1 Tablespoon baking powder,

1 teaspoon salt

Turn your mixer to low speed and add butter, one tablespoon at a time, not adding the next tablespoon until the first is incorporated. When you're finished, the mixture should resemble coarse sandy crumbs (see photo in post or video above for visual).

6 Tablespoons (85 g) unsalted butter

Add oil and stir until combined.

⅔ cup canola oil or vegetable oil

In a measuring cup, whisk together milk, sour cream, and vanilla extract and stir into batter until thoroughly incorporated.

¾ cup (175 ml) whole milk,

½ cup (120 g) sour cream,

1 Tablespoon clear vanilla extract²

In a separate clean, dry, and grease-free bowl use clean beaters to beat egg whites to stiff peaks (I show a visual of this in the post above and in the video).

6 large or extra large egg whites

Use a spatula to gently fold egg whites into batter (don't overmix, but make sure there are no lumps of egg white remaining).

Portion 3 cups (580 grams) of batter into a separate bowl (you'll be left with 5 cups in your first bowl), we'll be making this into chocolate batter.
To make chocolate batter
In a large measuring cup, stir together hot water and cocoa powder (it will be thick!). Add sour cream and sugar and whisk until well combined, then stir into your smaller bowl of batter and use a spatula to carefully stir together until completely combined.

¼ cup (25 g) dark cocoa powder³,

2 Tablespoons very hot or boiling water,

2 Tablespoons sour cream,

2 Tablespoons granulated sugar

Dollop approximately ⅓ cup of white batter into the center of each of your prepared cake pans. Using a clean scoop, scoop just shy of ⅓ cup of chocolate batter and drop that directly onto the center of the white batter. Repeat, alternating batter flavors, until you have used all of the batter. Take a reasonable amount of care so that your white batter doesn't touch another ring of white batter nor does a ring of chocolate overlap with any of the other chocolate batter, this will keep your stripes looking like stripes and not like marbled swirls (more about this in the post).

Carefully transfer pans to 350F (175C) oven and bake for 35-40 minutes or until a toothpick inserted in the center comes out clean or with moist crumbs. Allow to cool in pans for 15 minutes then run a knife around the edges of the cake to loosen from the sides (if needed) and carefully invert onto a cooling rack to cool completely.

If needed, carefully level the cakes with a sharp serrated knife once completely cooled.

Decorate using my white chocolate icing linked to in the ingredients, or with your frosting of choice (see notes for some of my favorite recommendations for this cake).

1 batch White Chocolate Frosting
Notes
¹Cake flour: I recommend cake flour for two reasons with this cake: 1) it has a lighter texture and when you use all-purpose flour the cake ends up a bit heavier and tends to sink in on itself a little bit. 2) it produces a finer crumb, which makes the stripes even bolder and more defined.
²Vanilla extract: you may substitute regular vanilla extract, but clear extract helps to keep the cake batter pure
white.
³Cocoa powder: I prefer "special dark" cocoa powder (usually sold near the regular cocoa, Hershey's makes a version with a red stripe on the container ) because it makes the zebra stripes darker and closer to black, but you

may substitute natural cocoa powder.
Recipes to Make with Leftover Egg Yolks:
Nutrition
Serving:
1
slice (does not include icing, please see the frosting recipe you choose for that nutrition info)
|
Calories:
440
kcal
|
Carbohydrates:
59
g
|
Protein:
5
g
|
Fat:
22
g
|
Saturated Fat:
6
g
|
Trans Fat:
1
g
|
Cholesterol:
23
mg
|
Sodium:
214
mg
|
Potassium:
198
mg
|
Fiber:
1
g
|
Sugar:
37
g
|
Vitamin A:
272
IU
|
Vitamin C:
1
mg
|
Calcium:
82
mg
|
Iron:
1
mg
Nutritional information is based on third-party calculations and should be considered an estimate only. Actual nutritional content will vary based upon brands used, measuring methods, cooking method, portion sizes, and more.