Despite their impressive appearance, Profiteroles are actually quite simple to make! Crisp choux pastry, chilly ice cream, and warm ganache make up this irresistible French dessert. Recipe includes a how-to video!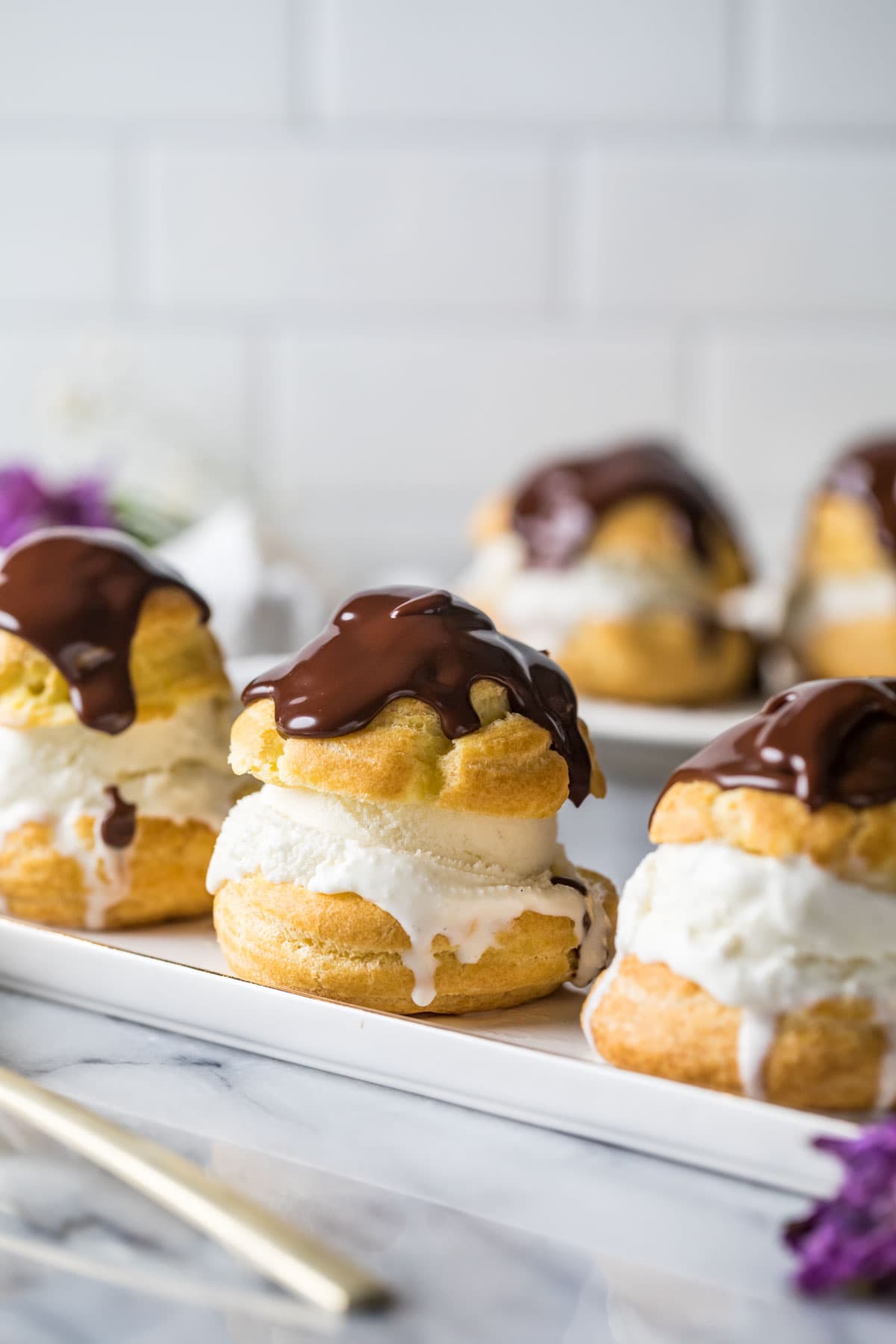 Classic French Profiteroles
It's pronounced "pruh-fit-uh-rohl", in case you were wondering. Wanted to get that out of the way so you don't go around embarrassing yourself by calling them "profit-rolls" like I did for longer than I'd care to admit 😂
Are you familiar with them? These French treats consist of crisp pastry shells filled with frosty vanilla ice cream and topped off with warm, thick ganache. They originated in France during 16th century and have been a beloved dessert around the world ever since (for obvious reason, I think).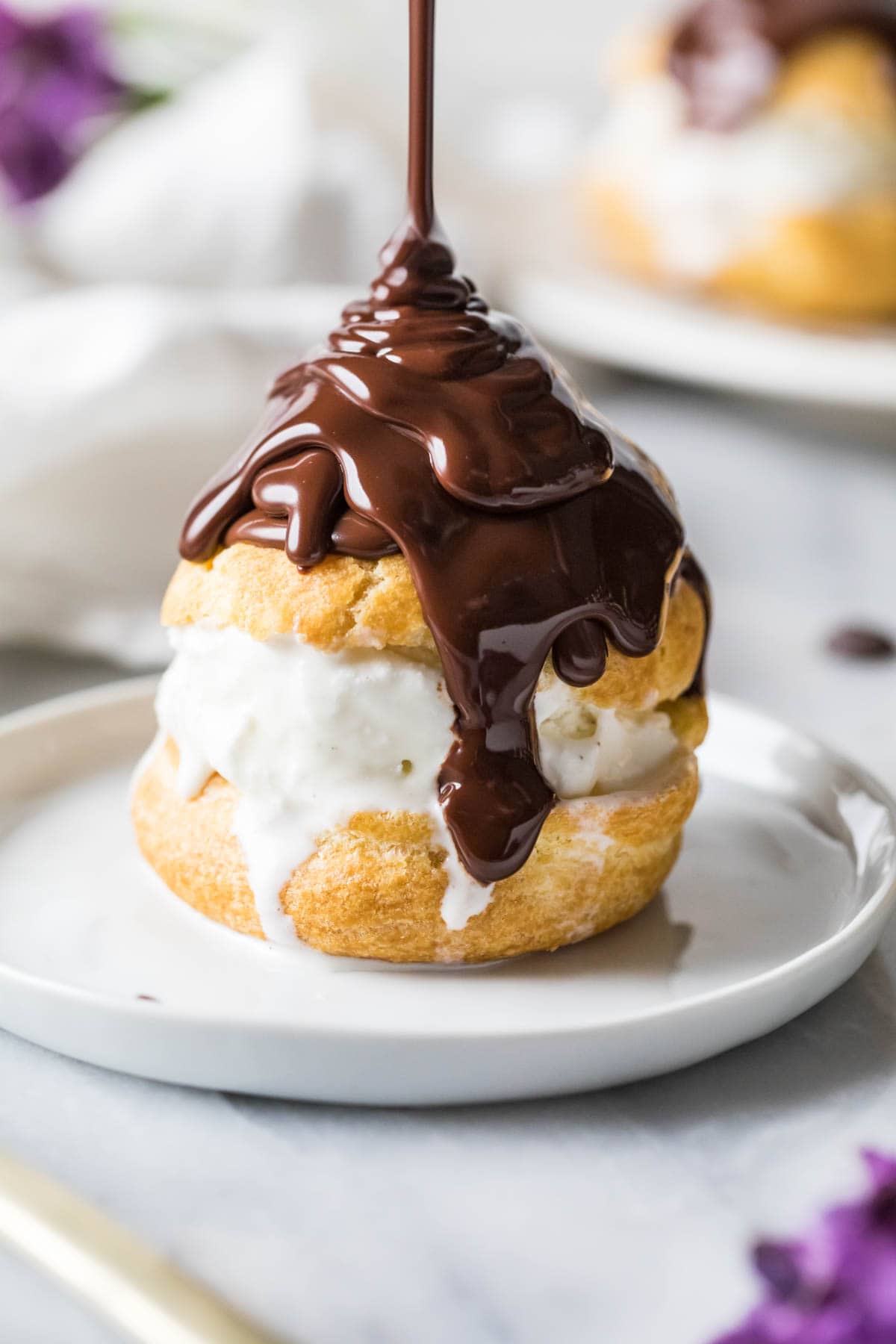 If you're not familiar with choux pastry, it's a light, neutrally flavored pastry that relies on steam to puff and create a hollow interior. Said hollow interior is then filled with, well, whatever you'd like, really. Pastry cream is a common choice (used to make cream puffs or eclairs) but today we're making them with ice cream, which in my book is the only filling for profiteroles (more on that in the FAQ below, it's controversial but you won't change my mind on this matter😅).
The resulting dessert is decadent and indulgent, the indulgence tempered by the humble but texturally perfect choux. It's also versatile, make these poppable 1-2 bite treats or make them jumbo-sized (like I do!).
Note that you do have to assemble and serve these immediately; the warm ganache melting over the ice cream creates an incredible and unique eating experience, if not a patient one!
What You Need
Profiteroles are made with less than 10 ingredients! Most are probably already in your kitchen, including: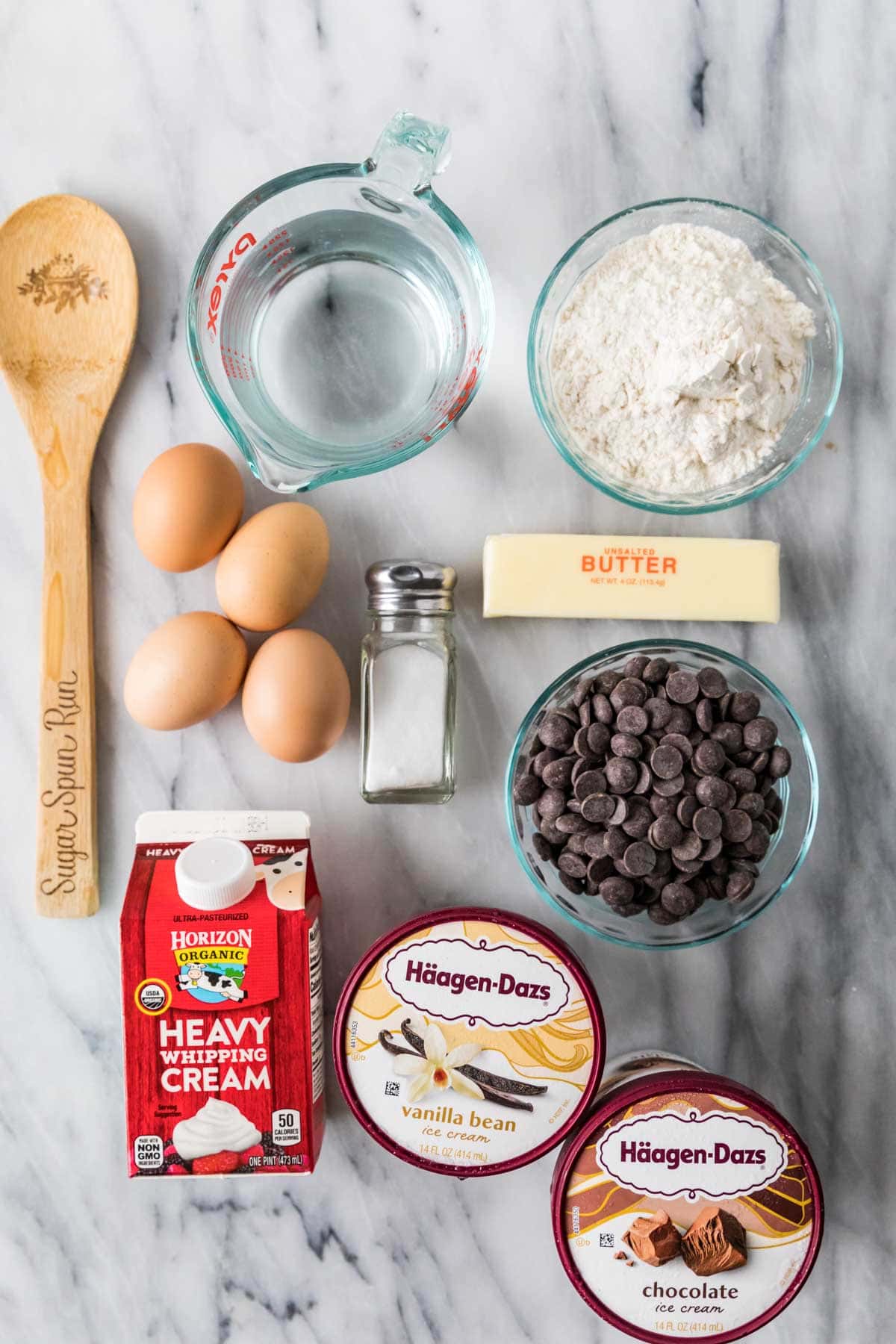 Flour. I recommend using a kitchen scale to measure your flour for the best results. If your flour is particularly lumpy, you can sift it before adding. This ensures your profiteroles will have smooth, lump free shells.
Eggs. Room temperature eggs work best here. If you are in a rush and don't have time to set yours out, use my trick for bringing eggs to room temperature quickly.
Cream. Use heavy, double, or whipping cream for the ganache. We'll heat it up until it's nice and steamy before pouring over our chocolate.
Chocolate. I recommend using a chopped chocolate bar, preferably 60% cacao. Semisweet chocolate will also work. Chips can be used in a pinch, but the bars are best though, they just melt best and have the best flavor!
Ice cream. Vanilla is classic choice for profiteroles, but you can use whatever you flavor you like best. Feel free to substitute homemade instead; you could even use my no-churn ice cream (just note that is softer and melts faster).
SAM'S TIP: If you are brand new to making choux pastry, I'd recommend you head over to my choux pastry post first before making these profiteroles. I include lots of tips and important things to know over there!
Remember, this is just an overview of the ingredients I used and why. For the full recipe please scroll on down to the bottom of the post!
How to Make Profiteroles
Choux Buns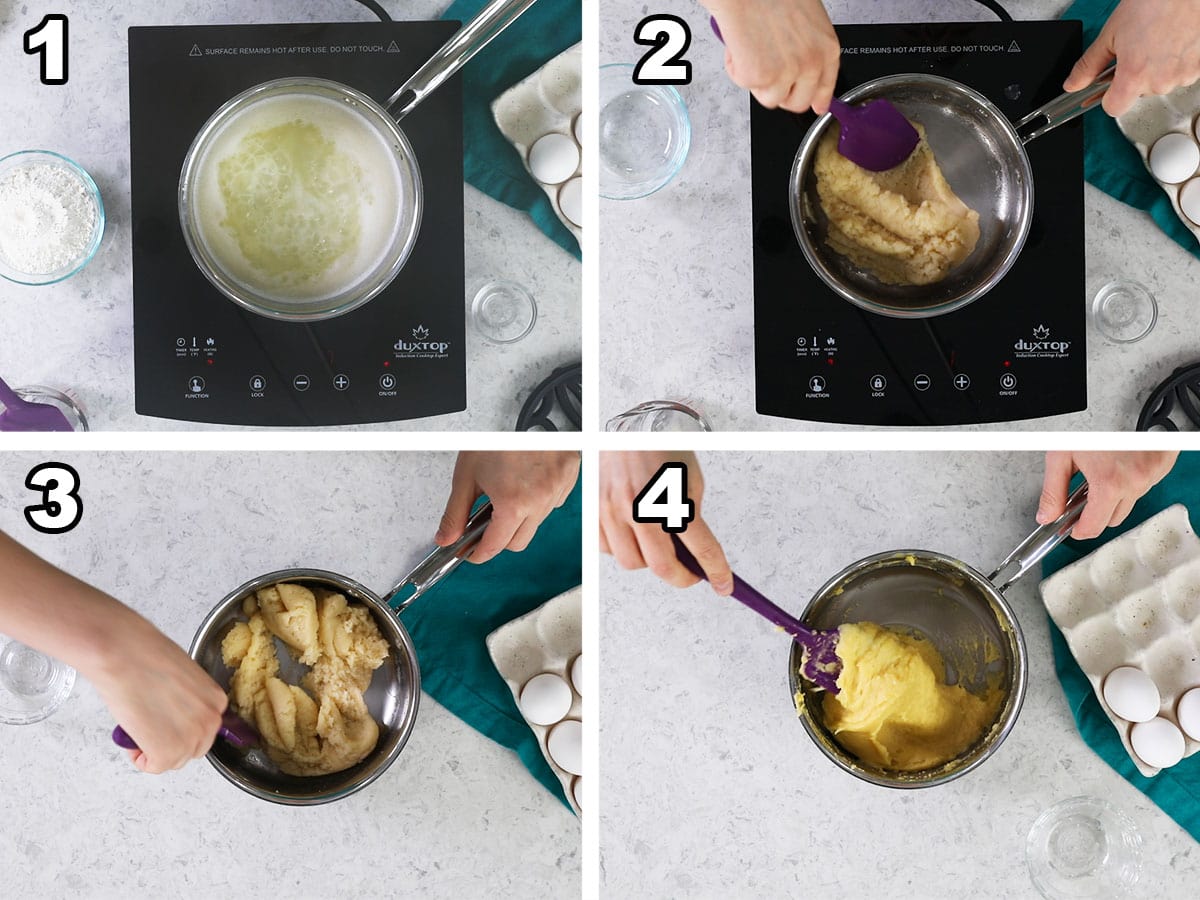 Bring the water, butter, and salt to a rolling boil over medium heat, then reduce the heat to medium low.
Stir in the flour. Keep stirring until the mixture forms a ball that pulls away from the sides of the pot.
Remove from heat and keep stirring for a few minutes to help the mixture cool slightly.
Add the eggs one at a time, stirring very well after each addition. The mixture should be velvety and smooth when you are done.
Pipe, Bake, & Prep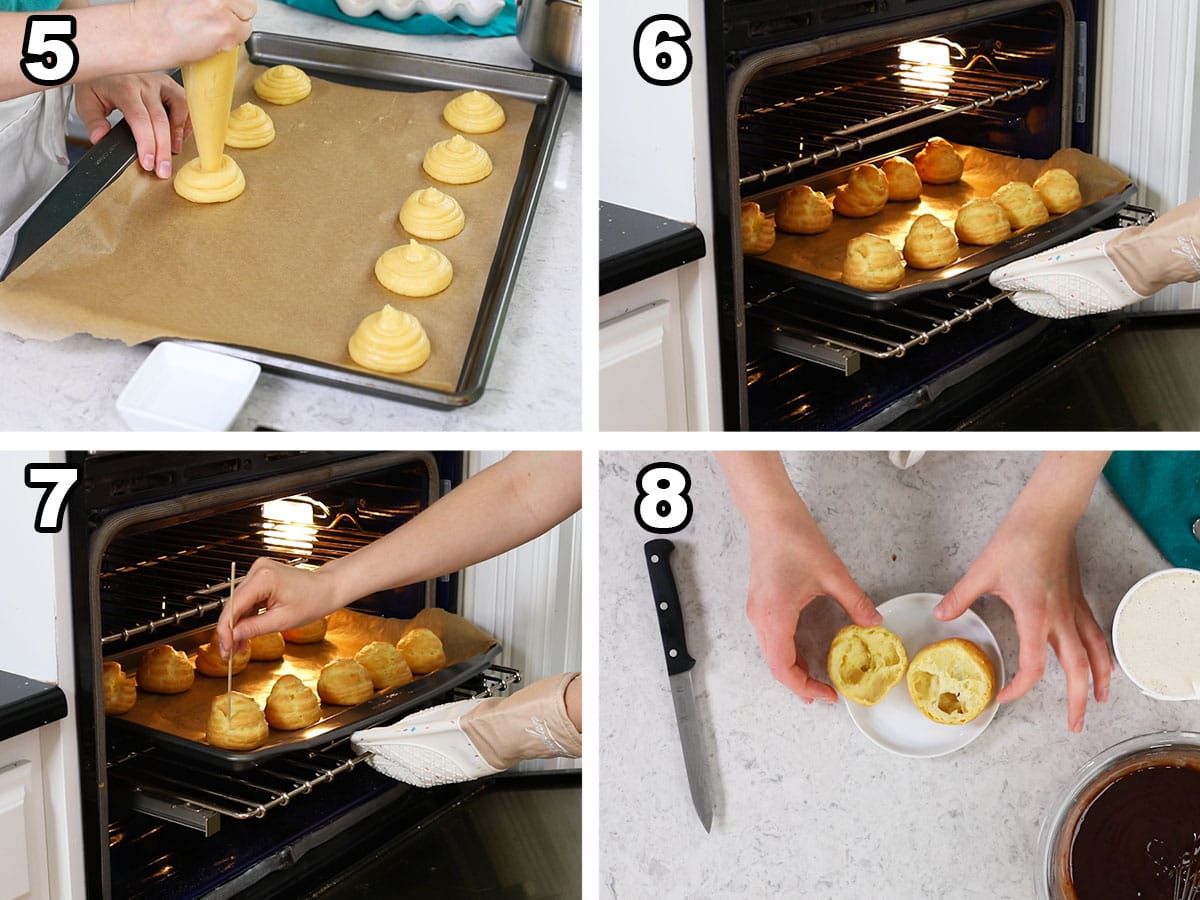 Pipe the dough into 2.5″ wide by 1″ tall mounds onto a parchment lined baking sheet. Use damp fingers to tamp down any peaks that formed from piping.
Bake for 30-35 minutes at 400F or until the pastry is golden brown. It's not terribly difficult to tell when choux is done, any cracks or the surface should appear dry. When it's not yet finished baking, it appears wet.
Turn off the oven and remove the choux. Prick the side of each bun with a sharp knife, then return the pan to the oven with the door cracked. Let sit for another 10 minutes before removing to cool completely. This lets the steam escape and helps prevent soggy buns, keeping the pastry nice and crisp.
Cut the cooled buns in half along their equator using a serrated knife. Look at those beautiful air pockets, perfect for filling with ice cream!
SAM'S TIP: Don't have a piping bag? No problem! You can just use a spoon to dollop mounds of dough onto your baking sheets instead.
Ganache

Heat the cream until steaming, then pour over your chopped chocolate. Cover with foil and let sit, undisturbed, for 5 minutes.
Whisk together until smooth, then set aside to cool slightly.
Assembly

Add a scoop of ice cream onto the bottom half of one bun, then add the top half. Place on a plate. I'm sorry but these are not handheld treats, not for those of us who don't like to wear our desserts, anyway.
Pour the warm ganache overtop and serve immediately. Yes, immediately! Grab your fork or if you don't have sensitive teeth take a bite (oh, you're crazy). The combination of textures, flavors, and temperatures is sheer bliss.
SAM'S TIP: If you're a chocoholic, try adding a pinch of espresso powder into your ganache. This will enhance the chocolate flavor in a sensational way–it's divine!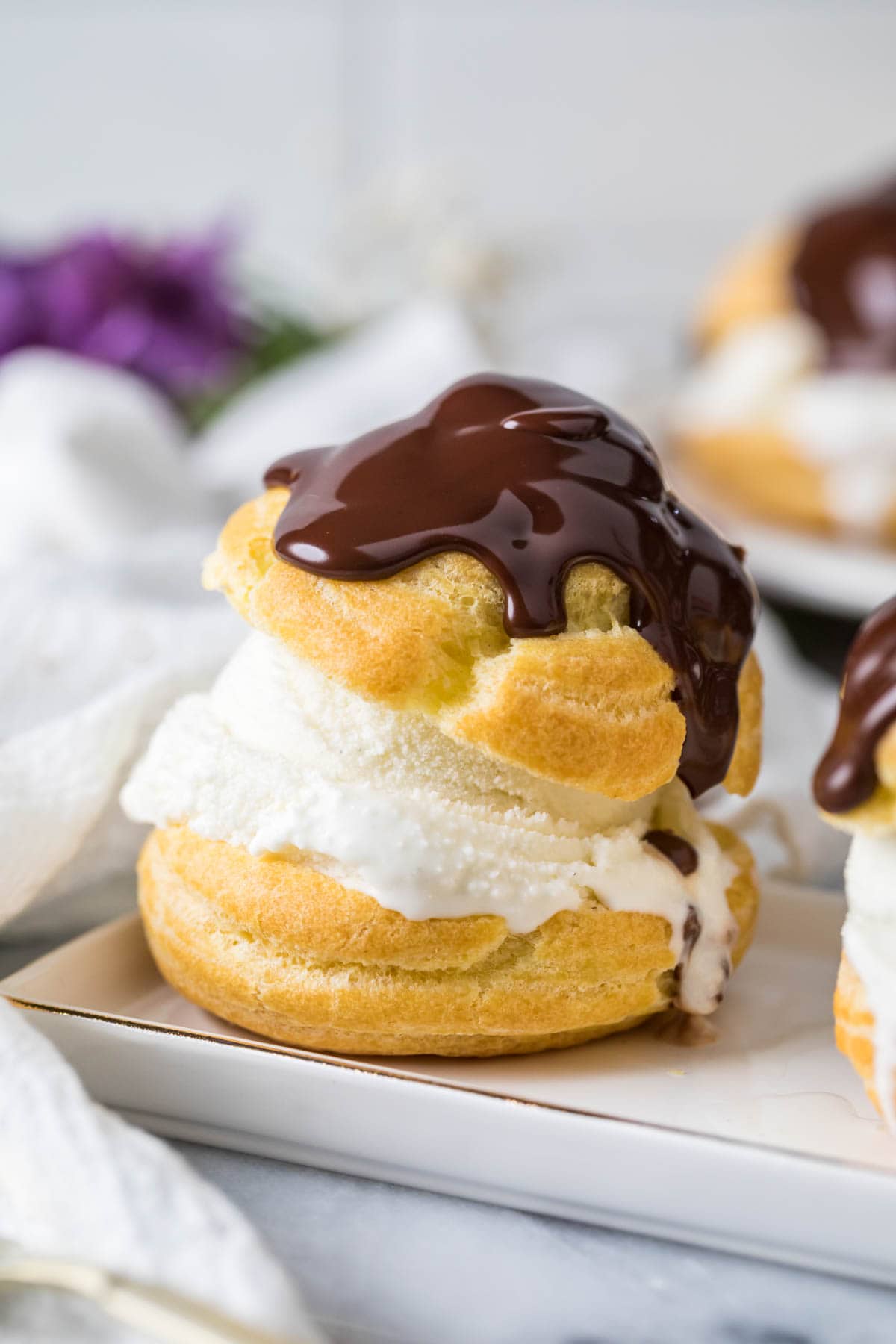 Frequently Asked Questions
What's the difference between a cream puffs and profiteroles?
Some people use the words interchangeably, you'll find cream puff recipes filled with whipped cream or ice cream and profiteroles filled with pastry cream. To me (and I'm bound to get some argument on this, I'm sure) this is sheer blasphemy. Cream puffs ought to be filled with pastry cream and topped with powdered sugar, while profiteroles are filled with ice cream and topped with warm ganache. The bases (choux pastry) are the same though!
Can profiteroles be made in advance?
You can bake the choux buns up to 3 days in advance (store in an airtight container at room temp), but everything else will have to be prepared and assembled right before serving. The ice cream would melt and the ganache would firm up if made in advance.
Can profiteroles be frozen?
You could try freezing the profiteroles and adding the ganache later, that would be fine, though the texture of the choux won't be quite as crisp from the freezer. Don't freeze after adding the ganache, though. For one it will start to melt your ice cream and give you a funky texture, but most importantly you lose the most amazing element of combining hot fudgy ganache and cold ice cream, so don't do that!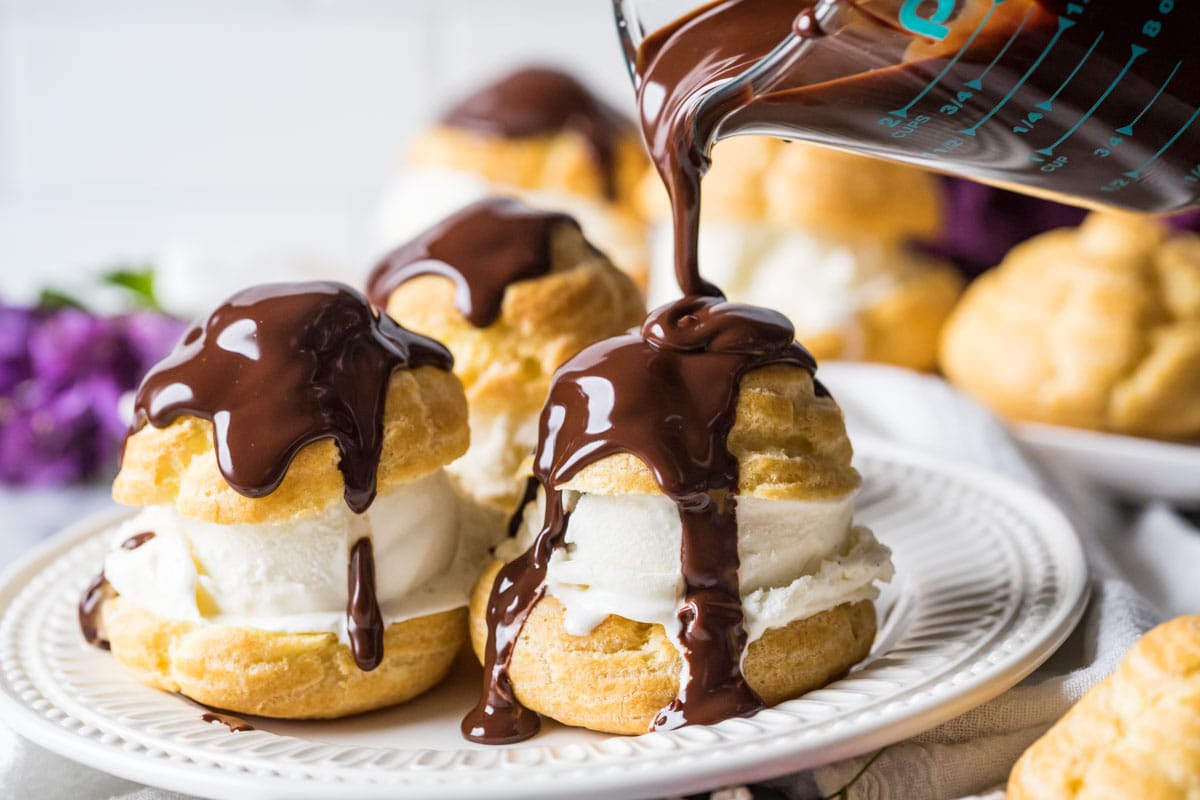 I had so much fun making these and they're a summertime staple in my house. Can't wait for you to try them, make sure you let me know how you like them!
Enjoy!
Let's bake together! I'll be walking you through all the steps in my written recipe and video below! If you try this recipe, be sure to tag me on Instagram, and you can also find me on YouTube and Facebook
Profiteroles
Despite their impressive appearance, profiteroles are actually quite simple to make! Crisp choux pastry, cool ice cream, and warm ganache make up this irresistible French dessert.
Recipe includes a how-to video!
Print
Pin
Rate
Servings:
10
profiteroles
Ingredients
Chocolate Ganache
6

oz

(

170

g

)

dark chocolate

finely chopped (see note)

¾

cup

heavy cream
Filling
1

pint

vanilla ice cream

or preferred flavor
Instructions
Preheat oven to 400°F (200°C) and line a large baking sheet with parchment paper. Set aside.

In a medium-saucepan, combine water, butter, and salt over medium heat and bring to a rolling boil.

1 cup (236 ml) water,

½ cup (113 g) unsalted butter,

¼ teaspoon table salt

Reduce heat to medium-low and add flour. Stir until mixture forms a ball that pulls away from the sides of the pot.

1 cup (125 g) all-purpose flour

Remove from heat and stir another minute or two longer to slightly cool.

Add eggs, one at a time, stirring very well after each addition until each egg is combined and mixture is velvety and smooth.

Transfer batter to a large piping bag fitted with an open tip (or with the end just snipped) and pipe into mounds 2.5" (6cm) wide by 1" (2.5cm) tall (or just spoon into mounds if you don't have a piping bag). Space pastry mounds at least 1 ½" apart.

Lightly dampen your fingers with cool water and gently press down any peaks.

Bake in the center rack of oven for 30-35 minutes, until choux pastry appears golden brown and dry.

Turn off the oven, remove the choux and prick each on the side with a sharp knife or wooden skewer. Return to the hot oven, crack the door, and allow the choux pastry to sit in the oven another 10 minutes before removing and allowing to cool completely before assembling. Ganache should be prepared shortly before serving, as it's traditionally poured over the profiteroles while still warm.
Ganache
Place chopped chocolate in a heatproof bowl. In a small saucepan, heat cream until steaming then pour evenly over chocolate. Cover with foil and allow to rest, undisturbed, for 5 minutes.

6 oz (170 g) dark chocolate,

¾ cup heavy cream

Gently whisk ingredients together until smooth. Set aside to cool slightly while you put together your profiteroles.
Assembly
Use a serrated bread knife to cut choux pastry in half along their equator. Place a generous scoop of ice cream (about ⅓ cup on the top of the bottom half, add the top choux pastry, plate, and pour warm ganache overtop. Serve immediately.
Notes
Ganache
I use 60% chocolate bars, semisweet would also work. Chocolate bars are best, but in a pinch you could substitute chocolate chips. You may not use all of the ganache, but I like there to be plenty to spare.
For extra depth of flavor (especially if you're a dark chocolate lover), add a pinch of espresso powder with the chocolate.
Storing
Profiteroles do not store well once they are assembled and should be enjoyed immediately. However, you can prepare the choux pastry up to 3 days in advance. Store in an airtight container at room temperature.
Nutrition
Serving:
1
profiterole
|
Calories:
412
kcal
|
Carbohydrates:
29
g
|
Protein:
7
g
|
Fat:
30
g
|
Saturated Fat:
18
g
|
Polyunsaturated Fat:
1
g
|
Monounsaturated Fat:
8
g
|
Trans Fat:
0.4
g
|
Cholesterol:
131
mg
|
Sodium:
132
mg
|
Potassium:
273
mg
|
Fiber:
3
g
|
Sugar:
15
g
|
Vitamin A:
847
IU
|
Vitamin C:
0.4
mg
|
Calcium:
100
mg
|
Iron:
3
mg
Nutritional information is based on third-party calculations and should be considered an estimate only. Actual nutritional content will vary based upon brands used, measuring methods, cooking method, portion sizes, and more.
Related Recipes