Maybe you know them as "Gobs" (especially if you hail from PA) or maybe you know them as "Whoopie Pies". Whatever you call them, these classic desserts are absolutely irresistible! They consist of two cakey chocolate cookies sandwiched around an old-fashioned vanilla filling. Today I'm sharing my grandmother's recipe, no marshmallow fluff in this one!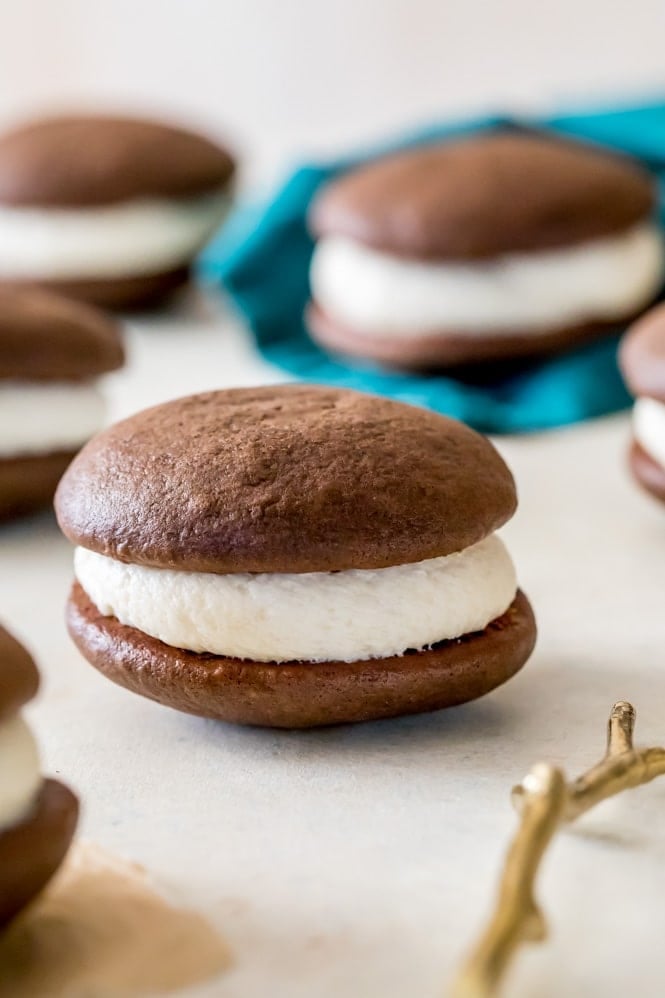 So what do you call them, Gobs or Whoopie Pies? Or maybe you don't call them anything? Maybe this big, fat, Oreo cookie-looking thing on your screen is totally unfamiliar? If that's the case I have a treat for you today!
I'm sharing my grandmother's recipe for old fashioned Gobs. It's a fairly simple recipe that yields soft, cakey chocolate cookies sandwiched around a not-too-sweet filling. I always thought that Gobs (Whoopie Pies) were known everywhere, but it seems the "Gobs" name is more of a Pennsylvania thing, and it's what I grew up calling them.
So What is the Difference Between a Whoopie Pie and a Gob?
There is no difference between a Gob and a Whoopie Pie, different regions simply refer to them by different names. In fact, several different states claim that the Whoopie Pie originated from them (both Maine and Pennsylvania make strong cases, and as a PA resident guess who I'm siding with).  The name "Whoopie Pie" is sometimes cited as having Amish origins (another vote for PA 😉), but with so many different origination stories, it's hard to know for sure.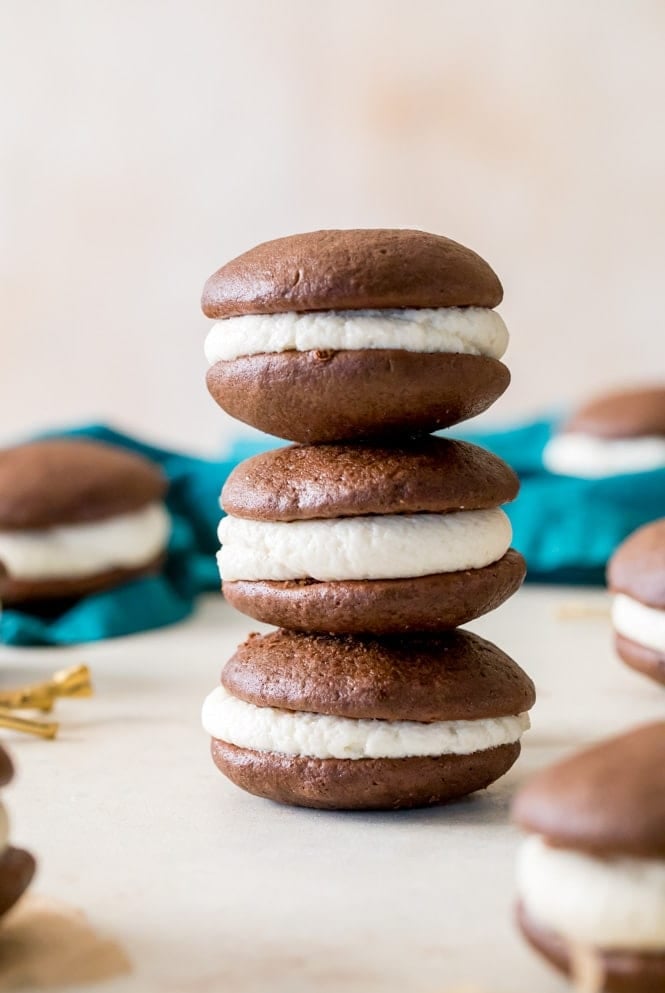 Let's Talk about Gobs Filling
The filling for this old fashioned gob recipe might be a little different than you're used to. It's actually pretty similar to ermine frosting, if you've ever made that before.
Many Gobs recipes call for a marshmallow-fluff based filling, and some simply use a fluffy vanilla buttercream. To be honest, I'm always disappointed when I bite into a Gob that's made with one of these imposter fillings. It's just too sweet! For this filling, I stuck faithfully to my grandmother's recipe (after a little coercion, more on that below).
What's mostly unique about this recipe is that, rather than starting by creaming together butter and sugar, we instead begin by cooking together flour and milk on our stovetop to make a paste (or maybe it's more of a roux). This paste (and not marshmallow fluff!) is going to be the base of our frosting. And it's going to be good, and not too sweet.
TIP! Make sure you let your roux/paste cool completely before you stir in the remainder of your ingredients (butter, shortening, vanilla, salt, powdered sugar). On days when I have the foresight to do so, I actually like to make the paste first, that way it has plenty of time to cool while I'm making my chocolate cookies.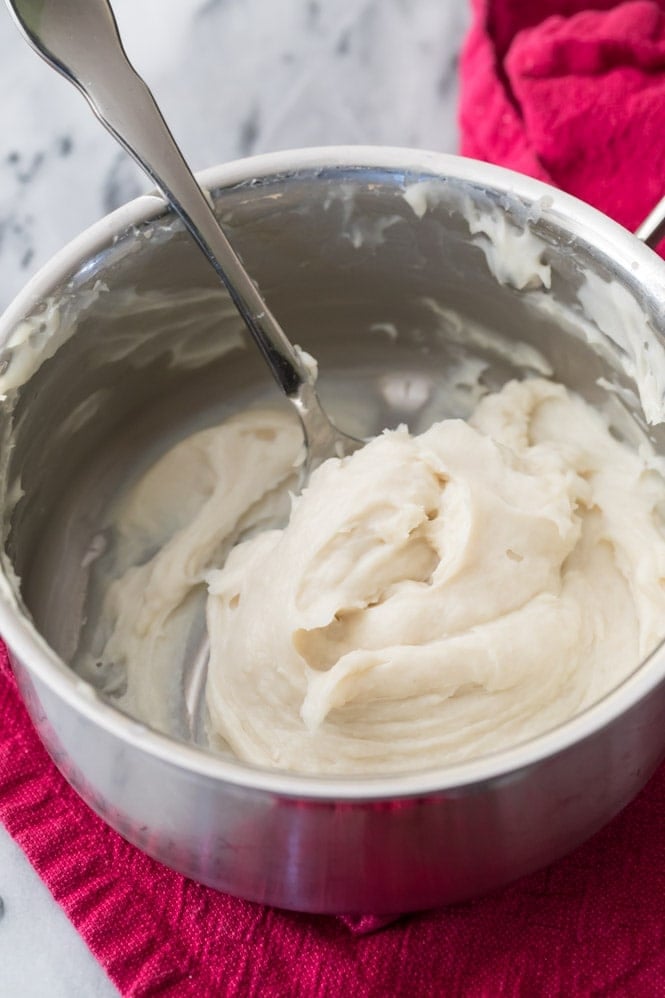 Shortening Vs. Butter
If you're a regular Sugar Spun Run reader 💜 you might be surprised to see that this recipe uses shortening. It's not often that I use shortening in a recipe. Hardcore butter fan, right here 🙋🏼(remember my buttery, shortening-free peanut butter blossoms?).
Before I shared this gobs recipe, I was determined to modify it so that I used all butter and no shortening. That did not go over well with my family/taste testers (all butter-lovers themselves). After at least half a dozen rounds of recipe variation trials and blind taste tests later, the consensus was overwhelming. Just stick to the recipe. For once. Geez.
So I did. And, as with my other family recipes (see my Potato Candy, Chocolate Fudge, and Angel Food Cake), some things are better left alone. Which in this case means we're using shortening, believe it or not.
What If I Want to Use Butter Anyway?
These Gobs will still turn out if you use butter instead of the shortening that is called for. The primary drawback of doing a straight substitution is that the cookies will be a bit drier than they would be if you used shortening and the filling will lose some of its signature mouthfeel.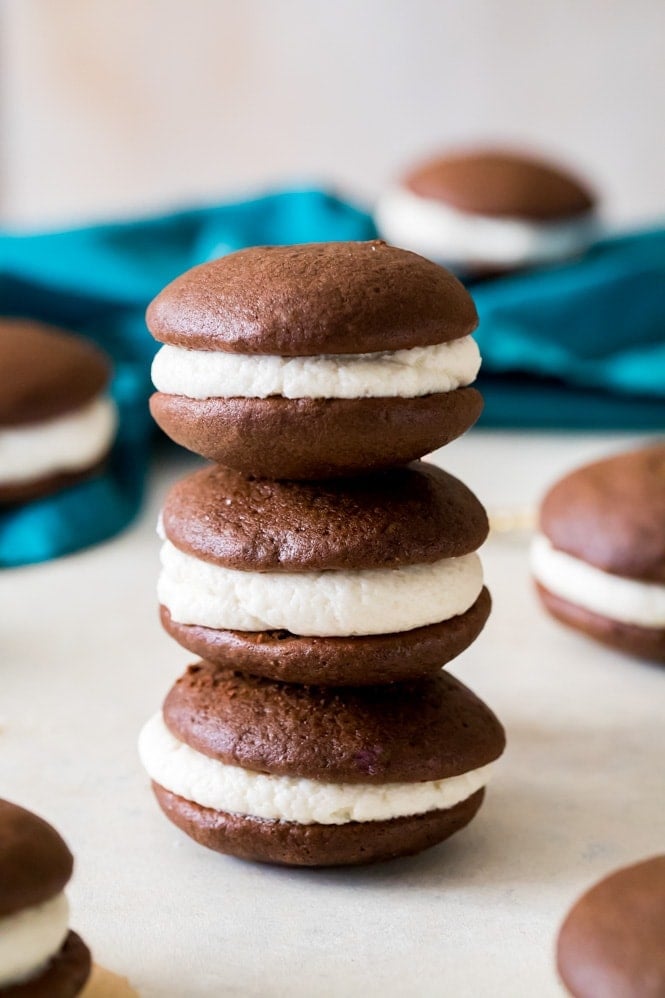 Do Gobs/Whoopie Pies Need to be Refrigerated?
While not required, I do recommend keeping your whoopie pies refrigerated, especially if it's a particularly warm/humid time of year. My family actually prefers their gobs to be refrigerated, just make sure you wrap them in plastic wrap or keep them in an airtight container so they don't dry out.
Enjoy!
Other Recipes You Might Like:
Make sure to check out my How to Make Gobs video at the bottom of the post! If you enjoy watching, make sure to subscribe to my YouTube channel where I've already uploaded over 100 recipe videos that you can watch for free! 💜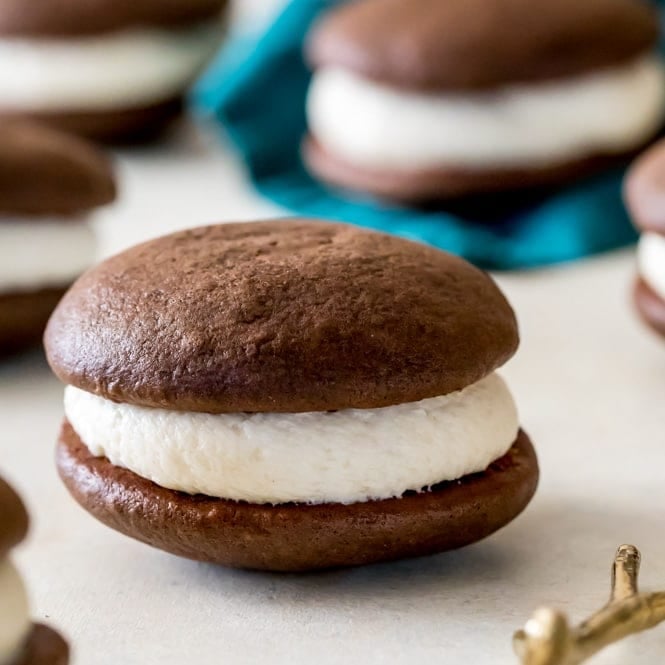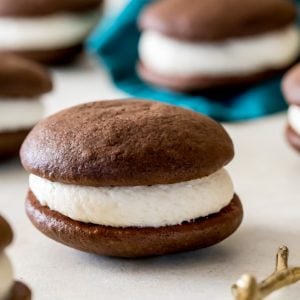 Whoopie Pies (Gobs)
Maybe you know them as "Gobs" (especially if you hail from PA) or maybe you know them as "Whoopie Pies". Whatever you call them, these classic desserts are absolutely irresistible! They consist of two cakey chocolate cookies sandwiched around an old-fashioned vanilla filling. This is my grandmother's recipe.
Print
Pin
Rate
Servings:
16
whoopie pies
Ingredients
CHOCOLATE COOKIES
1

cup

sugar

(200g)

¼

cup

shortening

I use Crisco

1

large egg

lightly beaten

1

teaspoon

vanilla extract

½

cup

buttermilk¹

(120ml) (see notes for substitute)

2

cups

all-purpose

plain flour (250g)

¼

cup

cocoa powder²

(50g)

1

teaspoon

baking soda

¼

teaspoon

baking powder

½

teaspoon

salt

½

cup

very hot or boiling water

(120ml)
CREAM FILLING
1

cup

whole milk

(236ml)

5

Tablespoons

all-purpose

plain flour

¾

cup

unsalted butter

(170g)

2

Tablespoons

shortening

¼

teaspoon

salt

1

teaspoon

vanilla extract

1

cup

powdered sugar

(125g)
Instructions
CHOCOLATE COOKIES
Preheat oven to 450F (235C) and line several cookie sheets with parchment paper³. Set aside.

In a large bowl or in the bowl of a stand mixer, combine sugar and shortening and beat together until well-combined.

Add egg and vanilla extract and stir until mixture is pale yellow and well-combined.

Stir in buttermilk and then set mixture aside.

In a separate, medium-sized bowl, whisk together flour, cocoa powder, baking soda, baking powder, and salt. Prepare your boiling water.

Alternate adding the dry ingredients and hot/boiling water to the wet ingredients, starting and ending with the dry ingredients and stirring until combined after each addition. I usually add the flour in 3 parts and the water in 2.

Stir until well-combined and mixture is smooth. Be sure to use a spatula to scrape the sides and bottom of the bowl to ensure ingredients are thoroughly combined. The mixture should be thin like a cake batter rather than thick like a cookie dough.

Drop cookie batter by a heaping Tablespoon onto prepared baking sheets, spacing cookies at least 2" apart (they will spread in the oven).

Bake for 5 minutes in 450F (235C) oven, then remove from oven and allow to cool completely.

Meanwhile, prepare your cream filling.
FILLING
This Whoopie Pie filling starts with a flour/milk paste that's critical to the texture and consistency of an old-fashioned Whoopie Pie/Gob. Pour milk into medium-sized saucepan over medium/low heat and then sift/whisk flour into milk until smooth.

Continue to whisk constantly until mixture is thickened to a near paste-like consistency that wants to cling together. Remove from heat and allow to cool completely, stirring occasionally to prevent a skin from forming, before proceeding (if it's warm and you proceed you'll melt your filling and have a runny mess). If you refrigerate the filling, press a piece of plastic wrap directly against the surface to prevent a skin from forming. To speed up the process you can pour mixture into another container but it will take at least 30 minutes. Flour mixture will thicken even more as it cools.

Once flour/milk mixture has cooled, add to a medium-sized mixing bowl along with butter, shortening, salt and vanilla. Use an electric mixer to beat until creamy and well-combined.

With mixer on low speed, gradually add powdered sugar until completely combined.

Pair up your cooled chocolate cookies so that you have evenly-sized pairs.

Pipe or spread filling onto the bottom of one cookie then top with another cookie to make a sandwich. Repeat until all cookies are filled. Enjoy!
Notes
¹If you don't have buttermilk on hand, you can use my simple buttermilk substitute instead
²I've used both natural and Dutch processed cocoa powder and have had success with both but recommend natural cocoa powder.
³If you don't have parchment paper, just use an ungreased cookie sheet.
Gobs will keep in an airtight container at room temperature for several days or in an airtight container in the refrigerator for up to a week. My family actually prefers theirs refrigerated and think that the flavor develops after a night in the fridge.
Nutrition
Serving:
1
gob
|
Calories:
284
kcal
|
Carbohydrates:
36
g
|
Protein:
3
g
|
Fat:
14
g
|
Saturated Fat:
7
g
|
Polyunsaturated Fat:
2
g
|
Monounsaturated Fat:
2
g
|
Cholesterol:
36
mg
|
Sodium:
214
mg
|
Potassium:
85
mg
|
Fiber:
1
g
|
Sugar:
22
g
|
Vitamin A:
350
IU
|
Calcium:
30
mg
|
Iron:
1.1
mg
Nutritional information is based on third-party calculations and should be considered an estimate only. Actual nutritional content will vary based upon brands used, measuring methods, cooking method, portion sizes, and more.