This easy Buttermilk Substitute requires just two ingredients and comes together in seconds. No more running to the store in the middle of baking your favorite recipes! Recipe includes a how-to video.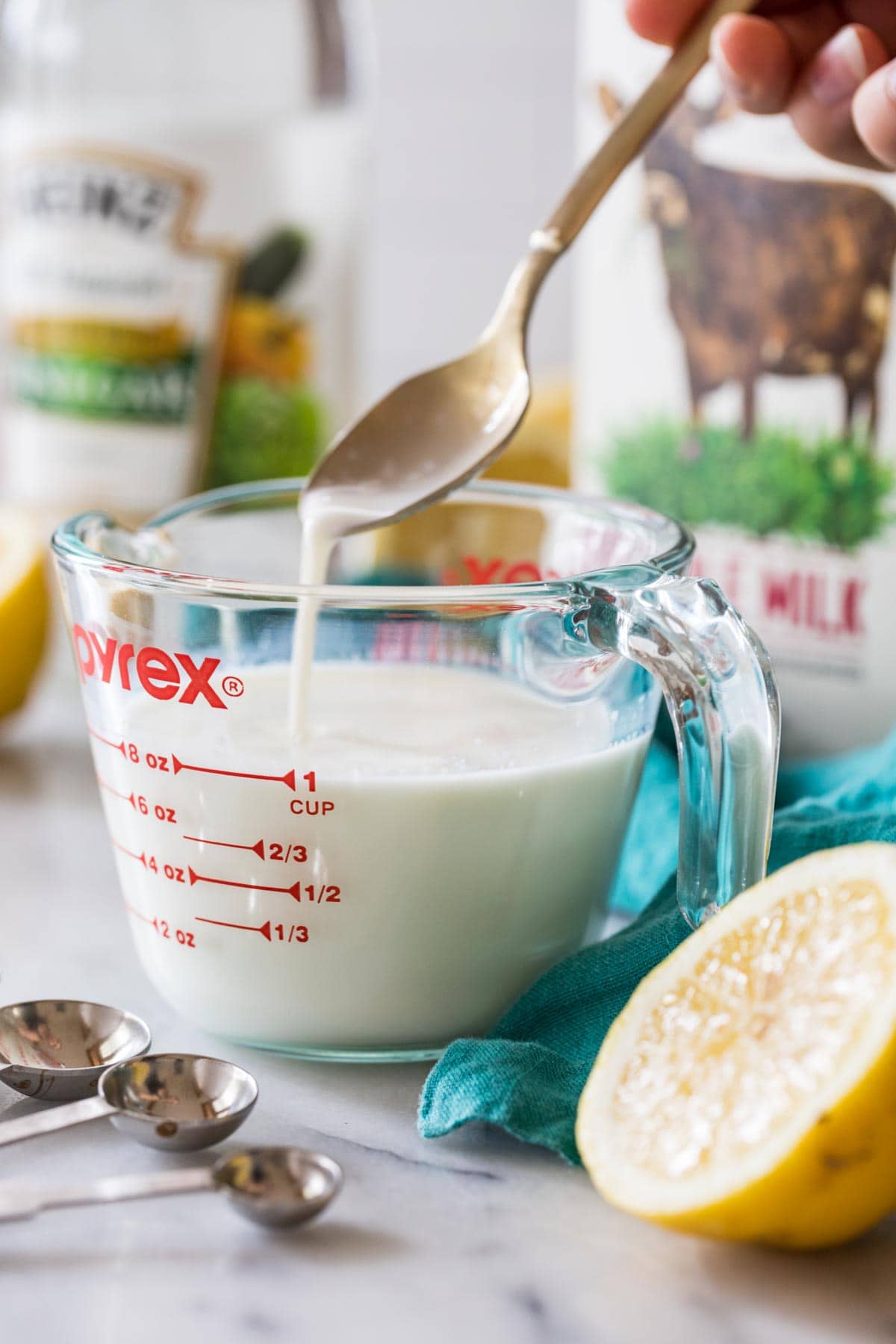 Quick & Easy Buttermilk Substitute
Have you ever been in the middle of prepping what will be a beautiful batch of waffles or pancakes and BAM–you realize you need buttermilk?! I don't know about you, but I don't keep a bottle in my fridge at all times, so when this happens, I'm left with two options: get in the car and drive to the store, or just make this easy buttermilk substitute. The choice is really an no-brainer.
While real, cultured buttermilk is honestly better than any substitute and will always yield the best taste, texture and flavor, when you're in a pinch a substitute is better than nothing at all (and better than just regular milk–more on that below!) This "recipe" I'm sharing today is extremely simple and uses ingredients that, unlike the real thing, are almost always already in your kitchen.
What does buttermilk do?
Imparts a rich, slightly tangy flavor.
Can be a major factor in creating texture and rise (as you can see in my tall, fluffy banana muffins).
Adds moisture, much like sour cream.
What You Need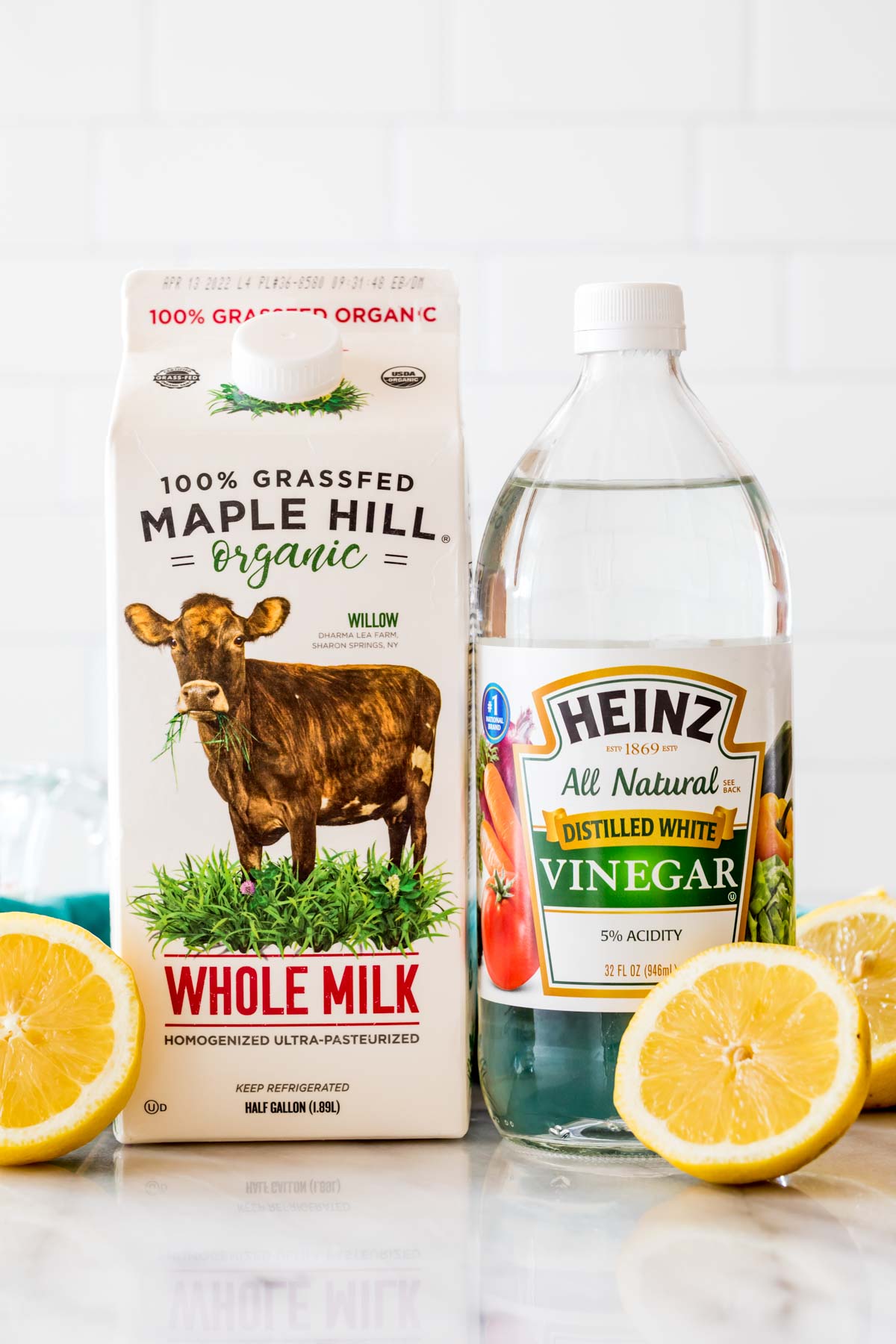 This quick and easy buttermilk substitute is incredibly simple, and my hope is that you have what you need at home already. Here's what you need:
Lemon juice OR vinegar. Fresh or bottled lemon juice OR distilled white vinegar will work equally well. Whichever you choose, this ingredient is the acid that will change your milk into buttermilk. Having trouble deciding between the two? Don't think too much about it–you really won't taste either ingredient in your end result, so just use whatever you have on hand!
Milk. If you've ever used store-bought buttermilk, then you know it's pretty thick. To get this quick and easy substitute as close to the consistency of the real thing, I recommend using whole milk or even heavy cream. If all you have on hand is 2% milk, that will work–thinner buttermilk is still better than nothing. And yes, non-dairy milks work just fine too!
SAM'S TIP: While I haven't tried these myself, here are a few other substitutes that should work well for replacing one cup of buttermilk: 1 cup of plain yogurt; ¾ cup sour cream (or full fat Greek yogurt) + ¼ cup water or milk; 1 ½ teaspoons cream of tartar + 1 cup milk; or buttermilk powder (follow package instructions).
Remember, this is just an overview of the ingredients I used and why. For the full recipe please scroll down to the bottom of the post!
How to Make My Easy Buttermilk Substitute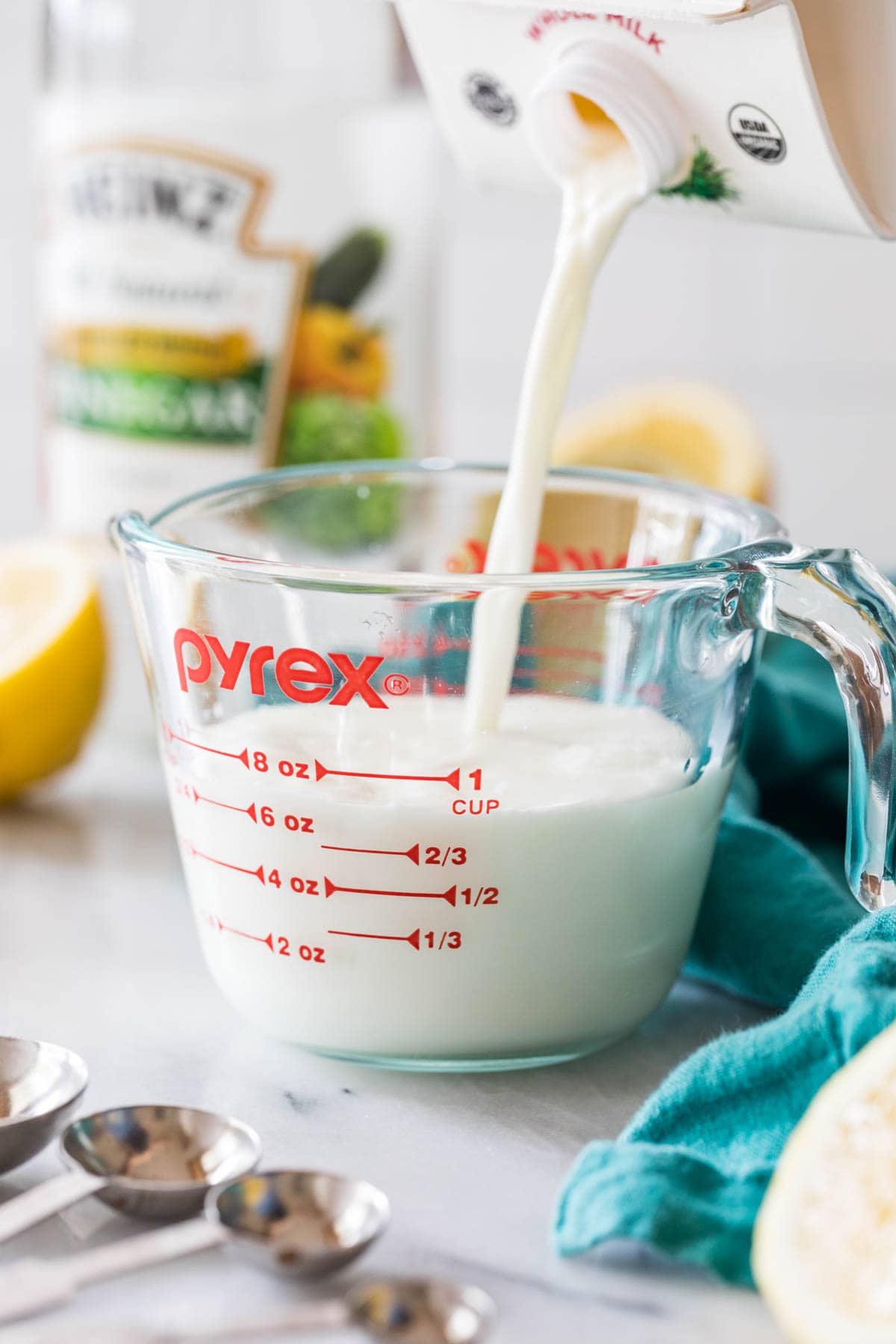 Add one tablespoon of either vinegar or lemon juice to a liquid measuring cup.
Add milk until you reach 1 cup of liquid.
Stir together. The mixture may curdle; do not stress if this happens–this is a good thing!
Use as needed.
SAM'S TIP: Many buttermilk substitute recipes suggest you let the milk mixture sit for 5-10 minutes before using. This actually isn't necessary, because once the milk and acid are combined, the acidification happens instantly! If you still feel better letting the mixture sit, you can just prepare your buttermilk substitute at the beginning of your recipe.
Today's recipe is for a full cup of buttermilk and can easily be doubled. Here is a breakdown for recipes that require less than a cup of buttermilk:
¾ cup buttermilk = 2 ¼ teaspoons lemon juice/vinegar + milk to fill to ¾-cup line
⅔ cup buttermilk = 2 teaspoons lemon juice/vinegar + milk to fill to ⅔-cup line
½ cup buttermilk = 1 ½ teaspoon lemon juice/vinegar + milk to fill to ½-cup line
¼ cup buttermilk = ¾ teaspoon lemon juice/vinegar + milk to fill to ¼ cup line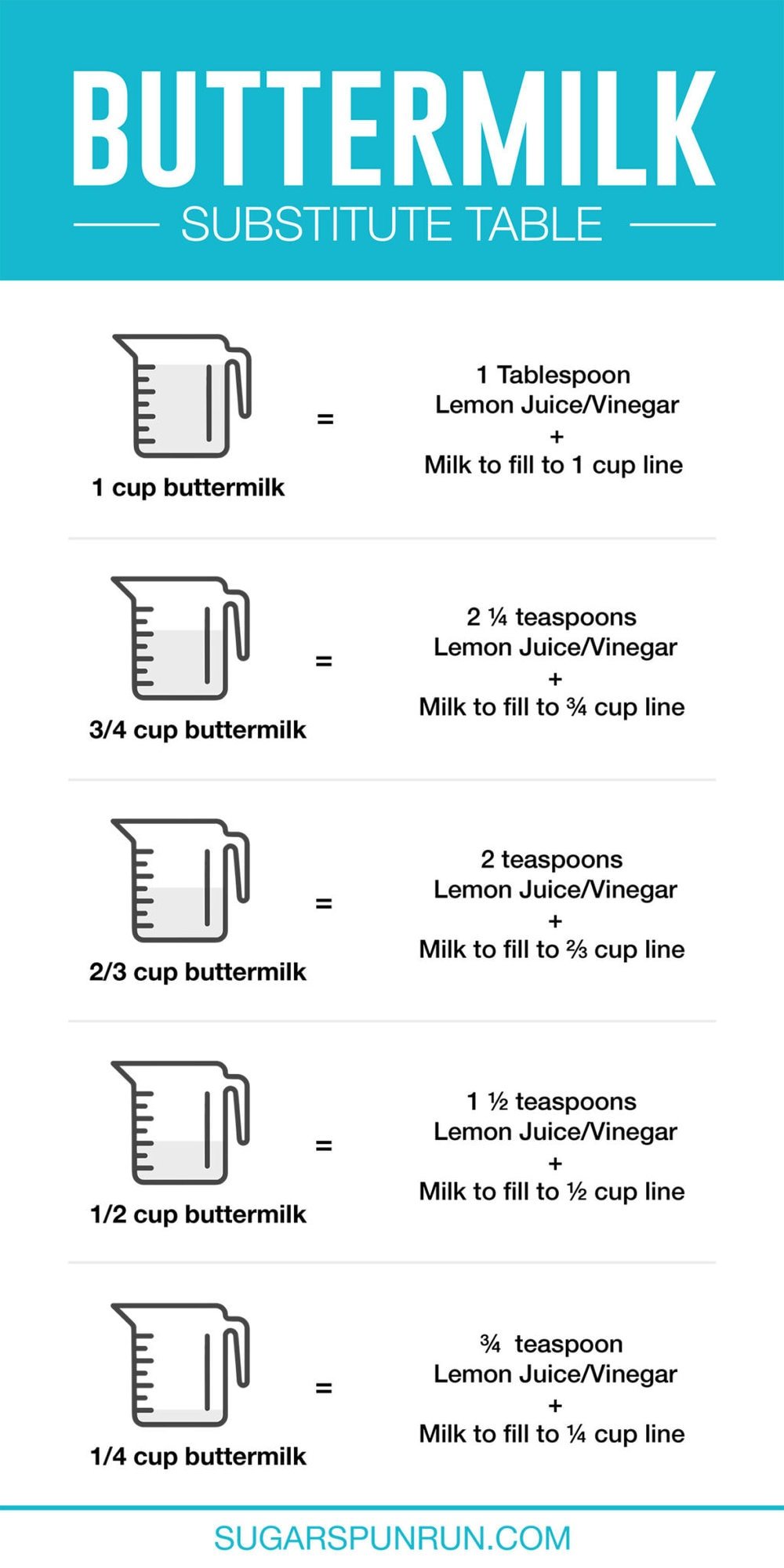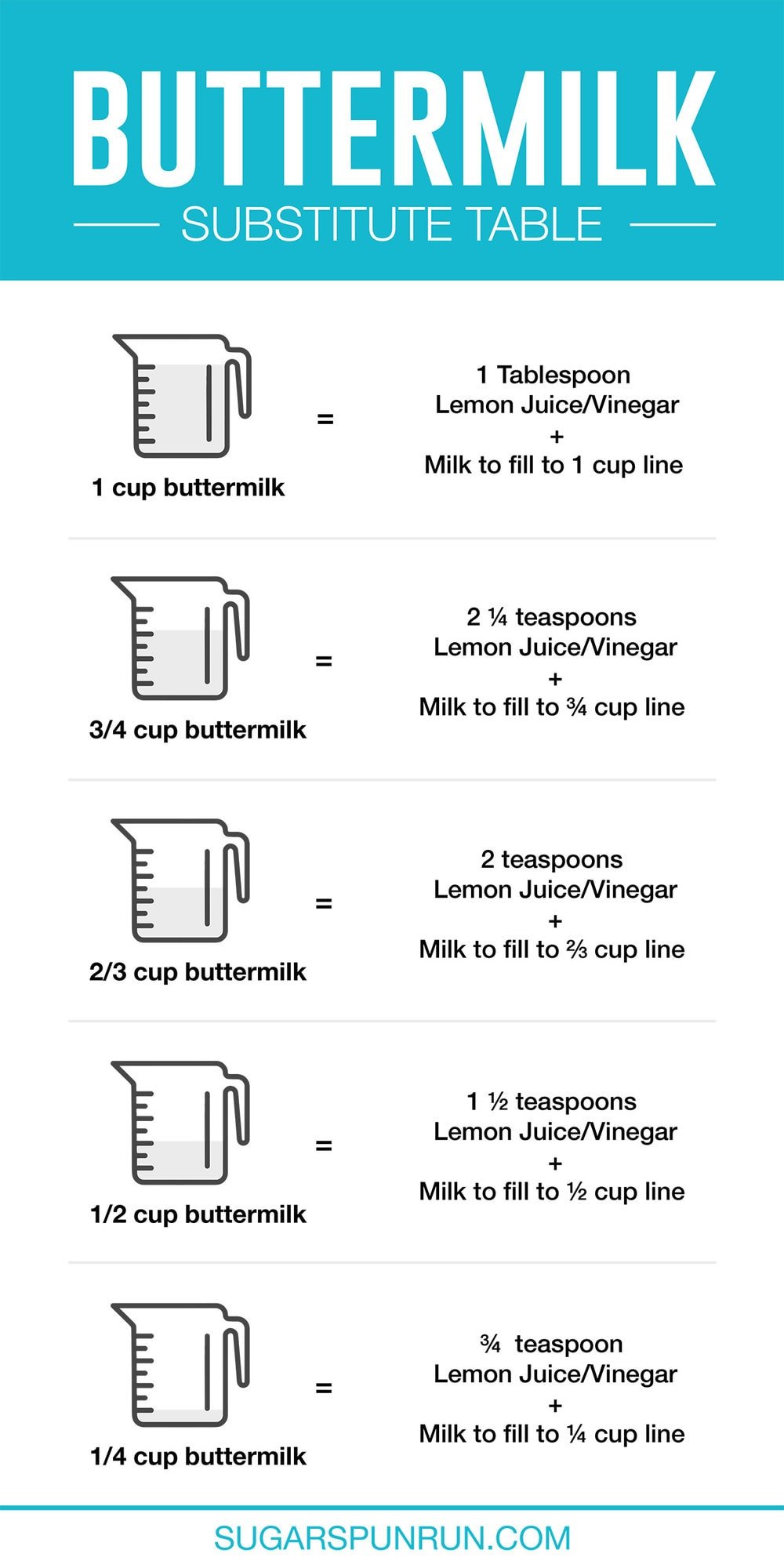 Frequently Asked Questions
Is buttermilk the same as regular milk?
No. Buttermilk is acidic, and any recipe that has been created using it is typically designed to have a specific reaction between the buttermilk (acid) and the leavening agents (usually baking soda). Note: sometimes I do use buttermilk without baking soda, like in my coffee cake and vanilla cake. In these instances it is to enhance the moisture and flavor of the recipe.

Regular milk isn't acidic, which means the reaction won't take place. Your baked goods may not rise properly and can turn out drier, less flavorful, and less tender if you use plain milk where buttermilk is called for.
Is there a non-dairy buttermilk substitute?
Yes! You can use the ratio mentioned above with non-dairy milks, and you'll still be left with a fantastic buttermilk substitute! I rarely bake with these milks, but this is a good vegan buttermilk substitute if you need one.
How long will my buttermilk stay good?
It should hold up about a week in a sealed container in your refrigerator. However, I recommend just making it as needed rather than making it in bulk in advance.
Can I use buttermilk (or this buttermilk substitute) in any recipe that calls for milk?
Generally I would not recommend it. While some recipes will fare well with this substitution (I often make my biscuits with buttermilk instead of the whole milk indicated), not all recipes will be as forgiving and it is best to use the type of milk called for.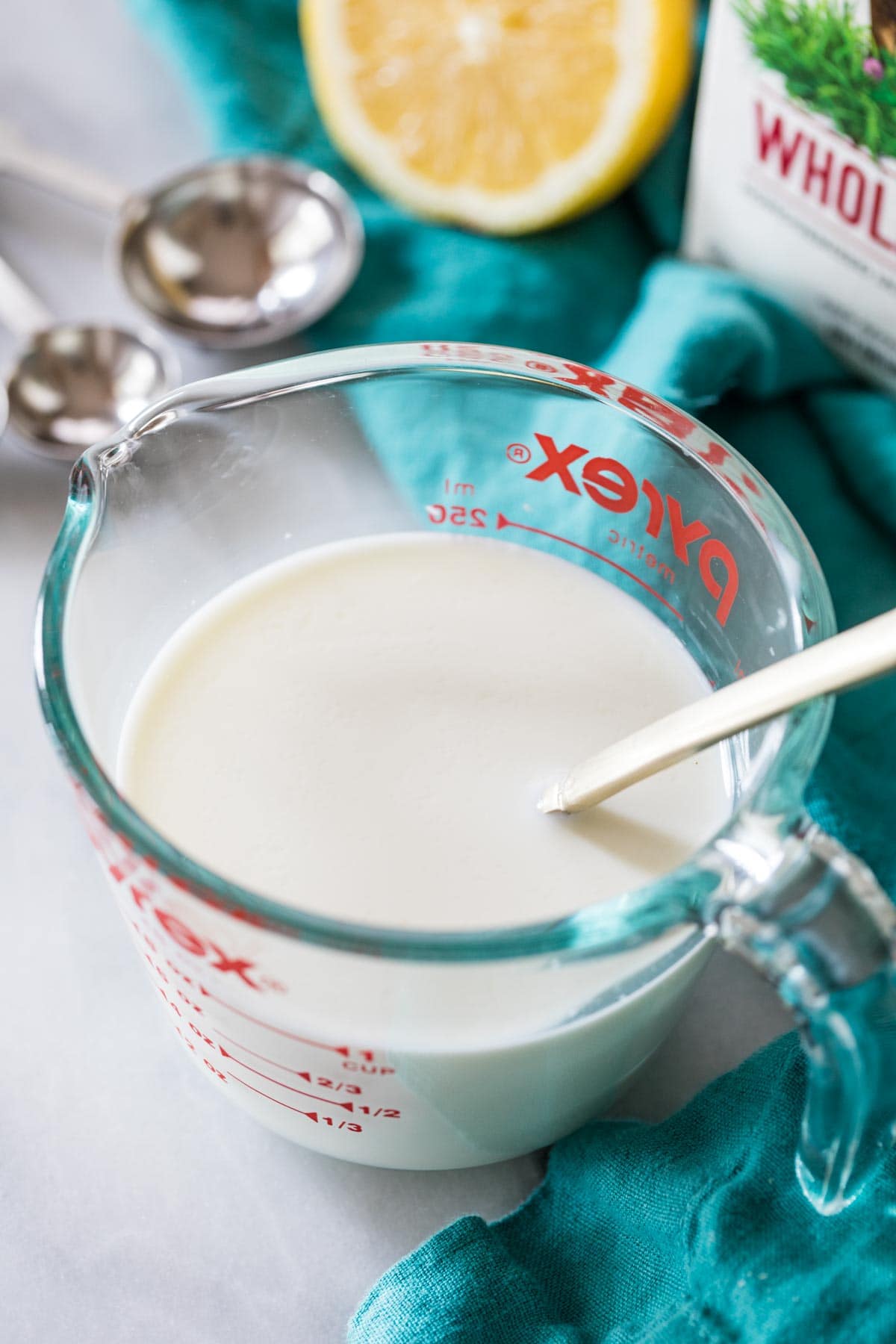 I know that this isn't new information to many seasoned bakers, but I'm hoping that it will help someone out in a pinch.
Let's bake together! I'll be walking you through all the steps in my written recipe and video below! If you try this recipe, be sure to tag me on Instagram, and you can also find me on YouTube and Facebook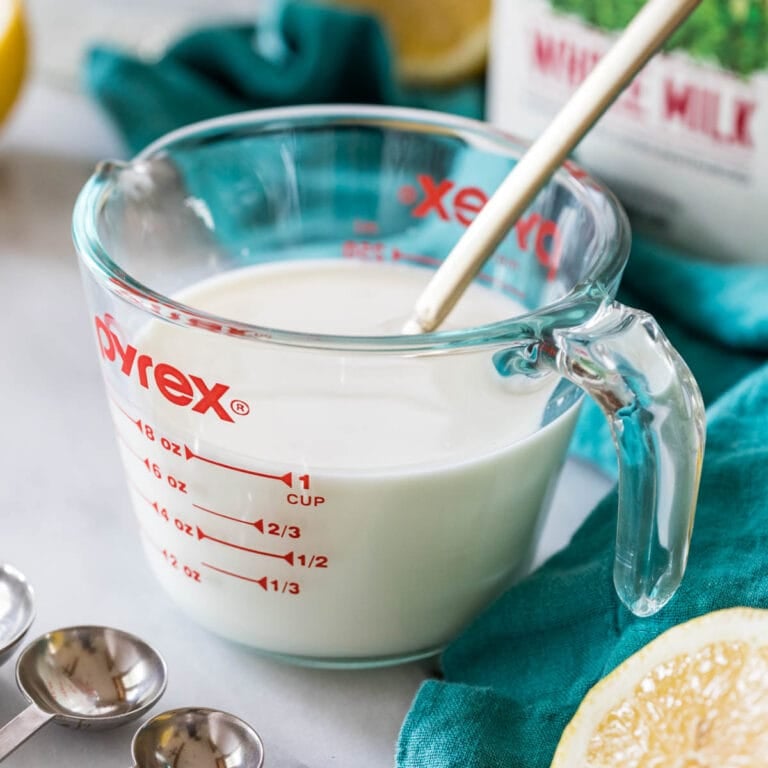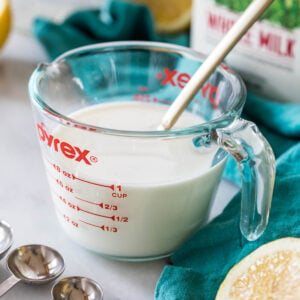 How to Make Buttermilk Substitute
A quick, 2 ingredient buttermilk substitute, made with milk and lemon juice or vinegar. The recipe below the measurements needed to make a full cup of buttermilk, please see the graphic in the post for the ratios to use to scale down for different amounts of buttermilk
Print
Pin
Rate
Ingredients
1

Tablespoon

lemon juice (fresh or bottled)

may substitute 1 Tablespoon white distilled vinegar

1

scant cup*

milk
Instructions
Pour one Tablespoon of lemon juice (or one tablespoon of vinegar) into a liquid measuring cup.

Add milk until liquid reaches the 1-cup line (at eye level).

Stir. The milk will thicken a little and may appear to be slightly curdled or chunky.  

Use buttermilk in your recipe as instructed (note that this recipe yields a cup, please use only the amount called for in your recipe).
Notes
*A scant cup just means just shy (usually 1-2 Tablespoons) of a full cup.  In this instance, we're pouring the lemon juice into the measuring cup first, so, even though we're filling the milk up to the 1-cup line, the amount of actual milk that is used will be just less than a full cup, or a "scant cup".
Nutrition
Nutritional information is based on third-party calculations and should be considered an estimate only. Actual nutritional content will vary based upon brands used, measuring methods, cooking method, portion sizes, and more.
Recipes that use Buttermilk