A rich, moist, classic buttermilk chocolate cake.  Simple to whip together completely from scratch and frosted with a light, silky chocolate buttercream frosting, this is an easy, moist chocolate cake recipe to keep on hand.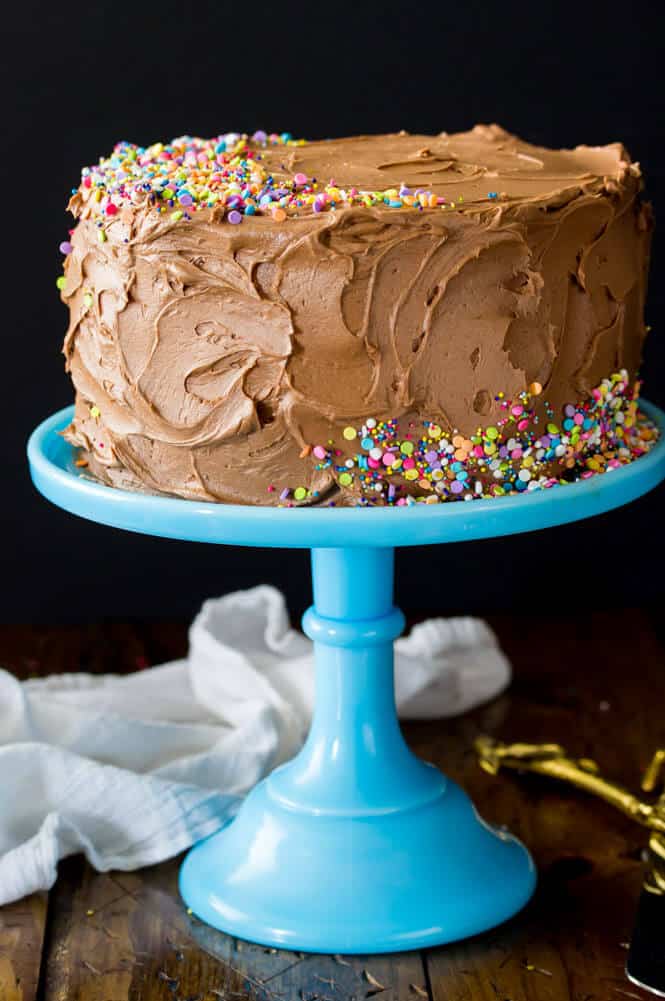 Not to start off this post with a complaint (she said, proceeding to start the post off with a complaint), but man, cakes are exhausting.
I started developing this chocolate cake recipe in October, perfected it in January, and just this month finally got around to re-making it and photographing it.  I have about 8 heavily annotated drafts of this recipe in my documents, lots of fails.
That's a lot of butter, cocoa powder, and sugar destined for the trashcan (I usually am able to find people willing to eat my recipe fails, but pawning off an un-iced chocolate cake fail is much harder than a batch of brownies that turned out slightly too chewy).
I don't particularly love photographing cakes, either.  If you have a cookie that's not perfectly round or just slightly overbaked, you have several more batches to get things right for their photo op, but a cake like this chocolate cake gives you just one shot.  In fact, it's nothing but a series of one-shot opportunities to screw up.  One shot to get the baking time right.  One shot to invert the pans and pray to every deity that nothing sticks to the sides or bottom.  One shot to stack it and frost it in a way that looks edible.
Whoever coined the term "piece of cake" was clearly not a food blogger.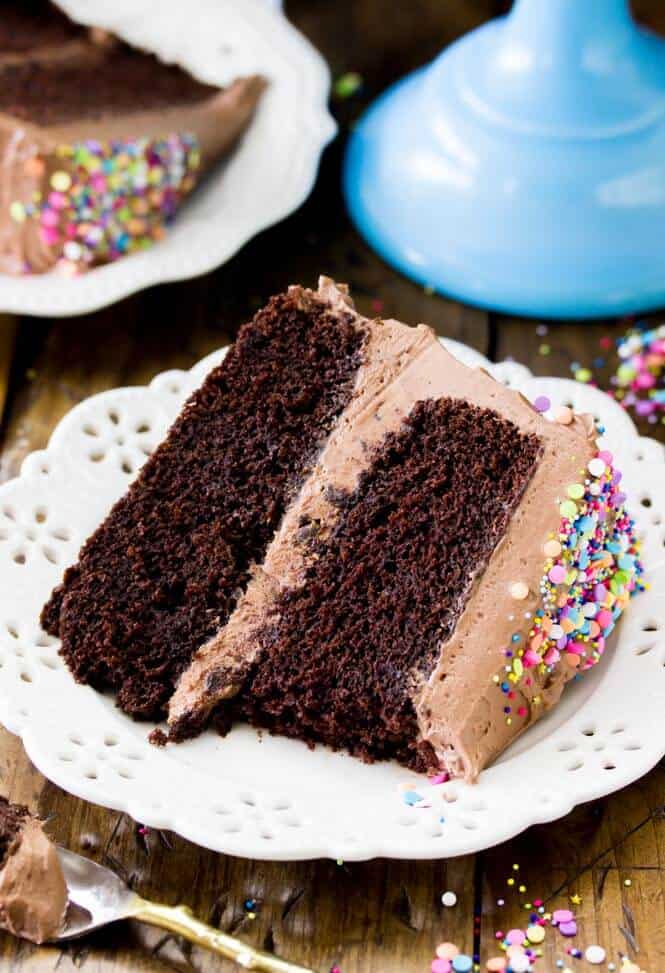 Alright, food blogger rant over.
Cakes are exhausting, but the payoff is always worth it.
This chocolate cake from scratch is no exception, and despite my afore-mentioned grievances about the process of developing cake recipes, once the recipe is perfected it's actually pretty darn easy to make and assemble.
This perfected chocolate cake recipe from scratch actually only takes several minutes to prepare.
After all 8+ trails, it's carefully crafted for perfected taste and ease –made with both butter and oil for maximum flavor without being too dry, moistened with buttermilk, flavor-enhanced with piping hot coffee, and enriched with an extra egg yolk.
I'm typically a cream cheese frosting kind of person, but I wanted something a little different for this chocolate cake (plus, a lot of you have been e-mailing me asking for buttercream recipes — please keep that up, I want to know what kind of recipes you like so that I can make more of them!).
I decided to go with a simple chocolate buttercream, made with real melted chocolate (rather than cocoa powder), not too sweet and well-whipped.  It was the perfect complement to this perfect chocolate cake.
While this is an easy frosting, it's important to follow the instructions — stir the chocolate frequently in-between microwaving so it doesn't seize, allow it to cool so that it doesn't completely melt your butter and sugar (that would be a mess!) and make sure your butter is at room temperature, otherwise if it is too cold it can cause the chocolate to harden and you'll have pieces of chocolate in your frosting instead of a silky smooth icing.  I usually set my butter out to soften the night before.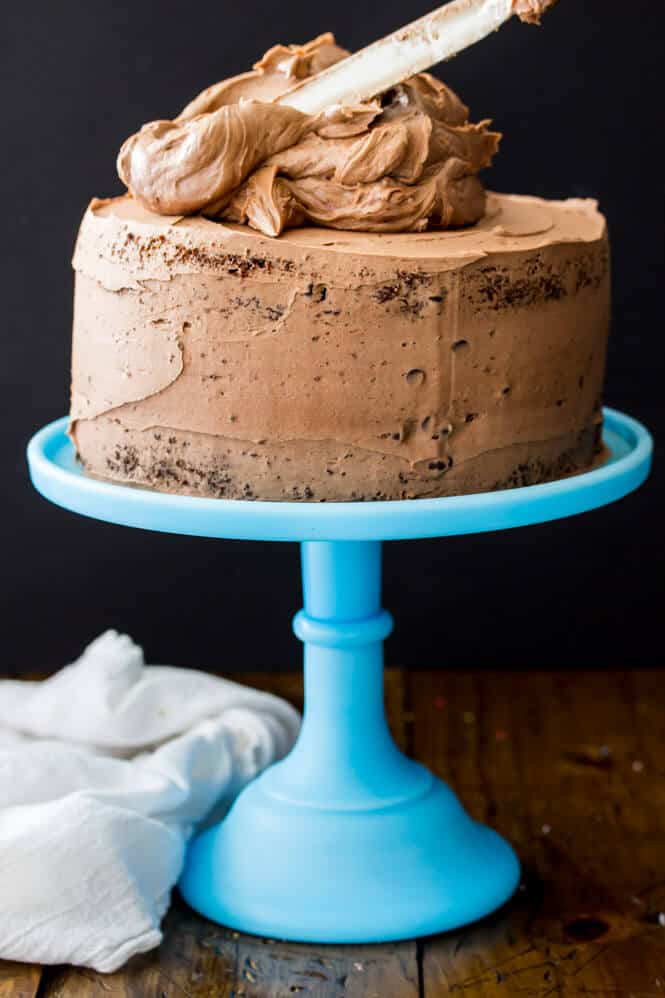 Buttercream can sometimes be too sweet for me (to the point where I scrape it off my cake because I just can't handle another bite) so I didn't want that to be the case here.  The amount of sugar is reduced and whipping cream is beaten into the frosting so it's silky smooth and melts in your mouth, just like chocolate.
It also lends itself to being slapped and swirled on the cake in a way that looks intentionally messy (free-spirited, if you will) rather than sloppy.  It takes a lot of the pressure off of trying to attain that perfectly smooth fondant-style look.
Alright, well since there's coffee and chocolate (caffeine!) in this cake I'm off to have a slice for breakfast.
Can you think of a better way to ease into Monday morning than with a slice of moist chocolate cake?
Easy Chocolate Cake
A moist, fluffy chocolate cake recipe made with buttermilk. A classic cake recipe that you're going to want to save forever!
Ingredients
1 3/4

cup

all-purpose flour

(205g)

1

cup

brown sugar

packed (200g)

1

cup

sugar

(200g)

3/4

cup

natural cocoa powder

(75g)

1 1/2

teaspoon

baking soda

3/4

teaspoon

salt

1/2

cup

unsalted butter

melted (113g)

1/2

cup

canola oil

(may substitute vegetable oil) (118ml)

2

large eggs + 1 egg yolk

room temperature preferred

2

teaspoons

vanilla extract

1

cup

buttermilk

1/2

cup

hot coffee

(or 1 teaspoon instant coffee dissolved into 1/2 cup hot water) (118ml)
Silky Chocolate Buttercream
1

cup

semisweet chocolate chips

(170g)

1

cup

unsalted butter

softened to room temperature (226g)

2

cups

powdered sugar

(320g)

1/2

teaspoon

vanilla extract

1/2

teaspoon

salt

2

Tablespoons

heavy cream

(30ml)

3/4

cup

mini chocolate chips

optional
Instructions
Preheat oven to 350F (177C) and prepare two deep 8" round cake pans by lining the bottoms with parchment paper and lightly greasing the sides. Set aside.

In the bowl of a stand mixer fitted with a paddle attachment, whisk together flour, sugars, cocoa powder, baking soda, and salt.

Add melted butter and oil, stir well.

Add eggs and egg yolk, one at a time, stirring well after each addition. Pause occasionally to scrape down sides and bottom of bowl.

Stir in vanilla extract. Gradually add buttermilk and stir well.

Add hot coffee, stirring until ingredients are well-combined (be sure to scrape sides and bottom of bowl again).

Evenly divide batter between prepared pans. Bake on 350F (177C) for 35-40 minutes (toothpick inserted in center should come out with moist crumbs).

Allow to cool for 15 minutes before inverting onto cooling rack to cool completely before frosting.
Chocolate Buttercream Frosting
In a microwave-safe bowl, microwave chocolate chips at 15 second intervals, stirring between intervals, until chips are completely melted. Set aside and allow to cool slightly (about 10 minutes, stirring occasionally).

Cream room temperature butter with an electric mixer. Stir in slightly cooled chocolate and beat well.


Gradually add sugar, scraping down the sides and bottom of bowl occasionally.

Sprinkle in salt and vanilla extract, stir well.

Gradually add heavy cream, increase speed to high and beat for 1 minute.

Spread a thick layer of frosting over the top of one cake round and sprinkle with mini chocolate chips. Top with second cake round and evenly frost cake. Slice and serve.
Nutrition Facts
Easy Chocolate Cake
Amount Per Serving
Calories 690
* Percent Daily Values are based on a 2000 calorie diet.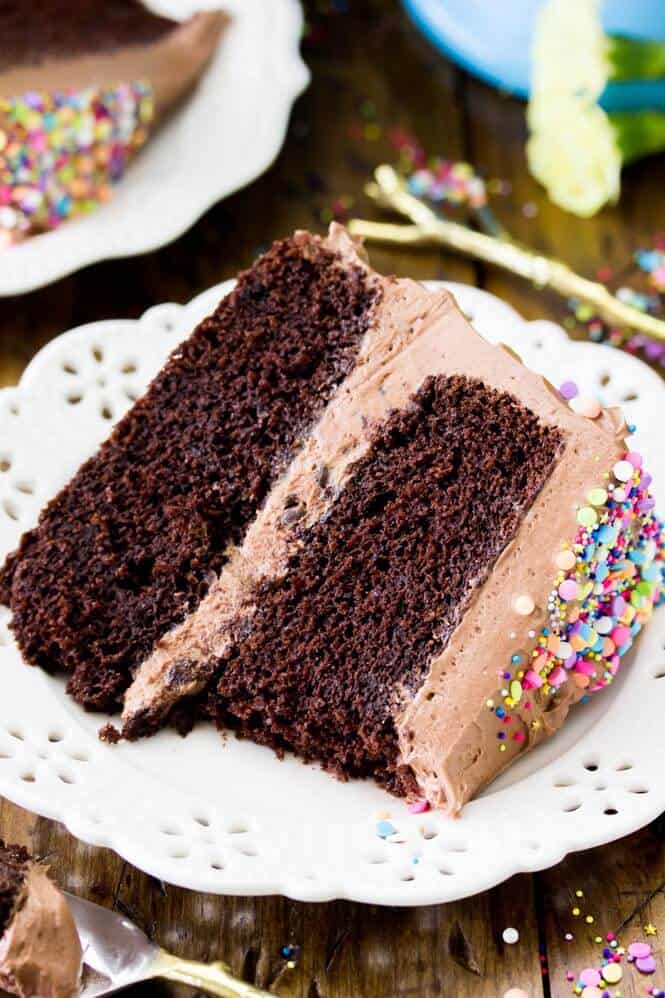 You Might Also Like: