You read it correctly: Potato Candy! This recipe has been a favorite in my family for generations. Don't be alarmed by the potatoes, they're a critical ingredient that you'd never guess is hidden in this sweet old-fashioned candy! 
My family loves making this potato candy around the holidays, especially for Christmas and Easter. You might even recognize the candy base as I've shared it before in my Easter Egg Candy. Be sure to read through the post for all of my most important tips before you begin!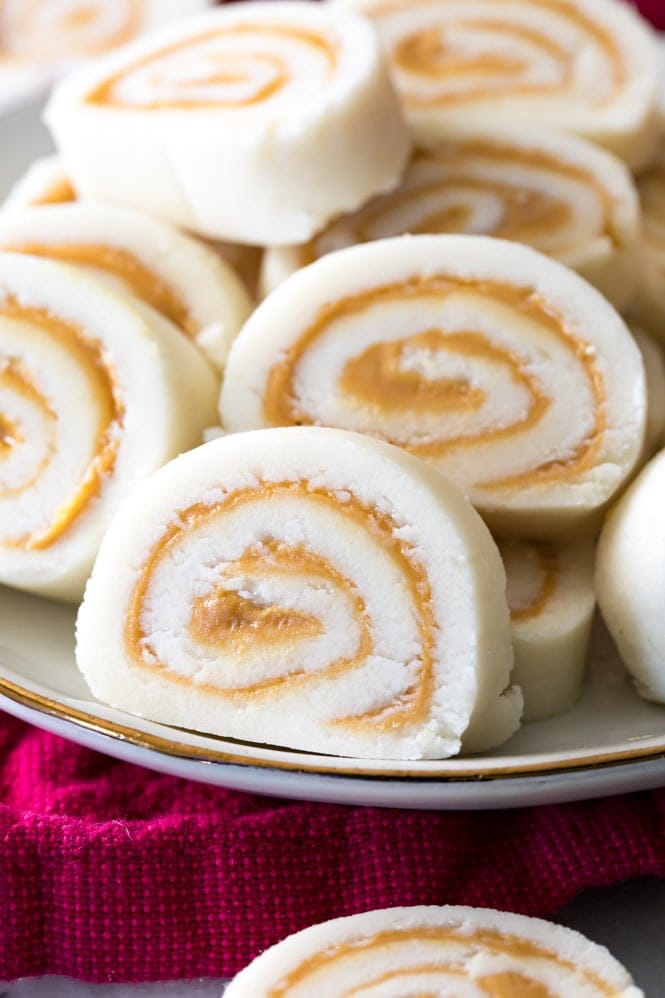 If you've read this far you're either really, really intrigued or you grew up making your own Potato Candy and already know how amazingly delicious this recipe really is.
I'm guessing we lost some people with the title, but trust me, they're missing out. You're going to be so glad you stuck around (and I'm so grateful for you for trusting me on this one!).
This recipe came from my grandmother's grandmother. While the potatoes may seem off-putting at first, I promise you that you won't taste them in the finished product. They mostly serve to bind the candy "dough" together, and they do so without making it too sweet (if you left out the potatoes, you'd have a much too sweet buttercream candy that you couldn't roll into this cute pinwheel shape).
I do have lots of tips and tricks for making this recipe, so let's jump in. I highly recommend you read through this entire post before venturing out to make your own Potato Candy.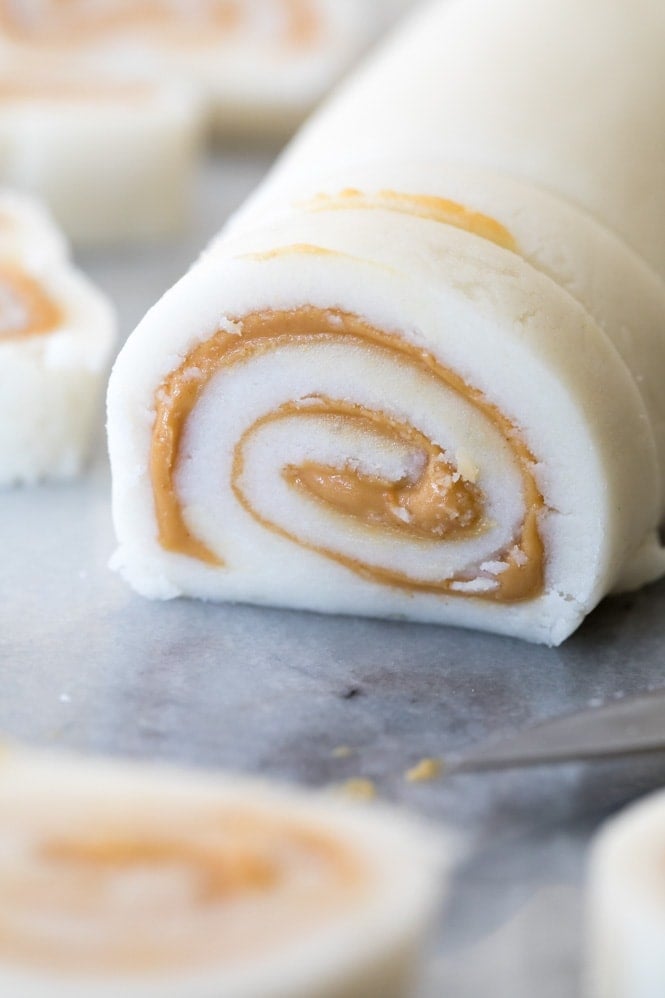 Tips for Making Potato Candy
Let the potatoes cool completely.  Don't refrigerate them, just leave them at room temperature once you've drained them until they are completely cooled, and then mash them until no lumps remain. If your potatoes are still warm when you add them to your mixture, there's a good chance they'll melt your butter and your sugar, resulting in a watery dough that you'll have to toss out.
Add more sugar as needed.  The dough will need to chill before you can roll it out, and it will be too tacky when first mixed up, but it should be somewhat shapeable. If it's too sticky, you can always add more sugar, up to 2 cups more.
Dust your surface and your rolling pin with powdered sugar, it will make the whole process easier and your dough less likely to stick.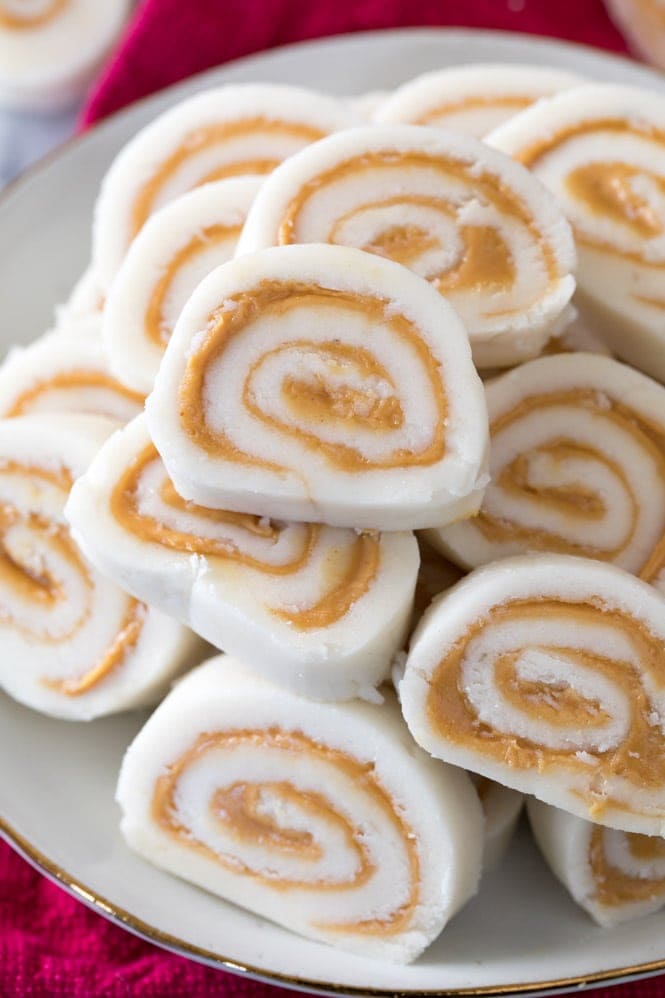 If the Mixture Becomes Watery, There's a Good Chance You'll Have to Start Over
Here's my biggest warning about this recipe, a mystery I haven't yet been able to solve: Every so often I'll have a batch that turns out watery.
The first time this happened, I thought I hadn't cooled the potatoes correctly and they melted the sugar. While that is definitely your most likely issue (and why I included the notes above) I've found that sometimes, even when I follow every instruction carefully and precisely, occasionally my dough turns out too runny. So runny that no matter how much sugar I add I just can't salvage it.
Why this happens is still a mystery to me, and my best guess at this time is that it's an issue with the potatoes. Perhaps they're too old? Perhaps they've been boiled a minute too long? Not long enough? It may even have nothing to do with the potatoes (could it be the humidity?)!
If you have any suggestions I am ALL ears, I've spent so much time trying to solve this and have finally conceded the fact that this is just a risk of making this recipe. It only happens rarely now, especially now that I've learned to be so careful with cooling the potatoes (again, your most likely culprit), but it does still happen from time to time and I want you to be fully informed. It's an issue that would typically cause me to not publish a recipe, but this is one that's been in my family for generations and I felt it deserved publishing, just with a warning.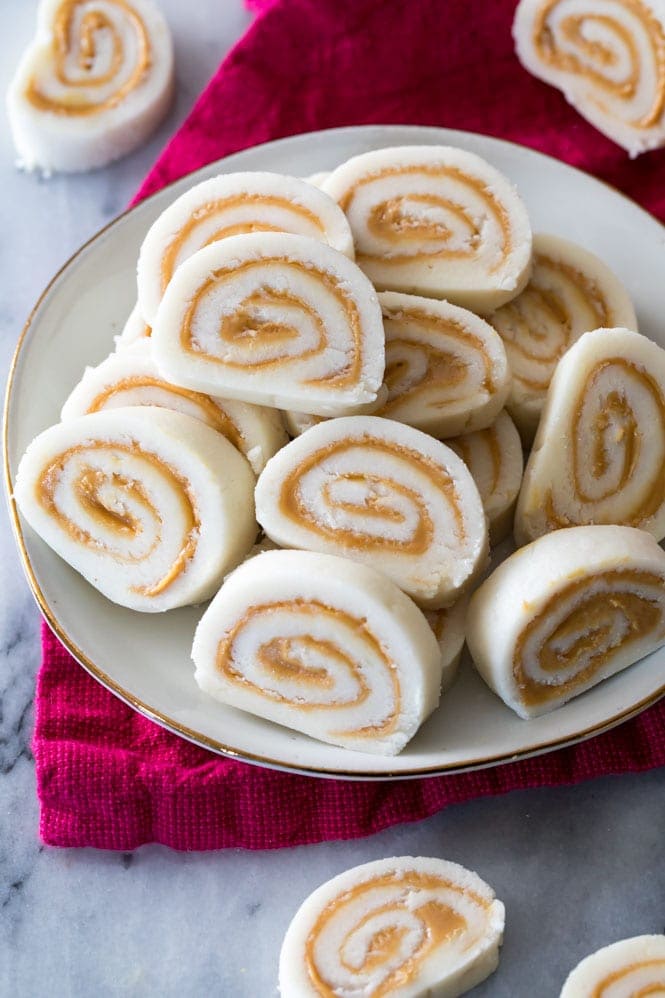 Alright, hopefully you now feel fully informed to make your own potato candy! Enjoy!
More Recipes You May Enjoy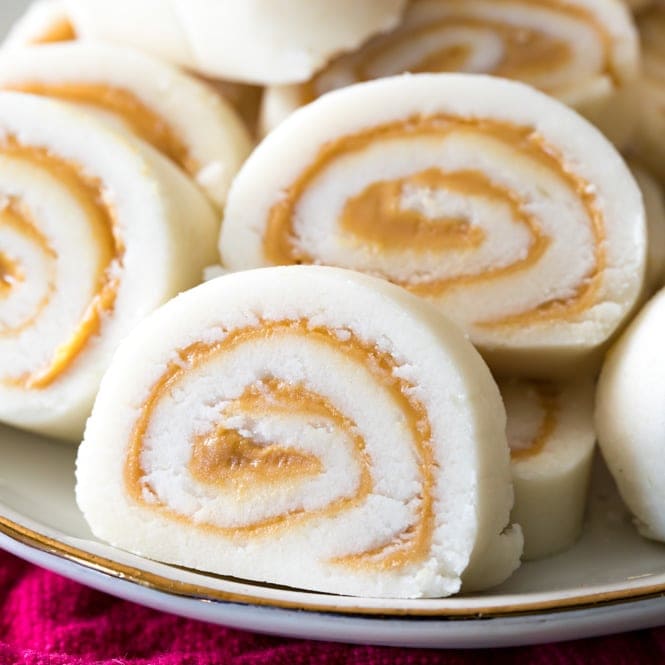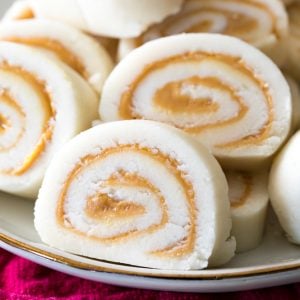 Potato Candy
My grandmother's recipe for Potato Candy (also sometimes called Peanut Butter Pinwheels).
I recommend reading through the blog post before beginning, as it includes lots of tips.
Print
Pin
Rate
Ingredients
½

cup

mashed potatoes*

see recipe notes for cooking instructions (105g)

½

cup (1 stick)

salted butter softened

(113g)

6-7

cups

powdered sugar

plus additional for dusting (800-910g)

2

teaspoons

vanilla extract

Creamy peanut butter

for filling
Instructions
Combine mashed potatoes, butter, and one cup of sugar in a large bowl and use an electric mixer to stir until combined.

Add remaining sugar, 1 cup at a time and stirring until combined after each addition. Once you've added 6 cups of powdered sugar, check the consistency. If the dough is not moldable in your hands and can't be rolled into a ball, continue to add sugar until it is firm.

Stir in vanilla extract.

Refrigerate for at least 1 hour (if you chill longer it may become too firm and brittle and will just need to sit at room temperature for 10-15 minutes until it is pliable).

Once chilled, divide dough into two pieces and place one piece on a clean surface that you've generously dusted with powdered sugar. Dust the surface of the dough with additional sugar, and use a rolling pin to roll dough out into a rectangle about ¼" thick. If your dough is too sticky or falling apart, you may need to add more sugar, re-shape it into a ball, and start over.

Once dough has been rolled into a ¼" thick rectangle, spread evenly with peanut butter, leaving a small amount of space peanut butter-free around the perimeter of the dough.

Starting with the longer side of your rectangle, gently but tightly roll into a log.

Use a knife to slice into pieces about ¼-½" thick.

Repeat steps 5-8 with remaining half of dough.

Serve and enjoy. Store leftover candy in an airtight container in the refrigerator for up to a week.
Notes
* Use russet potatoes, peel, dice, and boil until tender. Drain potatoes and then mash well. Allow potatoes to sit at room temperature until completely cooled before making your filling. You want to use just the potatoes, unseasoned, no milk/salt/pepper/etc. added. Thanksgiving leftovers unfortunately would not work well for this recipe.
Cinnamon Cigars
Another (peanut butter-free) version of this candy can be made by rolling the filling into cigar shapes and rolling in 2 Tablespoons of cinnamon for Cinnamon Cigar Candy.
I've also used this potato candy recipe to make my old fashioned Easter Egg Candy.
Nutrition
Serving:
1
pinwheel slice
|
Calories:
94
kcal
|
Carbohydrates:
19
g
|
Protein:
1
g
|
Fat:
2
g
|
Saturated Fat:
2
g
|
Trans Fat:
1
g
|
Cholesterol:
6
mg
|
Sodium:
22
mg
|
Potassium:
10
mg
|
Fiber:
1
g
|
Sugar:
18
g
|
Vitamin A:
74
IU
|
Vitamin C:
1
mg
|
Calcium:
1
mg
|
Iron:
1
mg
Nutritional information is based on third-party calculations and should be considered an estimate only. Actual nutritional content will vary based upon brands used, measuring methods, cooking method, portion sizes, and more.