You can make these peanut butter & chocolate no-bake cookies in less than 20 minutes! This super simple recipe is naturally egg-free and flour-free with just a few common ingredients. Recipe includes a how-to video!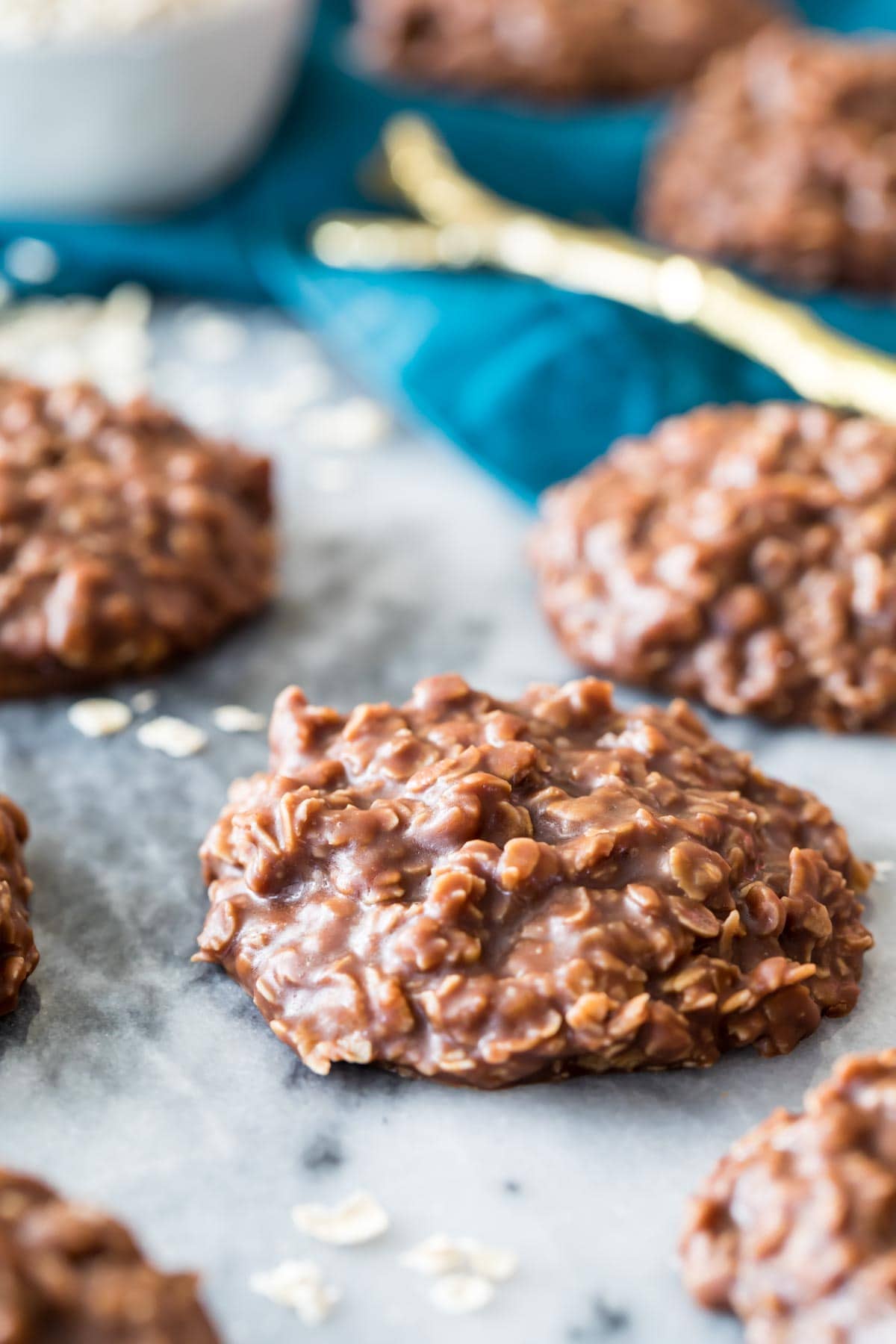 Peanut Butter & Chocolate No-Bake Cookies
These no-bake cookies are quite possibly the easiest cookie you'll ever make.
Not only are they made with a handful of pantry staples, but they cook for just a few minutes on the stove before you'll scoop them onto a cookie sheet to firm up. Don't worry, though, just because they're simple doesn't mean they're boring! These cookies are rich and chocolatey, with undertones of peanut butter, oats, and vanilla. They can hold their own against even the most hearty cookies out there, except they take a fraction of the time to make.
No-bake cookies are quite different from other cookies, and if we're getting technical, they're actually more similar to a candy than a cookie. Because of this, they can sometimes be a little tricky to make, especially in humid environments.
To help those of you who are new to this recipe, I've included some troubleshooting below to help you avoid some of the more common issues with this kind of dessert. If you follow all of the tips in this post though, you'll have perfectly set no-bake cookies in no time!
What You Need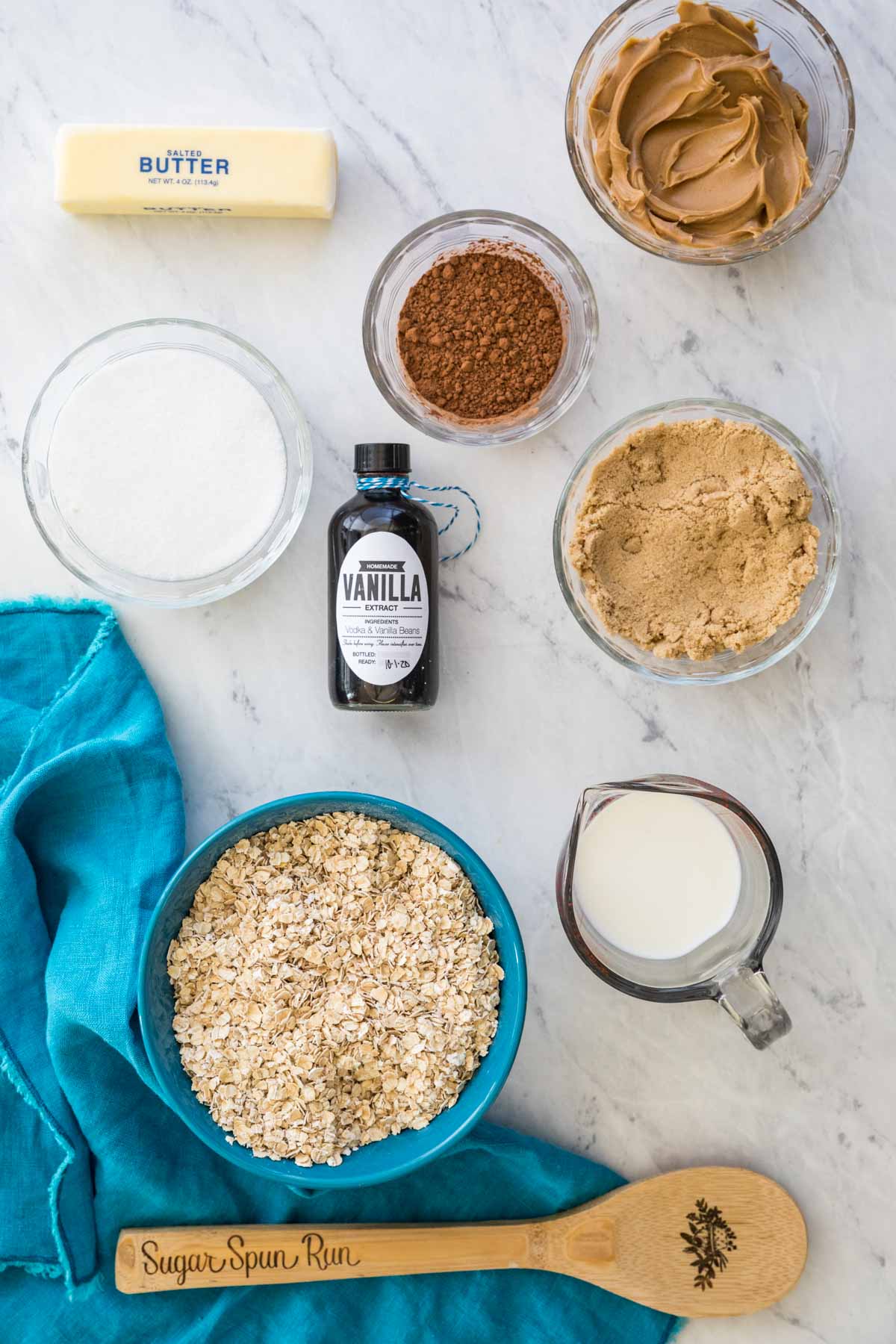 These cookies are so simple that I bet you already have all the ingredients to make them! Here's what you need (and what you don't!):
Butter. Unlike most of my recipes, I actually use salted butter for these no-bake cookies. If all you have on hand is unsalted, just add ¼ teaspoon of salt in with the butter.
Milk. I recommend whole milk, but some of you have reported that 2%, almond, and even evaporated milk have all worked too.
Sugar. I love using a mix of granulated and light brown sugar for rich, flavorful cookies. Most no-bake cookie recipes use just granulated, but I think the brown sugar just adds something special.
Cocoa powder. My preference is natural unsweetened cocoa powder, but you could also use Dutch process cocoa if that's what you have–the flavor will be more intense though!
Peanut butter. Use regular peanut butter, not the natural kind that separates. Either crunchy or creamy will work!
Vanilla. A generous splash adds a lovely flavor. If you've got some homemade vanilla extract sitting around, feel free to use it here!
Oats. My preference is to use instant or quick oats, because they yield a chewier, more compact cookie; however, you could use the same amount of old fashioned or rolled oats if that's what you have on hand.
And finally…these no-bake cookies are both egg-free and flour-free! Many of you have asked for recipes like this, and these cookies check both boxes without sacrificing any flavor or texture.
SAM'S TIP: You can always leave out the peanut butter or the cocoa powder, and your cookies will still turn out great! You could also substitute the peanut butter for another nut/seed butter (still make sure it's not the kind that separates), and some people have even substituted Nutella. I even have cookie butter no-bake cookies!
Remember, this is just an overview of the ingredients I used and why. For the full recipe please scroll down to the bottom of the post!
How to Make No-Bake Cookies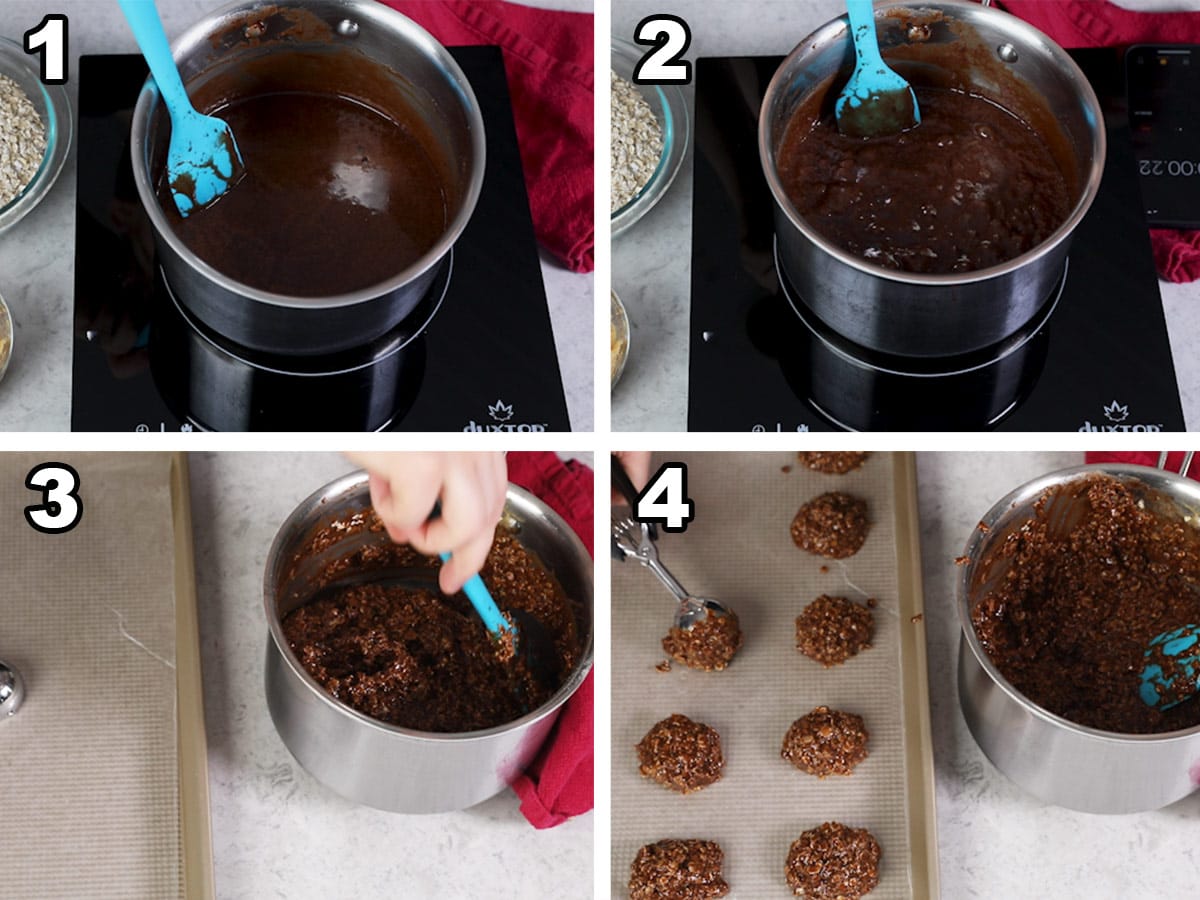 In a medium saucepan, combine the cocoa, milk, sugar, and butter. Heat this over low heat, stirring frequently, until the butter is melted and the mixture is smooth.
Once the butter has melted, increase the heat to medium and begin stirring constantly. When the mixture begins to boil, keep stirring and let it boil for exactly one minute. Remove the pot from the heat and keep stirring for a few more seconds.
Stir in the peanut butter and vanilla until they're fully incorporated, then fold in your oats until they're completely coated.

Drop the cookies by 1 ½-2 Tablespoon-sized

scoops onto a wax paper lined baking sheet. Let them cool for about 20-30 minutes before enjoying.
SAM'S TIP: I highly recommend using a timer when you reach the boiling step. If you don't boil the mixture long enough, your cookies may not set properly. On the other hand, if you boil it for too long, your cookies may turn out dry and crumbly. Using a timer for one minute avoids these issues and sets you up for beautiful, perfectly textured no-bake cookies!
Troubleshooting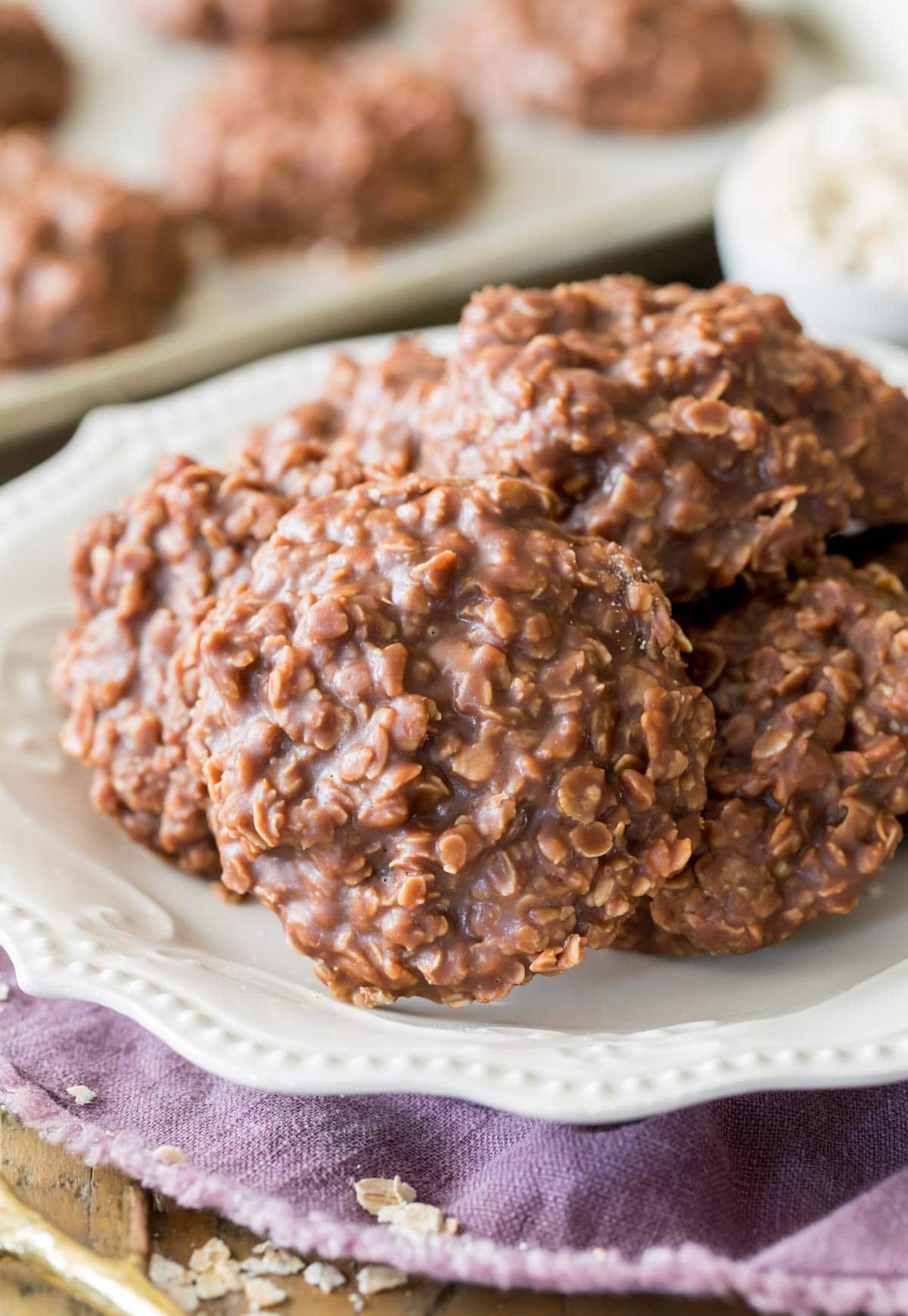 As I mentioned before, these no-bake cookies are a bit more like candy than actual cookies. While they don't require a candy thermometer, they're subject to some of the same issues that you can run into when making other candy recipes. Humidity can keep them from setting up properly, so sometimes I have to boil them a bit longer if it's a rainy day. However, boiling too long can make them dry/crumbly, so it's a fine balance. It can be hard to salvage your cookies in either scenario, so read this post thoroughly, and make sure to watch the video for extra tips.
Cookies that are dry and crumbly: You most likely cranked up the heat to speed things up, or you boiled the mixture for too long. Be patient while you cook, keep the heat on low/medium low, and boil the mixture for only one minute (set a timer)!
Cookies that are liquidy, sticky, or won't set: You probably didn't boil your mixture long enough. This can happen from simply rushing or from high humidity in your environment. Always use a timer, and if you try to make these on a humid day, you will probably just need to boil them for a bit longer (roughly another minute or so).
Frequently Asked Questions
Do no-bake cookies have to be refrigerated?
Nope! They'll last for roughly one week stored in an airtight container at room temperature. If you prefer to eat them cold or just need them to last longer, you can always refrigerate them in an airtight container.
Can I add shredded coconut, dried fruit, or nuts?
Yes! Just stir them in at the end when you add the oats. Don't add too much (no more than a cup of add-ins), or you could risk making your cookies dry.
Can you freeze no-bake cookies?
Yes! Place them in a single layer on a cookie sheet or plate and let them firm up in the fridge for a few hours. Once they're firm, you can transfer them to a freezer bag and freeze.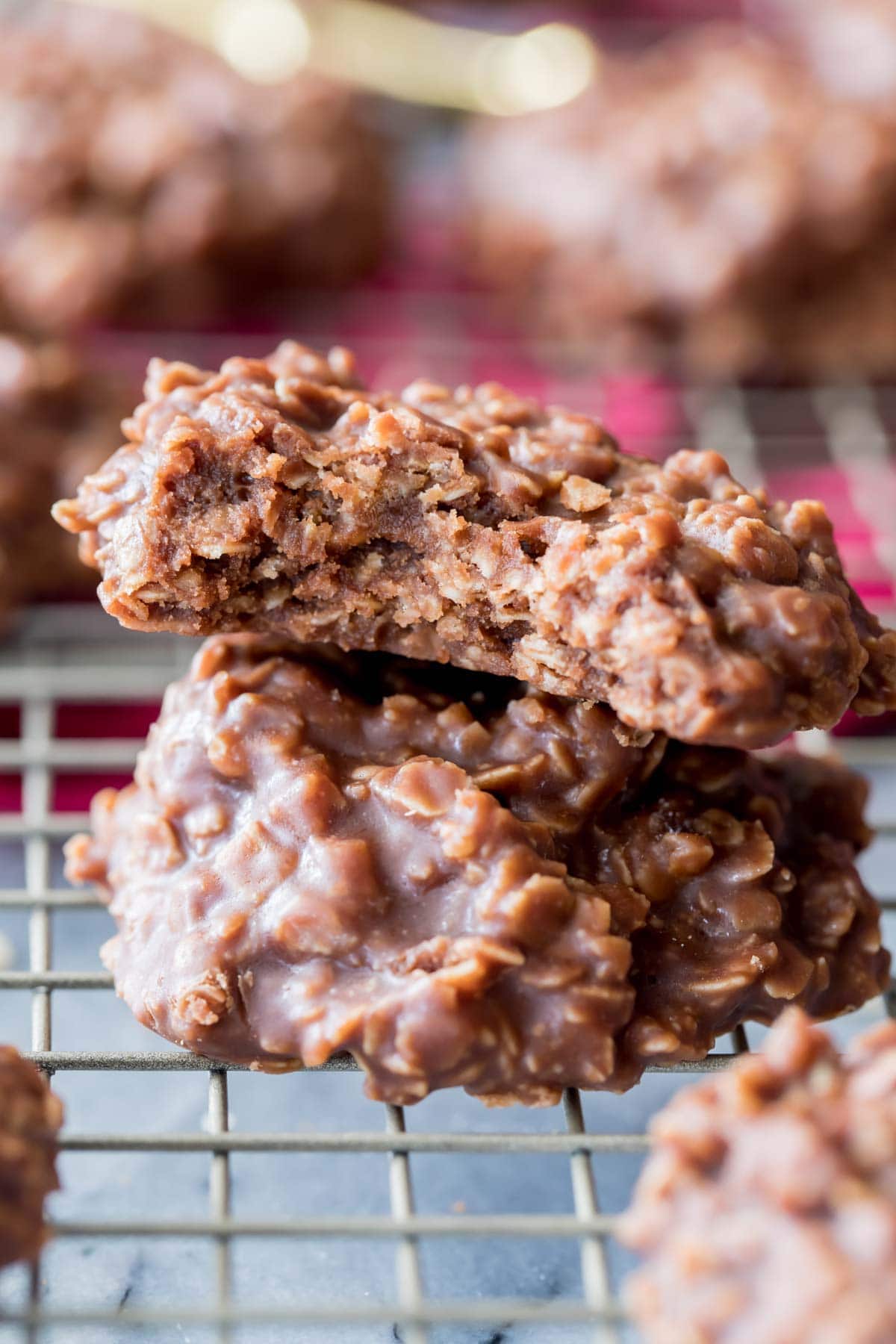 Enjoy!
Let's bake together! I'll be walking you through all the steps in my written recipe and video below! If you try this recipe, be sure to tag me on Instagram, and you can also find me on YouTube and Facebook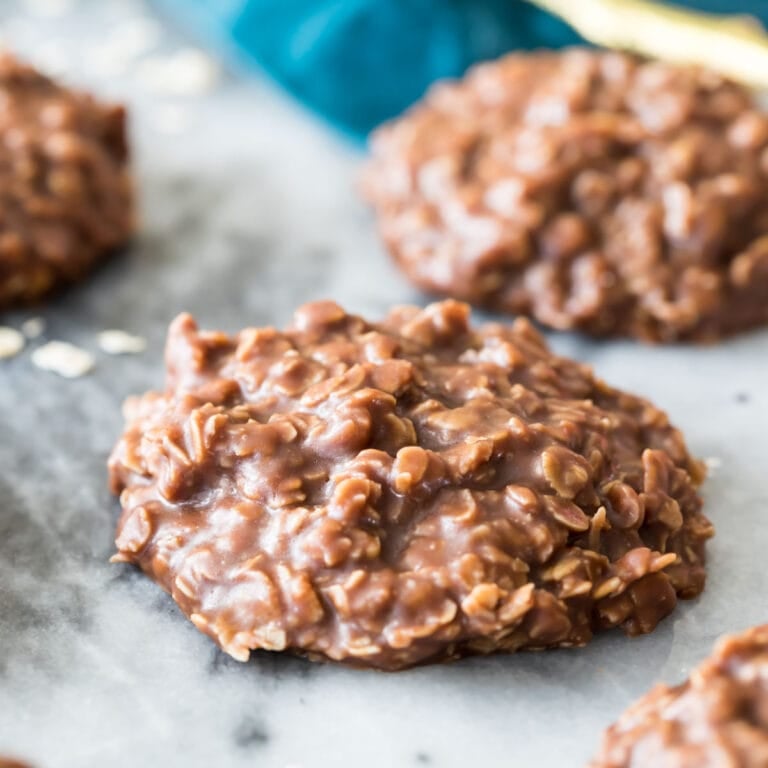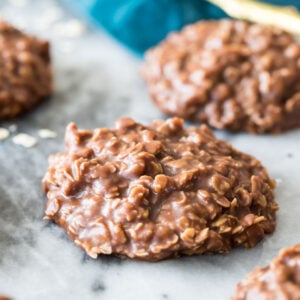 No Bake Cookies
These are easy peanut butter chocolate no-bake cookies made with no flour and no eggs! Ready in under 30 minutes!
Print
Pin
Rate
Ingredients
½

cup

salted butter

cut into Tablespoon-sized pieces (113g)

½

cup

whole milk¹

(120ml)

1

cup

light brown sugar, firmly packed

(200g)

1

cup

granulated sugar

(200g)

¼

cup

cocoa powder

(25g)

⅔

cup

creamy peanut butter²

(165g)

1 ½

teaspoon

vanilla extract

3

cups

instant/quick oats³

(285g)
Instructions
Prepare two cookie sheets by lining with wax paper and set aside.

Combine butter, milk, sugars, and cocoa powder in a medium-sized saucepan over low heat. Don't bump up the heat to speed up the process or you run the risk of your ingredients not combining properly and your cookies not setting properly.

Stir ingredients frequently until butter is completely melted (I recommend using a long wooden spoon as a metal spoon can become really hot).

Increase heat to medium and, stirring constantly, bring to a boil.

Boil, still stirring constantly, for 1 minute (I recommend using a timer, see post for more details on why it's important to not over or under-boil) then remove from heat. Continue to stir the mixture for several seconds.

Add peanut butter and vanilla extract, stirring until peanut butter is completely combined and melted into the mixture.

Add oats and stir until coated in chocolate.

Drop no bake cookie mixture by approximately 1 ½-2 Tablespoon-sized spoonfuls onto prepared cookie sheet.

Allow to cool (approximately 20-30 minutes) before serving, the cookies will harden as they cool.
Notes
¹Milk
I have only ever made these cookies using whole milk and that is what I recommend. However, readers have reported success using 2% milk, skim milk, evaporated milk, and almond milk.
²Peanut Butter
I do not recommend using a natural peanut butter (the kind where the oil separates).
³Oats
You may substitute old-fashioned oats but the cookies will have a different texture. Please see my post for more information.
Nutrition
Serving:
1
cookie
|
Calories:
197
kcal
|
Carbohydrates:
29
g
|
Protein:
3
g
|
Fat:
9
g
|
Saturated Fat:
4
g
|
Polyunsaturated Fat:
3
g
|
Monounsaturated Fat:
2
g
|
Cholesterol:
12
mg
|
Sodium:
67
mg
|
Potassium:
72
mg
|
Fiber:
2
g
|
Sugar:
19
g
|
Vitamin A:
9
IU
|
Calcium:
1
mg
|
Iron:
5
mg
Nutritional information is based on third-party calculations and should be considered an estimate only. Actual nutritional content will vary based upon brands used, measuring methods, cooking method, portion sizes, and more.
Related Recipes