Today's post is sponsored by Le Creuset!  As always, all thoughts and opinions are my own.  Be sure to scroll to the bottom of the post to enter for the chance to win your own Le Creuset Dutch Oven!
Then, once you have that Dutch Oven, use it to make this fresh summer corn chowder!  This simple summer corn chowder is made with fresh-off-the-cob corn, bacon, and smoked paprika and is an irresistible blend of flavor and texture in this perfect summertime soup.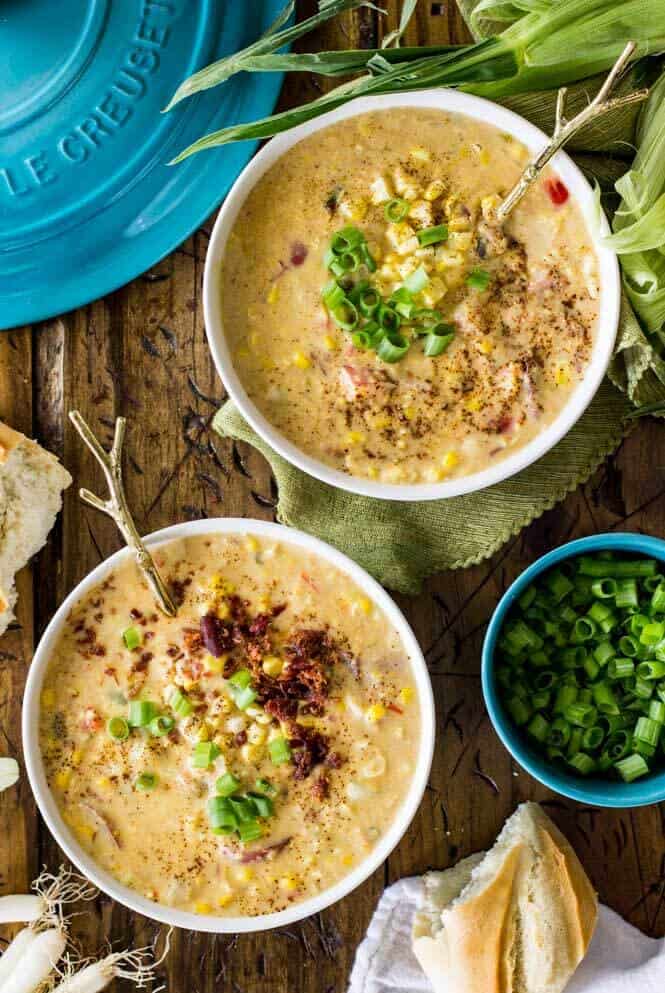 Cast iron cookware is always my preference when cooking, and Le Creuset is perhaps the most iconic brand out there, so of course I was thrilled to partner with them for today's summer corn chowder post!
Their dutch ovens and other cast iron products are individually cast in sand molds and hand inspected by French artisans (fancy!).  They're durable, chip resistant, and set the benchmark in terms of color and quality.
But you know what I really, really love most about this brand?  I mean, I get it, the quality is unparalleled, the craftsmanship is superior, and the name is iconic, but what I really am in love with is the gorgeous enamel colors that they offer (totally not shallow of me, right?).  Mine is Caribbean Blue, which is one of my favorite colors, and if you take a look I bet they'll have your favorite color, too.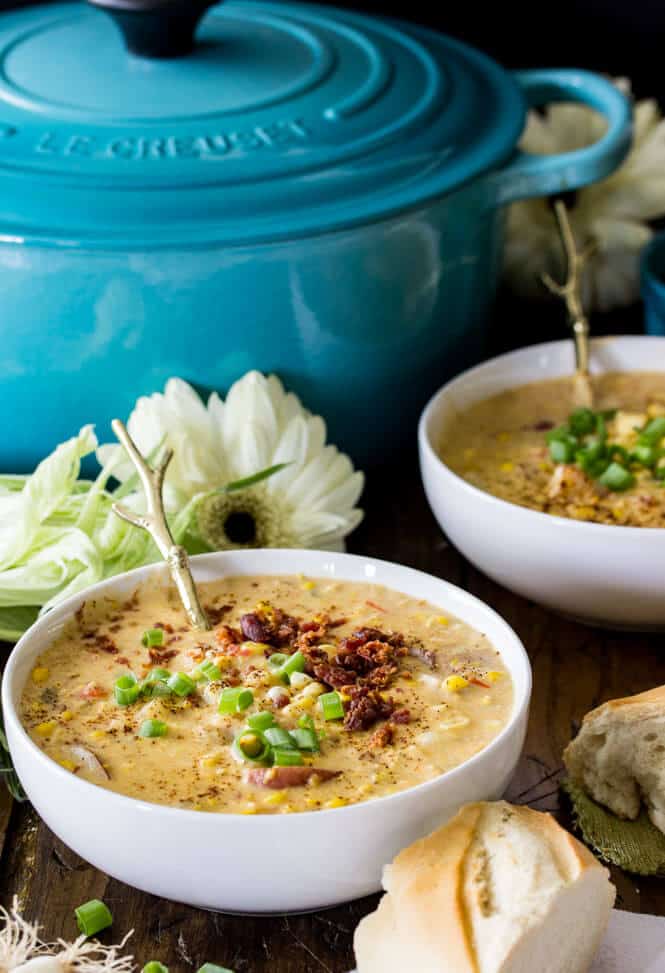 But let's get back to the corn chowder (for a moment, until we get into the giveaway at the bottom of the post!), shall we?
I already have a creamy, hearty turkey chowder recipe on my website, but I wanted something a fair bit lighter for the summertime.  I also knew that I wanted to use real, fresh corn (not frozen or canned), and there's a small produce stand near Zach's mom's house that sells the. sweetest. summer corn, so we drove there and took every last ear that they had on their stand.
I usually prefer to enjoy my corn still on the cob, so the best, easiest way to remove it was a bit of a mystery to me.  Here are three easy ways I found to get that sweet summer corn off the cob, as you can see I opted for the bundt pan method (or rather Zach did, since he kindly cut every cob for me).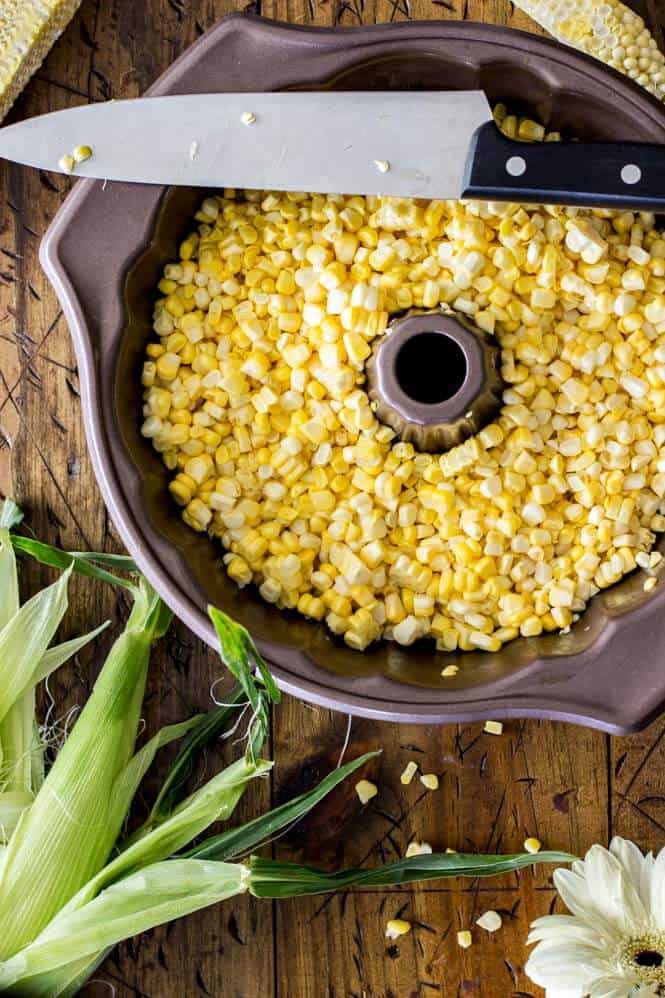 The soup starts off with a bacon and butter base (which is the best way to start off any recipe, if you ask me). It's not a lot of butter and it's not a lot of bacon, so rather than draining out the grease you're going to cook your peppers and garlic right in it.  We'll use a bit of flour to make a roux for this corn chowder as well.  Here, this just means you'll sprinkle in some flour and stir until it's smooth– it's extremely easy and the whole recipe takes only 30 minutes from start to finish.
To make this soup extra thick and creamy (without employing any cans of creamed corn), once the soup is nearly finished you are actually going to pour about 3 cups of it into a blender and puree until it's well-creamed.  You'll then re-add the pureed soup to the original chowder, add some half and half, and stir well.  The result will be a creamy and chunky soup with a great texture.
I love this technique and think that I first saw it on the Pioneer Woman's potato soup — it works just as well here with our corn chowder!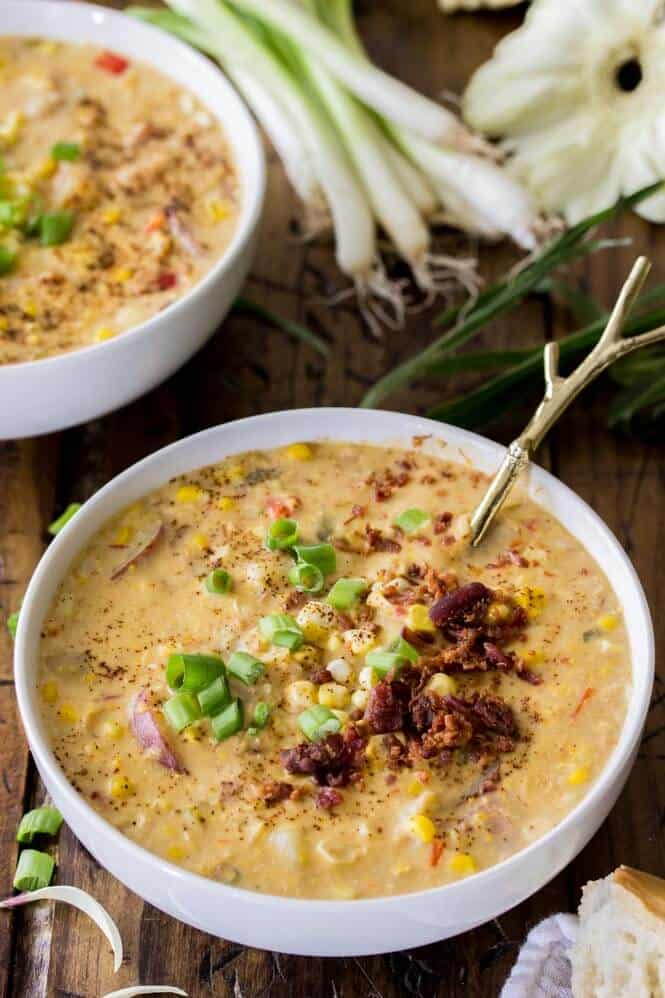 GIVEAWAY
Alright, now for the giveaway!  I am very pleased to have partnered with Le Creuset to bring this summer corn chowder recipe to you today!  They have kindly agreed to give away a 5 1/2 quart Dutch Oven to one lucky winner!
To enter, there are two simple things you have to do:
You must be on my e-mail list to win.  If you're already a subscriber — great, on to the next step!  If you're not, you can sign up here.
Leave a comment below telling me what color cast iron you would want!  You can check out the color options by going to Le Creuset's Explore by Color page and toggling through the options — there are so many great ones!
Make sure that you use a valid email address when you enter (don't worry, it won't show up on the page, only I will be able to see it) so that I can contact you if you win!  We can only ship US so you must also be a US resident in order to win.
One winner will be chosen at random, and I am accepting entries through September 7th!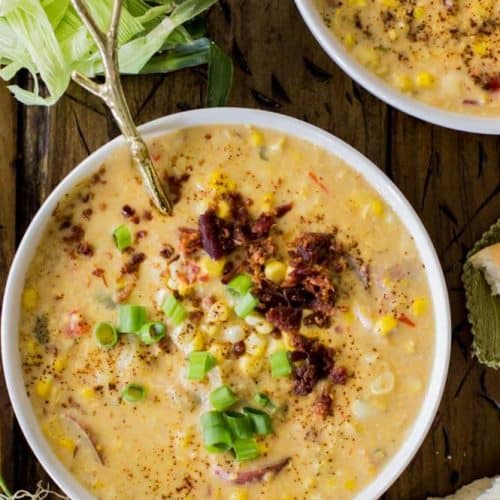 Summer Corn Chowder
A simple summer corn chowder made with sweet, fresh summer corn.
Print
Pin
Rate
Ingredients
3

Tablespoons

unsalted butter

(43g)

4

strips

bacon, cut into small pieces

1

medium

yellow onion, chopped

about 1 1/4 cup

1/2

red pepper, diced

1

large

poblano pepper, finely chopped

seeds removed (may substitute 6oz can diced green chilis)

1/4

cup

all-purpose flour

(30g)

3

large

garlic cloves

minced

4

cups

reduced sodium chicken broth

(945ml)

1

cup

water

(235ml)

1/2

teaspoon

smoked paprika

1/2

teaspoon

salt

1/2

teaspoon

pepper

1 1/4

lb

red potatoes

diced smaller than ½ inch (Yukon gold or russet also work) (565g)

7-8

ears

fresh sweet corn, cut off the cob

(about 5 cups of corn)

1 1/2

cups

half and half

(355ml)
Instructions
Melt butter in large Dutch Oven over medium heat. Once butter is melted, add your bacon and cook until browned.

Add onion, poblano pepper and red pepper, cook until softened (3-5 minutes).

Add the garlic and stir until fragrant (about 30 seconds)

Sprinkle your flour over the vegetables and stir until it is smooth and no clumps remain. in flour until smooth, pour in chicken broth, & water, spices bring to a boil.

Gradually pour in chicken broth, water, and smoked paprika, salt, and pepper. Bring mixture to a boil.

Add the potatoes and corn, return mixture to a boil and boil for 8 minutes.

Reduce heat to a simmer and cook 20 minutes, or until potatoes are tender when speared with a fork.

Once potatoes are cooked through, carefully ladle about 3 cups of the soup into a blender and blend until well-pureed.

Return the pureed mixture back to the soup and stir well. Add half and half and stir again until completely combined.

Serve, topped with green onions, bacon, and additional smoked paprika, if desired. Serve with a side of crusty bread!
Nutrition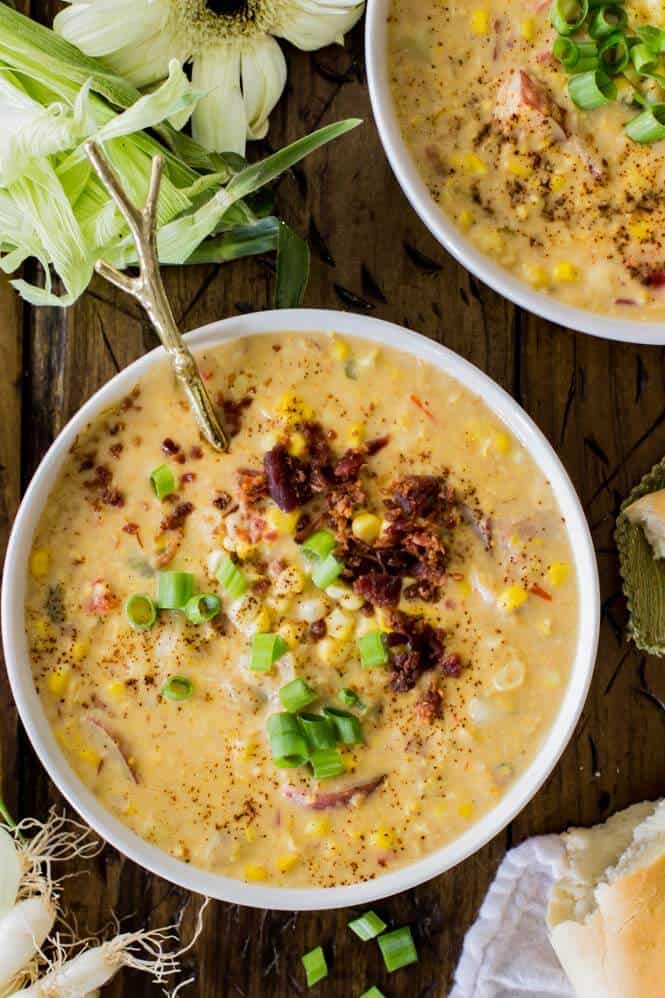 PIN IT: