These peanut butter blossoms are one of my favorite cookie recipes ever!  Made with the absolute softest peanut butter cookie base and then topped off with a milk chocolate kiss, these cookies are the best way to get your peanut butter and chocolate fix!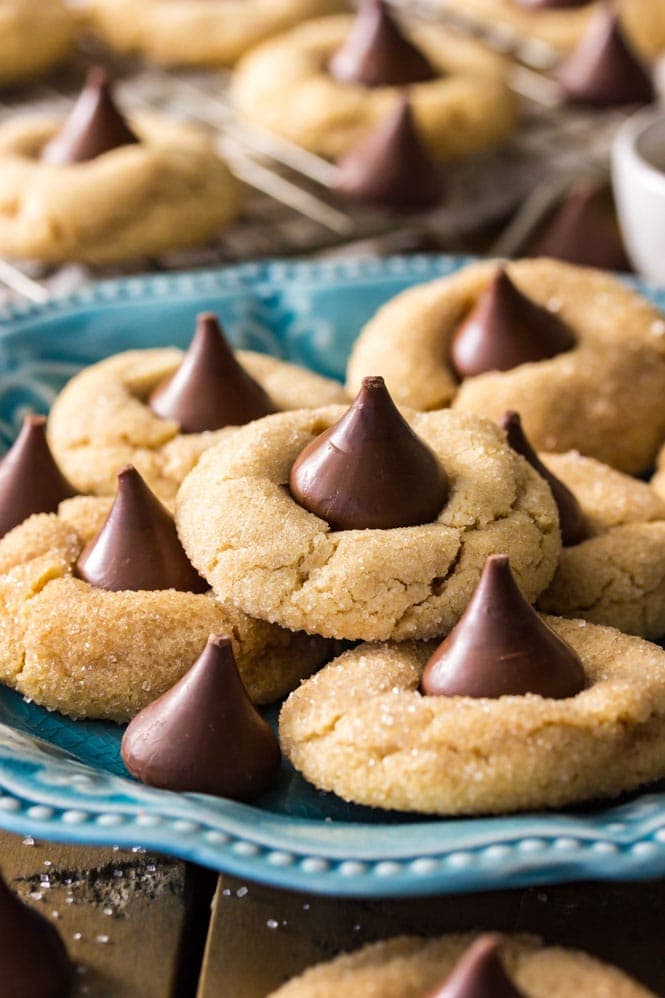 How was your weekend?  We had a busy one here, I checked some Christmas shopping off of my list, Zach and I got our Christmas tree, celebrated a belated Thanksgiving with my grandmother, and went on an ice skating double date with my sister and her boyfriend (and I managed to stay upright the entire time!).
With the Christmas tree up, it finally really is starting to feel like the holidays around here, and the Christmas Pandora station that I've been playing since before Thanksgiving finally feels appropriate.
Also appropriate: binge-baking Christmas cookies, especially my sugar cookies and these peanut butter blossoms.
I have made so many batches of these peanut butter blossoms recently.  They've always been a favorite cookie of mine, but I've improved upon them by using my very own (favorite) peanut butter cookie base so that they are unbelievably soft, and I'm so excited for you to try them out for yourself.
The peanut butter cookie for this recipe is based off of my peanut butter chocolate chip cookie recipe.  I know I've mentioned this before, but I am absolutely obsessed with this recipe — it yields the absolute softest, most melt-in-your-mouth cookies that you've ever had, so of course I wanted to use it as a base for these peanut butter blossoms.
Rather than using any shortening (which many peanut butter blossom recipes call for) I use all butter in this recipe.  I've always believed that shortening was acceptable in peanut butter cookies, until I took it upon myself to develop an all-butter version. The butter makes the flavor deeper, richer, and just all-around better than a shortening-based cookie, and the interiors are much softer than ones made with shortening.
I sent a batch of these in with Zach to share with his co-workers, and he said he couldn't believe how many comments he got on how soft and delicious they were.  Once you try this butter-based peanut butter blossom recipe out for yourself, I guarantee you won't go back to shortening.
Peanut butter blossoms wouldn't be complete without a sparkly sugar coating around the cookies. I used an organic cane sugar because I like the coarser sugar granules, but these peanut butter blossoms work just as well with regular granulated sugar.
For the "blossom" portion, I used milk chocolate Hershey's kisses, which are the traditional candies used for peanut butter blossoms, but there are so many varieties of kisses now you could definitely play around with different flavors (I want to try dark chocolate, next).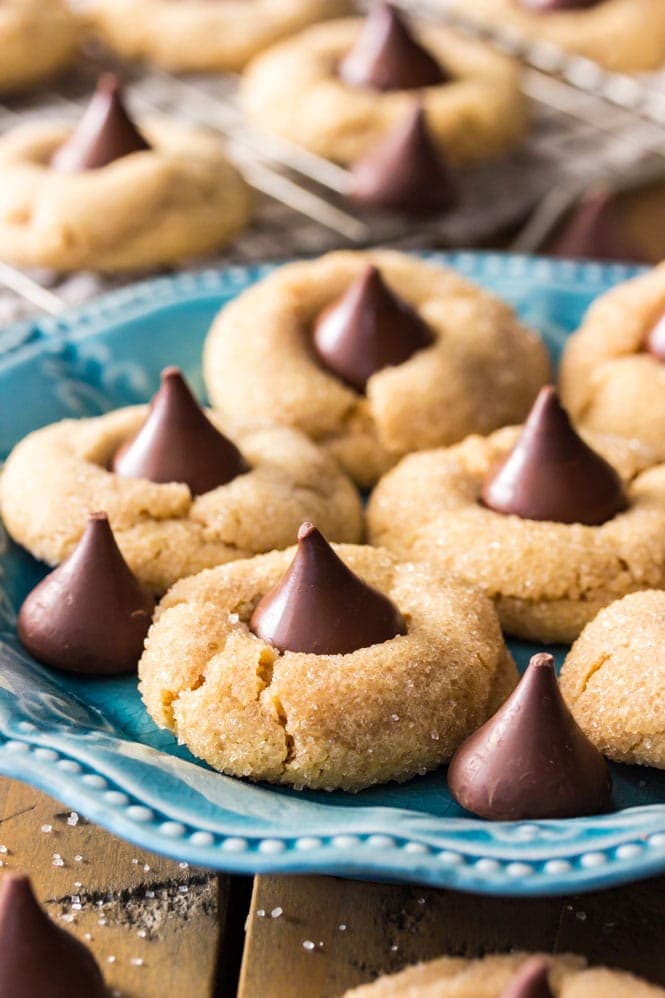 Enjoy!
I also made a YouTube video (see below) for this Peanut Butter Blossom recipe.  If you use YouTube and enjoy cooking videos, I hope you'll subscribe to my channel!  My video skills are a work in progress, but I promise they'll get better, just like my photography has (throwback to one of my earliest cookie posts).
The printable recipe is just below the video!

Peanut Butter Blossoms
Peanut Butter Blossoms -- Incredibly soft peanut butter cookies topped off with a milk chocolate kiss!
Ingredients
10

Tablespoons

unsalted butter

softened to room temperature (141g)

2/3

cup

light brown sugar

tightly packed (135g)

¼

cup

sugar

(50g)

1/2

cup

creamy peanut butter

(140g)

1

large

egg

1/2

teaspoon

vanilla extract

1 1/2

cups

all-purpose flour

(188g)

1

Tablespoon

cornstarch

¾

teaspoon

baking soda

3/4

teaspoon

salt

1/2

cup

granulated sugar for rolling

24

Milk Chocolate Kisses

unwrapped
Instructions
Combine butter and sugars in the bowl of a stand mixer (or you may use a large bowl and an electric mixer) and beat until well combined (about 1 minute).

Add peanut butter, and stir well.

Add eggs and vanilla extract and stir until well-combined.

In a separate, medium-sized bowl, whisk together flour, cornstarch, baking soda, and salt.


Gradually add flour mixture into the peanut butter batter, pausing occasionally to scrape down sides and bottom of bowl so that all ingredients are well-combined.

Cover dough with plastic wrap and Place in the refrigerator and chill for 30 minutes to one hour (start with 30 minutes, if the dough is too sticky or cookies come out too flat, return for another half an hour. This dough may be chilled overnight if needed).

Preheat oven to 375F (190C) and line cookie sheets with parchment paper. Pour remaining 1/2 cup of sugar into a small bowl and set aside.


Once dough has chilled, remove from refrigerator and roll into 2-teaspoon-sized balls. Roll completely in sugar and place on prepared cookie sheet at least 2" apart.


Bake on 375F (190C) for 8 minutes.


Within a minute or so of removing cookies from oven, gently but firmly press a Hershey Kiss into the center of each cookie. Allow to cool completely on cookie sheet.
Nutrition Facts
Peanut Butter Blossoms
Amount Per Serving (1 cookie)
Calories 328
* Percent Daily Values are based on a 2000 calorie diet.