You've found it!  The best chocolate fudge recipe — a classic, old-fashioned, chocolate fudge made with simple ingredients you probably already have in your pantry (no condensed milk here). I include plenty of well-tested tips for flawless fudge!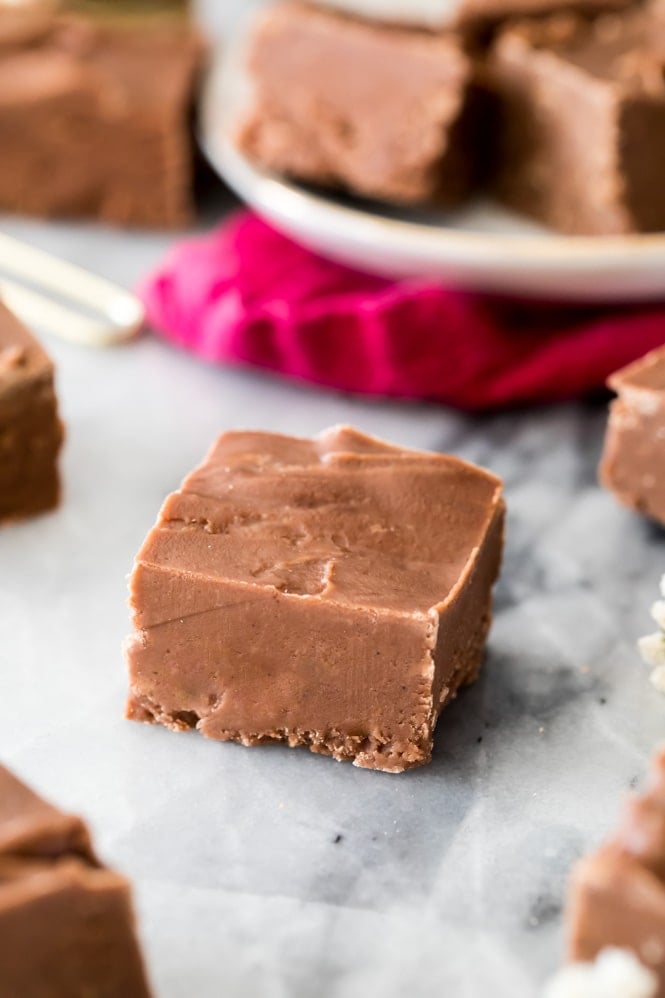 Old-Fashioned Chocolate Fudge
Chocolate fudge might just be one of my all-time favorite candy recipes.
Last year around this time I shared a week of candy, including a deliriously creamy peanut butter fudge, peanut brittle, toffee, and honeycomb (among others), but it's been a while since I shared this decades-long, family-favorite chocolate fudge recipe. I originally shared it almost 4 years ago but thought it could use a photo facelift, some new tips, and a video.
Old-fashioned fudge is a labor of love and a treasure. It's made with pantry-standard ingredients, this is a fudge recipe without condensed milk (not that I have a problem with easy condensed milk fudge), a fudge without marshmallow fluff.
Real old-fashioned chocolate fudge isn't as creamy on the surface as the varieties and recipes that are more commonly available today. It gives a little bit of resistance to your tooth on that first bite and then just melts away, smooth and creamy on your tongue.
It's not "easy" to make (is any candy?) but I swear you can taste the love and effort that goes into it. My mom makes this chocolate fudge every year for my siblings and me on Valentine's Day and most of the tips that you see have mostly come from years of her trials and errors.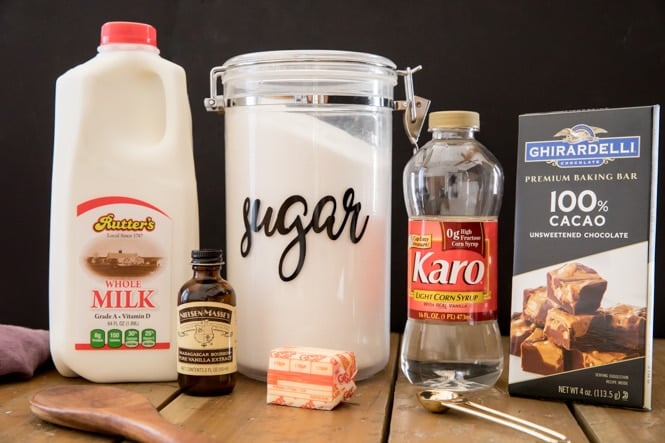 Ingredients for Chocolate Fudge
Our ingredient list is very basic:
Whole milk.
Granulated sugar. You'll need 3 cups for this recipe. One of the comments I get most often when I share candy recipes is that they use "too much sugar!". Well, that's candy for you. It basically is flavored sugar that's been cooked into another form.
Light corn syrup. Not to be confused with high fructose corn syrup, which is not the same thing. I do not recommend trying to make this fudge recipe without the corn syrup.
Unsweetened chocolate bar. It should be 100% cacao. I've used Baker's chocolate and Ghirardelli and tend to prefer Ghirardelli as sometimes Baker's chocolate leaves little specks throughout my fudge (you can see this in one of my original fudge photos that I left below. This seems to be purely an aesthetic thing, though, and the fudge tastes the same regardless of which brand I use). You'll also only need a small bit, just 2 oz of chocolate flavors this chocolate fudge.
Butter. I use salted here.
Pure vanilla extract.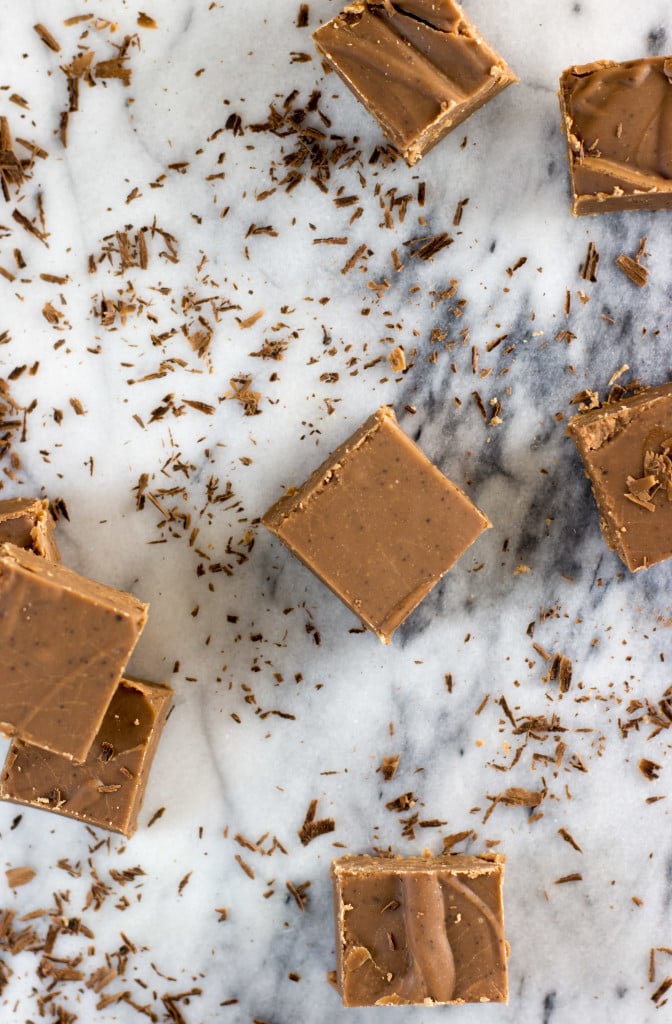 Key Tips for Perfect Chocolate Fudge Every Time
Fudge, like most candy recipes, is tricky and can be temperamental. Before you try to make it for the first time I highly recommend watching the video (below the recipe) and reading my tips and tricks. I know, there are a lot of tips here, but these have been collected from my mom over years and years of trial and error as well as my own tribulations with this recipe.
Read through the recipe before beginning and have all of your ingredients measured and ready to go before beginning. Yes, my first tip is to read all of the tips!
Don't crank your heat up too high when bringing your mixture to a boil. Fudge takes patience. If you crank up the heat the sugar won't have the time to melt properly and your fudge will be grainy or worse.
When stirring, don't scrape the sides of the bowl above the mixture line (you'll notice sugar crystals settling there). Before the mixture comes to a boil you may use a damp pastry brush to gently wash off of the sides of the pot because the granules from the sugar can make your fudge too grainy if they fall back into the mixture.
I recommend using room temperature butter when you add it to the fudge mixture.  Perhaps it would be fine to use cold, but you don't want to do anything to "shock" the fudge and make it drop its temperature too rapidly.
Once you add your butter and vanilla DO NOT UNDER ANY CIRCUMSTANCES stir your mixture. Let it sit! The butter will melt as it cools, and things will look a little funky but please leave it alone until the temperature dips just below 110F, not a degree before then.
It will take time for your temperature to drop to 110F. Like, possibly an hour. This isn't a quick and easy fudge recipe, you need some patience.
Once you finally dip below 110F, stir, stir, stir… but don't stir too much. I know, this is vague, and it may take you more than one try to get a knack for this. For perfect fudge, stir until the mixture begins to lose its glossy sheen and becomes thickened, this can take several minutes.  Stirring fudge can be a workout, keep going without stopping, and it's not a bad idea to have someone else nearby ready to help you with the stirring if you've been skipping arm-day at the gym. Zach is usually my stirrer-on-standby.
When stirring your fudge for the final time and pouring it into your prepared pan, don't scrape the sides of the bowl above the mixture line — again, you want to keep any sugar crystals out of the fudge.
High humidity is an enemy to candy making! Even the weather can affect the outcome of your chocolate fudge, and it's best to make on a dry day.
Don't beat yourself up if this fudge doesn't come out right the first time. It takes practice, and it's well-worth the effort.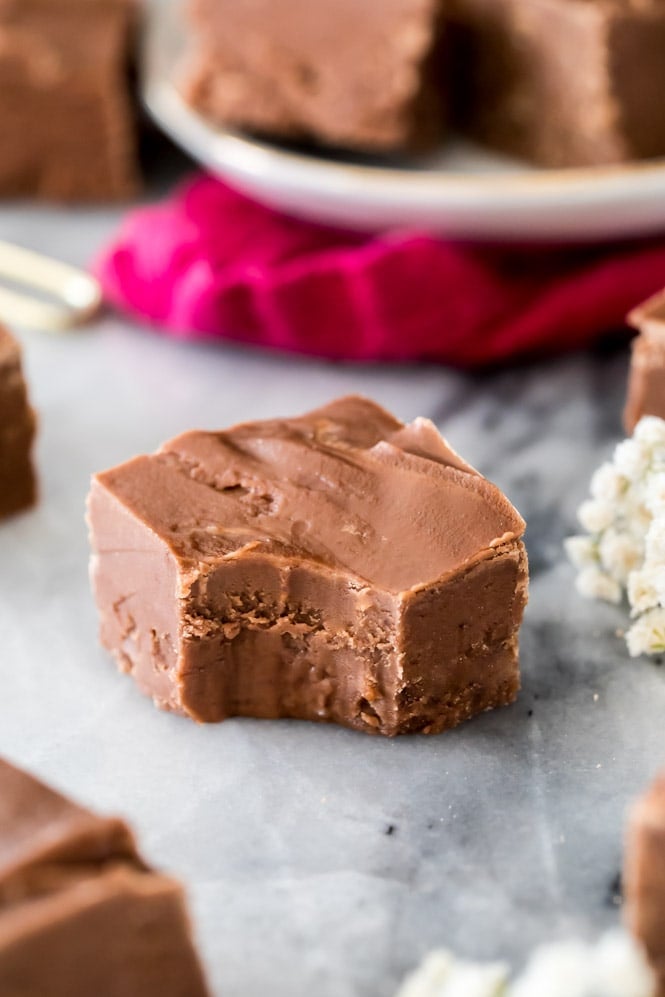 Enjoy!
More Candy Recipes to Try: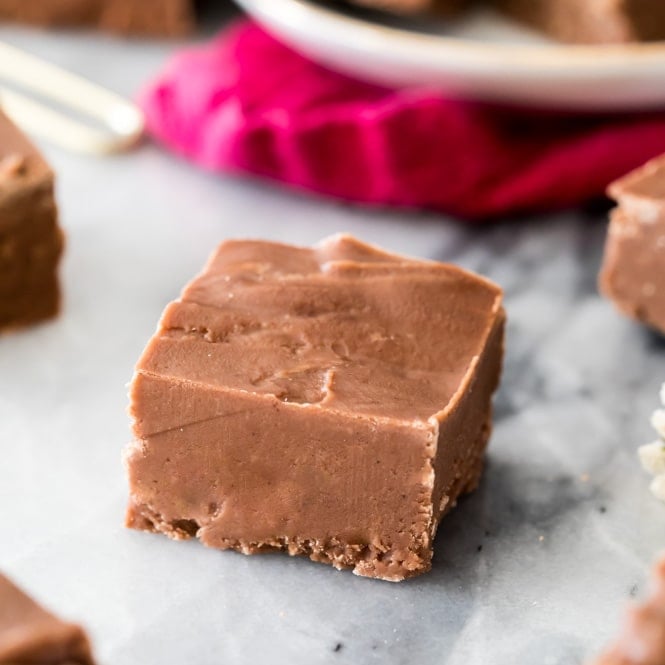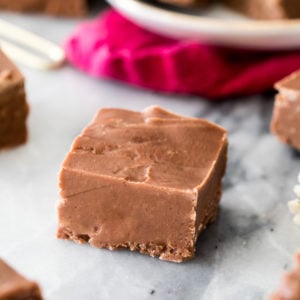 Best Chocolate Fudge
You've found it!  The best chocolate fudge recipe -- a classic, old-fashioned, chocolate fudge recipe made with simple ingredients you probably already have in your pantry (no condensed milk here).  Be sure to read through the recipe entirely and the tips in the post before beginning for best results.
Slightly adapted from Good Housekeeping Cookbook
Print
Pin
Rate
Ingredients
3

cups

granulated sugar

(600g)

1

cup

whole milk

(235ml)

2

Tablespoons

light corn syrup

2

oz

unsweetened chocolate

broken into pieces (100% cocoa) (57g)

3

Tablespoons

salted butter

room temperature

1

teaspoon

vanilla extract
Instructions
Line a 9x5 loaf pan with parchment paper and set aside.

Lightly dampen a pastry brush and set it nearby the stove.

In a medium-sized, heavy-bottomed saucepan, combine sugar, milk, corn syrup and chocolate over medium heat.

Using a wooden spoon, stir the mixture constantly, occasionally brushing the side of the pot with the pastry brush to remove crystals that might fall into your fudge.

Once mixture begins to boil, attach your candy thermometer to the pot (make sure the bottom of the thermometer isn't touching the bottom of the pan).

Stir mixture occasionally until your thermometer reads 238F (soft ball stage).

Immediately remove pan from heat and add your butter and vanilla extract. Do not stir the butter and vanilla! Allow it to set and melt

Leave mixture undisturbed until your candy thermometer reads 110F. This will take a long time, possibly an hour or more.

Now, using a (clean) wooden spoon, begin to stir the mixture vigorously (be careful not to scrape the sides or you may knock sugar crystals into the fudge, causing grainy fudge) until it begins to lose its shiny sheen and thicken (It will take a good bit of stirring before the fudge is just right, your arms will get tired and it's not a bad idea to have a back-up stirrer... seriously!)

Immediately, once the fudge begins to thicken, pour into prepared pan.

Allow to cool completely before cutting and serving.
Notes
*Please see notes in post for tips and best results
Nutrition
Serving:
1
piece chocolate fudge
|
Calories:
100
kcal
|
Carbohydrates:
21
g
|
Protein:
1
g
|
Fat:
2
g
|
Saturated Fat:
1
g
|
Trans Fat:
1
g
|
Cholesterol:
4
mg
|
Sodium:
14
mg
|
Potassium:
26
mg
|
Fiber:
1
g
|
Sugar:
20
g
|
Vitamin A:
45
IU
|
Calcium:
11
mg
|
Iron:
1
mg
Nutritional information is based on third-party calculations and should be considered an estimate only. Actual nutritional content will vary based upon brands used, measuring methods, cooking method, portion sizes, and more.
I originally published this recipe 02/04/2016. Post has been updated to include even more tips and more photos. Some of the original pictures can be seen below.