A simple, classic Blueberry Pie Recipe! This is an easy recipe made completely from scratch. The fresh flavor of the berries really shines through here for the best pie recipe of your life! Includes lots of step-by-step photos for a perfect lattice-top, and a how-to video!
Your New Favorite Blueberry Pie Recipe
Hello, perfect, classic, beautiful blueberry pie. With your juicy, plump, fresh blueberry filling. Your flaky, buttery, foolproof pie crust. Your deceptively simple woven lattice top crust that just barely conceals that bubbling, juicy, berry interior…
I'm not drooling, you're drooling.
Today's recipe is a classic, un-fancy and effortlessly perfect blueberry pie. It's a bit fussier than the blueberry cobbler I recently shared, but surprisingly simple with a straightforward filling that lets the flavor of our fresh blueberries really shine through and practically guarantees you'll never again be able to enjoy the taste canned pie filling. We're encasing our filling in my favorite foolproof pie crust (the one where the food processor does all your heavy lifting). Things just don't get much better than this, honestly. Let's get started.
All About the Filling
There is no other pie filling that's as simple to make as blueberry pie filling. There's no peeling, coring, or pitting required. No squeezing and zesting of five thousand teeny tiny baby limes (Ahem, looking at you, key lime pie!). To make the filling, you simply toss everything together in a bowl and… then toss it in a pie crust and bake.
Seriously, that's it. You'll need:
Fresh blueberries. OK OK, or frozen, more on that below.
Cornstarch (if you're in the UK you probably know this as cornflour), to thicken your pie and keep it from being a runny mess.
Sugar, feel free to adjust this by adding more or less depending on the sweetness of your berries.
Salt. Just a pinch for flavor.
Lemon juice.
Butter.
Then just throw everything together and stir until everything is happily combined!
Can I Use Frozen Blueberries?
Yes, you absolutely can. If you have the patience, I recommend allowing them to thaw and then draining them first, though.
How to Make a Lattice Crust (with pictures!)
Lattice crusts are a beautiful way to finish off almost any pie, and despite how intricately woven they may appear, they're actually simple. Really, really, simple.
See my photos below, then read my corresponding step-by-step instructions just below the pic. Psst, I also have a video in the recipe that shows you exactly how I do this, if that helps!
Start by rolling out your second pie crust (the first one should be in your pie plate and filled with blueberries already) and cutting it into strips that are even in width (I like mine to be about ¾-1″ wide). You will need 10 strips to make this lattice topping, I usually discard the top and bottom cut because they're pretty short and because I like a clean cut on either end of my strip. You can use a knife, a pizza cutter, or a pastry wheel to cut your strips. I liked the decorative edge the pastry wheel yields, this is the one I use.
Evenly place 5 of your strips horizontally over your blueberry filling. Reserve your longer strips for the pieces that need to go over the center of the pie and your shorter ones for nearer to the edge!
Gently fold back every other horizontal strip halfway. Lay down one long strip vertically in the center of the blueberry pie, perpendicular to the horizontal strips.
Take your strips that were folded back and lay them over the long vertical strip. Leave them laid out, and now fold back every other horizontal strip. Place another vertical strip, onto your pie beside the first one (not too close, you'll want to evenly space your strips!).
Repeat the process with your third strip. Now we're getting somewhere!
Half of our pie is looking great! Now onto the other half. Repeat the process on the other side.
This is what your pie should look like once you've finished weaving your lattice topping. Take this opportunity to shift and straighten up your strips as needed. You should still have excess pieces of dough hanging over the edge of the pie plate.
Trim that excess dough from the strips so that each strip ends at the edge of the pie plate. Now, take the excess dough from the bottom crust and carefully fold it over the edge of each strip.
If desired, flute the pie crust (see my video if that's helpful) and then be sure to brush the top with egg wash and sprinkle with sugar (optional!). Now we're off to the oven.
Whew! Did I over-complicate that? I hope not. It's much easier to show it than explain it, so I hope either the visual or the instructions (or a mix of the two!) got the point across!
The written explanation truly makes everything seem more complicated than it is, but follow the visual and you'll have a stunning lattice-topped pie in no time.
Can I Freeze This Recipe?
Yes! Once the pie has finished baking, allow it to cool completely. Wrap it tightly in plastic wrap and foil (I usually do both, you want to make sure the wrapping is airtight so the pie doesn't get frostbitten), and freeze. Blueberry pie will keep in the freezer for several months.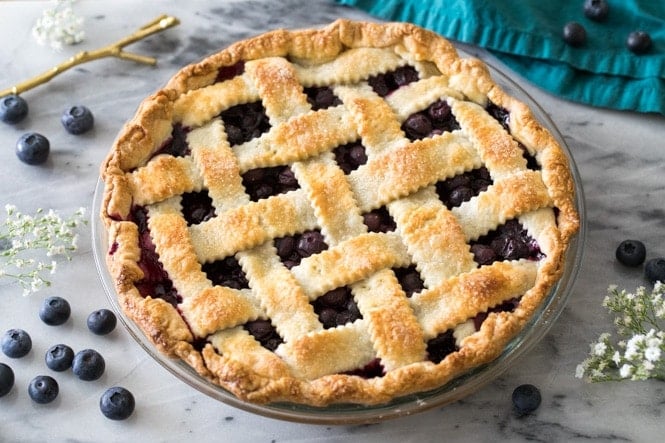 Now, how do you enjoy your blueberry pie? Plain? Topped with whipped cream? Served warm with vanilla ice cream?
However you do it, enjoy! I can't wait to see your beautiful lattice-topped pies on Instagram and in my Baker's Club! Enjoy!
Be sure to check out my video at the bottom of the recipe!
Blueberry Pie
How to make a simple, classic Blueberry Pie with an adorable (and surprisingly easy) lattice topping. 
Be sure to check out the how-to VIDEO!
Print
Pin
Rate
Ingredients
2

Pie crust recipe

you will need two standard sized pie crusts, you can use store-bought or click the link to make my easy pie crust, the recipe will need to be doubled.

5

heaping cups fresh blueberries¹

washed and picked over (just over 1.6 lbs, or 730g)

3

Tablespoons

cornstarch

⅔

cup

granulated sugar

(135g)

¼

teaspoon

salt

1 ½

Tablespoons

lemon juice

1

egg

2

teaspoons

water

1 ½

Tablespoons

butter

cut into small pieces

Granulated sugar

for sprinkling
Instructions
First make your pie crust according to recipe instructions (in link in Ingredients). Allow to chill as instructed (skip this step if using store-bought pie crust).

Preheat oven to 375F (190C).


While pie dough is chilling, combine blueberries, cornstarch, sugar, salt, and lemon juice in a large bowl. Stir well until ingredients are well-combined, then set aside until your pie dough is finished chilling.

Once dough has chilled, place one pie crust on a clean, floured surface and roll out into a 12" circle and place into a 9" pie plate (there should be some dough left hanging over the sides of the pie plate, this is good, don't trim it, you'll need it later).

Whisk together your egg and 2 teaspoons of water to make an egg wash. Use a pastry brush to gently brush the pie crust². Set egg wash aside, you'll need it again a bit later on.

Give your berries one more stir and then pour evenly into pie dish. Dot the top of the berry layer with your butter pieces.

Roll out your second pie crust to a 12" circle. To make a lattice-designed topping³, use a knife, pizza cutter, or pastry wheel (see link above recipe for the one I used) and cut 1" strips out of the pie dough.

Follow the photo instructions in the post above to make a lattice pattern by evenly spacing 5 pie strips horizontally and weaving vertical strips through pie dough (see photo in post or see the video below the recipe for visual).

Trim excess pie dough from the strips and then take the excess pie dough (hanging over the pie plate from the first crust you placed) and fold that over the edge of the strips (again, see photo or video for visual guidance).

Brush lattice topping with egg wash. Generously sprinkle with granulated sugar, if desired.

Transer to center rack of 375F (190C) oven and bake for 50 minutes or until crust is golden brown and center of pie is bubbling.
Notes
¹You may use frozen berries, but I recommend thawing and draining them before using.
²This helps to prevent a soggy bottom pie crust.
³If you don't want to do the lattice topping, no problem! Simply cover your blueberries with a top layer of crust and cut a few slits in the top to allow the pie to vent while baking.. 
Nutrition
Serving:
1
slice (includes crust, nutritional info for crust taken from my easy pie crust recipe)
|
Calories:
477
kcal
|
Carbohydrates:
64
g
|
Protein:
5
g
|
Fat:
23
g
|
Saturated Fat:
14
g
|
Polyunsaturated Fat:
2
g
|
Monounsaturated Fat:
5
g
|
Cholesterol:
69
mg
|
Sodium:
260
mg
|
Potassium:
123
mg
|
Fiber:
4
g
|
Sugar:
35
g
|
Vitamin A:
700
IU
|
Vitamin C:
19.8
mg
|
Calcium:
20
mg
|
Iron:
0.5
mg
Nutritional information is based on third-party calculations and should be considered an estimate only. Actual nutritional content will vary based upon brands used, measuring methods, cooking method, portion sizes, and more.
Recipe originally published June 12th 2019