My rich and decadent tiramisu recipe is surprisingly simple and will make you feel like you're eating dessert in an Italian cafe from the comfort of your own home. This is a great make-ahead dessert! I've included plenty of detailed tips, pictures, and a how-to video so you can have flawless results every time!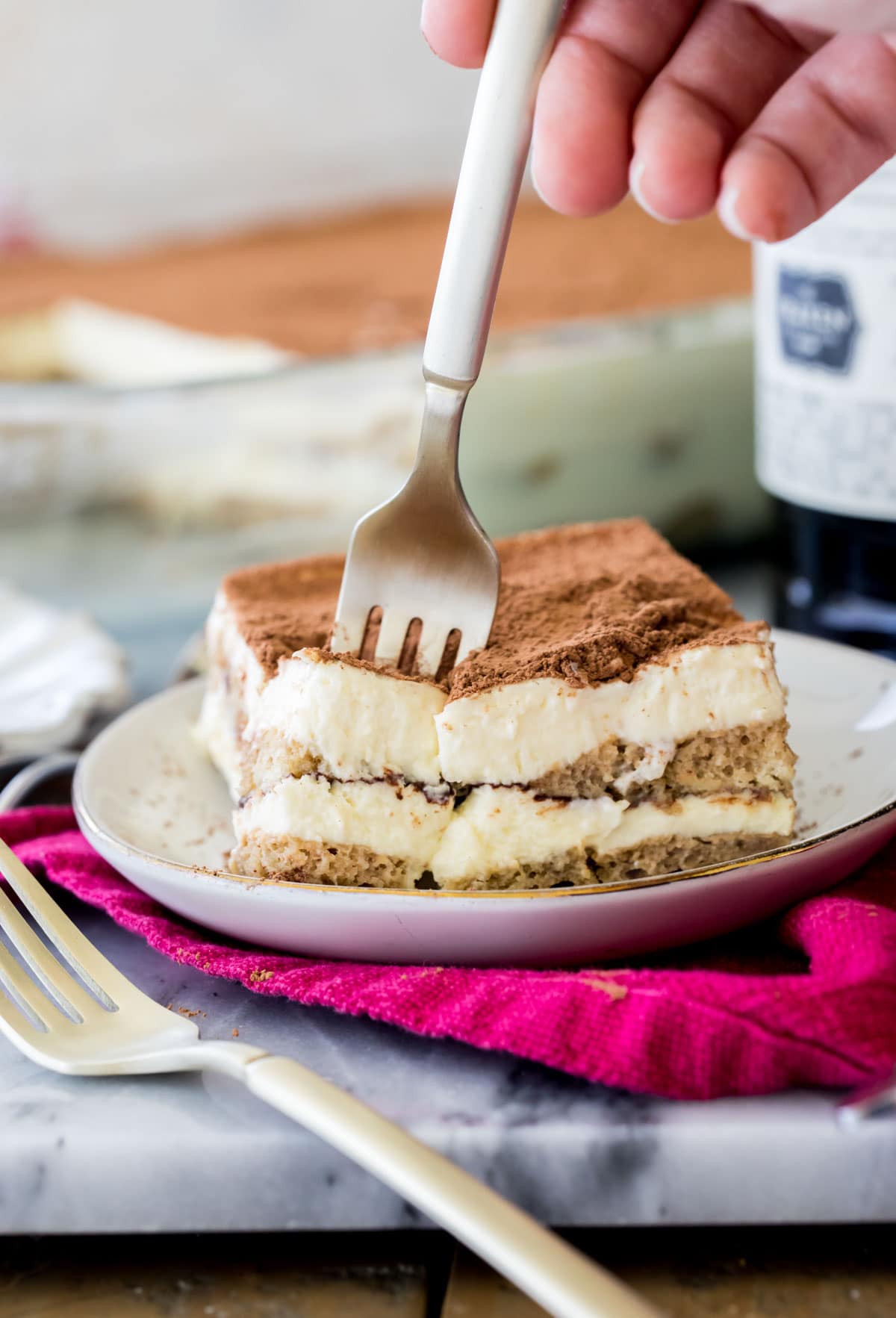 From-Scratch Tiramisu
I've been slowly working my way through a list of recipe requests, and I'm so excited to finally be checking tiramisu off of the list. I've been working on perfecting this recipe for months now, but it's truly worth the wait. I wanted it to not only be the best tiramisu you've ever had, but I also wanted the recipe to be essentially foolproof, so once I felt that I had it truly perfect I put it to the Zach test.
Zach knows his way around the kitchen, but tiramisu was unlike anything he'd ever made before, so I left him with this recipe and left the kitchen (not an easy thing for me to do) to see what he ended up with. If it turned out, I knew it was ready to share.
When he served me a slice, I was ecstatic (that might be an understatement) with the results. This really is the best tiramisu recipe and I'm finally ready to share it with you. I promise, the wait was worth it!
Tiramisu is the perfect way to follow up an Italian dinner of baked ziti or your favorite meatballs or stuffed shells. It's sweet, but it's overly so and is certainly not a sugar-bomb; there are actually many dark/bitter flavors at play here. Unsweetened cocoa, dark spiced rum, and black coffee work in beautiful contrast against the creamy, lightly sweetened mascarpone layers and unassuming ladyfingers.
Let's dig into how to make the best tiramisu, and what makes it so special.
What You Need for the Best Tiramisu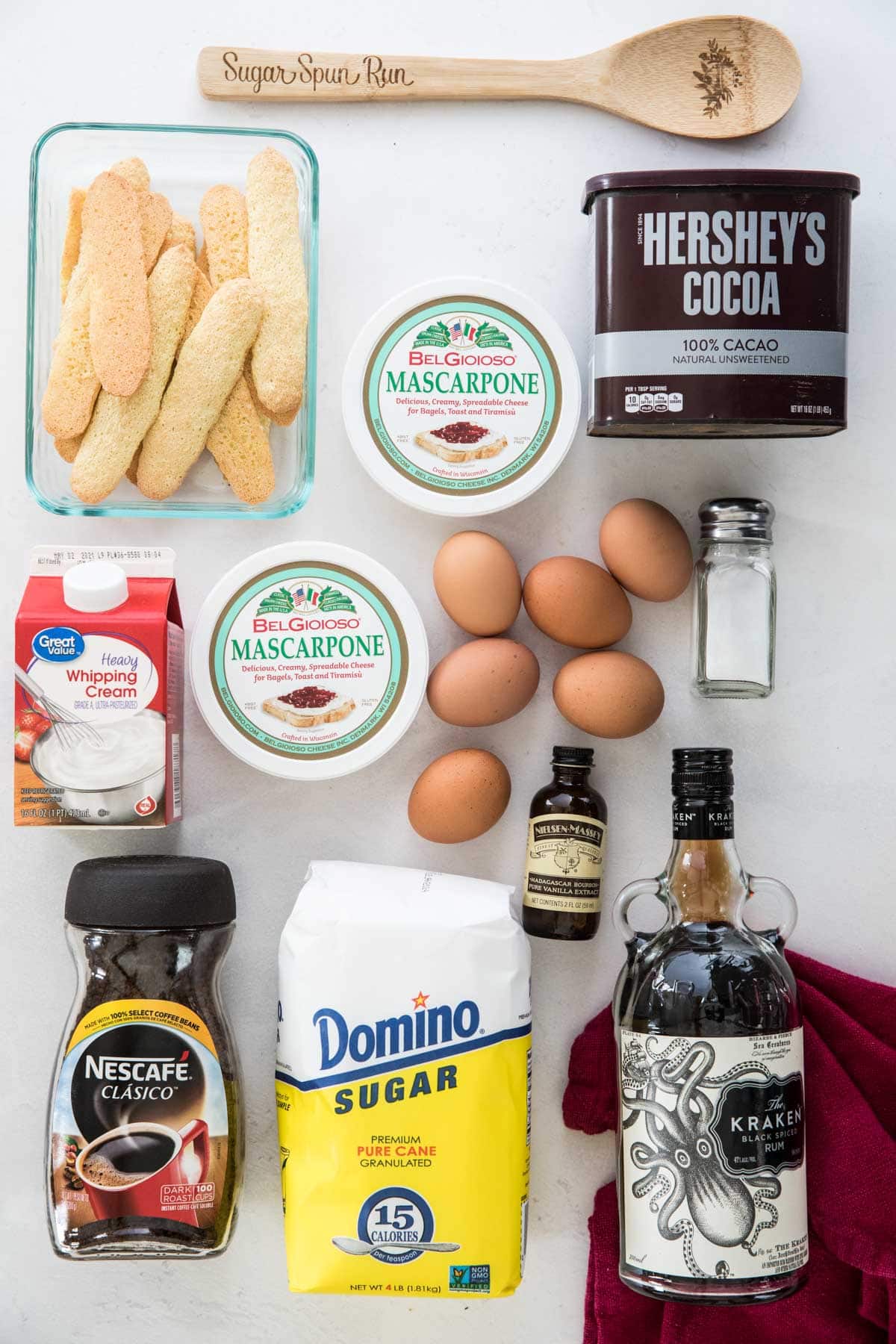 Tiramisu is simple enough to make, let's go over just a few of the ingredients before we begin:
Ladyfingers. It's possible your local grocery store may carry these but mine does not. You can either purchase them on Amazon (I've included a link in the recipe card) or you can make my homemade ladyfingers. Some people have also mentioned that they substitute Pavesini. If using homemade, let them sit at room temperature uncovered overnight before using. Ladyfingers add structure and stability to the tiramisu, they become softened to a cake-like texture once the dessert has had time to sit and thoroughly chill.
Egg yolks. These will be cooked with sugar and salt to form a zabaglione, which will be the custard base of your tiramisu layers. While some recipes use the egg whites elsewhere in the tiramisu, I opted not to as they are traditionally uncooked and many people are not comfortable eating raw eggs. Some people will say that "true" tiramisu is made with egg whites and not whipping cream, but it is perfectly acceptable, just as delicious, and less risky to use whipping cream (and don't let anyone tell you otherwise!).
Sugar. I use regular granulated sugar but caster sugar is ideal if you happen to have it as it will dissolve faster when cooking your zabaglione.
Coffee. Tiramisu is primarily a coffee-flavored dessert, so it's important that you use coffee that you like. There's no need to use anything expensive; use the coffee you love and drink every day.
Spiced Rum. Use your favorite variety! Rum gives tiramisu a unique flavor with a kick. If you don't have a preference try using a middle shelf spiced rum to maintain good flavor and not break the bank. If you don't like rum or want to make this recipe alcohol-free, see my FAQ section below.
Mascarpone cheese. This is a soft Italian cheese that closely resembles cream cheese and helps to give tiramisu its rich flavor. This is widely available at most grocery stores in the cheese and/or dairy section. Do not use low-fat mascarpone, which has more water than the full-fat version and can make a runny tiramisu.
Heavy cream. Since we aren't going to be using raw egg whites in this recipe, we have to make a substitute that still offers creamy stability. I opt to use heavy cream to make a homemade whipped cream, it yields similarly textured, delicious tiramisu. Heavy cream, heavy whipping cream, or double cream will work in today's recipe.
SAM'S TIP: Save your egg whites! They can be used to make meringues, Swiss meringue buttercream, white cake, funfetti cake, or angel food cake! Store covered in the fridge for up to two days or frozen for several months, but make sure they are not contaminated by any yolk and that you keep them in a completely clean, dry, and grease-free container.
Remember, this is just an overview of the ingredients I used and why. For the full recipe please scroll down to the bottom of the post!
How to Make Zabaglione for Tiramisu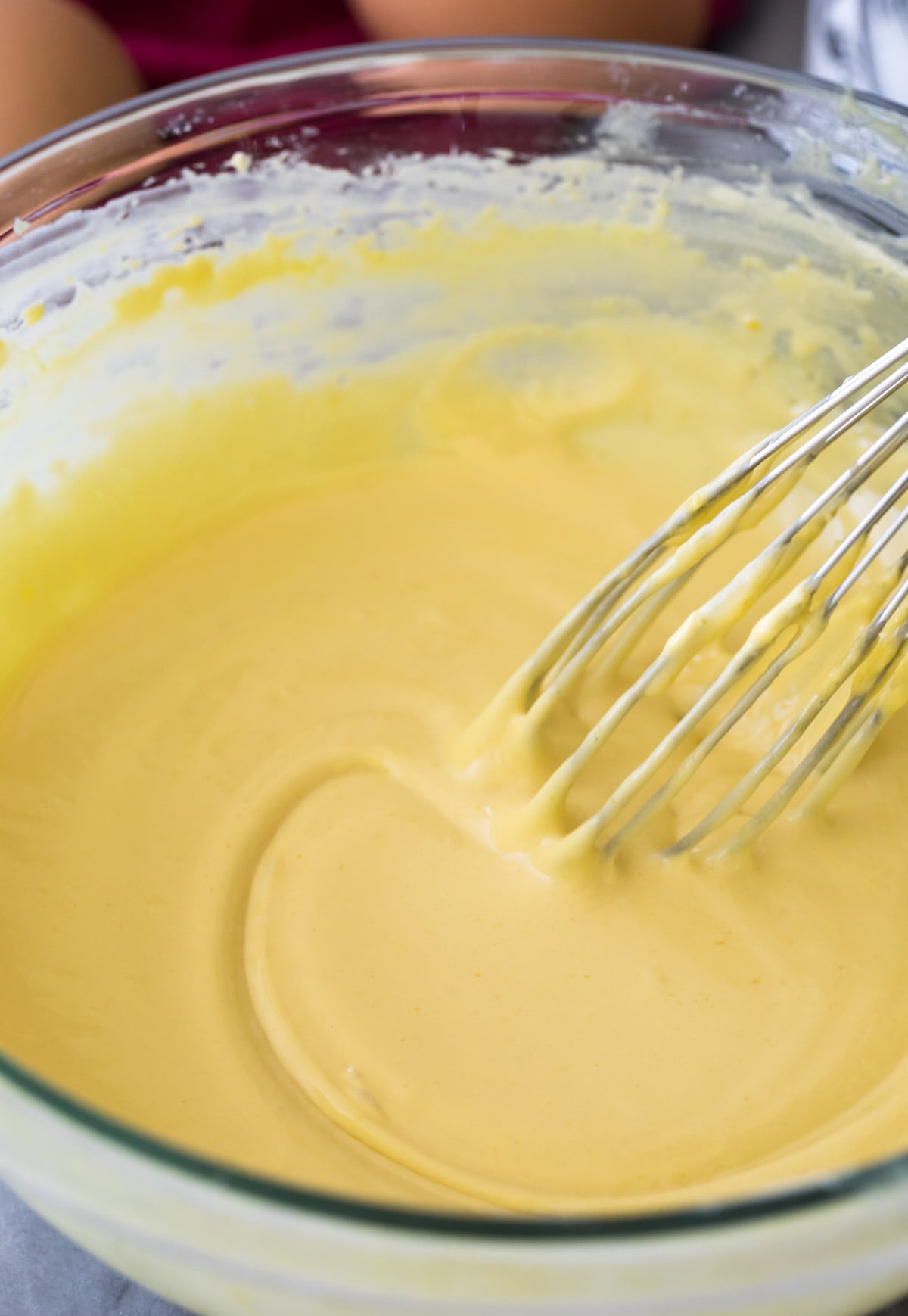 Zabaglione (also known as sabayon) is the starting point of your tiramisu, and is often served as a dessert in and of itself. Despite its foreign and polysyllabic name, it's actually fairly easy to make, though some patience is required. It's simply a custard made by whisking together egg yolks and sugar, and salt on a double boiler until the sugar is dissolved and the whisk leaves tracks through the liquid. Alcohol is often cooked with the eggs, but here we're adding it afterwards.
Bring a double boiler to a simmer and ensure the bottom of the bowl is not touching the water.
Combine egg yolks, sugar, and salt in the bowl of the double boiler and whisk to combine.
Whisk constantly until the sugar is dissolved, the mixture is pale yellow, and it's thickened enough that it offers some resistance to your whisk and the wires of the whisk leave trails that hold for a second or two before dissipating.
Remove from heat and stir in rum and coffee.
Have patience. Don't crank up your heat to speed up cooking, it can take around 10 minutes or longer and if you rush the process you could end up with scrambled eggs. Conversely, if the zabaglione is not cooked enough, your tiramisu will be runny.
SAM'S TIP: You can check that the sugar has dissolved by rubbing a small bit of the mixture between your thumb and forefinger. It should be smooth and grit free. However, if your mixture meets all of the other criteria but has a small bit of grit remaining, don't stress, this should dissolve while your tiramisu chills.
Preparing Mascarpone layer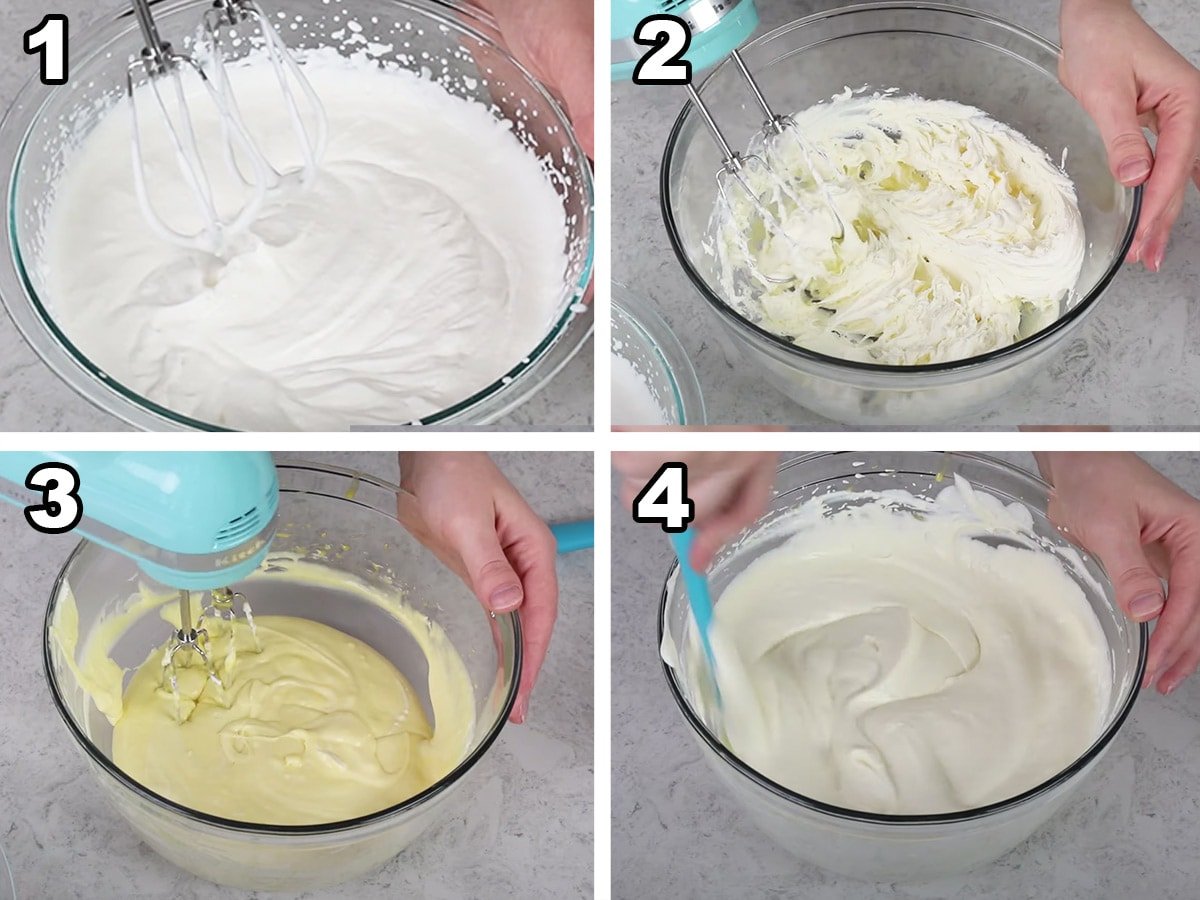 You've made your zabaglione. That's the hardest part of making tiramisu. Give yourself a pat on the back and let it cool for now. Meanwhile:
In a large bowl, whip heavy cream to soft peaks. note: Don't panic if you accidentally whip all the way to stiff peaks. Some recipes call for stiff peaks and it will work here, I just prefer and recommend the softer, creamier, and less-fluffy consistency of soft peaks.
Place mascarpone cheese in a separate, large bowl and stir until smooth. Just until smooth. Don't overdo it as mascarpone is fickle and when over-beaten it curdles and may become runny.
Gradually, slowly, stir cooled zabaglione into mascarpone until completely combined.
Fold together mascarpone mixture and whipped cream until combined.
SAM'S NOTE: Mascarpone is finicky! It's important that it's neither too cold or too warm or it could curdle. I pull mine out of the fridge about 20 minutes before I need to use it.
How to Assemble Tiramisu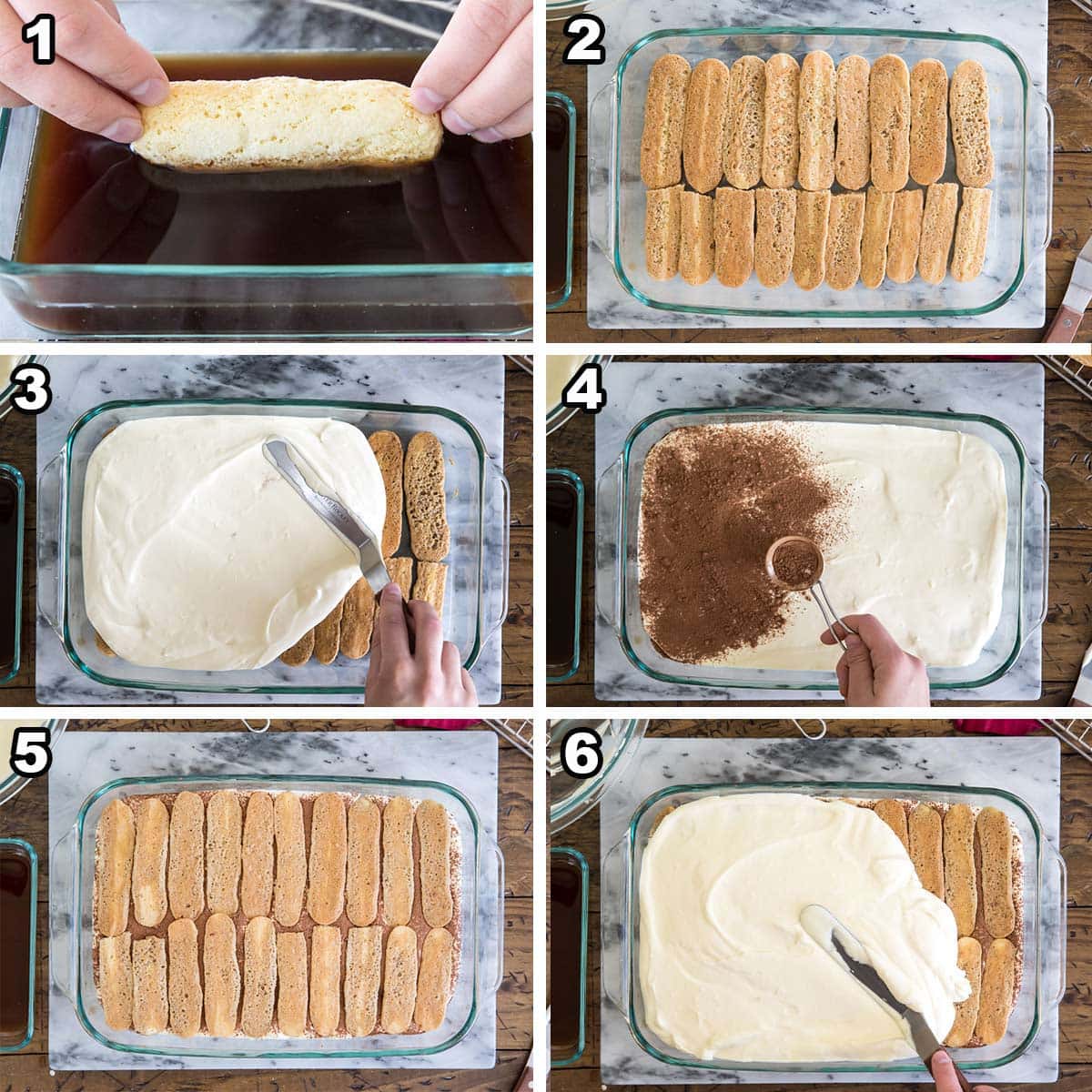 Hold ladyfinger cookies by the ends and dip half of the cookie lengthwise in a shallow dish filled with mixture of coffee and rum, then turn over and dip the other half. Do this very briefly, you don't want the cookies to become soggy.
Place ladyfingers in an even layer on the bottom of a 9×13″ baking dish. Most likely you'll need to break a few cookies to make sure the dish is covered completely (it helps to lay them all out before dipping).
Layer half of the mascarpone filling over the ladyfingers.
Sprinkle a tablespoon of cocoa powder over the top.
Place another layer of ladyfingers.
Then another layer of cream.
SAM'S TIP: The technique for dipping the ladyfingers is calculated and designed so that all of the cookie is evenly dipped and doesn't become overly saturated. Don't be tempted to dip the cookies straight into a mug of coffee, they'll absorb far too much of the liquid and become soggy, resulting in a runny, messy tiramisu with unbalanced flavor.
Before serving, sift another tablespoon of cocoa over the surface of the tiramisu. I prefer to wait until just before serving as it will begin to absorb the mascarpone mixture and turn dark if added too soon (it will still taste good, it's purely aesthetic reasons that I like to wait!).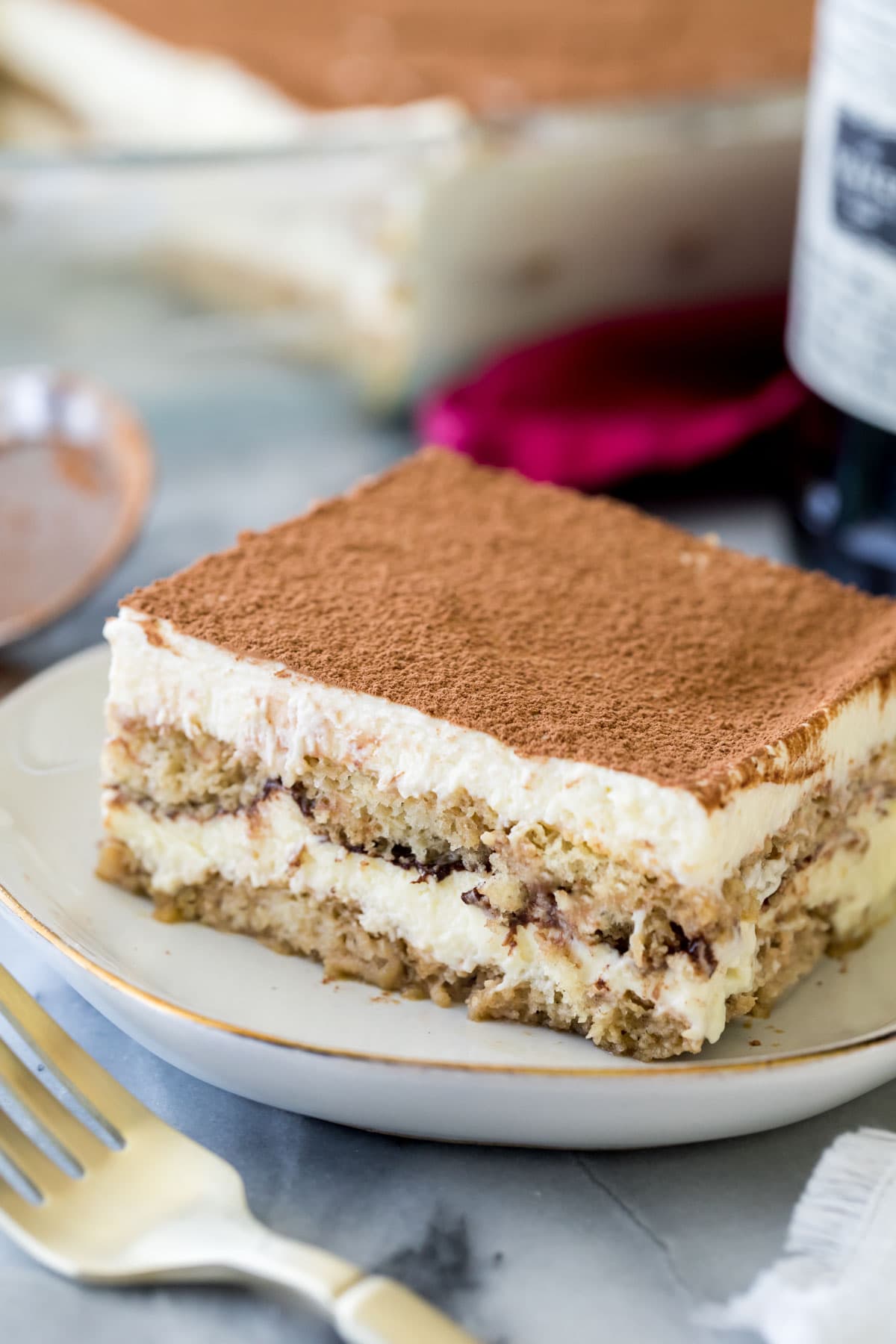 Frequently Asked Questions
Can I make tiramisu without alcohol?
You'll lose some of the signature flavor, but you can simply leave out the alcohol. You will most likely need a bit more coffee for soaking your ladyfingers, so brew a bit more to make up for the missing liquid.
Can I use a different kind of alcohol?
Marsala wine, brandy, or coffee flavored liqueur (like Kahlua) may be substituted. Some recipes use almond liqueur, which I haven't tried but it sounds delicious.
Keep in mind that each of these variations has their own distinct flavor, so make sure you choose an alcohol that has a taste that's enjoyable to you.
Why did my cream curdle?
This happens when the mascarpone is over-whipped or if it was too cold or too warm when beaten. Always proceed with caution with mascarpone!
Why is my tiramisu runny?
There are several reasons this happens.
1) If the zabaglione was not cooked properly and until thickened, this can result in a runny tiramisu.
2) Adding the zabaglione to the mascarpone/whipped cream while it is too hot can melt the mixture and make the tiramisu runny.
3) Using low-fat or low-quality mascarpone or over-beating the mascarpone can cause runny tiramisu. Mascarpone is annoyingly temperamental and extremely liable to being over-whipped and separating, so handle with care!
4) When dipping your ladyfingers it's important to dip them very, very briefly. You want them moistened by the coffee but not overly saturated with it. If the savoiardi become soggy, that liquid can leech into the tiramisu and make it loose and runny (not to mention when you bite into the tiramisu you'll get a jarring punch of coffee and rum where you should have a smooth symphony of contrasting, flavorful accents instead).
Can I make tiramisu ahead of time?
Yes! As mentioned previously, tiramisu keeps up to 4 days in an air tight container in the fridge. After a day or two in the refrigerator the flavors really develop, so this is a great make-ahead dessert. See below if you would like to freeze.
Can I freeze tiramisu?
Yes, it can be frozen for 3 months. Be sure to avoid freezer burn by wrapping the tiramisu in plastic wrap and aluminum foil, or use an airtight container (I still use plastic wrap even when using a container). Thaw it overnight in the fridge before serving or set out at room temperature for 20-30 minutes when ready to serve.
Can I substitute the mascarpone in tiramisu?
Yes, if you can't find mascarpone you can make your own using this recipe. You'll need cream cheese, sour cream, whipping cream, and lemon juice.
Is tiramisu safe for kids to enjoy?
While you don't need to worry about raw eggs with my recipe, due to the alcohol and coffee I do not recommend sharing tiramisu with children, at least not more than a bite or two. The alcohol content is fairly minimal all things considered, but it's still present. You can make a non-alcoholic version and use decaf coffee if you want to make a family friendly version.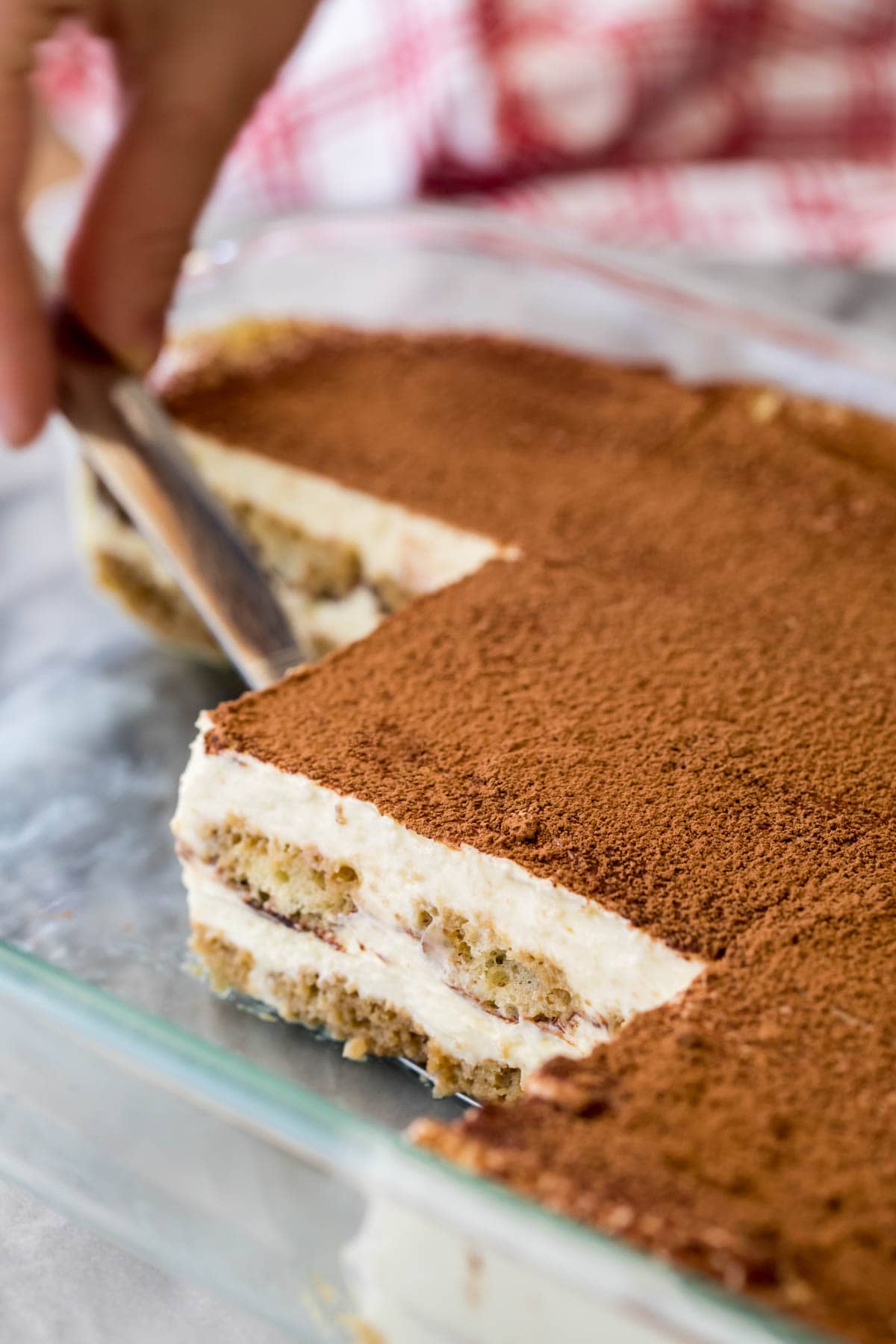 More Recipes You Might Like
Enjoy!
Let's bake together! Make sure to check out the how-to VIDEO in the recipe card!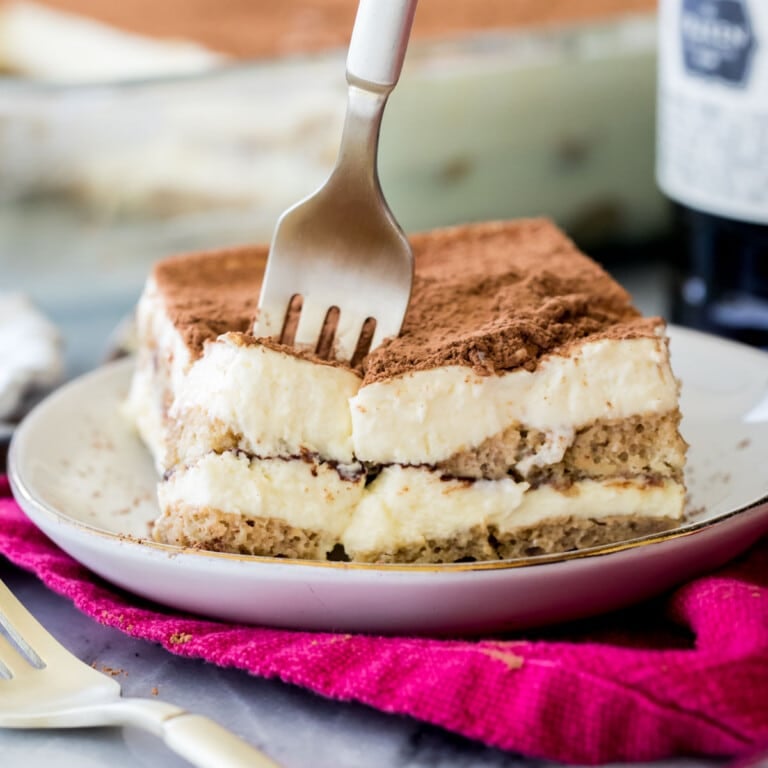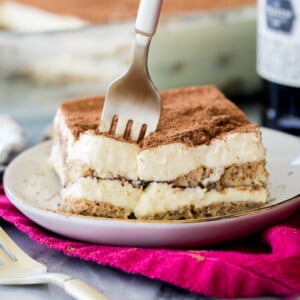 Tiramisu
My recipe for the best tiramisu uses rich and creamy ingredients to make a flavorful dessert! Recipe includes a how-to video!
Print
Pin
Rate
Ingredients
1 ¼

cup

coffee

(295ml)

6

Tablespoons

spiced rum¹

divided

6

large

egg yolks²

¾

cup

granulated sugar

(150g)

¼

teaspoon

salt

1

teaspoon

vanilla extract

2

cups

heavy cream

cold (475ml)

16

oz

mascarpone cheese³

(453g) softened about 20 minutes before use, see note

40

Ladyfingers⁴

click the link to make my homemade ladyfingers. You may also substitute Pavesini.

2

Tablespoons

cocoa powder

divided (Dutch-process or natural will work)
Instructions
Stir together coffee and 4 Tablespoons rum and pour into a shallow dish (you'll be dipping your ladyfingers in this). Set aside for coffee to cool, you won't return to this until after you have prepared your filling.
Zabaglione
Fill a medium-sized saucepan with 1-2" of water and find a medium-sized heatproof bowl that rests on the saucepan without the bottom touching the water. This will be your double boiler (alternatively, use a double boiler if you have one). Remove the bowl and bring the water to a simmer over medium/low heat.

Meanwhile, combine egg yolks, sugar, and salt in the bowl you fitted to your saucepan and whisk to combine. Once water is simmering, return bowl to saucepan.

Whisk constantly until mixture is pale yellow, sugar has dissolved (rub a small bit between your fingers, it should be smooth), and your whisk leaves tracks through the mixture. This can take about 10 minutes, perhaps longer.

Frequently scrape the sides and bottom of the bowl as you cook this to prevent the yolks from cooking (or you'll end up with scrambled eggs!).

Remove from heat and whisk in remaining 2 tablespoons of rum and the vanilla extract. Whisk well then set aside to cool (you may place in fridge to speed up the process). This is your zabaglione. Prepare whipped cream/mascarpone layer while this cools.
Mascarpone Cream Layer
Pour cold heavy cream into a large bowl and use an electric mixer (or stand mixer) to stir, gradually increasing mixer speed to high and beating until you have soft peaks⁵.

Place mascarpone cheese in a separate large bowl and stir (with spoon, spatula, or electric mixer on low-speed) just until smooth (don't overmix mascarpone or it can become grainy/curdled).

Gradually add cooled zabaglione to mascarpone and stir until completely combined (again, don't overdo it).

Gently whipped cream into mascarpone mixture until completely combined.
Assembly
Grip ladyfingers by holding the two end points. Very briefly dip half of the ladyfinger (lengthwise) into the coffee mixture, then turn upside down and very briefly dip the other half. Place into 13×9" (33x23cm) baking dish. Repeat with ladyfingers until you have lined the entire bottom of the dish with dipped ladyfingers. You may need to break some of the cookies so that they fit and the entire bottom is covered.

Top ladyfinger layer with half of the mascarpone mixture and spread this evenly over the cookies.

Sift 1 Tablespoon of cocoa powder evenly over the mascarpone.

Top with another even layer of coffee-dipped ladyfingers and then evenly spread the mascarpone over the top. Cover tightly with plastic wrap and refrigerate 6 hours or preferably overnight.

Before serving, sift another Tablespoon of cocoa powder over the surface. Slice, serve, and enjoy!
Notes
¹Alcohol
You may leave out the alcohol or substitute with marsala wine, coffee flavored liqueur, or brandy. 
²Egg yolks:
Save your egg whites in a clean, grease-free container and use them to make meringues, lemon cake, or strawberry cake (see post for more recipe suggestions for egg whites)! 
³Mascarpone
Mascarpone that is too cold or too warm is liable to curdle. Pull it out of the fridge just 10-20 minutes before using. Always take care to not over-mix the mascarpone as this can also make it curdle and make your tiramisu runny. Make sure you are using a full-fat mascarpone.
⁴Ladyfingers
You may use store-bought or the best homemade ladyfingers. If using homemade, make them a day or two in advance and allow them to sit out uncovered overnight before using (you want them a little stale!). If purchasing you can find them on Amazon.
⁵Soft peaks
This means that the peak that forms when you pull the beater out of the mixture folds over on top of itself. Soft peaks are creamier and less fluffy than stiff peaks that are typical of store-bought whipped cream.
Storing
Store in an airtight container in the refrigerator for up to 4 days. Tiramisu may be frozen for several months; let thaw overnight in the fridge or set out at room temperature for 20-30 minutes to thaw before serving. 
Nutrition
Serving:
1
serving
|
Calories:
243
kcal
|
Carbohydrates:
9
g
|
Protein:
3
g
|
Fat:
21
g
|
Saturated Fat:
12
g
|
Cholesterol:
114
mg
|
Sodium:
54
mg
|
Potassium:
39
mg
|
Fiber:
1
g
|
Sugar:
8
g
|
Vitamin A:
745
IU
|
Vitamin C:
1
mg
|
Calcium:
55
mg
|
Iron:
1
mg
Nutritional information is based on third-party calculations and should be considered an estimate only. Actual nutritional content will vary based upon brands used, measuring methods, cooking method, portion sizes, and more.