Flavored with copious amounts of Nutella chocolate hazelnut spread, these Nutella Brownies are rich, decadent treats that taste exactly how Nutella Brownies are supposed to taste.  Be sure to check out the short how-to video at the bottom of the post!
I have a holiday breakfast potluck to attend this morning and I'm bringing these Nutella Brownies.
I signed up saying that I would bring scones — these scones, actually — but by the time I was finished all of my baking and photography for the weekend, my kitchen was utterly destroyed, it was late at night, and I just couldn't muster up the energy to plug in my KitchenAid even one more time or create a single new dish to wash.
So instead of any sort of socially acceptable breakfast food, I'm bringing these Nutella Brownies that I spent all weekend perfecting, and hopefully no one judges me too harshly for it.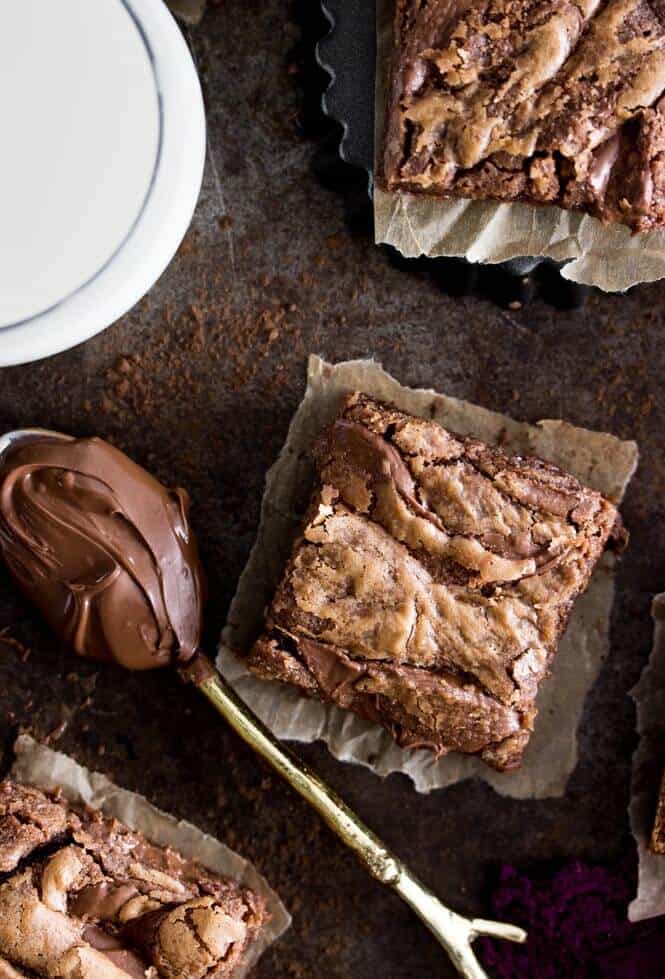 Even though they're not exactly part of your healthy balanced breakfast, these Nutella Brownies are pretty much perfection in every other way.
I had very high standards as I crafted them — I'd been disappointed in the past by recipes that masqueraded themselves as Nutella Brownies but really tasted almost nothing like Nutella (more like regular brownies with a teeny tiny hint of hazelnut) and I wasn't having any of that.
I wanted these to taste like the real deal, so I kept the chocolate to hazelnut ratio absolutely perfect by not adding any extra chocolate to this batter.  No cocoa powder, no melted chocolate chips, I didn't want to add any more chocolate that could overpower the already perfect ratio that Nutella has going on, so I flavored it solely with the chocolate hazelnut spread.
I then topped everything with a thick ribbon of pure Nutella swirl over the surface.
Nutella Brownie Heaven.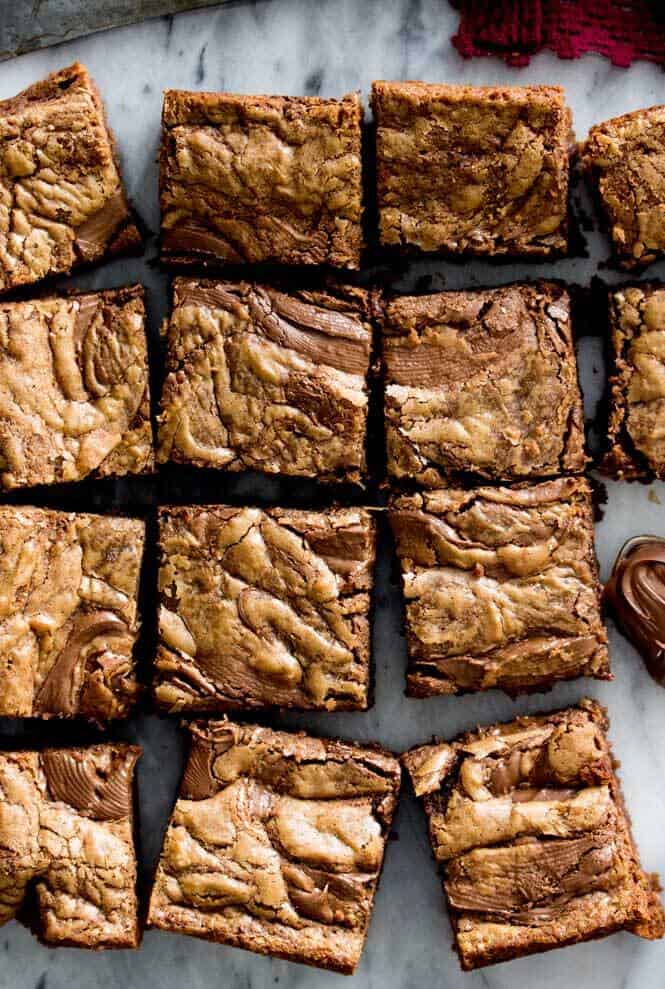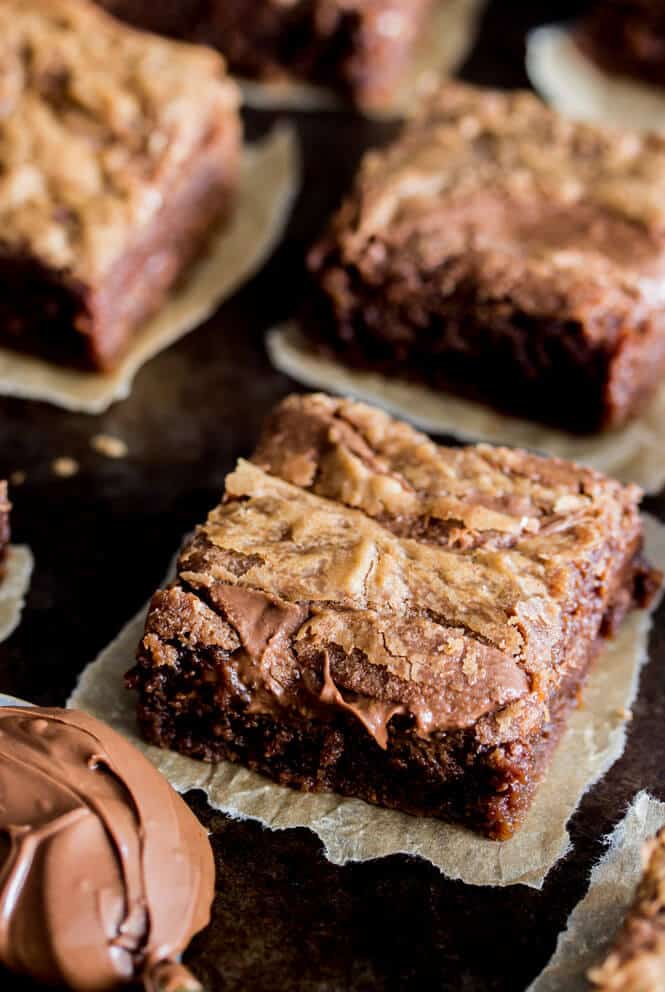 With their shiny, crackly tops, firm, chewy corners, heavy, melty, and a little gooey, centers, these Nutella Brownies leave nothing to be desired in terms of flavor or texture.  They're also very easy to make — even though I'm slightly obsessed with my KitchenAid, I occasionally try to create a recipe that can be easily stirred by hand, and these absolutely can be.
They're pretty rich (because… Nutella) and I enjoyed them most when I cut them into bite-sized little squares and popped them into my mouth one after the other.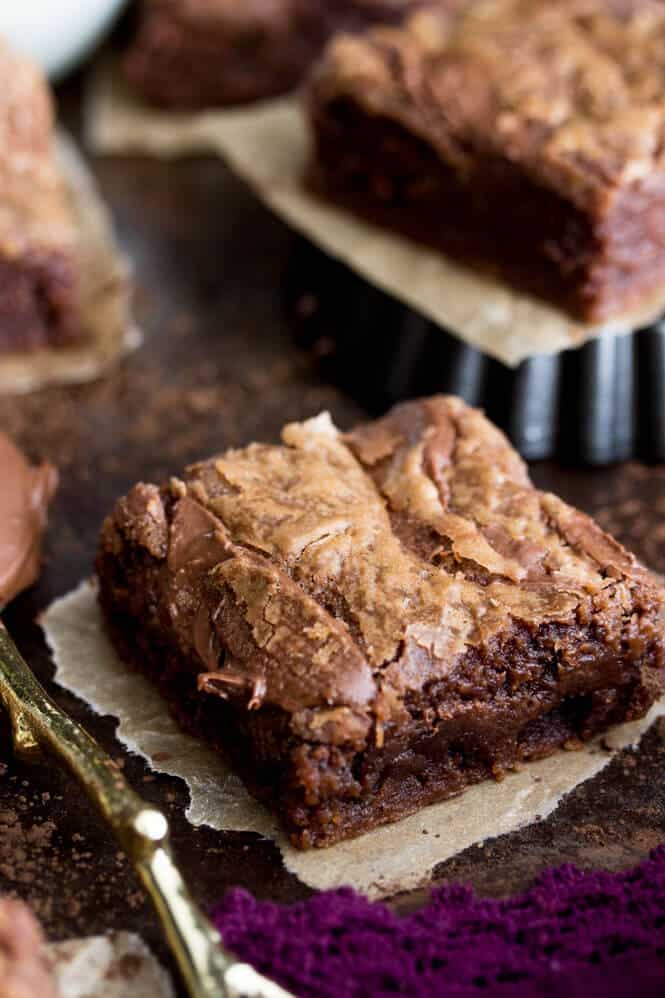 Enjoy!
Nutella Brownies
Decadently delicious Nutella Brownies with a thick ribbon of Nutella Swirl.
Print
Pin
Rate
Ingredients
1

cup

unsalted butter

melted & cooled at least 10 minutes (226g)

1 1/4

cups

brown sugar

packed (250g)

1 1/4

cups

Nutella chocolate hazelnut spread

(355g)

2

eggs

+ 1 egg yolk

room temperature preferred

1 1/2

teaspoon

vanilla extract

2 1/2

cups

all-purpose flour

(285g)

2

teaspoons

cornstarch

(cornflour UK)

1/2

teaspoon

baking powder

1/2

teaspoon

salt

1/4

cup

additional Nutella chocolate hazelnut spread

optional, for topping (70g)
Instructions
Line a 9x9 baking pan with parchment paper and preheat oven to 350F (177C).

Combine melted, cooled butter and brown sugar, stir well.

Stir in Nutella until well-combined.

Add eggs & egg yolk, one at a time, stirring very well after each addition, then stir in vanilla extract.

In a separate, medium-sized bowl, whisk together flour, corn starch, baking powder, and salt.

Gradually stir dry mixture into Nutella mixture until completely combined.

Spread into prepared baking pan.

With your 1/4 cup Nutella, drop dollops of Nutella over the batter. Use a butterknife to swirl over the surface.

Bake on 350F (177C) for 35 minutes (a toothpick inserted in the center of the pan should come out mostly clean with few dry crumbs).

Allow to cool before cutting and enjoying.
Nutrition
PIN IT: