Soft, moist, chewy vanilla blondies with a delightful Nutella flavored cream cheese topping baked in.  These Nutella cream cheese blondies are punctuated with white chocolate chips and offer a new twist on the classic blondie bar.

Despite constantly working on developing original recipes and tweaking them to perfection, I found my thoughts and appetite yearning for a very specific tested and true recipe this weekend.
Maybe it was just that I was craving Nutella, and, having a jar of it in my kitchen cabinet, every time I reached in for peanut butter or pretzels (or any of the various food oddities stored in this particular cabinet rather than in our more respectably organized pantry), my thoughts drifted back to this particular blondie recipe.
I've actually posted this recipe before, but it was long, long ago (originally adapted from the Cooking Canuck) perched in the dusty corners of my blog, shot in harsh evening outdoor lighting with my iPhone.  Photos that, unfortunately, simply did not do the recipe any due justice.
While maybe it was just the influence of an unopened bottle of Nutella, I felt that it would be worthwhile to breathe new photographic life into this wonderful treat that might otherwise die unseen in a back corner of my blog.
Unlike many things that are paired with this hazelnut spread, the blondie layer here is not to be outdone by its Nutella counterpart nor is it simply to just serve as a vessel for it.  Instead, this buttery bottom layer is exquisitely delightful, chewy and soft, perfectly moist (thank you, brown sugar) and punctuated with a generous peppering of white chocolate chips.
While the Nutella layer is a crowning feature, it is entirely complementary to the base.  As with so many of my favorite desserts, this sweet, hazelnut-y layer is made primarily of cream cheese, which adds a subtle tang and deviation from extreme sweetness, resulting in a harmonious flavor combination that is destined to leave you reaching for another square.
I feel pretty confident that, if you give this recipe a shot, you too won't be able to get it out of your mind anytime you encounter an unopened bottle of Nutella in your cabinet, either.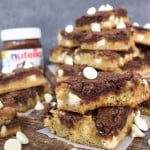 Nutella Cream Cheese Topped Blondies
Ingredients
2

cups

all-purpose flour

1

tsp

baking powder

1/2

tsp

salt

10

tbsp

unsalted butter

melted and cooled

1 1/2

cups

brown sugar

packed

2

eggs

large

2

tsp

vanilla extract

1

cup

white chocolate chips (plus additional for sprinkling on top

if desired)

6

oz

cream cheese

softened

3/4

cup

Nutella

chocolate-hazelnut spread

1

Tbsp

sugar

1

egg yolk
Instructions
Preheat oven to 350 degrees F. Grease and flour a 13x9 baking dish

In a medium bowl, whisk together flour, baking powder and salt and set aside.

In a large bowl, whisk together melted butter, brown sugar, eggs and vanilla extract.

Gradually stir flour mixture into sugar mixture, mixing until just combined.

Add white chocolate chips and stir.

In a medium bowl, stir together cream cheese, Nutella, granulated sugar and egg yolk until completely combined*.

Transfer blondie mixture to prepared pan and spread evenly. Drop the Nutella mixture by tablespoonfuls over the blondie mixture. Using a butter knife, swirl in the Nutella mixture.

Bake 30 minutes or until toothpick inserted in the center comes out mostly clean with only a few crumbs.

Allow blondies to cool completely in pan.
Recipe Notes
*Even if the cream cheese softens, I find it helpful to pop the cream cheese in the microwave in a microwave safe bowl at ten second increments until it is easily stirred with a spoon.