Better than box-mix by a thousand miles, these easy brownies from scratch are made in just one bowl! They're outrageously fudgy, chocolatey, and absolutely irresistible. Recipe includes a how-to video!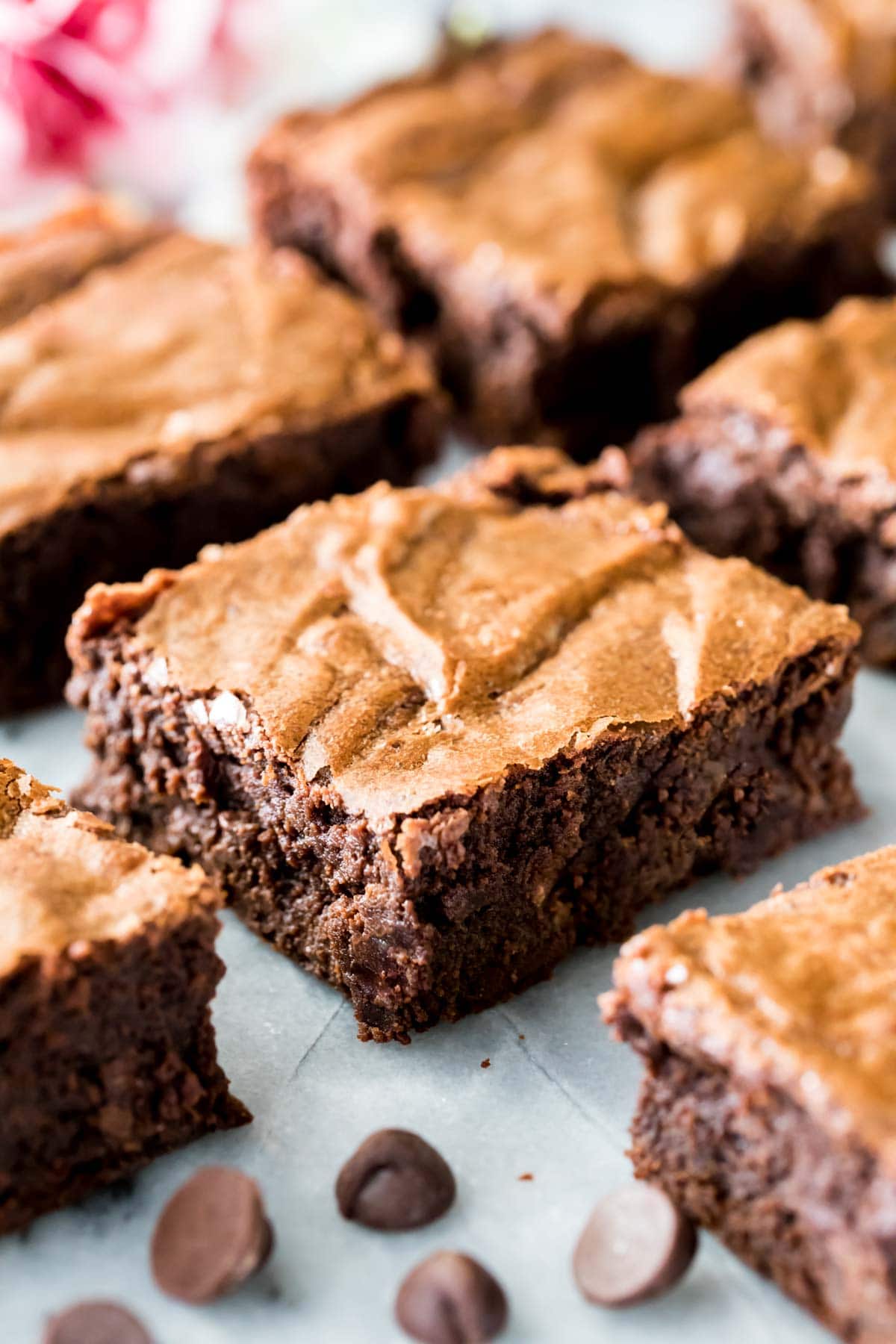 Never Buy a Box-Mix Again
Toss the box-mixes (and their artificial flavors and whatnot) and scrap any other brownie recipe you may have saved, today I'm introducing you to your new favorite. This is an easy recipe for one bowl, ridiculously fudgy, chocolate-chip-stuffed, brownies from scratch.
I shared this recipe years ago and it's one of my personal favorites on the blog, a classic right up there with my "worst" chocolate chip cookies. It's been used over and over again here as base of many of my other recipes (most deliciously, my cheesecake brownies) and is perfect for beginner and advanced bakers alike.
At its core, this is really a no-frills, easy brownie recipe that really needs little introduction, but if you're like me and love nerding out about nitty gritty recipe details, please read on (otherwise, hit that big "Jump to Recipe" button overhead!
Why You'll Love This Brownie Recipe:
Easy! Comes together in just one bowl in 10 minutes. Minimal mess & no mixer needed!
Intense chocolate flavor. True chocolate lovers will enjoy the rich, fudgy decadence of these brownies coupled with the added chocolate chips!
Shiny, crackly tops. While this may merely be an aesthetic issue, everyone loves those shiny meringue-like tops and this recipe delivers!
True brownie texture. They're moist, dense and chewy, no cakey brownies here!
Ingredients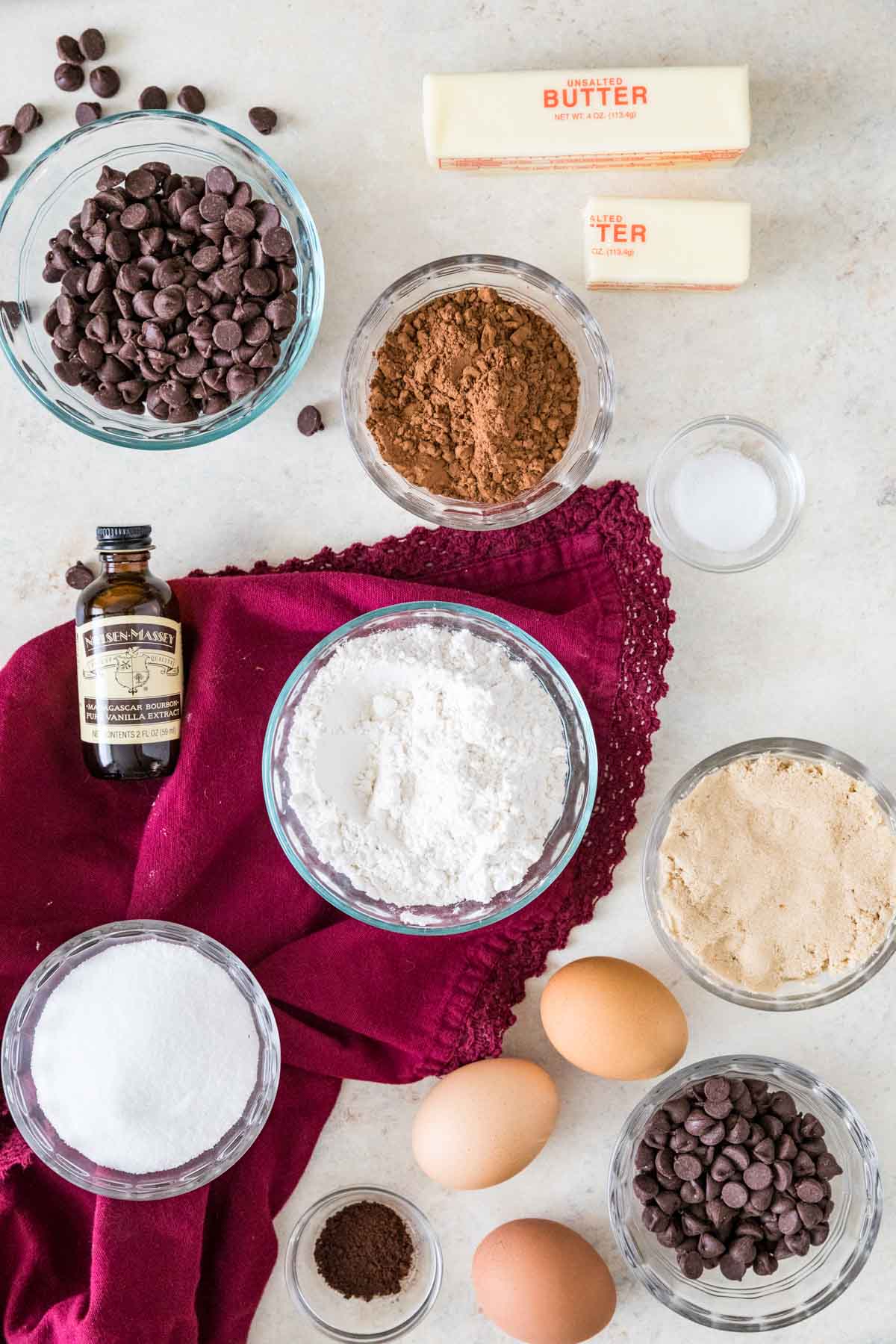 We won't go over every ingredient in detail (who has the time when there are brownies to be made!), but I think you should know what it is that truly makes these the best brownies from scratch. The ingredients are common enough, but there are a few extras mixed in, along with a bit of technique… (more on that later). Let's dig in.
Sugar. A blend of granulated and brown sugar is the way to go in almost every recipe, honestly, but especially here. The subtle molasses-ness of the brown sugar rounds out the flavor of the chocolate and adds extra chew to our brownies!
Eggs… plus an extra yolk! While egg whites are important here and help account for the meringue-like crackly top (coupled with the above sugar), adding a whole extra egg, yolk and call, would make these brownies cakey. Adding an extra egg yolk enriches the brownies and makes them more tender and fudgy!
Chocolate. When I make brownies from scratch I don't mess around. For a truly intense chocolate flavor, we build the brownies on a base of melted chocolate and butter and then toss in some cocoa powder while the mixture is still warm (to help bloom it, as we do in my chocolate cake). This gives us the richest, chocolatiest (I'm being told this isn't a word, but you know what I mean!) results possible. Oh, and then we toss in some chocolate chips at the end, too!
Instant coffee. If you prefer chocolate that's a bit on the darker side, this is a must-add. Just half a teaspoon of instant coffee granules enhances the chocolate flavor, particularly the more bitter flavors that you'll find in dark chocolate.
Sam's Tip: Chocolate chips work just fine here, but when I have baking bars on hand I much prefer to use them instead (for melting with the butter). Use semisweet baking bars, or, if you like a darker chocolate, use 60% cacao instead!
How to Make Brownies from Scratch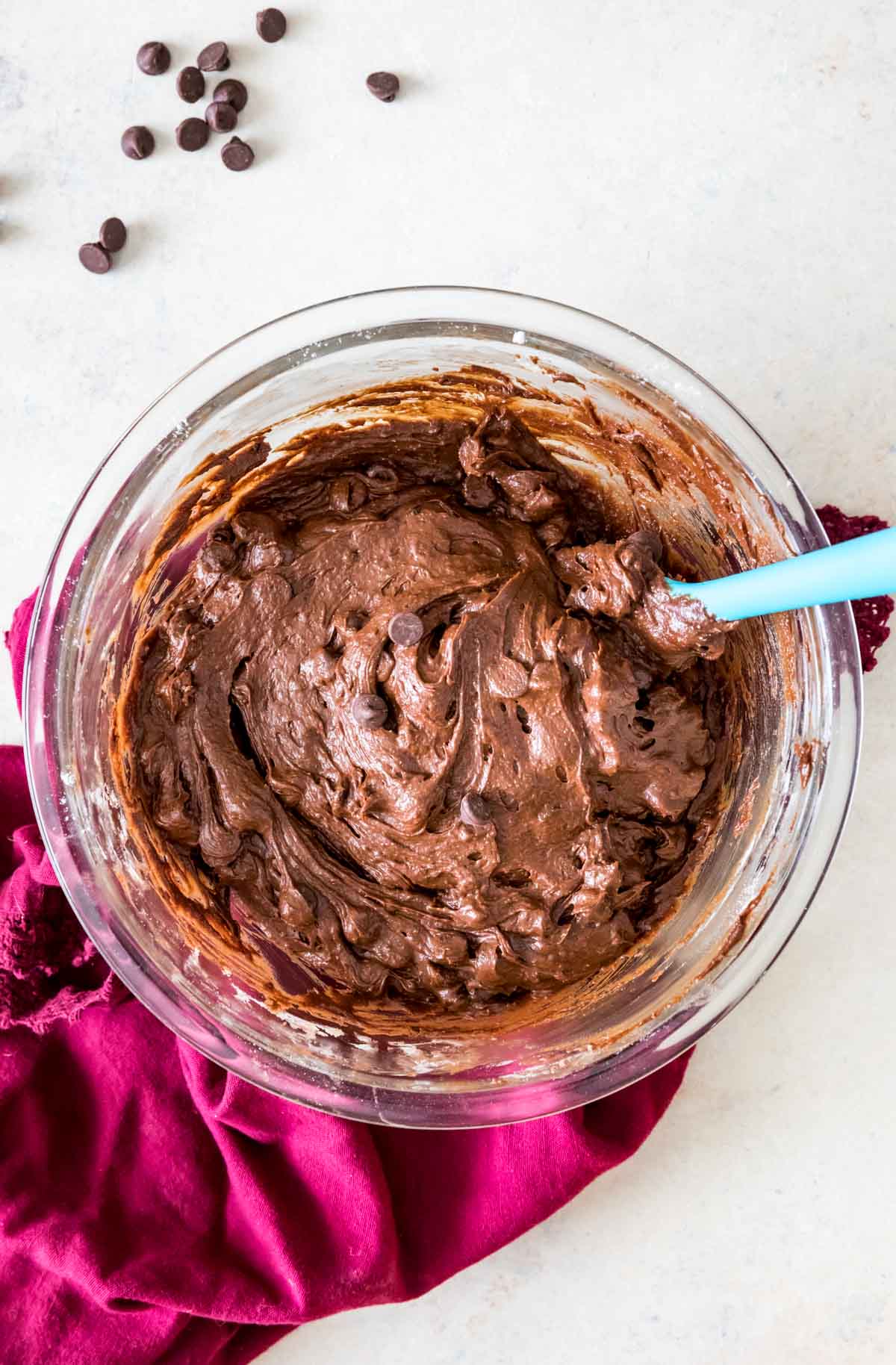 Melt together butter and chocolate chips (or chopped chocolate bar). I recently shared in my post on how to melt chocolate in the microwave that it's critical you heat the mixture slowly and in short increments, stirring well in-between. That applies here as well!
Stir in the cocoa and instant coffee right away, while the mixture is still warm.
Stir in the sugars and then the eggs. Add the eggs one at a time and stir vigorously after each addition. Is it a bit of an arm workout, sure, but it's worth it for those crackly tops!
Add the vanilla and salt and, finally, flour. Stir very well, then stir in some chocolate chips, spread into a 9″ pan and bake until a toothpick comes out fudgy.
Just one bowl and 10 minutes and you'll truly have the best brownies from scratch… or really just the best brownies, period.
Tips for Perfect Brownies
Melt the butter and chocolate slowly. I touched on this above, but it's worth reiterating. Heat the butter and chocolate in 15-20ish second increments and stir well in between. If your mixture becomes gritty or grainy, it's been heated too quickly or for too long and will need to be tossed.
Stir the eggs very well. This step helps to encourage those delicate meringue-like crackly tops. With many of my recipes (like my muffins) I encourage mixing gently and slowly, but there's no need to worry about over-mixing here.
Chill the dough… or don't. This one's optional, but it's a step I used to use consistently when making brownies from scratch. Chilling the dough in the refrigerator for as little as 30 minutes or for as long as overnight can give you a fudgier brownie with a cracklier surface. This is a tip I learned long ago from Bon Appetit. I wanted to include this because I used to always chill my brownies before baking, but recently I've been skipping this step to save time, and honestly no one has noticed a difference.
Don't over-bake. This will yield dry, tough brownies. Always better to slightly under-bake rather than over-bake. Your toothpick should yield fudgy crumbs (not wet batter, and make sure you didn't accidentally spear a chocolate chip with your toothpick!). A completely clean toothpick indicates brownies that may be over-done.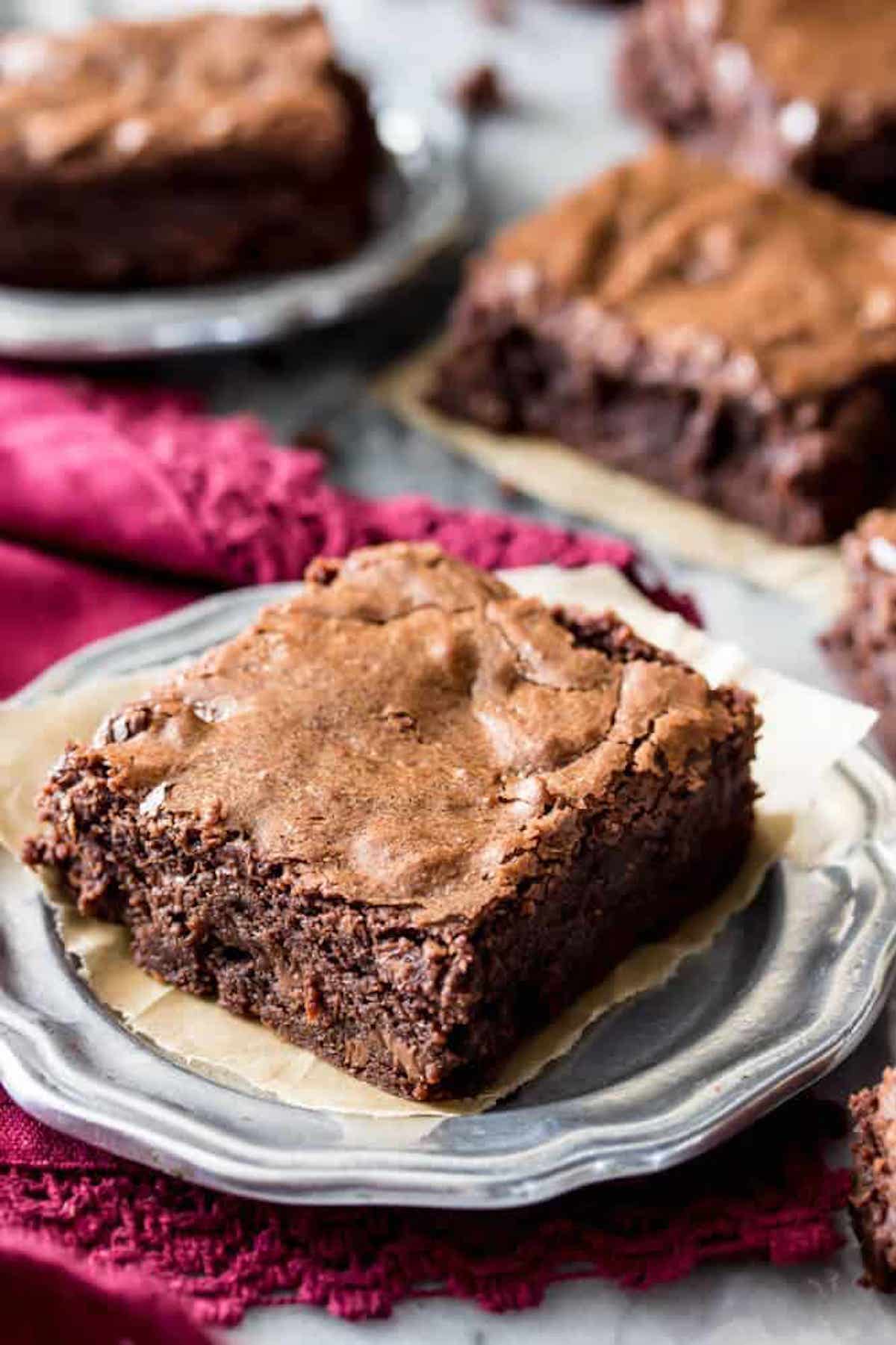 FAQ
What makes brownies fudgy vs cakey?
An extra egg yolk, a bit of brown sugar, real melted chocolate, a bit less flour than you might expect, and no baking powder or baking soda all contribute to the rich fudginess of these brownies. If your brownies turn out cakey after following my recipe, it may be that your flour was accidentally over-measured.
Are brownies better with butter or oil?
After lots and lots of testing, I can definitively say that butter yields the best flavor, the best crackly tops, and the best texture. While there's a case to be made for substituting a small bit of the butter with some oil and most box-mixes do best with oil, I recommend using all butter when making brownies from scratch (and even recommend this in my homemade brownie mix).
Can I use white chocolate instead?
Unfortunately, a straight substitution of the chocolate called for with white chocolate yields results that are too sweet and a bit oily. This is due to the ingredients that make up white chocolate. However, I do have a white chocolate brownie recipe that I recommend you try instead, or for a chocolate-less version try my blondies!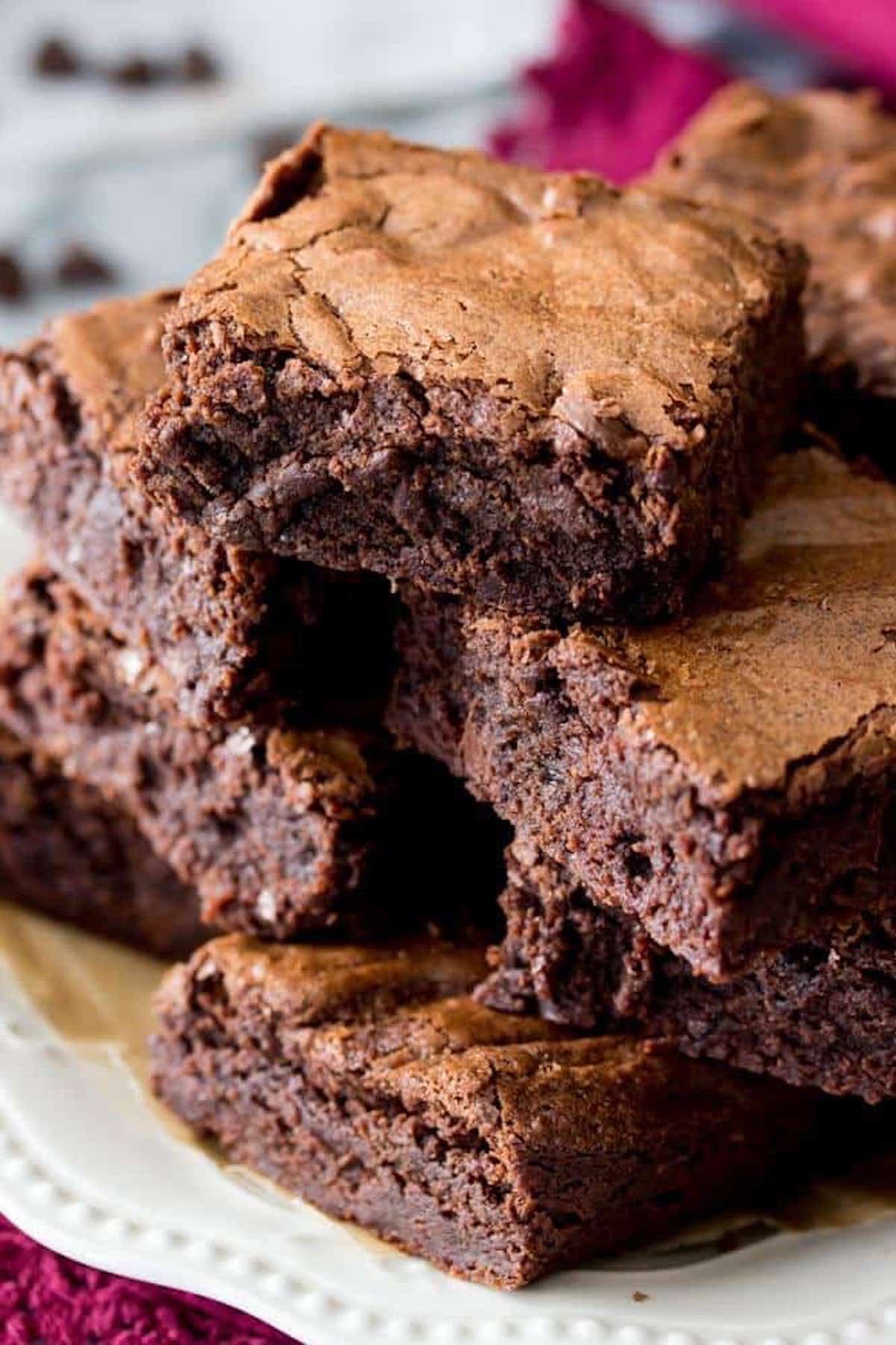 This is truly the easiest, ultimate, best brownie recipe. And I really think you are going to love it. 
Enjoy!
Let's bake together! I'll be walking you through all the steps in my written recipe and video below! If you try this recipe, be sure to tag me on Instagram, and you can also find me on YouTube and Facebook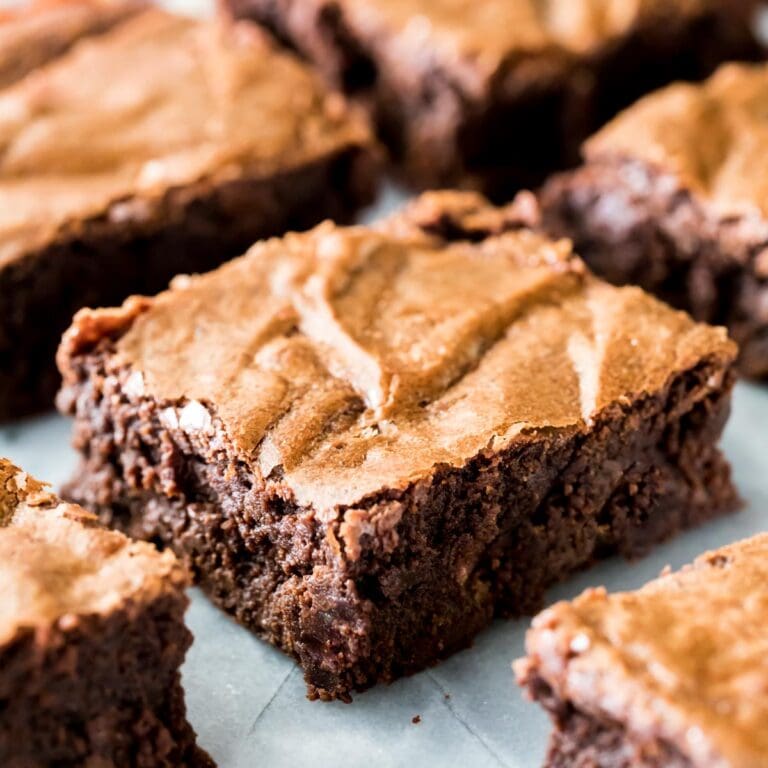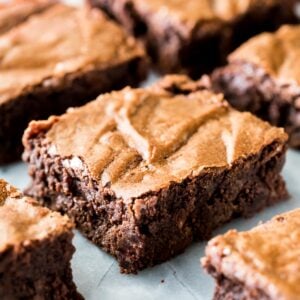 Brownies from Scratch
Better than box-mix by a thousand miles, these easy brownies from scratch are made in just one bowl! They're outrageously fudgy, chocolatey, and absolutely irresistible. Recipe includes a how-to video!
Print
Pin
Rate
Ingredients
12

Tablespoons

unsalted butter

cut into Tablespoon-sized pieces (170g)

½

cup

semisweet chocolate chips

(100g) or you may use a 4 oz semisweet baking bar, chopped

½

cup

natural cocoa powder (unsweetened)

(50g)

½

teaspoon

instant coffee grounds

optional

¾

cup

sugar

(150g)

¾

cup

light brown sugar

firmly packed (150g)

2

large

eggs + 1 large egg yolk

1

teaspoon

vanilla extract

½

teaspoon

salt

1

cup

all-purpose flour

(125g)

¾

cup

semisweet chocolate chips

(150g)
Instructions
Preheat oven to 350F and line a 9×9 baking pan¹ with parchment paper²

Combine butter and ½ cup (100g) semisweet chocolate chips in a large, microwave-safe bowl.  

Microwave for 30 seconds. Stir well, microwave for another 15 seconds and then stir well again. Repeat for 15 seconds until chocolate and butter are completely melted and well-combined.

Add cocoa powder and instant coffee (if using), stir well.

Add sugars, stir until completely combined.

Add eggs, one at a time. After each addition, stir well, and then stir another 30 seconds (the better you stir your batter, the cracklier your brownie tops will be).

Stir in vanilla extract and salt.

Add flour, stir until completely combined. You cannot overmix this batter, make sure it is mixed very well.

Spread into prepared 9×9 pan.

Optional: for crackle-topped brownies: Place pan with batter in refrigerator for 15-30 minutes to chill (you can skip this step if you don't have the patience to wait!).

Remove from refrigerator and bake on 350F (177C) for 30-35 minutes or until a toothpick inserted in center comes out slightly fudgy, but not wet with batter.

Allow to cool before cutting and serving.
Notes
¹Using different pans
This recipe can also be made in a 13×9 pan, it will need to bake for about 16-18 minutes in a 13×9. I used a metal baking pan for this recipe, if you opt to use a glass dish keep in mind that the brownies may need to bake for longer.
²Greasing the pan
Alternatively you may lightly grease the pan with butter — the parchment paper is a little wiggly when you're trying to spread your batter into it, but I prefer it for ease of cleanup.
Adding nuts
You may add chopped nuts to this recipe if you would like. Stir up to ¾ cup of nuts in  at the end with the chocolate chips (you may leave out the chocolate chips if you prefer). Pecans and/or walnuts make great additions!
Storing
Store brownies in an airtight container at room temperature for up to 5 days. 
Nutrition
Serving:
1
brownie
|
Calories:
284
kcal
|
Carbohydrates:
37
g
|
Protein:
2
g
|
Fat:
15
g
|
Saturated Fat:
9
g
|
Monounsaturated Fat:
3
g
|
Cholesterol:
58
mg
|
Sodium:
86
mg
|
Potassium:
123
mg
|
Fiber:
2
g
|
Sugar:
28
g
|
Vitamin A:
6
IU
|
Calcium:
9
mg
|
Iron:
12
mg
Nutritional information is based on third-party calculations and should be considered an estimate only. Actual nutritional content will vary based upon brands used, measuring methods, cooking method, portion sizes, and more.
I originally shared these brownies from scratch on 02/01/2017. Recipe remains the same, but I've updated some of the photos and added a video and tried to make the post itself more informative.