Better than box-mix by a thousand miles, these easy homemade brownies from scratch are made in one bowl and are supremely chocolaty, fudgy, and entirely addictive. This might just be the best brownie recipe in the world!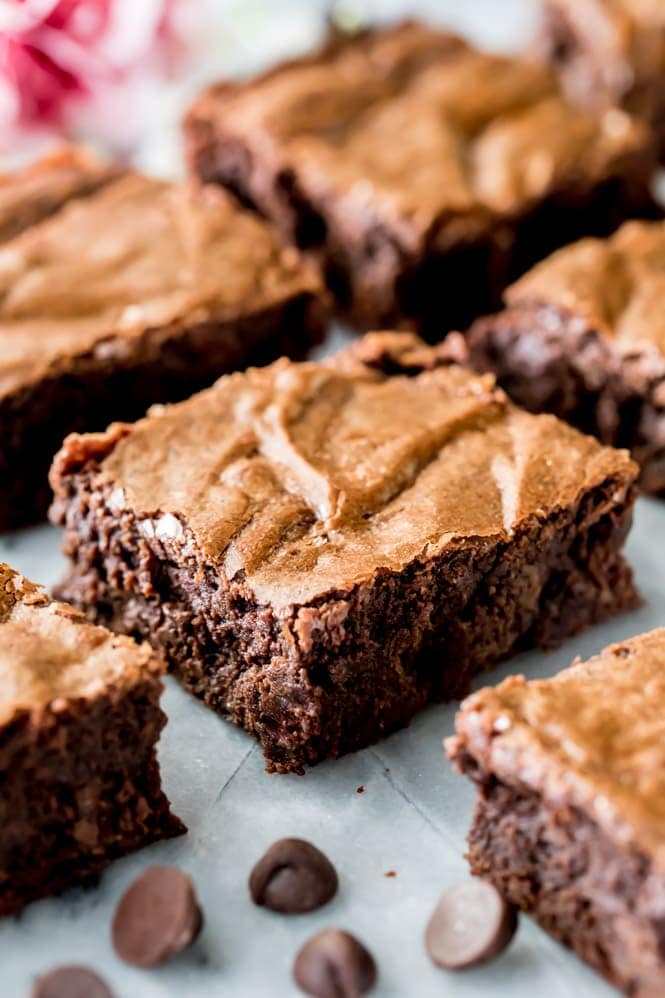 The Best Brownie Recipe (Seriously!)
If I were asked to sum up the past two weeks or so of my life in a single word, it would be Brownies.  In a sentence: OMG, somebody help me, I am drowning in brownies.
There's been a lot of testing. I made six batches of brownies in a single night, none of them perfect. I think I made nearly 20 batches in a single weekend.
I was on a mission, because I wanted to give you a fudgy brownie recipe, a chewy brownie recipe, a one-bowl brownie recipe from scratch.  It needed to be easy, and it needed to be chocolaty. Is there anything else I can italicize?
And finally, after lots of stress, lots of Pandora-soundtracked baking sessions and collective hours of Leia pouting that I wouldn't play tug with her, the ultimate easy, one bowl brownies from scratch have arrived.
A Recipe Worth Making Again & Again
I originally shared this recipe with you a few years ago, and since then it's received rave five star reviews and more fan mail than just about any other recipe on my site (except maybe my worst chocolate chip cookies). And I get it, they're that good.
With a thin, delicate, slightly crinkly meringue-esque crackle-top that gives way to a decadently rich, chewy, moist brownie center. Brownies so insanely chocolatey, they are a chocoholic's dream.
Today I'm re-sharing this recipe with some updated photos and a video as well as tips and tricks. At its core, this is a no-frills, easy brownie recipe that really needs little introduction or explanation, but if you're like me and love nerding out about nitty gritty recipe details, read on.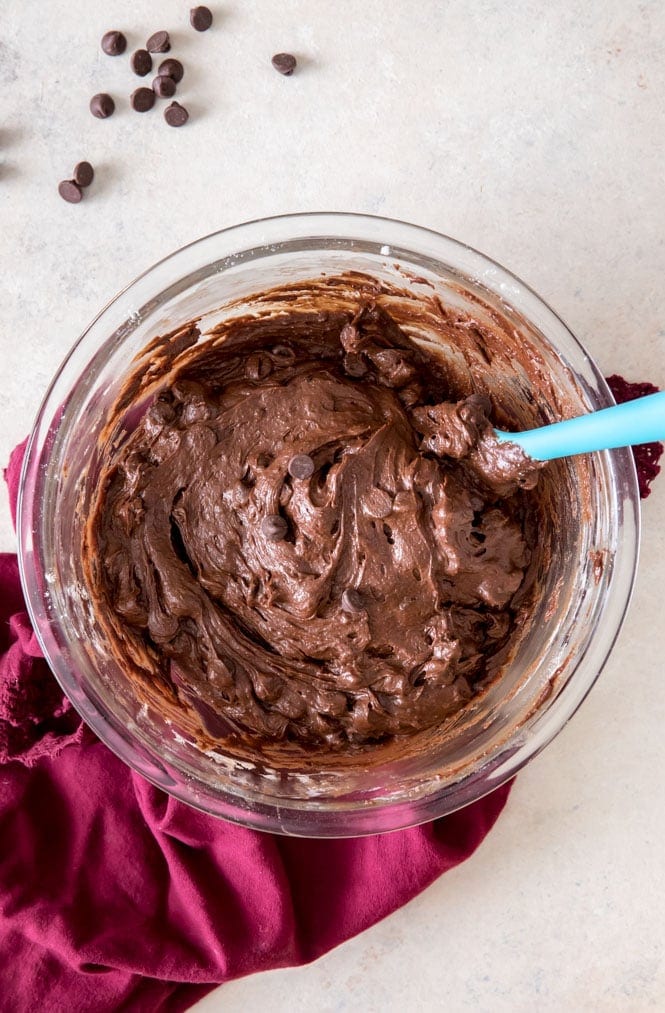 So What Makes these the BEST Brownies From Scratch?
Intense Chocolate Flavor — These brownies are made with melted chocolate (either chips or a chocolate bar) and cocoa powder, which are blended together in such a way to bring out the richest, chocolatiest flavor possible.
We're also adding a sprinkle of instant coffee which will not make these brownies taste like coffee, but will enhance that chocolate flavor even more. And I haven't even mentioned yet that we're tossing in even more chocolate (chips) before all is said and done.
Two Types of Sugar — Many brownie recipes stick to white granulated sugar only. Here, we're using a blend of granulated and brown sugar. The molasses in the brown sugar helps to not only enrich the flavor of the brownies, but also to make them more moist and chewy than they would be otherwise.
An Extra Egg Yolk — While egg whites often add airiness and levity to our baked goods, yolks help to make them more tender and richer. Since we want dense, chewy brownies, we're tossing in an extra yolk to help with the texture, but leaving out the egg white, which could make these brownies more cakey rather than chewy.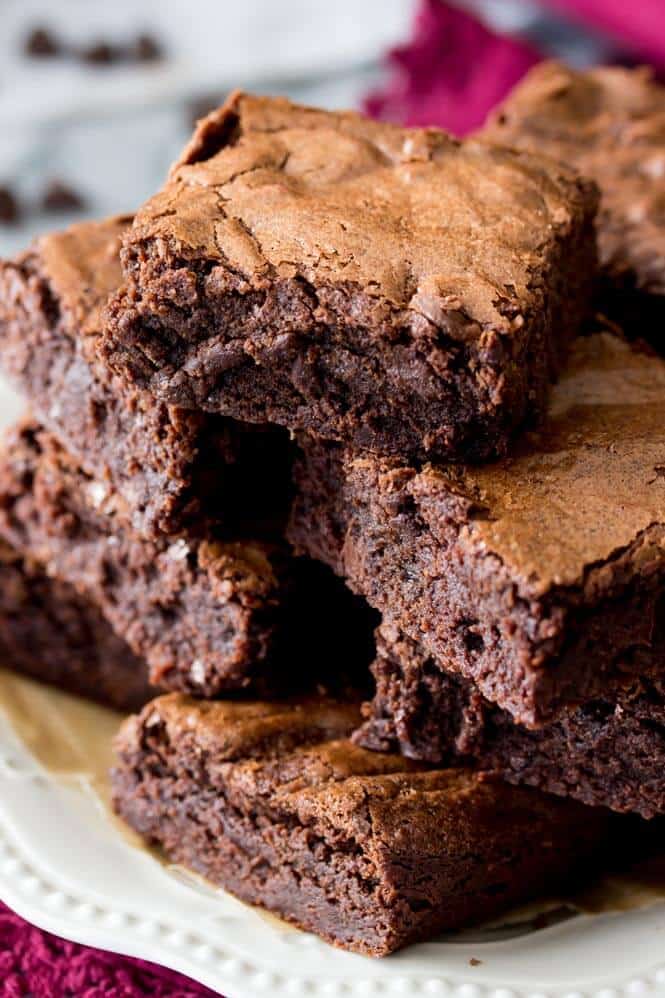 Tips for Making the Best Brownies
Melt Chocolate and Butter Gradually. When melting your butter and chocolate together, make sure to heat in brief spurts (about 15-20 second intervals) stirring well in between. Heating everything at once for a long period of time 1) increases the chance that the butter will explode all over your microwave 😫and 2) makes it more likely that your chocolate will get too hot and will seize (/it'll be grainy and won't be usable). Go slowly and stir often!
Add Cocoa Powder While Butter and Chocolate are Warm. Immediately after melting together butter and chocolate, stir in your cocoa powder. Combining the cocoa powder with the warm butter and chocolate encourages the cocoa to "bloom" (I talk about blooming cocoa powder more in my chocolate cake recipe). This infuses your brownie batter with an intensely rich chocolate flavor that you wouldn't achieve by simply sifting cocoa into your flour.
Stir Your Eggs Really, Really Well. This helps to encourage those delicate, crackly brownie tops. With a lot of my recipes (like my muffin recipes) I recommend mixing cautiously and slowly. No need to worry about over-mixing when it comes to brownies!
Chilling — An Optional Step. I know a lot of my cookie recipes call for chilling, but have you ever chilled your brownie batter? During my brownie-recipe-research, I spotted a few suggestions to chill the batter before baking. Fudgier brownies, crinklier tops, richer taste, and more were promised by simply chilling the brownie batter in the fridge.
Bon Appetit suggests refrigerating for at least an hour and up to 24 hours, but I hardly have the patience for that. However, I did find that 15 minutes in the fridge seemed to yield extra fudgy brownies with shinier, cracklier tops,  so I've included chilling as an optional step in the brownie recipe below.
OK and just one more thing!  
Slightly under-bake your brownies.  Just ever so slightly, just enough that there are still some moist crumbs on your toothpick when you test the brownies.  Normally we look for a clean toothpick when baking, now we're looking one with moist crumbs (but not liquid batter). We want chewy, moist brownies, so just slightly under-baked is perfect. Plus, your brownies will continue to cook slightly as they cool out of the oven.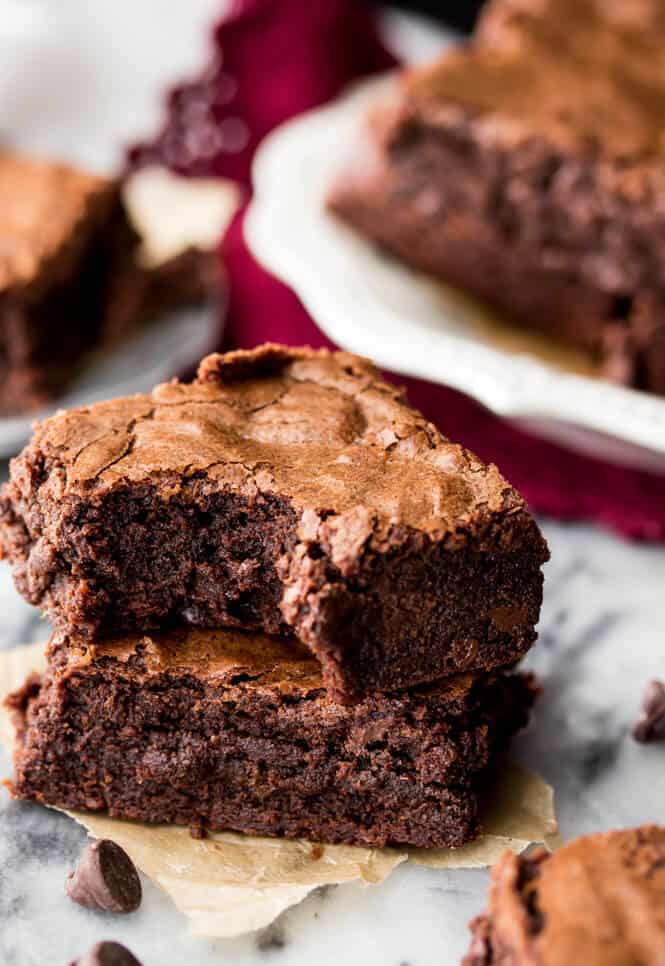 This is truly the easiest, ultimate, best brownie recipe. And I really think you are going to love it.  Enjoy!
You Might Also Like:
Let's bake together! Check out my how to make Brownies video at the bottom of the recipe! If you enjoy watching, make sure to subscribe to my YouTube channel!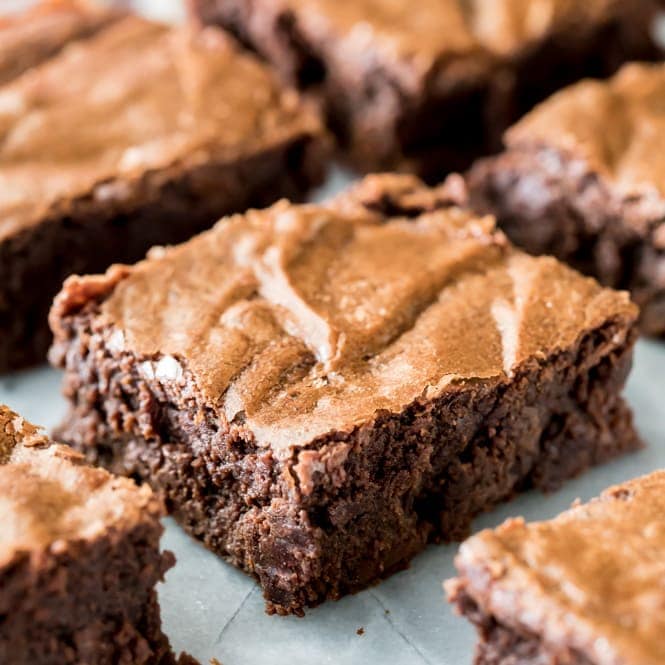 The Best Brownie Recipe
Ditch the box-mix and make your next batch of brownies from scratch! This is the BEST Brownie recipe, fudgy, chocolatey, rich, and made in just one bowl!
Be sure to check out the how-to video below the recipe!
Print
Pin
Rate
Ingredients
12

Tablespoons

unsalted butter

cut into Tablespoon-sized pieces (170g)

½

cup

semisweet chocolate chips

(100g) or you may use a 4 oz semisweet baking bar, chopped

½

cup

natural cocoa powder (unsweetened)

(50g)

½

teaspoon

instant coffee grounds

optional

¾

cup

sugar

(150g)

¾

cup

light brown sugar

firmly packed (150g)

2

large

eggs + 1 large egg yolk

1

teaspoon

vanilla extract

½

teaspoon

salt

1

cup

all-purpose flour

(125g)

¾

cup

semisweet chocolate chips

(150g)
Instructions
Preheat oven to 350F and line a 9x9 baking pan¹ with parchment paper²

Combine butter and ½ cup (100g) semisweet chocolate chips in a large, microwave-safe bowl.  

Microwave for 30 seconds. Stir well, microwave for another 15 seconds and then stir well again. Repeat for 15 seconds until chocolate and butter are completely melted and well-combined.

Add cocoa powder and instant coffee (if using), stir well.

Add sugars, stir until completely combined.

Add eggs, one at a time. After each addition, stir well, and then stir another 30 seconds (the better you stir your batter, the cracklier your brownie tops will be).

Sprinkle salt over batter and stir.

Add flour, stir until completely combined. You cannot overmix this batter, make sure it is mixed very well.

Spread into prepared 9x9 or 13x9 pan.

Optional, for crackle-topped brownies: Place pan with batter in refrigerator for 15-30 minutes to chill (you can skip this step if you don't have the patience to wait).

Remove from refrigerator and bake on 350F (177C) for 30-35 minutes or until a toothpick inserted in center comes out slightly fudgy, but not wet with batter.

Allow to cool before cutting and serving.
Notes
¹This recipe can also be made in a 13x9 pan, it will need to bake for about 16-18 minutes in a 13x9. I used a metal baking pan for this recipe, if you opt to use a glass dish keep in mind that the brownies may need to bake for longer.
²Alternatively you may grease and flour your pan -- the parchment paper is a little wiggly when you're trying to spread your batter into it, but I prefer it for ease of cleanup.
I used a metal baking dish to make these brownies. If you use a glass one, you may need to bake them for longer.
Can I Add Nuts to this Brownie Recipe?
You may add chopped nuts to this recipe if you would like. Stir up to ¾ cup of nuts in  at the end with the chocolate chips (you may leave out the chocolate chips if you prefer). Pecans and/or walnuts make great additions!
Nutrition
Serving:
1
g
|
Calories:
284
kcal
|
Carbohydrates:
37
g
|
Protein:
2
g
|
Fat:
15
g
|
Saturated Fat:
9
g
|
Monounsaturated Fat:
3
g
|
Cholesterol:
58
mg
|
Sodium:
86
mg
|
Potassium:
123
mg
|
Fiber:
2
g
|
Sugar:
28
g
|
Vitamin A:
6
IU
|
Calcium:
9
mg
|
Iron:
12
mg
Nutritional information is based on third-party calculations and should be considered an estimate only. Actual nutritional content will vary based upon brands used, measuring methods, cooking method, portion sizes, and more.
I originally shared this Brownie Recipe 02/01/2017. Photos updated and video added 08/14/2019. Original photos below: