Chocoholics, this one's for you! Learn the important differences between Natural vs. Dutch Process Cocoa, how to use them, and when it's safe to swap one for the other.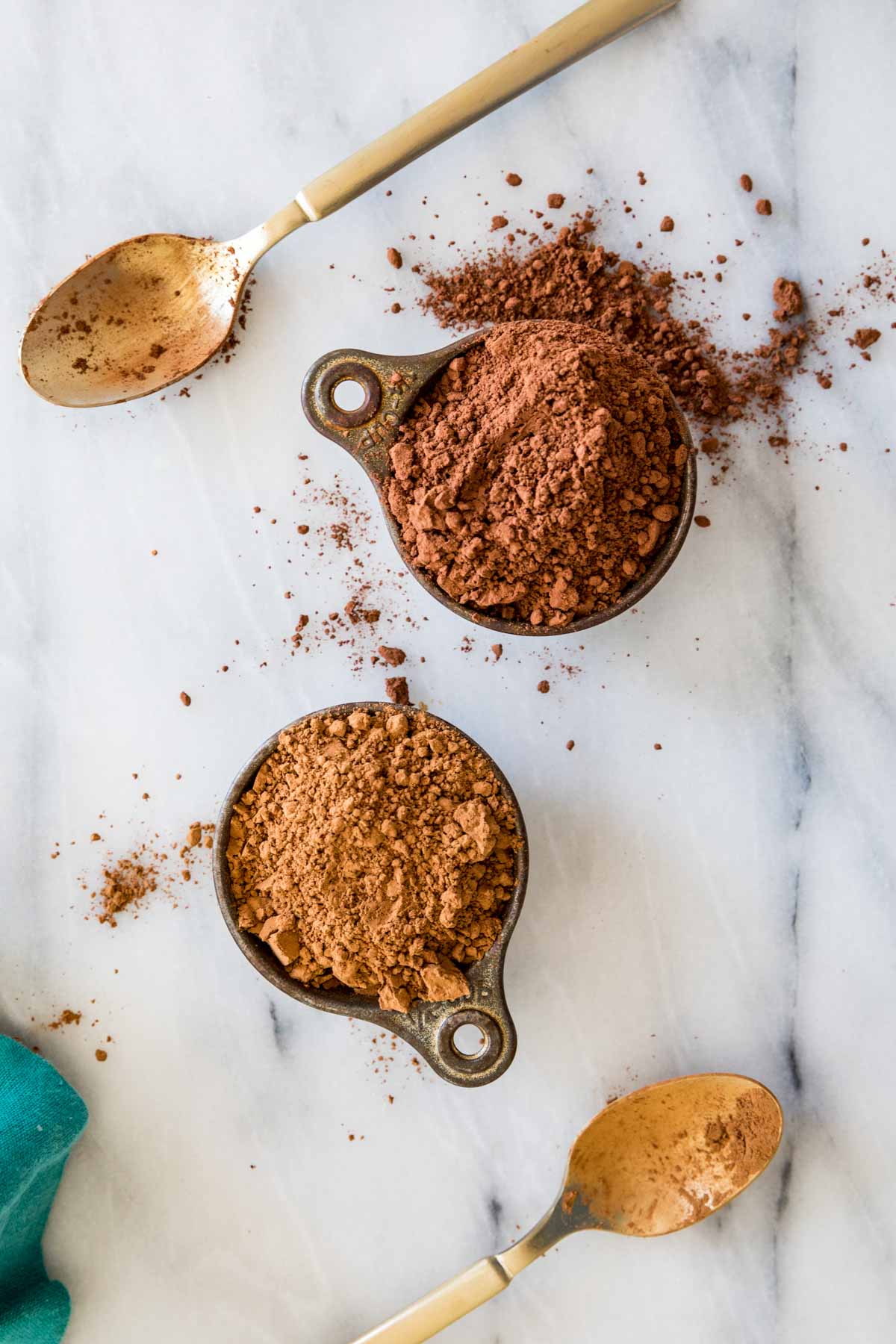 If you've ever been confused about which cocoa powder is best for your recipe, join the club! With some recipes that call for either type and others having a strict preference, it's easy to feel a little bit lost.
It's important to remember that baking truly is a science, so there's always a reason behind using one ingredient over another. This couldn't be more true than with cocoa powder!
Today we'll break down the differences between natural vs. Dutch cocoa powder, and hopefully you'll have a better understanding after reading. I'll explain how each types works and when swapping one for the other is safe to do. Your chocolate cakes, cookies, and frostings will all benefit from this knowledge, and your taste buds just might too! 😉
What is Natural Cocoa Powder?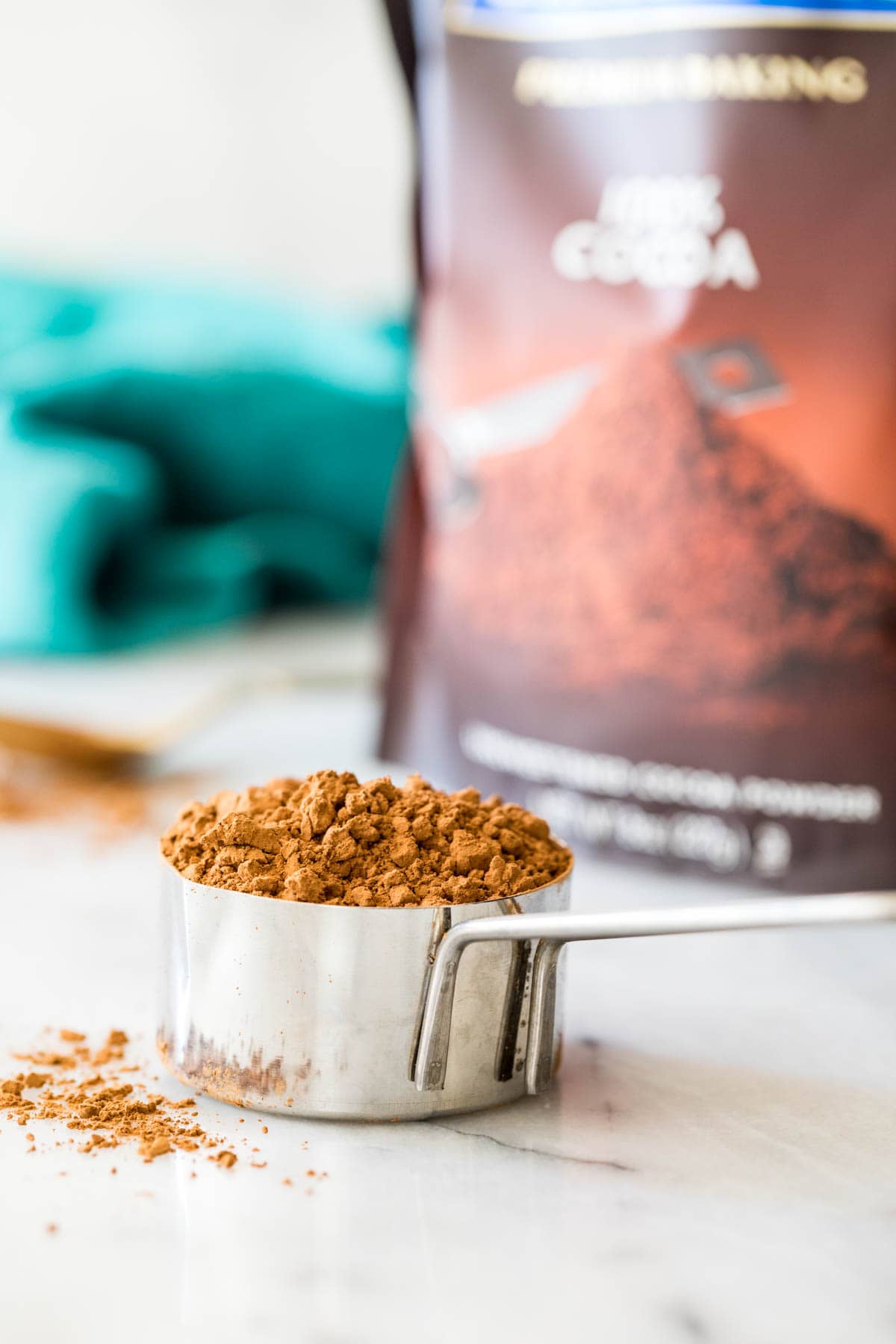 Natural cocoa powder is the most common type of cocoa powder you'll find in stores. Natural cocoa powder consists of processed and ground cocoa bean solids. It's fairly light in color and bitter in flavor, and it contains no sweetness. You'll see this ingredient in everything from cakes and cookies to buttercream frosting–essentially anything that needs a chocolately boost!
Now for the science-y part: natural cocoa powder is highly acidic. Because of this, it's usually paired with baking soda, which neutralizes the acid and encourages your baked goods to rise (you see this at play in my Texas sheet cake). We'll discuss this in more detail below.
SAM'S TIP: Do not confuse cocoa with cacao! Cacao consists of whole cocoa pods and beans ground into a powder. It is less processed (it's actually considered to be raw) and extremely bitter. While you could still use it in desserts, it will greatly affect the sweetness of the final product and tends to be drying. Some people have successfully added it to their chili though!
What is Dutch Process Cocoa Powder?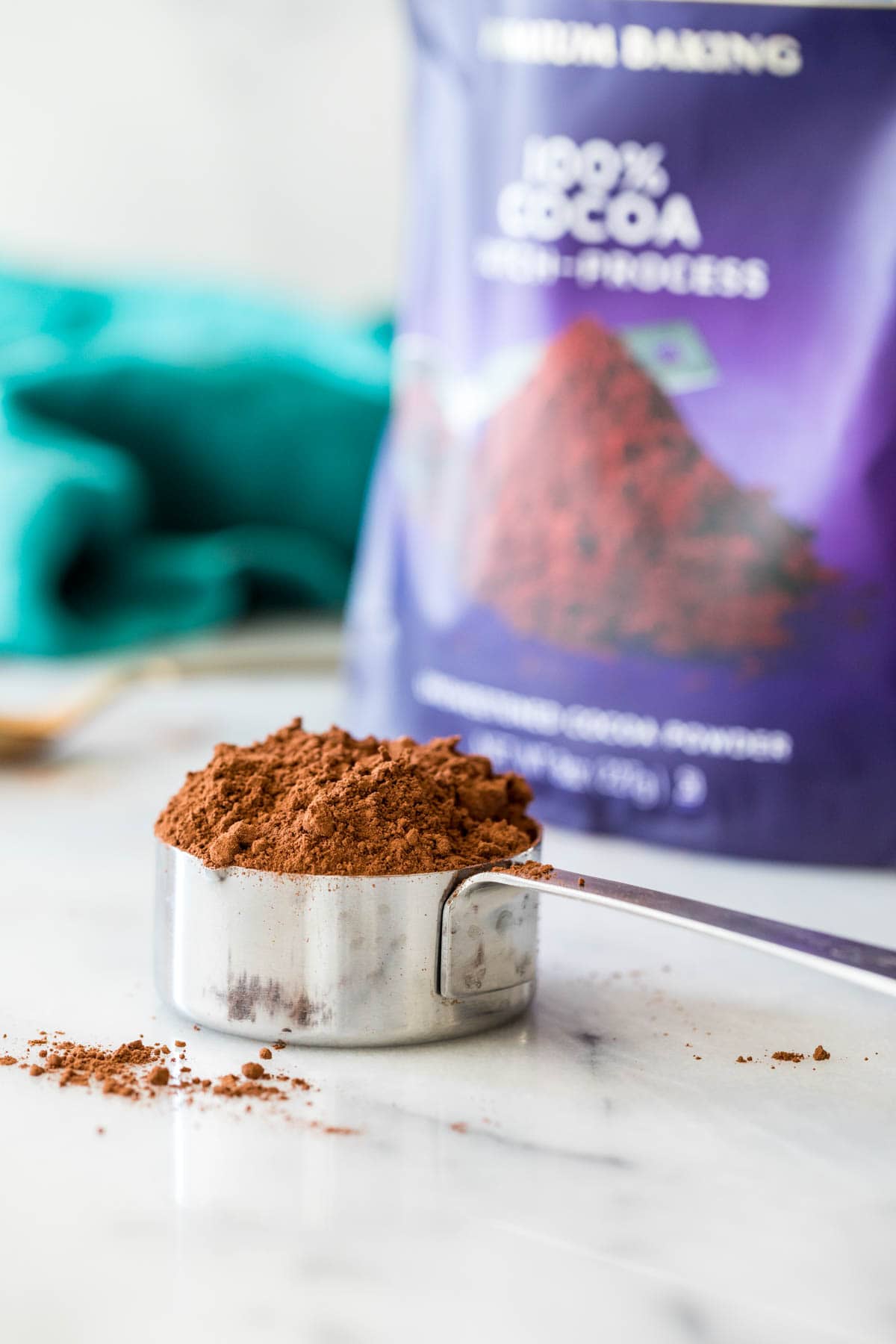 Dutch process cocoa is processed in an alkali solution to lesson its acidity. This process makes it smoother, darker, and often richer than natural cocoa. All of these qualities shine through in baked goods that use this cocoa.
You may have heard of black cocoa powder or dark cocoa powder (used in my dark chocolate cupcakes) before. Both are actually Dutch process cocoas! Dark cocoa is usually just another name for Dutch cocoa, but occasionally its a blend of natural and Dutch. Black cocoa is a highly processed Dutch cocoa most commonly used in Oreos. Black cocoa tends to taste less chocolatey than other cocoa powders and can be drying, so keep that in mind if you do use it.
Like natural cocoa powder, you can use Dutch process cocoa in cakes and other desserts, but it can't be used in all recipes. The processing that Dutch cocoa goes through gives it its signature color and flavor, but it also gives it a different PH than natural cocoa. Because of this, Dutch process cocoa cannot always be substituted for natural cocoa and vice versa.
Can I Substitute One for the Other?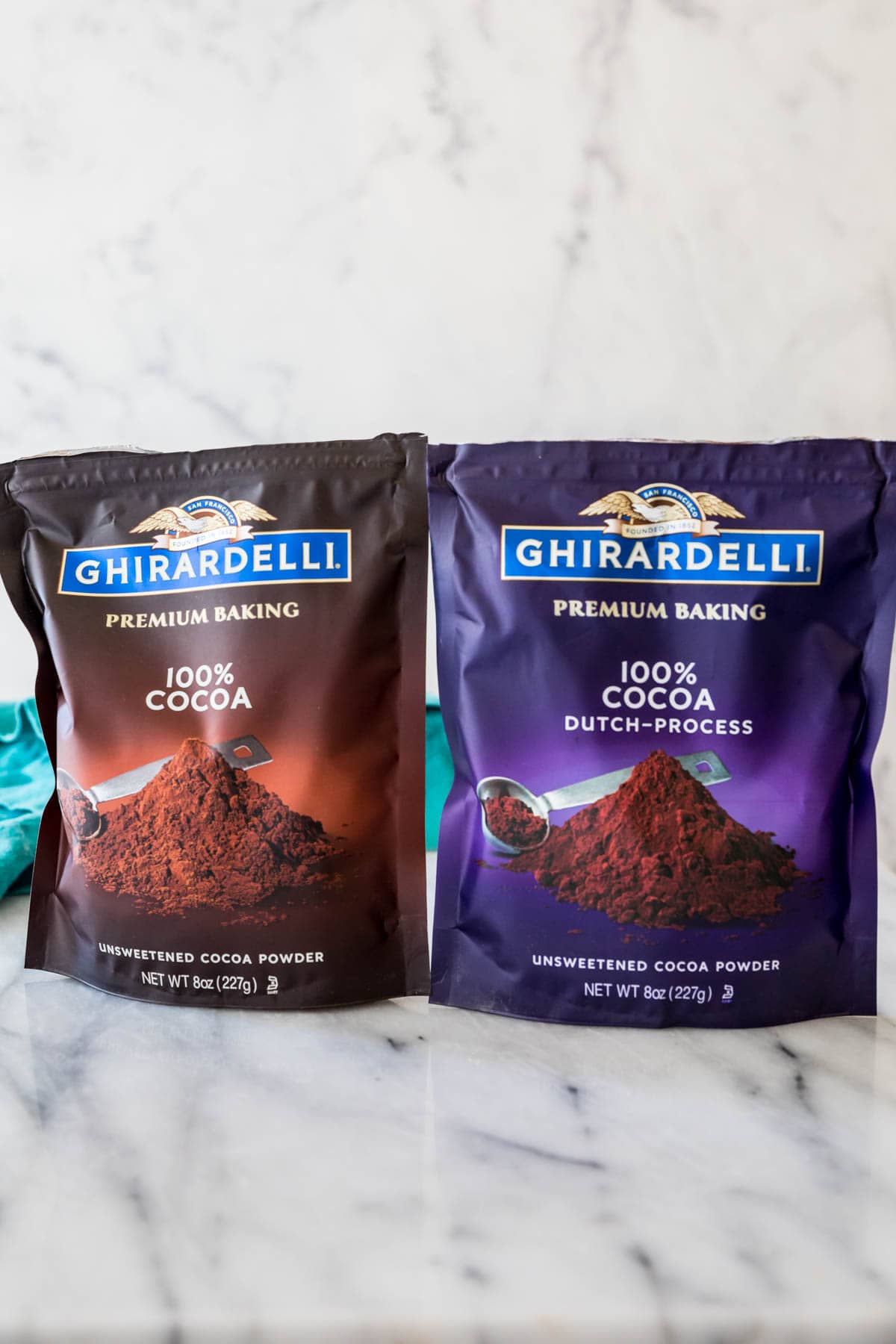 If your recipe doesn't use baking powder or baking soda, like chocolate pudding, hot cocoa, brownies, or chocolate sauce, then yes, you can use whichever you like.
If your recipe does contain baking powder or baking soda, you have to be careful. I talk about the science behind using baking powder vs. baking soda in a separate post, so I won't go into too much detail here. The main thing you need to focus on is acidity and alkalinity.

Natural cocoa powder is acidic, while Dutch cocoa powder is alkaline. Both have their place in recipes, depending on which leavening agent the recipe uses. Recipes that use baking soda typically use natural cocoa powder, because baking soda needs an acid to do its job. In this scenario, you typically cannot substitute Dutch process for natural cocoa, as the recipe likely relies on an acidic natural cocoa powder for proper rise and flavor.
Recipes that use baking powder typically use Dutch process cocoa, because baking powder already contains its own acid and pairs well with an alkaline Dutch cocoa. Despite this, you'll sometimes see natural cocoa in these recipes, but they'll usually include some baking soda too. Natural cocoa could leave you with a bitter or tangy result if not fully neutralized by the leavening agent/agents.
Generally, you should stick with whatever the recipe calls for. There are ways to substitute one cocoa powder for the other, but not without some tweaking of the leavening agents.
SAM'S TIP: If a recipe doesn't indicate which cocoa to use (many old recipes just say "cocoa") you're better off sticking with natural cocoa. Dutch process cocoa wasn't easily accessible until the mid to late 20th century, so recipes created before that time are likely using natural cocoa.
Frequently Asked Questions
How do you "bloom" cocoa and why should you do it?
Some recipes, like my chocolate cupcakes and cheesecake stuffed chocolate cake, call for an additional step to bloom the cocoa powder. This involves combining the cocoa powder and a hot liquid, typically either hot water or hot coffee. Like with tea leaves or coffee grounds, hot liquid extracts the flavor from the cocoa powder, making it richer and more flavorful. Blooming your cocoa can make a BIG difference in the flavor of your dessert, so don't skip it!
What's the best way to store cocoa powder?
No matter the type, you should store your cocoa powder in a cool, dry, dark place away from any humidity or heat. It will last for roughly two years this way. Do not store it in the fridge or above your stove!
How do I use "sweetened" cocoa powder?
Several people have asked me if they can use "sweetened" cocoa powder in my recipes. To my knowledge, all cocoa powders are unsweetened. I think these people may be referring to powdered hot cocoa mix, which I don't recommend substituting for cocoa powder in any scenario.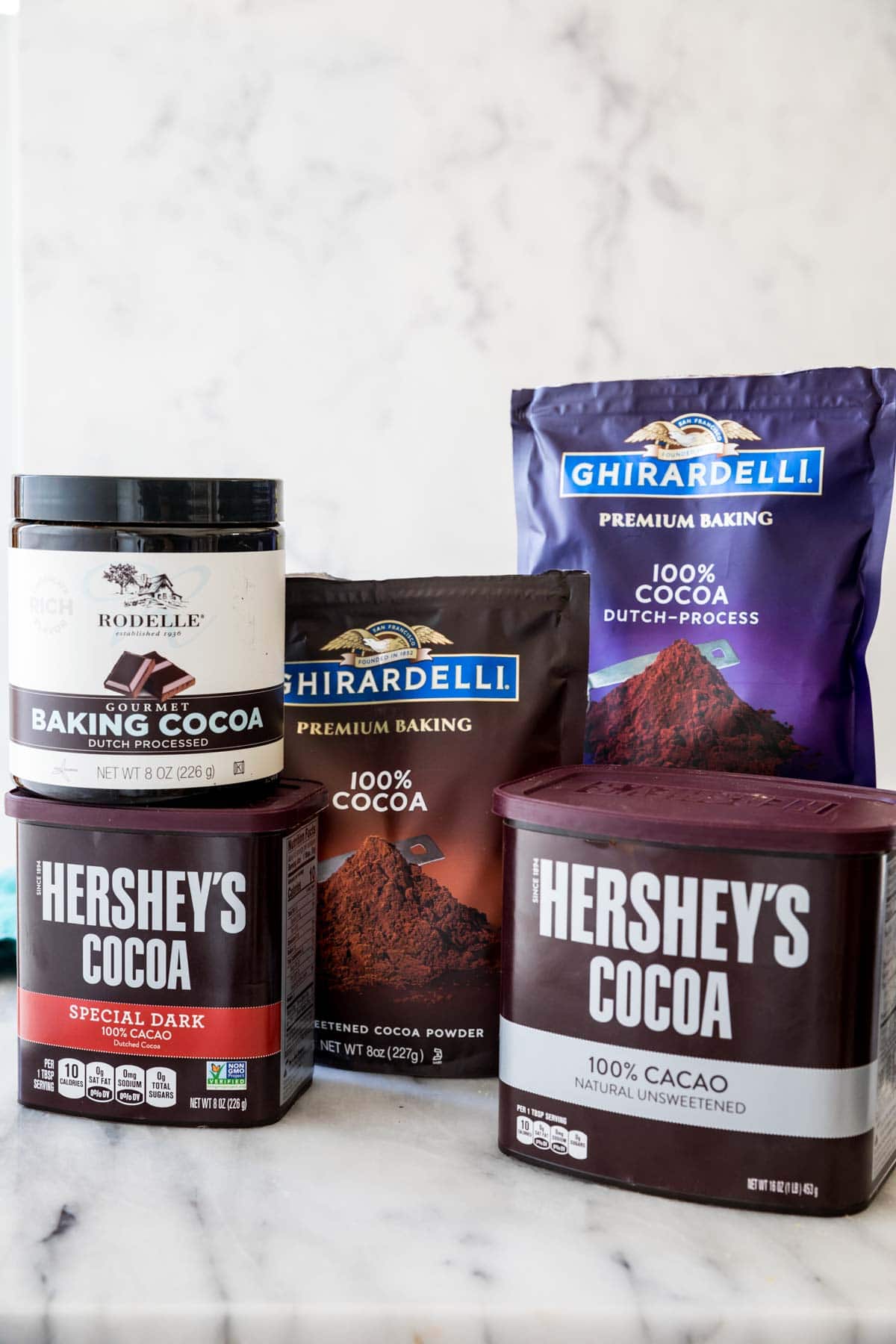 I hope this was helpful. If you'd like to see more posts like these, let me know in the comments!
Let's bake together! Find on Instagram, and you can also find me on YouTube and Facebook.
Related Recipes