The ultimate gourmet-style cookies, these Nutella stuffed cookies are made with browned butter, flecked with semisweet chocolate, lightly sprinkled with sea salt, and most importantly, bursting with a molten core of Nutella!  Despite their gourmet-status and ingredients, they're actually quite simple to make, and if you've never made browned butter before I'll walk you through all of the steps in detail in the recipe!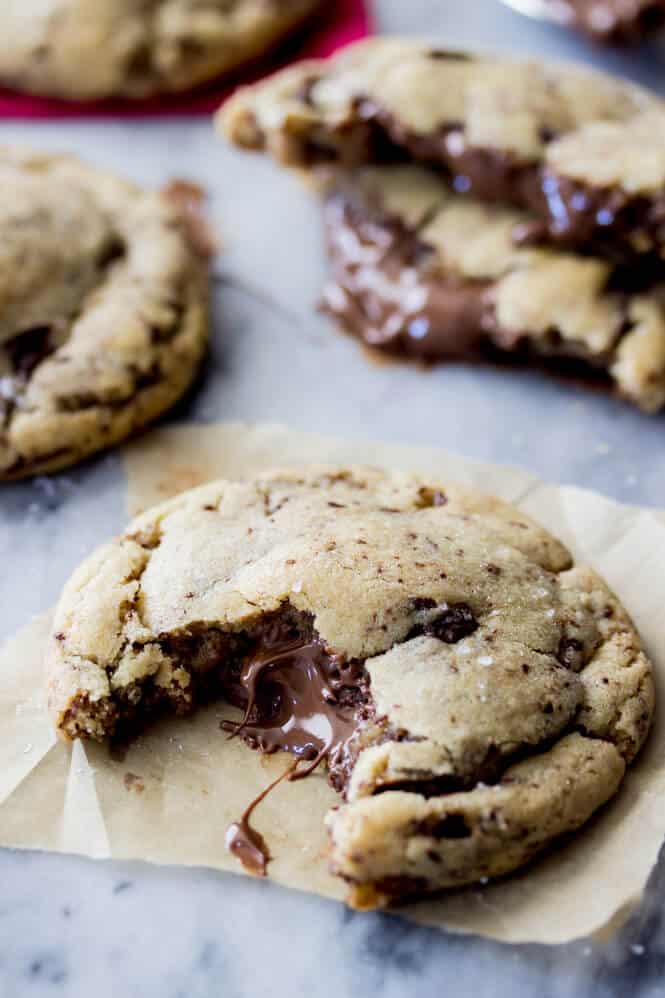 I don't like to think of myself as a bragger (braggart?  I've thought about this for too long and the word is starting to lose all meaning to me).
I'm proud, sure, of many of my recipes and this little space that I've created, and I can get full-on impassioned when talking about egg yolks and butter and the importance of keeping a thermometer (or two) in your oven at all times.
But I don't really like to boast about my recipes.  Sure, here I talk about their best qualities, but in the real world it's more of a "I thought this was good, and I hope you like it too", and let the cookie/cake/etc. speak for itself.
But I have been full out bragging about these cookies.  Everything short of stopping people in the halls of the hospital where I work and telling them about "these amazing Nutella stuffed cookies that I made".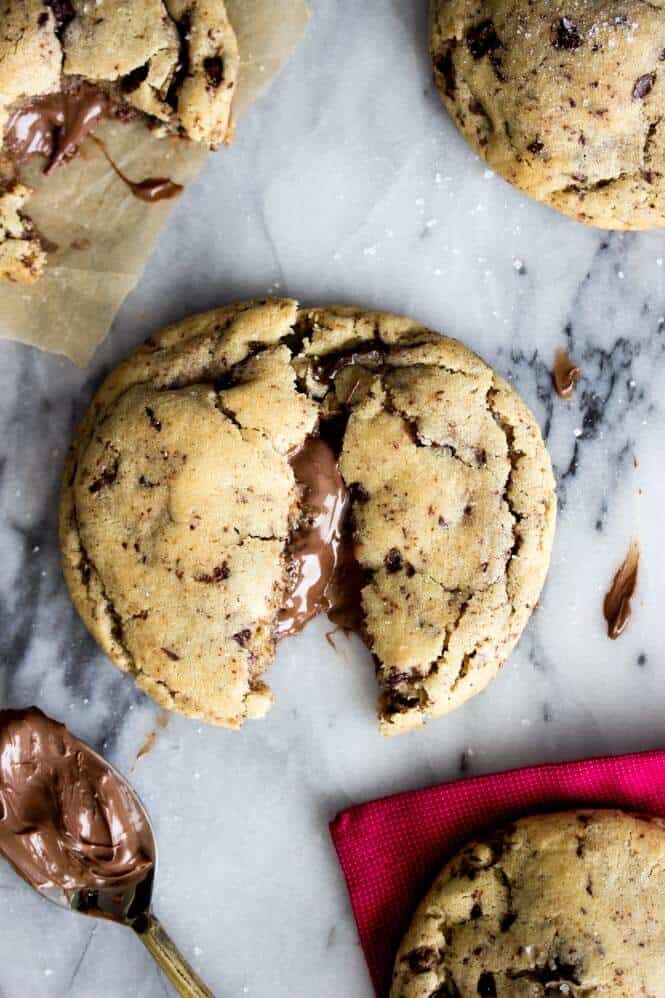 Maybe cutting drastically back on the amount of sugar that I'm consuming during Lent has sent my brain into a cookie-obsessed frenzy, but I'm full-on crazy about these Nutella-stuffed cookies, and I want everyone to try them.
They're actually a Frankenstein of a cookie driven together by my newfound love of browned butter cookie dough (I used nearly the same exact dough in Friday's recipe, shhh) and merged that with my love of stuffing desserts inside other desserts, and the half-empty jar of Nutella left over after making a video of these Nutella brownies.  Rather than finish off the Nutella spoonful by shameful spoonful, I opted to instead stuff it inside my recent favorite cookie dough for these Nutella stuffed cookies.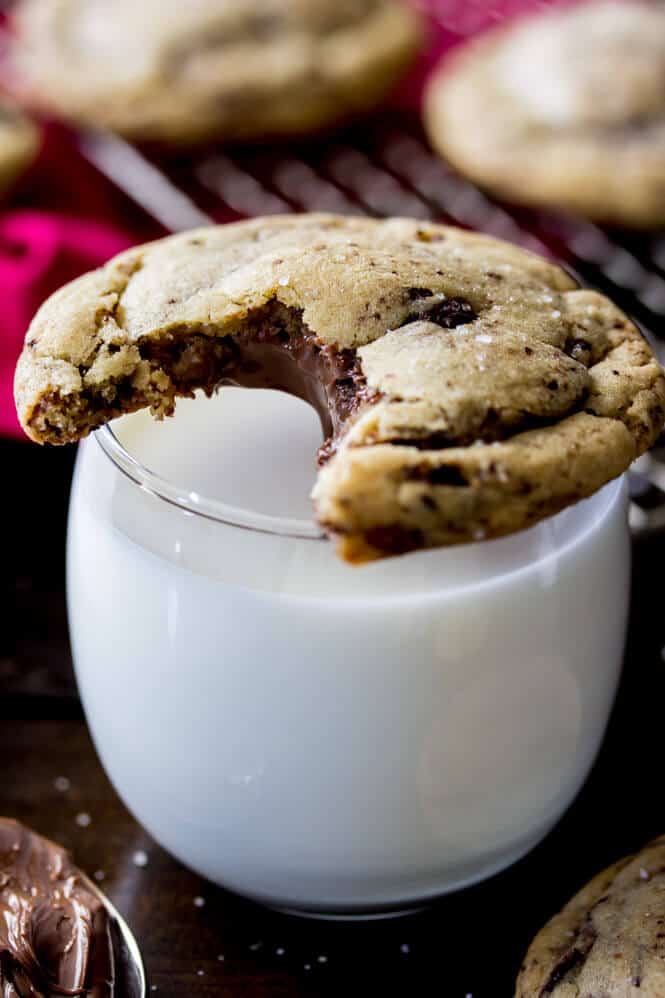 Part of me wanted to wait a while before sharing this recipe since, as I mentioned, the base cookie dough was just used in my last recipe, but there was no waiting with these.  I felt that it was my duty to the universe to release this recipe as soon as humanly possible, and so here we are 😉
Soft cookies flecked with real chocolate, infused with the golden browned butter in every delectable bite, and centers filled with sweet molten Nutella.  There was no waiting with this recipe.
I've already talked here and here (and about a half dozen other places on the blog) about the joys of baking with browned butter.
If you haven't browned butter yourself yet, that's going to have to change because it is essential for the best possible cookie dough and flavor, and ultimate Nutella stuffed cookies.  It's amazing how such a simple technique can take a standard cookie dough and transform it into something amazing, but it can!
For those of you a little leery of toasting your butter, I include detailed notes and a photo in the recipe to make the process as smooth as possible.  Just remember to not take your eyes off of it, because the second you turn your back it's bound to burn.
Rather than use chocolate chips in this recipe, I opted for a single 4-oz bar of semisweet baking chocolate.  I chopped it very finely so that there would be a bit in every bite without being overwhelming when paired with the chocolate flavor of the Nutella.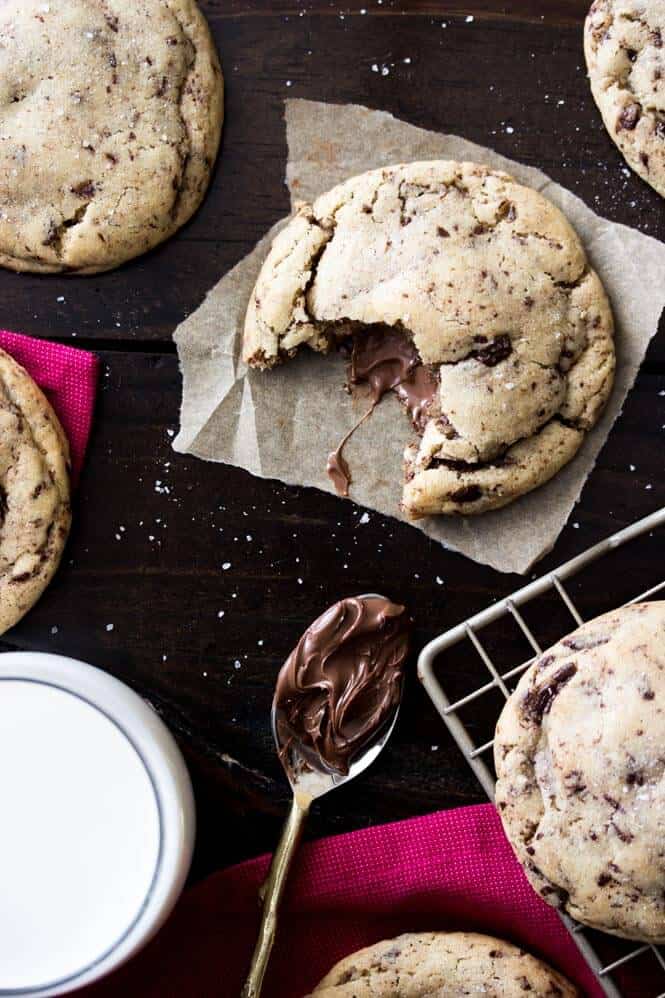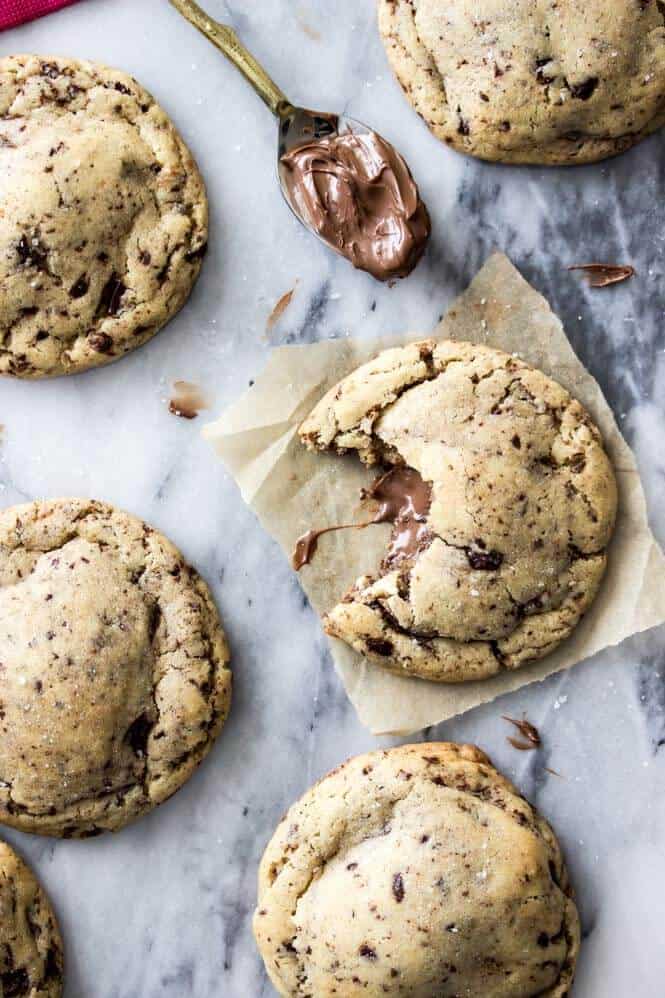 Enjoy!
And P.S.
If you live in my neighborhood you're more than likely very aware that there's a giant snowstorm headed our way tomorrow, and the likelihood of a snow day is strong.  Do yourself a favor and skip the milk, toilet paper, and bread, and stock up on butter, Nutella and sea salt.
I can't think of a better way to pass a snow day than with a batch of Nutella stuffed cookies (sure beats shoveling!).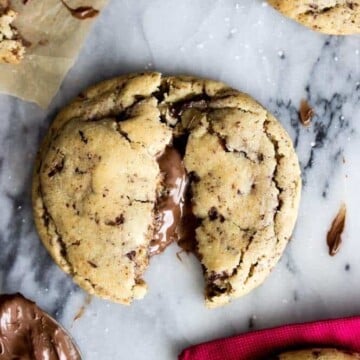 Nutella Stuffed Cookies
Gourmet-style Nutella stuffed cookies, made with browned butter and sprinkled with sea salt.
Print
Pin
Rate
Servings:
20
large cookies
Ingredients
1

cup

unsalted butter

(226g)

1

cup

Nutella

(280g)

1

cup

brown sugar

(200g)

⅔

cup

white sugar

(135g)

2

eggs room temperature preferred

1 ½

teaspoon

vanilla extract

2 ¾

cups + 2 Tbsp

all-purpose flour

(362g)

2

teaspoon

cornstarch

cornflour in UK

1

teaspoon

baking powder

1

teaspoon

baking soda

¾

teaspoon

salt

4

oz

semisweet chocolate bar

very finely chopped (113g)

sea salt

for sprinkling
Instructions
To Brown the Butter (It's easy, I promise!)
Prepare your Nutella filling first by lining a cookie sheet with wax paper and dropping Nutella by 2 teaspoon-sized dollops onto cookie sheet. Place in freezer to harden while you prepare your cookie dough.

Cut your butter into Tablespoon-sized pieces and place in a medium-sized saucepan. Melt over medium-low heat.

Once butter has melted, increase heat to just above medium heat.

Swirl and scrape the sides of the pan frequently with a wooden spoon or heatproof spatula - the butter will bubble and pop. Once the bubbling/popping slows, the butter will begin to turn brown, it will look like this once it's finished:

Watch the butter very carefully at this point, and once it begins to brown and you smell the nutty aroma of browned butter, remove from heat quickly and pour into a large, heatproof bowl.

Allow butter to cool for 25-30 minutes before proceeding with the recipe.
For the Cookie Dough
Preheat oven to 375F (190C) and line cookie sheets with parchment paper. Set aside.

Add sugars into cooled browned butter, stir well.

Stir in eggs, one at a time, stirring well after each addition.

Add vanilla extract and stir.

In a separate, medium-sized bowl, whisk together flour, cornstarch, baking powder, baking soda and salt.

Gradually add flour mixture to butter mixture, stirring until ingredients are completely combined.

Add your finely chopped chocolate bar and stir well.

Chill dough in refrigerator for 15-20 minutes.

Remove frozen Nutella from freezer and cookie dough from refrigerator (if at any point the Nutella becomes too sticky and hard to work with, return to freezer for at least 5-10 minutes)

Scoop dough by heaping 1 ½ Tbsp-sized spoonful and press frozen Nutella dollop into the center. Form around Nutella until it is completely concealed (add more dough as needed).  

Roll into an even ball and place on a wax-paper lined sheet. Repeat until all Nutella dollops are concealed in cookie dough, and freeze cookie dough balls for 15 minutes.

Place cookie dough at least 2 inches apart on parchment paper-lined sheet, and bake on 375F (190C) for 12-13 minutes, or until edges are just beginning to turn golden brown.

Sprinkle immediately with sea salt. Allow cookies to cool completely on cookie sheet before removing (they'll be quite fragile when warm, but will become more sturdy as they cool).
Nutrition
Serving:
1
cookie
|
Calories:
395
kcal
|
Carbohydrates:
56
g
|
Protein:
5
g
|
Fat:
17
g
|
Saturated Fat:
12
g
|
Cholesterol:
41
mg
|
Sodium:
160
mg
|
Potassium:
173
mg
|
Fiber:
2
g
|
Sugar:
28
g
|
Vitamin A:
310
IU
|
Calcium:
48
mg
|
Iron:
3
mg
Nutritional information is based on third-party calculations and should be considered an estimate only. Actual nutritional content will vary based upon brands used, measuring methods, cooking method, portion sizes, and more.
You Might Also Like:
Peanut Butter Cup Stuffed Cookies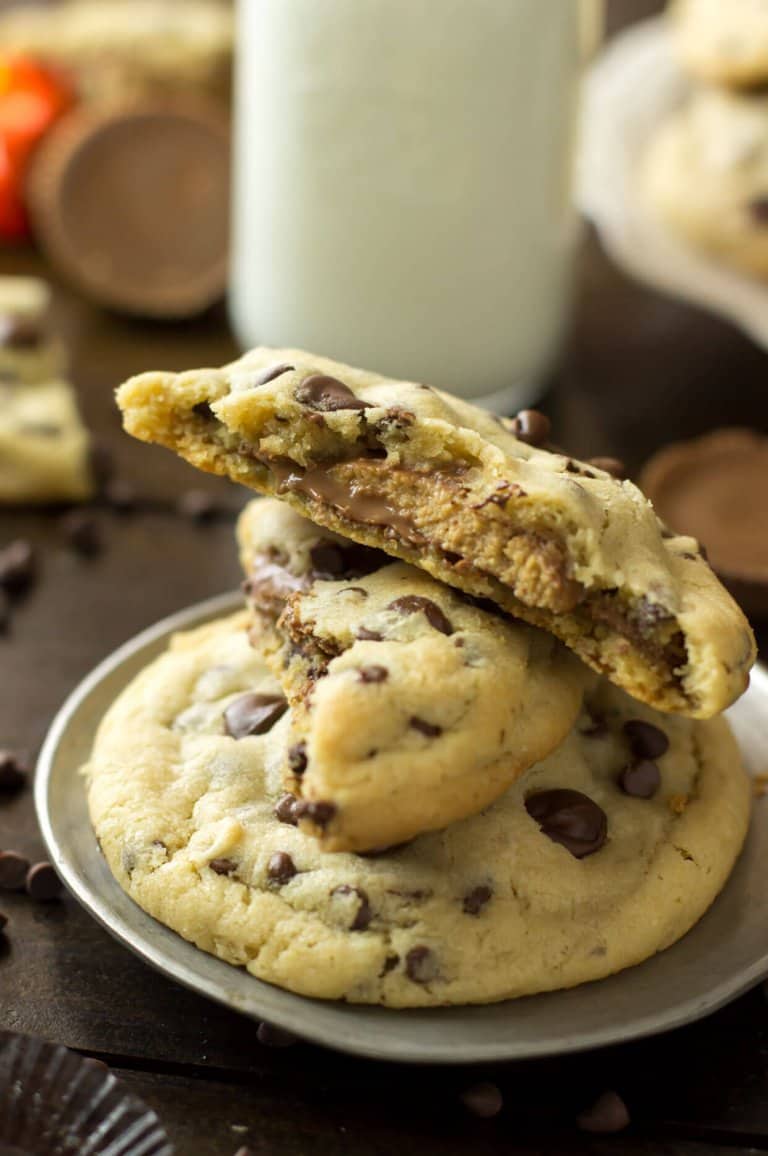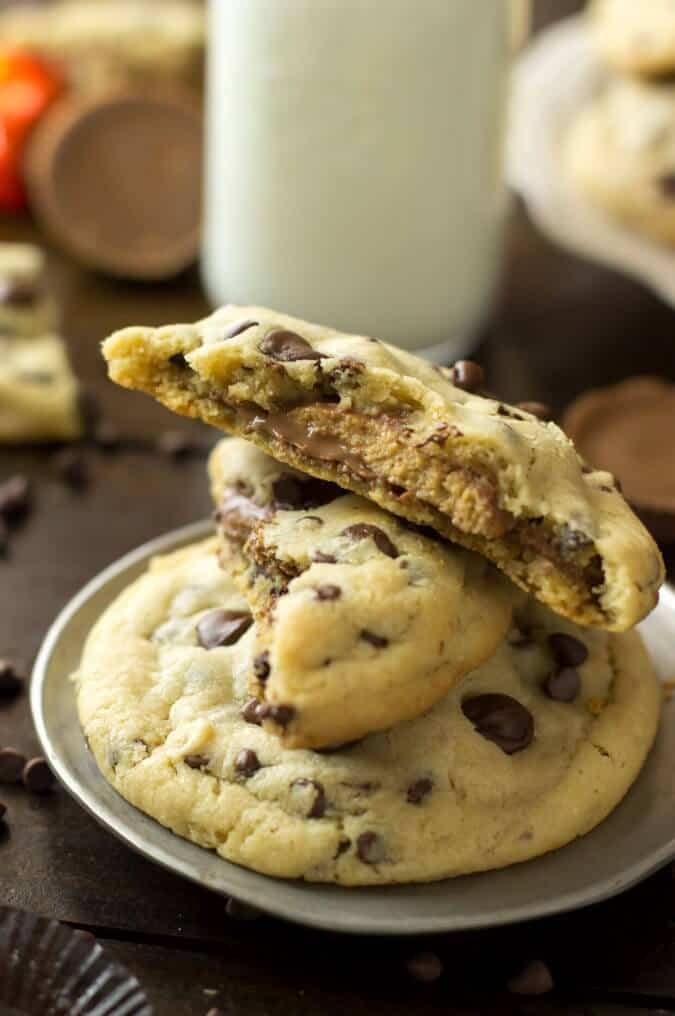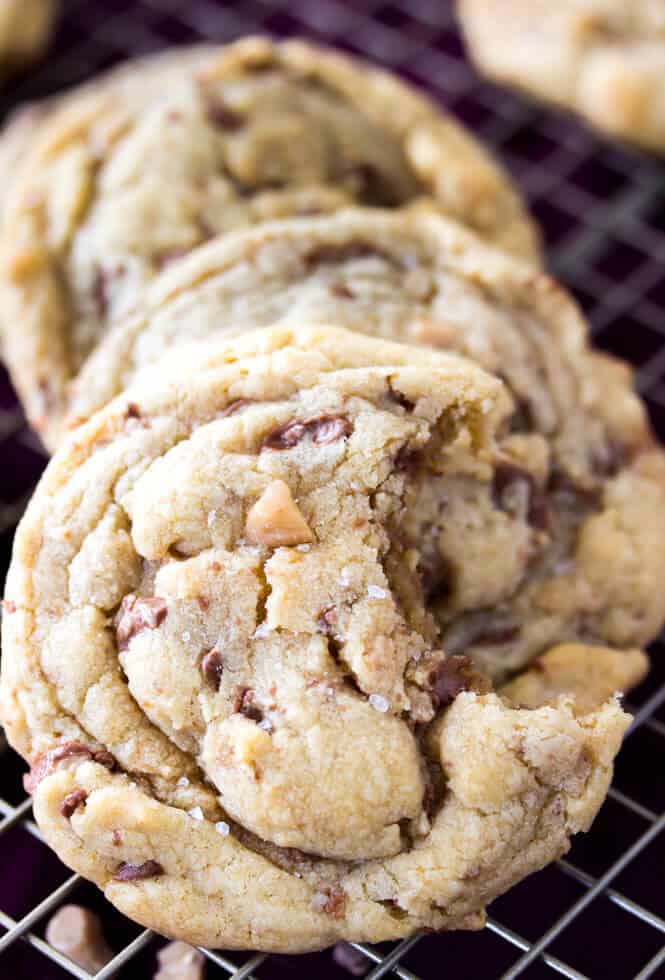 Funfetti Filled Chocolate Chip Cookies