I've got breakfast covered today with these classic Buttermilk Pancakes — made completely from scratch!  These pancakes are thick, fluffy and are so easy to make!  Try them out for yourself and you'll never be satisfied with pancakes out of a box again!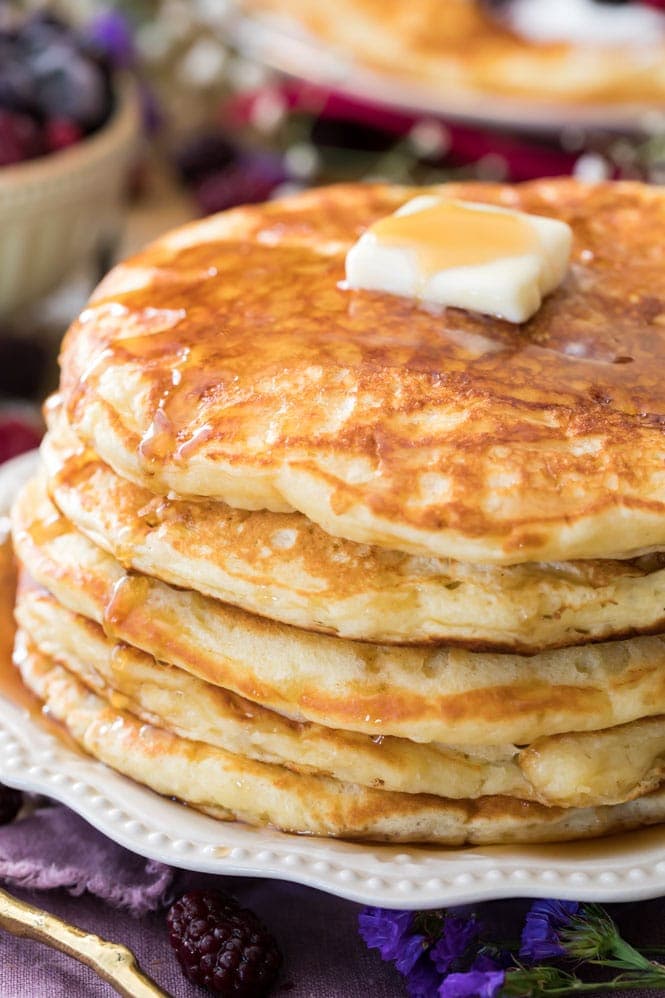 One of the biggest benefits of being homeschooled growing up was that most mornings I could count on having my math problems interrupted by a giant stack of freshly cooked, completely from scratch, buttermilk pancakes.
While my mom had pretty strict routines in place for the school day, my sisters and I could usually beg a batch or two of pancakes from her, and while there was often syrup smeared on my worksheets, I've never enjoyed math more.
The pancakes that my mom made were never, ever, from a box, and so I got a little bit spoiled, until Zach and I got married and he brought a box of pancake mix home from the grocery store.  I didn't think anything of it until I bit into my first "pancake" and couldn't even finish my plate.
I'm pretty sure that box is still buried back in the pantry somewhere (over three years later), because it's only been from-scratch buttermilk pancakes in our house since then.
Honestly, the box mix is so unnecessary once you realize how simple pancakes are to make from scratch (and the improved taste is definitely worth the minimal extra effort!).  Today, I want to share my favorite recipe for easy buttermilk pancakes.  They're incredibly simple to make and I even have instructions on how to make them if you don't actually have real buttermilk on hand.
These pancakes are fat, fluffy, and despite many similarities in how they are made they are quite different from the paper-thin crepes recipe that I shared not too long ago, so grab your skillet and read on for my tips for fool-proof buttermilk pancakes.
Tips for Making Perfect Buttermilk Pancakes from Scratch
Room temperature ingredients are best!  I understand that not everyone has time to wait around for over 2 cups of buttermilk to come to room temperature and you can make this recipe with milk and eggs out of the fridge, but as with many of my baked goods (I know we talked about this with my vanilla cake) room temperature ingredients yield the best results.
Do not over-mix your pancake batter — I can not overstate how important this is.  The best way to make these pancakes is to thoroughly whisk your dry ingredients in one bowl and your liquid ones in another and then gently combine the two until just combined.  A few flour streaks remaining in the batter is actually a good thing!
I recommend using a non-stick skillet, if you have one, just because they are so easy.  If you don't have one, a stainless or even cast iron pan will absolutely work, just be sure to spray or grease the pan between batches so they don't stick.
Stay with a medium-low heat while cooking.  I usually recommend doing a single test pancake first, just to make sure you have your heat right.  A heat that is too high will yield pancakes with burnt exteriors and raw centers, and that's just sad ☹️
Buttermilk pancakes are best served while still warm. I have found that these just don't keep very well once they've cooled, so enjoy your pancakes hot out of the skillet for best results ☺️
Can I make buttermilk pancakes without buttermilk?  Actually, you can!  Read on below for more information on how.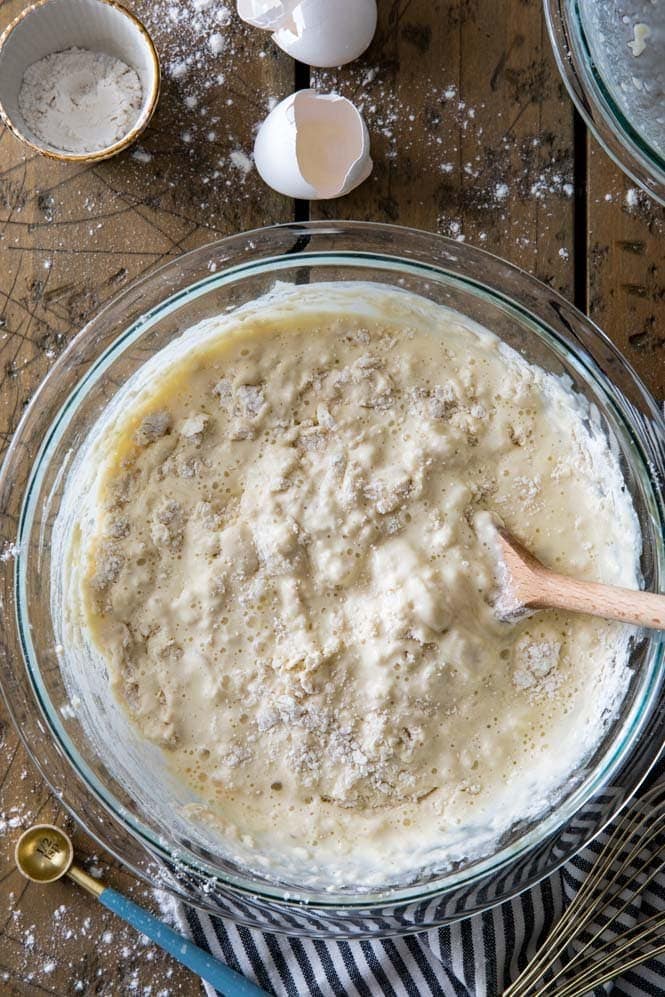 What is the Purpose of Buttermilk in Pancakes?
When combined with the baking soda, it gives the pancakes a nice lift, making them thick and fluffy.  The buttermilk also gives these pancakes a great flavor, a very subtle tang that's typical of a classic buttermilk pancake!
Can You Substitute Regular Milk for Buttermilk in Pancakes?
Yes  — IF you also have lemon juice or white vinegar on hand.  Use my buttermilk substitute recipe and you'll be good to go with regular milk!  This will react with the baking soda/baking powder the same way that buttermilk would, giving you fantastically fluffy buttermilk pancakes!
Can I Add Blueberries/Chocolate Chips/Etc. to My Buttermilk Pancakes?
Absolutely!  You can add up to a cup of add-ins to your buttermilk pancake batter, but keep in mind that because you want to avoid over-mixing your batter, it is best to fold them in when your flour is halfway incorporated rather than waiting until you've already mostly combined your wet and dry ingredients.
Alright, I think that pretty much covers it! I hope you'll try these out and let me know what you think!!
Enjoy!
How to Make Buttermilk Pancakes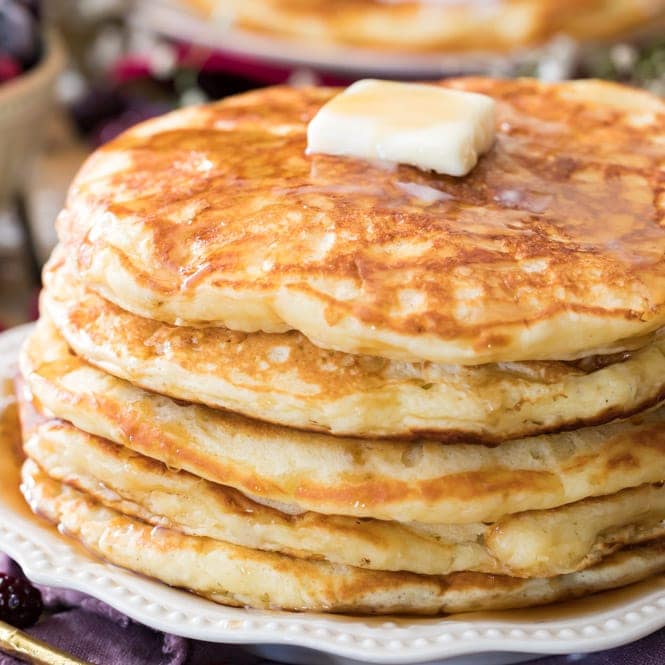 Ingredients
2

cups

all-purpose flour

(250g)

3

tablespoons

sugar

2

teaspoons

baking powder

1/2

teaspoon

baking soda

1/2

teaspoon

salt

2 1/4

cups

buttermilk

(530ml)

2

large

eggs

lightly beaten, room temperature preferred

1

teaspoon

vanilla extract

4

Tablespoons

unsalted butter

melted and cooled (57g)
Instructions
In a large bowl, whisk together flour, sugar, baking powder, baking soda, and salt, until well-combined.

In a separate, medium-sized bowl, whisk together buttermilk,, eggs, and vanilla extract.

Take your melted butter and slowly drizzle it into your wet ingredients while whisking, stirring until well-combined (the butter may separate and curdle if your other ingredients are cold, this is OK, just whisk to combine).

Pour wet ingredients into dry ingredients and use a wooden spoon to stir until just combined -- do not overmix your pancake batter or it will be flat. Use a light hand when stirring, and a few flour streaks in the batter are fine.

Spray a non-stick skillet with cooking spray or lightly brush with canola oil and place on burner on medium-low heat.

Allow skillet to preheat before adding batter (about 5 minutes, it's good for your pancake batter to sit several minutes as well, which is why you prepared that before preheating your pan), and once skillet is heated (I usually test this by hovering my hand several inches above the pan and making sure I can feel the heat emanating from it) scoop pancake batter into pan (I use about 1/2-2/3 cup of batter per pancake).

Allow pancake to cook until edges begin to appear cooked and bubbles in batter begin to burst. Using a pancake spatula, carefully flip pancake and continue to cook several more minutes until pancake is golden brown.

Repeat until all batter is used -- I recommend spraying or brushing the pan between each batch of pancakes.

Serve warm.
Nutrition
Serving:
1
8" pancake
|
Calories:
240
kcal