The easiest ever salted caramel sauce, made from scratch on the stove-top in five minutes, no candy thermometer required.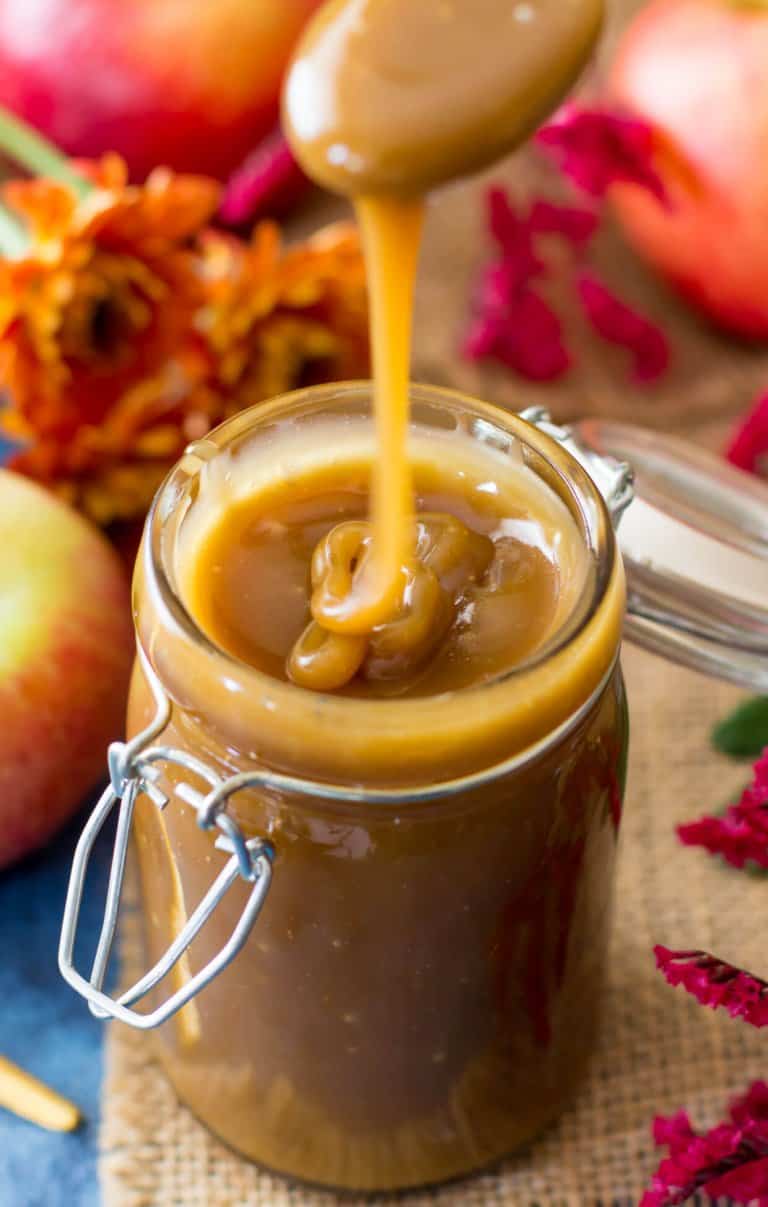 Happy Halloween!
I trust that you have your costumes and candy bars at the ready (complete with a small stash of candy bars in the back of your pantry that you "forgot" to put out for the trick-or-treaters), or maybe a scary movie queued up in Netflix if you're staying in tonight.
I don't have any candy recipes for you today (don't forget about this one for any extra Reese's you have, though), but I have something that I think might actually be better than candy…
Homemade Salted Caramel Sauce.  This stuff is liquid gold.
I've made caramel sauce several times over the past year and a half, modifying the recipe slightly to suit whatever recipe I was incorporating it into, but I decided it was about time Sugar Spun Run have its own, stand-alone salted caramel sauce (rather than re-writing the recipe every time I want to use it).
It took me a while to perfect this recipe, my first two versions were too thin (fixed by the addition of corn syrup) and I had to play around with the sea salt amounts, but it is finally, perfectly, finished.
What I really love about this recipe is how easy it is.
Six ingredients that you probably already have on hand.  No candy thermometer (but use a timer to make sure that you boil the ingredients for no more and no less than two minutes, as the recipe specifies), just simple instructions that yield magnificent salted caramel sauce every single time.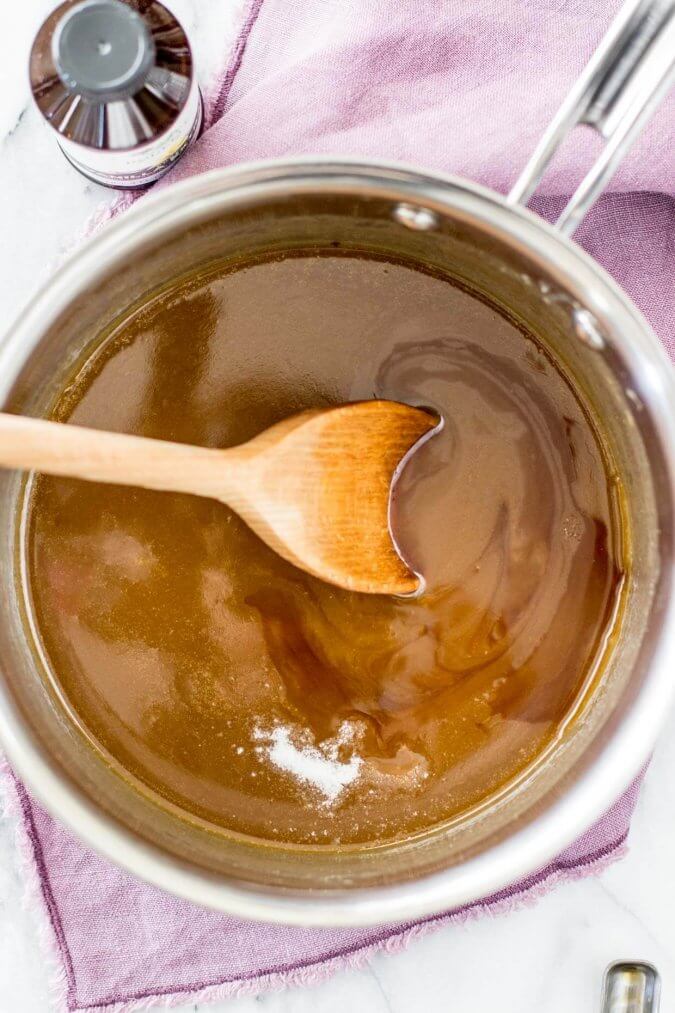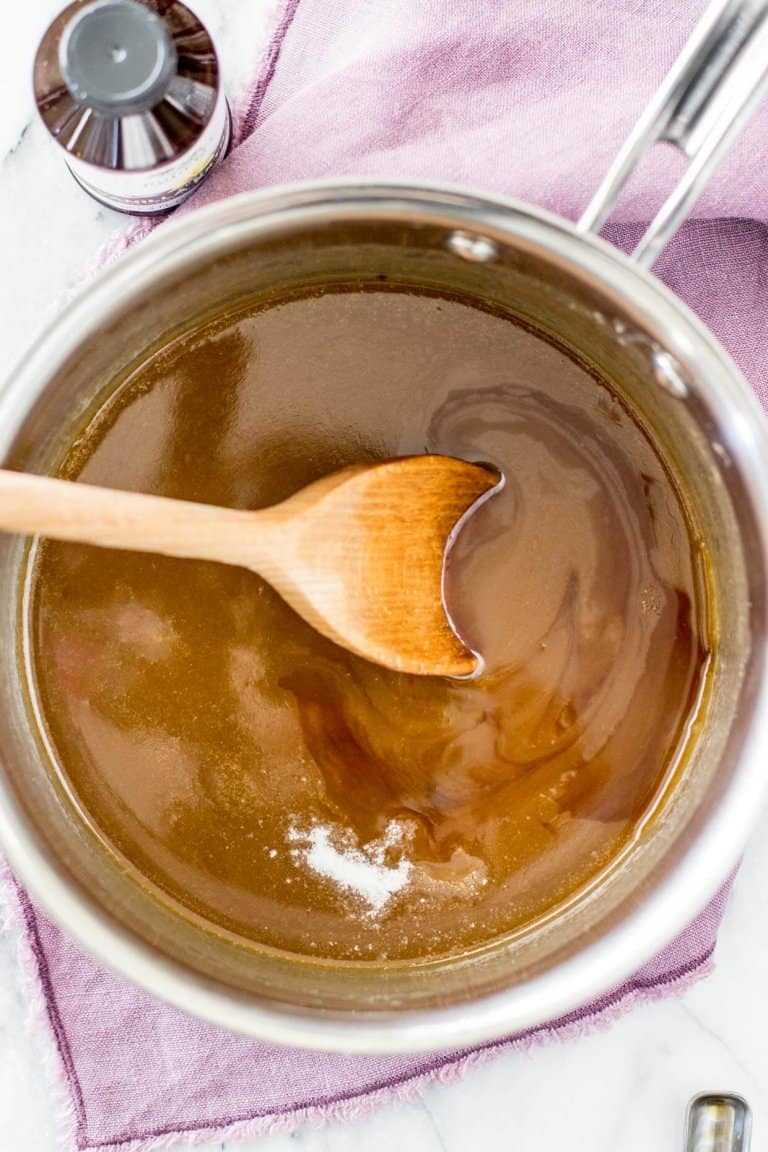 Now, technically speaking, caramel sauce isn't traditionally made using brown sugar (toffee sauce and butterscotch are), but we are using brown sugar here, anyway.  By using brown sugar we can simplify and expedite the caramel making process, bringing you a rich and creamy caramel sauce in under 15 minutes.
Use it for dipping apples, drizzling over ice cream or apple pie, or just eating spoonful by sticky golden spoonful.
Enjoy, and Happy Halloween!
Quick & Easy Salted Caramel Sauce
Makes 1 cup salted caramel sauce
Ingredients
1

cup

light brown sugar

tightly packed (200 g)

8

Tablespoons

unsalted butter

cut into 8-10 pieces (113 g)

1/2

cup

heavy cream

(118 ml)

2

Tablespoons

light corn syrup

1

teaspoon

vanilla extract

3/4

teaspoon

finely crushed sea salt
Instructions
Combine brown sugar, butter, heavy cream and corn syrup in a medium-sized saucepan over medium-low heat.

Stir frequently until butter is completely melted.

Increase heat to medium-high and stir constantly until mixture comes to a full boil.

Boil for two minutes (use a timer) stirring constantly and then remove mixture from heat.

Continue to stir so that the caramel doesn't burn and add in your sea salt. Stir until the bubbling stops and the mixture is smooth.

Allow caramel to cool for 5 minutes, then add vanilla extract. Stir well.

Allow caramel to cool for about 20-30 minutes, it's best served when still warm, but you can store it in your refrigerator in a heatproof container and reheat as needed. Enjoy!
Nutrition Facts
Quick & Easy Salted Caramel Sauce
Amount Per Serving
Calories 175
* Percent Daily Values are based on a 2000 calorie diet.
PIN IT:
Now that you've got your salted caramel, here are some great ways to use it!
Dark Chocolate Covered Salted Caramel Buttercreams