Soft and fluffy, studded with sweet plump blueberries and slightly sugared tops, these are my favorite blueberry muffins — made completely from scratch!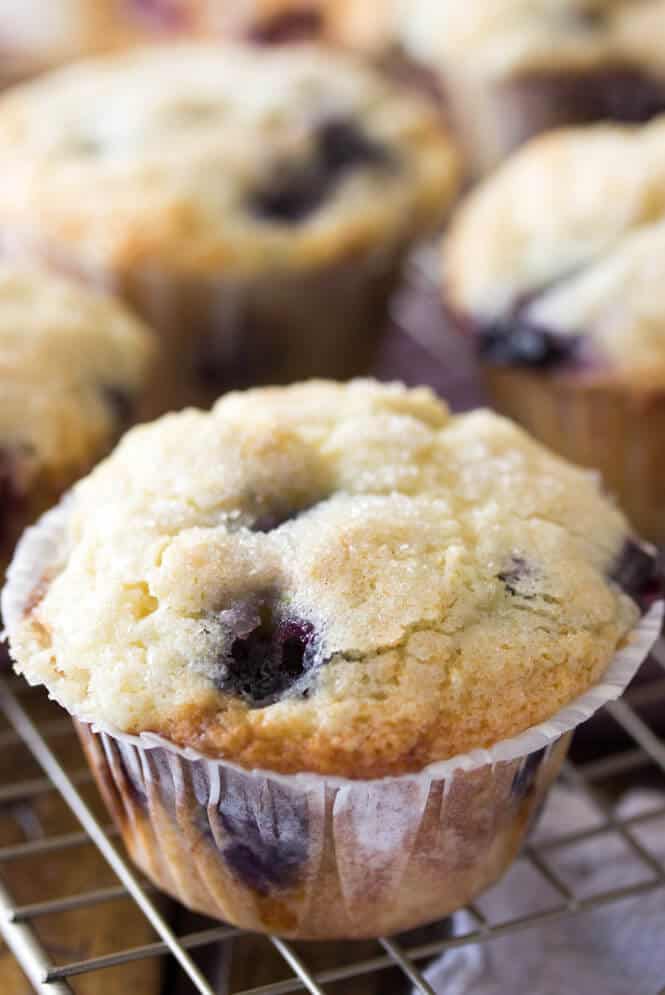 "I need a recipe for a good blueberry muffin".
The request has come to me through e-mail, through the comments section, and from the mouths of family members, and I always do one of two things (actually, I usually do both).
First, I refer them to the blueberry muffin recipe that I already do have on my site, though it's not exactly traditional.  It's this one, concealing a molten cheesecake filling (!) and covered with a buttery streusel topping.  It's a blissfully decadent, breakfast muffin, but it's not your standard bakery muffin.  And, as I tell people, I can't really vouch for the muffin's success without the filling because I've never tried it that way (because… cheesecake!).
Then, I suggest my chocolate chip muffins.  "Just substitute the chocolate chips for blueberries".  This seems to work the best, and I love it when I receive follow-up e-mails telling me so.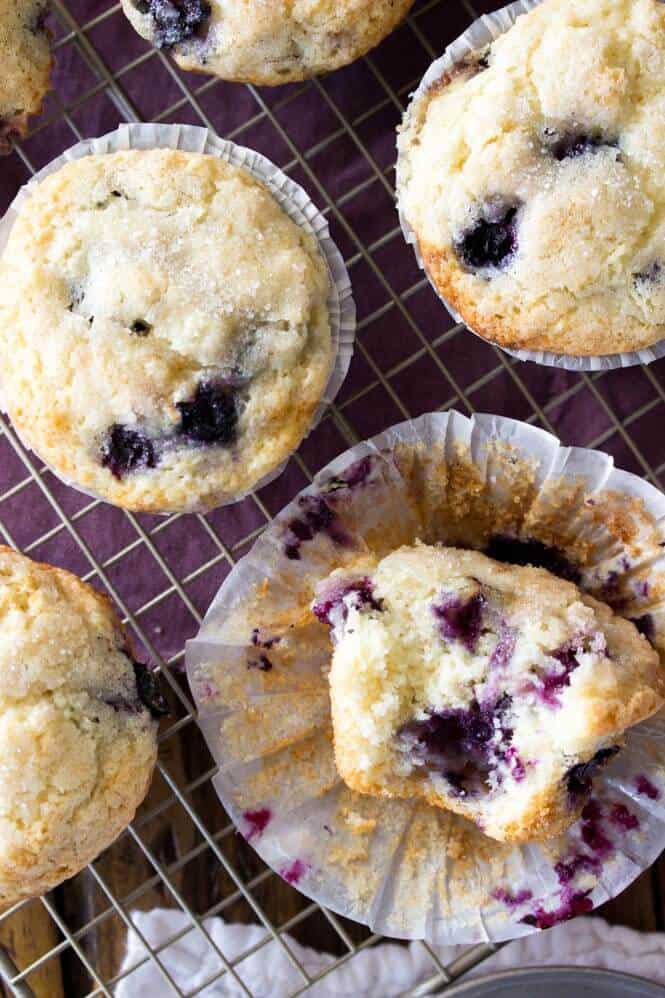 It felt like kind of a cheat to re-publish a recipe already on my site, just substituting blueberries for chocolate chips, but I've gotten enough requests now that I felt these blueberry muffins deserved their own post.
I made a teeny change — so many people have expressed that they love a touch of lemon flavor with their muffins, and so I suggest a small amount of lemon extract in the recipe below, but other than that it's my same favorite muffin recipe.
Something to note about the type of blueberries that you choose — you can use fresh or frozen (I used frozen for these) but if you choose frozen make sure you pay attention to the kind you select.
Wild blueberries, I have learned, are so named for their tendency to colorfully streak through your muffins like a freshman frat boy  at his first house party.
The muffins will still taste great, they'll just be mostly purple, so if you're not looking for the extra touch of color, skip the "wild".
Enjoy!
Blueberry Muffins || Sugar Spun Run
Soft and fluffy, studded with sweat plump blueberries and slightly sugared tops, these are my favorite blueberry muffins.
Ingredients
4

Tablespoons

unsalted butter melted and cooled at least 5 minutes

57g

¼

cup

canola oil may substitute vegetable oil

60ml

1

cup

sugar

200g (granulated sugar)

1

large egg + 1 egg white

room temperature preferred

1 1/2

teaspoon

vanilla extract

1/4

teaspoon

lemon extract

optional

1 3/4

cup

flour 220g

2

teaspoons

baking powder

2

teaspoons

corn starch

(cornflour UK)

½

tsp

salt

1 1/2

cup

blueberries

(210g) I use frozen -- if you use frozen "wild" blueberries the color will bleed and you'll have purple-swirled muffins. Not a bad thing, just a heads up! 😉

1/3

cup

coarse sugar

Or regular granulated (67g)
Instructions
Combine butter and canola oil in a large bowl. Stir well.

Stir in sugar.

Add egg, egg white, and vanilla extract. Stir very well, until all ingredients are thoroughly combined.

Add buttermilk and stir well.

In a separate bowl, whisk together flour, baking powder, corn starch, and salt.

Fold dry ingredients into wet gently, taking care not to overmix. Once about half of the dry ingredients have been combined, add in blueberries and continue to fold in to batter.

Cover bowl with a dry towel and allow batter to sit 15 minutes**

Preheat oven to 425F (218C) and line muffin tin with paper liners.

Once oven has preheated, portion batter into 6-cavity large muffin tin (you may also use regular, 12 count muffin tin, you will just need to bake them for less time), filling each tin all the way to the top with batter (without overflowing).

Sprinkle tops generously with sugar and place muffin tin in preheated oven.

Bake on 425F (218C) for 8 minutes and then reduce the oven temperature to 350 (177C) (do not open the oven door or remove the muffins, just leave them in and reduce the temperature and bake another 12 minutes, or until tops are just beginning to turn golden brown.

Allow to cool, and enjoy!
Recipe Notes
*If you don't happen to have buttermilk, you can use this substitute.
**This is optional, it helps give the muffin tops a higher rise but you can certainly put them straight in the oven without waiting and they'll still taste delicious.  Ideally you would let the batter set at least one hour, but I found 15 minutes gives me a decent rise (the muffins in the photographs were allowed 15 minutes) while still not dragging out the process too much.  
Nutrition Facts
Blueberry Muffins || Sugar Spun Run
Amount Per Serving
Calories 210
* Percent Daily Values are based on a 2000 calorie diet.
Other Muffins to Try!
Bakery Style Chocolate Chip Muffins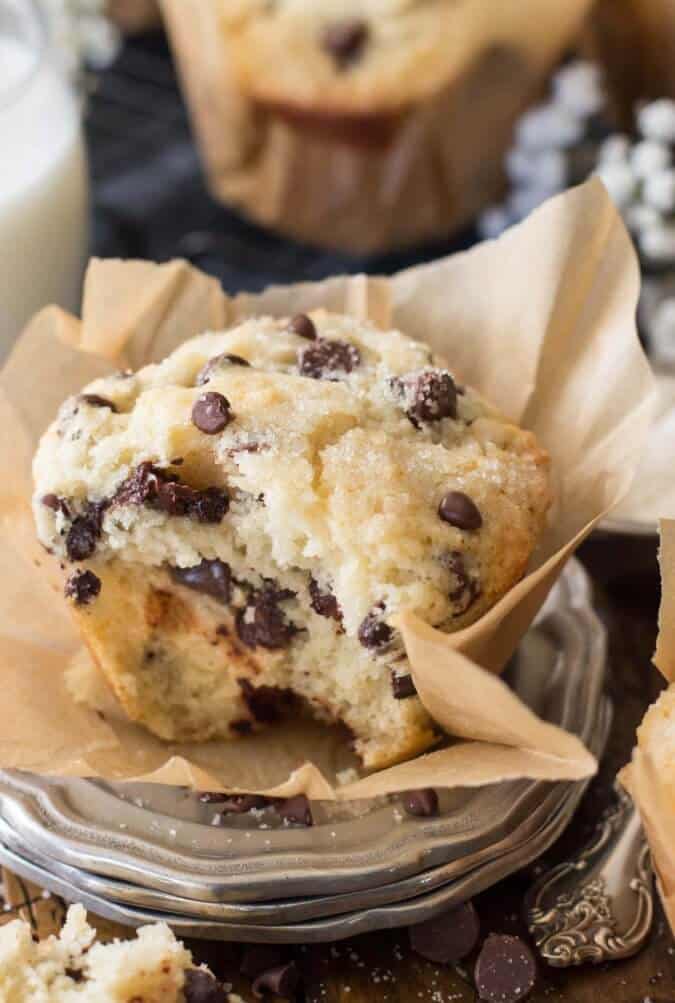 Cream Cheese Filled Blueberry Muffins