An easy, foolproof recipe for how to make Crepes! Today's recipe is simple and uses only a few classic pantry staples for ingredients. I've included instructions for making in either a blender or in a single mixing bowl. Recipe includes a how-to video! 
When you think of simple breakfast recipes, do crepes jump to the front of your mind? I'm guessing probably not.
Despite simply being the thin cousin to practical, good old-fashioned buttermilk pancakes, crepes have a reputation for being a bit more… sophisticated? And therefore a bit more difficult. Maybe it's their French heritage, or maybe I'm the only one who spent years being unnecessarily intimidated by crepes?
Despite my previous and unfounded intimidation, crepes are actually one of the most simple breakfast foods that I've shared yet. They're simpler than pancakes or French Toast and nearly as easy as pouring yourself a bowl of Fruit Loops. Today I'm walking you through the remarkably easy steps for flawless, delicate, golden crepes that absolutely melt in your mouth. You'll be making crepes like a pro in no time.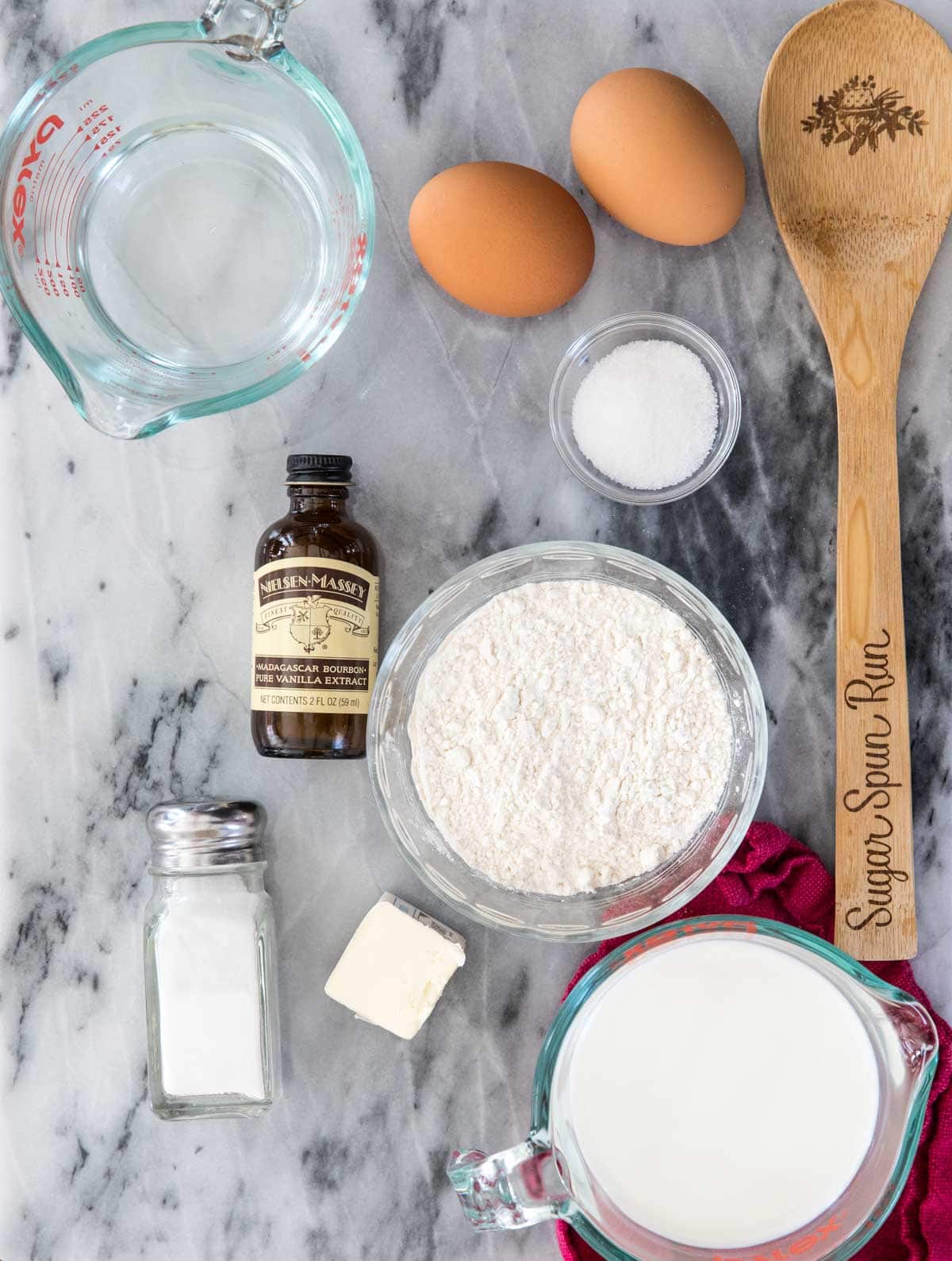 What You Need
Remember I mentioned in my carrot cake recipe earlier this week that I'd be sharing more recipes that use pantry staples? Basic ingredients are all you need here: flour, milk, water, eggs, salt, and butter. If you're making sweet crepes I also recommend using sugar and vanilla extract. Since crepes don't require a leavener (like baking powder or baking soda), they actually use even fewer ingredients than pancakes do.
How to Make Crepes
There are two methods you can use to prepare the batter:
You can use a blender. Toss everything together and pulse until all ingredients are completely combined. This is my favorite way, it's so easy.
Don't have a blender? You can use a mixing bowl. Whisk together your dry ingredients and then make a well in the center. Add some of your milk, your eggs, and the vanilla extract, if you're using it. Whisk ingredients together until smooth, then add the rest of your milk, water, and melted butter and whisk again until smooth. Adding the wet ingredients in parts like this helps ensure a smooth, thoroughly combined batter.
Either way will give you the same results so long as the batter is thoroughly and completely combined and lump-free.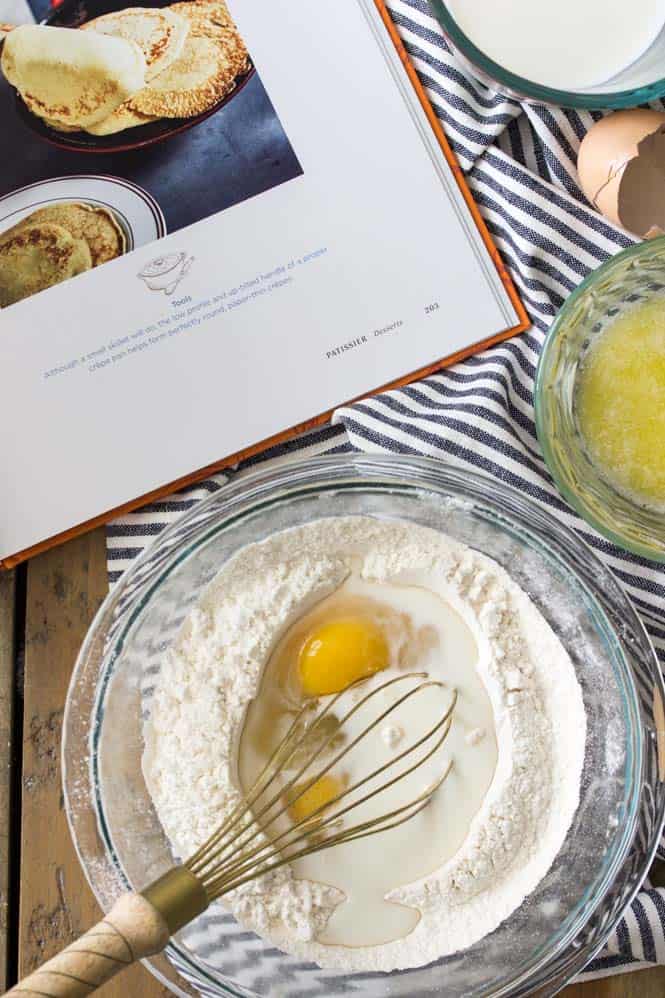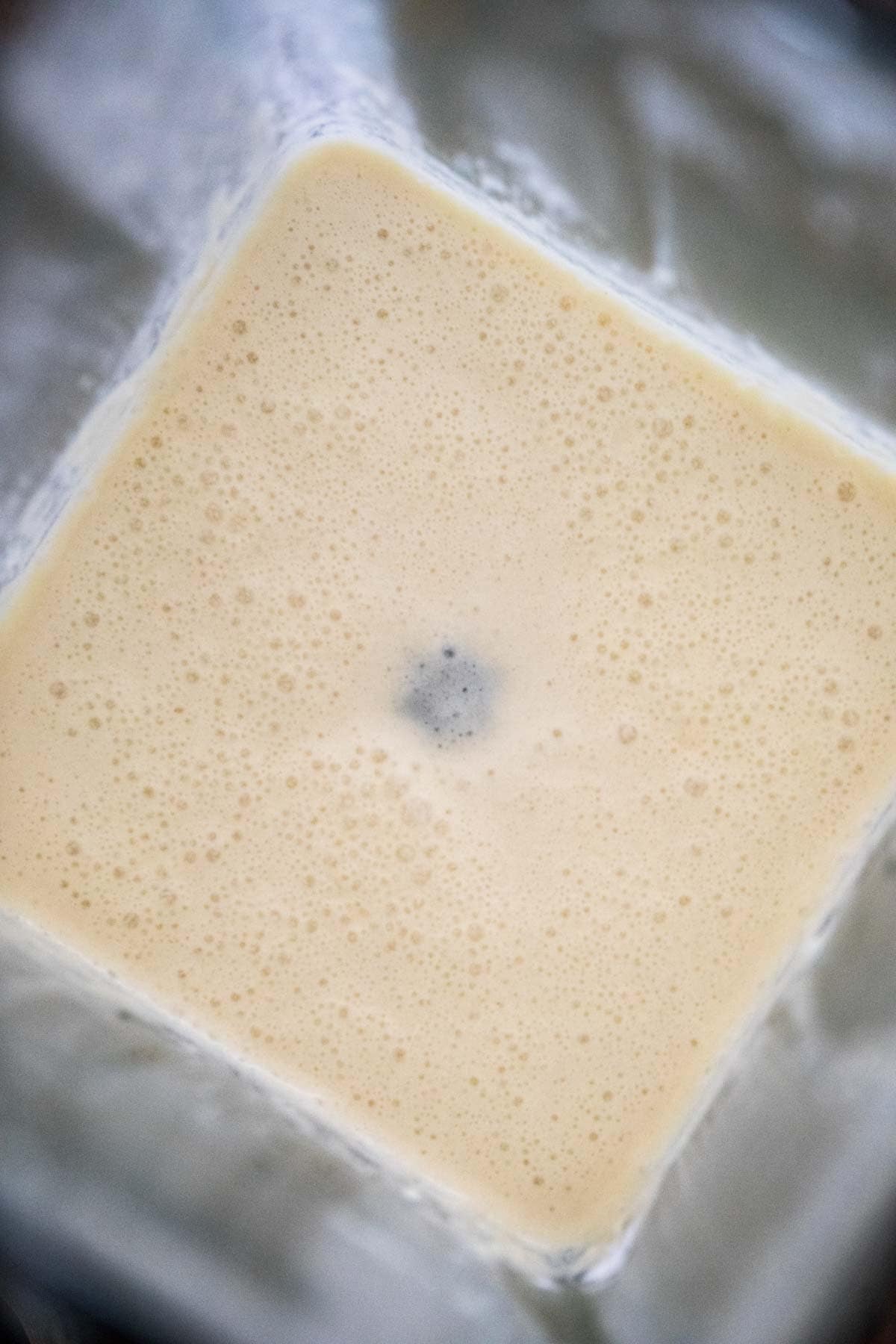 Can I Skip Resting the Batter?
So, you could, but I really recommend waiting at least 30 minutes before making your crepes.
Resting allows any bubbles in the batter to escape and gives the gluten time to relax. Our ingredients (namely our flour and our liquids) have time to fully meld together, resulting in more tender (and non-rubbery) crepes that are less likely to tear when you're turning them (source, if you want to read more about this).
Making in Advance
Since crepe batter is supposed to rest before you use it, it's an ideal candidate for making in advance. Make your crepe batter, cover it, and then let it rest in the refrigerator for up to 48 hours. Sometimes I like to make the batter the night before, let it rest overnight, and I have crepe batter ready to go in the morning.
I think that crepes are best served fresh, but you can prepare cooked crepes in advance, too. Prepare them and then let them cool, then stack with a sheet of wax paper or parchment paper in between each one (to keep them from sticking together). Store in an airtight container in the refrigerator for several days (up to 5) or in the freezer for several months.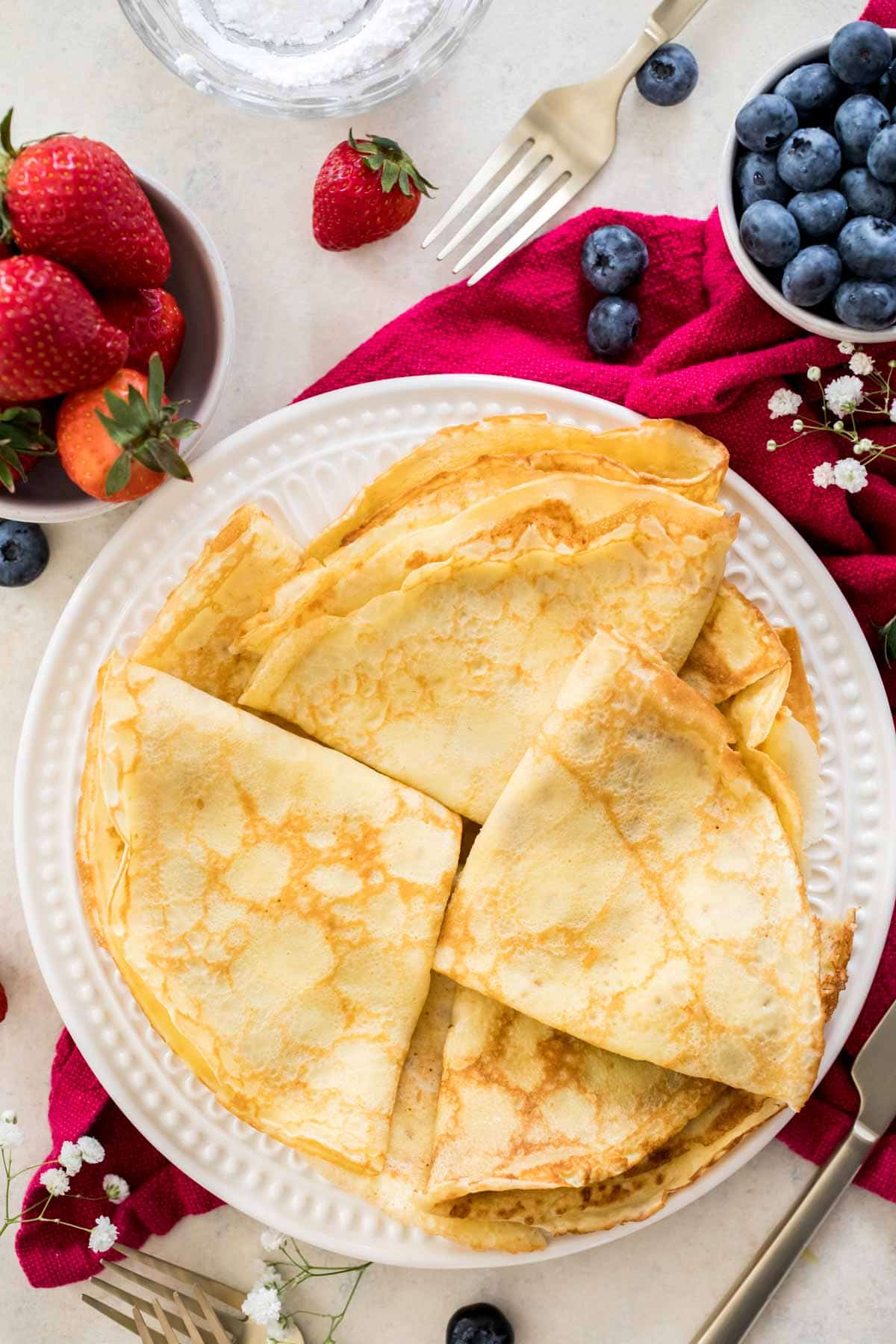 Tips
I recommend a nonstick pan, especially if you're a beginner. This makes it much easier to cook your crepes without tearing them. If you don't have one, a traditional pan will work, but make sure you allow it to heat evenly and completely. Getting your pan to the right temperature is even more critical if you're not using nonstick (too hot and they burn, not hot enough and they tend to stick to the pan and tear), so you may need a few practice crepes to get it right.
An 8″ pan is ideal for perfectly round crepes; simply cover the entire bottom of the pan with a thin layer of batter. It can be hard to get a perfectly round shape if you use a larger pan (they'll still taste good, though!).
Whichever type of pan you use, allow the pan to slowly and properly preheat before using. Don't crank up the heat to high to get it hot quickly, or your crepes will burn and not cook evenly. Have some patience!
A little butter or oil on the pan keeps the crepe from sticking, but don't use too much or your crepes will be greasy.
Have patience when flipping your crepes. I included notes in the recipe on what to watch for before flipping. Flip too soon and your crepes are more likely to tear.
If this is your first time making crepes, it may be helpful for you to watch the how-to video that I've included below the recipe.
Fillings
Here are some of my favorite ways to enjoy crepes:
Sweet crepes are my favorite, but you can also make savory crepes. Toss chopped herbs in the batter and fill them with ham and cheese, eggs and spinach, or whatever you prefer.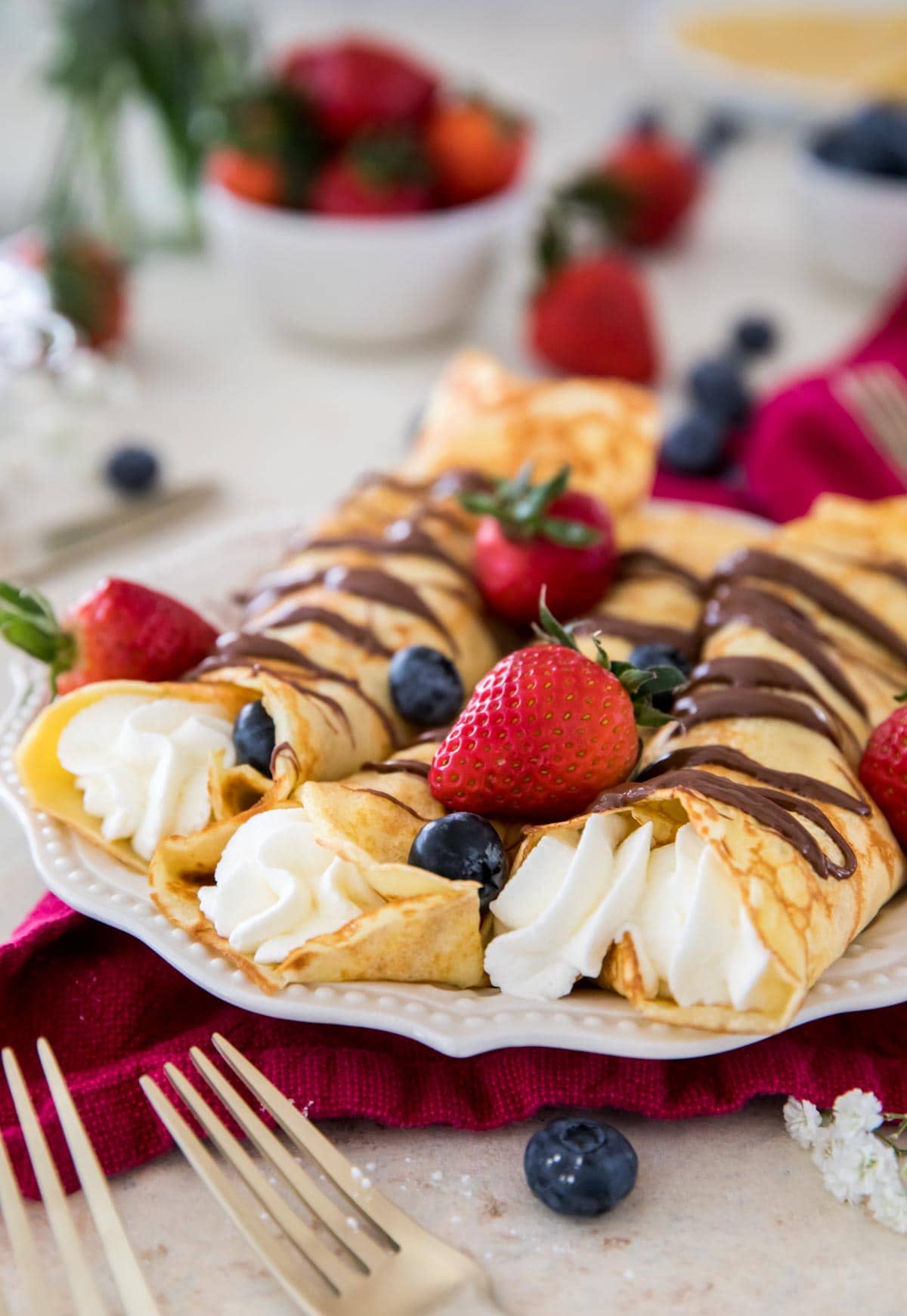 Enjoy!
More Great Recipes You Might Like:
Are you more of a visual learner? Check out my YouTube channel where I show you exactly how I make this recipe step-by-step in my own kitchen.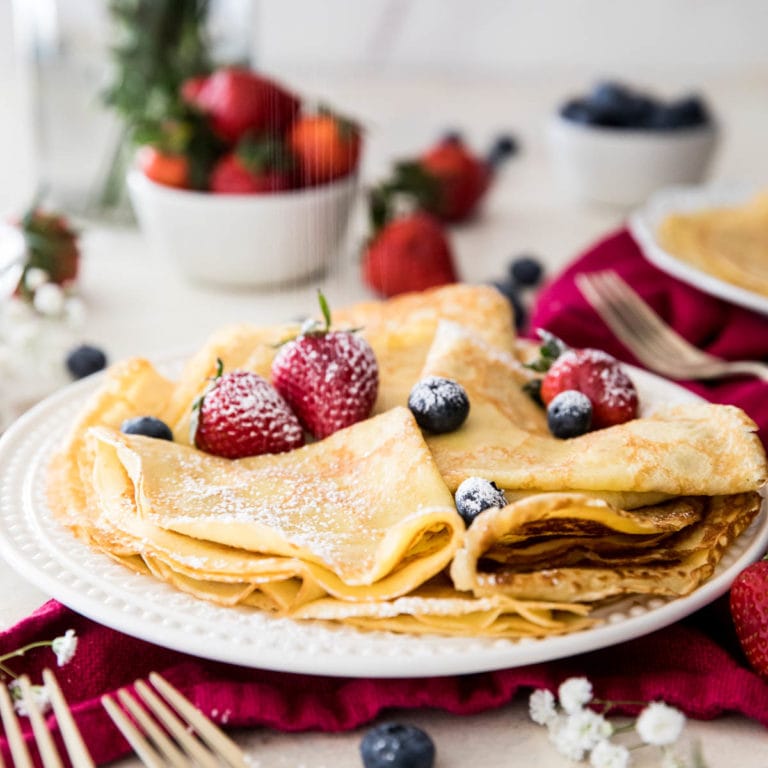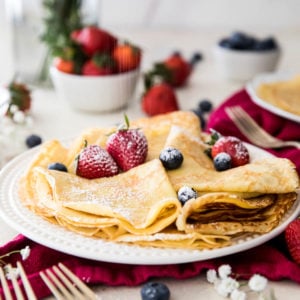 Crepes
A simple yet flawless crepes recipe! This recipe uses just 6 basic pantry-staple ingredients and can be made in one bowl or in a blender. Recipe includes a how-to video!
Print
Pin
Rate
Servings:
12
8-inch crepes
Ingredients
1

cup

all-purpose flour

(125g)

1

Tablespoon

granulated sugar

omit if making savory crepes

¼

teaspoon

salt

2

large eggs

1

cup

whole milk

(236ml)

¼

cup

water

(60ml)

¾

tsp

vanilla extract

omit if making savory crepes

2

Tablespoons

unsalted butter

melted and slightly cooled

Canola oil or additional melted butter for the pan
Instructions
If using a blender: Combine all ingredients. Blend for 10 seconds. Pause and scrape down the sides of the blender then blend again for another 5 seconds. Cover and place in refrigerator to rest for 30-60 minutes (or as long as 48 hours).

If not using a blender: Sift or whisk together flour, sugar, and salt in a large bowl to break up any clumps. Make a well in the center and add eggs, about half the milk, and the vanilla extract. Whisk until smooth.

Whisk in remaining milk, water, and melted butter until well-combined. Cover and refrigerate for 30-60 minutes. (This allows the bubbles to escape from the batter and makes the crepes less likely to tear when cooking.)

Once the crepe batter has chilled (no matter which way you prepared it), heat a nonstick skillet over medium heat. Lightly brush the pan with oil or melted butter (I prefer butter). The pan should be warm before you add any batter (you should be able to feel the heat radiating off of it if you hold your palm several inches over the pan). Stir the crepe batter once more briefly before proceeding.

Lift the pan off of the heat and portion about ¼ cup of crepe batter onto the pan. Gently tilt and swirl the pan so the batter forms a thin circle (about 8" diameter) and return to heat.

Cook until the crepe begins to look dry and the edges have set (about 45 seconds) and then use a spatula to flip the crepe. Cook on the other side until a light golden brown.

Transfer to a plate and serve¹.

Repeat with remaining batter, brushing the pan with additional oil or butter as needed.
Notes
¹Sometimes, to keep the crepes warm, I'll preheat my oven to its lowest setting (around 200F) and line a baking sheet with foil. I'll place the cooked crepes on the baking sheet in the oven to keep warm until I've cooked all of the batter.
Nutrition
Serving:
1
crepe
|
Calories:
82
kcal
|
Carbohydrates:
10
g
|
Protein:
3
g
|
Fat:
3
g
|
Saturated Fat:
2
g
|
Cholesterol:
34
mg
|
Sodium:
68
mg
|
Potassium:
48
mg
|
Fiber:
1
g
|
Sugar:
2
g
|
Vitamin A:
131
IU
|
Calcium:
29
mg
|
Iron:
1
mg
Nutritional information is based on third-party calculations and should be considered an estimate only. Actual nutritional content will vary based upon brands used, measuring methods, cooking method, portion sizes, and more.
I originally published a crepes recipe courtesy of Le Creuset in November of 2017. Today I'm updating the post to include my own personally-developed favorite easy recipe, new photos, and a new video!