Better than box-mix by a thousand miles, these easy homemade brownies from scratch are made in one bowl and are supremely chocolaty, fudgy, and delicious.  Make them standard in a 13×9 pan, or extra thick and chewy (preferred!) in a 9×9 pan.
This the ultimate moist, chewy brownie recipe — completely from scratch.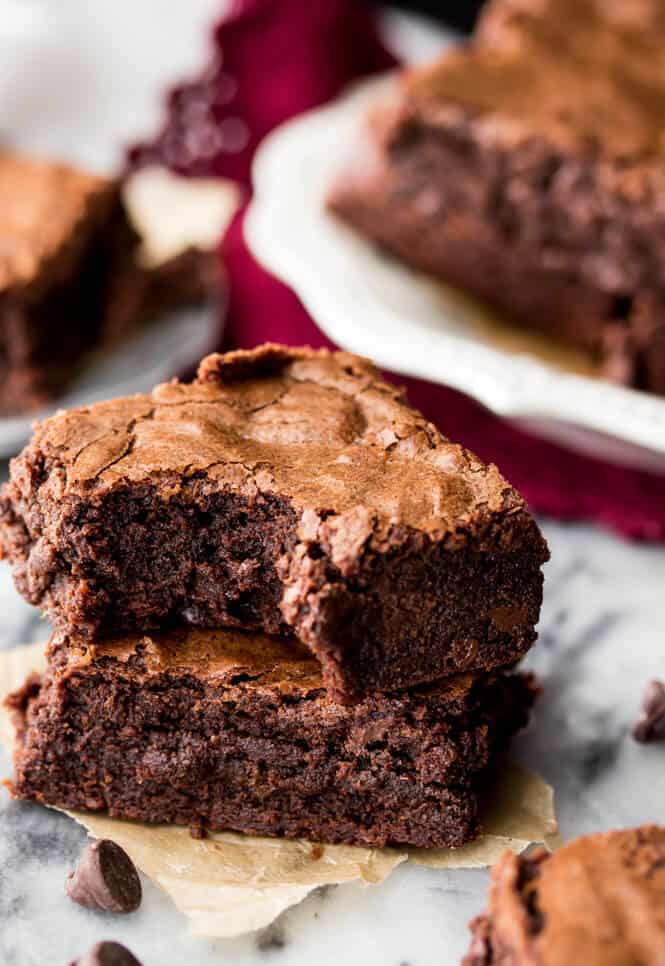 If I were asked to sum up the past two weeks or so of my life in a single word, it would be Brownies.  In a sentence: OMG, somebody help me, I am drowning in brownies.
There's been a lot of testing.  I made six batches of brownies one night after work, none of them perfect.  I think I made nearly 20 batches in a single weekend.
I was on a mission, because I wanted to give you a moist brownie recipe, a chewy brownie recipe, a one-bowl brownie recipe from scratch.  I wanted it to be easy, and I wanted it to be chocolaty.  Is there anything else I can italicize?
And finally, after lots of stress, lots of Pandora-soundtracked baking sessions and collective hours of my dog pouting that I wouldn't play tug with her, the ultimate easy, one bowl, brownies from scratch have arrived.
You might know that I actually already have a brownie recipe on my site.  I call them the "best ever" brownies.
They are, indeed, pretty dang fantastic.
But they're also a bit of effort.  There's a saucepan involved.
And some days reaching down into my bottom cabinet to wriggle my large saucepan out from where a half-dozen other smaller saucepans and colanders are nestled within it is not something that I feel up for doing.
Some days are a one bowl brownie kind of day, and so, after literally weeks of testing, I have a recipe for brownies from scratch that only require one bowl and are better than box-mix brownies.
This homemade brownie recipe is made with cocoa powder and chocolate chips, the combination makes them intensely chocolaty and chewy.
They have have a thin, delicate, slightly crinkly meringue-esque shell that gives way to a decadently rich, chewy, moist brownie center.  Between the cocoa powder, the melted chocolate chips and the un-melted pieces of chocolate, they're absolutely loaded with chocolate flavor.
I have a few little tricks in the recipe that helps make these brownies truly ultimate, I've included these notes in the recipe, of course, but let's discuss them here, too:
With most of my cookie recipes, I encourage you to let the butter cool first because you don't want to run the risk of melting your sugars.
Not the case, here.  Once you've melted together your butter and the chocolate chips, first immediately stir in the cocoa powder.  Combining the cocoa powder with a warm liquid allows the cocoa to "bloom", infusing the brownie batter with intensely rich chocolate flavor that you wouldn't achieve by stirring it along with the flour.
Then, while things are still warm, add your sugars (we're using both white and brown for ultimate fudginess).  Melted sugar isn't a problem here.
Additionally, you want to stir your eggs really, really well.  this is how you get your delicate meringue-y exterior.
Add them one at a time, stir until completely combined, and then continue to stir (vigorously, if you can) another 30 seconds or so.
Then, once you add your flour, stir until you think everything is well combined, and then stir again another 30 seconds.  Brownies aren't muffins — there's no such thing as too much stirring, here.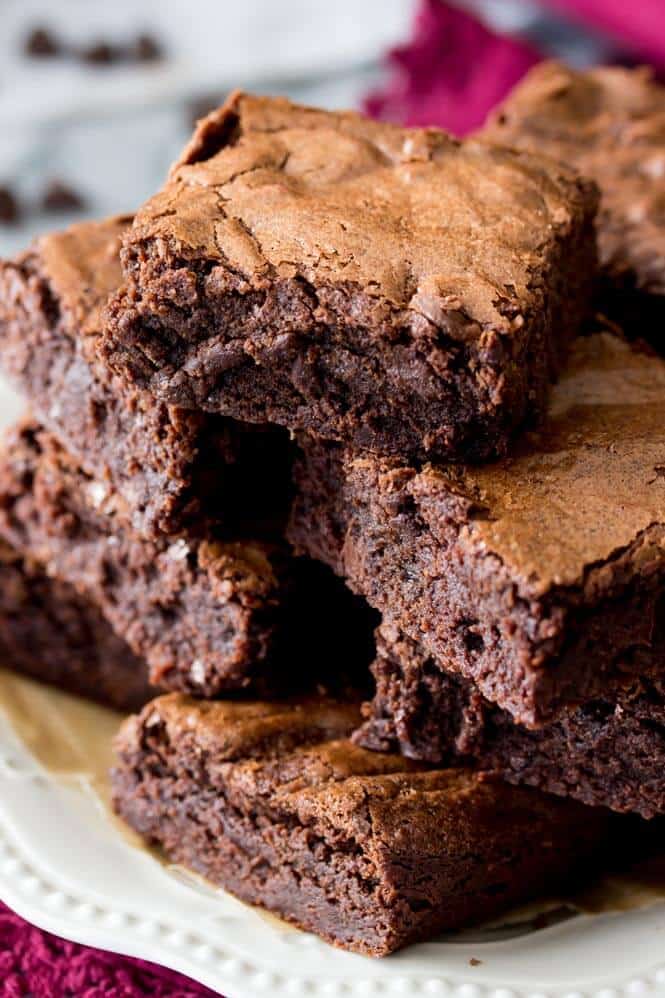 I also recently discovered a technique for chilling your homemade brownie batter up to 24 hours before baking.
During my research into developing the best brownie recipe, I spotted a few suggestions to chill your brownie batter in the refrigerator for baking for a myriad of reasons — fudgier brownies, crinklier tops, richer taste, etc.  Bon Appetit suggests refrigerating for at least an hour and up to 24 hours, but I hardly have the patience for that.
I did find that 15 minutes in the fridge seemed to add an extra fudginess and my tops appeared shinier when I refrigerated them, so I'm leaving that in as an optional step in the brownie recipe below (and there is no leavener [baking powder/baking soda] in this batter, so you're safe to refrigerate it for a full 24 hours or so, if you have the patience and feel like experimenting, without having to worry about the leaveners losing their potency).
OK and just one more thing!  Slightly under-bake your brownies.
Just ever so slightly, just enough that there are still some moist crumbs on your toothpick when you do the toothpick test.  Normally we look for a clean toothpick, now we're looking one with moist crumbs (but not straight-up liquid batter).
We want chewy, moist brownies, so just slightly under-baked is perfect (plus, the brownies will continue to cook slightly as they cool out of the oven).
These are truly the easiest, ultimate, brownies from scratch.
I really think you are going to love them.
Treat yourself to a

FREE E-BOOK!


How to Make Brownies from Scratch
Brownies from Scratch
Fudgy, chocolaty brownies from scratch, made in one bowl!
Print
Pin
Rate
Ingredients
12

Tablespoons

unsalted butter

cut into Tbsp-sized pieces (1 1/2 sticks, 170g)

1/2

cup

semisweet chocolate chips

(100g)

1/2

cup

natural cocoa powder

(50g)

1/2

teaspoon

instant coffee grounds

optional

3/4

cup

sugar

(150g)

3/4

cup

brown sugar

packed (150g)

2

large

eggs + 1 egg yolk

1

teaspoon

vanilla extract

1/2

teaspoon

salt

1

cup

all-purpose flour

(122g)

3/4

cup

semisweet chocolate chips

(150g)
Instructions
Preheat oven to 350F and line a 9x9 (for fudgier brownies) or 13x9 baking pan with parchment paper*

Combine butter and 1/2 cup (100g) semisweet chocolate chips in a large, microwave-safe bowl.

Microwave for 30 seconds. Stir well, microwave for another 15 seconds and then stir well again. Repeat for 15 seconds until chocolate and butter are completely melted and well-combined.

Add cocoa powder and instant coffee (if using), stir well.

Add sugars, stir until completely combined.

Add eggs, one at a time. After each addition, stir well, and then stir another 30 seconds (the better you stir your batter, the cracklier your brownie tops will be).

Sprinkle salt over batter and stir.

Add flour, stir until completely combined. You cannot overmix this batter, make sure it is mixed very well.

Spread into prepared 9x9 or 13x9 pan.

Optional, for crackle-topped brownies: Place pan with batter in refrigerator for 15-30 minutes to chill (you can skip this step if you don't have the patience to wait).

Remove from refrigerator and bake on 350F (177C) for 30-35 minutes if using 9x9 pan and 16-18 minutes if using 13x9 pan (toothpick inserted in center should be just slightly fudgy, but not wet with batter).

Allow to cool before cutting and serving.
Notes
*Alternatively you may grease and flour your pan -- the parchment paper is a little wiggly when you're trying to spread your batter into it, but I prefer it for ease of cleanup.
Nutrition
This post may contain affiliate links, which means that if you purchase anything through these links I will get a small commission at no extra cost to you.  Please view the disclosure policy for more information.
Recommended Kitchen Tools:

PIN IT:
You Might Also Like: