They sound similar, look similar, and even have similar ingredients–but baking powder and baking soda are NOT the same thing! Learn why some recipes use Baking Powder vs. Baking Soda (or both!), how to make quick substitutes, and when its time to buy a fresh box.
Baking Powder vs. Baking Soda: What's the Difference?
You've used them both in pancakes, muffins, and cakes, but do you know why? Most bakers have these two ingredients in their pantry, but not everyone knows what they do and how they're different. I often receive comments asking if baking powder can be substituted for baking soda in a pinch, and vice versa.
Today, I'll be answering that question and covering everything else you need to know about baking powder and baking soda, from how to use them, to how to test if they're still fresh (they can go bad pretty quickly!).
I know some of you might not want to read this entire post, so I'll cover the most important point now: baking powder and baking soda are NOT the same thing, nor are they 100% interchangeable in recipes. You'll have to keep reading to learn why…I can't give you all the answers right away! 😉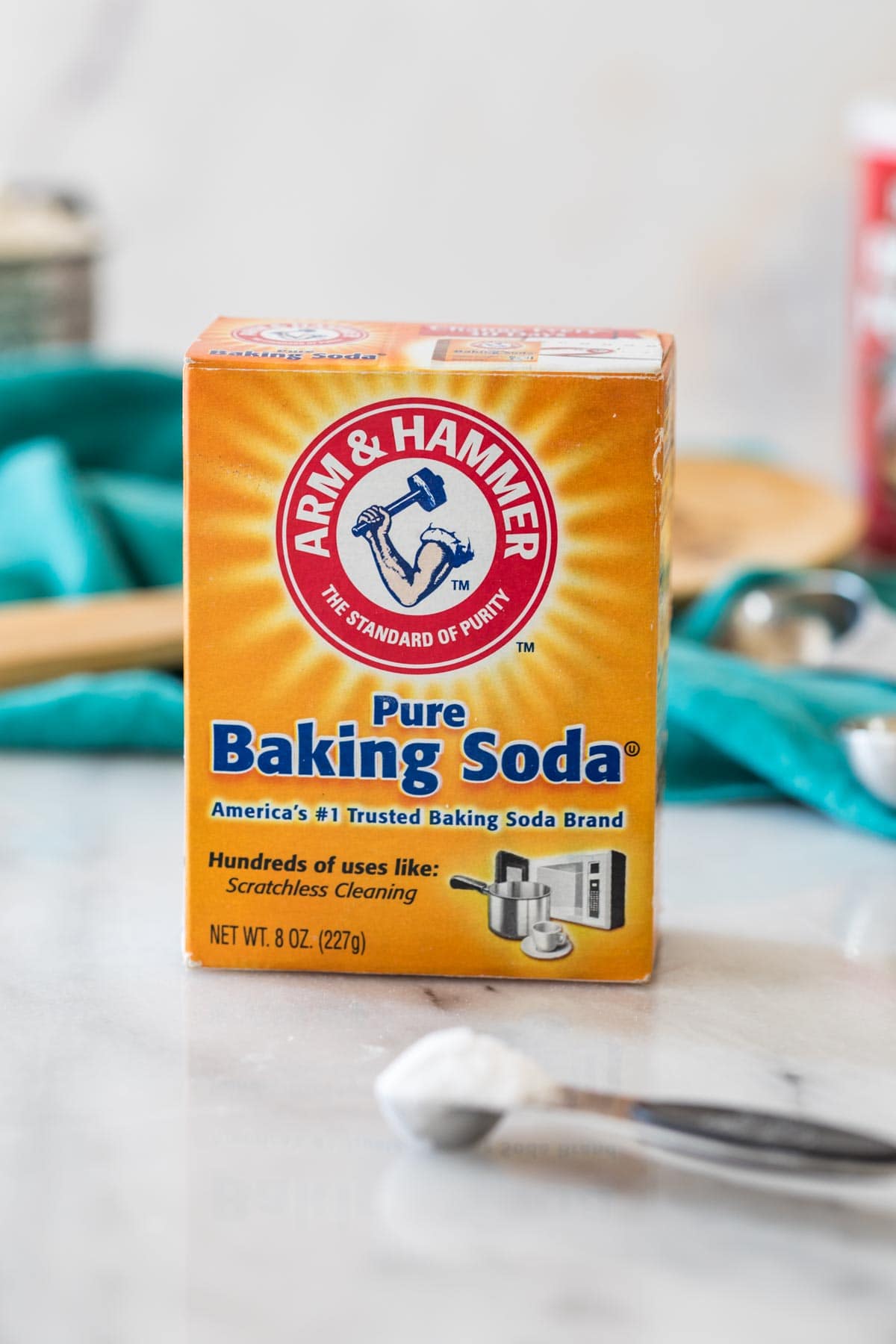 What Is Baking Soda Used For?
Baking soda is a leavening agent, which means it creates rise and lift in baked goods. Egg whites are also leavening agents (angel food cake is a good example of this) and so is yeast (like in cinnamon rolls or pizza dough).
However, unlike egg whites or yeast, baking soda requires an acid to create lift. Baking soda is alkaline, and when combined with an acid, it activates and releases carbon dioxide, which ultimately creates rise. Buttermilk, lemon juice, and vinegar are all common acids, as well as honey, sour cream, brown sugar, and even natural cocoa powder (Dutch process is actually alkaline!).
Baking soda isn't always used for baking though, and its not always added for lift. Soft pretzel dough is dipped in a baking soda and water mixture to give the pretzels their signature chewy texture and golden exterior. I add a small amount of baking soda to my tomato soup to help neutralize the acidity of the tomatoes. If you've ever made my honeycomb candy, then you know that baking soda is what creates their airy, crunchy texture. Most of the time though, you'll find baking soda in cakes, cookies, and muffins, and sometimes, you'll even find it paired with its close cousin, baking powder.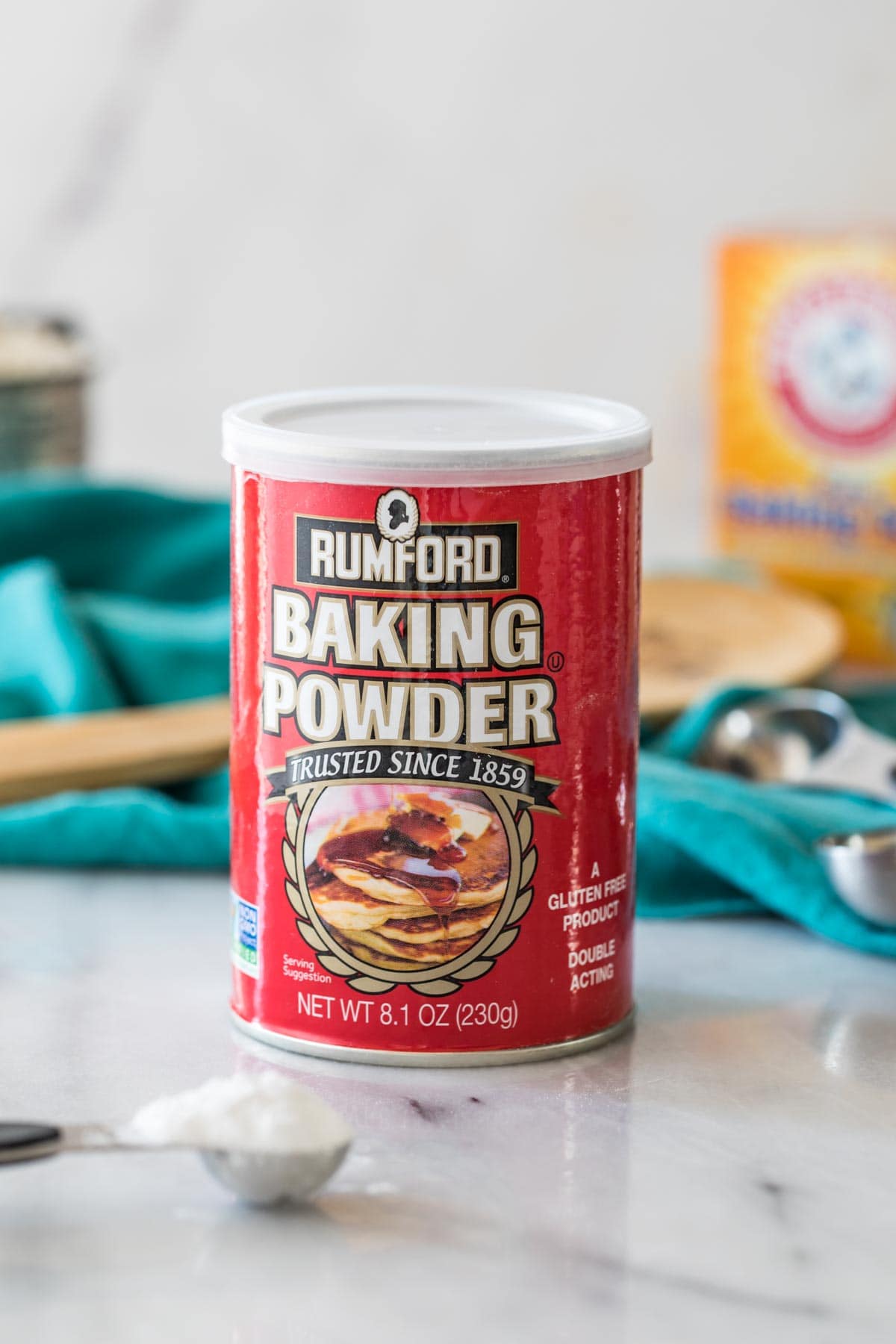 What Is Baking Powder Used For?
Baking powder is also a leavening agent; however, unlike baking soda, baking powder is a combination of several ingredients. In fact, baking powder actually contains baking soda! Baking powder is a blend of baking soda and a dry acid, typically cream of tartar. Baking powder produces a similar reaction to baking soda; however, the reaction only takes place when a liquid forces the acid and the baking soda combine.
There are two different kinds of baking powder: single-acting and double-acting. Single-acting baking powder reacts only one time: when you add a liquid. Single acting baking powder doesn't allow you any extra time with your batter; once you mix it together, you need to put it in the oven ASAP. Double-acting baking powder reacts twice: first when you add your liquid and then again when you introduce heat. Most stores in the United States carry double-acting baking powder exclusively, so single-acting can sometimes be hard to find. In almost all situations though, double-acting works best and is more forgiving time-wise.
Since it already contains an acid, baking powder is typically used in recipes that don't require an additional acid, like scones or my vanilla wafers.
SAM'S TIP: Baking powder sometimes contains cornstarch as well. This helps prevent clumps but also absorbs moisture, which is very important with baking powder. If your baking powder is exposed to moisture, it can cause the first reaction to happen prematurely, and your baking powder won't work properly.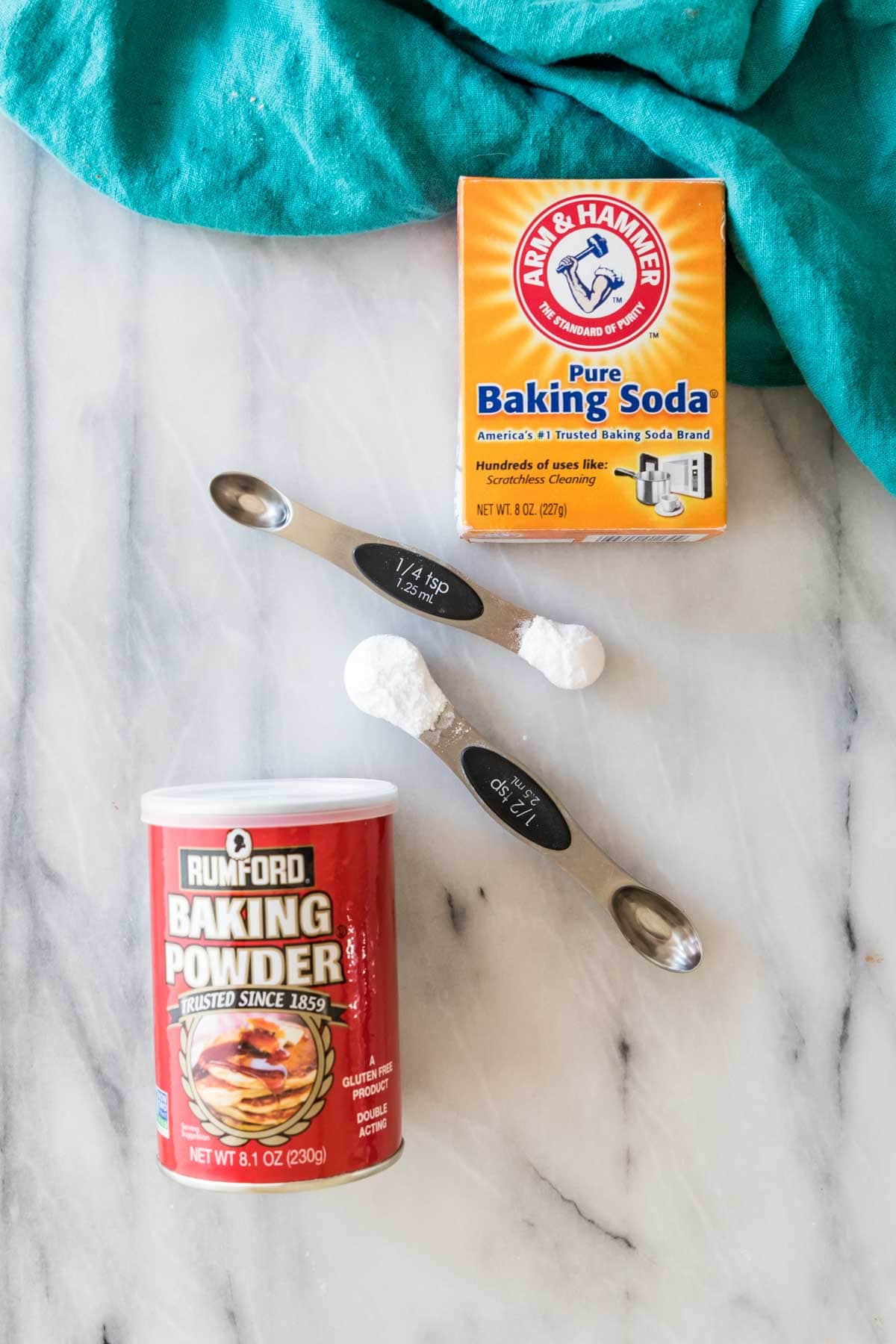 Is Baking Soda the Same as Baking Powder?
While they look similar in a measuring spoon, baking powder and baking soda are NOT the same thing. A quick look at their chemical composition proves that they cannot be swapped interchangeably, at least not on their own.
Baking soda is an alkaline substance, while baking powder actually contains both an alkaline substance and an acid. Baking soda requires an external acid to react, while baking powder already contains an acid and needs liquid and/or heat to react.
Because of this, you cannot swap baking soda for baking powder; the acid will be missing and the reaction simply won't happen. Instead, you could try making your own homemade baking powder, or you can try a substitute.
Substitutes
I'll preface this by saying that the following substitutions won't work in every recipe and there's no guarantee they will work at all. I personally do not like to use substitutes, so my official recommendation is to NOT use a substitute. However, these may be worth a try if you're in a real pinch. If you try any of them, please let me know how they worked out for you in the comments!
Baking Soda Substitutes
Triple the measurement and use baking powder instead. If a recipe calls for one teaspoon of baking soda, use three teaspoons of baking powder. This can sometimes result in bitter, dense, and/or salty baked goods if not done properly.
Whipped egg whites. To avoid changing the recipe too much, these will have to replace some of the liquid in your recipe. Whip the egg whites to soft peaks, then use a liquid measuring spoon to measure out however much you need. This takes some thought and experimentation and can be a bit of a gamble.
Self-rising flour. One cup of self-rising flour has roughly one and a half teaspoons of baking powder and a quarter teaspoon of salt. So, replacing some of your flour with self rising could help you compensate for a lack of backing soda; but remember, you'll need three parts baking powder to equal one part baking soda. Also, you'll need less salt AND you'll need to make sure you reduce any other acids in the recipe as well.
Baking Powder Substitutes
Homemade baking powder. This is the safest substitution in this list and can sometimes be better than the real thing, because homemade baking powder isn't metallic like some store-bought brands are. To make homemade baking powder, you'll just need to combine one teaspoon of baking soda and two teaspoons of cream of tartar. One important thing to note: this will make single-acting baking powder, so once you add it to your recipe, you need to work quickly!
Self-rising flour. Use the ratio listed above to determine how much self-rising flour you need to use. Remember, you won't need to triple the amount this time, but you will still need to watch how much salt you add.
Vinegar or lemon juice. Combine ¼ teaspoon of baking soda with ½ teaspoon white vinegar or lemon juice to substitute one teaspoon of baking powder.
SAM'S TIP: You can double or triple the ratios for homemade baking powder to keep some on hand. If you choose to do this, add cornstarch to prevent clumps from forming–you'll just need to add an amount equal to your baking soda.
Frequently Asked Questions
Why do some recipes call for both baking soda and baking powder?
Sometimes baking soda alone isn't enough to leaven a recipe, so baking powder is added (as with my chocolate chip cookies). In other instances when a recipe uses an acid for its flavor, you'll need both ingredients to maintain that flavor while also adding lift (baking soda alone would neutralize the acidity and you'd lose the flavor). And finally, sometimes baking soda is added to promote browning in a recipe that relies on baking powder for lift.
What is the best way to store baking soda or baking powder?
A cool, dry, dark place away from moisture and humidity is best. This can be your pantry or a kitchen cabinet.

Side note: if you're using a box of baking soda to neutralize odors in your fridge, do NOT use that same box for baking too! Buy a separate box for baking and keep it outside the fridge.
How can I test my baking soda or baking power to see if its still good?
Once opened, your baking soda and baking powder should be used within 3-6 months for optimum freshness and power. After that, they're still safe to consume, but they may not work as well (most complaints about biscuits that don't rise are from bad baking powder!)

To test your baking soda, you'll just need to add a small amount to a bowl. Then, add a splash of acidic liquid (vinegar or lemon juice will do) and see what happens. If the mixture immediately starts to bubble and fizz, your baking soda is fine to use for baking. If not, its time to buy a new box!

To test your baking powder, add about a half teaspoon to a bowl of hot water. If the mixture produces lots of bubbles, your baking powder is still good! If not, head to the store or try making your own using the measurements mentioned above.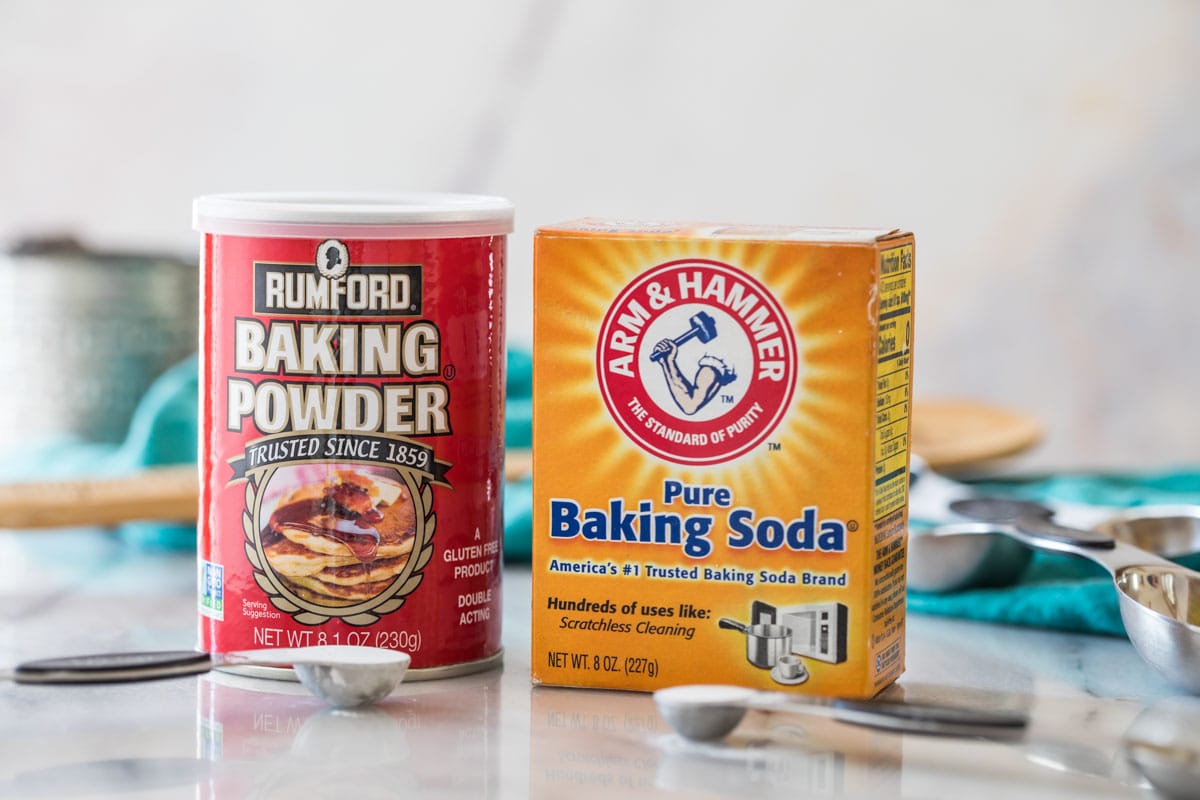 I hope this was helpful! Let me know if you'd like to see more posts like this in the future!
Let's bake together! Follow me on Instagram, and you can also find me on YouTube and Facebook.
More Posts You Might Like