Brownie cheesecake bars with a thick layer of real cheesecake on top!
This is just a friendly reminder that, if the weather forecast calls for a weekend of sleet, snow, and ice and you normally pick up your baking ingredients on Friday evening — make other arrangements.
For your own sanity, please make other arrangements.
The grocery store was packed on Friday.  It was literally too crowded to push a cart, so I lugged around an overfilled basket with 14 pounds of flour and sugar, plus chocolate chips, butter, cocoa powder, and cream cheese (all the essentials for these cheesecake brownies — we'll get to them, I promise).  A woman making a mad dash for presumably one of the last 16-packs of toilet paper in the town nearly knocked the basket clear out of my grip at one point.
When there are snowflakes in the forecast, people go into survival mode — determined to acquire toilet paper at any cost.
And then, while I was actually ready to be snug in my kitchen, iced in with nothing to do but bake more cheesecake brownies than I could ever eat on my own (or, at least, more than I'd ever admit to eating on my own), we got only a sprinkling of sleet and the roads stayed almost entirely passable — rendering the frenzied rush for gallons of milk and loaves of bread pointless.
Still, it was a grey day and I took full advantage of the chilly weather to bake up a batch of these simple but decadent cheesecake brownies.
With their fudgy brownie bottoms (seriously fudgy, if you use my brownie recipe) and their sweet, creamy cheesecake tops, they're the perfect bright spot in a cloudy day.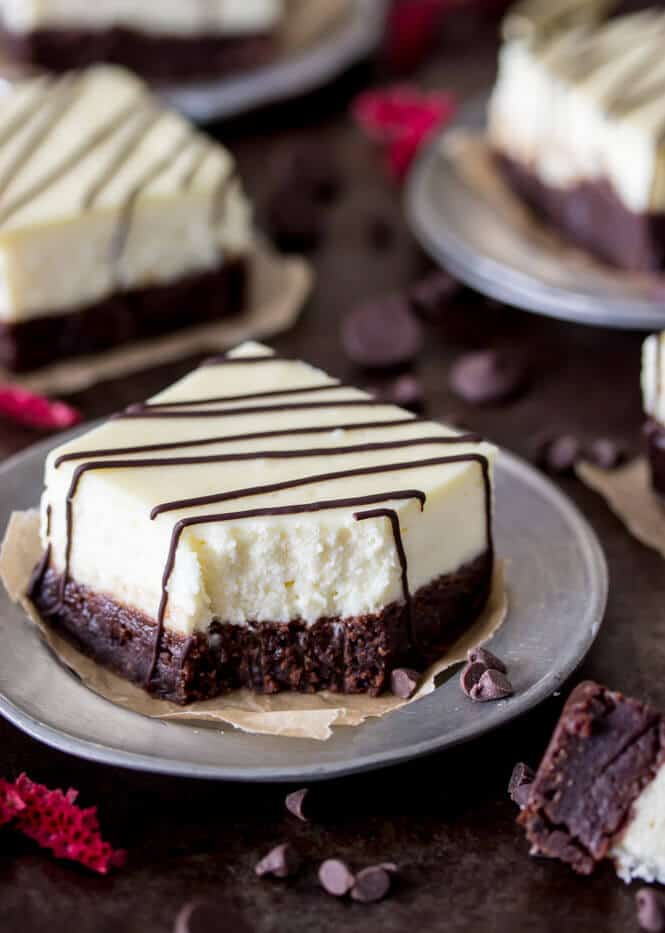 This isn't my first (or second) time making cheesecake brownies, but it's my first time sharing them in their simplest form.  This was one of my favorite recipes when I was younger, and while I do love them swirled with fruit, I think this version is still my favorite.
I use my Best Ever Brownie recipe for the base layer of these bars.  I love it because it's rich, very chocolaty, and so, so fudgy.  You may use your favorite brownie recipe, though (one designed to be made in a 13×9 pan), or even use boxed brownie mix.
The recipe is written so that you first bake the brownies part way and then pour the cheesecake layer over-top and continue to bake until the cheesecake is set.  Take care that you gently spoon the cheesecake batter over the brownies, as they won't be completely cooked and just beneath the surface they are still molten chocolate liquid.
These cheesecake brownies are pretty rich, so in real life I usually cut them about half the size of the squares in these pictures (and then inevitably go back for seconds, so maybe don't cut them in half, and save yourself the trip).
Enjoy!
Brownie Cheesecake Bars
Brownie cheesecake bars with a thick layer of real cheesecake on top!
Print
Pin
Rate
Ingredients
Cheesecake
32

oz

cream cheese softened

(907g)

1

cup

sugar

(200g)

½

cup

sour cream

3

eggs

1

tsp

vanilla extract
Chocolate Drizzle (optional)
½

cup

semisweet chocolate chips or dark chocolate melting wafers

(85g)
Instructions
Preheat oven to 325F

Prepare brownie batter according to Best Ever Brownies instructions (or package instructions, if using box-mix).

Spread evenly into the bottom of a greased and floured 9x13 pan (alternatively, line the pan with foil and then lightly spray with cooking spray -- this will make it easy to lift the brownie/cheesecake out of the pan and make clean cuts once its cooled).

Bake on 325F for 20 minutes, or until center is almost set (it should not still be liquid, and the edges will appear somewhat cooked).

As the brownie layer bakes, prepare your cheesecake.
Cheesecake
In a stand mixer (or in a large bowl with a hand-mixer), beat together softened cream cheese and sugar, scraping down the sides with a spatula occasionally to ensure it is mixed well. (beat on medium-speed about 1-2 minutes, scraping down side occasionally, it should be creamy and well-mixed).

Add sour cream & mix well, stopping once to scrape down the sides before mixing again.

Add eggs, one at a time, beating until just mixed after each addition (and scraping down the sides after each addition)

Stir in vanilla extract.

Once brownie layer has finished baking (do not turn off your oven), evenly, gently, spread the cheesecake over the brownie layer.

Bake on 325F for 40 minutes, or until center is set (not liquidy, bounces back to the touch).

Allow to cool to room temperature, and then place in refrigerator for at least 6 hours before cutting and serving.
Chocolate Drizzle (optional)
After cooling and cutting cheesecake squares, melt chocolate in a microwave-safe bowl on 15 second increments (stir well in-between) until melted.

Use a spoon to drizzle chocolate over bars or, for neater design pour chocolate into a Ziploc bag and snip off a small corner. Immediately pipe over squares as desired.

Return to refrigerator for several minutes until chocolate sets.
Nutrition
Serving:
1
bar
|
Calories:
179
kcal
|
Carbohydrates:
10
g
|
Protein:
3
g
|
Fat:
14
g
|
Saturated Fat:
8
g
|
Cholesterol:
65
mg
|
Sodium:
133
mg
|
Potassium:
67
mg
|
Sugar:
10
g
|
Vitamin A:
567
IU
|
Vitamin C:
1
mg
|
Calcium:
45
mg
|
Iron:
1
mg