Do you know How to Melt Chocolate Chips without seizing your chocolate? Today I'm sharing my best tips to melt chocolate so it's perfectly smooth for dipping, drizzling, and coating. Includes a how-to video!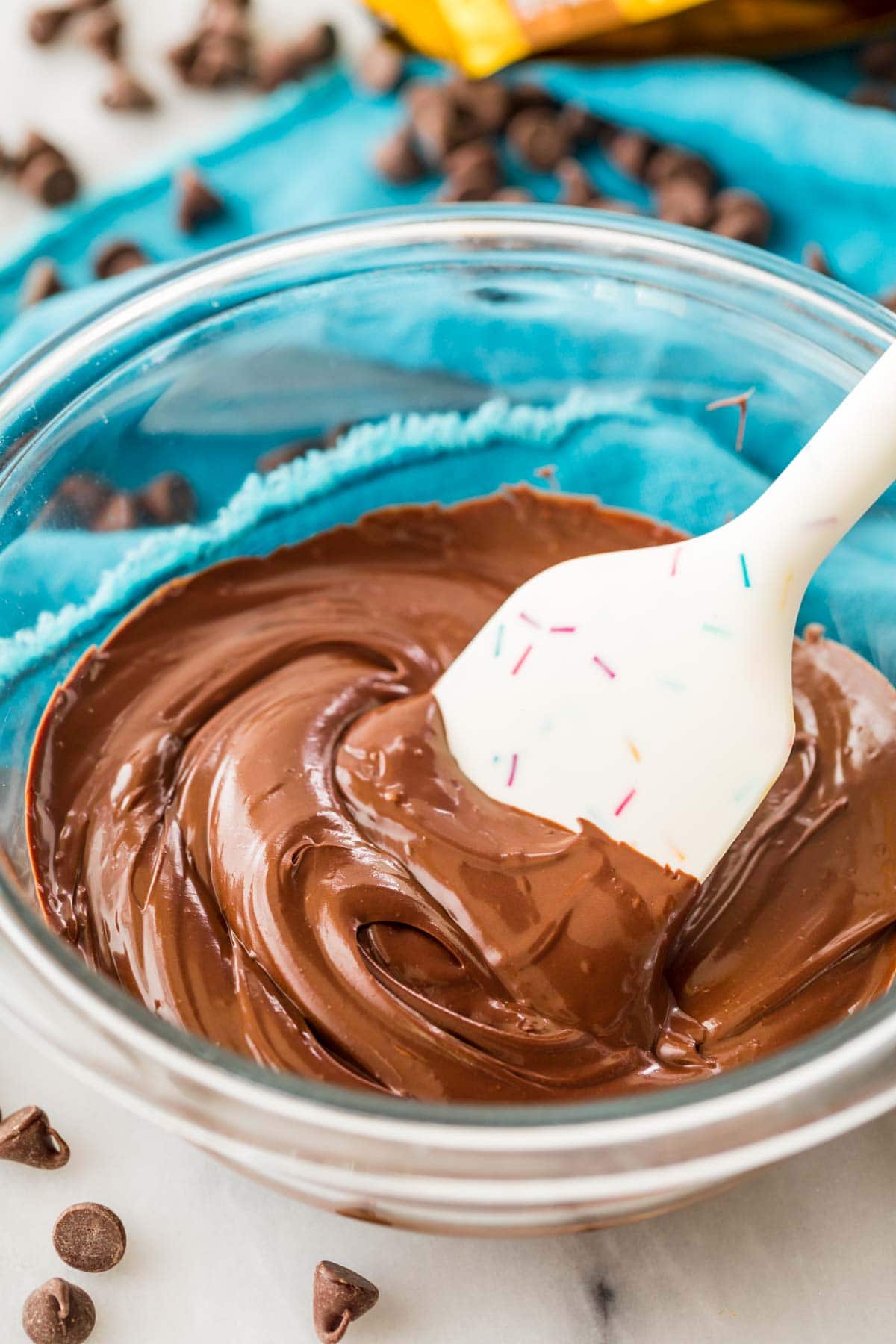 Perfectly Melted Chocolate Chips
Today's post is all about how to melt chocolate chips in the microwave. While this certainly isn't top-notch chocolatier advice, it's still important information for all bakers to know. It's very easy to overheat chocolate when melting, so knowing when to keep going and when to stop is key!
This method is typically used when you need melted chocolate as an ingredient for another recipe, like for stirring into my favorite chocolate frosting recipe or melting with butter to make my brownies. It can also be used for dipping or coating though, like you would with tempered chocolate.
Before we get started on this quick and easy how-to, I want to make it clear that melting chocolate and tempering chocolate are not the same thing. If you'd like to know more about tempering chocolate, I explain my easy process for this in detail in my hot chocolate bombs and peanut butter balls posts. Essentially though, chocolate chips melted the way I'm sharing today will still melt and coat just fine, but they won't set quite as smooth and shiny as tempered chocolate would. Tempering chocolate is much more fussy, so I don't use it as often as I use this technique.
What You Need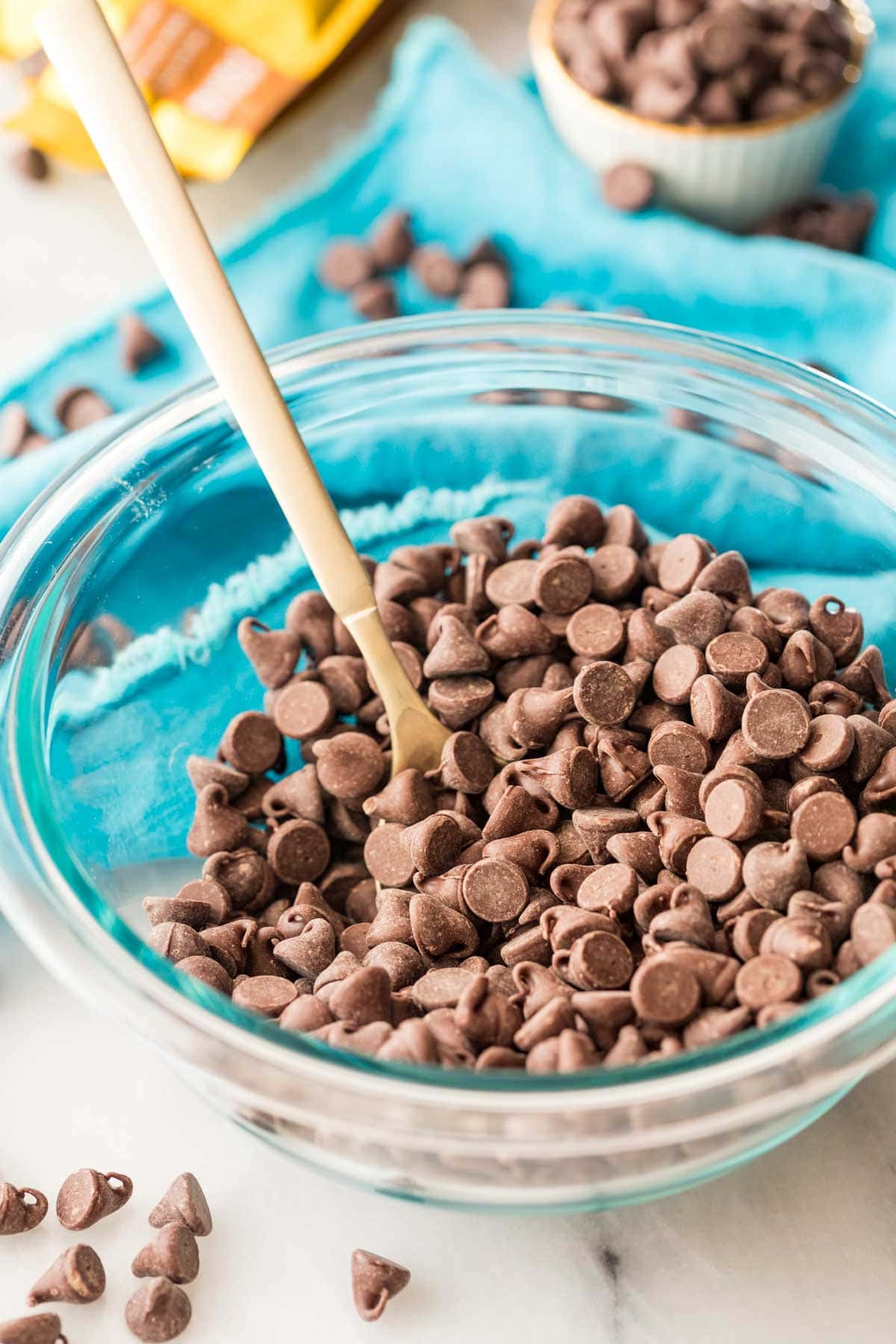 Melting chocolate chips in the microwave is easy. All you need is a spoon, a heatproof bowl and:
Chocolate! This method will work for chocolate chips of any variety (including white chocolate and butterscotch chips). It will also of course work with chocolate bars; just chop them before melting.
That's it! I don't add anything else to my chocolate chips when melting, unless I need to thin out my chocolate for drizzling (more on that below).
SAM'S TIP: Make sure your bowl is completely clean and dry! Even a tiny bit of water can cause your chocolate to seize (meaning become grainy/unusable).
Remember, this is just an overview of the ingredients I used and why. For the full recipe please scroll down to the bottom of the post!
How to Melt Chocolate Chips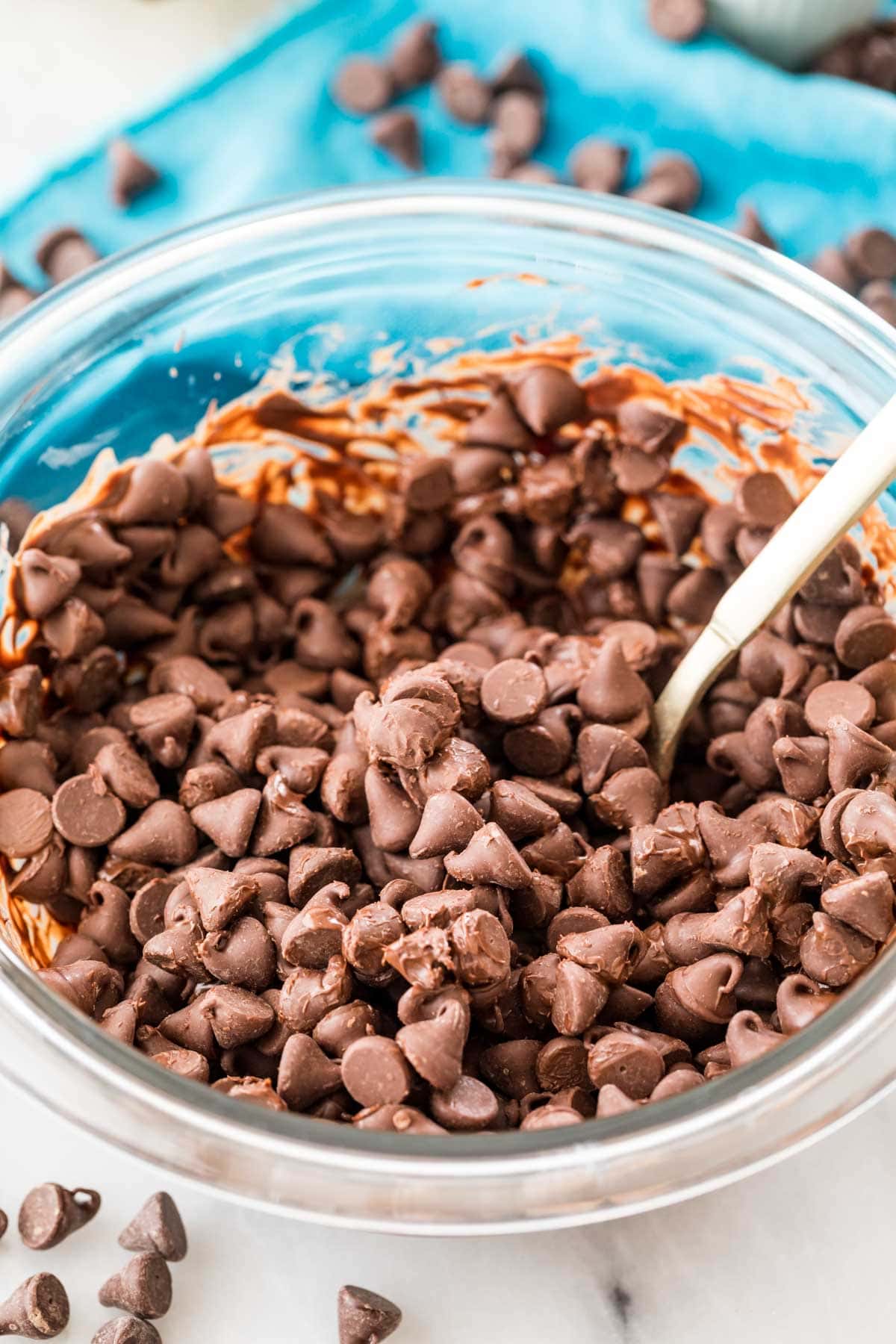 Add your chocolate chips to a heatproof bowl and microwave for 30 seconds.
Stir, then microwave for an additional 20-25 seconds before stirring again.
Continue heating in 15-second intervals, stirring in between, until melted and smooth.
SAM'S TIP: As a general rule of thumb, always heat chocolate slowly. Heating too quickly or too much will cause your chocolate to become overheated. Overheated chocolate will be thick, lumpy, and very dull looking. Unfortunately, overheating is hard to come back from (I typically just toss my chocolate and start over when it happens). Sometimes you can salvage overheated chocolate by stirring in vegetable oil, adding more solid chocolate, or pouring your melted chocolate through a strainer.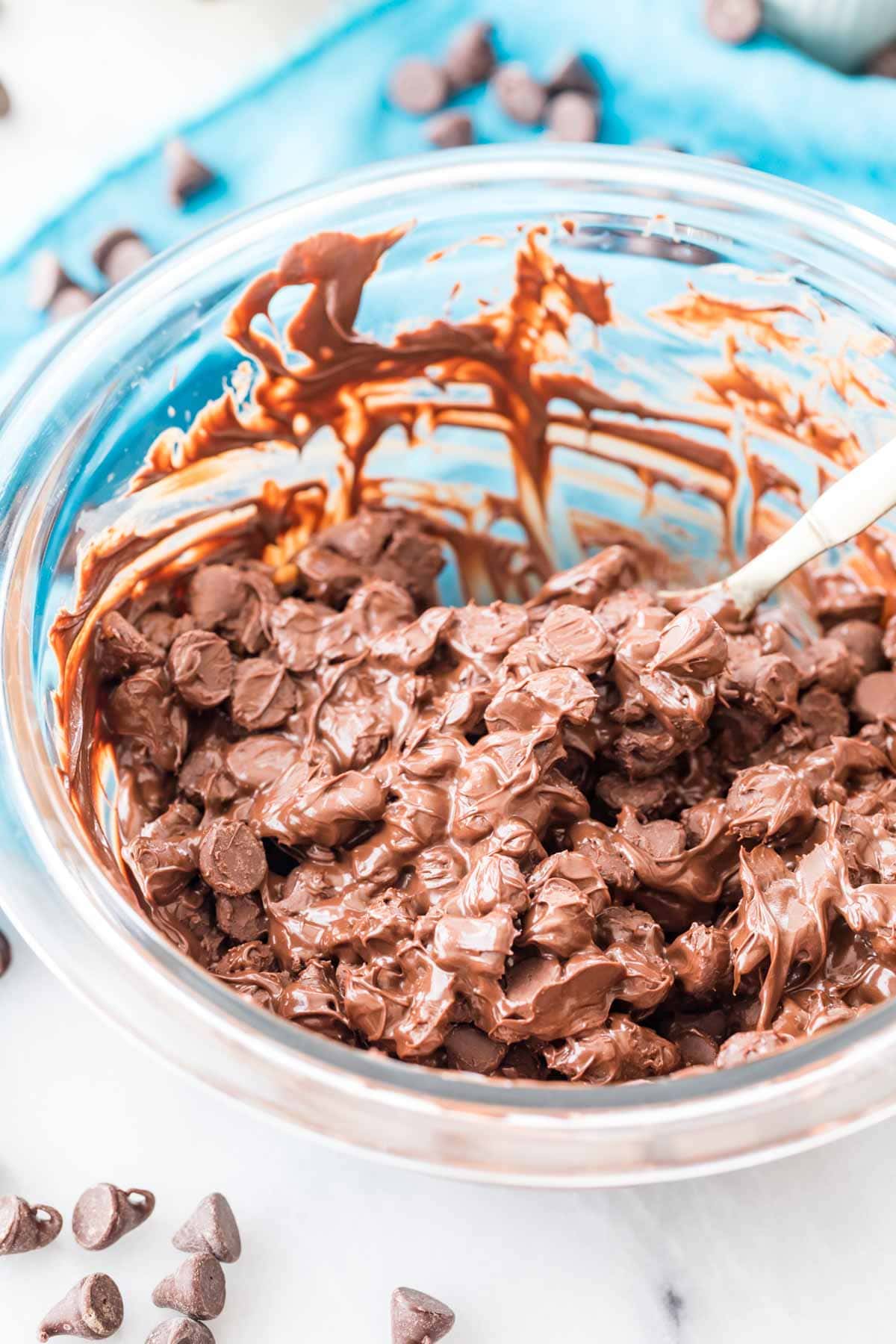 Frequently Asked Questions
How do you fix seized chocolate?
If your chocolate looks gritty, crumbly, and anything but smooth, it's seized. This happens when water gets into your melted chocolate.

Here's how you can fix seized chocolate: Add boiling water (it seems counterintuitive, I know) 1 teaspoon at a time, stirring very well after each addition, until the chocolate is smooth again. This will end up diluting your chocolate, so you will want to keep this in mind depending on how you plan to use it. Personally, I usually just start over if my chocolate becomes seized.

How do you thin melted chocolate that is too thick?
This can happen if you heat your chocolate too quickly or too much, so my best piece of advice is to avoid those two things first.

To thin your chocolate, stir in a small amount of vegetable oil (coconut oil works too!) or shortening until you get the right consistency.
How do you melt chocolate chips on the stove?
You'll want to use a double boiler to melt chocolate on the stove. To do this, first make sure you have a pot and heatproof bowl that fit together properly. The bowl should fit snugly over the pot (so no steam escapes) and the bottom should rest without touching the bottom of the pot.

Then, you'll want to add about an inch of water to your pot and bring it to a simmer. Place your bowl of chocolate directly over the pot of simmering water (it shouldn't be touching the water) and stir constantly as it melts.

I tend to prefer the microwave method over the stovetop method, since a double boiler introduces water. A tiny splatter or even steam can still cause your chocolate to seize.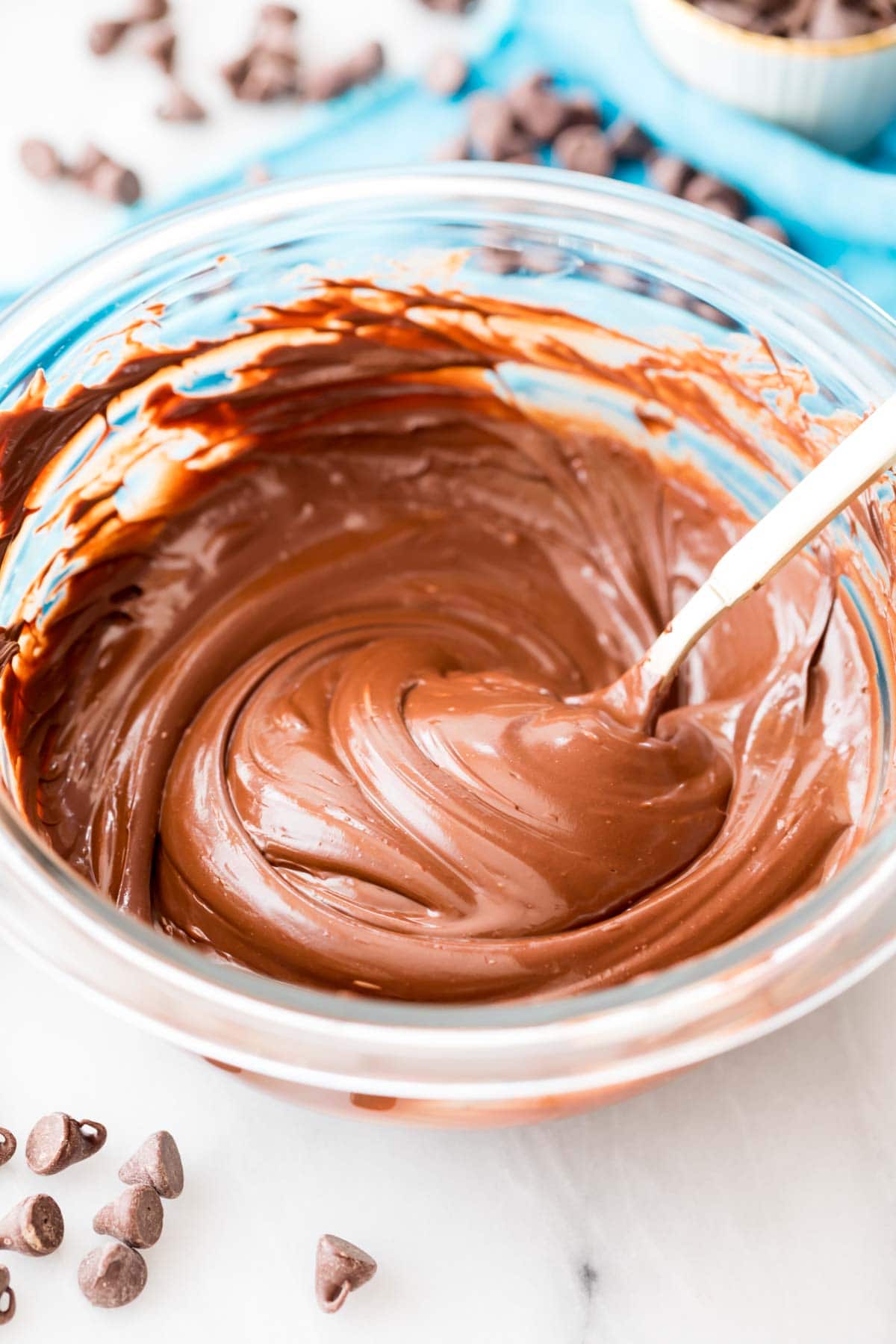 I love to use this technique when I want to quickly dip cookies in chocolate (like my butter cookies), make a low-fuss batch of chocolate covered strawberries, or just want some chocolate for drizzling over cookie bars.
Enjoy!
Let's bake together! I'll be walking you through all the steps in my written recipe and video below! If you try this recipe, be sure to tag me on Instagram, and you can also find me on YouTube and Facebook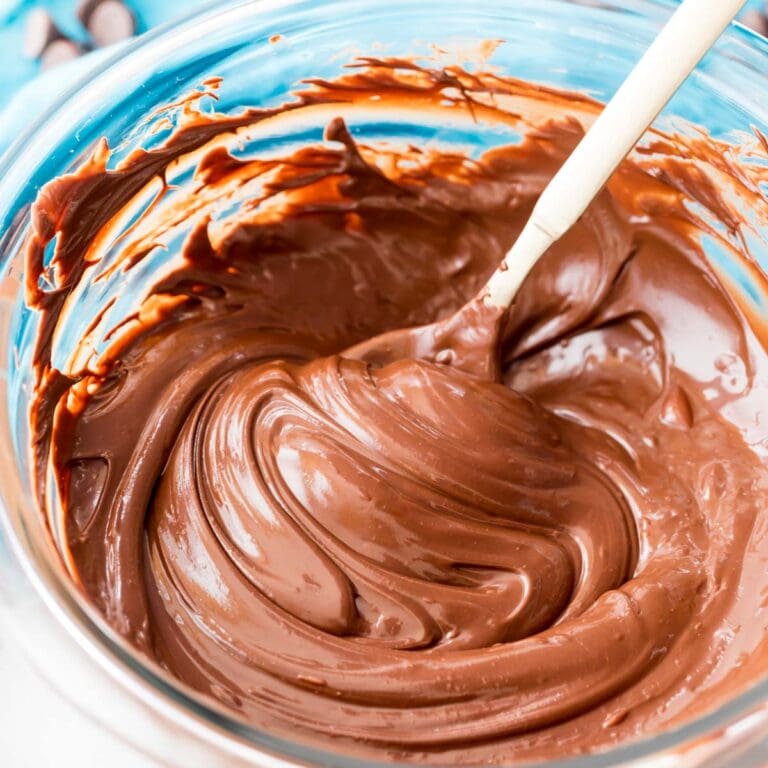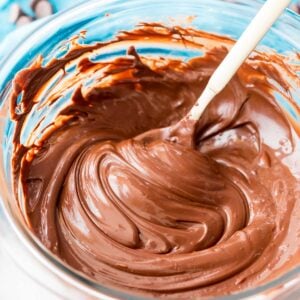 How to Melt Chocolate Chips in the Microwave
Do you know how to melt chocolate chips without seizing your chocolate? Today I'm sharing my best tips to melt chocolate so it's perfectly smooth for dipping, drizzling, and coating.
Includes a how-to video!
Print
Pin
Rate
Ingredients
1-4

cups

(

170-680

g

)

chocolate chips

any variety
Instructions
Place chocolate chips in a completely clean, dry, microwave-safe bowl.

1-4 cups (170-680 g) chocolate chips

Heat for 30 seconds, then stir well (it will look like nothing has happened, stir anyway).

Return chocolate chips to microwave and heat for 20-25 seconds, stirring well in between.

Return chocolate chips to the microwave, heating in 15 second intervals and stirring very well in between until chocolate is completely smooth and melted.

Do not over-heat or chocolate will "seize" and become grainy/start to separate. If this happens you will need to start over.
Nutritional information is based on third-party calculations and should be considered an estimate only. Actual nutritional content will vary based upon brands used, measuring methods, cooking method, portion sizes, and more.
Related Recipes