These homemade Boston Cream Donuts are surprisingly easy to make and taste SO much better than the ones you get from the coffee shop. You'll fill them with silky smooth vanilla custard and dip them in a rich chocolate glaze before they're ready to be devoured. Recipe includes a how-to video!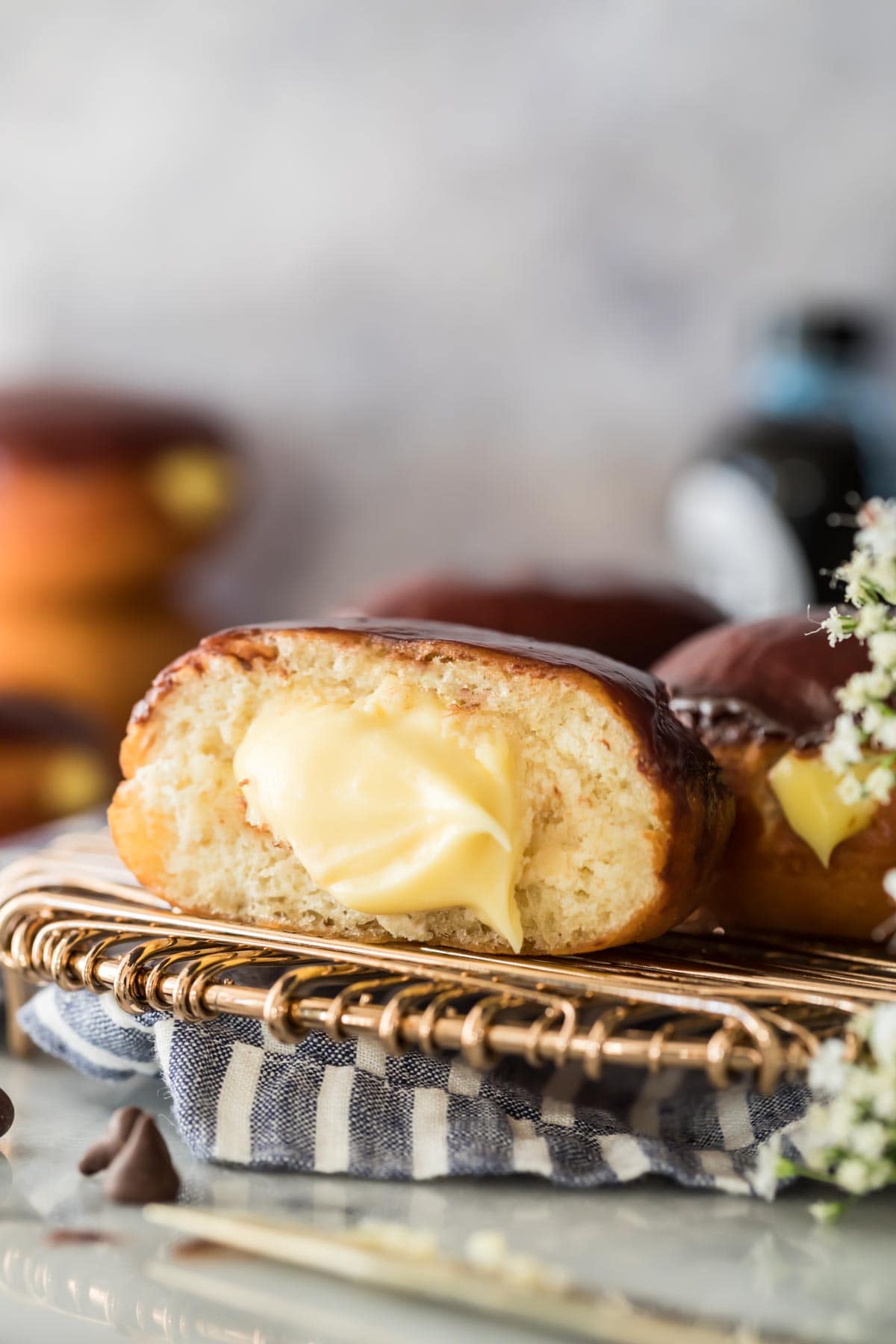 Boston Cream Pie, But Make It a Donut
Skip the trip to the corner coffee shop (and those previously frozen, so-so donuts) and make these Boston cream donuts from scratch!
These bad boys are the donut version of my Boston cream cupcakes, and they're dangerously decadent. Their golden brown shell is based off of my homemade donuts, except we're leaving them whole this time so we can fill them with homemade pastry cream. And of course, we're dipping them in a chocolate ganache glaze–because you can't have Boston cream donuts without that glossy chocolate top!
This recipe is shamelessly rich and time consuming, but it's also 100% worth the indulgence and effort. When made properly, these donuts are pillowy and tender, the chocolate glaze is soft, yet firm enough to not make a mess, and the pastry cream is silky smooth vanilla perfection. Thanks to instant yeast, the hardest part about this recipe is the frying. If frying is a skill that you're not comfortable with, don't worry: I've made sure to include plenty of tips and visual cues to help you succeed.
Let's get into it!
What You Need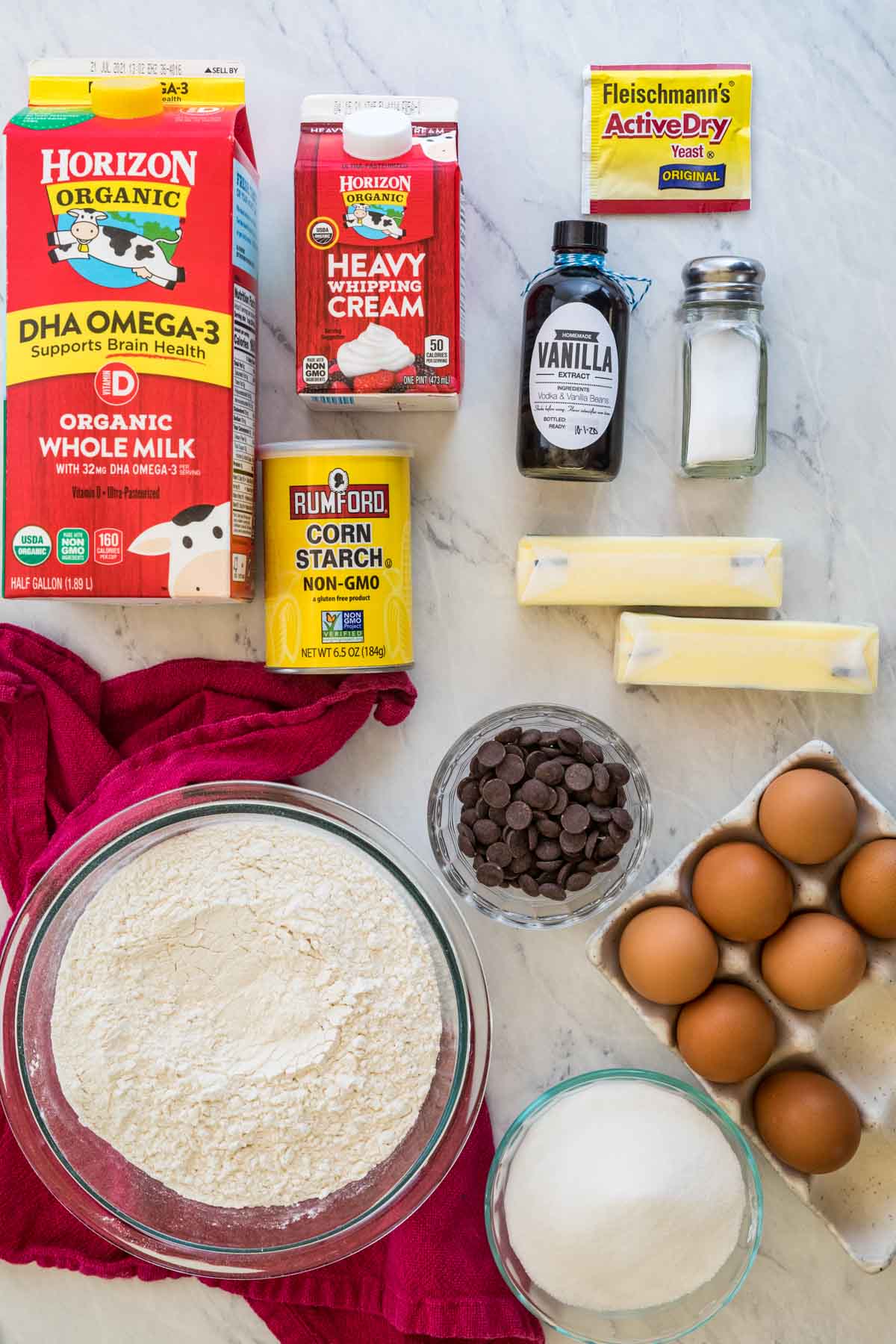 Surprisingly, the ingredients for this recipe aren't overly fussy or complicated. Here's what you need:
Pastry cream. Ideally, you'll prepare the pastry cream 1-2 days in advance. It needs to chill in the fridge for a few hours, so making it ahead of time keeps things moving as quickly as possible.
Flour. As with most yeast recipes, the amount of flour you'll use will vary. We want to be somewhat more sparing here during the kneading process though, as this should be a somewhat sticky dough. You won't knead it for very long either; watch the video for some visual cues that indicate the dough is ready.
Instant yeast. Also called rapid rise yeast, this will give our donuts a pillowy, slightly chewy texture. This is what separates these donuts from baked donuts, which are lighter and fluffier.
Milk. Whole milk works best here!
Butter. Use unsalted butter since we are going to add salt ourselves. You'll want to melt your butter and let it cool slightly before adding it to your dough.
Eggs. Set your eggs out ahead of time so they can come to room temperature, and make sure to lightly beat them before adding them to the dough mixture.
Vanilla. For a flavorful dough, we'll add a splash of vanilla.
Chocolate. Use a semisweet baking bar or chocolate chips.
Heavy cream. We'll combine the cream with the chocolate to make the chocolate glaze for these Boston cream donuts.
Oil. I like to fry my donuts in vegetable oil, but canola oil could work too.
SAM'S TIP: When cutting the donuts out of the dough, make sure to get as many cuts out of your first roll as you can. While you can and should regroup the scraps to cut more donuts, the donuts from your second cut won't be as pretty and will be harder to fill.
Remember, this is just an overview of the ingredients I used and why. For the full recipe please scroll down to the bottom of the post!
How to Make Boston Cream Donuts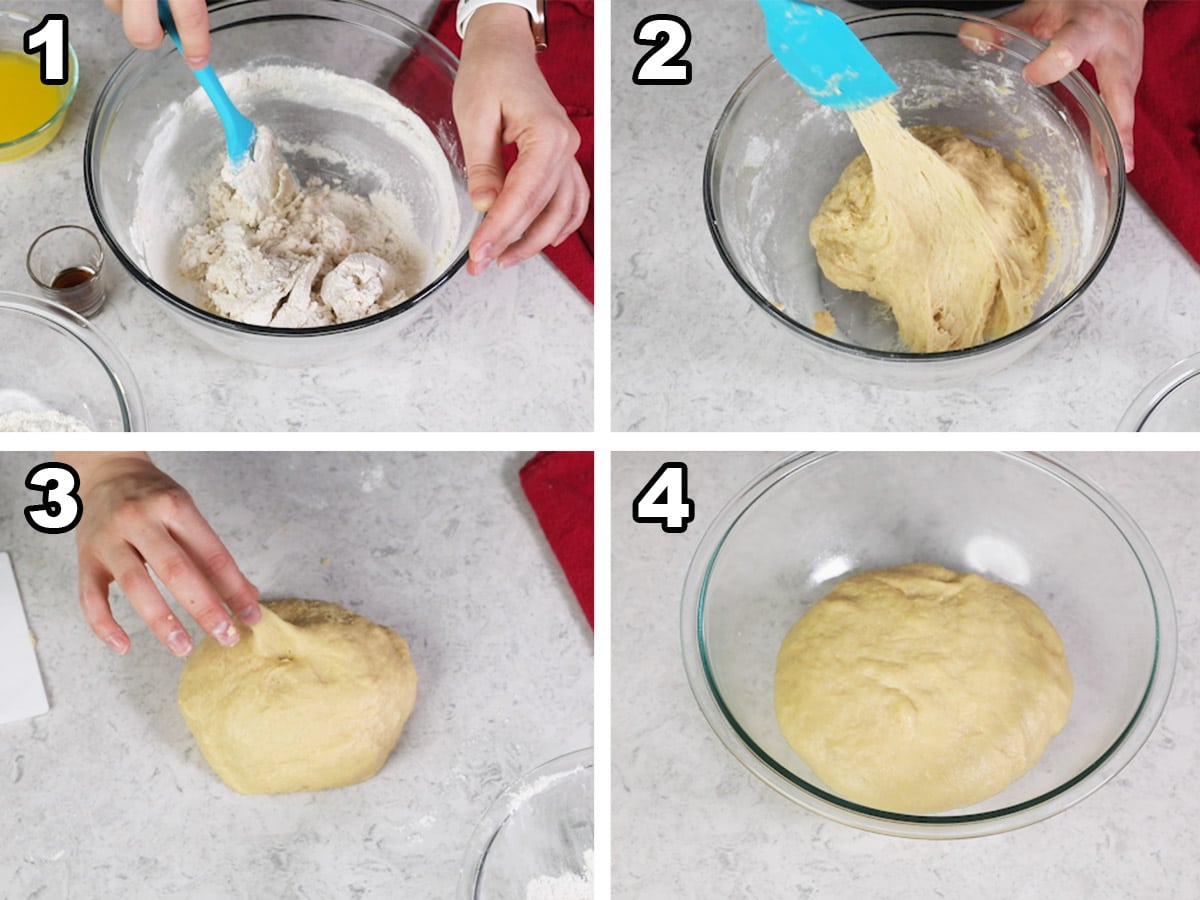 Combine 2 cups of flour, yeast, sugar, and salt in a large bowl. Microwave your milk until it reaches 115F, then add it to your dry ingredients. Stir until completely combined.
Lightly beat your eggs before adding them to the dough. Add your melted butter and vanilla as well, then stir to combine.
Gradually stir in more flour until your dough clings to itself and is tacky to the touch.
Stir/gently knead your dough until it is smooth and cohesive. It should still be slightly tacky. Place your dough in a lightly oiled bowl, cover, and let it rise until it's doubled in size.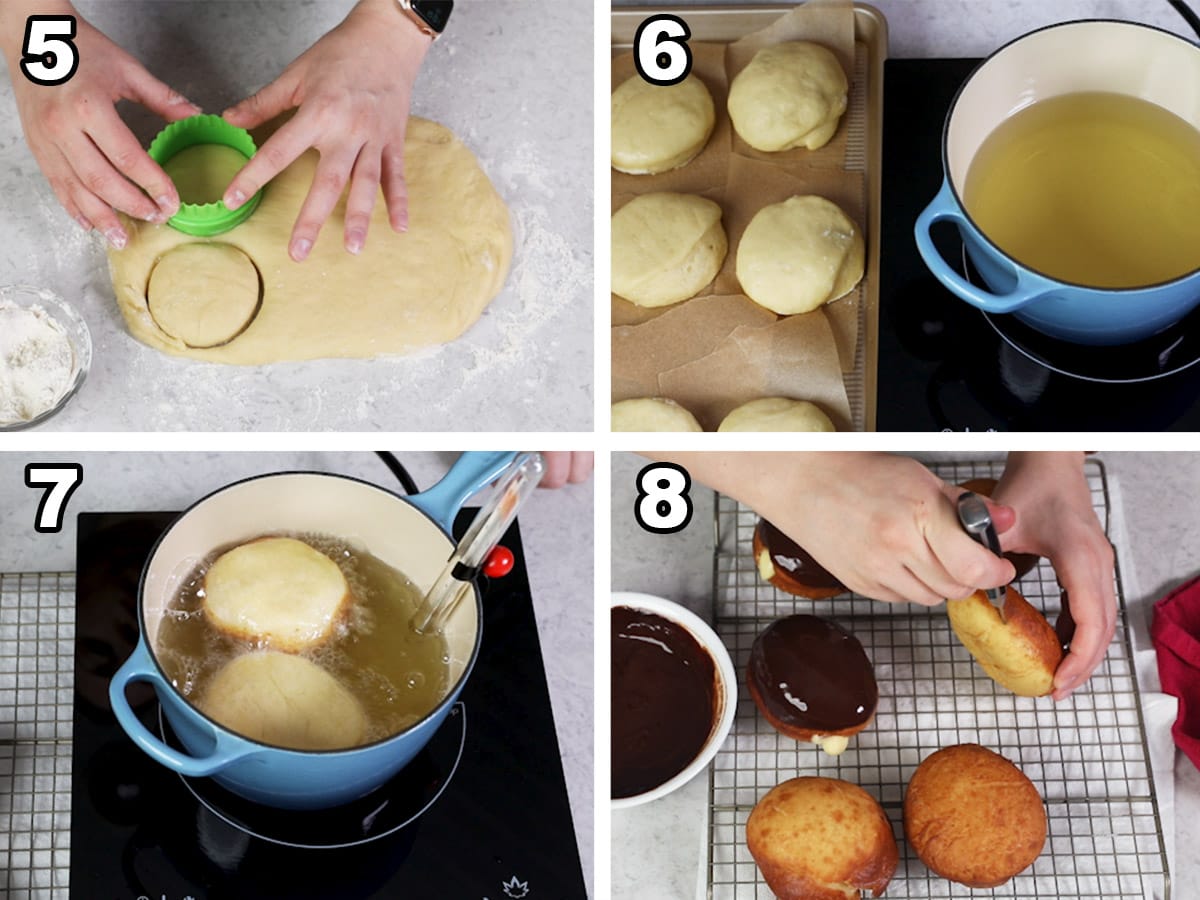 Turn your dough out onto a lightly floured surface and pat it down (you can also roll it) until its ¾″ thick. Use a 3″ biscuit or cookie cutter to cut out donuts as close together as possible. Place donuts on a parchment lined baking sheet (I like to cut individual squares so each donuts has its own square to sit on) and regroup the scraps until you've cut all your donuts.
Cover the baking sheet with plastic wrap or a towel and let the donuts rise until they've doubled in size. While they're rising, heat your oil and prepare your work station.
Once your oil is hot and the donuts have risen, begin frying your donuts one at a time, cooking until golden brown on both sides. Remove the cooked donuts to your prepared cooling rack and allow the oil to come back up to temperature before adding the next. Repeat until all donuts have been cooked.
Use a sharp knife to cut into the side of each donut, going about halfway deep. Repeat until you've made an X shaped hole in each donut.

Place a piping bag filled with pastry cream halfway into each donut and fill with cream.
Prepare your glaze, then dip the tops of your filled donuts. Let the donuts cool on a cooling rack until the glaze sets up a bit. Enjoy while fresh and still warm!
SAM'S TIP: Proper oil temperature is very important when frying. Oil that is too hot will leave your donuts burnt or overcooked on the outside and either dry inside, or possibly worse, raw inside. On the other hand, oil that is too cold will cause greasy donuts. I like to use my first donut as a test donut and check the inside after it's cooled for several minutes to make sure it's not gooey inside. And remember to always let the oil come back to temperature between donuts!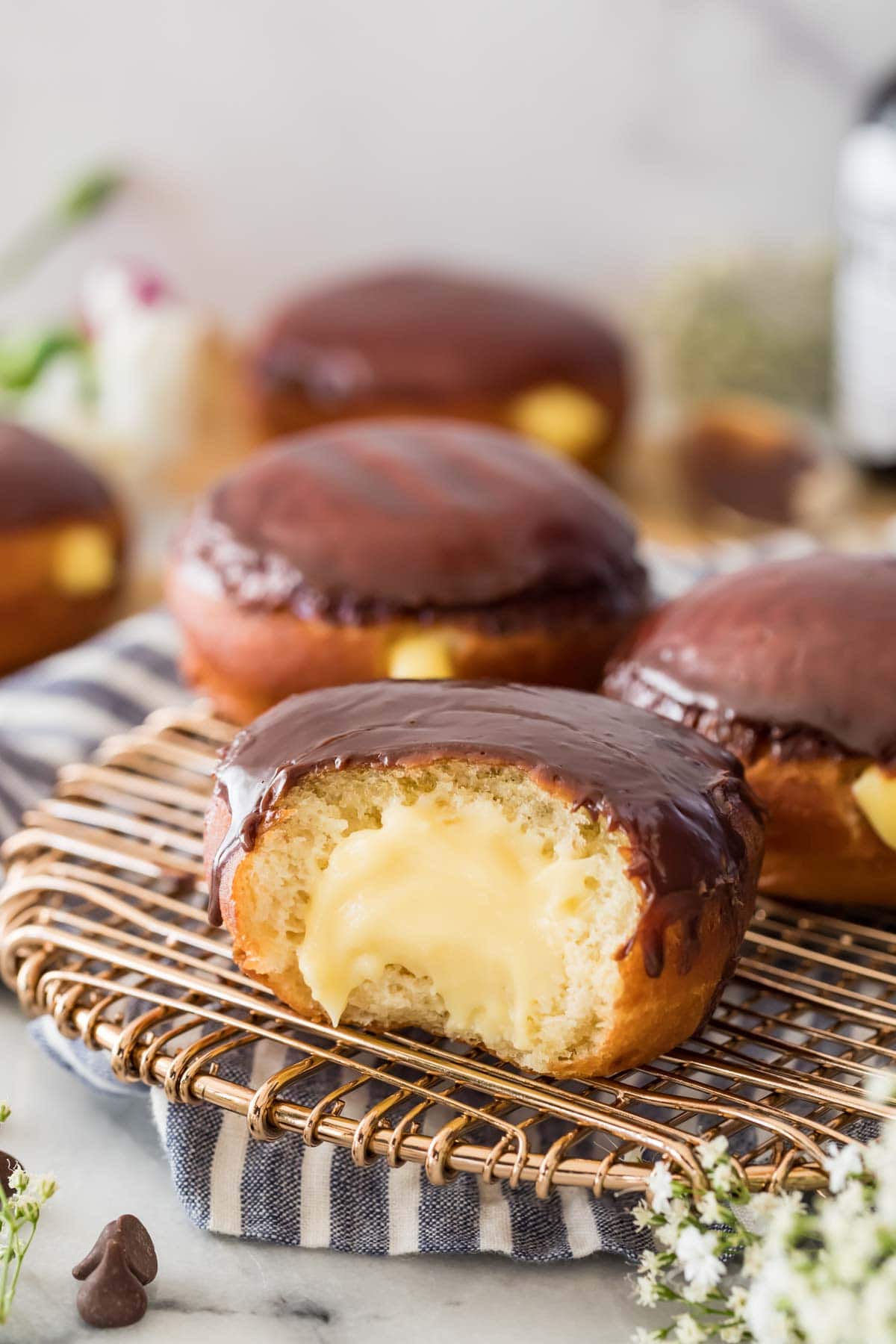 Frequently Asked Questions
What's the difference between Bavarian and Boston cream donuts?
I wish I had a more straightforward answer, but honestly, the names are often used interchangeably and it can be pretty confusing.

Boston cream donuts are always topped with chocolate and filled with pastry cream, just like a Boston cream pie or my Boston cream cupcakes.

Most of the time, Bavarian cream donuts have the same custard filling (sometimes its lightened up with whipped cream or sometimes its thicker), but instead of being topped with chocolate, they are dusted with powdered sugar or coated in granulated sugar. I have seen Bavarian cream donuts out there that have a chocolate topping too, and that's where things get confusing.

Regardless of what you call them, they're an indulgent, cream-filled treat that practically begs to be bitten into!
Do Boston cream donuts need to be refrigerated?
Since they're filled with pastry cream, any leftover donuts must be stored in the fridge and eaten within 40 hours. I highly recommend eating them while they're fresh though, because the donut portion tends to degrade and dry out in the fridge.
Can I mix this dough in a stand mixer?
Yes! I like to do it by hand, but you can easily make this recipe in a stand mixer fitted with a dough hook attachment. Make sure you watch the video to see how your dough should look at each step!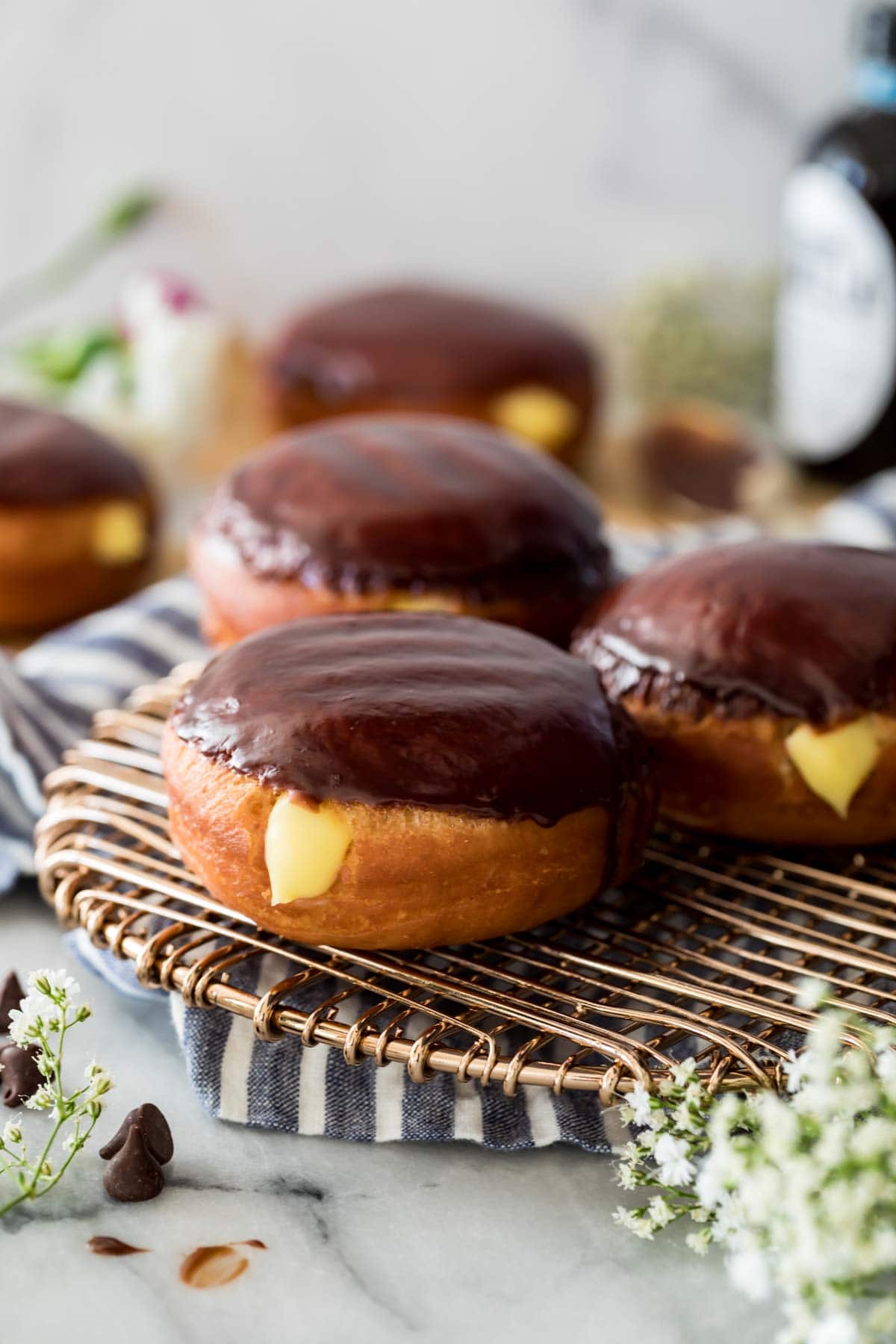 Enjoy!
More Recipes You Might Like
Let's bake together! I'll be walking you through all the steps in my written recipe and video below! If you try this recipe, be sure to tag me on Instagram, and you can also find me on YouTube and Facebook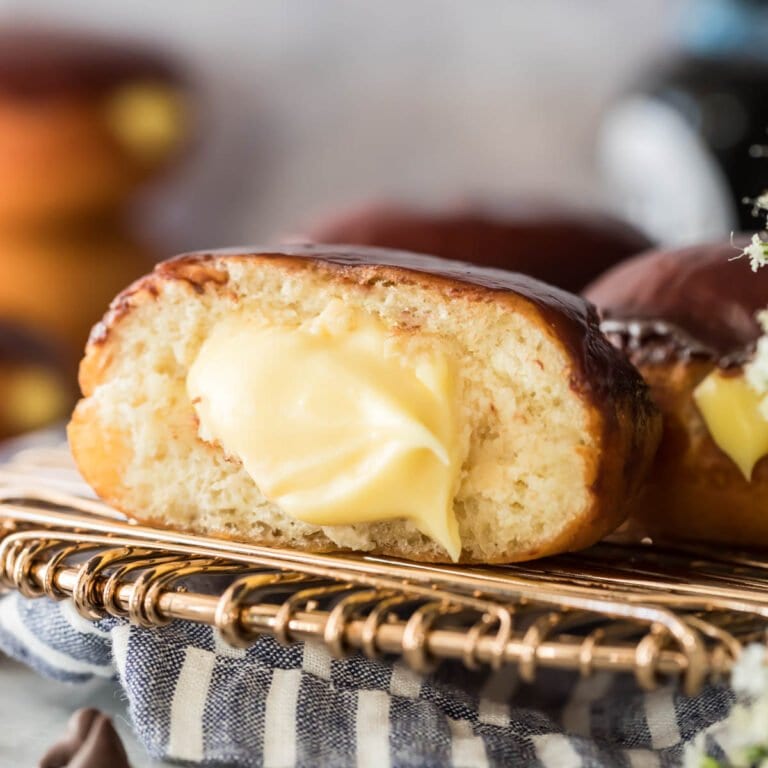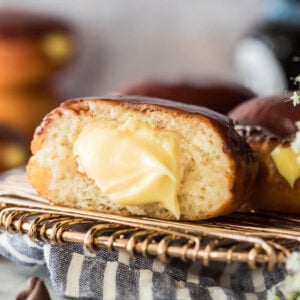 Homemade Boston Cream Donuts
These homemade Boston cream donuts are surprisingly easy to make and taste SO much better than the ones you get from the coffee shop. You'll fill them with silky smooth vanilla custard and dip them in a rich chocolate glaze before they're ready to be devoured.
Recipe includes a how-to video!
Print
Pin
Rate
Ingredients
Donuts
3 ½

cups

(

438

g

) all-purpose flour

divided, plus additional as needed

2 ¼

teaspoons

instant/rapid rise yeast

⅓

cup

(

67

g

)

granulated sugar

1

teaspoon

table salt

⅔

cup

(

157

ml

)

whole milk

6

Tablespoons

(

85

g

) unsalted butter

melted

2

large eggs

lightly beaten (room temperature preferred)

¾

teaspoon

vanilla extract

Vegetable oil

for frying
Glaze
3

oz

(

85

g

)

chopped chocolate

or ½ cup semisweet chocolate chips

½

cup

(

118

ml

)

heavy cream
Recommended Equipment
3" biscuit cutter

Wilton 12 tip
Instructions
Prepare pastry cream first as it will need to chill for several hours before being ready to use.

1 batch homemade pastry cream

In a large bowl (or the bowl of a stand mixer), combine 2 cups (250g) of flour, yeast, sugar and salt and stir to combine.

3 ½ cups (438 g) all-purpose flour,

2 ¼ teaspoons instant/rapid rise yeast,

⅓ cup (67 g) granulated sugar,

1 teaspoon table salt

Heat milk in the microwave in a microwave-safe dish until it's reached a temperature between 110-115F (43-46C). Pour into flour mixture and stir until completely combined.

⅔ cup (157 ml) whole milk

Add melted butter, eggs, and vanilla extract and stir until completely combined.

6 Tablespoons (85 g) unsalted butter,

2 large eggs,

¾ teaspoon vanilla extract

Gradually stir in remaining flour (you can do this with a wooden spoon or spatula or the dough hook attachment of a stand mixer) until your dough is clinging to itself and is slightly sticky/tacky to the touch, but not so sticky that it's sticking to the sides of the bowl or your fingers. You may need more or less flour than is called for in the ingredients list and should judge based off of the texture of the dough.

Stir until dough is cohesive and smooth. Dough should not be dry; slightly tacky dough is ideal for soft donuts.

Transfer dough to a lightly oiled bowl and cover tightly with plastic wrap. Place in a warm, draft-free space and allow to rise until doubled in size (about 30-60 minutes).

Once dough has doubled in size, turn out onto a clean, lightly floured surface and roll or pat dough to be ¾" (2cm) thick. Use a biscuit cutter to cut out donuts and transfer to a parchment paper lined baking sheet, spacing donuts at least 1" (2.5cm) apart. Cover with a towel or plastic wrap and allow to rise until puffy and nearly doubled in size (about 30 minutes). While donuts are rising, you can begin to heat your oil.
Frying
Fill a medium-sized heavy-bottomed saucepan about 2-3" (5-8cm) deep with vegetable oil and fit a candy thermometer to the side (make sure the thermometer is suspended about halfway in the oil and is not touching the bottom of the pan). Turn stovetop heat to medium. Heat oil until you have a steady, consistent temperature of 350F (175C).

Fry donuts one at a time, carefully lowering them into the oil (I use a spider) and frying on each side until light golden brown on each side. Allow oil to return to proper temperature between donuts.

Remove donut from oil to a cooling rack or a paper towel lined plate. Allow to cool for several minutes before filling.
Filling and Glazing
Fit a piping bag with a small round tip (I use a Wilton 12 tip) and fill with prepared pastry cream.

Pierce each donut halfway through with a sharp knife then insert the piping tip halfway into the donut and squeeze pastry cream to fill the donut. Repeat with remaining donuts.

Prepare glaze by combining heavy cream and chopped chocolate in a microwave-safe dish and heating in 20-second increments (stirring in between) until chocolate is melted. Dunk the top of each donut in glaze then allow to cool on cooling rack.

3 oz (85 g) chopped chocolate,

½ cup (118 ml) heavy cream

Donuts are always best served fresh but will keep in an airtight container in the refrigerator for up to 48 hours.
Nutrition
Serving:
1
donut
|
Calories:
409
kcal
|
Carbohydrates:
52
g
|
Protein:
9
g
|
Fat:
18
g
|
Saturated Fat:
11
g
|
Polyunsaturated Fat:
1
g
|
Monounsaturated Fat:
5
g
|
Trans Fat:
1
g
|
Cholesterol:
77
mg
|
Sodium:
290
mg
|
Potassium:
185
mg
|
Fiber:
3
g
|
Sugar:
12
g
|
Vitamin A:
515
IU
|
Vitamin C:
1
mg
|
Calcium:
51
mg
|
Iron:
3
mg
Nutritional information is based on third-party calculations and should be considered an estimate only. Actual nutritional content will vary based upon brands used, measuring methods, cooking method, portion sizes, and more.
Related Recipes