This Basic Muffin Recipe is the starting point for perfect soft & fluffy bakery-style muffins. Serve them as plain vanilla muffins with no add-ins or stir in your favorite mix-ins (I vote chocolate chips!). 
This recipe is the base that I've used for so many of my favorite muffin recipes, including my blueberry muffins, chocolate chip muffins, and oatmeal muffins. Be sure to check out my how-to video at the bottom of the post!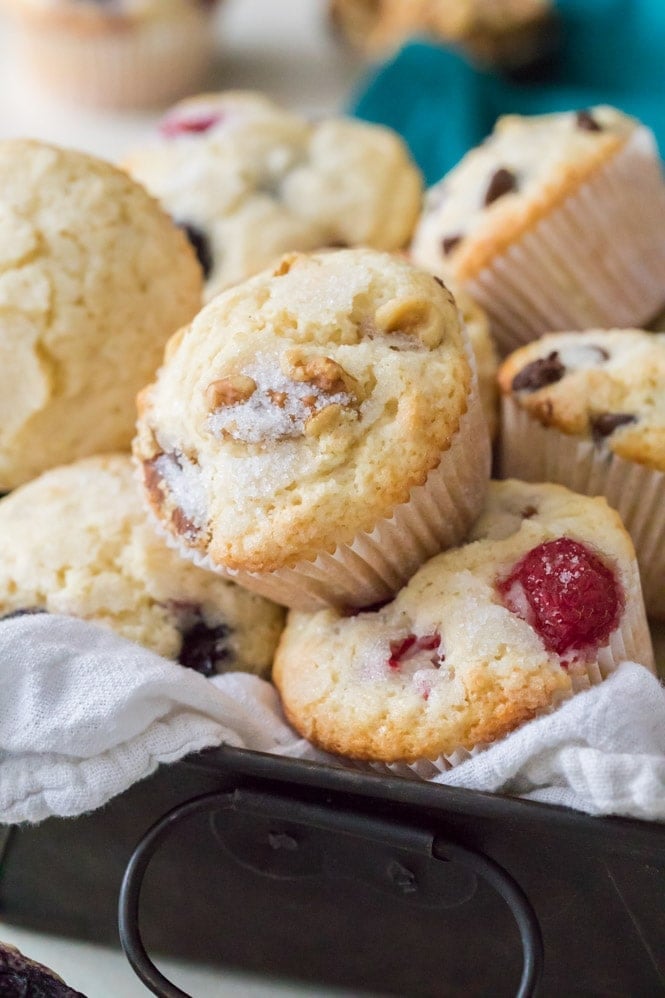 The Perfect Basic Muffin Recipe
Those of you who have been following along with the blog for some time now (<3 you!) have probably figured this muffin recipe out already. In fact, it's really nothing new, I've shared it on the blog at least half a dozen times by this point, in one variation or another.
But, it's never been shared by itself before as the true perfect basic muffin starting point that it really is. And, every day I get e-mails asking me if you can add this or that to one of my muffin recipes, and how much to add, and so on. While I love getting emails, I'm going to have to admit that I'm falling slightly behind on my inbox right now and I thought having a staple stand-alone muffin recipe might just make things easier for all of us.
So today I hope you're in the mood for a breakfast that's a bit more indulgent than the healthy homemade granola I recently shared, because we're going over all of my favorite tips and tricks for perfect muffins. This is a bakery-style starting point that I think you're going to love. And oh boy do I hope you are ready to talk all things muffins for the next 500 words or so…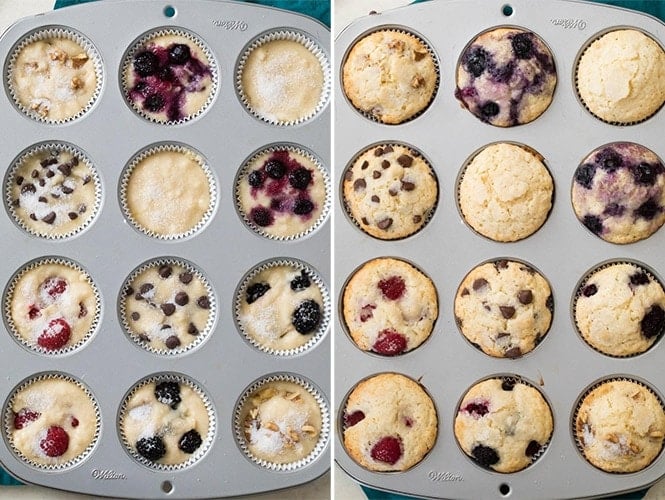 Tips
If you've tried some of my other muffin recipes, you'll recognize a lot of these tips!
How to Measure Flour (it's important!)
Incorrectly measuring your flour is one of the easiest way to go wrong when baking. To measure properly using cups, never scoop your flour directly into your measuring cup. Doing so will usually result in packing the flour into the cup, giving you more (sometimes much more) than you actually need, and often resulting in dry, too-dense muffins.
Instead, stir your flour in its container and then lightly spoon it into your measuring cup, slightly over-filling before leveling the cup off with the back of a knife. Even better, get a kitchen scale (this is the one I use, inexpensive and accurate, affiliate link) to guarantee you are always measuring all of your ingredients correctly. Weighing all of my ingredients has been a game changer in the kitchen, and it actually cuts back on washing dishes — I never have to wash measuring cups anymore!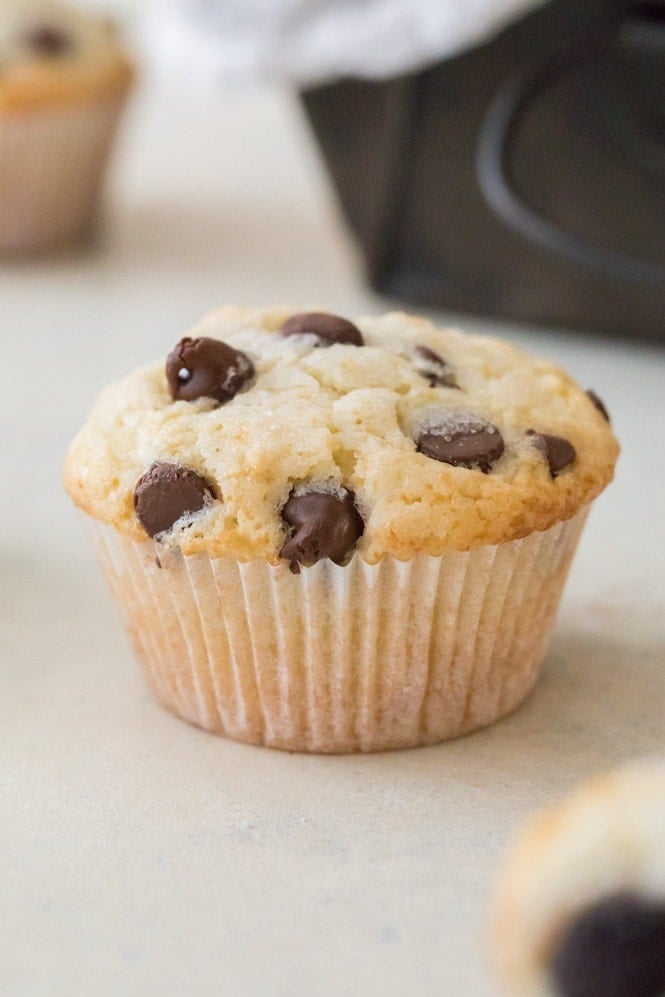 Don't over-mix!
This is a big one! I've warned about the dangers of over-mixing in my buttermilk pancakes and my vanilla cake recipe, but it's just as important in this muffin recipe. Stir your ingredients too much and you'll end up with dense, dry muffins.
Instead, use a spoon or spatula (never an electric mixer) to gently fold together your wet and dry ingredients. If you're adding any add-ins, toss them into the batter once the wet and dry ingredients are about half-way combined (to avoid running the risk of over-mixing and continuing to stir after you've incorporated your ingredients). A few flour streaks in  your batter is A-OK.
Don't bake too long!
Even a minute or two too long in the oven can dry out your muffins. Always start with just a little less baking time than you think you need (just in case your oven is running too hot!). You can always add another minute or two to the end.
Two oven temperatures is better than one
We start by baking this muffin recipe in a very hot oven to help give them a nice rise and then drop the temperature to complete the baking process without drying out our muffins. We'll start with a  hot, 425F oven (make sure it's completely preheated!) and then after a few minutes we drop that temperature to 350F without opening the oven door to complete the baking process. This gives us tall muffin tops with soft, fluffy centers. I learned this trick for using two temperatures years ago and it's made all the difference in my muffin recipes!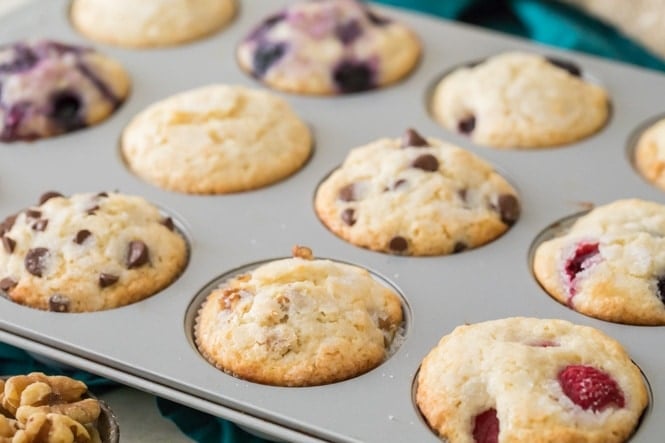 Best Add-Ins for Muffins
This muffin recipe is great even if you don't want to add anything to it at all and just want plain vanilla muffins. However,I like using this as a starting point and then adding my favorite additions. Here are a few of my favorites:
Blueberries, or any berry (fresh or frozen)
Toasted nuts (pecans & walnuts are my favorite)
Chocolate chips or a chopped chocolate bar, or white chocolate, or caramel chips!
These add-ins are a great starting point, but feel free to use your own favorites (and let me know what you use!).
Also keep in mind that this muffin recipe is specifically designed to mix in add-ins that won't change the base muffin recipe itself. If you're looking to do something a bit more radical, like add bananas or make the base chocolate, I recommend you check out my banana muffins or double chocolate muffins instead.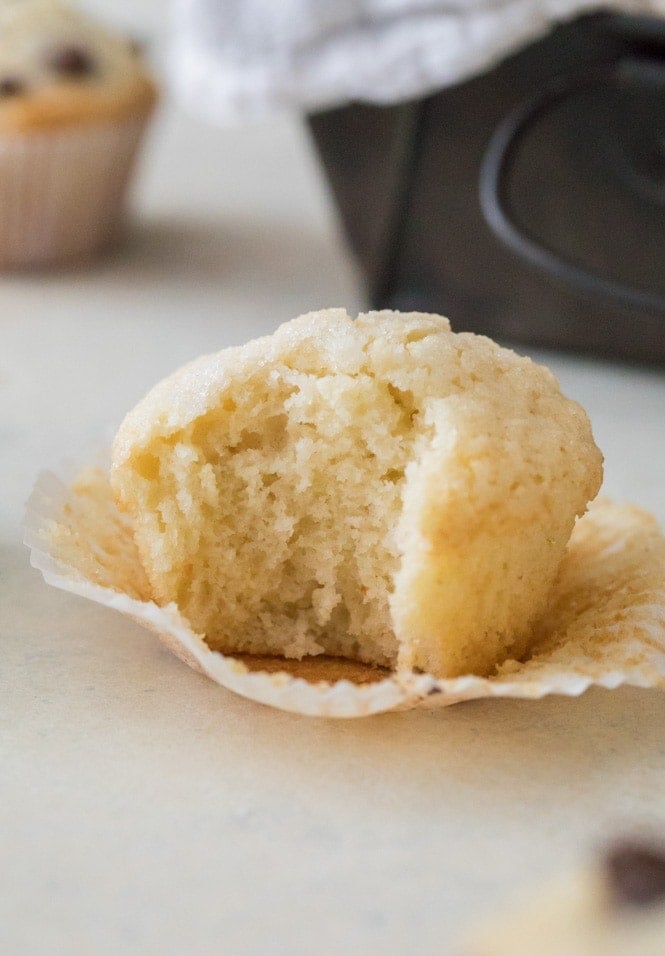 Enjoy (and tell me what you're putting in your muffins!!)!
Out of muffin liners? Learn how to make your own muffin liners here!
More Muffin Recipes to Try:
Be sure to check out my muffin recipe video at the bottom of the recipe! If you enjoy watching, make sure to subscribe to my YouTube channel where I've already uploaded over 100 recipe videos that you can watch for free!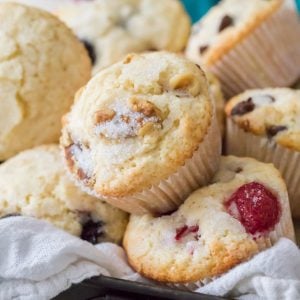 Basic Muffin Recipe
The BEST Basic Muffin Recipe! This is the perfect soft & fluffy starting point for bakery style muffins!
Be sure to check out the how-to VIDEO at the bottom of the recipe!
Print
Pin
Rate
Ingredients
4

Tablespoons

unsalted butter melted

(57g)

¼

cup

canola oil

(60ml) (you may substitute vegetable oil)

1

cup

sugar

(200g)

1

large egg

room temperature

1

large egg white

room temperature

1 ½

teaspoons

vanilla extract

½

cup

buttermilk

(120ml) (click link for buttermilk substitute)

1 ¾

cup

all-purpose flour

(220g)

2

teaspoons

corn starch

cornflour UK

2

teaspoons

baking powder

½

teaspoon

salt

1 ½

cups

of your favorite add-ins:

Chocolate chips, frozen fruit, nuts, etc.

Additional sugar for sprinkling

optional
Instructions
Combine the melted butter and canola oil in a large bowl and stir well. Add sugar and stir again to combine.

Add egg, egg white, and vanilla extract. Mix thoroughly until all ingredients are well-combined, then stir in buttermilk.

In a separate bowl, whisk together the flour, cornstarch, baking powder, and salt.

Using a spatula, gently fold the dry ingredients into the wet, taking care not to over-mix. Once the dry ingredients have been about half-way stirred into the wet, stir in add-ins (if using) and continue to fold in to batter until just combined.

Cover bowl with a dry towel and allow batter to rest for 15-60 minutes*

Preheat oven to 425F (215C) and line a 12-count muffin tin with paper liners.

Once oven has preheated, portion batter into prepared tin, filling each liner at least ¾ of the way full.

If desired, sprinkle tops generously with sugar and transfer muffin tin to preheated oven.

Bake on 425F (215C) for 8 minutes and then, without opening the oven door, reduce the oven temperature to 350F (175C) and bake another 12 minutes, or until tops are just beginning to turn golden brown.

Allow to cool and enjoy!
Notes
*This is optional, it helps give the muffin tops a higher rise but you can put them straight in the oven without waiting even 15 minutes and they'll still taste delicious.  Ideally you would let the batter set at least one hour, but I found 15 minutes gives me a decent rise (the muffins in the photographs were allowed 15 minutes) while still not dragging out the process too much.  
Nutrition
Serving:
1
muffin (excluding calories from add-ins)
|
Calories:
222
kcal
|
Carbohydrates:
32
g
|
Protein:
3
g
|
Fat:
9
g
|
Saturated Fat:
3
g
|
Cholesterol:
25
mg
|
Sodium:
118
mg
|
Potassium:
109
mg
|
Fiber:
1
g
|
Sugar:
17
g
|
Vitamin A:
153
IU
|
Calcium:
46
mg
|
Iron:
1
mg
Nutritional information is based on third-party calculations and should be considered an estimate only. Actual nutritional content will vary based upon brands used, measuring methods, cooking method, portion sizes, and more.