Soft, fluffy, and lighter than air, these Angel Food Cupcakes sure live up to their name! While the technique is similar to making the classic version of their namesake cake, these sweet and simple cupcakes bake in half the time. Top them off with homemade whipped cream and fresh strawberries, or enjoy them plain! Recipe includes a how-to video!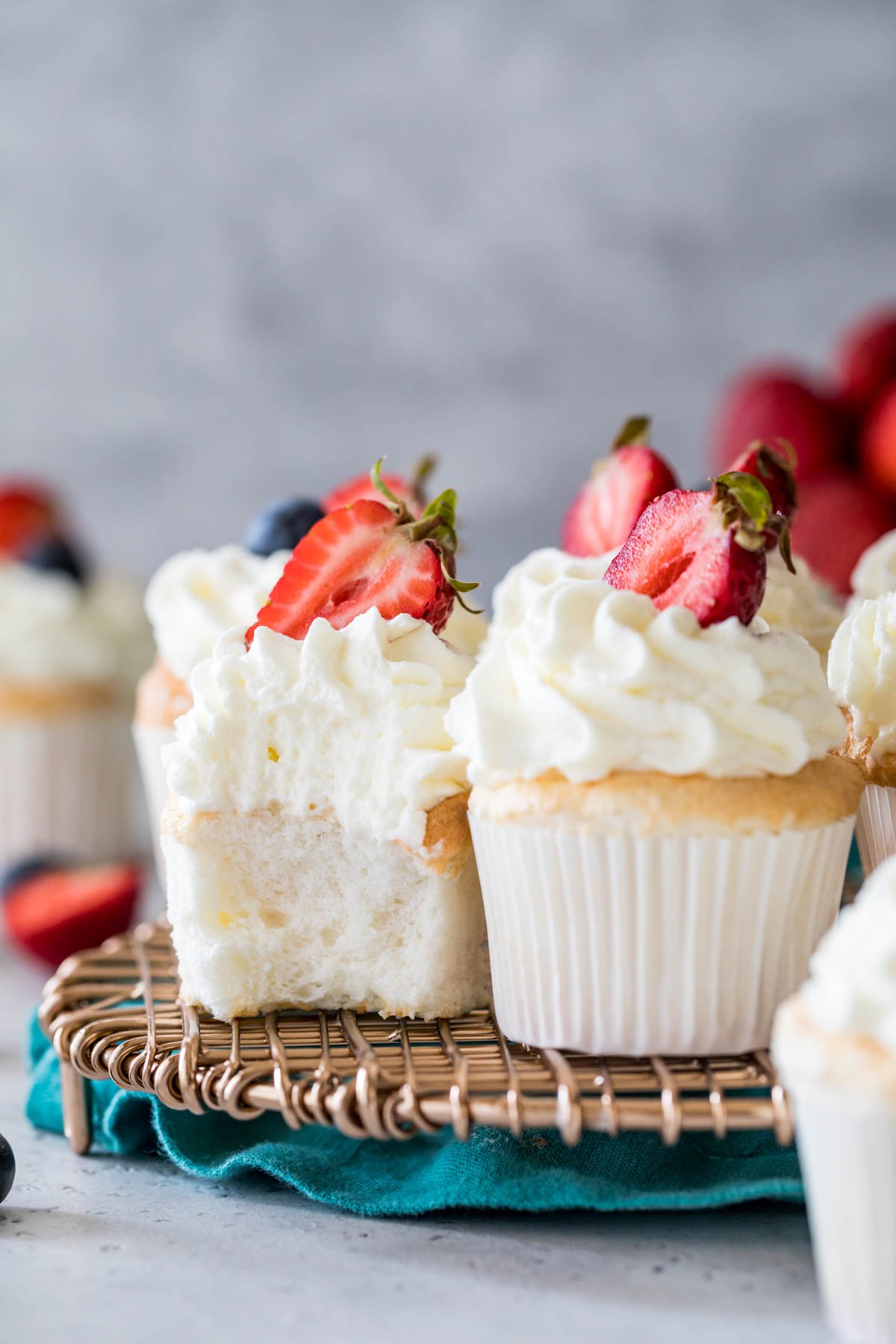 Fluffy Angel Food Cupcakes
My favorite cake gets a mini makeover today. If you've never had angel food cake before, it is a delicate and sweet cake with a heavenly, light and airy texture (hence the name!). The cake is typically made in a tube pan, but today we're making it in cupcake form and topping with whipped cream (though, in retrospect I think this may have been a missed opportunity to use my chocolate whipped cream)!
Today's recipe is similar to my angel food cake, but a few changes were necessary in order to make them successful as cupcakes. If you've ever made an angel food cake, you know a critical part of the process is suspending the cake upside down immediately after it comes out of the oven and it must cool that way. But… try doing that with a cupcake tin (please don't, really!). Doesn't exactly work!
Out of necessity, I've slightly modified the recipe to make it work without needing to be flipped upside down. This recipe has a (slightly) sturdier crumb to help the cupcakes hold their shape. It also bakes in a fraction of the time, so if you're in a rush, definitely make this one!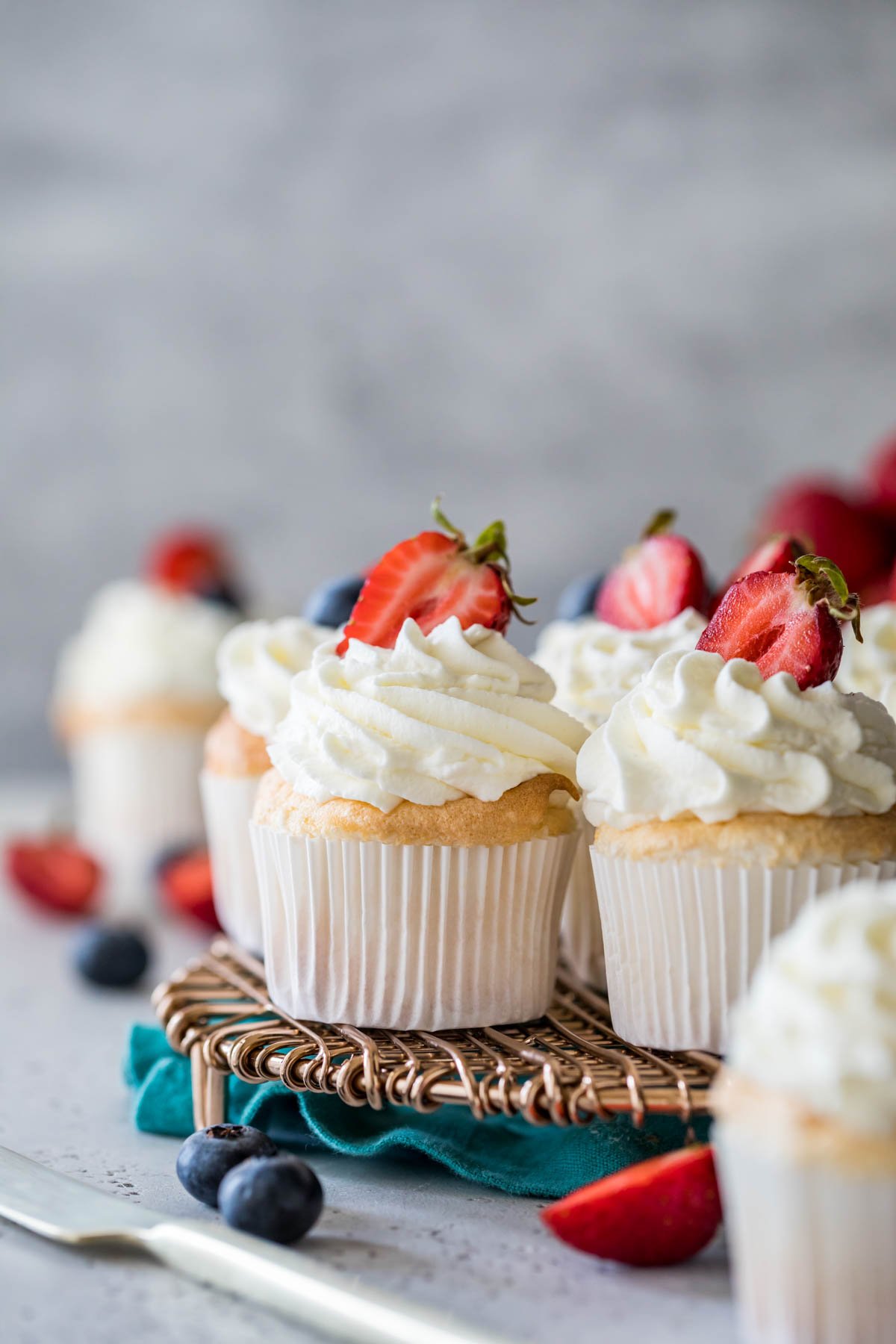 One thing to note before we get started: we will be whipping egg whites to stiff peaks to make these cupcakes. If you've made my meringue cookies or macarons before, you already know that it is very important to 1) use the right kind of egg whites 2) make sure you don't get any yolk–not even a speck–in with the whites and 3) use clean, dry, and grease free bowls and beaters. Meringue is a finicky thing, so this is key for your success!
Why you'll love these cupcakes:
Much quicker to make than a whole cake.
Incredibly light and airy texture ✨
Simple ingredients–mostly pantry staples!
Sweet flavor enhanced with a touch of almond extract.
What You Need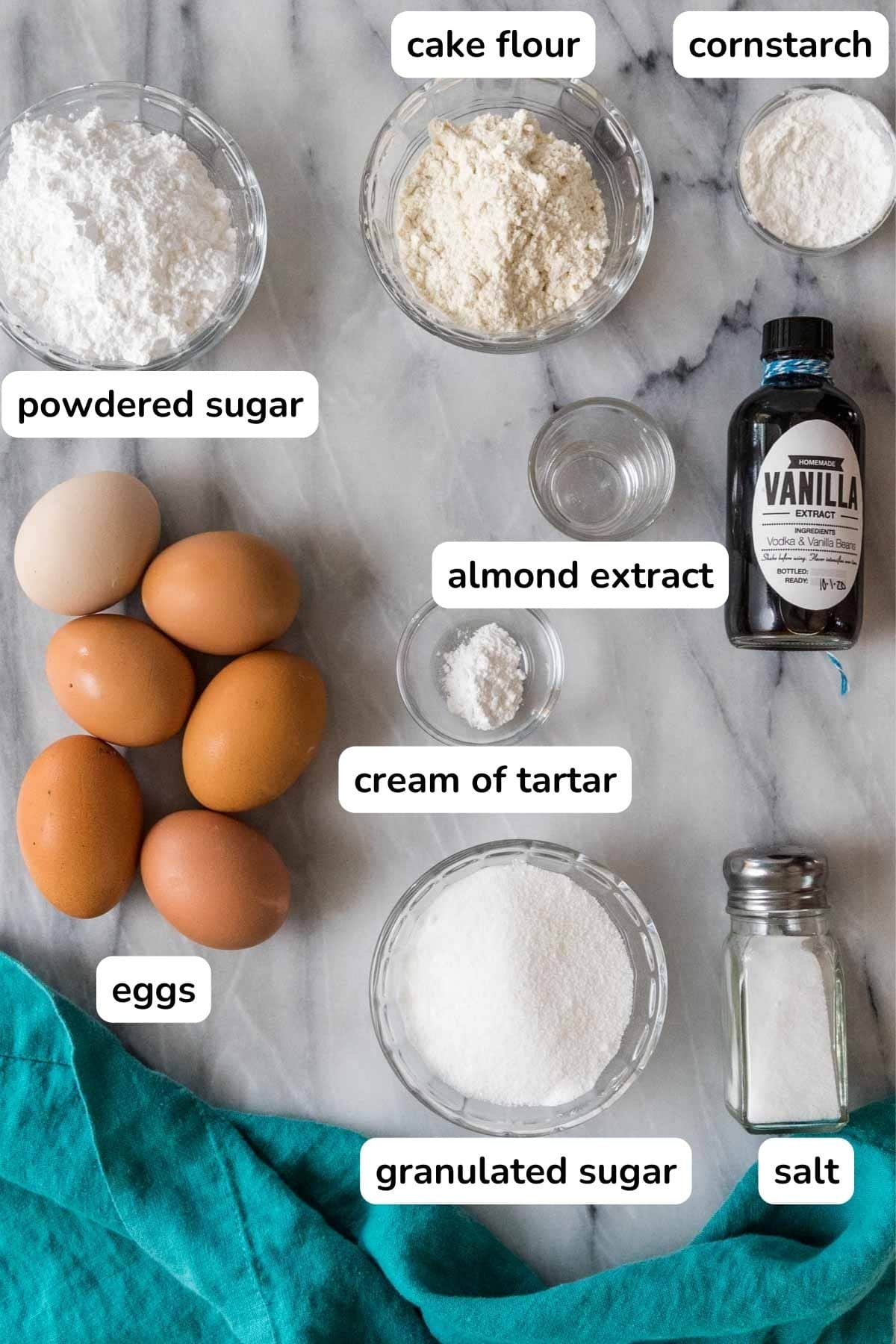 You only need 10 ingredients to make my angel food cupcakes with whipped cream! Here are a few worth mentioning before we dive in:
Egg whites. Do not use carton egg whites! These won't always whip up properly, and this recipe heavily relies on properly whipped egg whites. Instead, separate your own eggs (into a clean, dry, grease free bowl!) and make sure you don't get even a tiny bit of yolk in with the whites. I include a few recipe ideas below for using up your extra yolks.
Cake flour. I prefer cake flour here, but you can use all-purpose flour if that's all you have on hand. Details on how to substitute all-purpose flour are included in the recipe notes below.
Cornstarch. This ingredient isn't in my original cake recipe. Here, I use it to help make the structure of the cupcake, it makes the fragile crumb sturdier (without compromising the light texture we're aiming for).
Sugar. You'll need to whip out the powdered sugar and the granulated (or, alternatively, superfine/caster sugar) for this recipe. Powdered sugar is mixed in with the dry ingredients while granulated sugar is whipped into the meringue (much like we do with my macarons) to help stabilize it.
Almond extract. Just a tiny splash of almond extract adds a bright, cozy flavor. You can always leave this out if you prefer or if you just don't happen to have any, but I love the way it works in this recipe.
SAM'S TIP: It's best to use an electric mixer or stand mixer for this recipe since you'll need to do a lot of mixing to prepare the meringue. I definitely wouldn't recommend making this recipe by hand!
Remember, this is just an overview of the ingredients I used and why. For the full recipe please scroll down to the bottom of the post!
How to Make Angel Food Cupcakes
Cake Batter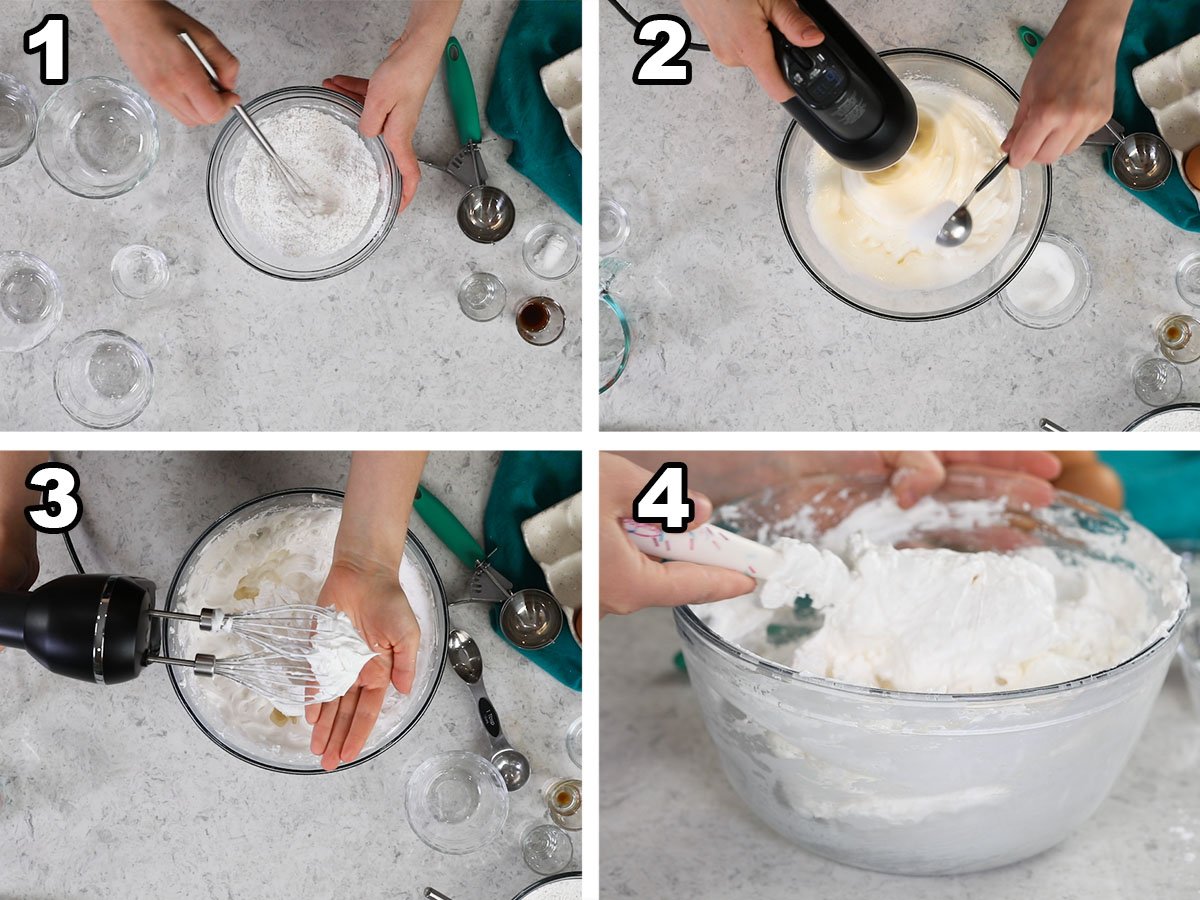 Combine the cake flour, cornstarch, and powdered sugar with a whisk, then set this aside. In a separate clean, dry, and grease free bowl (this is key, remember!), beat the egg whites, cream of tartar, extracts, and salt on low speed until combined.
Gradually increase the mixer speed to high and begin adding the granulated sugar one tablespoon at a time, waiting 20 seconds between additions.
Keep beating until the meringue reaches stiff peaks. The mixture will appear glossy and should have greatly increased in volume as well.
Gently fold the the flour mixture into the meringue. Do this until the mixture is combined, but don't over-mix or the cupcakes could become dense and flat.
SAM'S TIP: You must whip your egg whites to stiff peaks! If you don't, you risk having your cupcakes sink after baking or just turn out with an poor, dense, and sadly deflated texture. If you're more of a visual learner, it might be helpful to check out my video (in the recipe card) to see what stiff peaks looks like.
Bake + Cool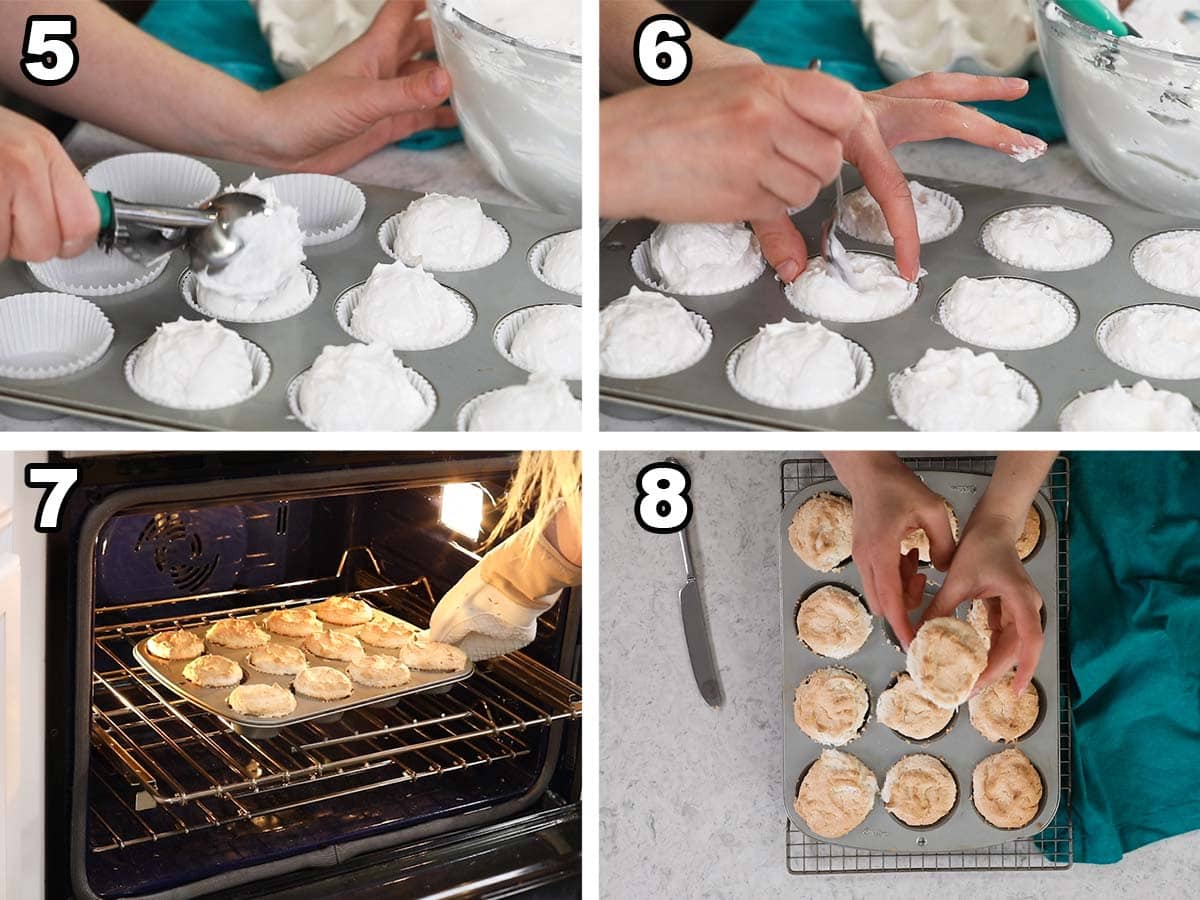 Divide the batter into a lined cupcake tin. The liners will be very full, and this is okay! In fact, this helps them bake properly without shrinking; some of the muffin batter will stick slightly to the top of the muffin tin, which serves the bonus of holding the top in place and keeping it from sticking as they cool (during which some inevitable shrinking will occur). Don't stress about being able to remove the cupcakes, just use a butter knife to gently loosen the cupcakes from the tin anywhere they've stuck.
Smooth the tops of each cupcake with the back of a spoon. This is optional, but their appearance won't change too much after baking, so I like to make sure they look pretty before.
Bake the cupcakes for 16 minutes at 375. Turn off the oven, crack the door open a few inches, and wait another 15-20 minutes before removing the cupcakes. Why? You might ask? Cooling angel food cupcakes slowly helps prevent the extreme shrinkage that can happen from rapidly cooling them, so letting them cool a bit in the oven helps. The very tippy-tops of the cupcakes will get ever so slightly crisp during this stage (think like a meringue cookie), which adds a nice subtle texture.
Remove the cupcakes from the oven and let them sit in their pan until they have cooled completely. Now, despite everything you've done, the cupcakes will still shrink a bit during this stage–this is normal and thanks to your careful preparation it shouldn't be anything major.
Whipped Cream

Whip the heavy cream, vanilla, and powdered sugar to stiff peaks.
Pipe or dollop the whipped cream on your cupcakes just before serving. Don't add the frosting too soon or it can make the cupcakes soggy as they sit. Add right before serving for best presentation and texture.
SAM'S TIP: These cupcakes are super light and airy, so much that the cupcake liner actually plays an important role in helping hold their shape. Don't remove them from the liners until you're eating them, they'll shrink up on themselves a bit if you do!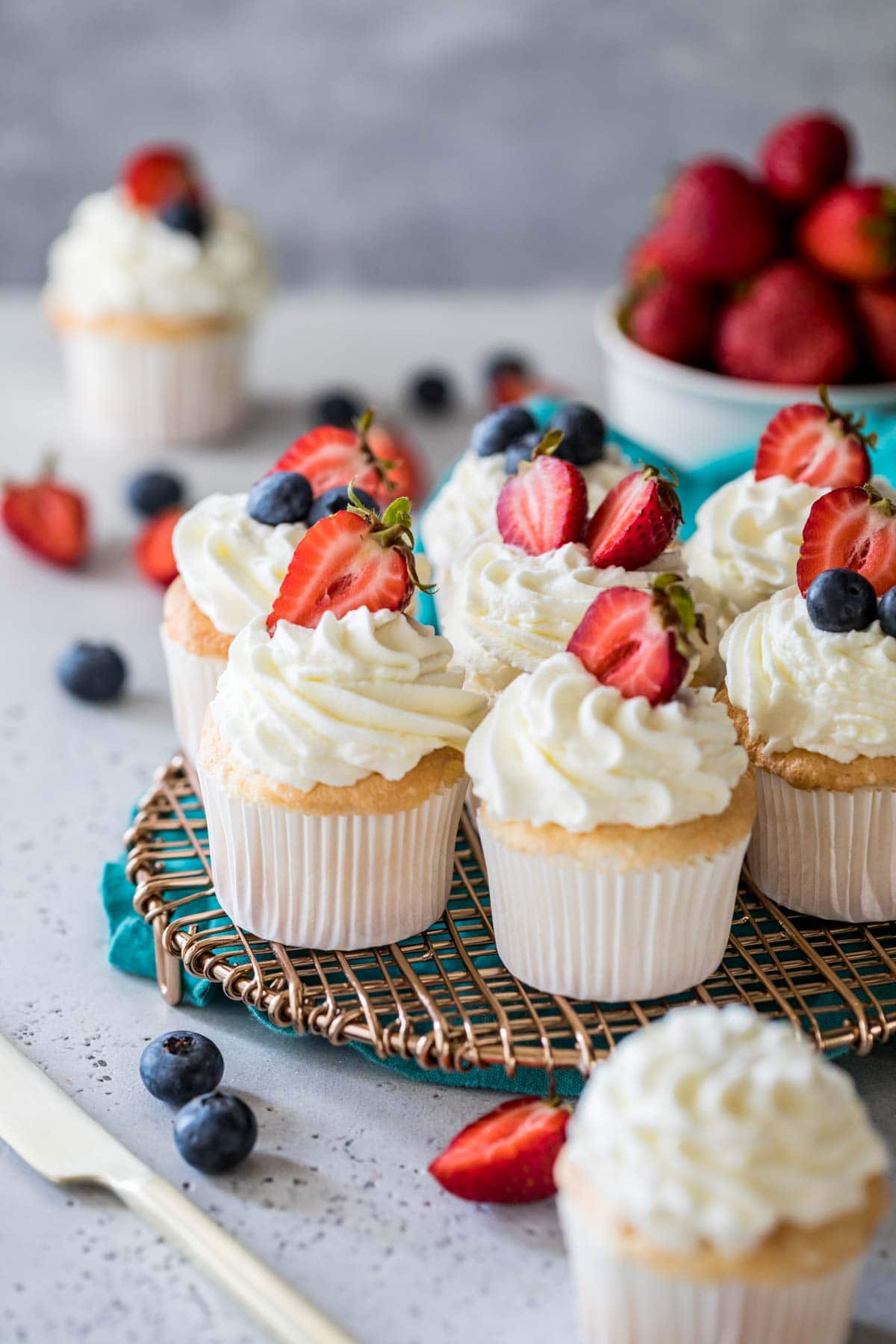 Frequently Asked Questions
Why did my angel food cupcakes sink?
The cupcakes will puff in the oven and then deflate a bit as they cool, but if they have been prepared, baked, and cooled properly, they shouldn't sink in on themselves.

The most likely reasons for sinking would be not whipping the egg whites fully to stiff peaks, over-mixing the batter when folding the meringue and flour mixture together, underbaking, or not allowing the cupcakes to cool slowly.

If your cupcakes do sink, don't stress, they'll still be tasty. And, if you cover them with whipped cream, no one will know!
What frosting should I use?
While you could really use any frosting, these cupcakes are delicate and don't hold up to the weight of a heavy frosting too well. Also, this cake is quite sweet and it can easily stray into "too sweet" territory with a classic frosting like a buttercream.

Because of this, my preference is to just make whipped cream or stabilized whipped cream and dollop or pipe it on top just before serving. I'll sometimes top them with strawberries or serve them with a side of macerated strawberries too!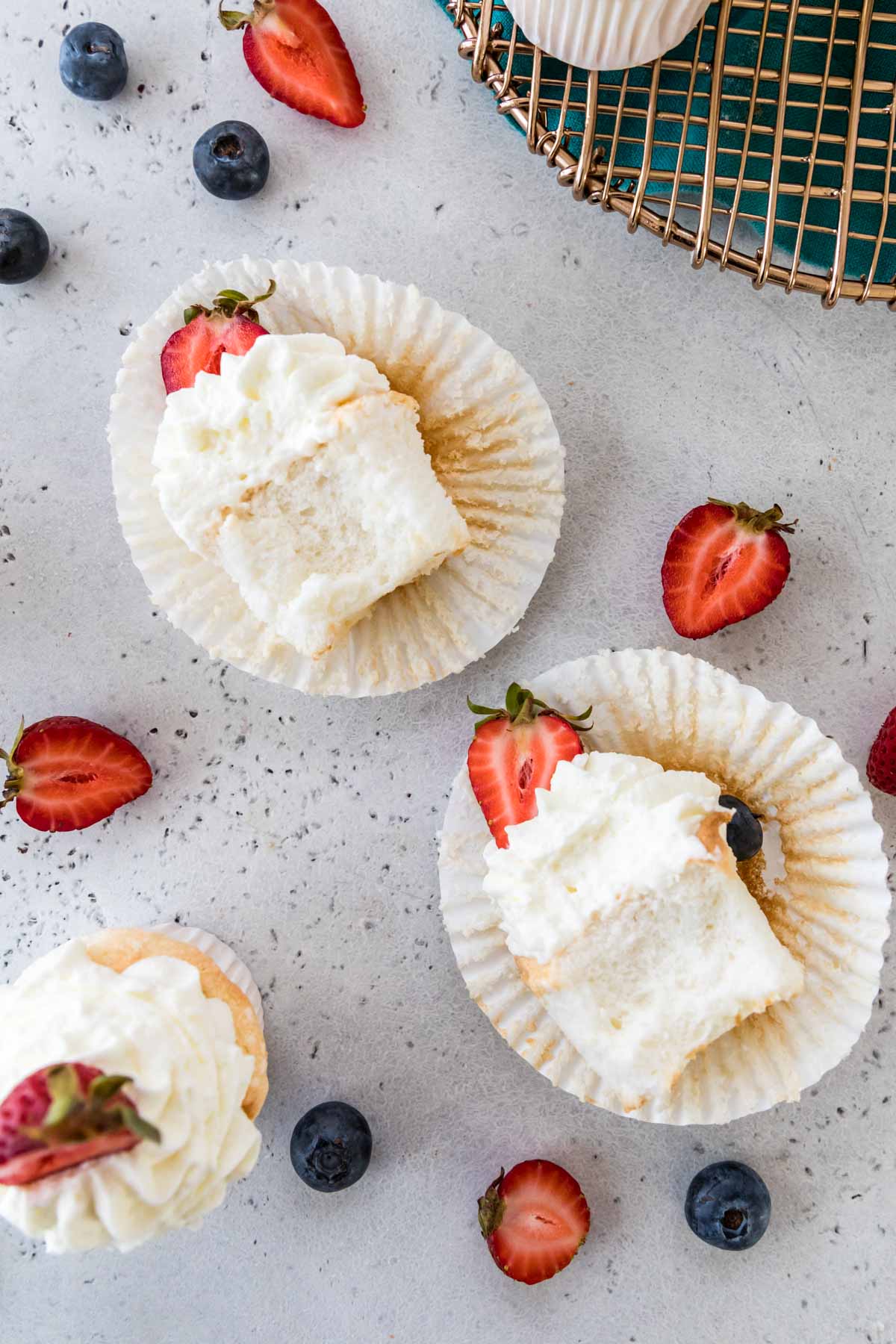 Light, delicate, and oh-so good, I'm very excited for you to try these 😍
Enjoy!
Let's bake together! I'll be walking you through all the steps in my written recipe and video below! If you try this recipe, be sure to tag me on Instagram, and you can also find me on YouTube and Facebook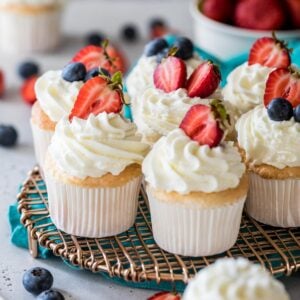 Angel Food Cupcakes
Angel food cupcakes taste just like the cake, but they bake in half the time! My recipe includes an optional homemade whipped cream for topping. They taste great plain too!
Recipe includes a how-to video!
Print
Pin
Rate
Ingredients
⅔

cup

(

80

g

)

powdered sugar

½

cup

(

55

g

)

cake flour

1

Tablespoon

cornstarch

¾

cups

(

175

ml

)

egg whites

typically 5-6 egg whites

¾

teaspoon

cream of tartar

¾

teaspoon

vanilla extract

⅛

teaspoon

almond extract

optional

⅛

teaspoon

salt

½

cup

(

100

g

)

granulated sugar
Instructions
Preheat oven to 375F (190C) and line a cupcake pan with paper liners.

In a medium-sized bowl, whisk together powdered sugar, cake flour, and corn starch; set aside.

⅔ cup (80 g) powdered sugar,

½ cup (55 g) cake flour,

1 Tablespoon cornstarch

In a large (completely clean, dry, and grease-free) bowl mixing bowl, combine egg whites, cream of tartar, vanilla and almond extracts, and salt. Use an electric mixer to beat on low-speed until combined.

¾ cups (175 ml) egg whites,

¾ teaspoon cream of tartar,

¾ teaspoon vanilla extract,

⅛ teaspoon almond extract,

⅛ teaspoon salt

Slowly increase mixer speed to high, and once on high speed gradually add the granulated sugar, 1 Tablespoon at a time, mixing for about 20 seconds between Tablespoons.

½ cup (100 g) granulated sugar

Beat until stiff peaks form. The meringue should be thick, glossy, sticky, and increased in volume. If you lift your beaters out of the batter, the peak that forms should hold its shape and not fold over or recede.

Add cake flour/sugar mixture and use a spatula to gently fold ingredients together until combined. Avoid over-mixing.

Divide batter evenly into the prepared cupcake liners, it is fine to overfill the liners, they will be very full.

Bake cupcakes on the center rack of your 375F (190C) oven for 16 minutes or until the tops spring back when lightly touched, and any cracks on the surface look dry.

Turn off the oven and open the door several inches. Allow cupcakes to cool for 15-20 minutes in the oven before removing to cool completely in the cupcake tins.

Once cooled, carefully remove cupcakes. If desired, prepare whipped cream for topping.
Whipped Cream
Combine heavy cream, sugar, and vanilla in a large mixing bowl.

1 ½ cups heavy cream,

½ cup (60 g) powdered sugar,

1 teaspoon vanilla extract

Beat with an electric mixer until stiff peaks form.

Dollop or pipe frosting over cupcakes. Serve immediately.
Notes
Cake flour
You may substitute all-purpose flour, you will need 55g or measure out ½ cup and then remove 1 Tablespoon.
Whipped cream
Add whipped cream to cupcakes only just before serving.
Storing
Store un-frosted cupcakes in an airtight container at room temperature for up to 3 days. After frosting: Cupcakes won't keep as well after whipped cream has been added, but you could store in an airtight container in the refrigerator for up to 2 days.
Liners
The cupcake liners support the cupcakes, once removed from the liners they will slowly begin to sink in on themselves, so leave in the wrappers when serving.
Nutrition
Serving:
1
cupcake
|
Calories:
210
kcal
|
Carbohydrates:
25
g
|
Protein:
3
g
|
Fat:
11
g
|
Saturated Fat:
7
g
|
Polyunsaturated Fat:
1
g
|
Monounsaturated Fat:
3
g
|
Cholesterol:
34
mg
|
Sodium:
58
mg
|
Potassium:
91
mg
|
Fiber:
0.1
g
|
Sugar:
21
g
|
Vitamin A:
437
IU
|
Vitamin C:
0.2
mg
|
Calcium:
22
mg
|
Iron:
0.1
mg
Nutritional information is based on third-party calculations and should be considered an estimate only. Actual nutritional content will vary based upon brands used, measuring methods, cooking method, portion sizes, and more.
Related Recipes