A classic, homemade angel food cake is cut and layered with a deliciously light, sweet, and subtly zesty lemon curd filling (made with homemade whipped cream) and stuffed with strawberries to make this brilliantly summer-y, exquisitely delicious angel food cake.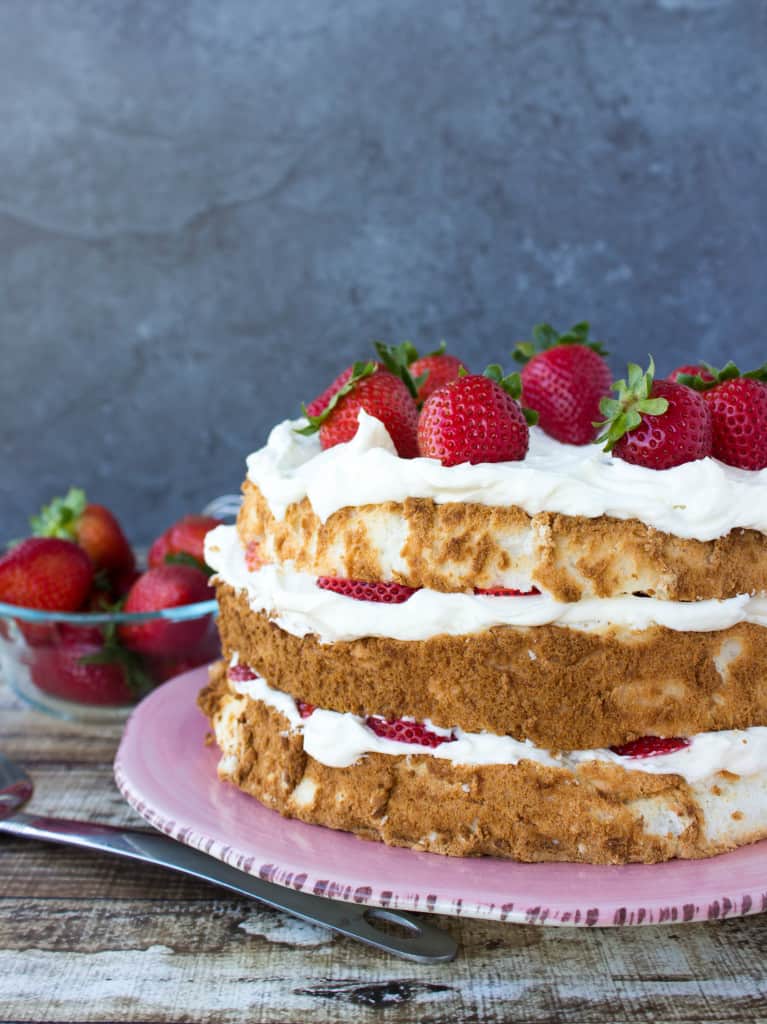 My obsession with this cake goes beyond words.
This cake is more than just cake; it is the fleeting joys of life embodied in baked goods.
It is catching fireflies at twilight and letting them go, it is flashing a newly-minted driver's license to the bartender for your first legal drink, it is a first crush and the first shy brush of your lips against theirs. It is delightful and innocent and as ephemeral as summertime itself feels in the dead of winter.
If I were told I could only eat one thing again for the rest of my life… well I'd probably choose something practical like chicken, but my heart would break often for loss of this cake.
For the loss of it's sweet, (appropriately) heavenly, fluffy interior, snow-white and slightly sticky. For the melt-in-your-mouth texture reminiscent of cotton candy, and the way in which you can feel the sugars beginning to melt on your tongue the moment you take your first bite. For the delicately browned exterior, and for the slightly tangy strawberry-filled cream that takes the cake to an entirely new level of flavor, creating a symphony of flavor and texture with soft notes of almond extract against a clamor of strawberries, and a melody of classic angel food orchestrated by a gentle zest of lemon .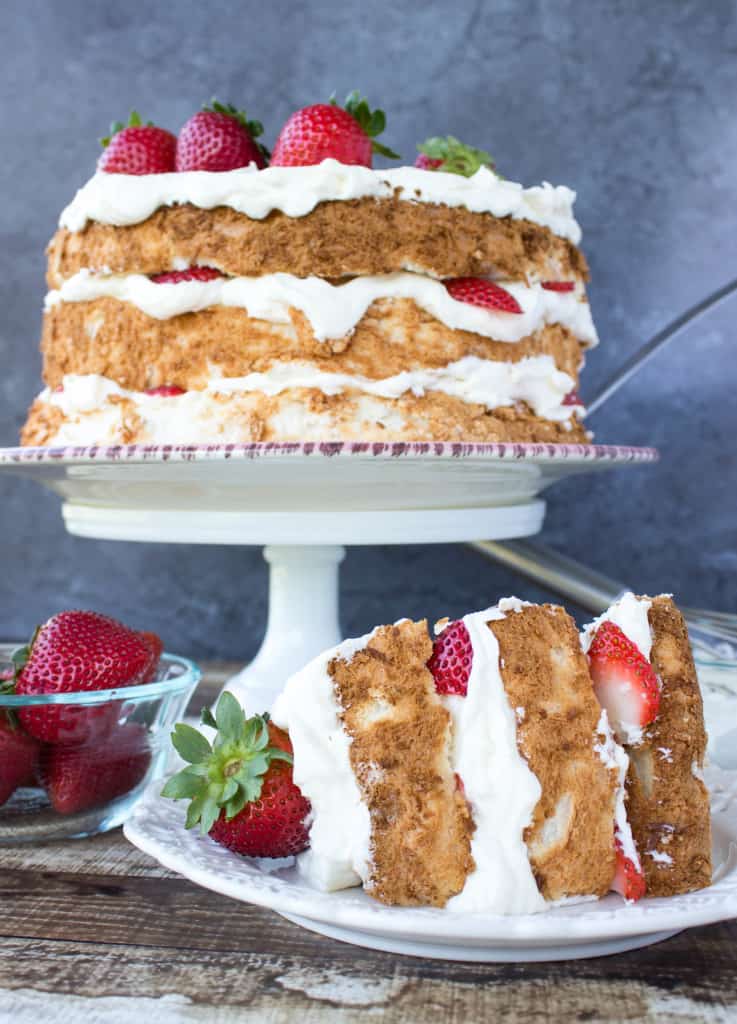 The recipe for this cake (not the filling) is my mom's.
That's not exactly true; it originated from a Good Housekeeping cookbook that is now so well-used the spine is now duct-taped and each time you open it pages fall out in a flurry of well-loved recipes, too tired to hold on to their binding any longer.
But my mom has made this recipe countless times (mostly to use up a surplus of eggs from the chickens she and my dad raise), making it her own, and just like my great-grandmother makes the best fettuccine sauce and my grandmother makes the best chicken pot-pie in the world, my mom makes the best angel food cake. It's requested with fervor, devoured within moments at parties, and each year on my birthday I ask her to make it for me.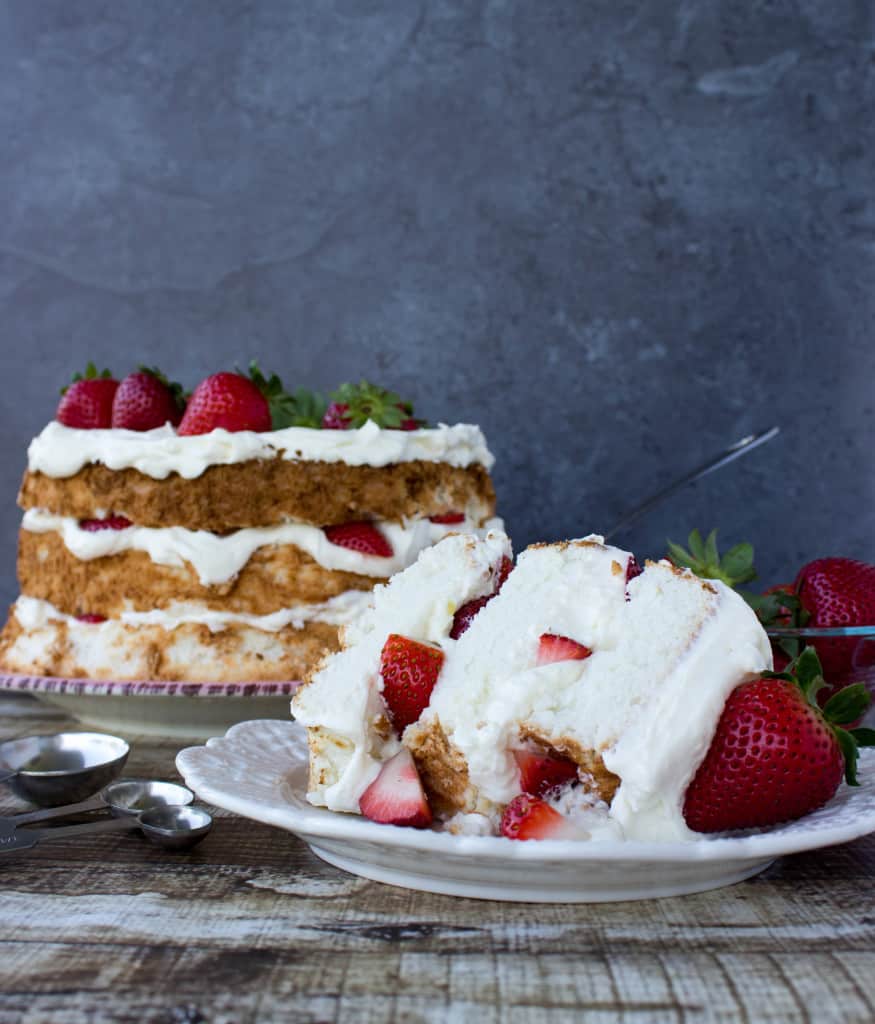 Now, I'm sharing the recipe with you, dressed up with my own strawberry and lemon cream filling, and I sincerely hope you try it out for yourself.
Homemade Angel Food Cake is not to be compared to supermarket store-bought nor to those contrived from a box. There is simply no comparison. Homemade, from scratch, is superior in every way and only this food could ever compel me to write about it so passionately.
So long as you understand the meaning of "stiff peaks" (and if you don't, I'm sure you know how to google) it's really very easy to pull together, so long as you don't mind taking the time to crack and separate almost a dozen eggs.
Make it. Taste it. Share it. Try to hold onto it, but remember this cake is as deliciously sweet and fleeting as strawberry season and disappears in the blink of an eye.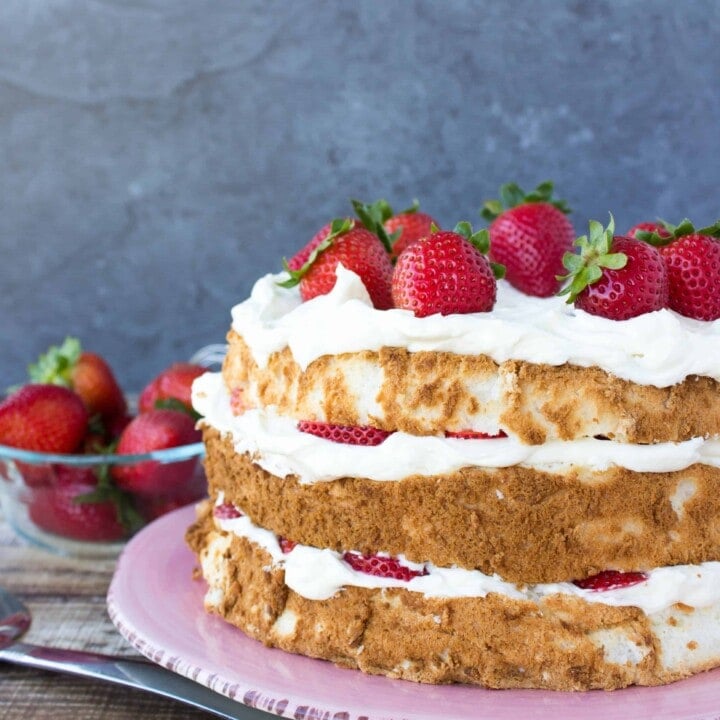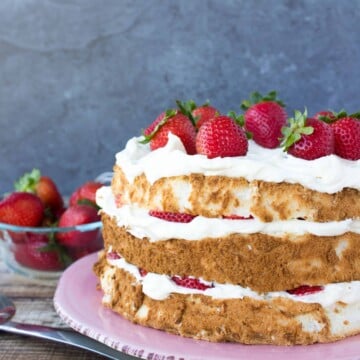 Lemon Layered Angel Food Cake
A classic, homemade angel food cake that is cut and layered with a deliciously light, sweet, and zesty lemon curd filling and stuffed with strawberries to make a summer-y dessert!
Print
Pin
Rate
Ingredients
Angel Food Cake
1 ¼

cup

powdered sugar

¾

cup

+ 2 Tbsp all-purpose flour

1 ½

cups

egg whites at room temperature

10-12 egg whites

1 ½

tsp

cream of tartar

1 ½

tsp

vanilla extract

¼

teaspoon

almond extract

¼

tsp

salt

1

cup

sugar

granulated
Filling
1

pint

strawberries

8

oz

cream cheese

softened

¼

cup

lemon curd

homemade or store-bought

1

cup

+¼powdered sugar

divided

1 ½

cup

heavy cream

½

tsp

vanilla
Instructions
Angel Food Cake
Preheat oven to 375F degrees.

In a medium sized bowl, combine powdered sugar and flour and set aside.

In KitchenAid mixer, combine egg whites, cream of tartar, vanilla and almond extracts and salt. Mix well.

With mixer on high, beat in sugar, about 1 Tablespoon at a time, adding more only once the previous tablespoon has been dissolved (As you add the sugar, you should be able to hear the faint sound of the granules scraping against the metal bowl. Once you no longer hear this, the sugar has been dissolved). Do NOT scrape the sides of the bowl as you are doing this, just keep beating.

Beat until stiff peaks form (stiff peaks exist when you can dip a knife or spatula into the mixture and the peaks that form when you remove the utensil hold their shape firmly without the point of the peak folding or receding back into the mixture)

Using a rubber spatula, gently fold in sugar/flour mix, about ½ cup at a time. Do not over-mix; fold only until the flour mixture is combined with the egg whites mixture.

Pour mixture into an ungreased 10 inch tube pan and use a knife or spatula to cut through the batter to break through any air bubbles that may exist.

Bake the cake for 35 minutes or until the top of the cake springs back when lightly touched. Any cracks on the surface should look dry.

Immediately upon removing from oven, invert the cake onto a bottle or funnel and allow it to cool completely

Once cake has cooled, place right-side-up and run a knife inside the rim of the cake pan. Invert cake onto serving platter. Carefully, using a sharp serrated knife, cut the cake crosswise into thirds.
Strawberry Lemon Filling
Reserve 9-10 whole strawberries for top of cake. With the rest, remove tops and slice. Set aside.

In KitchenAid, cream together cream cheese and lemon curd on medium speed until combined.

Gradually stir in 1 cup powdered sugar on low speed, pausing to scrape down sides of bowl

In separate bowl, combine heavy cream, ¼ cup powdered sugar, and vanilla. Beat by hand or with handheld electric mixer on high speed until stiff peaks form.

Stir whipped cream mixture into lemon/cream cheese mixture until just combined (be sure to scrape down sides of bowl)

Spread lemon mixture between layers and on top of angel food cake. For the bottom two layers, top with strawberry slices and use whole strawberries on top of cake.

Slice using sharp serrated knife and serve.
Nutrition
Serving:
1
slice
|
Calories:
312
kcal
|
Carbohydrates:
37
g
|
Protein:
2
g
|
Fat:
18
g
|
Saturated Fat:
11
g
|
Cholesterol:
62
mg
|
Sodium:
136
mg
|
Potassium:
171
mg
|
Fiber:
1
g
|
Sugar:
34
g
|
Vitamin A:
696
IU
|
Vitamin C:
23
mg
|
Calcium:
44
mg
|
Iron:
1
mg
Nutritional information is based on third-party calculations and should be considered an estimate only. Actual nutritional content will vary based upon brands used, measuring methods, cooking method, portion sizes, and more.