My easy recipe for Macerated Strawberries takes just 5 minutes to prep with only 2 ingredients! Enjoy them with pound cake, ice cream, pancakes, or just by the spoonful. Recipe includes a how-to video!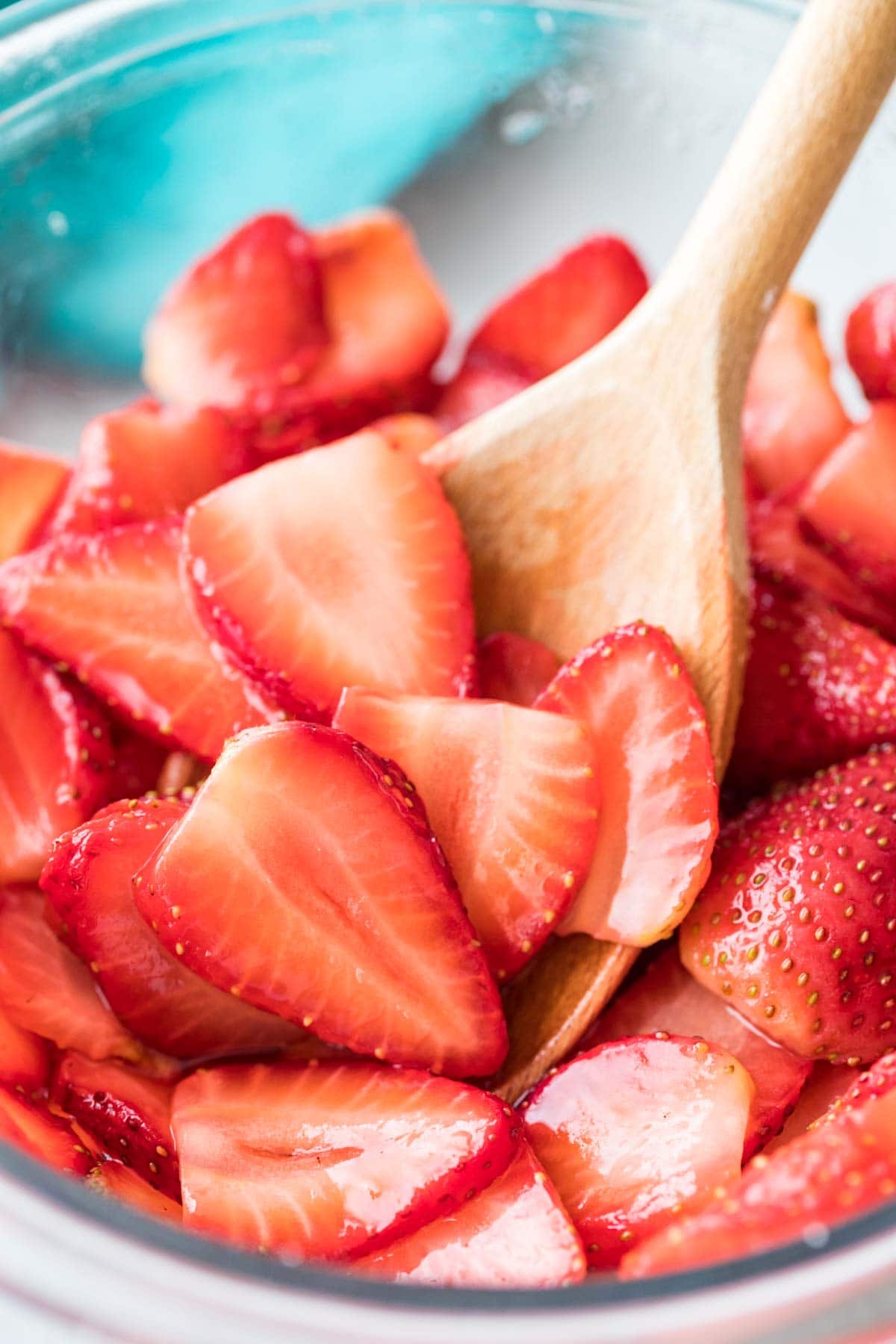 A Two-Ingredient Topping
Macerated strawberries are an unbelievably easy and versatile alternative to strawberry pie filling or strawberry syrup. They're made with just sugar and fresh berries, and you can have them prepped in only five minutes!
If you're not familiar with maceration, it's a very hands-off technique to soften and break down berries or other fruits. By simply adding sugar to cut the berries, they'll become juicer and sweeter, and their flavor will intensify. The whole process works quickly, but you do need to allot for a bit of time as they take about half an hour to an hour to macerate.
Serve your macerated berries over pound cake, waffles or crepes, angel food cake, or enjoy them on their own. They also make a delicious snack with some homemade whipped cream–yum!

What You Need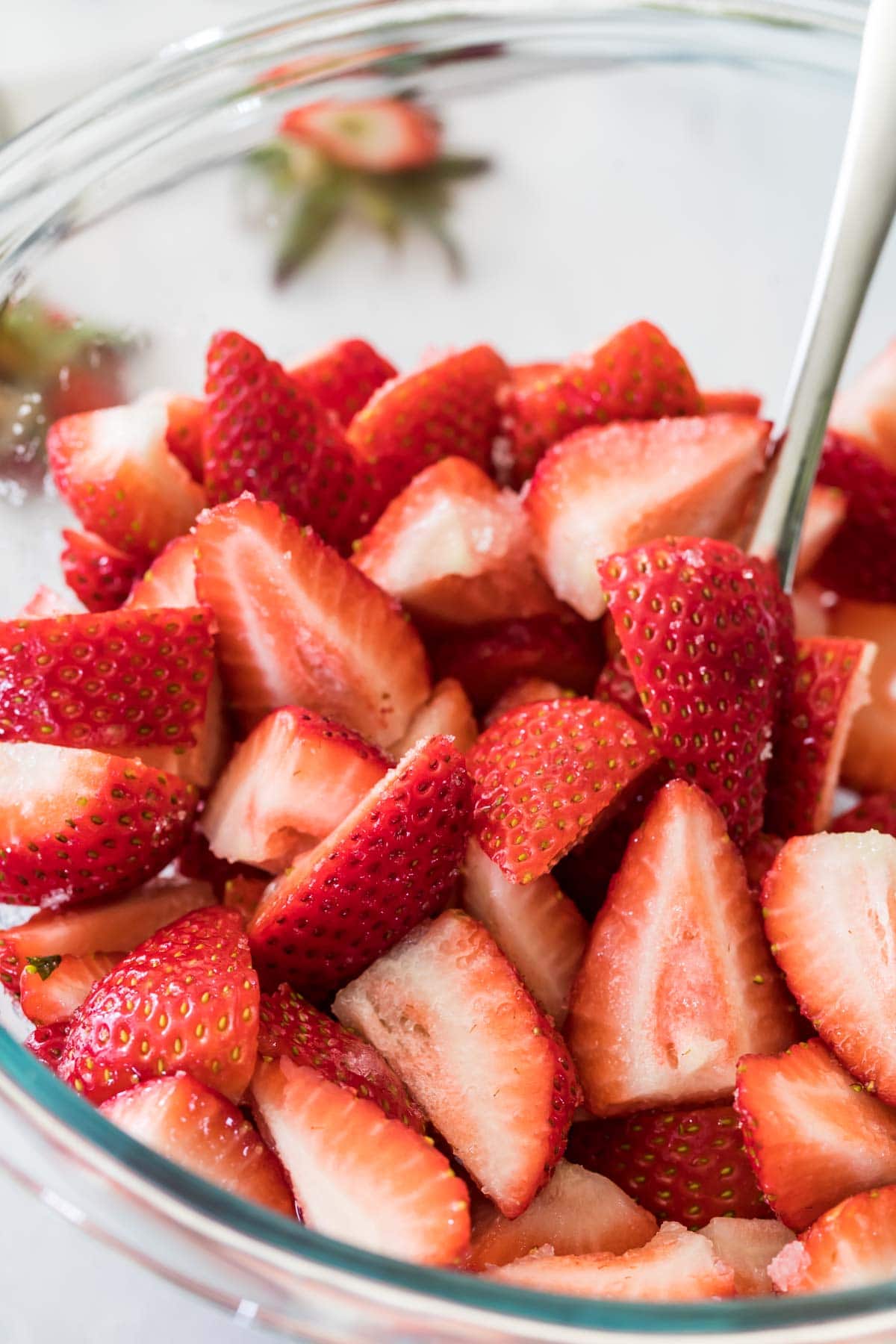 Technically you only need two ingredients to macerate strawberries, but you can add in some extras if you're so inclined:
Strawberries. Because maceration adds sweetness and intensifies flavor, this technique is especially great for out-of-season berries that lack the brightness of in-season berries. Fresh-picked, in-season berries will likely already be pretty soft, flavorful, and juicy and won't benefit in the same way from maceration.
Sugar. I like to use regular granulated sugar, but honey, brown sugar, maple syrup, or coconut sugar would also work.
Add-ins. While not necessary, you can add things like lemon juice, liqueur, and even vinegar (yes, vinegar!) to your berries for flavor. I've included a few of my favorites in the recipe notes. I know balsamic vinegar and pepper may seem an unlikely pairing to strawberries, but they truly taste amazing together!
SAM'S TIP: While I'm using strawberries today, you can macerate pretty much any berry or fruit (peach slices are delicious macerated in sugar!). Fruits like cherries with a thicker skin will just need to macerate longer.
After you've macerated your berries, serve them over warm homemade biscuits for simple strawberry shortcakes!
How to Make Macerated Strawberries

Sprinkle sugar over your sliced berries and stir to coat.
Cover with plastic and let the berries sit in the fridge for at least 30 minutes.
SAM'S TIP: Liqueur such as Grand Marnier is sometimes used to macerate strawberries and also adds a nice flavor. I've included instructions for how to incorporate this in the recipe notes below.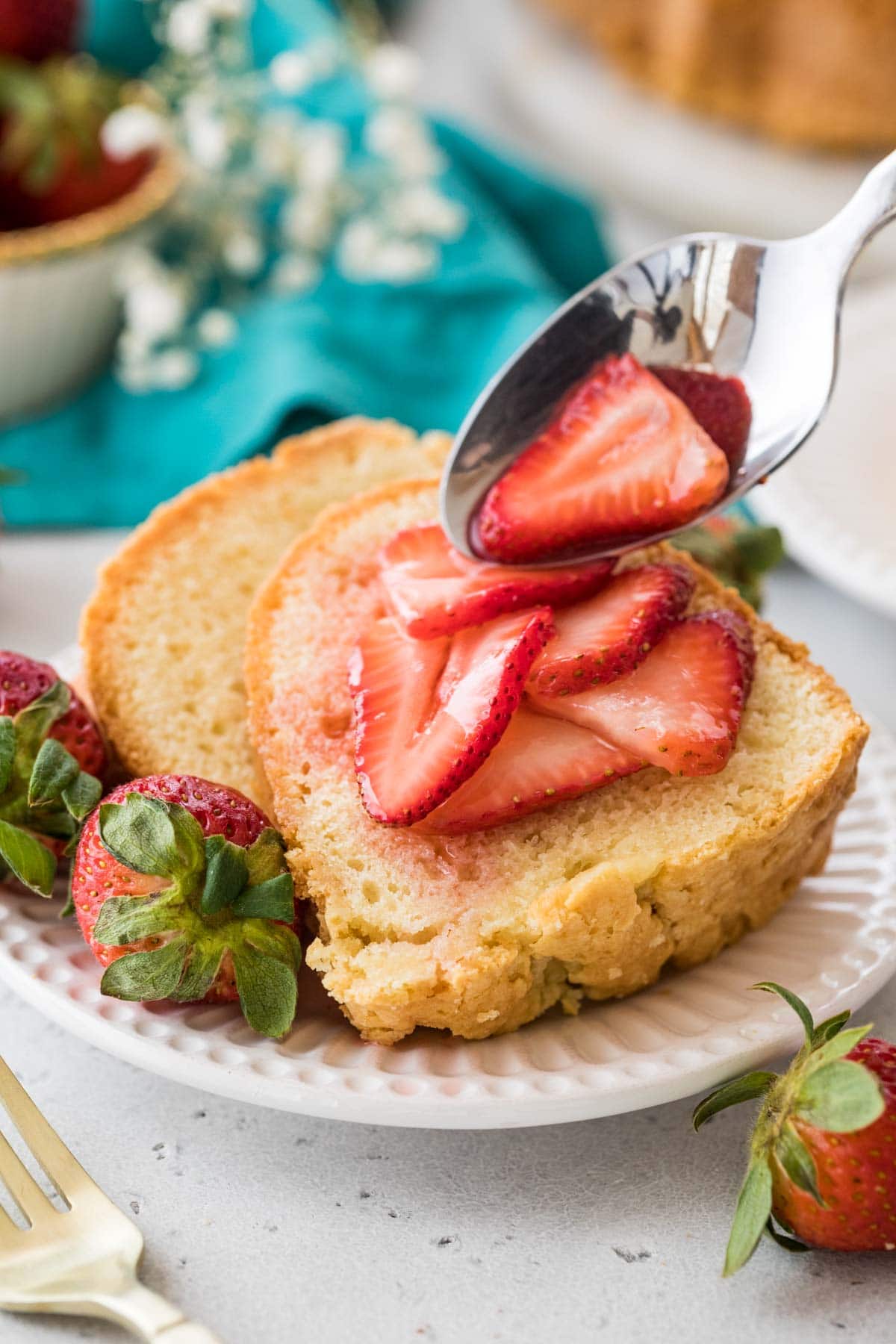 Frequently Asked Questions
How long are macerated strawberries good for?
They will keep up to 4 days in the refrigerator, but keep in mind they will continue to soften and liquify the longer they sit.
Can I use frozen strawberries?
Once thawed, frozen berries are already very juicy and soft. If you'd like them to be sweeter, yes, you can stir in some sugar.
How do you thicken macerated strawberries?
If you're looking for a thicker strawberry mixture, I'd suggest you make my strawberry sauce instead. The juice in this recipe is fairly thin, since no thickeners are used. If you really wanted to thicken the juice, you could technically strain it, add a thickener (like cornstarch) and cook it until it thickens, but that honestly overcomplicates this super easy recipe!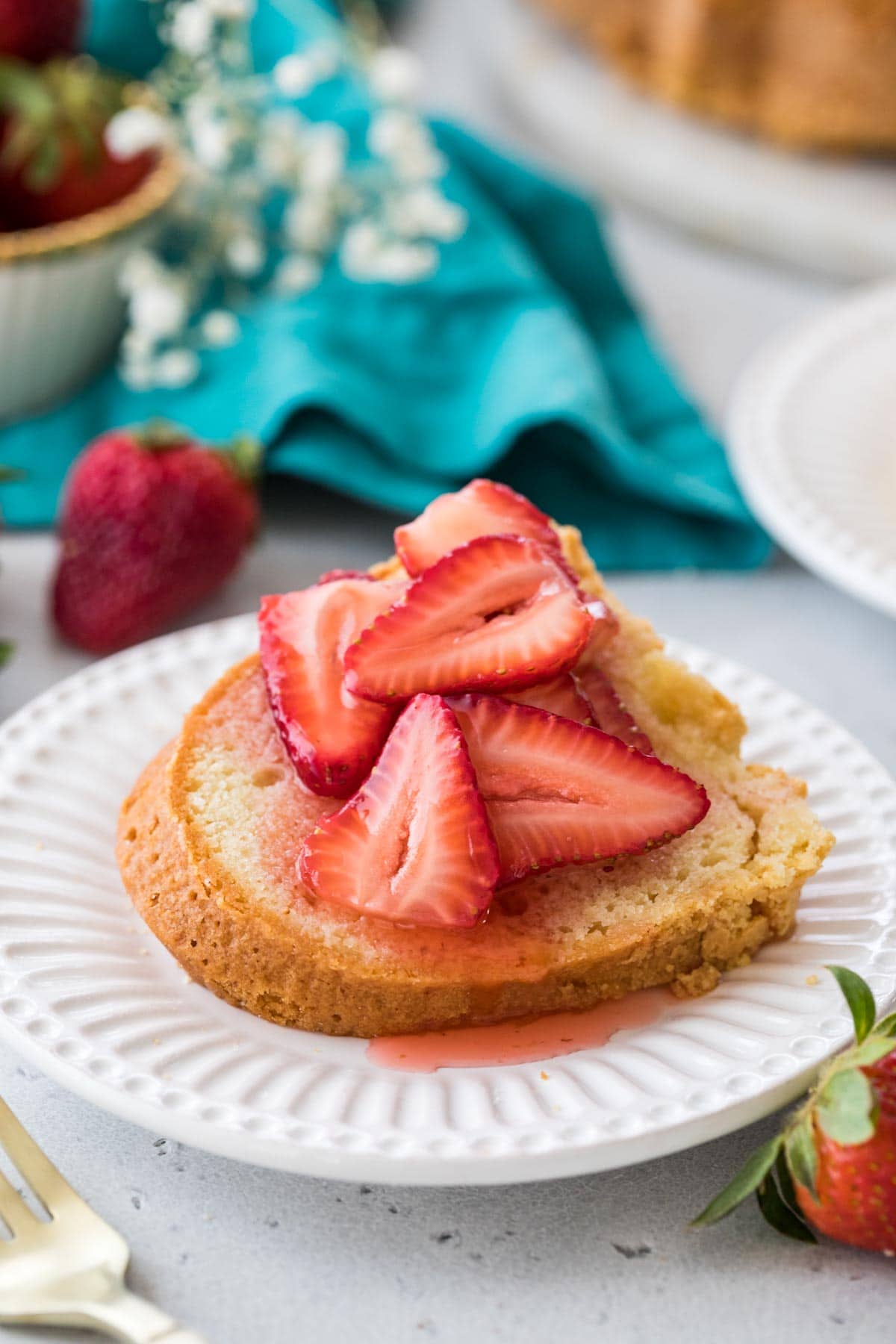 Macerated strawberries are the perfect topping for everything from buttermilk pancakes to a thick slice of sour cream pound cake (pictured above).
Enjoy!
Let's bake together! I'll be walking you through all the steps in my written recipe and video below! If you try this recipe, be sure to tag me on Instagram, and you can also find me on YouTube and Facebook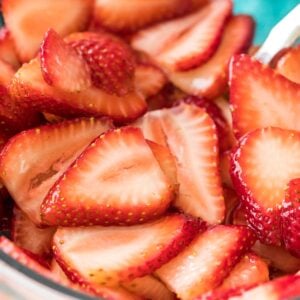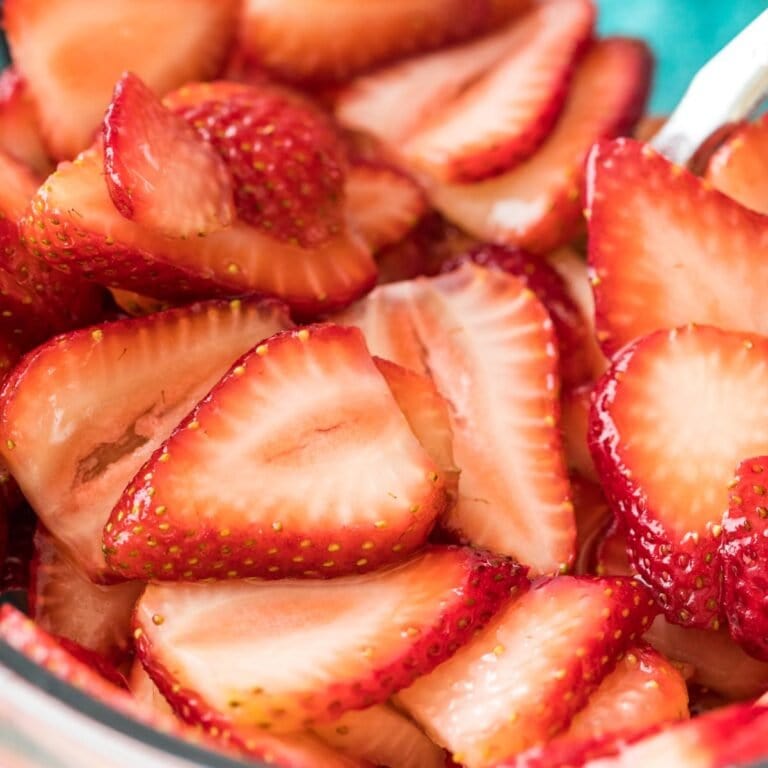 Macerated Strawberries
My easy recipe for macerated strawberries takes just 5 minutes to prep with only 2 ingredients! Enjoy them with pound cake, ice cream, pancakes, or just by the spoonful.
Recipe includes a how-to video!
Print
Pin
Rate
Ingredients
1

lb

(

453

g

)

strawberries

washed, patted dry, hulled, and sliced or quartered

2

Tablespoons

granulated sugar

see note for substitutes
Instructions
Combine berries and granulated sugar in a medium-sized bowl and stir so all berries are coated with sugar.

1 lb (453 g) strawberries,

2 Tablespoons granulated sugar

Cover and let sit in the refrigerator for at least 30 minutes (letting them sit longer will make them juicier, though!). Strawberries will have softened and released some juices into the bowl when they are ready, and the sugar will mostly have dissolved.

If desired, add additional sugar to taste. Macerated strawberries will keep up to 4 days in the refrigerator.
Notes
Sugar Substitutes
An equal amount of honey, maple syrup, brown sugar, or coconut sugar could be substituted for the granulated sugar.
Other add-ins for macerated strawberries:
Balsamic vinegar: Add 1-2 Tablespoons balsamic vinegar with the berries and sugar (or substitute honey for the sugar). A pinch of freshly ground black pepper is a common addition that really helps bring out the flavor as well. Balsamic macerated strawberries taste amazing over vanilla ice cream!
Lemon juice: 1-2 teaspoons fresh or bottled lemon juice adds a nice bright flavor to the berries
Liqueur: Grand Marnier is a common liqueur for macerating berries, reduce the sugar to 1 Tablespoon and mix in 1-2 Tablespoons of this liqueur!
Nutritional information is based on third-party calculations and should be considered an estimate only. Actual nutritional content will vary based upon brands used, measuring methods, cooking method, portion sizes, and more.
Related Recipes