My easy Chocolate Cupcakes recipe yields cupcakes that are light, fluffy, and so much better than a box mix! Made quickly and easily in just one bowl, they can be baked and frosted in less than an hour. Recipe includes a how-to video!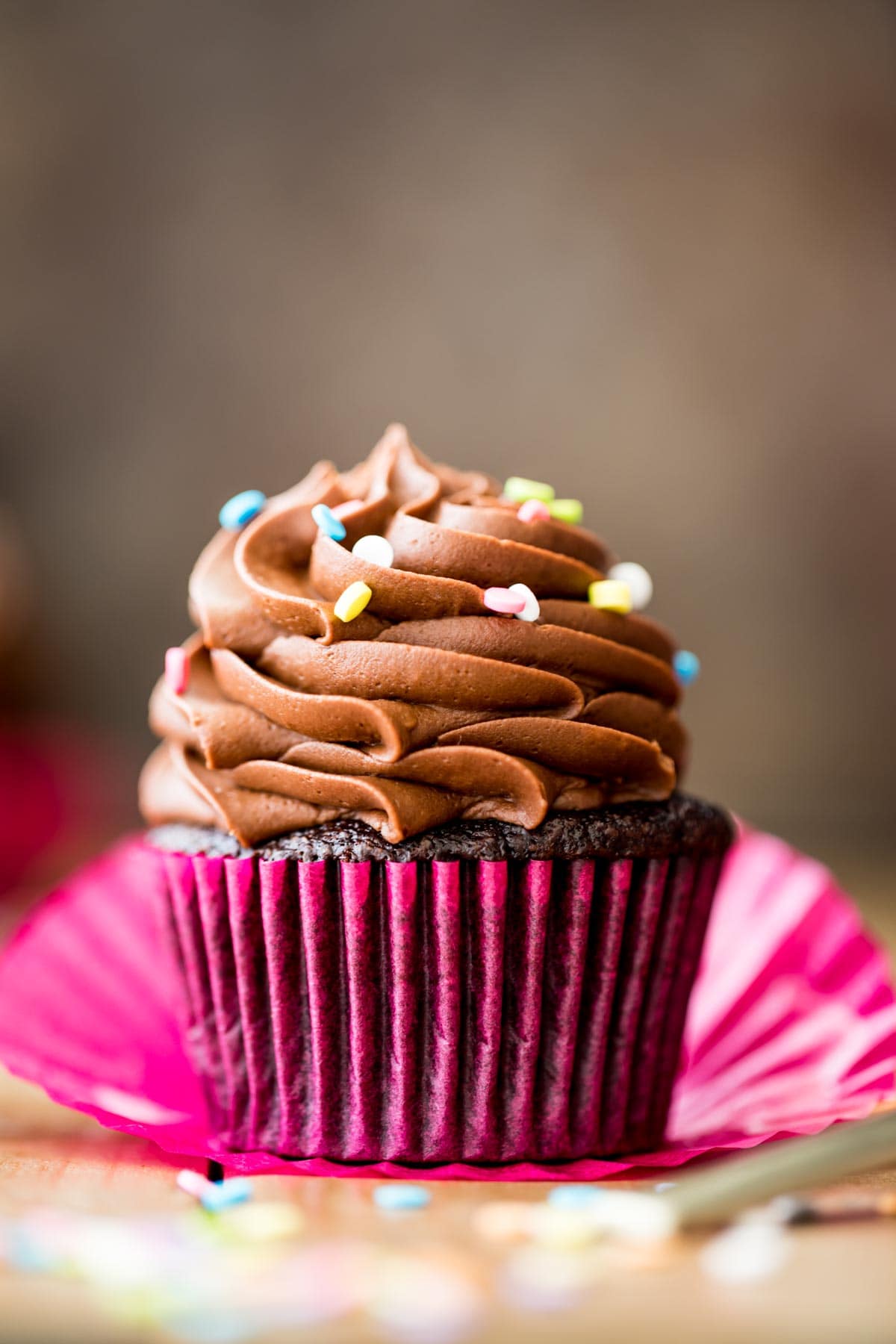 The Perfect Chocolate Cupcakes
You're going to be so happy you found this recipe. After all, who doesn't love a perfectly balanced chocolate cupcake (preferably topped with a generous swirl of chocolate buttercream). My recipe is incredibly moist, so soft, and so perfectly fluffy. Taste wise, they're sweet without being too sweet and have a pronounced chocolate flavor. Plus, they're incredibly quick and easy to make in just one bowl! To put it simply, these chocolate cupcakes are just wonderful.
I first published this recipe six years ago and it's been a huge hit with my readers and my own faithful go-to chocolate cupcake recipe (I prefer my slightly heavier chocolate cake recipe for cakes). However, the original recipe made a large, awkward number of cupcakes, so I've scaled down the recipe to now make a neat 24 cupcakes.
The original recipe also produced cupcakes with completely flat tops, and I've since remedied that so the cupcakes come out with subtle domed tops. They look lovely with a swirl of frosting, and speaking of frosting, these cupcakes go great with any kind!
What You Need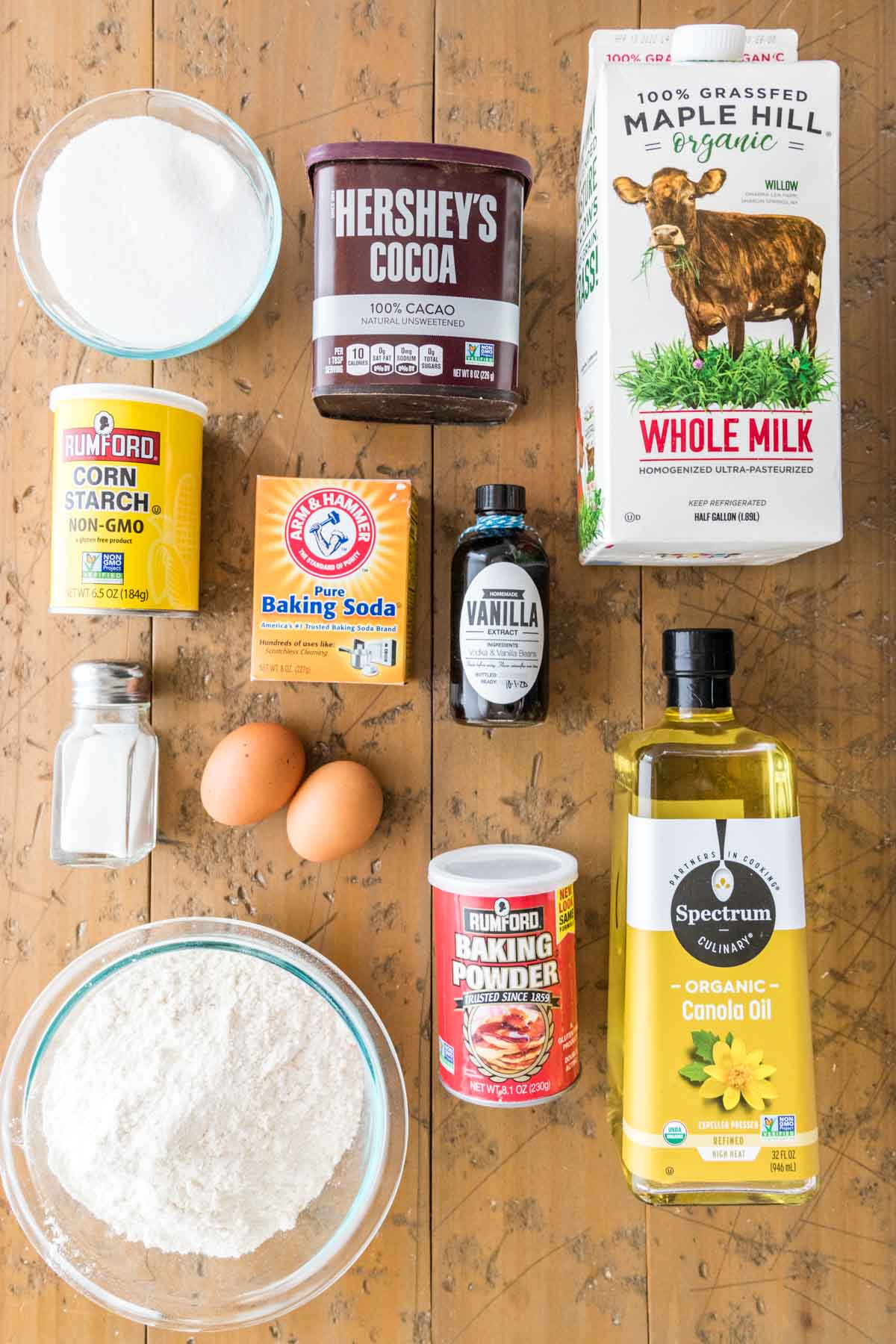 Making chocolate cupcakes from scratch is just as easy as using a box mix, but they taste so much better. Here are a few of the ingredients you'll be using today:
Cocoa powder. I recommend using natural, regular cocoa powder in your chocolate cupcakes. Dutch process will change the flavor and could impact the texture (if the baking soda isn't fully neutralized), so I'd recommend sticking with the recipe as written.
Hot water/coffee. It is very important that you use a hot liquid (the hotter the better, but be careful not to splash yourself with it while mixing) as this reacts with the cocoa powder, causing it to "bloom" and fully develop the rich flavor of the cocoa.
Oil. Don't be tempted to replace the oil with melted butter, please! Using oil makes these chocolate cupcakes super moist without weighing them down. The cocoa powder (when bloomed by the hot liquid) provides plenty of flavor, so butter is unnecessary (never would have thought I would type those words!) and actually yields a less-desirable cupcake.
Cornstarch. I've updated this recipe to include a tablespoon of cornstarch. One of my favorite secret ingredients (you may recognize it from my worst chocolate chip cookies), this simple addition keeps them tender, soft, and fluffy and it also gives these formerly completely flat cupcakes a slight rounded dome.
SAM'S TIP: If you choose to use coffee, your chocolate cupcakes will not taste mocha-esque; rather the coffee helps to enhance the rich chocolate flavors of the cocoa powder. I recommend you use it!
Remember, this is just an overview of the ingredients I used and why. For the full recipe please scroll down to the bottom of the post!
How to Make Chocolate Cupcakes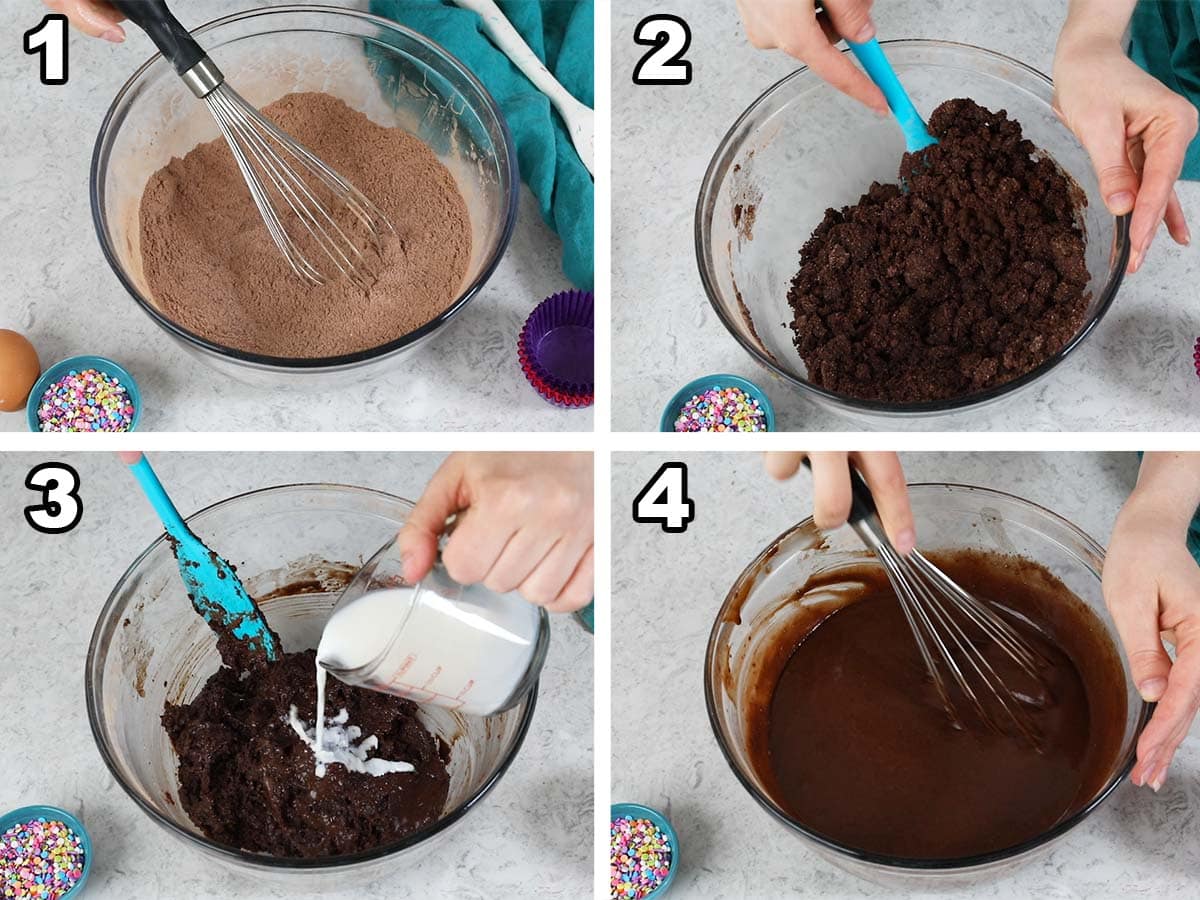 Whisk all of the dry ingredients and sugar together.
Add the oil, egg, and vanilla and mix to combine (mixture will seem crumbly, just make sure the dry ingredients have all been moistened).

Slowly drizzle in the milk

and continue stirring until the batter looks uniform.
Gradually and carefully add the hot liquid and mix until everything is completely combined.

It's very important to not fill your cupcake liners higher than ⅔ full. If you do, the batter will spread out over the tops and the resulting cupcakes will have flat tops that are likely to sink in on themselves. Opt for under-filling rather than over-filling, and if you do happen to have leftover batter, make extra cupcakes or discard it.
Evenly divide the batter among a lined cupcake pan and bake for 17-19 minutes.
Let cupcakes cool completely before frosting.
SAM'S TIP: I recommend baking one pan of chocolate cupcakes at a time, just in case your oven bakes unevenly or does something funky while baking, or even just in case you accidentally leave the first batch in too long.
While you can always stick with the easy frosting I've linked to in the recipe, my chocolate cupcake recipe tastes lovely with just about any topping. Some of my top recommendations are brown butter frosting, marshmallow frosting, cream cheese frosting, peanut butter frosting, Swiss meringue buttercream, or vanilla frosting.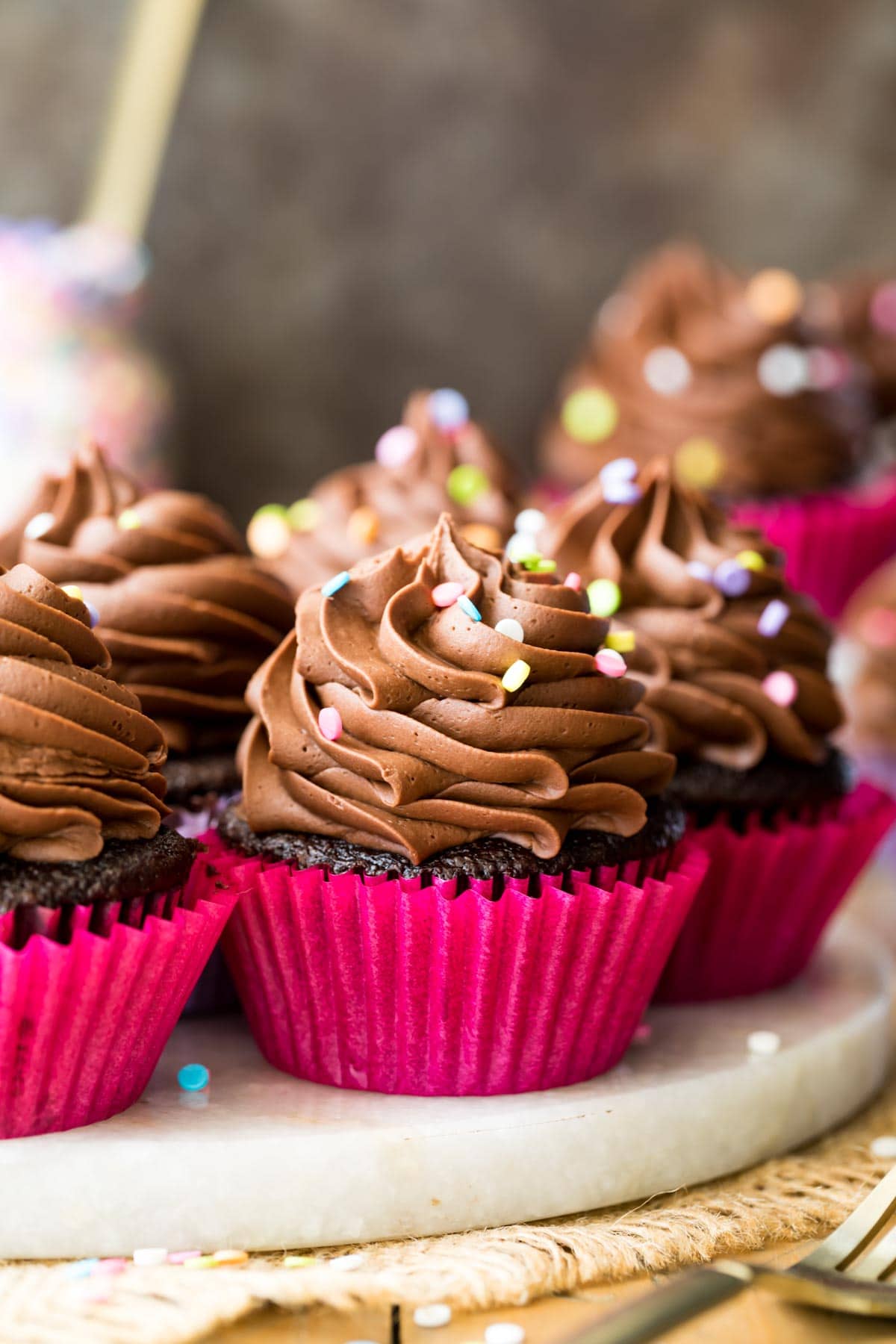 Frequently Asked Questions
My cupcake batter is watery; what happened?
This chocolate cupcake batter will be very, very thin–much different from the thick batter of my vanilla cake. It'll seem almost watery/soupy. This is normal and means you've done everything right! 
Can I use this recipe to make chocolate cake?
While I do have a great chocolate cake recipe, you can use this recipe to make a two layer 8″ or 9″ cake. I provide instructions on how to do this in the recipe notes.
Can I leave out the cocoa powder to make vanilla cupcakes?
I don't recommend it. I suggest you make my easy vanilla cupcake recipe instead!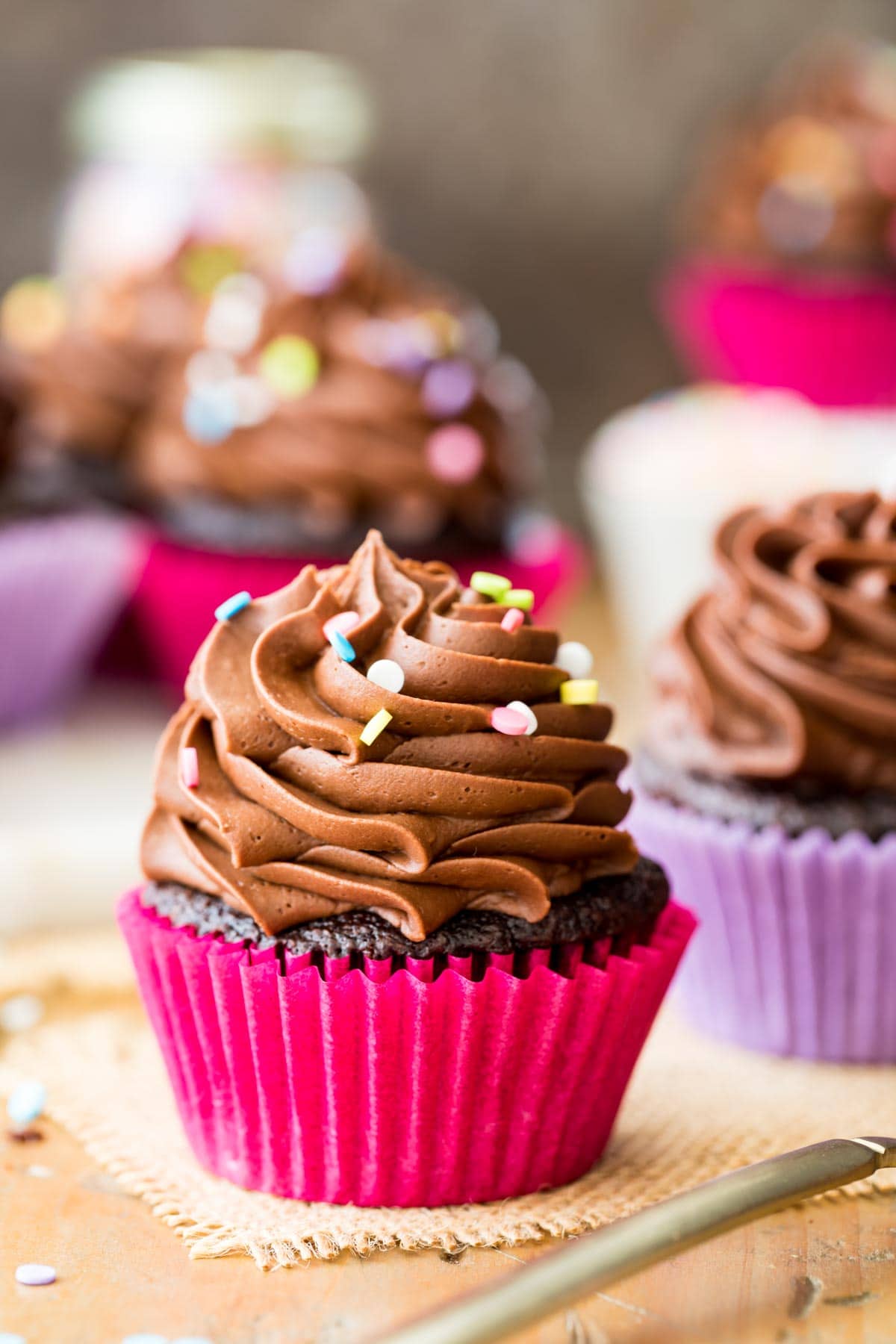 With only 15 minutes to prep and only one bowl to dirty, what are you waiting for!?
Enjoy!
Let's bake together! I'll be walking you through all the steps in my written recipe and video below! If you try this recipe, be sure to tag me on Instagram, and you can also find me on YouTube and Facebook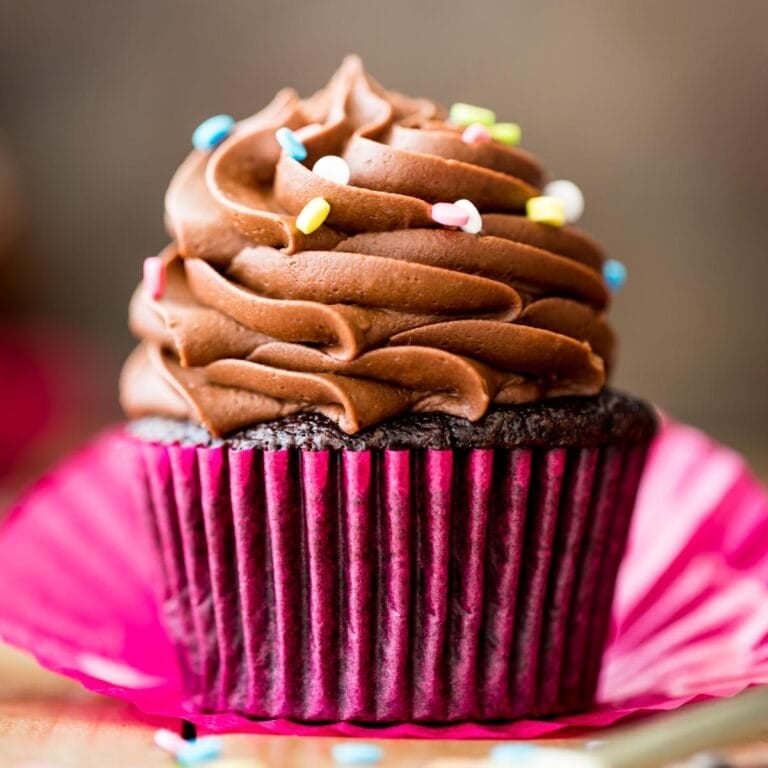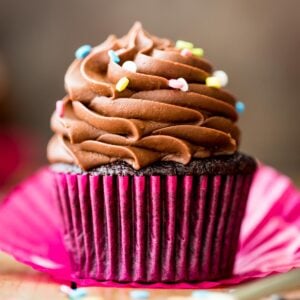 Truly the Best Chocolate Cupcakes
These chocolate cupcakes are light, fluffy, and so much better than a box mix. Made quickly and easily in just one bowl, they can baked and frosted in less than an hour.
Recipe includes a how-to video! 
Print
Pin
Rate
Ingredients
1 ⅔

cups

(

333

g

)

granulated sugar

1 ½

cups

(

188

g

) all-purpose flour

⅔

cup

(

65

g

)

natural cocoa powder

see note 1

1

Tablespoon

cornstarch

see note 2

1 ½

teaspoons

baking powder

1 ¼

teaspoons

baking soda

1

teaspoon

table salt

½

cup

(

118

ml

)

canola or vegetable oil

1

large egg + 1 large egg yolk

room temperature preferred

2

teaspoons

vanilla extract

⅔

cup

(

157

ml

)

whole milk

room temperature preferred

1

cup

(

236

ml

)

hot coffee

see note 3, may substitute hot water

1

batch

chocolate buttercream

or preferred frosting
Instructions
Arrange rack to center of oven and preheat oven to 350F (175C). Line two 12-count muffin tins with paper liners.

In a large bowl, whisk together sugar, flour, cocoa powder, cornstarch, baking powder, baking soda, and salt (I make this recipe with an electric mixer but it can be done by hand using a whisk and spatula instead).

1 ⅔ cups (333 g) granulated sugar,

1 ½ cups (188 g) all-purpose flour,

⅔ cup (65 g) natural cocoa powder,

1 Tablespoon cornstarch,

1 ½ teaspoons baking powder,

1 ¼ teaspoons baking soda,

1 teaspoon table salt

Add canola oil, egg, egg yolk, and vanilla extract and stir until batter is combined (it will be a bit dry and crumbly but all of the flour mixture should be moistened before proceeding).

½ cup (118 ml) canola or vegetable oil,

1 large egg + 1 large egg yolk,

2 teaspoons vanilla extract

Drizzle in milk while stirring and stir until batter is uniform and completely combined.

⅔ cup (157 ml) whole milk

Gradually add hot coffee or hot water (take care not to burn yourself!) and stir until liquid is completely incorporated into the batter and you have a smooth chocolate batter. Scrape the sides and bottom of the bowl to ensure everything is well-combined. The batter will be very thin, this is normal!

1 cup (236 ml) hot coffee

Evenly divide batter into prepared muffin tin, but take care to fill liners between ½ and not more than ⅔ of the way full, this is typically about 3 Tablespoons of batter or less per cupcake liner. Over-filled liners will result in cupcakes with flat tops and they may cave in on themselves. If you have excess batter, discard it (or make extra cupcakes!).

Transfer one pan of cupcakes to 350F (175C) preheated oven and bake for 17-19 minutes or until a toothpick inserted in the center comes out with a few moist crumbs (or clean). Allow to cool for 10-15 minutes in baking pan before carefully removing to cooling rack to cool completely before frosting (I like to use a knife to gently pry up the cupcake from the bottom and then carefully lift it out to a cooling rack). Repeat with second pan of cupcakes

1 batch chocolate buttercream
Notes
Cocoa powder
I recommend using natural unsweetened cocoa powder for best results. However, in a pinch Dutch process cocoa powder can be used instead, but note that the flavor will be slightly different and the cupcakes will be darker.
Cornstarch
Cornstarch is my secret ingredient, it makes the cupcakes tender and fluffy and gives them the perfect, slight domed tops. However, if you do not have it on hand you may omit it, note that your cupcakes will likely be flatter though.
Hot coffee/hot water
A hot liquid is essential to properly blooming the cocoa powder (which gives the cake a pronounced, rich chocolate flavor). I like to use hot coffee because the coffee flavor enhances the chocolate, making the flavor even richer and deeper. However, you can just use hot water instead. The hotter the liquid the better; boiling is fine, just be careful! Please note I don't recommend using other hot liquids such as hot chocolate which often have other additives and sugar added and could adversely affect the final outcome.
Frosting
I used my Ateco 848 tip to pipe the frosting on the cupcakes in the photos above and in the video. If you wish to frost all of your cupcakes this generously you will want to double the frosting called for in the recipe that I linked to, but honestly you don't need to and a more modest amount (half the amount shown) works great and allows the cupcake flavor to really shine, it just didn't look quite as nice in the pictures!
Baking chocolate cupcake batter in different sized pans
You may bake these cupcakes in two 8" pans for 35-37 minutes or until a toothpick inserted in the center comes out clean with a few moist crumbs.
In two 9" pans the cakes will take a bit less time, start checking at 30-32 minutes.
This recipe should also work just fine in a 13×9" pan, but I would keep an eye on it as I haven't tested it in this size pan yet.
Original recipe
I've received a lot of requests for the original recipe. As I mentioned in my post, this current recipe is the one I recommend, it's simply scaled down from that one to make an even 24 cupcakes, to prevent the overflowing issue many people were having, and a bit of cornstarch has been added to improve structure. It's a slightly better cupcake recipe for the changes and I recommend using the recipe as seen here. However, since so many of you have asked, here is the original recipe. Please note that I am not accepting comments or questions on the original and recommend you use the recipe I have published here currently. 
Nutrition
Serving:
1
cupcake
|
Calories:
96
kcal
|
Carbohydrates:
22
g
|
Protein:
2
g
|
Fat:
1
g
|
Saturated Fat:
1
g
|
Polyunsaturated Fat:
1
g
|
Monounsaturated Fat:
1
g
|
Cholesterol:
9
mg
|
Sodium:
178
mg
|
Potassium:
61
mg
|
Fiber:
1
g
|
Sugar:
14
g
|
Vitamin A:
22
IU
|
Calcium:
32
mg
|
Iron:
1
mg
Nutritional information is based on third-party calculations and should be considered an estimate only. Actual nutritional content will vary based upon brands used, measuring methods, cooking method, portion sizes, and more.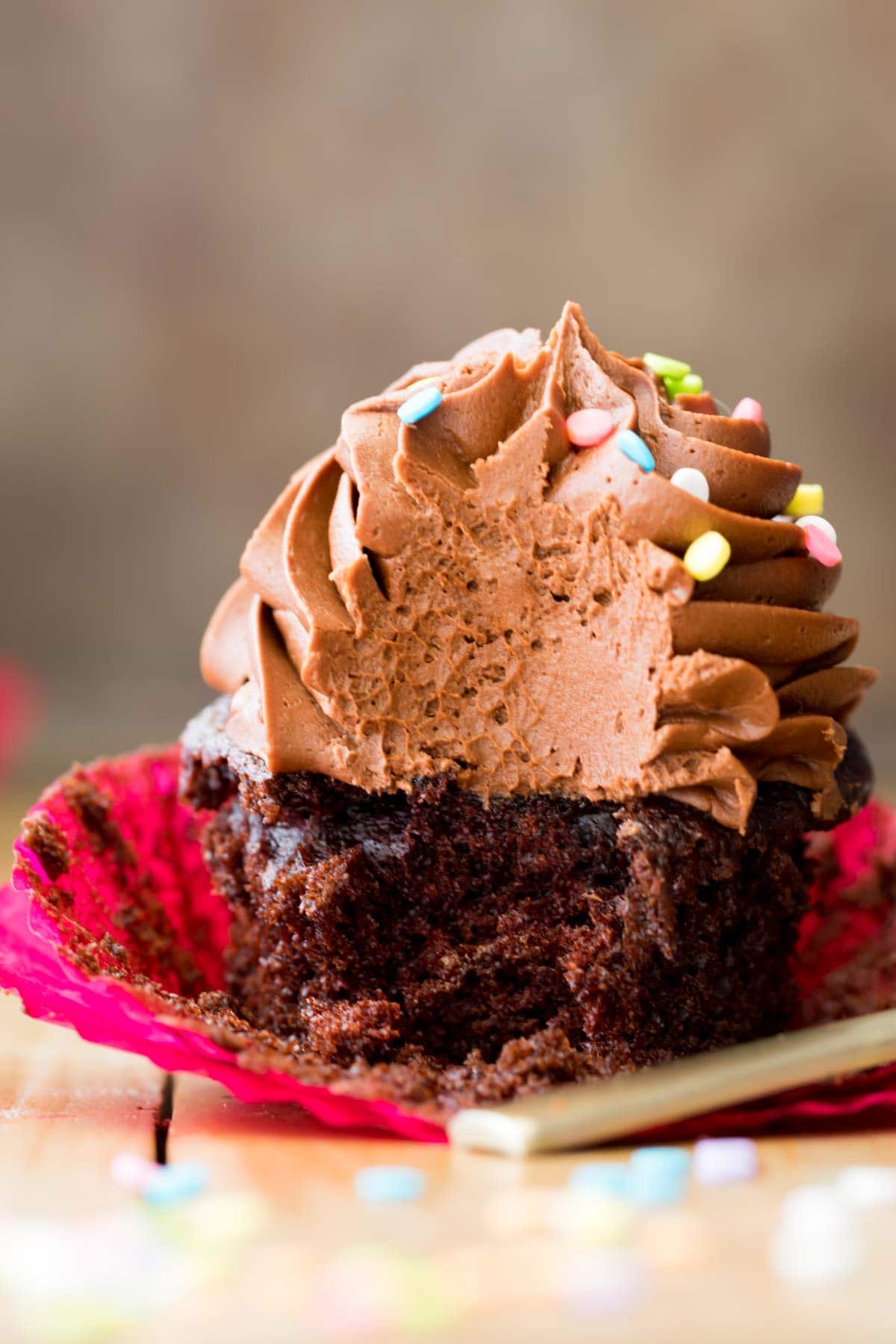 Related Recipes
My chocolate cupcake recipe was originally published in March of 2016. A few small modifications were made to scale the recipe down to 24 even cupcakes without changing the texture, and the post has been updated to be more informative and a how-to video has been added.