Crisp chocolate meringues are made with just 6 ingredients! Dipped in rich dark chocolate, these low-calorie cookies make simple, satisfying chocolaty treats.
Chocolate meringue cookies require a bit of technique to perfect and I'll walk you through all of my best tips and tricks below. 
I originally shared this recipe for chocolate meringues over on The Recipe Critic!
Do you have a bucket list? I don't really, but Zach has at least one thing on his, and that's to visit every MLB stadium. Zach's a big Orioles fan and so far we've followed them to about 5 stadiums, and Saturday we just returned from a 3 day stint in Atlanta where we watched the them play the Braves (Orioles won… in the 15th inning!)
I root for the Orioles too, but I'm not a huge sports fan and the highlight for me is always the food. Over the course of 3 days I effectively ruined any and all work I'd put towards my summer bikini body goals by inhaling buckets of chili and nacho-cheese drenched french fries (literally, they served it in a bucket), pulled pork, and deep fried macaroni and cheese.
It was amazing and disastrous and I am now in dire need of a detox or some kind of kale cleanse, but in true sugar-fiend fashion I instead made myself a batch of chocolate meringues and patted myself on the back for getting back on the right track with these low calorie cookies (which are only incidentally low-calorie, which is my favorite kind of low calorie food).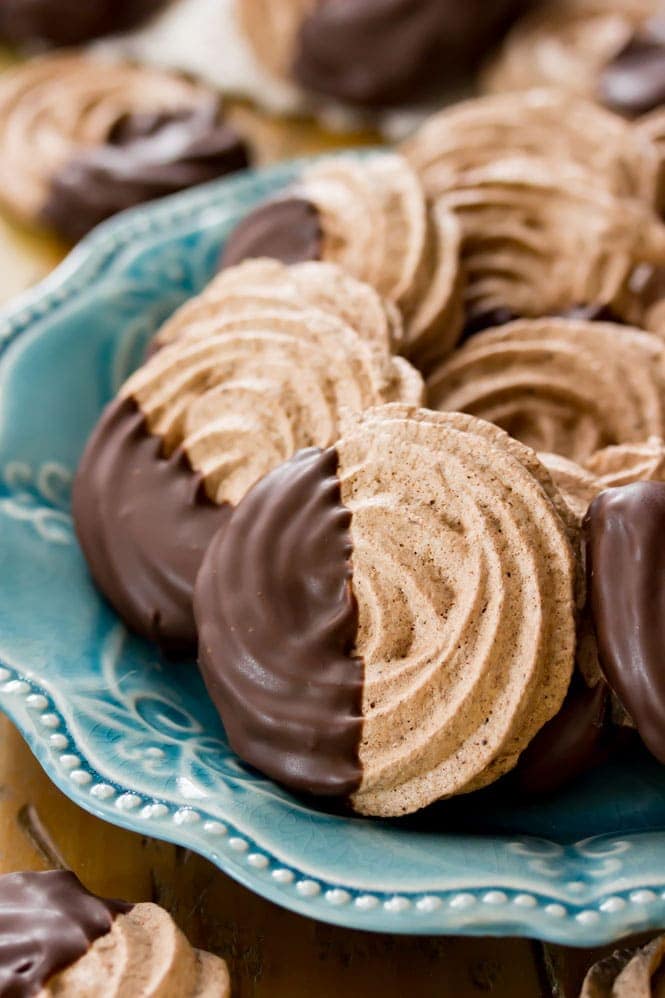 Chocolate meringues may not really be a health food, but they are a relatively bikini-friendly cookie at only 60 calories a pop — sweet and simple and drenched in smooth dark chocolate.
If you've never made meringues before, these would be a good bucket list item for your baking repertoire, they really are simple but there's a bit of technique involved to make them come out just right every time.
The good part is, if you've already made my recipe of the month Angel Food Cake, you're already a step ahead, because chocolate meringues are made primarily of egg whites and we'll be following a lot of the technique that you would have used to make that cake.
Tips for Making Chocolate Meringues
Many of these tips are straight from my meringue cookie recipe, and if you want more details and step-by-step photos, feel free to check out that recipe for more info!
It's imperative the bowl and beater that you use is 

completely

 grease and moisture free.  Any moisture can ruin your meringues.
Add the sugar just one Tablespoon at a time, and give it a chance to dissolve before adding more. I've found that it takes about 15 seconds for the sugar to dissolve (with the mixer on high speed). You can test that the sugar is completely absorbed by taking a small bit of the batter and rubbing it between your fingers — if it's not, it'll feel gritty.
Don't stop beating until you get stiff peaks.  This chocolate meringue batter will take at least several minutes to achieve stiff peaks, but keep going.  It will increase in volume and be very thick and glossy — that's what you're looking for!
Don't over-beat your batter, either! Once you hit stiff peaks, stop!  You will fold in your extract and sifted cocoa powder at this point, but do so gently as over-mixing the batter is just as bad as not beating it enough.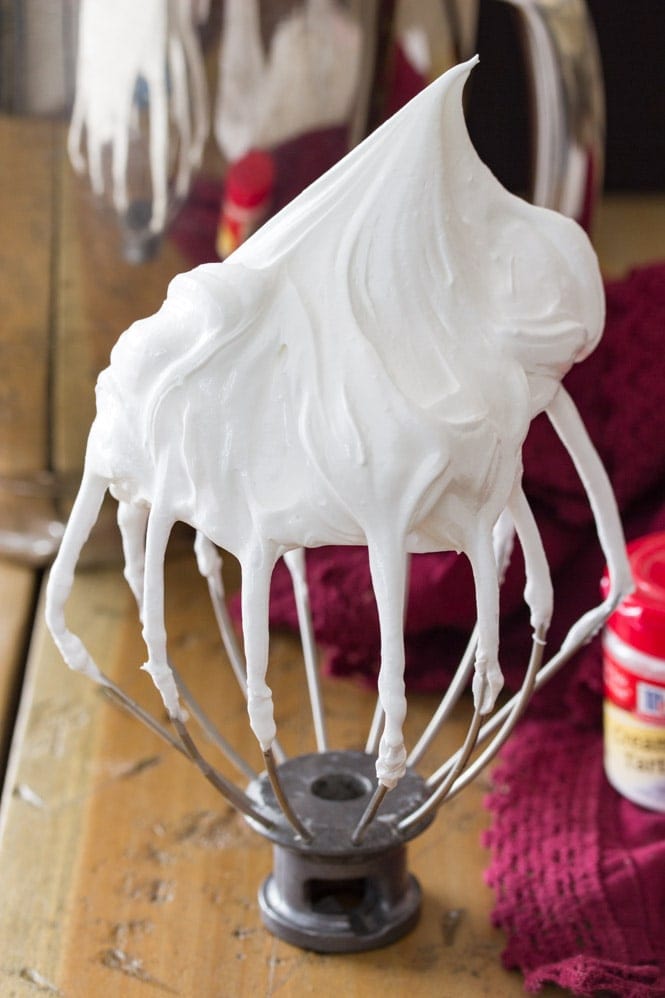 How do I store meringue cookies?
Allow your chocolate meringues to cool completely (and allow the chocolate to completely set after dipping) and then store your cookies in an airtight container away from any moisture or heat. They do not need to be refrigerated.
I baked my chocolate meringues but the next morning they were soft and chewy, now what!?
While properly prepared, baked, and stored, chocolate meringues should maintain their crispness just fine, moisture/humidity does have the potential to make them chewy. I always recommend storing your chocolate meringues in an airtight container once they've baked and cooled, which is the surest way to prevent any chewiness.  However, it happens, and I was relieved to learn last year that I could save a batch of chewy meringues by popping them back in the oven for another 10-20 minutes.  With these cookies you'll be dipping them in chocolate though, and if you've already dipped your chocolate meringues in chocolate you won't be able to return them to the oven without your chocolate melting everywhere.
So, if you are new to making meringues and are worried about your meringues becoming soft, my best suggestion is to wait to dip your meringues in chocolate until the morning you plan on serving them. If they're chewy the morning you plan to serve them, return them to a 225F oven for 10-20 minutes and then allow them to cool in the oven for another hour and then dip them.
Really, the best way to keep chocolate meringues crisp is to make sure they cook completely in the oven, cool completely, and then store them in an airtight container and this should be enough, but after having my own run-ins with chewy meringues back in the beginning of my meringue cookie ventures, I was so relieved to learn that all hope was not lost if they turned chewy the next day and chewy meringues can be salvaged!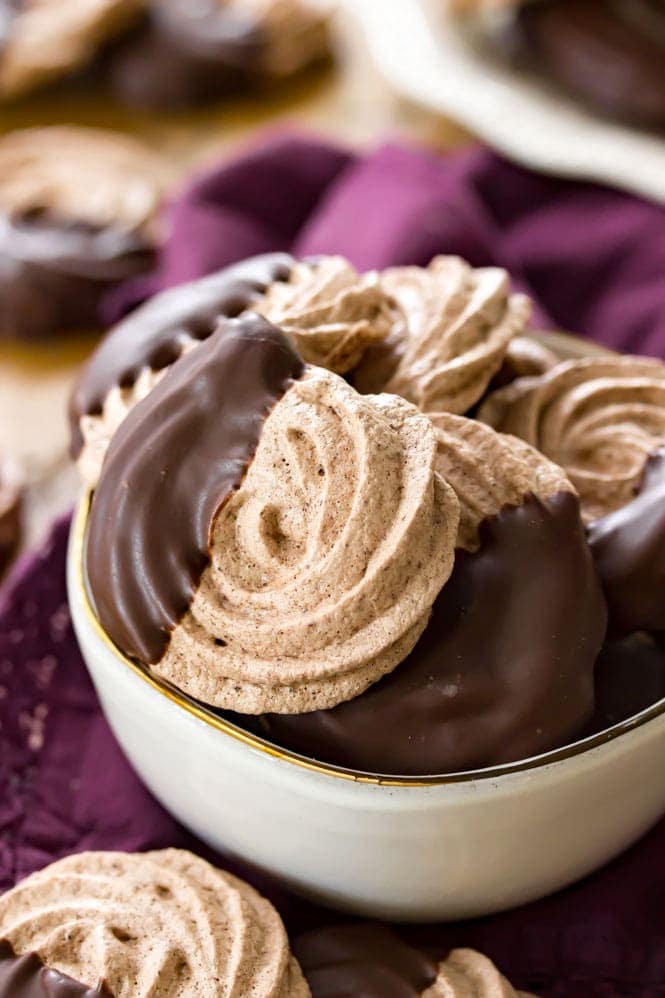 Enjoy!
How to Make Chocolate Meringues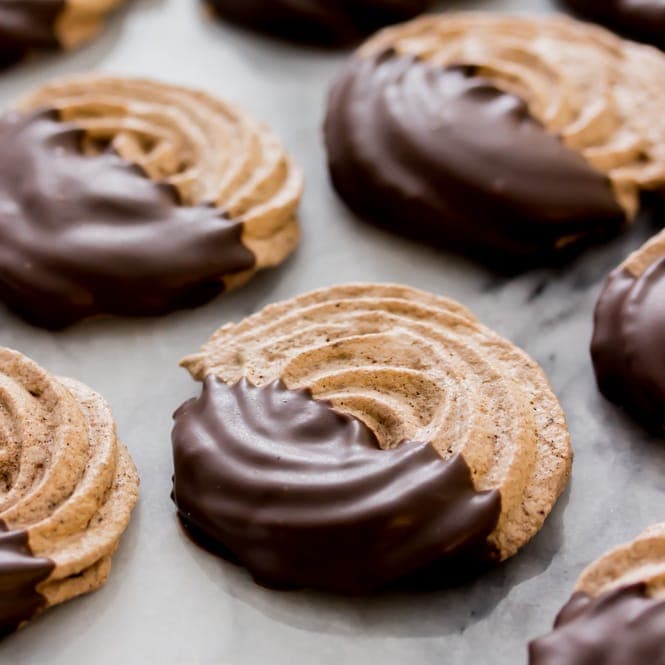 Chocolate Meringues
Chocolate Meringues made with cocoa powder and dipped in dark chocolate, these are a great low calorie treat.
Print
Pin
Rate
Ingredients
4

large

egg whites

room temperature

½

teaspoon

cream of tartar

⅛

teaspoon

salt

1

cup

granulated sugar

(200g)

1

teaspoon

vanilla extract

⅓

cup

cocoa powder

sifted (35g)

1

cup

dark chocolate melting wafers

may substitute semisweet or dark chocolate chips (170g)
Instructions
Preheat oven to 225F (105C) and line a large cookie sheet with parchment paper. Set aside.

Combine egg whites, cream of tartar, and salt in a large, completely clean and grease-free bowl.

Using an electric mixer or a stand mixer fitted with the whisk or paddle attachment, stir on low speed until mixture becomes foamy.

Increase speed to high and gradually add sugar, about 1 Tablespoon at a time, stirring after each addition until sugar is dissolved (about 15-20 seconds between each addition).

Beat until mixture is thick, shiny, and has increased in volume. Mixture should have achieved stiff peaks and sugar should be dissolved (you can test this by rubbing a small bit of the mixture between your fingers, if it feels gritty, the sugar isn't dissolved).

Using a spatula, fold in vanilla extract and sifted cocoa powder until completely combined

Fit a large disposable piping bag with a large tip (I used a large star tip) and transfer meringue into prepared piping bag and pipe onto prepared cookie sheet. The meringue cookies won't spread and so can be piped close together, and you will want to bake all of the cookies at the same time, so make sure you leave enough space.

Bake on 225F (105C) for 1 hour. Turn off the oven once the baking time has passed, but do not open the oven door. Leave the oven door closed and allow cookies to cool completely in the oven (1-2 hours) before removing.

Meringue cookies should be crisp and can be stored in an airtight container. Keep away from heat and moisture as it can soften your meringues.

Once cookies have cooled completely, place dark chocolate melting wafers in a small microwave-safe bowl and melt according to instructions on packaging.

Once chocolate has melted, dip meringues halfway into chocolate, remove, and return to baking sheet or transfer to a cooling rack until chocolate has hardened. Enjoy!
Nutrition
Serving:
1
chocolate meringue cookie
|
Calories:
47
kcal
|
Carbohydrates:
9
g
|
Protein:
1
g
|
Fat:
1
g
|
Saturated Fat:
1
g
|
Sodium:
21
mg
|
Potassium:
30
mg
|
Fiber:
1
g
|
Sugar:
9
g
|
Calcium:
2
mg
|
Iron:
1
mg
Nutritional information is based on third-party calculations and should be considered an estimate only. Actual nutritional content will vary based upon brands used, measuring methods, cooking method, portion sizes, and more.