My chocolate Swiss Meringue Buttercream recipe uses real melted chocolate for the best flavor! This chocolate frosting has a sensational silky texture and is perfect for people who prefer frosting that's not too sweet. Recipe includes a how-to video!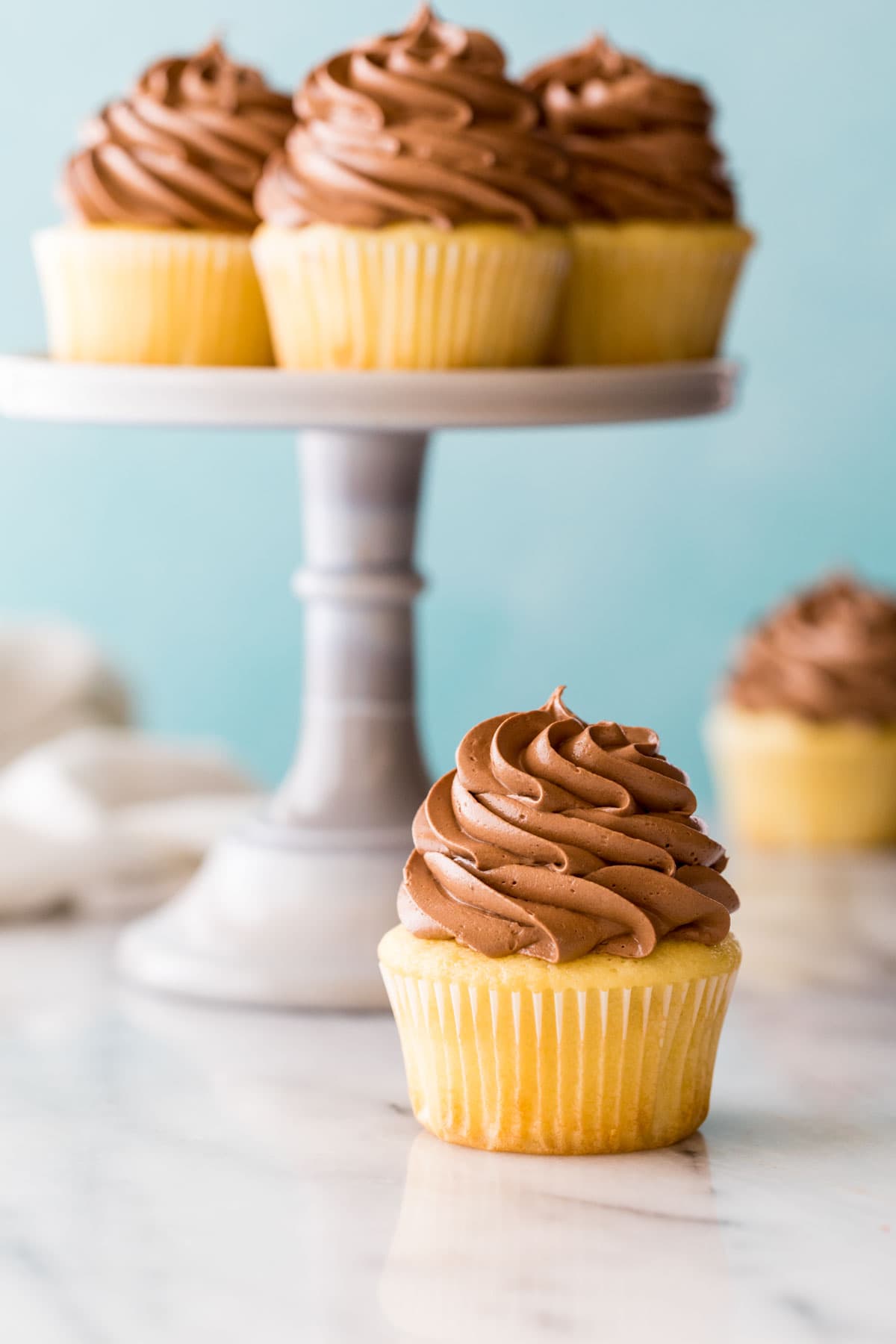 Perfectly Sweet Chocolate Frosting
Looking for a pipeable, versatile chocolate frosting that is not too sweet? This chocolate swiss meringue buttercream is the answer! It's silky smooth, buttery, and has a distinct chocolate flavor (thanks to melted chocolate rather than cocoa powder!). Today I'm pairing it with cupcakes made from my yellow cake recipe (coming very soon!), and it's simply stunning.
I thought creating this recipe would be as simple as adding cocoa powder to my classic Swiss meringue buttercream (like with my chocolate buttercream), but not so. After many attempts, I found that in order to achieve a rich, distinct chocolate flavor, we need to use melted chocolate (and a dark, high percentage cacao chocolate at that!). A few other modifications were in order as well, including increasing the salt and decreasing the egg whites to get the texture and flavor just right. 
Swiss meringue buttercream is a bit more tricky than American buttercream, so I'm including lots of tips to help you have success. I highly recommend watching the video first, especially if this is your first time making a meringue!
What You Need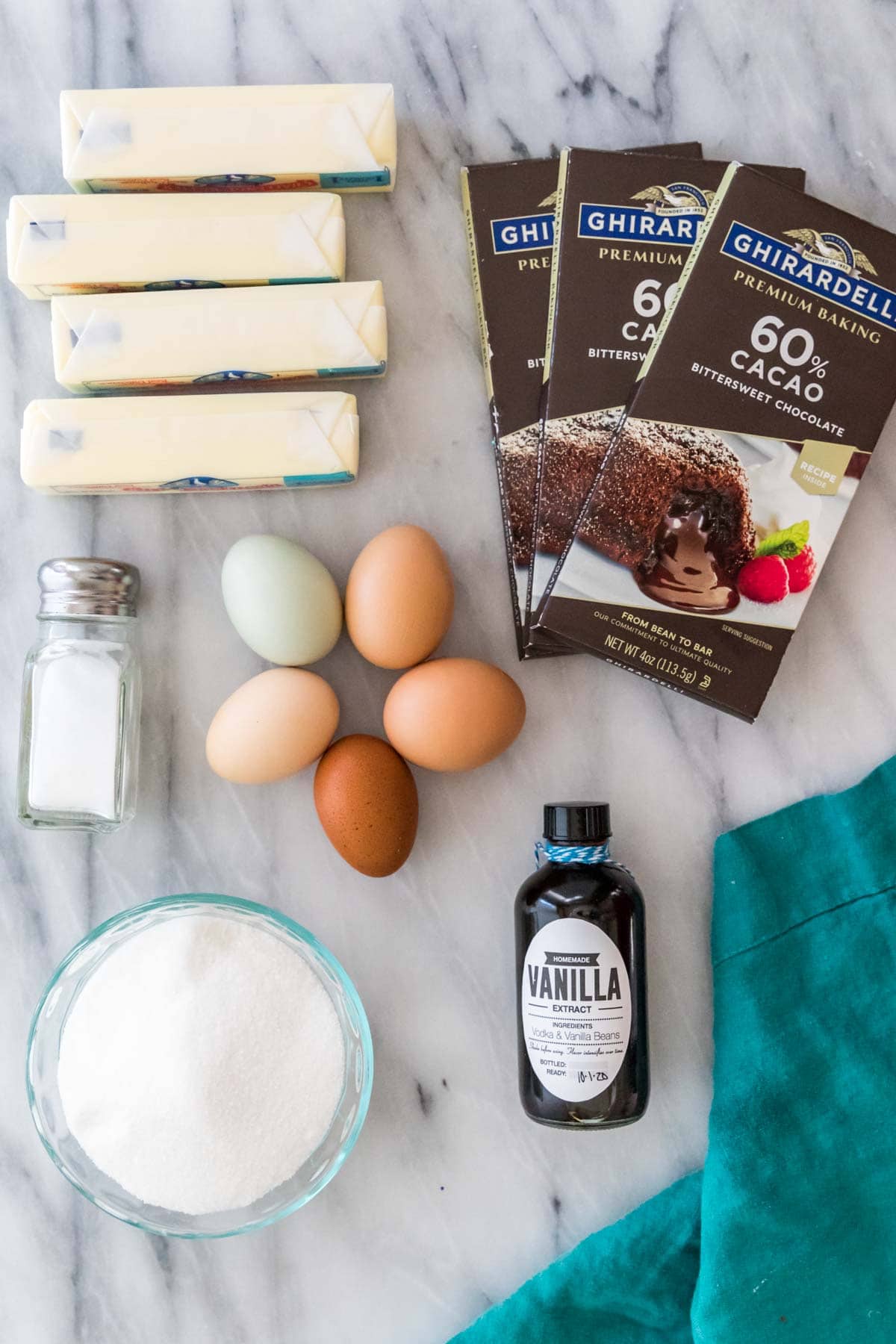 Just six ingredients come together to make this fabulous chocolate frosting. Here are the important ones:
Egg whites. I do not recommend using the egg whites that come in a carton; those tend to have mixed results and won't consistently whip to stiff peaks.
Granulated sugar.

Unlike most

chocolate frostings

, my chocolate Swiss meringue buttercream uses granulated sugar instead of powdered or confectioner's sugar. You'll want to make sure the sugar fully dissolves into the egg whites while it's cooking; just rub a small amount between your fingers and make sure you don't feel any grit to make sure it's all dissolved.

Unsalted butter.

Use unsalted butter! If you use

salted butter

, your frosting will be too salty (even if you were to omit the salt!).

Make sure your butter is softened; it shouldn't be cold, but it also shouldn't be melty. If you have an instant-read thermometer handy, use it and look for a temp of about 60 degrees Fahrenheit.
Chocolate. Use a dark or bittersweet chocolate with a high cacao percentage. Bars are best rather than chocolate chips, though chips will work in a pinch too. I don't like to use semisweet chocolate; I think it makes this frosting too sweet.
SAM'S TIP: If you are looking for a way to use up your egg yolks, I have many recipes that use this exact number, including: eclair cake, coconut cream pie, lemon pie, banana cream pie, chocolate pie, and cream puffs.
Remember, this is just an overview of the ingredients I used and why. For the full recipe please scroll down to the bottom of the post!
How to Make Chocolate Swiss Meringue Buttercream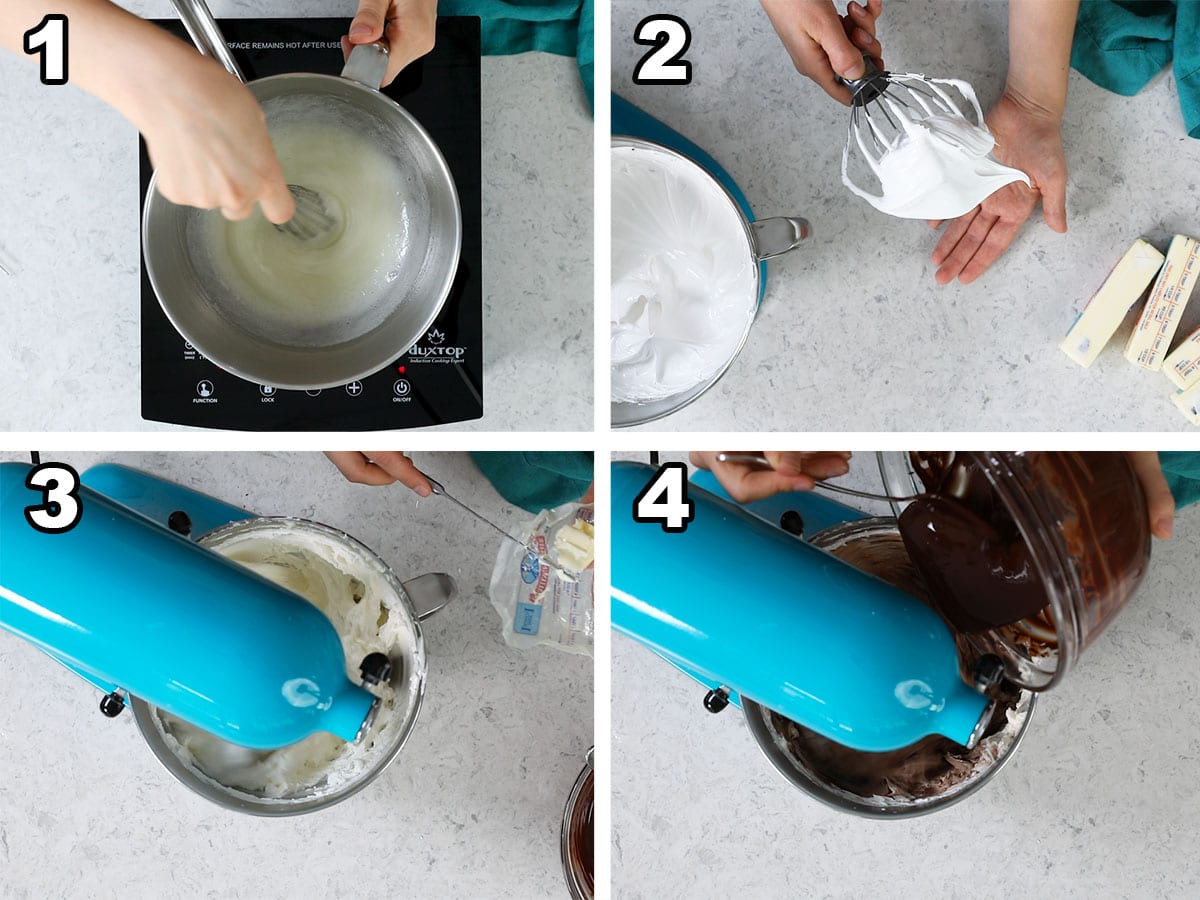 Whisk together the sugar, egg whites, and salt in a double boiler until the sugar dissolves completely (mixture should not be gritty if a small bit is rubbed between your fingers).
Attach your bowl to a stand mixer and beat the meringue until it reaches stiff peaks.
Let the meringue cool completely, then add in butter one tablespoon at a time (don't add the next Tablespoon until the previous one has been completely incorporated).
Drizzle in your (cooled!) melted chocolate, then stir in the vanilla extract. Use as desired.
SAM'S TIP: You'll know your meringue has reached stiff peaks when it holds its shape (doesn't flip over or fall) when the whisk is lifted out of the bowl. For a visual, check out my meringue cookies post or the video in the recipe card.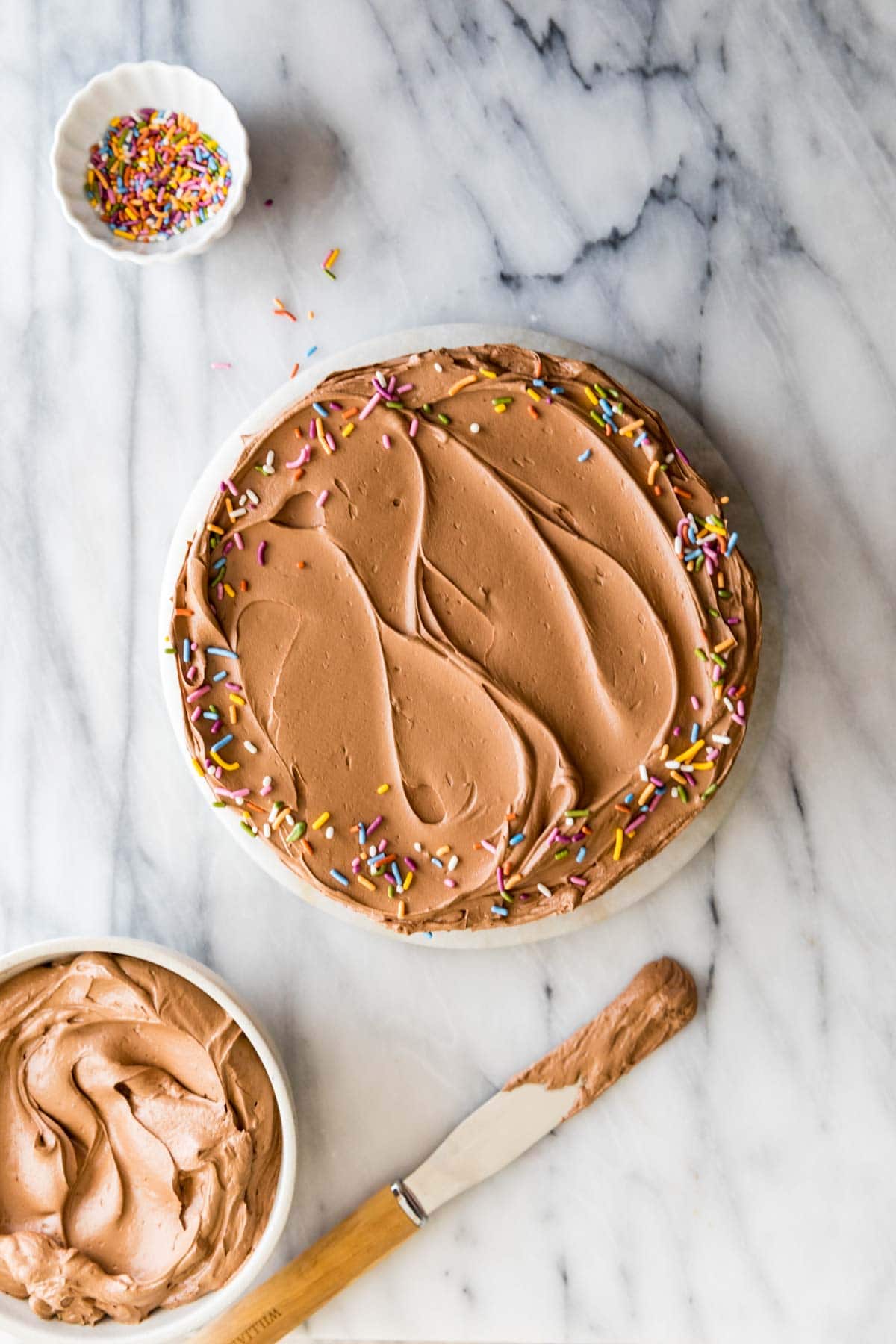 Troubleshooting
Swiss meringue buttercream is susceptible to temperature and can curdle if it gets too cool or become soupy if it gets too warm. Here's how to prevent this from happening:
Don't add your butter until the meringue has

completely

cooled

. Feel the bottom or sides of the bowl, it should not feel warm to the touch.
Making sure your butter is not too warm or cold when you add it (~60F is ideal).
Keep beating your frosting until all of the butter is added; sometimes it can curdle when the butter is introduced but comes back together with a good mix!
If your buttercream just isn't coming back together, try placing it in the fridge for a few minutes before beating again.
Make sure your chocolate is smooth and melted but NOT warm before adding it (stir it periodically to ensure even temperature throughout and, again, feel the bottom of the bowl and make sure it isn't warm).
If your buttercream has turned into a complete mess, check out this guide on rescuing Swiss Meringue Buttercream from Serious Eats!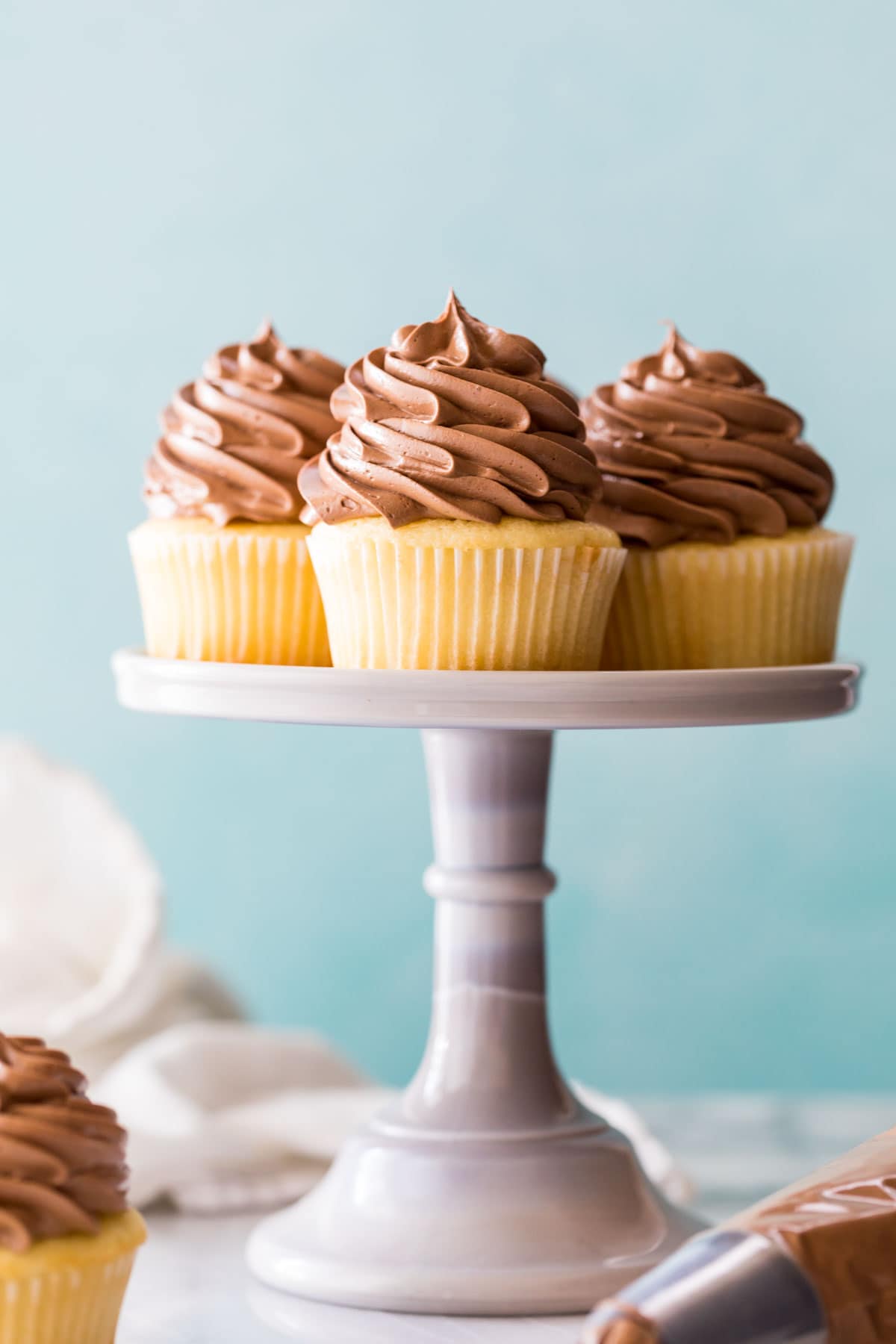 Frequently Asked Questions
Can't I just add cocoa to regular Swiss meringue buttercream?
I tried this method but wasn't happy with the results, the flavor was flat and not nearly as chocolatey as it should be. Using melted chocolate imparts the best chocolate flavor and texture, and that's what I recommend.
Why is my Swiss meringue buttercream runny?
It sounds like your frosting may just be too warm. This can stem from several issues; check out my troubleshooting section above for help.
Can you freeze chocolate Swiss meringue buttercream?
Yes! This chocolate frosting will freeze well for up to 3 months. You'll need to thaw it to room temperature before whipping it back to the proper texture.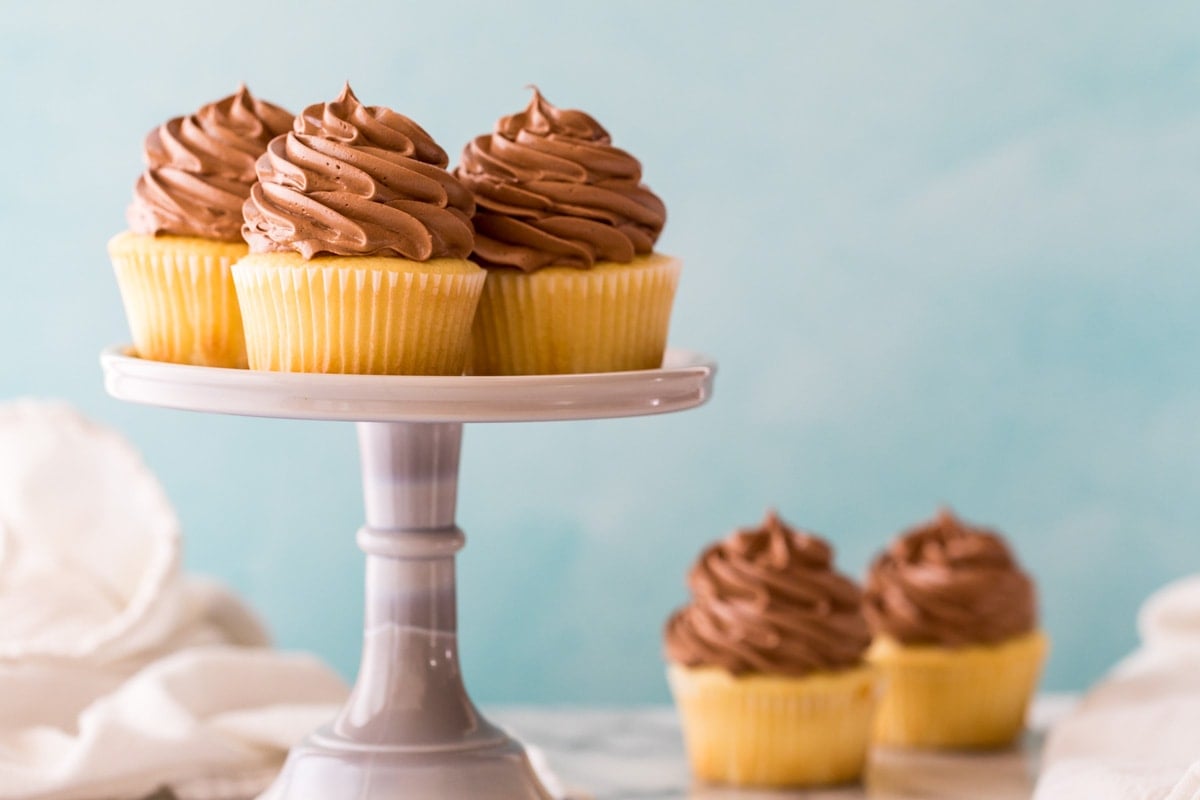 If you plan to frost your cupcakes as generously as I did here, you'll only be able to cover about 12. If you do a more acceptable amount (according to some 😉), you can cover 24.
Enjoy!
Let's bake together! I'll be walking you through all the steps in my written recipe and video below! If you try this recipe, be sure to tag me on Instagram, and you can also find me on YouTube and Facebook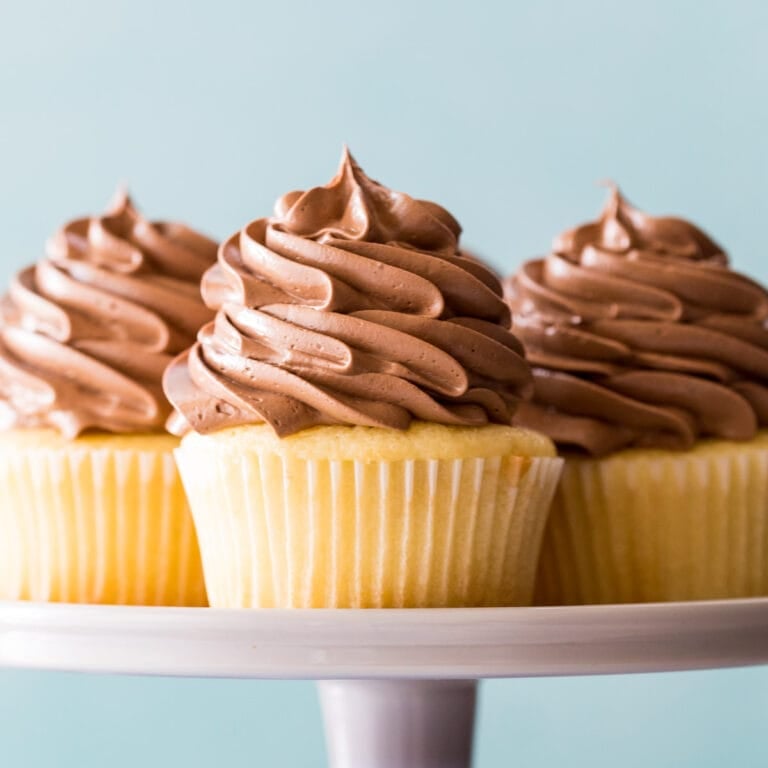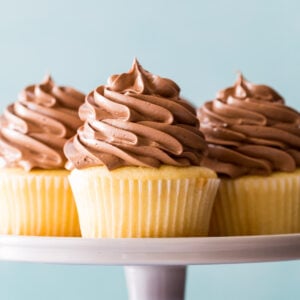 Chocolate Swiss Meringue Buttercream
My chocolate Swiss meringue buttercream recipe uses real melted chocolate for the best flavor! This chocolate frosting has a sensational silky texture and is perfect for people who prefer frosting that's not too sweet.
Recipe includes a how-to video!
Print
Pin
Rate
Ingredients
1 ½

cups

(

300

g

)

granulated sugar

5

(

177

ml

)

large egg whites

about ¾ cup

½

teaspoon

table salt

2

cups

(

453

g

) unsalted butter

softened but not warm (approximately 60F/15C)

12

oz

(

340

g

)

dark or bittersweet chocolate

chopped (60-72% cacao)

1 ½

teaspoons

vanilla extract
Recommended Equipment
Medium-sized saucepan that your mixer bowl can rest in without touching the bottom.
Instructions
Before you begin: It may be helpful to watch the video above before beginning if you have never made a meringue buttercream before. Also, make sure all of your bowls and tools are clean, dry, and grease-free!

Set up your double boiler: You may use a double boiler, a medium-sized saucepan with a bowl that fits snugly in without touching the bottom or, my preference, a metal stand mixer bowl that fits snugly in a medium-sized saucepan without touching the bottom.

In the bowl of your double boiler, whisk together granulated sugar, egg whites (make sure there's no yolk mixed in!) and salt until completely combined.

1 ½ cups (300 g) granulated sugar,

5 (177 ml) large egg whites,

½ teaspoon table salt

Fill a medium-sized saucepan with about 1 ½" of water and make sure your egg whites bowl rests in the saucepan without touching the water. Remove bowl, turn stovetop heat to medium, and bring water to a simmer.

Once simmering, place bowl on the saucepan and whisk the contents constantly until the sugar is dissolved and/or the mixture reaches at least 160F (71C). To test if the sugar is dissolved, take a small drop of the mixture and rub it between your fingers, it should feel smooth and not gritty.

Remove the bowl and wipe the bottom dry. If using a double boiler bowl, transfer to the bowl of a stand mixer, and if using a stand mixer bowl attach to your stand mixer now. Fit mixer with a whisk attachment and begin to beat the mixture on medium speed. Slowly increase speed to high and beat until meringue is thick and glossy and significantly increased in volume and you have reached stiff peaks (meaning the peak that forms when you lift the beater out of the mixture holds its shape and does not fold over or fall back in on itself). This will take approximately 8 minutes, meanwhile, melt your chocolate:

Place chopped chocolate in a microwave safe bowl and melt in 20-second intervals, stirring well in between, until chocolate is completely smooth and melted. Set aside.

12 oz (340 g) dark or bittersweet chocolate

Once your meringue has reached stiff peaks, switch the whisk attachment for a paddle attachment. Make sure the mixture is cooled to room temperature; the outside of the bowl should not feel warm anywhere you touch it.

Set mixer speed to medium and add butter, one Tablespoon at a time, not adding the next Tablespoon until the previous one is completely mixed into the meringue.

2 cups (453 g) unsalted butter

Once butter has all been added, check your chocolate temperature. It should still be smooth and melted but should not feel warm to the touch. Once it meets this criteria, slowly drizzle it into your buttercream with mixer on low-speed.

Stir in vanilla extract, scrape the sides and bottom of the bowl, and stir briefly to ensure everything is well incorporated.

1 ½ teaspoons vanilla extract

Use as desired over cakes or cupcakes.
Notes
Stand mixer/electric mixer
You can make this recipe without a stand mixer, you will need an electric mixer though and it will be quite an arm workout as you will spend a great deal of time mixing on high speed.
Egg whites
For best results, use fresh egg whites. I've had readers report mixed results using carton egg whites, they are not guaranteed to whip properly and whipping to stiff peaks is critical for this frosting recipe.
Storing/Making in advance
Frosting may be kept at room temperature for up to 48 hours. It may be made several days in advance of using and stored in an airtight container with a piece of plastic wrap directly against the surface. The frosting will need to come to room temperature again (this can take quite a long time depending on the warmth of your kitchen) and be re-whipped with the paddle attachment of the mixer before using
Yield
This recipe yields approximately 6 cups of frosting, which I've found to be enough to frost 24 cupcakes, and enough to generously frost a 8" or 9" 2 layer cake, a 13×9 cake.
Nutrition
Serving:
1
cup
|
Calories:
1057
kcal
|
Carbohydrates:
82
g
|
Protein:
8
g
|
Fat:
79
g
|
Saturated Fat:
55
g
|
Polyunsaturated Fat:
2
g
|
Monounsaturated Fat:
16
g
|
Trans Fat:
2
g
|
Cholesterol:
163
mg
|
Sodium:
305
mg
|
Potassium:
420
mg
|
Fiber:
2
g
|
Sugar:
70
g
|
Vitamin A:
1897
IU
|
Vitamin C:
0.3
mg
|
Calcium:
192
mg
|
Iron:
1
mg
Nutritional information is based on third-party calculations and should be considered an estimate only. Actual nutritional content will vary based upon brands used, measuring methods, cooking method, portion sizes, and more.
Related Recipes