Eton Mess is a classic English dessert that's light, sweet, made with freshly whipped cream, juicy berries, and crushed, crispy vanilla meringue. This is bound to be your new favorite dessert for summer. This is a simple recipe (the hardest part is making the meringue) and all of the components can be prepared in advance. Recipe includes a how-to video!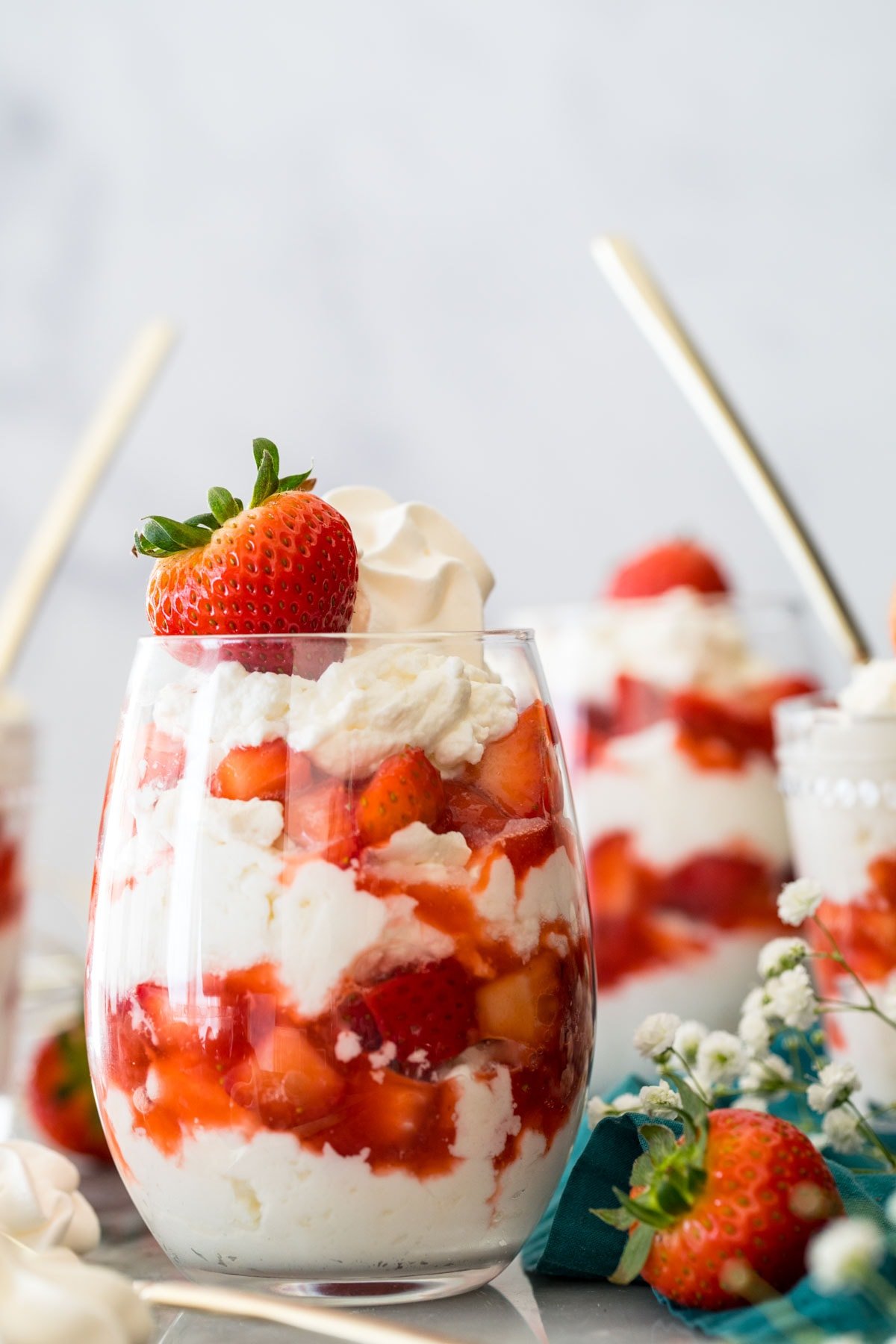 Your New Favorite Summertime Recipe
It's surprising and a little sad to me how under-represented the Eton mess dessert is in America. Up until about a year ago I had no idea this fresh, heavenly mish-mash of some of my all-time favorite ingredients and desserts even existed.
With its fresh flavors, light, texture, and juicy berries, Eton mess is a perfect spring/summertime recipe, though I enjoy it all year round and included a technique for getting the most flavor out of less-than-ripe winter berries.
There are three main components to tackle for today's recipe: the meringue, the berries, and the whipped cream. Let's talk about each of these briefly before we jump into the recipe.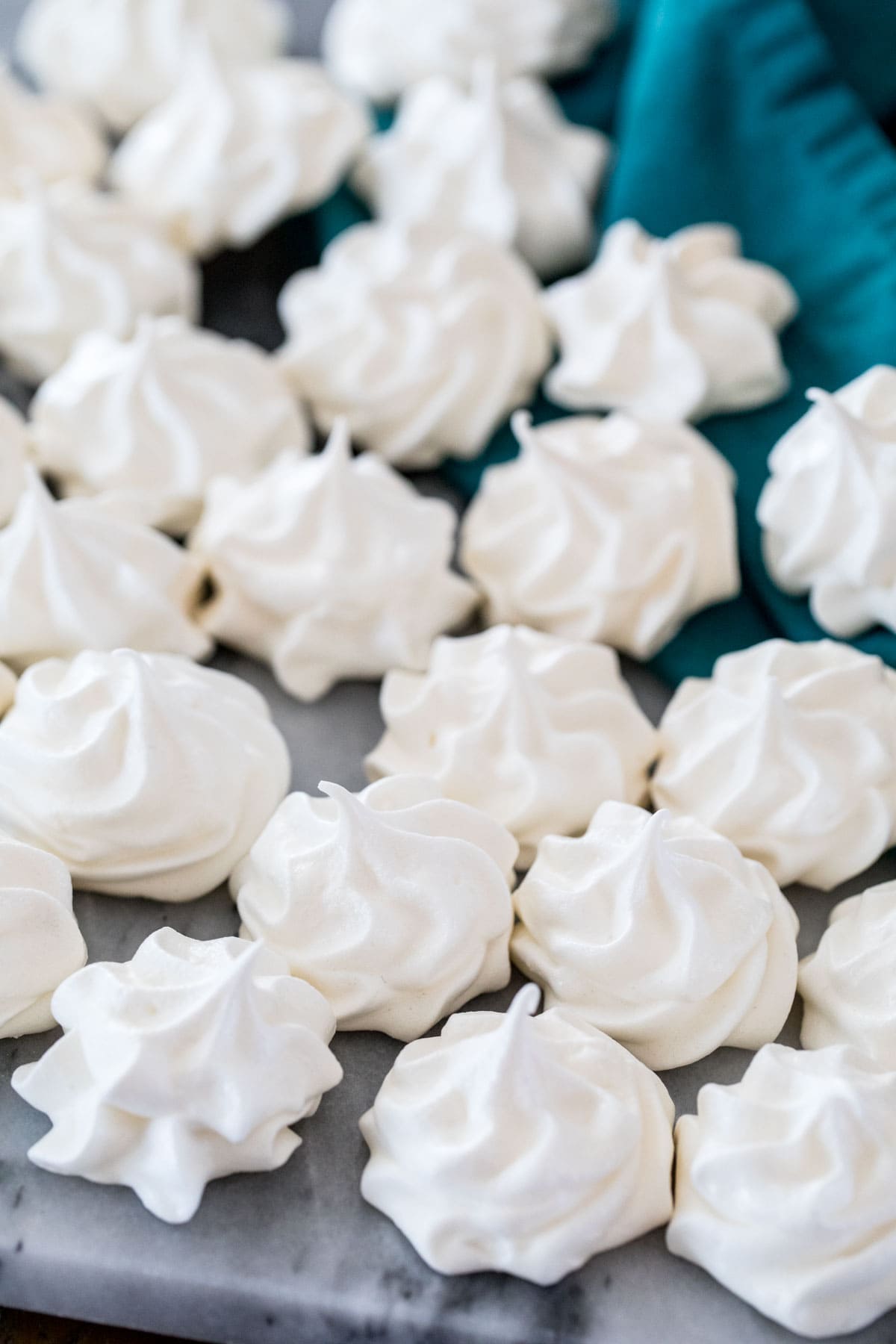 The Meringue
Many Eton mess recipes call for you to simply purchase meringue cookies from a bakery, and you can certainly do that. However, I highly recommend you make my meringue cookies from scratch, instead. They're simple to make with just a few ingredients, but they are time consuming in that they have to bake and cool for several hours.
For the video and recipe today I did not include the step-by-step process for making these cookies because it seemed a little redundant and cumbersome since I just shared a detailed, stand-alone video of how to make them last week. If you're making your meringue from scratch (you should!) and have any questions about the process, I recommend seeing my detailed tutorial on how to make meringue cookies. The blog post has plenty of photos and there is a thorough video in the recipe card. I went back and forth about whether to include everything in this post or not and felt including it overwhelmed the whole post when we just went over all of the details, but I always appreciate feedback on what is most helpful to you!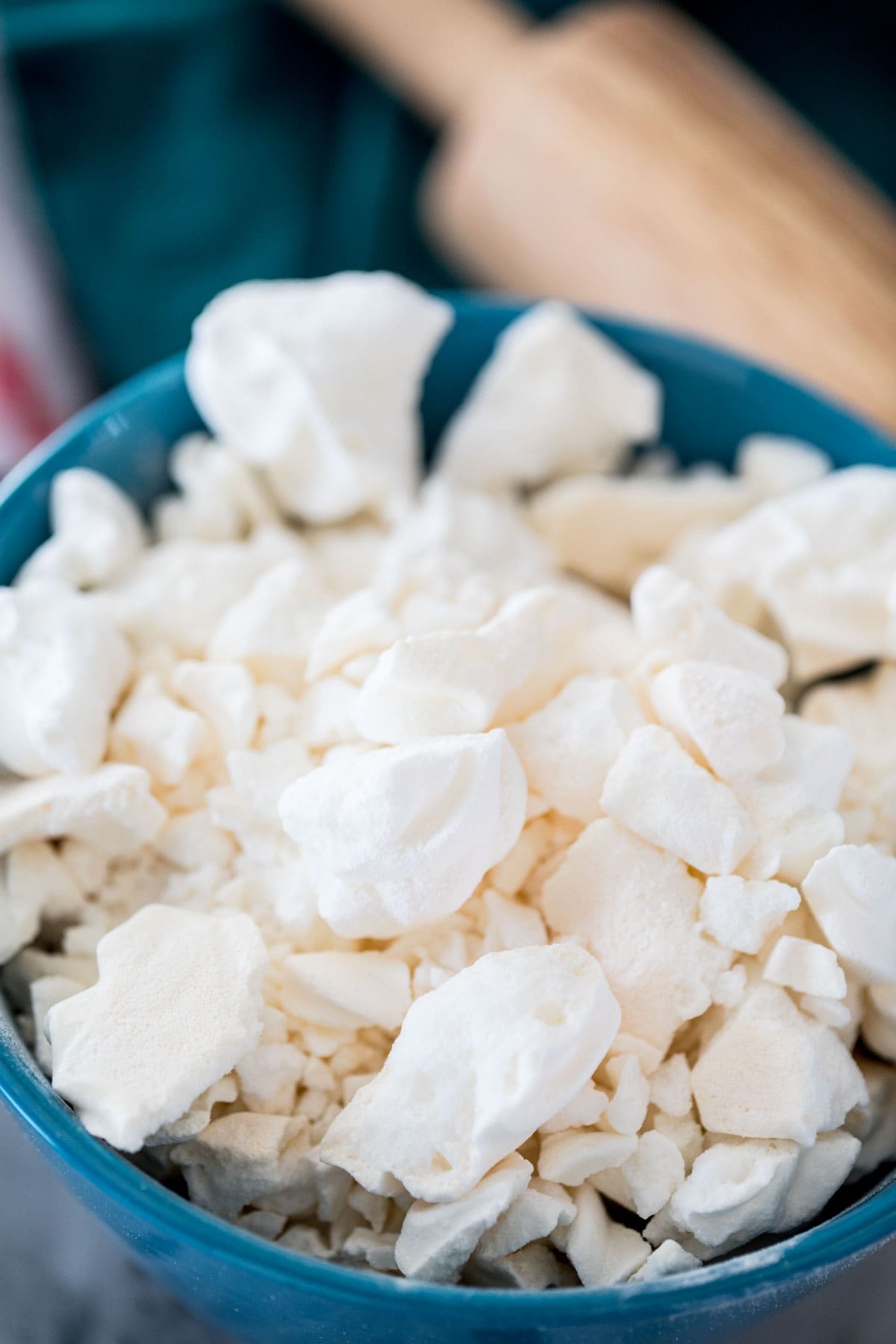 To make the Eton mess assembly as simple as possible, I generally recommend making the meringues a day or so in advance. Keep them in an airtight container at room temperature, and if you find that they've softened while sitting (usually as a result of humidity), just pop them back in the oven for about 20 minutes or until crisp. It's important that they're crisp and not marshmallow-y soft because you'll need to break and crush them when it comes time to assemble your dessert, and it's not easy to do this if they're soft.
When you're ready to assemble and serve your dessert, crush the cookies into bite-sized or smaller pieces and fold most of the cookie bits into your freshly whipped cream (more on that in a bit). Don't pulverize them entirely into dust, you'll want some substantial chunks to give the dessert the proper texture (see photo above for how I crush my cookies).
Next you'll want to prepare your berries. This can also be done up to a day in advance, and if you are cooking your berries you need to let the sauce cool before you can assemble the Eton mess.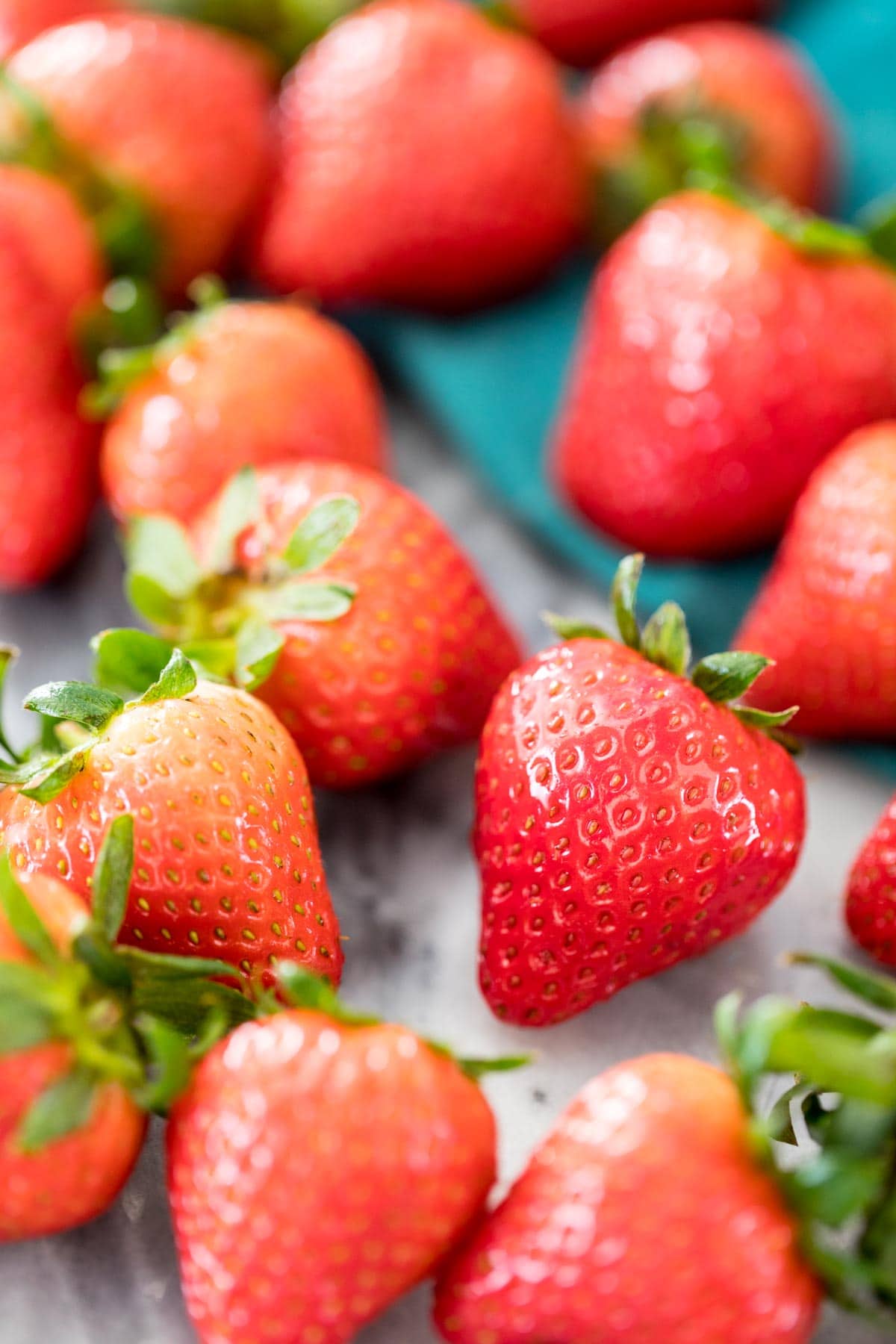 Berry Layer… 2 Ways:
When it comes to the fruit layer, you have two options.
The simple way is to simply take your berries (I used strawberries today but raspberries would be just as tasty!) and toss them with a bit of granulated sugar. Let the berries and sugar sit together, the sugar will draw out the juices. This is called macerating and it's the technique I use for my strawberry shortcake. If you have ultra-fresh, ripe, delicious berries I recommend you use this method.
The less simple way. Why would I even suggest this? Well, sometimes we can't get our hands on fresh, juicy berries (and sometimes I like to be a little extra decadent, even if my berries are perfectly ripe!). Some seasons all we have to go with our Eton mess craving is hard, quite green, strawberries. Don't worry, we can still make this work!
In the video I demonstrated my simple technique for cooking your berries into a sauce. It requires a few extra ingredients, but it takes bland berries and makes them juicy, saucy, and flavorful (it's similar to my strawberry sauce). I demonstrate this technique in my video, I thought the visual for this method might be more helpful than one that just shows me mixing together sugar and berries for the "simple" way 😉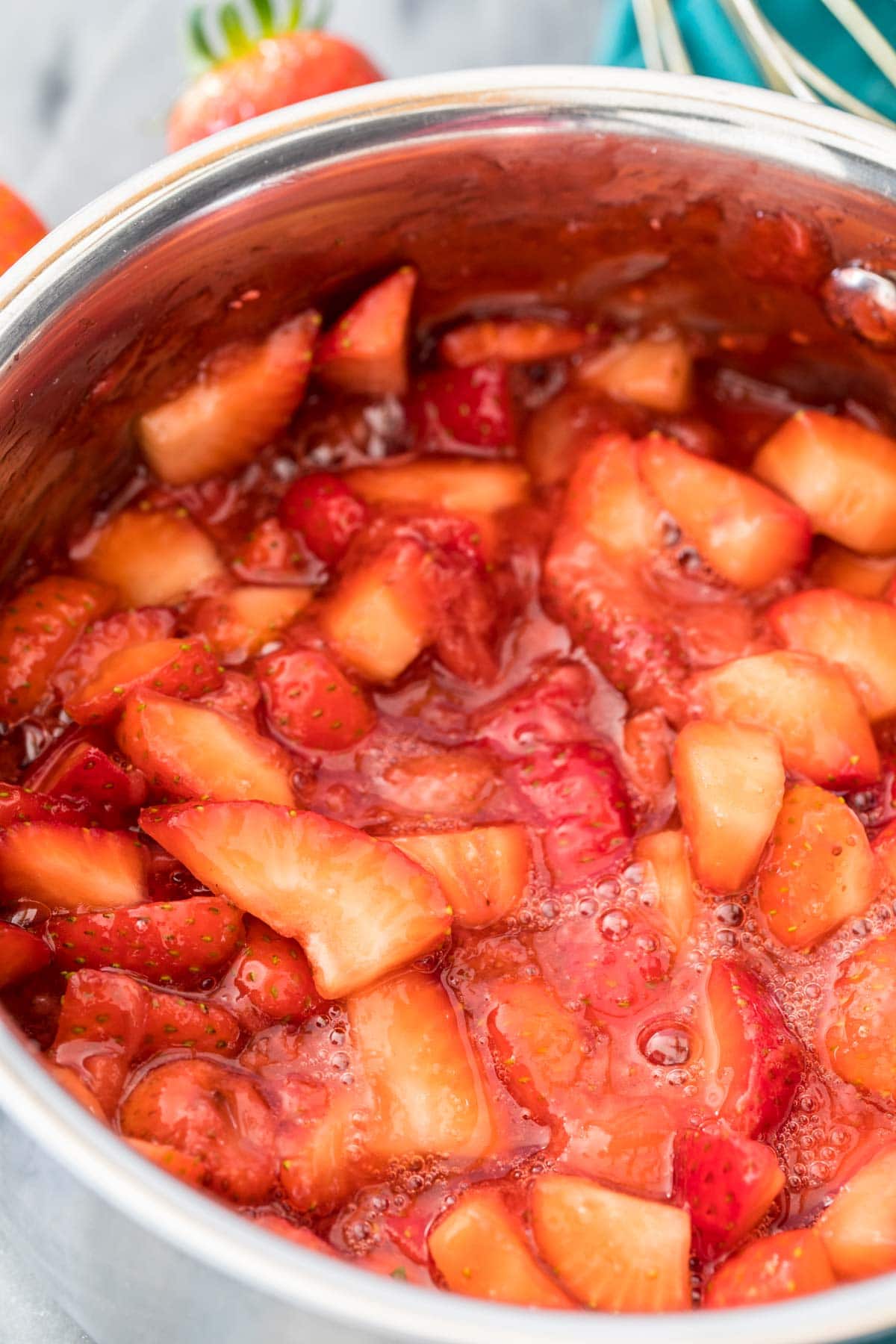 Whipped Cream
Freshly whipped cream is essential, don't skimp and don't use Cool Whip!
Make sure your cream is cold (it's also helpful if the bowl you are whipping it in is cold) and whip your cream with an electric mixer until it is thick and fluffy and the same consistency as Cool Whip (only so, so much tastier). This can be done by hand, but it is very time consuming and quite an arm workout, I highly recommend an electric mixer for this step.
When you're about ready to serve, take most (but not all) of your crushed meringue and fold them into your whipped cream.
The whipped cream will soften the meringue, giving it a partially crisp, partially marshmallow-y texture (which we want now!). When assembling the desserts I sprinkle the reserved crushed meringues over the whipped cream mixture, it adds extra crunch and a nice extra contrast to the soft cream.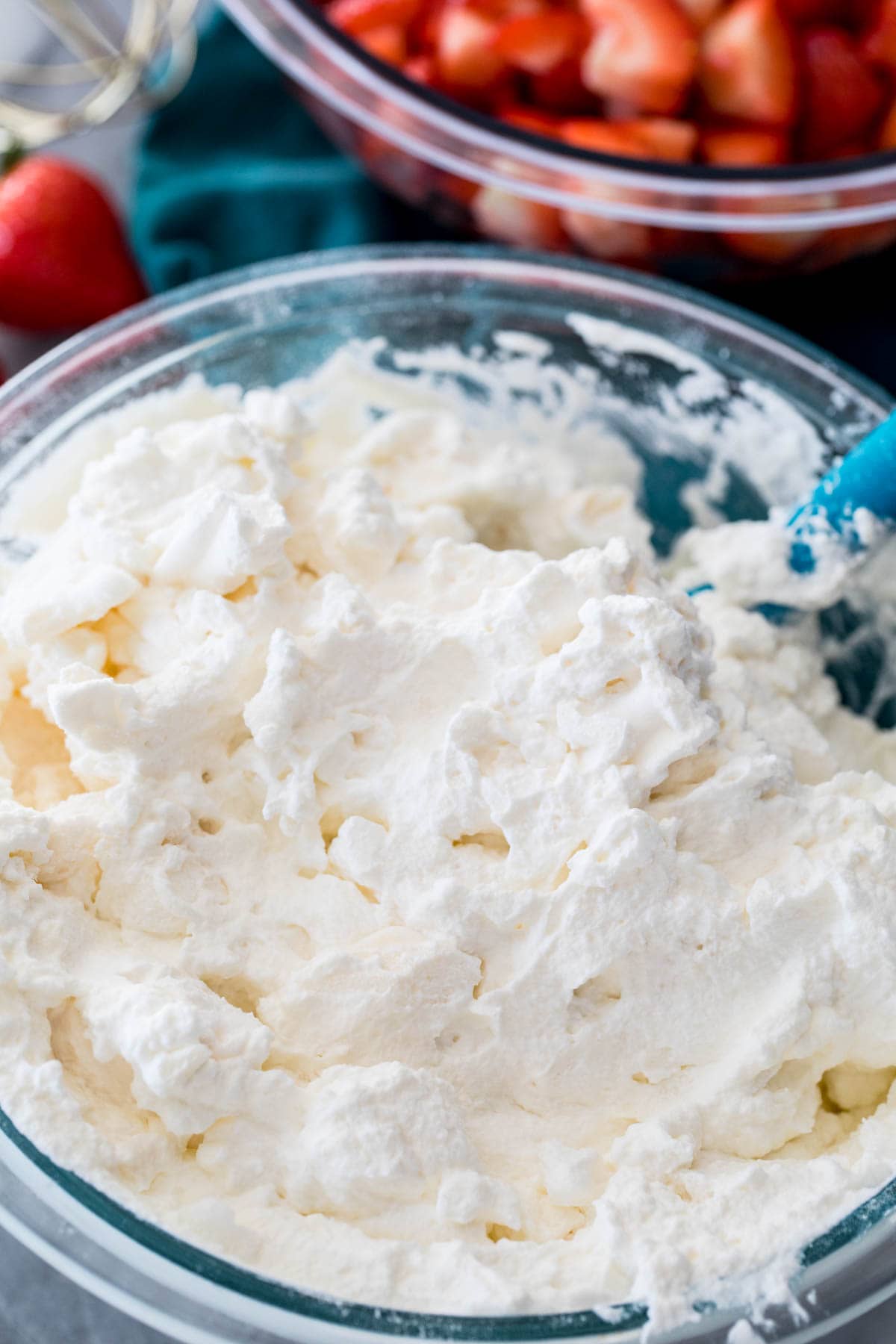 Assembly
Don't assemble Eton mess until you're ready to serve. Since everything gets mixed together once you go to eat it, the order isn't terribly critical, but I like to do whipped cream/meringue, a sprinkle of crushed cookies, and then berries (and then repeat!).
I like to serve this dessert in chilled trifle glasses (doesn't it look pretty this way!), but an easier way to serve, especially if you're hosting a party, is to simply set out a large dish of your meringue/cream mixture, a bowl of crushed meringue, and a bowl of the berry sauce. Let your guests assemble their own Eton mess in individual bowls to best suit their portion preferences.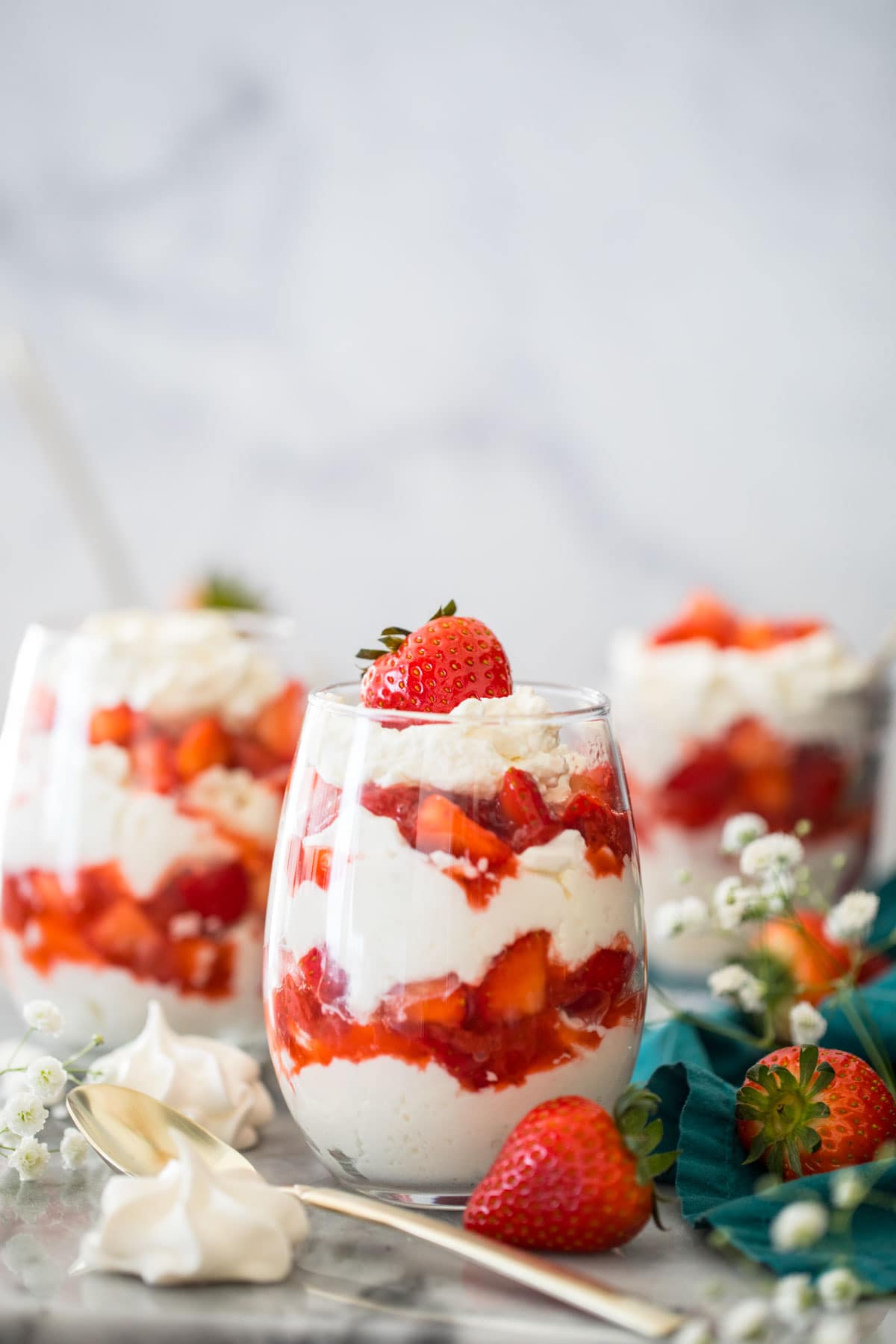 Making in Advance and Storing
While all of the components of Eton mess can be made in advance to a degree, I do not recommend assembling or preparing these desserts in full until moments before you are ready to serve.
Prepare your meringues up to a week in advance and store in an airtight container at room temperature.
Macerate your berries or make the sauce as far as a day or two in advance, keep them in an airtight container in the fridge.
The whipped cream can be made up to 24 hours in advance (also store in an airtight container in the fridge), but do not fold your meringue into the cream or assemble the ingredients until just before serving.
More Recipes You Might Like:
Enjoy!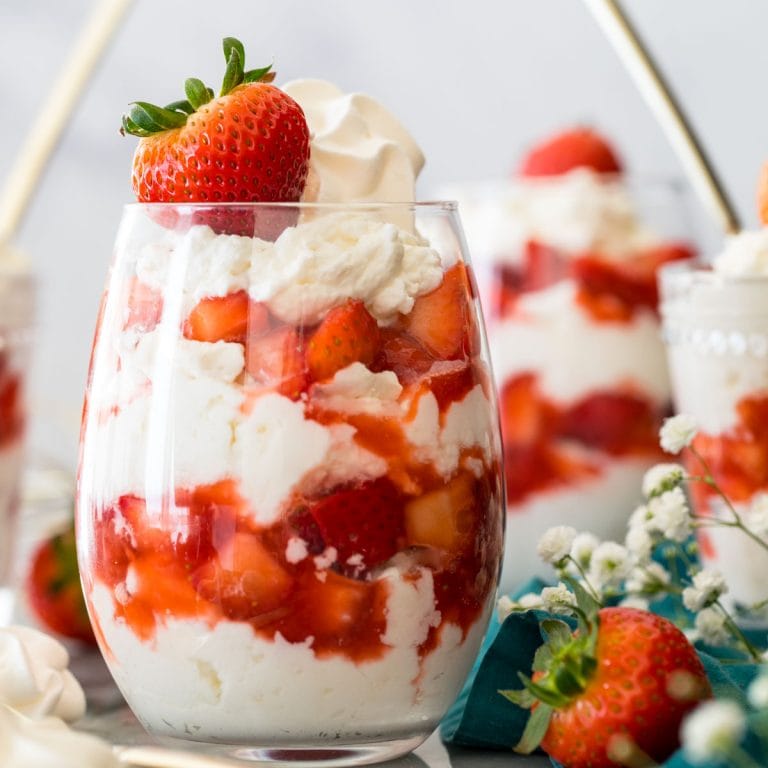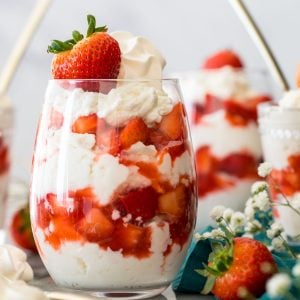 Eton Mess
A classic English dessert made with juicy berries, fresh whipped cream, and crisp vanilla meringue.
Please note that the recipe has options to either simply macerate your berries or to cook them into a sauce. Either option will work fine, but I demonstrate cooking the berries in the video since it's a bit more complicated.
Print
Pin
Rate
Servings:
8
servings (this will vary depending on your serving glasses)
Ingredients
1

batch

meringue cookies

click the link for the recipe (or you may substitute store-bought meringue cookies)
Berries¹
2

lbs

(

907

g

)

strawberries

hulled and quartered, divided

3

Tablespoons

granulated sugar

2

Tablespoons

cornstarch

1

Tablespoon

lemon juice
Whipped Cream
2

cups

(

475

ml

)

heavy cream

½

cup

(

62

g

)

powdered sugar

½

teaspoon

vanilla extract
Recommended Equipment
Small trifle glasses for serving (I like to use stemless wine glasses). You can really make Eton mess in any size dish you would like, or even set out the separate components in large bowls and allow your guests to portion as much cream/meringue and berry sauce into individual bowls to suit their taste and desired portion size.
Instructions
Prepare meringue cookies at least 3 hours in advance of beginning (I like to prepare mine a day in advance). Set aside.
Berries
To prepare berry layer, combine 2 cups (about 300g) of quartered strawberries (please note this is not all of your berries, only 2 cups. Reserve the remaining berries, you'll need them shortly), sugar, cornstarch, and lemon juice in a medium-sized saucepan.

2 lbs (907 g) strawberries,

3 Tablespoons granulated sugar,

2 Tablespoons cornstarch,

1 Tablespoon lemon juice

Stir until ingredients are well-combined. Turn stovetop heat to medium/medium-low and cook, stirring constantly, until berries release their juices.

Continue to cook (still stirring constantly) until mixture begins to boil and slightly thickens.

Remove from heat and stir in your remaining berry slices. Allow mixture to cool completely before using in Eton mess.
Whipped Cream
Prepare whipped cream by combining cold heavy cream, powdered sugar, and vanilla extract in a large bowl.

2 cups (475 ml) heavy cream,

½ cup (62 g) powdered sugar,

½ teaspoon vanilla extract

Use an electric mixer to beat until thick, fluffy, and stiff peaks have been reached. If not using immediately, store in an airtight container in the refrigerator until ready to serve.
Assembly
Note: do not assemble Eton mess until you are ready to serve. Place your meringue cookies in a large ziploc bag and use your hands or a rolling pin to crush them into bite-sized or smaller pieces.

Add approximately ⅔ of the meringue pieces (no need to measure, just an approximation is fine) into the whipped cream and use a spatula to fold together.

Dollop a spoonful of the whipped cream/meringue mixture into the bottom of a (preferably chilled) trifle glass. Sprinkle a spoonful (I use about a Tablespoon) of the remaining crushed meringue over the whipped cream mixture. Top with a generous spoonful of the berry mixture. Repeat until trifle glass is full. Serve immediately.
Notes
¹I like to cook my berries into a sauce for a flavorful Eton mess, especially if my berries aren't particularly ripe. However, traditional Eton mess recipes simply macerate the berries. If you prefer to do this, skip the instructions and ingredients listed for the "Berries" and simply hull and quarter 2 lbs of berries and toss with ¼ cup (50g) granulated sugar and allow them to sit until juicy (about 30 minutes) before using.
Nutrition
Serving:
1
serving
|
Calories:
297
kcal
|
Carbohydrates:
24
g
|
Protein:
2
g
|
Fat:
22
g
|
Saturated Fat:
14
g
|
Cholesterol:
82
mg
|
Sodium:
24
mg
|
Potassium:
221
mg
|
Fiber:
2
g
|
Sugar:
18
g
|
Vitamin A:
888
IU
|
Vitamin C:
68
mg
|
Calcium:
57
mg
|
Iron:
1
mg
Nutritional information is based on third-party calculations and should be considered an estimate only. Actual nutritional content will vary based upon brands used, measuring methods, cooking method, portion sizes, and more.