My Chocolate Macaron Recipe makes beautiful, perfectly textured chocolate macarons filled with ganache. My recipe includes LOTS of tips so you can be successful, no matter your skill level. Recipe includes a how-to video!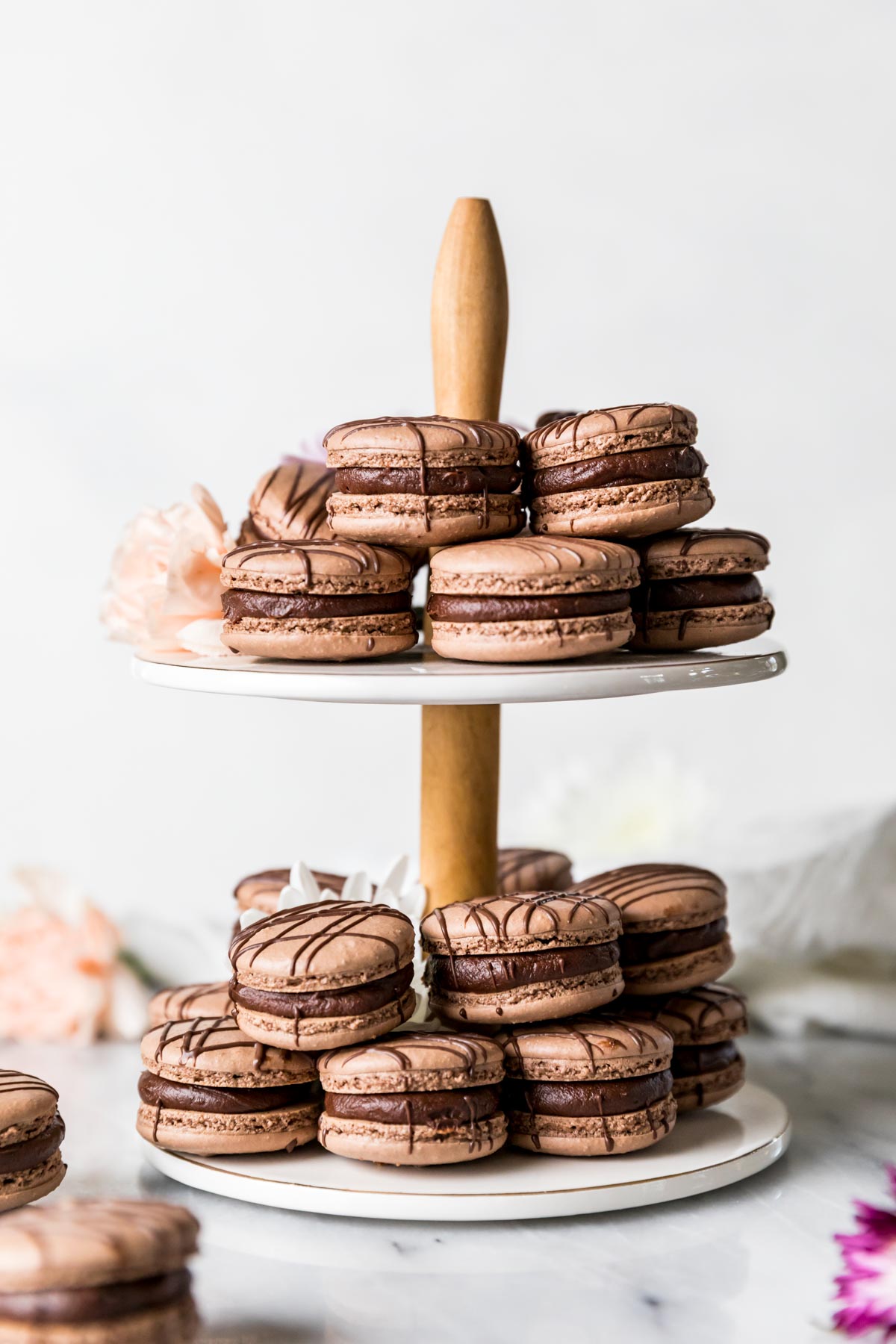 The Best Chocolate Macaron Recipe
My French macaron recipe may have been one of my most detailed posts yet, but there was just one thing I left out: chocolate! So many of you have asked for a chocolate macaron recipe after I shared that first recipe, and I'm so proud to share these perfected chocolate macrons with you today!
While I typically LOVE using my white chocolate buttercream as a macaron filling, I decided to fill these chocolate macarons with chocolate ganache–yum! If chocolate on chocolate is too much for you (said no chocoholic, ever 😜), I suggest several alternative filling options for you below.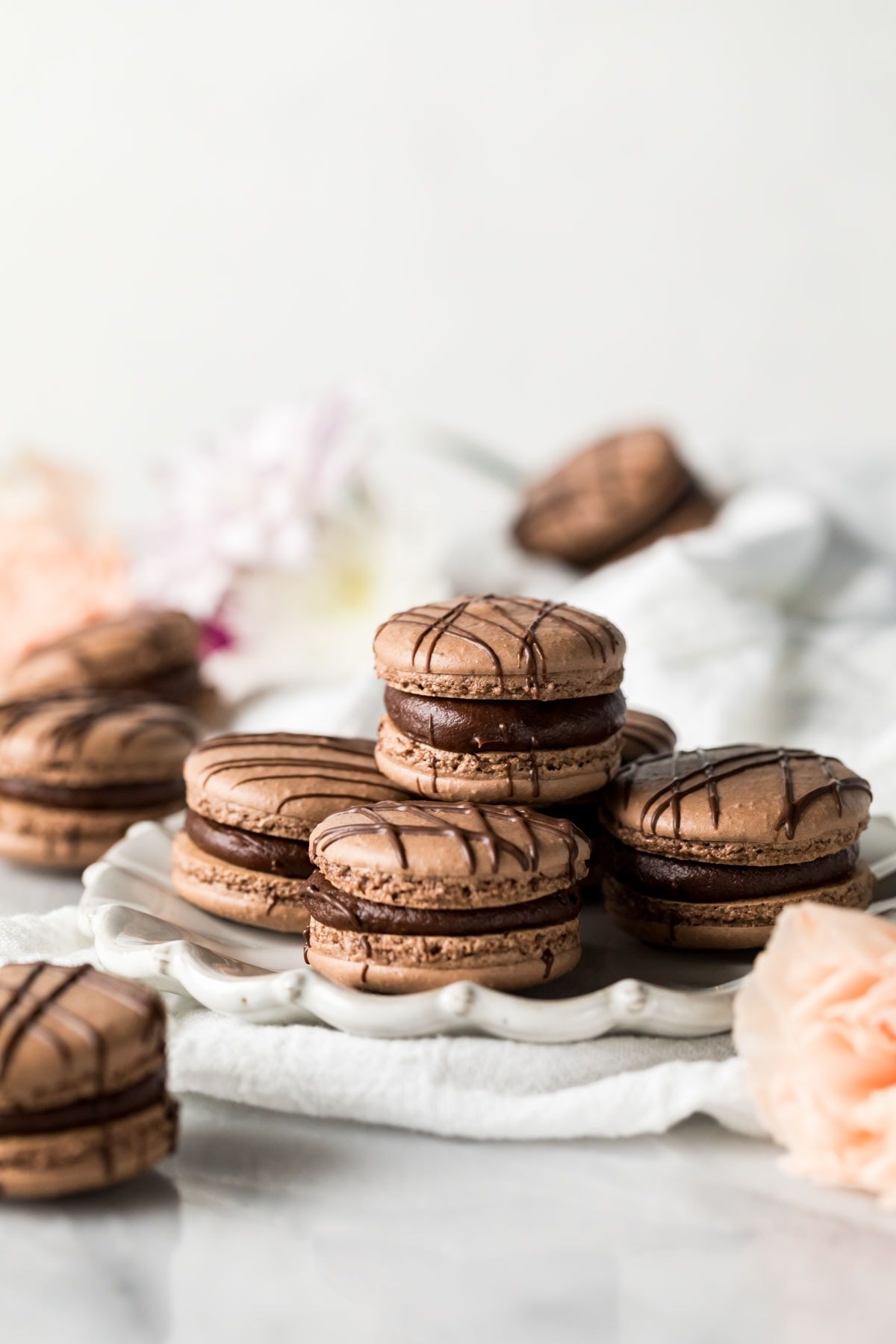 This recipe is very similar to my classic macarons, but there were a few details that were different enough that I felt it warranted its own post (like reducing the almond flour/powdered sugar and not macaronaging quite as much). I did try and keep this post a bit more succinct, so if you're new to macarons, you might want to give the original post a thorough reading before starting this recipe.
What You Need
Here are the main ingredients in my chocolate macaron recipe. Remember, just like with most of my recipes, you will automatically have better success if you weigh each ingredient with a kitchen scale. I still provide cup measurements below, but I highly recommend using weights for the best results!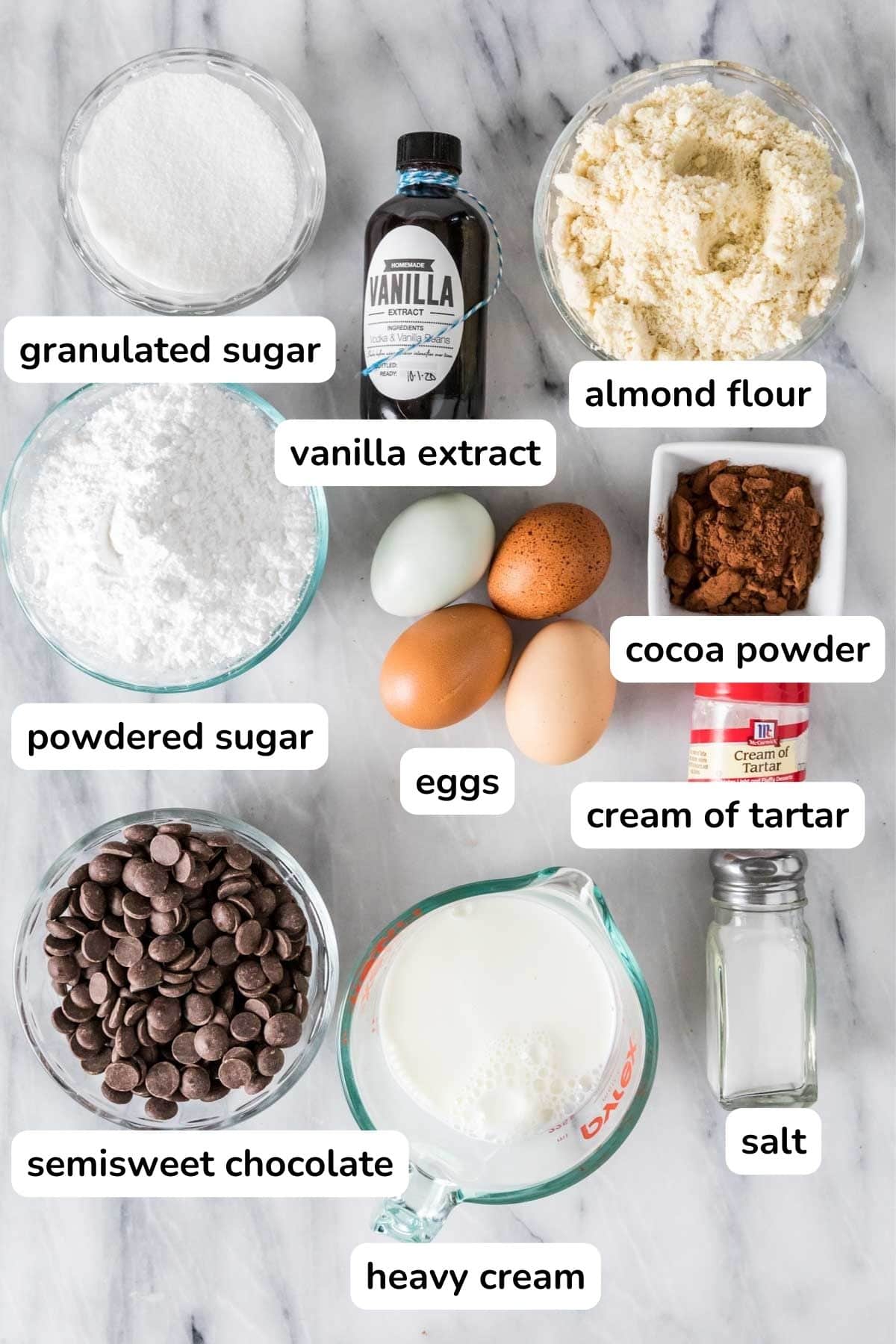 Egg whites. Don't let any egg yolk (not even a drop) in when separating your eggs! This can affect how they whip up. I do not recommend using the liquid egg whites sold in a carton, as you may not have success whipping them properly (most carton egg whites warn you that you won't be able to whip them).
Sugar. I use a combination of powdered and granulated sugar in this chocolate macaron recipe. Both help to stabilize the meringue and add sweetness. Super fine or caster sugar will also work in place of granulated sugar.
Cream of tartar. Cream of tartar isn't a must, and sure, you can leave it out, but I personally recommend it and prefer to use it as a stabilizing safeguard when making macarons.
Almond flour. Use super fine, blanched almond flour. If you can't find super fine almond flour, you can make your own by blitzing your flour and powdered sugar in a food processor for 15 1-second pulses. You will want to do this twice, stirring in between (but don't overdo it, grinding the flour too much will turn it into a butter).
Cocoa powder. Chocolate macarons are much less likely to be hollow, which is nice! However, they can be prone to getting oily/wrinkly tops, especially if the cocoa powder is more oily. I find I have the best success with Hershey's "special dark" chocolate. It yields consistent, deeply colored chocolate macarons. If you can't find this, you can use any other Dutch process cocoa powder. I've also tested the recipe with natural unsweetened cocoa powder and it works well this way, too, but the chocolate flavor isn't as intense and the color is more pale.
Food coloring. This is optional, but for a richer brown color, you can add brown food coloring since cocoa powder alone doesn't give a particularly dark color. I recommend you use gel food coloring if you decide to add any.
For the Ganache Filling
For the filling you will need:
Semisweet chocolate. Use couverture chocolate or a chopped semisweet baking bar. I don't recommend using regular semisweet chips. For a darker flavor, you could substitute dark chocolate instead (60% is a great option).
Heavy cream. Double cream or whipping cream will also work.
Butter. We'll be adding a bit of butter, salt, and vanilla here for extra flavor and a silky smooth mouthfeel. While not a traditional ganache ingredient, I love the way it rounds out the flavor and texture for the macaron filling. If you only have salted butter, that is fine–just skip the salt.
SAM'S TIP: If you've made my meringue cookies or angel food cake, then you already have experience with whipping egg whites and know how finicky they can be. All of the suggestions I provide in those recipes also apply here, the most important being to use a clean, dry, grease free bowls and utensils. I also recommend avoiding rubber or silicone when making chocolate macarons.
Remember, this is just an overview of the ingredients I used and why. For the full recipe please scroll down to the bottom of the post!
How to Make Chocolate Macarons
Preparation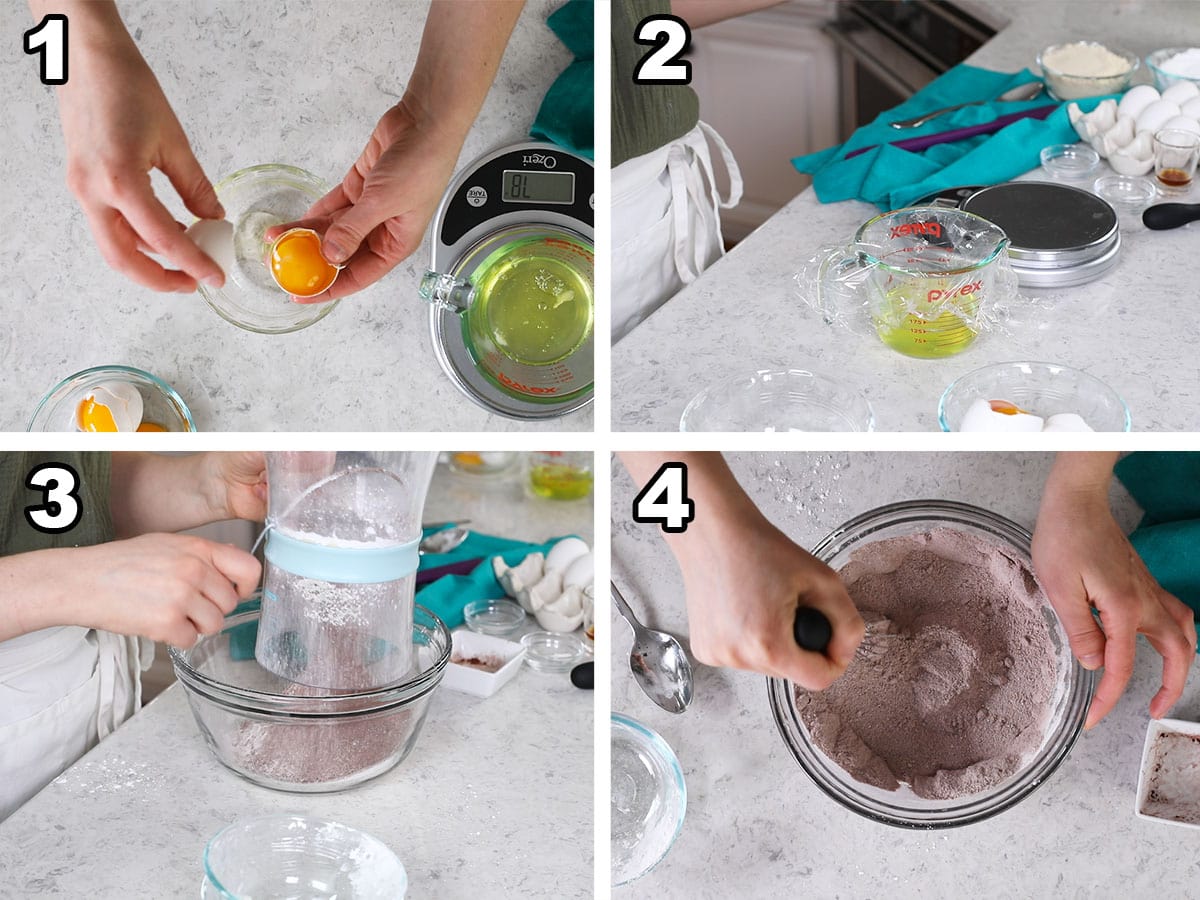 Separate the egg whites from the yolks and place them in a clean, dry, grease-free container. Do not let ANY yolk or any moisture with your whites!
Age the egg whites. Cover the container with plastic wrap, poke some hols in the top using a toothpick, and let sit for at least 24 hours before using. Technically this step is optional, but it can make your meringue more sturdy, so I recommend doing it.
Sift the powdered sugar, cocoa powder, and almond flour. Make sure to discard any lumps that pop up.
Whisk to make sure these dry ingredients are thoroughly combined, then set them aside.
SAM'S TIP: Use a scale! While I include cup measurements in the recipe card, I lead with metric/weight measurements, as a kitchen scale is much more accurate and will make your macarons more likely to turn out. If you've never used a scale before, here is my guide to using a kitchen scale (and this is an affiliate link for the scale I personally use, it's only ten bucks on Amazon — cheaper than a set of measuring cups!).
Meringue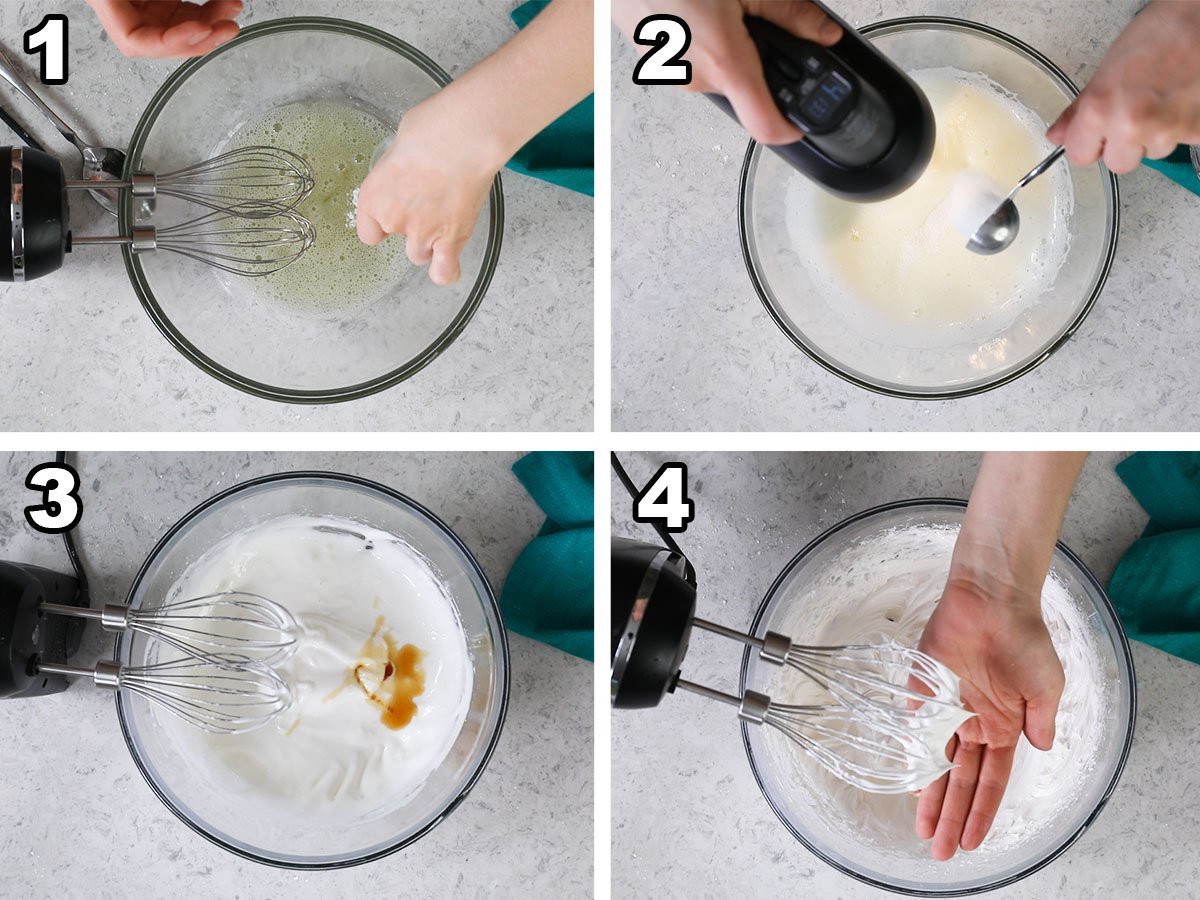 Beat the egg whites until foamy using an electric mixer, then add the cream of tartar and stir again for another 30 seconds.
Add the sugar 1 tablespoon at a time, beating for about 30 seconds after each addition before adding the next.
Add flavor and food coloring. Stir in the vanilla, salt, and food coloring (if using) until incorporated.
Beat to stiff peaks. Beat the meringue on medium high until it reaches stiff peaks. When you lift the beater from the bowl, the peak that forms should hold its shape without falling back in on itself.
Macaronage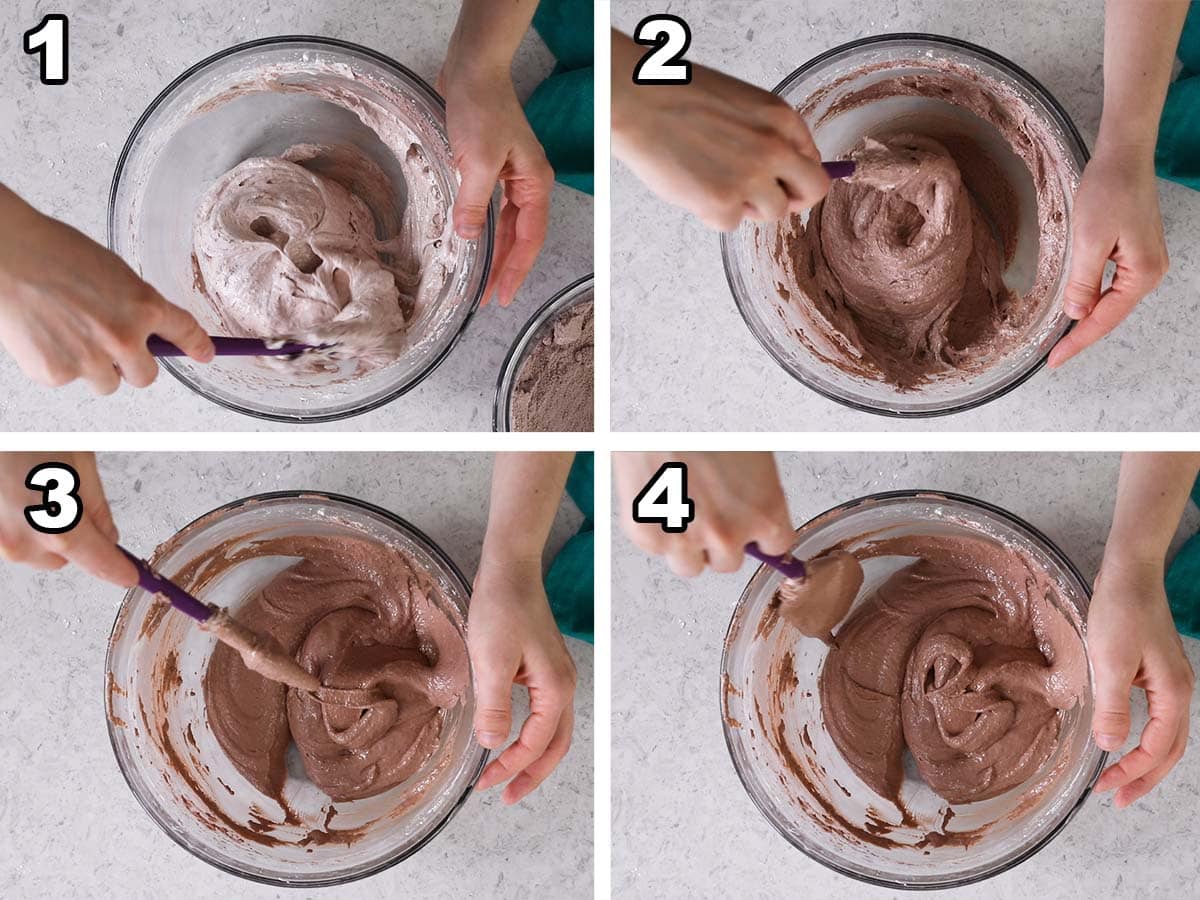 Fold in one third of the cocoa powder mixture into the meringue until combined, then repeat with the next two portions.
Macaronage – Fold, scrape, and cut through the batter, turning the bowl as you go. Smoosh the batter against the sides of the bowl occasionally to help deflate it a bit.
Keep folding the batter until it falls from the spatula in a smooth ribbon. Test to see if your batter is ready to pipe by attempting to make a continuous figure-8.
If your figure-8 is successful, pour your batter into a piping bag. If not, keep folding, scraping, and smooshing until you can make a successful figure-8.
SAM'S TIP: With my classic macarons, I have you check to see how long your figure-8 holds its shape before melting back into the batter; there is no need to do that with my chocolate macarons. Once you can make (or just barely make) an 8 figure, you're good! Mixing beyond that could result in overdoing it.
Piping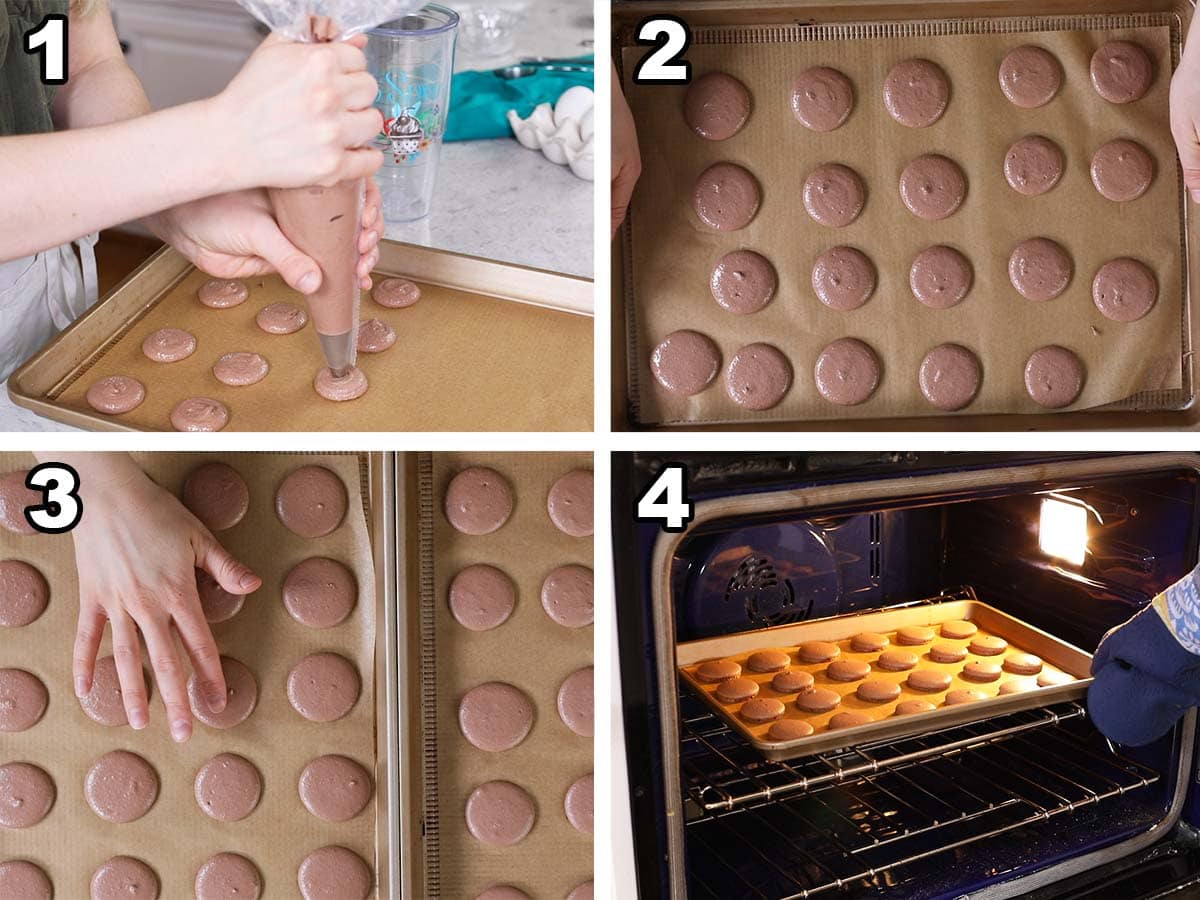 Pipe the batter straight down onto a parchment lined baking sheets, flicking your wrist at the end to finish.
Bang your pans on your countertop 4-5 times to release any air bubbles. Preheat your oven to 325F while you let your macarons rest and form a skin.
Check for a skin on the tops of your macarons (they should feel dry to the touch if you gently graze your finger overtop), then place one baking sheet in the center rack of your oven.
Bake for 10-11 minutes, turning halfway through. Your chocolate macarons are done when their feet look dry and the tops can withstand a light touch without sinking. Let cool completely before filling.
Ganache Filling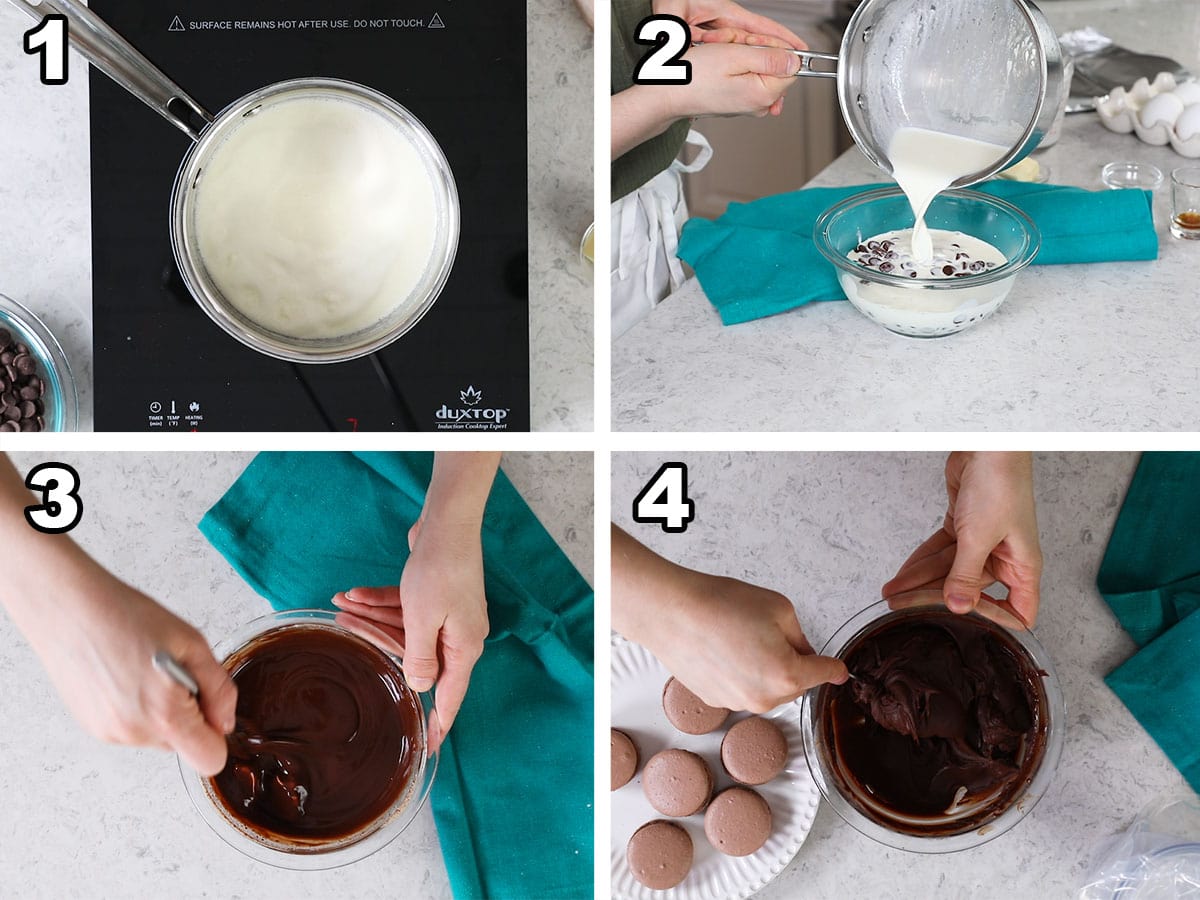 Heat the cream in a small saucepan until simmering. Place your chocolate in a heatproof bowl.
Pour the hot cream over the chocolate and immediately cover with foil. Let this mixture sit for 5 minutes before removing the foil and whisking until smooth.
Whisk in the butter, salt, and vanilla until melted and cohesive.
Let the ganache cool until firm, then transfer to a piping bag.
Assembly

Pair off your macaron shells, making sure to match similar sizes together. Pipe ganache onto one shell.
Sandwich with another shell, pressing gently together. Repeat with the remaining macarons.
SAM'S TIP: It is important that your ganache is firm before using it to fill your chocolate macarons. Adding the ganache while it's too hot will not only be difficult to pipe, but it will also seep out when you sandwich the macarons together.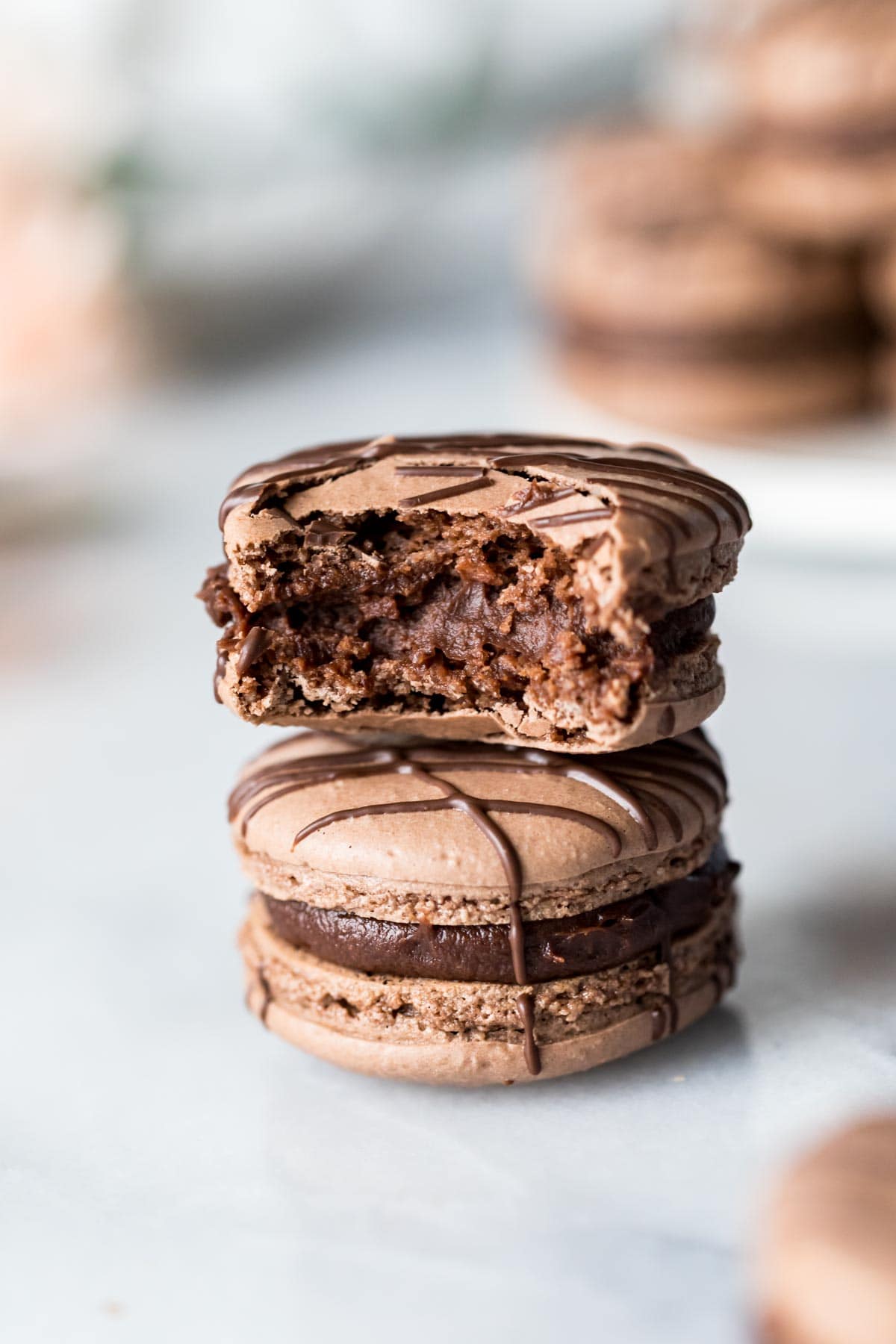 Frequently Asked Questions
What are the biggest mistakes when making macarons?
I go over these in detail in my French macaron recipe, but to keep it brief here, you want to avoid: over- or under-mixing your batter, resting for too little time, and underbaking.

There are so many other factors to macaron success (like monitoring the weather and knowing your true oven temperature), so if you'd like to read up on those, head over to my original French macaron recipe.
What is macaronage?
Macaronage is the process of combining (specifically scraping and smooshing) your macaron batter until it is cohesive, smooth, and ready to pipe. It's a critical step in making macarons, and doing it incorrectly will affect the results you get from this chocolate macaron recipe.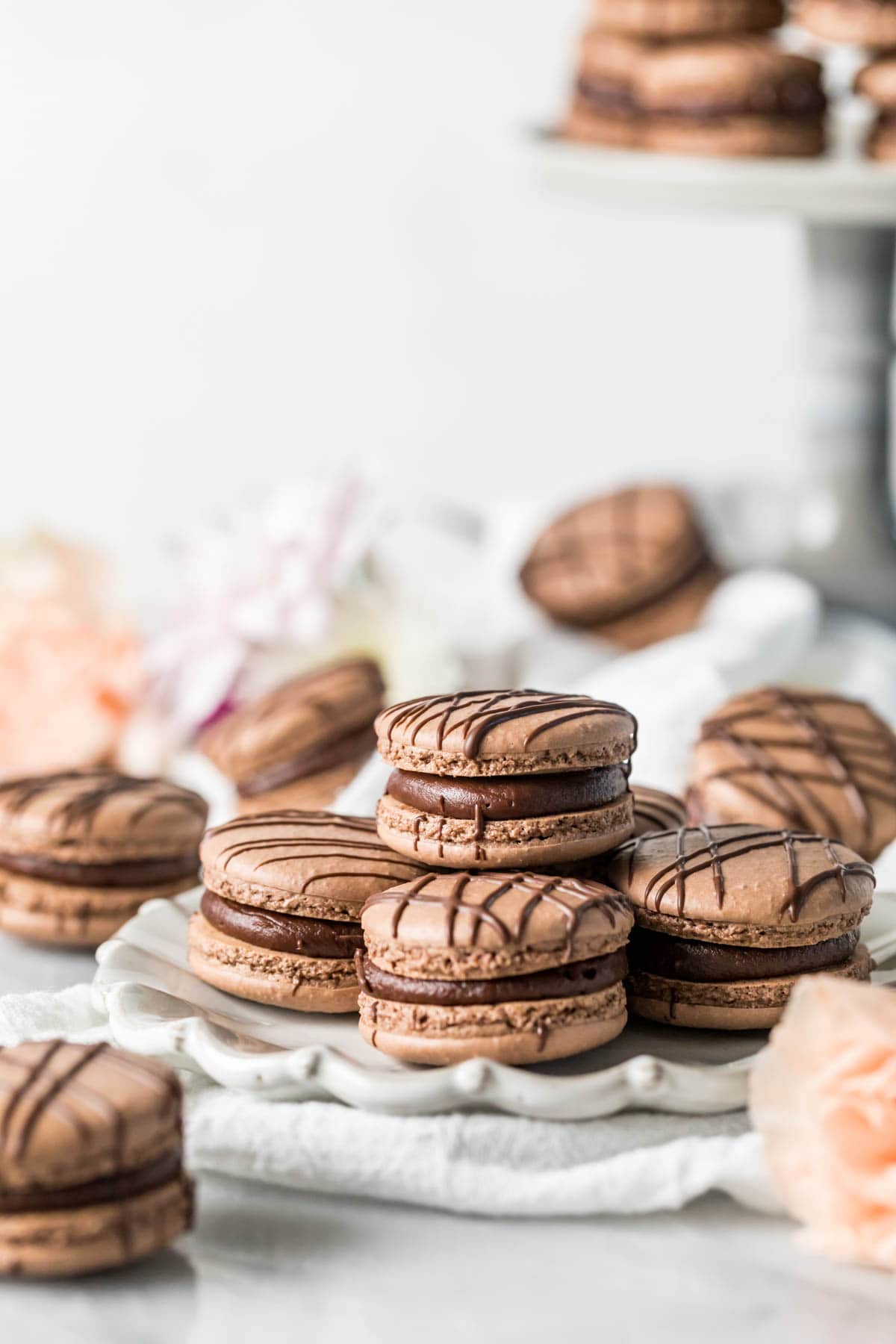 Which macaron flavor do you want to see next? Let me know in the comments!
Enjoy!
Let's bake together! I'll be walking you through all the steps in my written recipe and video below! If you try this recipe, be sure to tag me on Instagram, and you can also find me on YouTube and Facebook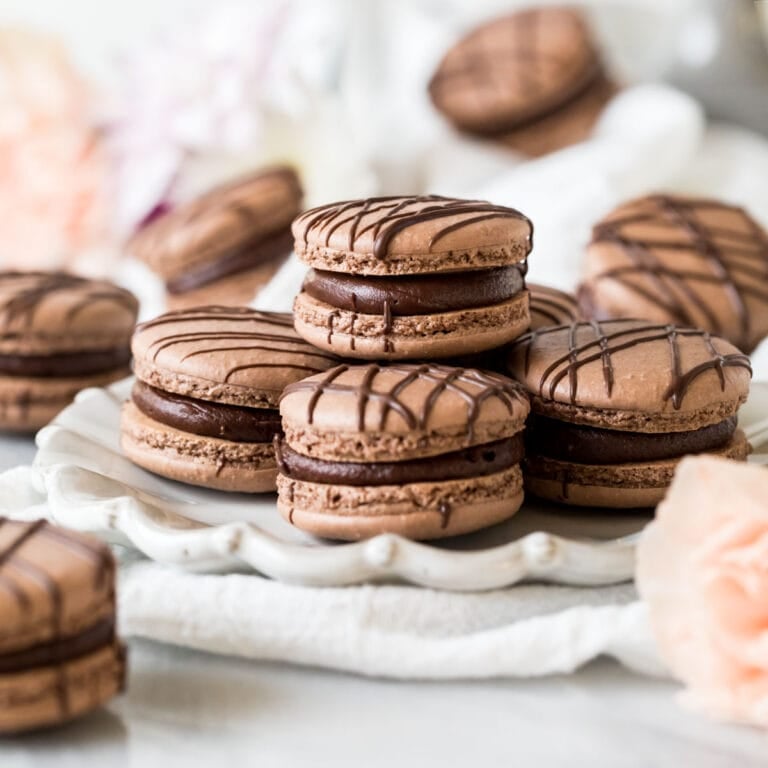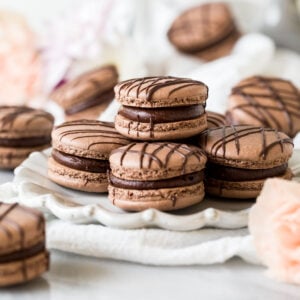 Chocolate Macarons
My chocolate macaron recipe makes beautiful, perfectly textured chocolate macarons filled with ganache. My recipe includes LOTS of tips so you can be successful, no matter your skill level.
Recipe includes a how-to video!
Print
Pin
Rate
Ingredients
145

grams

almond flour

see note (1 ¼ cup)

145

grams

powdered sugar

1 ¼ scant cup

10

grams

Special Dark cocoa powder

2 Tablespoons (see note)

110

grams

(

110

ml

)

aged egg whites

room temperature (about 3 egg whites/just under ½ cup) (see note)

95

grams

granulated sugar

scant ½ cup

⅛

teaspoon

cream of tartar

optional

⅛

teaspoon

table salt

1

teaspoon

vanilla extract
CHOCOLATE GANACHE
8

oz

(

226

g

)

semisweet chocolate chips

couverture chocolate, or chopped chocolate bar

1

cup

(

236

ml

)

heavy cream

2

Tablespoons

(

28

g

) unsalted butter

⅛

heaping teaspoon salt

½

teaspoon

vanilla extract
Instructions
Before beginning: If you are a beginner, first read through the post and watch the video. Ensure all of your equipment (bowls, spatulas, beaters, etc.) are completely clean, dry, and grease free. Avoid using rubber, silicone, and plastic when whipping egg whites.

Line two or three cookie sheets with parchment paper and set aside.

Sift almond flour, powdered sugar, and cocoa powder into a medium-sized mixing bowl and whisk to combine. Set aside.

145 grams almond flour,

145 grams powdered sugar,

10 grams Special Dark cocoa powder

To a separate, large mixing bowl, add egg whites and, using an electric mixer, beat on medium speed until foamy (about 30 seconds).

110 grams (110 ml) aged egg whites

Add cream of tartar and stir again (medium speed) for 30 seconds.

⅛ teaspoon cream of tartar

While mixing, add about 1 Tablespoon of granulated sugar and beat for about 30 seconds before adding the next Tablespoon. Repeat, waiting 30 seconds between additions, until all sugar has been added.

95 grams granulated sugar

Once all sugar has been added, add vanilla extract, salt, (if using brown food coloring, add this here, too). Continue to beat on medium to medium-high speed until mixture reaches thick, fluffy, stiff peaks, meaning if you lift the beaters from the bowl, the peak that forms should hold its shape and not fold or shrink back in on itself.

⅛ teaspoon table salt,

1 teaspoon vanilla extract

Add approximately a third of the cocoa powder mixture to the meringue and use a spatula to fold until combined. Repeat with the next third of the mixture, then the last.

Continue to fold the batter, moving your spatula in sweeping motions, scraping down the sides and bottom of the bowl and cutting through the middle of the batter and turning your bowl as you go. Use your spatula to smoosh the mixture against the side of the bowl periodically to help deflate it. Continue to fold until the batter flows smoothly and falls from the spatula in a smooth ribbon. You should be able to JUST BARELY make a figure-8 with the batter without the meringue breaking.

Pour the batter into a large pastry bag fitted with a round tip (I like the Ateco 804).

Pipe batter into 1 ½" circles onto prepared baking sheets, holding the piping bag straight up and down and flicking your wrist at the end to complete the macaron. Space macarons at least 1 ½" apart.

Rap each pan very firmly on your countertop 4-5 times to release any air bubbles and preheat your oven to 325F (160C).

Let macarons rest until a skin forms on the surface (if you run the pad of your finger over the top it should feel dry and not sticky or tacky). This typically takes about 25 minutes in my kitchen, but may vary.

Bake one tray at a time in the center rack of your oven for 10-11 minutes, turning the pan around halfway through the baking time. When finished baking, the feet should look dry and if you lightly press down on the top of a macaron it shouldn't give.

Allow macaron shells to cool completely before filling with chocolate ganache.
Chocolate Ganache
Place chocolate in a medium-sized heatproof bowl and set aside.

8 oz (226 g) semisweet chocolate chips

In a small saucepan, heat cream until steaming. Remove from heat and pour cream evenly over chocolate. Cover with aluminum foil and allow to sit, undisturbed, for 5 minutes.

1 cup (236 ml) heavy cream

Remove foil and whisk mixture until smooth.

Add butter, salt, and vanilla extract and stir until butter is melted and mixture is smooth.

2 Tablespoons (28 g) unsalted butter,

⅛ heaping teaspoon salt,

½ teaspoon vanilla extract

Allow chocolate to sit at room temperature until firm, then transfer to a piping bag.

Pair off cooled macaron shells and pipe ganache onto the bottom of one shell before sandwiching with another similarly sized macaron shell.
Notes
Aged egg whites
Aging egg whites is recommended (more detail on this in the post). To do this, measure egg whites into a clean, dry measuring cup, cover with plastic wrap and poke several holes in the surface. Allow egg whites to sit at least 24 hours in the refrigerator before bringing to room temperature and proceeding with the recipe. Aging isn't mandatory, but it can be helpful if you've struggled with your meringue in the past or if you are new to macarons.
Cocoa powder
I prefer "special dark" cocoa as it gives the shells the deepest chocolate color. However you may substitute Dutch processed cocoa powder instead.
Storing
Store in the refrigerator in an airtight container for up to two weeks. Remove from refrigerator 15-20 minutes before enjoying.
Macarons may also be frozen in an airtight container for several months. See my original macaron post for more details on storing/making in advance.
Nutrition
Serving:
1
macaron
|
Calories:
167
kcal
|
Carbohydrates:
16
g
|
Protein:
3
g
|
Fat:
11
g
|
Saturated Fat:
5
g
|
Polyunsaturated Fat:
0.3
g
|
Monounsaturated Fat:
2
g
|
Trans Fat:
0.04
g
|
Cholesterol:
14
mg
|
Sodium:
23
mg
|
Potassium:
77
mg
|
Fiber:
1
g
|
Sugar:
13
g
|
Vitamin A:
172
IU
|
Vitamin C:
0.1
mg
|
Calcium:
25
mg
|
Iron:
1
mg
Nutritional information is based on third-party calculations and should be considered an estimate only. Actual nutritional content will vary based upon brands used, measuring methods, cooking method, portion sizes, and more.
Related Recipes