How to make a beautiful, perfect Swiss Roll from scratch! This homemade chocolate roulade is a show-stopping dessert that looks complicated, but I'll walk you through all the steps so you can have flawless results at home! It can also be used to make a holiday Yule log! Recipe includes lots of photos and a step-by-step video!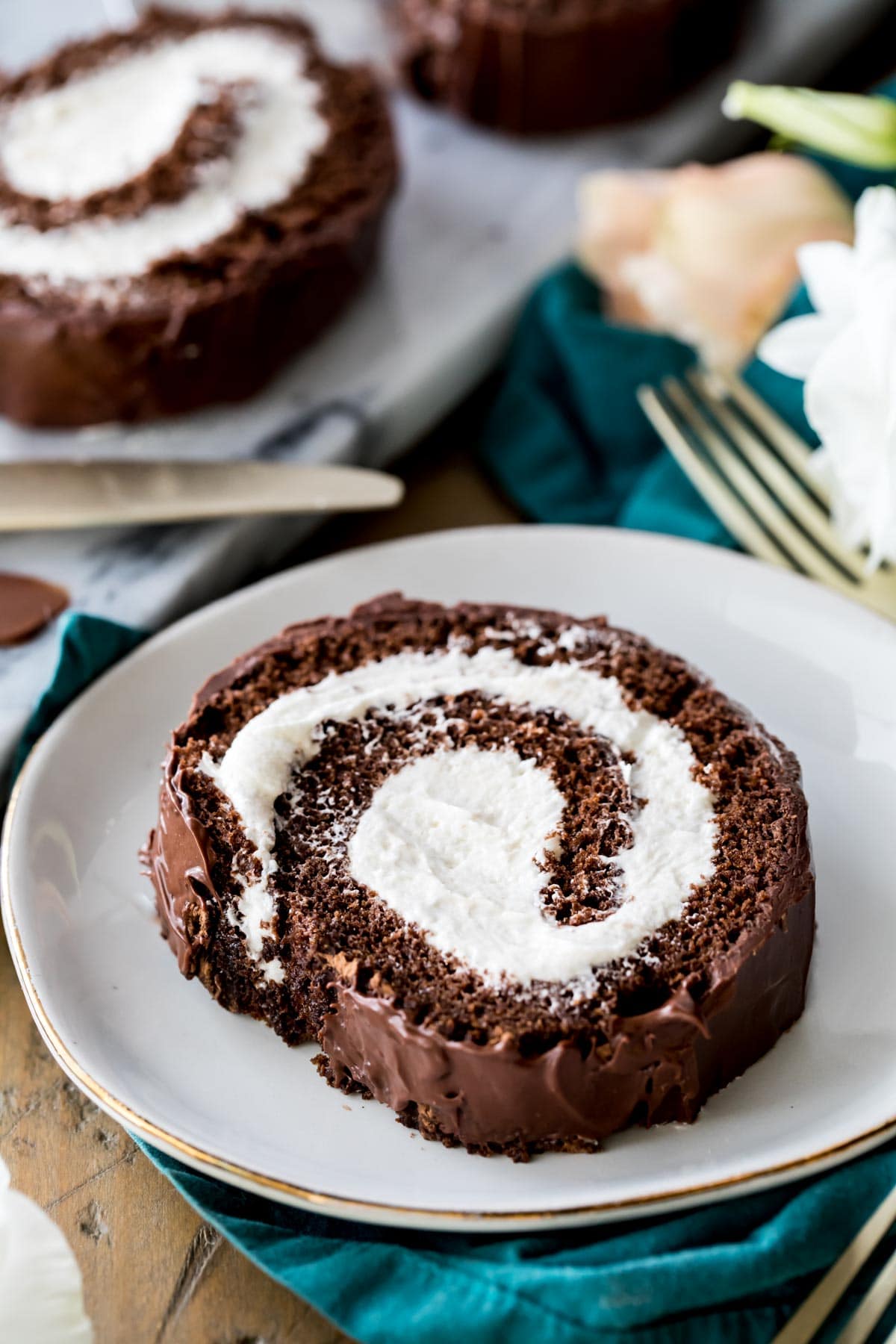 Have you ever wanted to make a beautiful Swiss roll (AKA chocolate roulade) but been intimidated by the process? I get it, this cake appears complicated, intricate, and maybe even a little bit unapproachable, doesn't it?
Despite the stunning-ness of the Swiss roll, it's actually not as complex as it seems. The most important part is having a solid cake recipe, and this recipe is solid (I rejected dozens of versions and tested this one at least another dozen times to make sure!). I'm confident that you can master this gorgeous, guaranteed-to-impress dessert at home.
Follow my steps and you'll have a light and fluffy, perfectly chocolatey, flavorful cake. Besides, if you've been baking along with me you've tackled way more complex and time-consuming recipes like petit fours, cream puffs, and creme brulee. You can handle a roulade, trust me. So let's get to it!
What You Need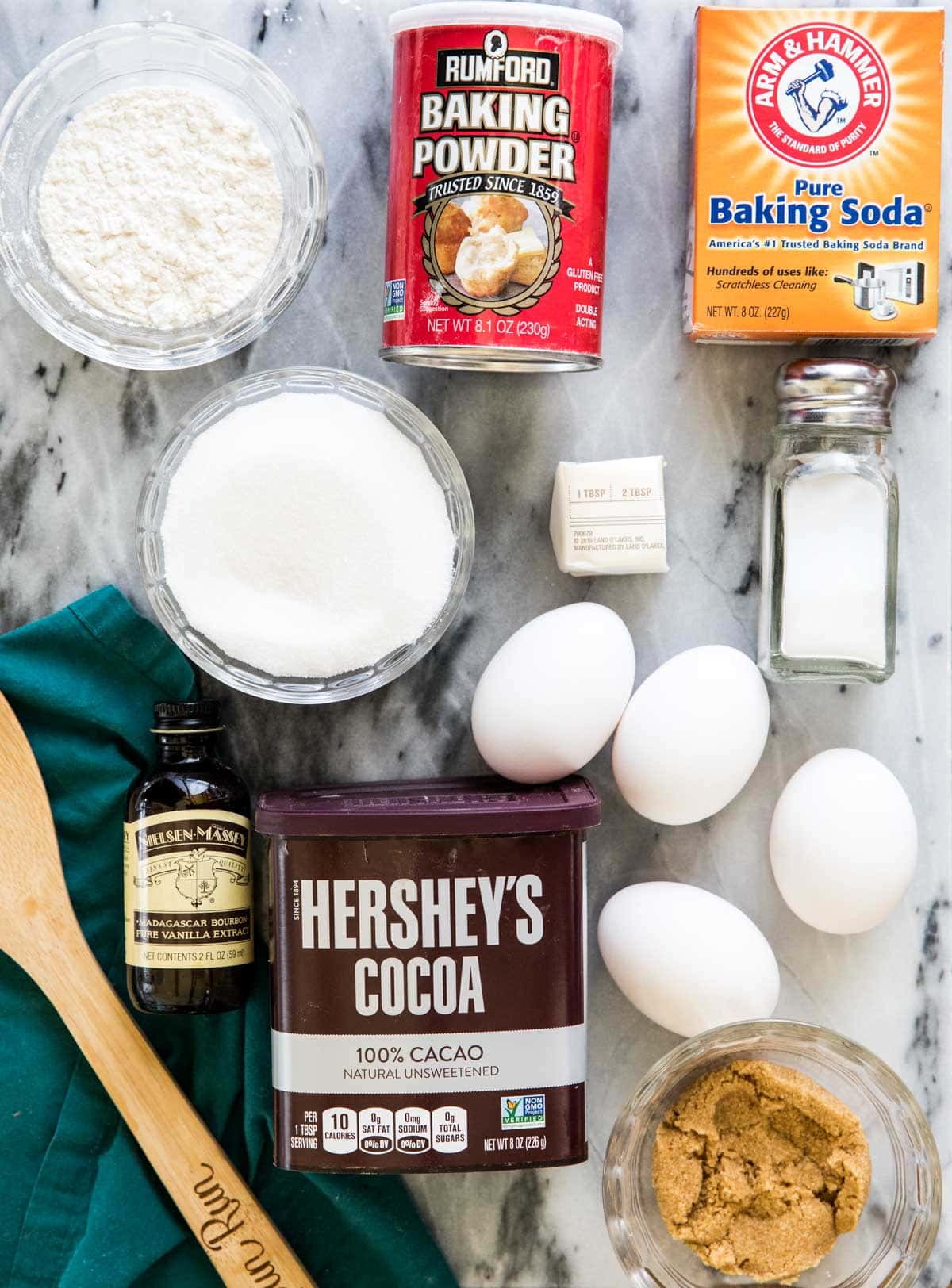 Let's go over a few notes on some of the key ingredients:
Sugar. I use two types of sugar: granulated and light brown sugar. The brown sugar adds a bit of extra richness to the cake.
Flour. Use all-purpose flour, I have not tested this recipe with any substitutions and certainly do not recommend self-rising flour.
Cocoa powder. All of our chocolate flavor comes from this. I recommend using a natural (not Dutch processed) unsweetened cocoa powder. I like Ghirardelli and Hershey's brand.
Eggs. You will need 4 large, divide the eggs and yolks carefully. For best results use room temperature eggs.
This is just an overview of the ingredients. For the full printable recipe and video tutorial please scroll down to the bottom of the post!
Tip: When separating your eggs, make sure you don't get any yolk in your whites and make sure the bowl that you place them in is completely clean, dry, and grease free. Otherwise your whites may not whip to stiff peaks.
How to Make a Swiss Roll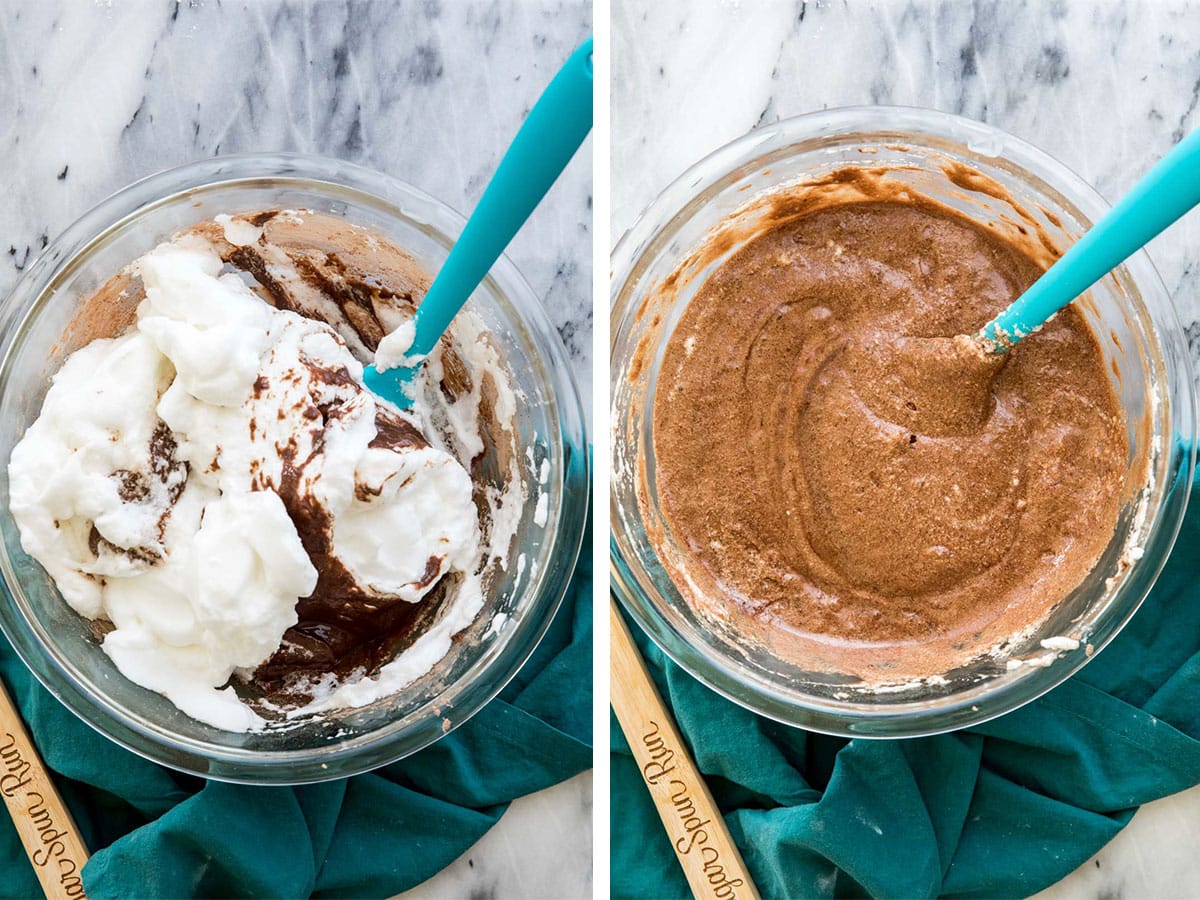 First prepare your batter. There are several steps and several bowls required.
Whisk together flour, cocoa powder, baking soda, and salt in one bowl.
Separately beat together egg yolks, melted butter, vanilla extract, brown sugar and some of your granulated sugar until lightened in color. Stir this into your cocoa mixture.
In a separate bowl, use an electric mixer to beat egg whites to stiff peaks while gradually adding sugar. This step is critical, your egg whites must be thick, glossy and completely stiff, meaning that when a beater is pulled out of the mixture, the peak that forms completely holds its shape and does not fold over or fall back in on itself. This will take several minutes.
Carefully and gently use a spatula to fold together the egg whites and your chocolate mixture until the batter is smooth. The chocolate mixture will be a bit stiff in contrast to the fluffiness of the egg whites, but be gentle and continue to fold until everything is combined (see photo above).
Spread the batter evenly into a parchment paper lined jelly roll pan and bake.
Note: I like to use parchment to line the pan because it guarantees that the cake will not stick to (and a bit of nonstick spray beneath it keeps the parchment from sliding around). Some people like to use the parchment to roll up the cake; you are welcome to try this but I personally had mixed results and my cake was more prone to cracking this way, so I recommend making as written.
The next step is where most people get nervous, and I get it. But. you've. got. this. Here's how to do it.
How to Roll and Fill a Swiss Roll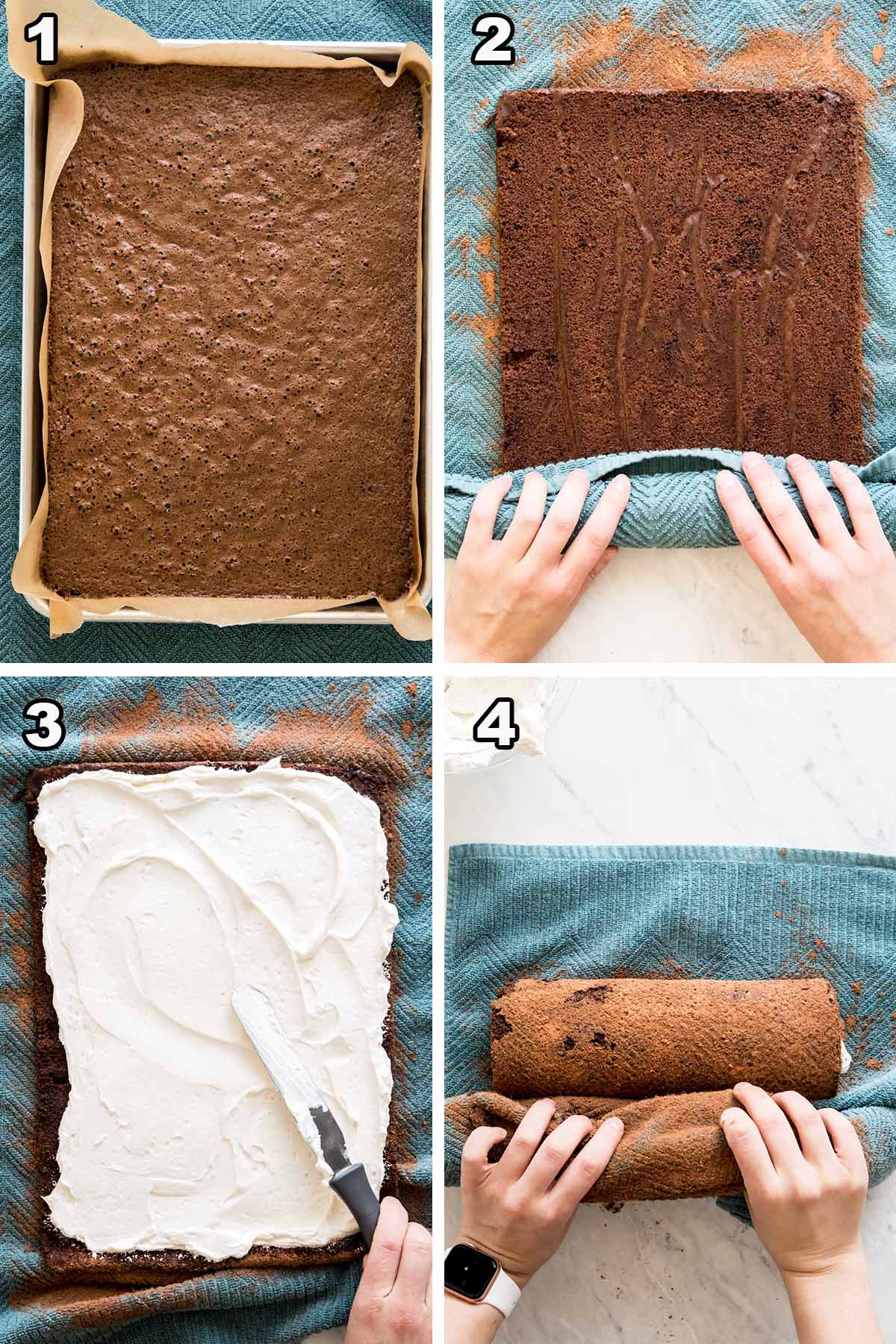 First, make sure your cake is actually baked properly. Most ovens run a little hot or cold so it's always best to test rather than to just go based off of the time indicated in a recipe. When you lightly touch it, it should spring back to the touch and not deflate or dimple beneath your finger. Then cool for 2 minutes.
Carefully and swiftly flip onto a cocoa powder-dusted towel and immediately begin to roll the cake from one of the shorter ends. Take care to support the side of the cake that is lifting from the table as you roll it to keep it from cracking. Carefully transfer to a wire rack and let it cool.
Slowly unroll the cake and cover evenly with your favorite filling.
Carefully re-roll the cake. Again, support the part of the cake that is being lifted of the cake as you roll it to keep cracks from forming.
Tip: If you do notice any cracks as you unroll your Swiss roll, try not to sweat it! Most of them will come back together when you re-roll the cake and can be covered with the chocolate topping!
Finally you need your chocolate glaze. Chill your roulade in the fridge while you prepare it.
Some Swiss rolls use chocolate ganache as the coating. While you could, I felt ganache was too rich and overwhelmed the roll. Instead I prefer this simpler coating that's almost like a chocolate shell.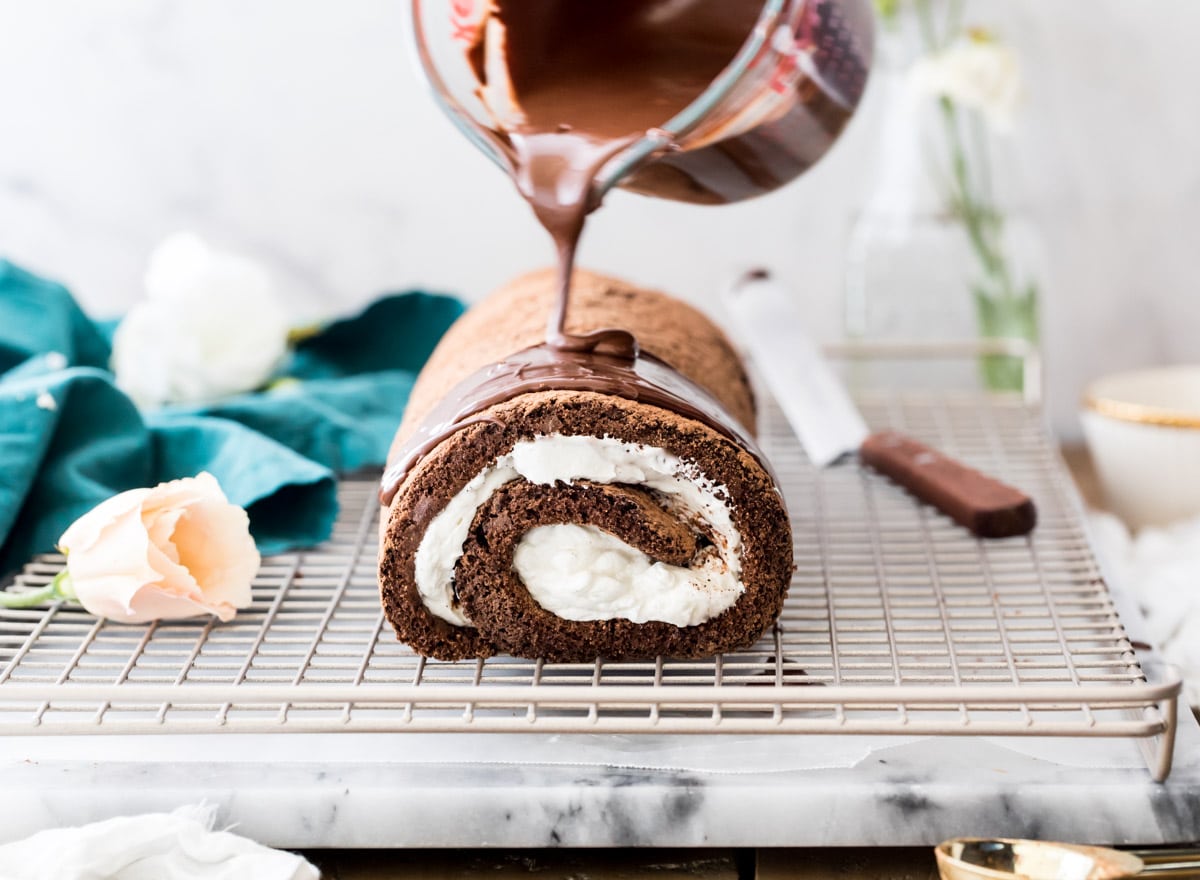 Frequently Asked Questions
What kind of filling is best?
I highly recommend you make a batch of my ermine frosting and use that. Other good options are homemade whipped cream (or add some cocoa powder to make a chocolate whipped cream) or cream cheese frosting. Some people also like to use a Marshmallow fluff filling, and while that's too sweet for me, it's certainly an option.
How can I ensure my Swiss roll doesn't crack?
Read the post and the whole recipe and watch the video (in the recipe card) before beginning. Make sure to follow all of my steps and tips. Most importantly, make sure that you whip your egg whites all the way to fully stiff peaks and be careful when folding them into the batter that you don't over-work and deflate them.
Take care when rolling and unrolling your cake.
When testing that your cake is done, make sure it is fully baked and lightly springs back when touched (and doesn't just dimple/deflate).
Help! My roll still cracked!
Don't panic! If the cracks are small, just proceed with rolling up your roll and pop it in the fridge. When you add your chocolate the cracks will be hidden!
For larger cracks I still recommend proceeding and filling the cake, then you can wrap the entire roll tightly in plastic wrap, pulling the wrap tightly to reshape it if the cracks are so bad that it's no longer round. Place the re-shaped roll in the fridge until completely chilled then remove from the wrap and cover with chocolate.
Can I freeze my Swiss roll?
Yes! Chocolate roulade (Swiss roll) freezes well when wrapped tightly or stored in an airtight container. It will keep for several months.
Can I use this to make a Yule log/ Buche de Noel?
Absolutely! Next year I plan to share a tutorial showing exactly how to make a Yule log, I just haven't gotten to it quite yet.
My cake is flat and dense, not fluffy. Why is that?
This is either a result of the egg whites not fully achieving stiff peaks or the cake was not baked long enough in the oven and deflated when it was flipped. You can usually tell that this is the case if it sticks terribly to the towel and falls apart when you try to roll it.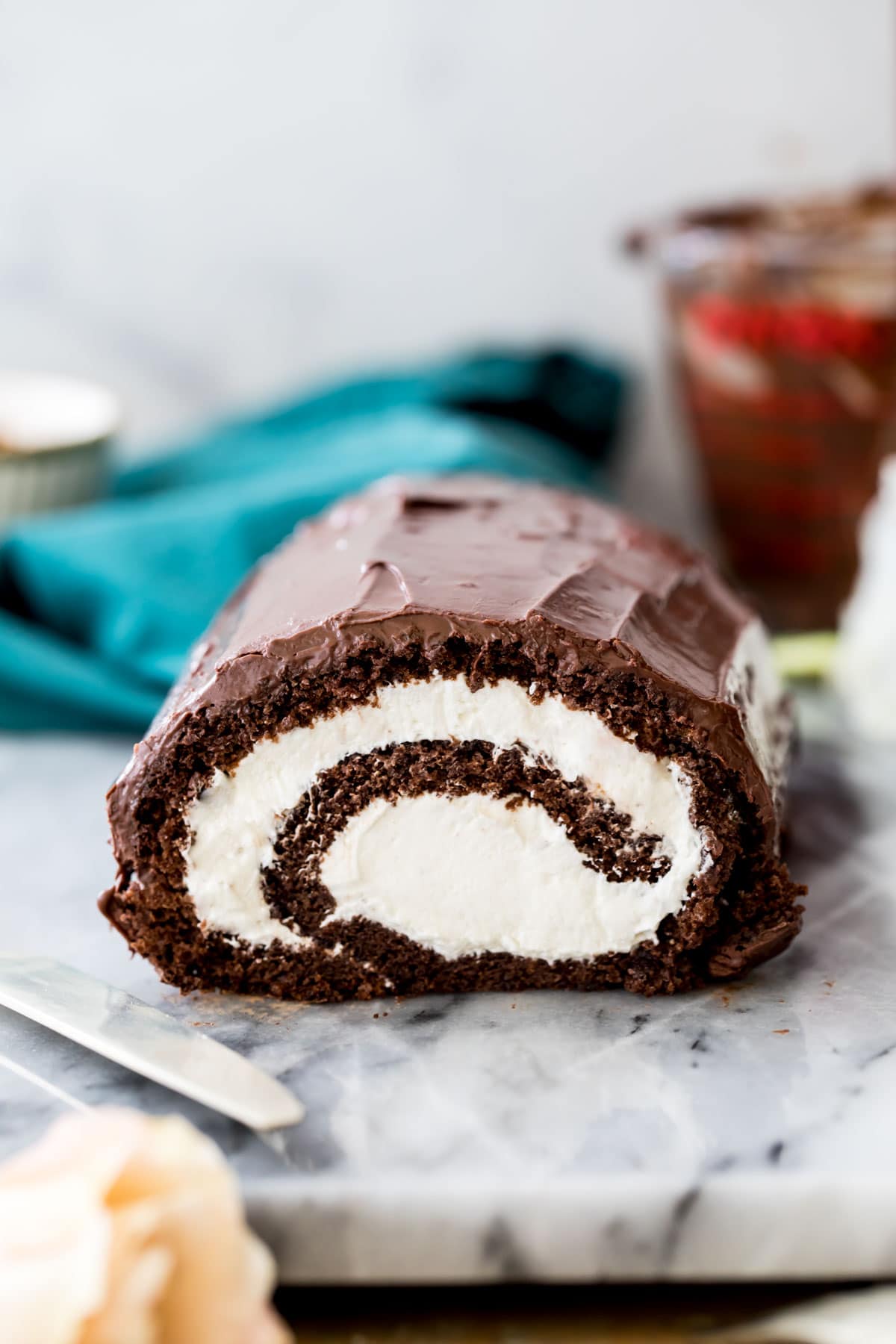 More Recipes For the Chocolate Lover
Enjoy!
Let's bake together! Make sure to check out the how-to VIDEO in the recipe card!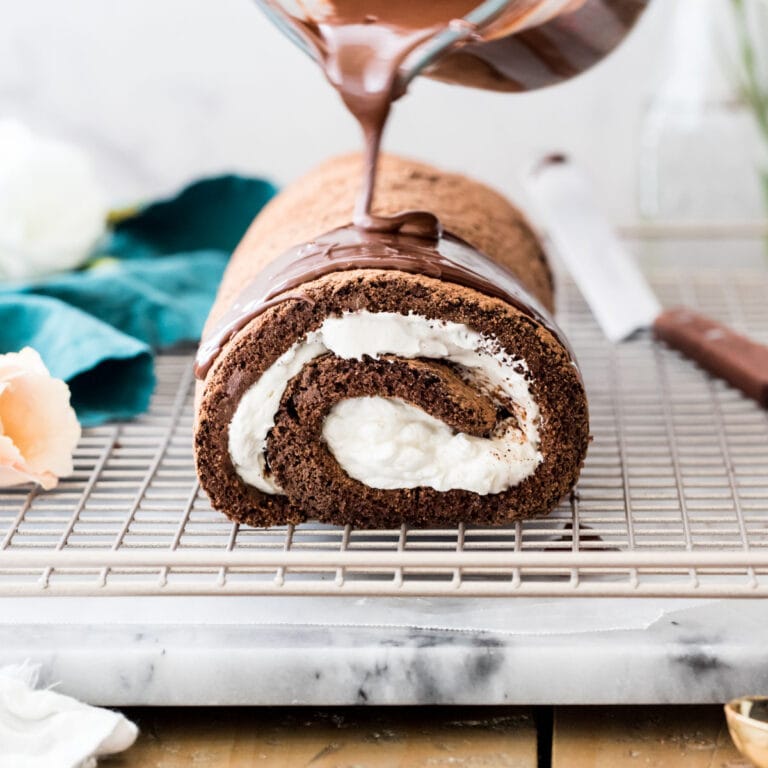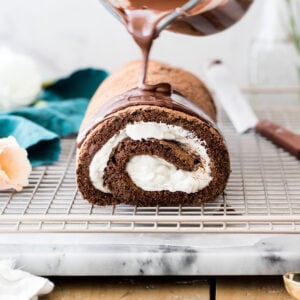 How to Make a Chocolate Swiss Roll (with Video!)
How to make a beautiful, perfect Swiss Roll from scratch! This homemade chocolate roulade is a show-stopping dessert that looks complicated, but I'll walk you through all the steps so you have flawless results at home! Recipe includes lots of photos and a step-by-step video!
I recommend reading through the recipe and notes and watching the video before beginning for best results.
Print
Pin
Rate
Ingredients
⅓

cup

(

40

g

) all purpose flour

¼

cup

(

25

g

)

natural cocoa powder

plus additional for dusting towel

¼

teaspoon

baking soda

½

teaspoon

baking powder

½

teaspoon

salt

4

large

eggs

whites and yolks separated, room temperature preferred

¾

cup

(

150

g

)

granulated sugar

divided

2

Tablespoons

light brown sugar

2

Tablespoons

unsalted butter

melted

2

teaspoons

vanilla extract

1

batch

Ermine icing

or preferred filling, see note. Click link for the recipe.
Chocolate Glaze
5

oz

(

142

g

)

semisweet chocolate chips

3

Tablespoons

shortening or coconut oil

I use Crisco
Instructions
Preheat oven to 350F (175C) and lightly spray a jelly roll pan (10×15") with baking spray, then line with parchment paper. Set aside.

In a large bowl, whisk together flour, cocoa powder, baking soda, baking powder, salt. Set aside.

⅓ cup (40 g) all purpose flour,

¼ cup (25 g) natural cocoa powder,

¼ teaspoon baking soda,

½ teaspoon baking powder,

½ teaspoon salt

In a separate bowl, combine egg yolks, ½ cup (100g) granulated sugar, brown sugar, melted butter, and vanilla extract. Whisk vigorously until mixture is lightened in color (about 30-60 seconds). Add flour mixture to the bowl and stir together until well-combined (mixture will be thick).

4 large eggs,

¾ cup (150 g) granulated sugar,

2 Tablespoons light brown sugar,

2 Tablespoons unsalted butter,

2 teaspoons vanilla extract

In yet another large, completely clean, dry, and grease-free bowl, beat egg whites to soft peaks (see note). Gradually (about 1 Tablespoon at a time) add remaining ¼ cup/(50g) granulated sugar until you have stiff peaks.

Briefly stir chocolate mixture in case it has thickened, then gently fold in egg whites until completely combined (be gentle, deflate your egg whites as little as possible, but the mixture should look smooth).

Spread batter evenly into prepared pan and bake on the center rack of your oven for 15-18 minutes or until the cake springs back when very lightly touched.

While cake is baking, generously and thoroughly dust a tea towel or clean (cloth) kitchen towel evenly with about 2 Tablespoons of cocoa powder (this will keep the cake from sticking to it when you unroll and will prevent cracks!).

When the cake has finished baking, allow it to rest for 2 minutes then quickly and carefully invert onto prepared towel. Carefully peel off parchment paper (if any of the parchment ended up beneath the cake, very gently tug it out before removing.

Now very gently, starting with one of the shorter ends of the cake, roll it into the towel to form a log (see image or video if needed). Very carefully transfer to a cooling rack and allow to cool completely. While cooling, prepare your filling. I like to use Ermine icing (linked in the instructions above), but whipped cream or even cream cheese frosting (reduce the sugar to only two cups) are other good options.

Once the swiss roll has cooled, very carefully unroll it in the towel. Don't sweat any small cracks, you can patch them together with your icing.

Evenly spread filling over the roll (I usually have a little ermine icing leftover) then very carefully re-roll the log.

Transfer to a wax-paper lined serving platter and place in the fridge while you prepare the chocolate glaze.
Chocolate Glaze
Combine chocolate chips and shortening in a heatproof bowl or large heatproof measuring cup. Microwave in 20-second intervals, stirring well in between, until chocolate is completely melted and mixture is smooth.

5 oz (142 g) semisweet chocolate chips,

3 Tablespoons shortening or coconut oil

Allow to cool for 10-15 minutes, then remove roll from fridge and evenly pour chocolate overtop. Use an offset spatula to evenly distribute the glaze, then return to the refrigerator and allow chocolate to harden before cutting and serving.
Notes
Frosting/Filling
Ermine frosting is my preferred icing, it's silky smooth and tastes like traditional Swiss roll filling. It does take some time to make so I recommend making this first. Other filling options include homemade whipped cream or cream cheese frosting.
Soft and stiff peaks:
Soft peaks have formed when you pull your beaters straight out of the mixture and the peaks that form hold their shape for only a moment before dissolving back into the bowl. Stiff peaks have formed when the mixture is thick, glossy, and the peaks that form hold their shape without folding over at the top at all and do not fall back into the bowl. You must achieve fully stiff peaks or your Swiss roll will not turn out properly.
Storing:
Store in an airtight container (or wrapped in plastic wrap) in the refrigerator for 5-7 days. May also be frozen for several months.
Nutrition
Serving:
1
slice (with ermine icing filling)
|
Calories:
255
kcal
|
Carbohydrates:
30
g
|
Protein:
4
g
|
Fat:
14
g
|
Saturated Fat:
6
g
|
Trans Fat:
1
g
|
Cholesterol:
81
mg
|
Sodium:
176
mg
|
Potassium:
171
mg
|
Fiber:
2
g
|
Sugar:
23
g
|
Vitamin A:
185
IU
|
Calcium:
35
mg
|
Iron:
2
mg
Nutritional information is based on third-party calculations and should be considered an estimate only. Actual nutritional content will vary based upon brands used, measuring methods, cooking method, portion sizes, and more.