My insanely popular classic cheesecake recipe gets a dark and dreamy twist in today's decadent chocolate cheesecake recipe! Smooth, creamy, and super simple, there's no water bath needed and it takes less then 30 minutes to prep! Chocolate lovers: this one is for you! Recipe includes a how-to video!
Is there a better kind of cheesecake than chocolate cheesecake?
How about one that's served in a deep Oreo cookie crust, enriched with real dark chocolate, and decorated with pillowy clouds of homemade whipped cream? Nothing better comes to mind for me, anyway.
Cheesecake has a reputation for being a bit fussy, but I've cracked the code to give you flawless, smooth, creamy crack-free results, no water bath required!
Now let's go over a few things to make sure your chocolate cheesecake comes out perfectly, every time. Make sure to read through the post, as I've included LOTS of tips to make you the best chocolate cheesecake baker around. There's also a how-to video in the recipe card! If you've ever been intimidated by cheesecake in the past, don't be, you can do this!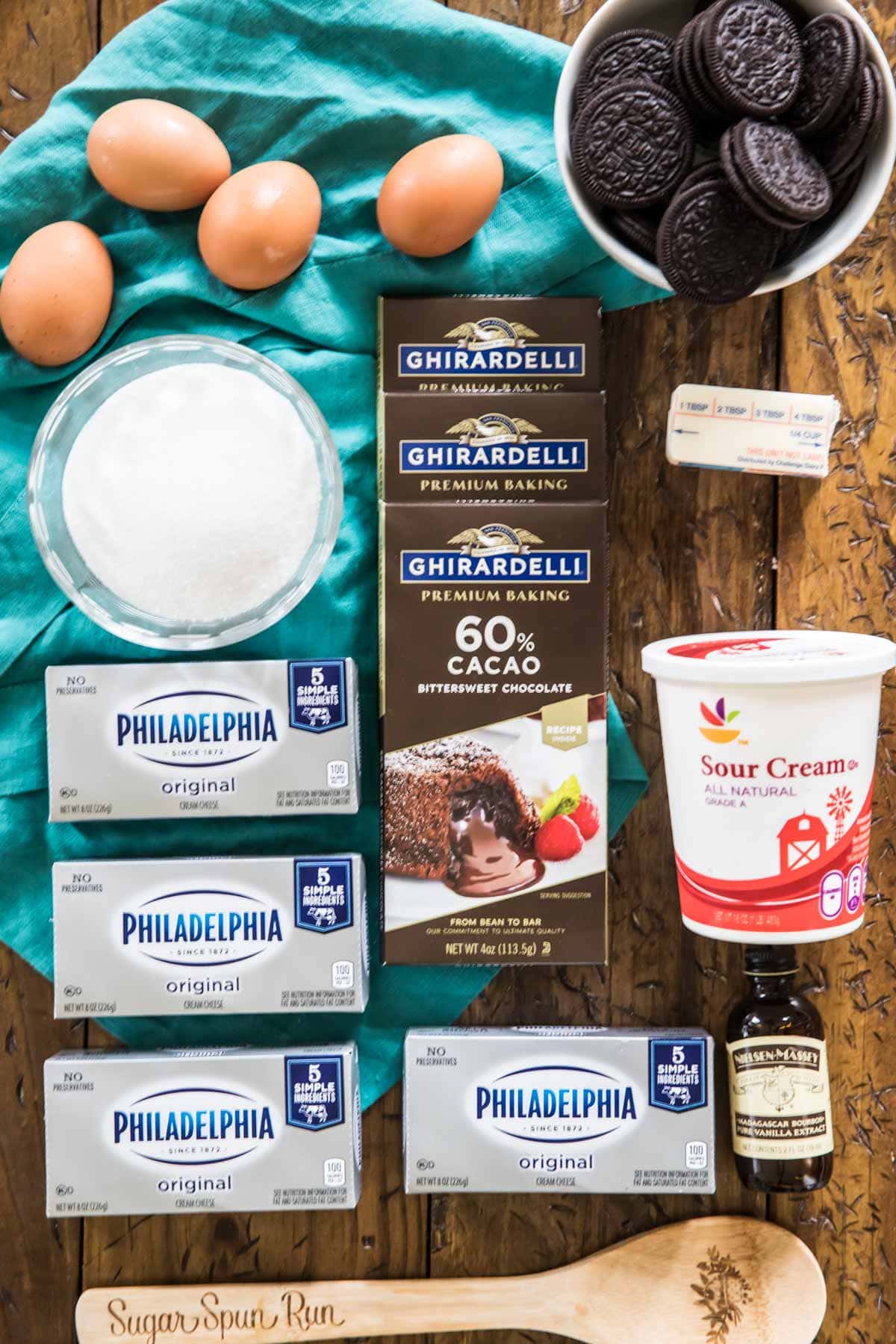 What You Need (and substitutions)
Oreos. For the crust! A chocolate cheesecake needs a chocolate crust (though you could substitute my graham cracker crust, if needed)! You do not need to remove the cream from the cookies before using. I get asked this a lot, so just wanted to clarify here that you're using the whole cookie, cream and all!
Butter. Also for the crust! A little melted butter mixed with the cookie crumbs helps hold everything together. Salted or unsalted will work equally well here, I just use whichever I happen to have on hand.
Cream cheese. Use brick-style cream cheese (as shown above), not the spreadable kind that is sold in tubs. The tub-style cream cheese contains additives that will keep your cheesecake from setting properly and will negatively affect the texture.
Chocolate. Dark chocolate is my preference and I like to use between 60-72% cacao. Semisweet chocolate would work, but anything sweeter and your chocolate cheesecake will be quite sweet. I like to use baking bars, but chocolate chips may be substituted instead.
Sour cream. I always use this in my cheesecake recipes, it gives such an excellent depth of flavor and adds to the richness of the dessert. Sour cream also helps to keep the chocolate cheesecake from being too sweet! Plain Greek yogurt is the only substitute I can recommend for sour cream.
Eggs. Large or extra large will work (and I've even successfully made this recipe with jumbo). How you handle your eggs can really make or break the final texture of your cheesecake, and I go into more detail on that a bit further down in the post.
Vanilla extract. Yup, it's a chocolate cheesecake, but we are going to enhance and enrich the flavor with a splash of vanilla.
Once your chocolate cheesecake is finished baking and chilled, I really recommend topping it off with my whipped cream recipe (you would only need half a batch of my recipe. This is completely optional and may seem like overkill for such a decadent dessert, but the airiness of the whipped cream almost seems to lighten up the chocolate decadence.
As always, this is just an overview of the ingredients used and why. Please scroll down to the printable recipe for full recipe with amounts.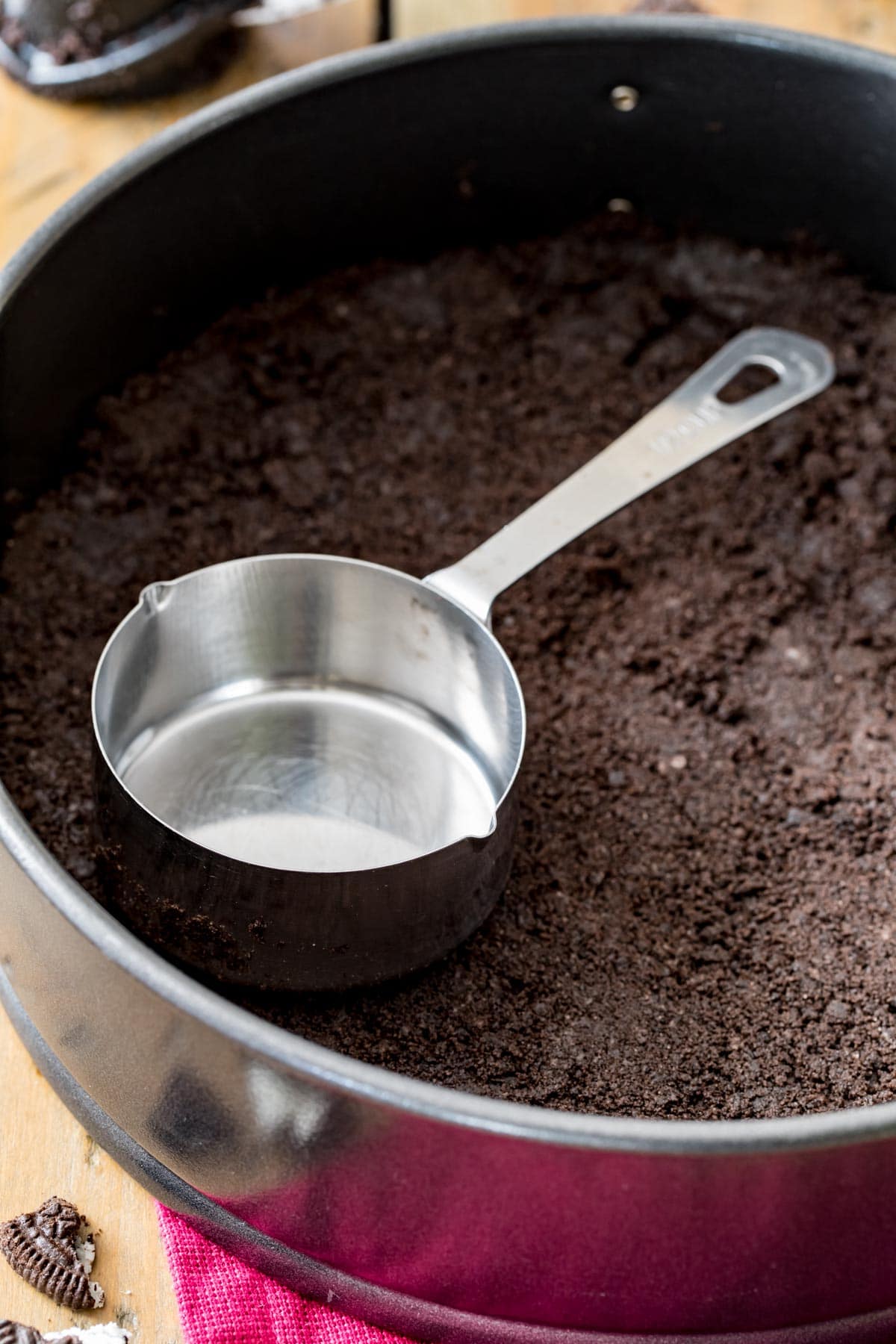 Room temperature ingredients are key
You want all of your ingredients to be softened to room temperature. I recommend this with most of my recipes, as using ingredients that are the same temperature allows them to combine thoroughly and evenly. This will make sure your baked goods (and especially this chocolate cheesecake) always have the most perfect texture.
Another pitfall you can run into if you don't let your ingredients reach room temperature is a lumpy batter (and therefore a lumpy chocolate cheesecake). If your cream cheese is too cold it may leave lumps in your cheesecake, or when you add your melted chocolate it can cause the chocolate to harden, leaving chunks of hard chocolate in your cheesecake. Admittedly, the latter isn't the worst thing that could possibly happen, but we want a smooth cheesecake, so let that cream cheese soften!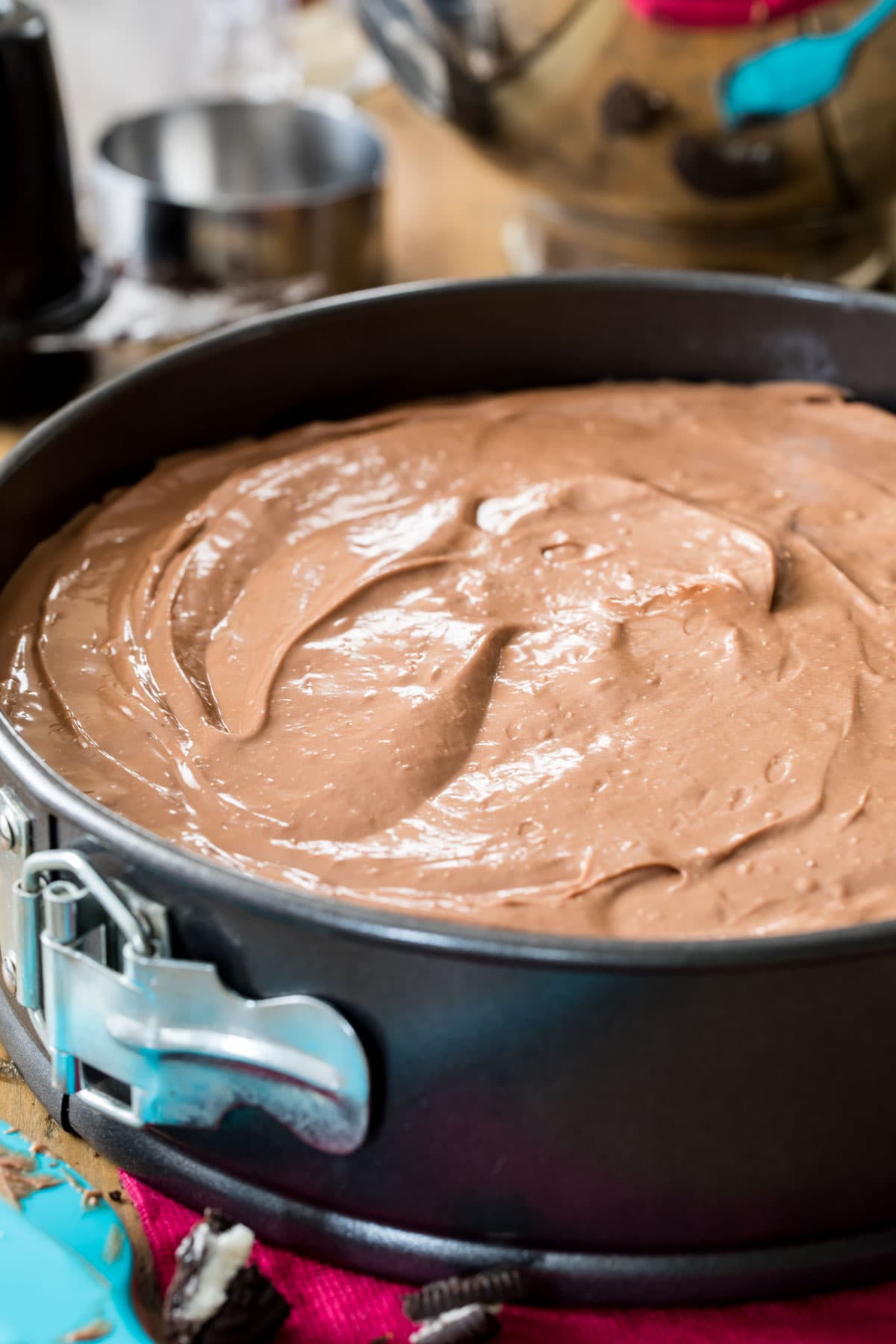 Key Tips for a Crack-Free Chocolate Cheesecake
I'm particularly proud of my cheesecake recipes because they yield creamy, silky smooth cheesecakes without fussy technique or the need for a water bath. However, there are some important tips that must be followed to make sure everything goes according to plan:
Take it easy on the eggs
Don't over-beat the eggs when you add them. Lightly beat each egg before adding it to the batter and then stir on low-speed just until combined after each egg. Over-beating the eggs can ruin the texture of your cheesecake as well as cause it to crack.
Don't open the oven!
I know how tempting it is to want to check on your cheesecake before it's finished baking, but opening the oven door can drastically reduce the temperature of your oven, slowing the baking process and causing your cheesecake to sink.
Free your crust!
Once your chocolate cheesecake is done baking, run a knife around the inside of the springform pan to loosen the crust from the sides of the pan. Otherwise, as the cheesecake cools the center contracts but the crust stays stuck to the sides and the tension may cause cracks.
Cool slowly and to room temperature before moving to the fridge
Let your cheesecake cool as slowly as possible in the warmest place in your house. In my old house this was on top of my oven, now my oven is built-in so I just turn the oven off and open the door and let it cool there. Only once it's cooled completely should you move it to the refrigerator to chill for at least another 6 hours.
Can I also mention here that even if your chocolate cheesecake does crack in the middle, don't sweat it. Think of it instead as an opportunity to cover that crack with a decadent layer of fudgy ganache or some whipped cream!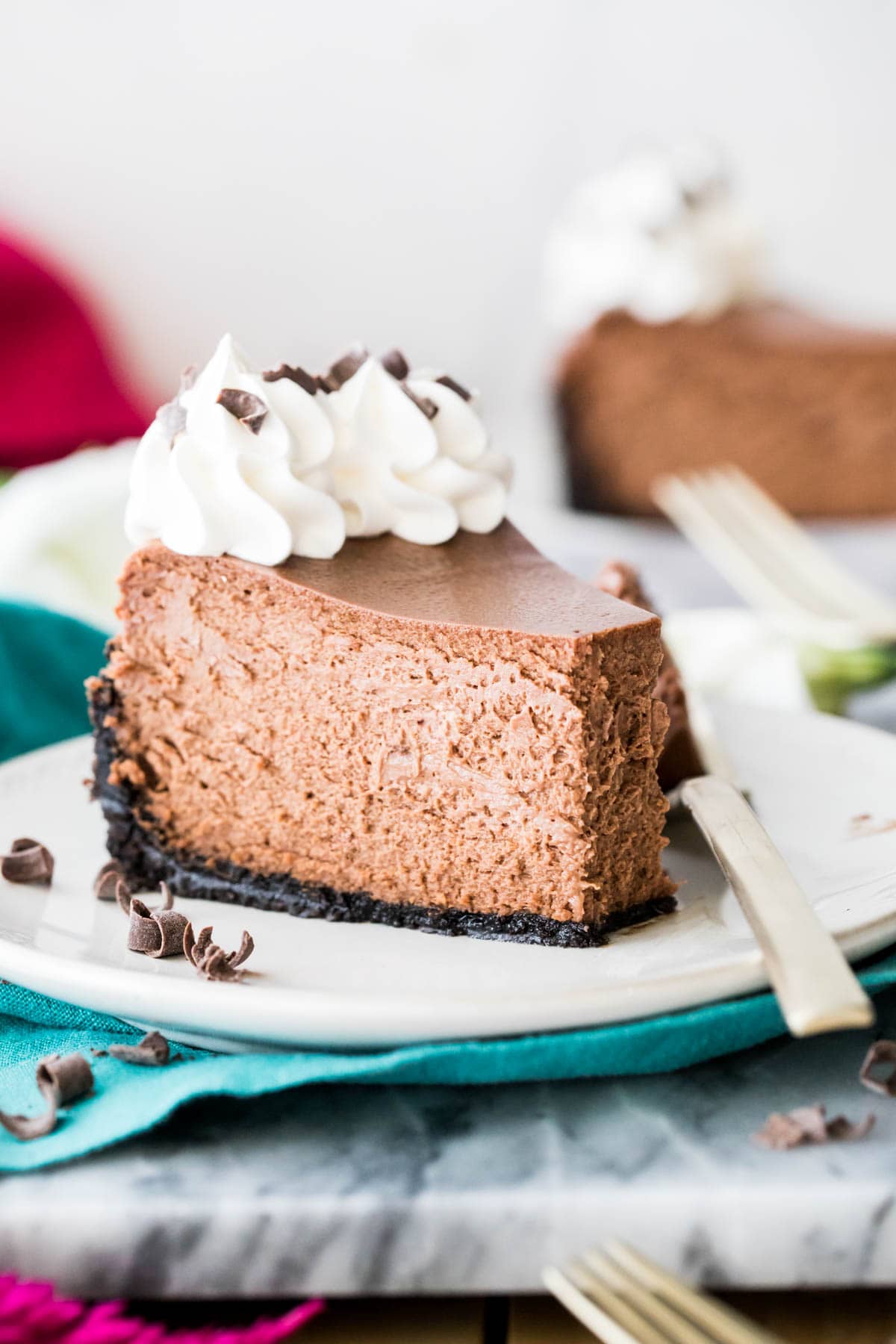 How do I know if my cheesecake is finished baking?
Touch and jiggle! Look for edges that are set (they may even be beginning to turn a light golden brown) with a center that still slightly jiggles but bounces back to the touch.
Storing
Store chocolate cheesecake in the refrigerator for up to a week. While an airtight container isn't mandatory here, I like to use one to keep the cheesecake from absorbing any odors that might be in your fridge. This recipe may also be frozen. To freeze, first chill overnight as indicated (this ensures the cheesecake sets properly) then wrap in plastic wrap and then foil (doubling up reduces the chance of freezer burn). It will keep frozen for several months.
More Cheesecake!
Enjoy!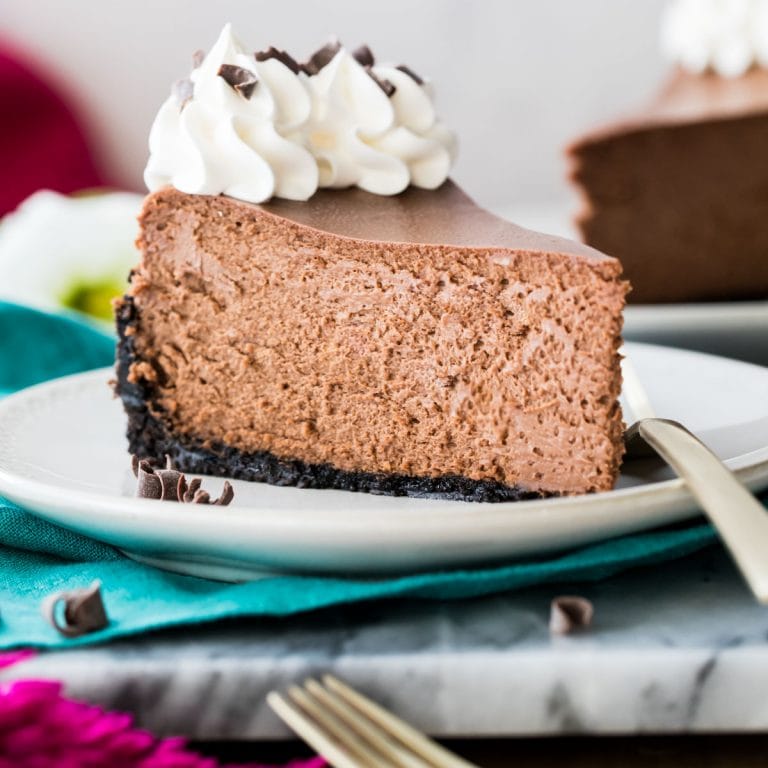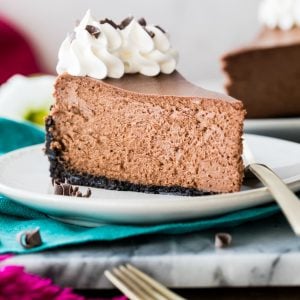 Chocolate Cheesecake (No Water Bath!!)
An easy chocolate cheesecake recipe, no water bath required! Be sure to read through the post for tips and check out the how-to video!
Print
Pin
Rate
Ingredients
Oreo Crust
4

Tablespoons

butter

melted (salted or unsalted will work, I just use whichever I happen to have on hand).

25

Oreos
Chocolate Cheesecake
10

oz

dark chocolate¹

(285g)

32

oz

cream cheese²

softened to room temperature (907g)

1 ⅓

cup

granulated sugar

(266g)

1 ½

teaspoons

vanilla extract

⅔

cup

sour cream

(160g) room temperature preferred

4

large

eggs

room temperature, lightly beaten
Instructions
Oreo Crust
Preheat oven to 325F (160C) and wrap the outside of a 9" springform pan with foil (this is to prevent any leaks, as springform pans are notorious for leaking).

Prepare Oreo crust by placing cookies in the basin of a food processor and pulsing until pulverized to fine crumbs. Combine cookie crumbs and melted butter and stir until crumbs are moistened. Pour into springform pan and press evenly over the bottom and partially up the sides of the pan.
Cheesecake
Chop your chocolate bars into small pieces (if using chocolate chips, you do not need to chop) and place in a medium-sized bowl. Microwave for 30 seconds, stir well. Microwave again for 15 seconds and stir again, repeat until chocolate is smooth and completely melted. Set aside to cool.

In a stand mixer (or in a large bowl with a hand-mixer), cream together softened cream cheese and sugar until smooth, scraping down the sides with a spatula occasionally to ensure ingredients are mixed well.

Add sour cream and vanilla extract and stir on low-speed until combined.

Check the temperature of your chocolate. It should not feel hot to the touch and should not be so cool that it has re-solidified. If it's near room temperature, turn your mixer to low-speed and drizzle chocolate into the batter until well-combined.

Add eggs, one at a time, beating until just mixed after each addition. Do not over-mix or your cheesecake may crack. Scrape the sides and bottom of the bowl and stir on low-speed again until ingredients are completely combined.

Spread cheesecake batter evenly over prepared cookie crust. Wrap the bottom of the pan in foil and place on a cookie sheet (to insure against leaks, springform pans are notorious for them!) Bake on 325F (160C) for 70-75 minutes or until cheesecake springs back to the touch if lightly touched. Edges should be set but the center should still be slightly jiggly like Jello. Do not over-bake or the texture will not be creamy as it should be.

Allow cheesecake to cool to room temperature, and then transfer to refrigerator and chill at least 6 hours before serving. I always store my cheesecake in the springform pan, I remove the edges to slice it and serve it then return the ring around the edges in the refrigerator.

If desired, top with homemade whipped cream before serving!
Notes
¹Chocolate: I recommend using baking bars but chocolate chips will work.

I like to use 60-75% chocolate, but you could also get away with using semisweet chocolate in a pinch
² Cream cheese. Do not use the spreadable type of cream cheese that is sold in a tub or low-fat cream cheese. Use full-fat, the kind that is sold in bricks (you'll need four 8-oz bricks).
Storing
Keep in the refrigerator for up to a week or in the freezer for several months. See "Storing" section in post for more details.
Nutrition
Serving:
1
slice (whipped cream not included in calorie count)
|
Calories:
686
kcal
|
Carbohydrates:
54
g
|
Protein:
10
g
|
Fat:
49
g
|
Saturated Fat:
26
g
|
Cholesterol:
163
mg
|
Sodium:
430
mg
|
Potassium:
368
mg
|
Fiber:
3
g
|
Sugar:
41
g
|
Vitamin A:
1311
IU
|
Vitamin C:
1
mg
|
Calcium:
121
mg
|
Iron:
6
mg
Nutritional information is based on third-party calculations and should be considered an estimate only. Actual nutritional content will vary based upon brands used, measuring methods, cooking method, portion sizes, and more.
This recipe was originally published 02/19/2018. Photos have been updated and I've added a how-to video. Recipe has been slightly adjusted (bake time changed, instructions re-written to be more clear) and no longer includes the chocolate ganache (though you can make my chocolate ganache and pour that over the cheesecake once it's cooled). One of the original photos is shown below: