Learn how to make a classic King Cake! My recipe yields a beautiful, soft, and perfectly sweetened bread that's decorated with a simple vanilla glaze and festive sprinkles. Recipe includes detailed steps and a how-to video so that anyone can successfully tackle this recipe in their own kitchen!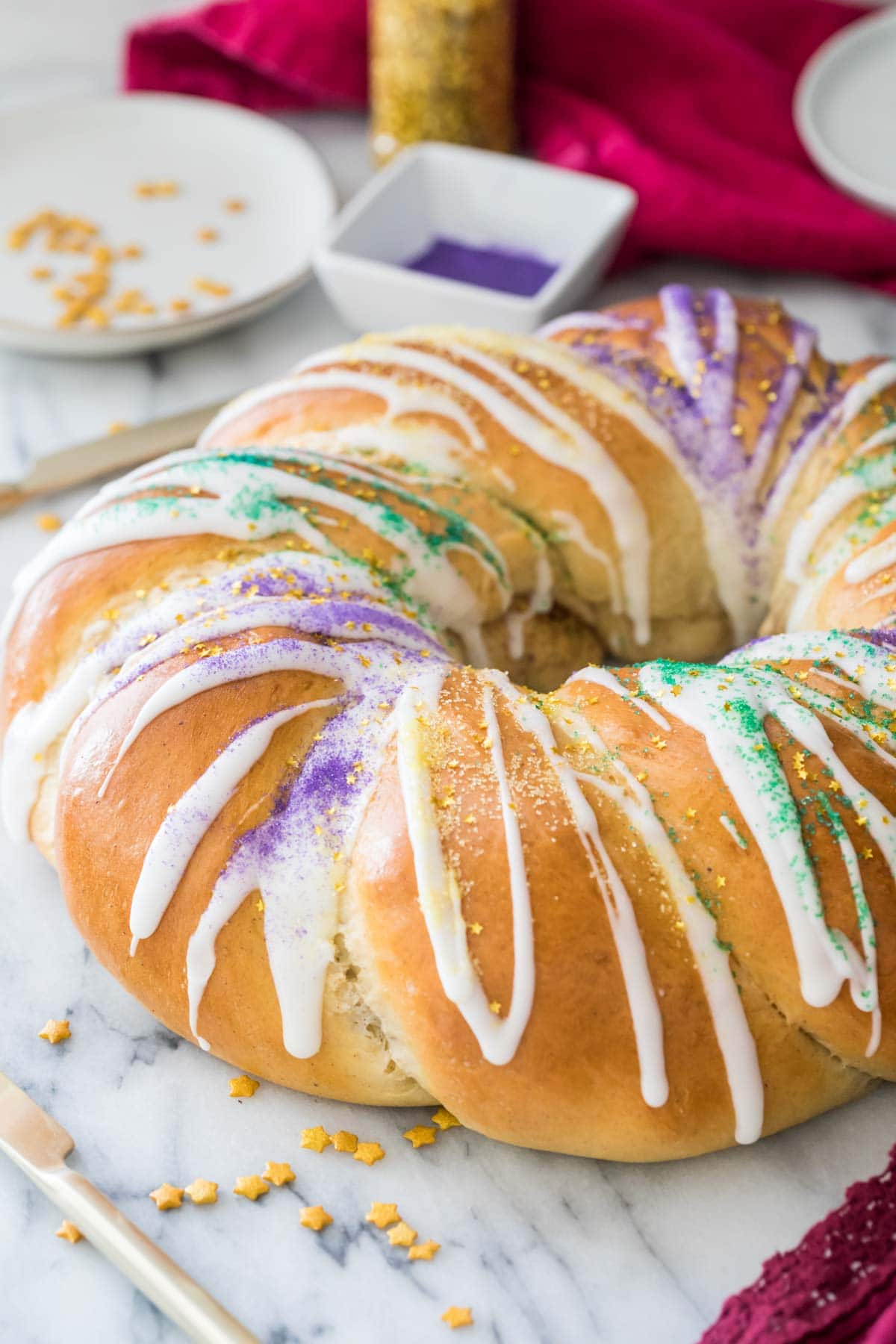 Depending on how you celebrate, I'm either a month late, a month early, or right on time with this king cake recipe…but we'll discuss that later 😉
Either way, there's really no *wrong* time to enjoy today's recipe, and I'm really excited to be sharing this one with you today. My king cake recipe starts with a yeasted sweet bread dough that's swirled with a ripple of cinnamon sugar. It bakes up beautifully and has a lovely, soft texture with the perfect amount of chew. In keeping with tradition, I top the finished cake with a white glaze and dust it with festive colored sugars. The end result is like a cross between a cinnamon roll and my star bread, and I truly can't think of a better combination than that!
If you're curious about how cake gets its royal name or why it usually has a plastic baby baked inside–yes, you read that right!–keep reading below or read a more detailed history of king cake here. Everyone else, feel free to skip ahead so we can get to baking!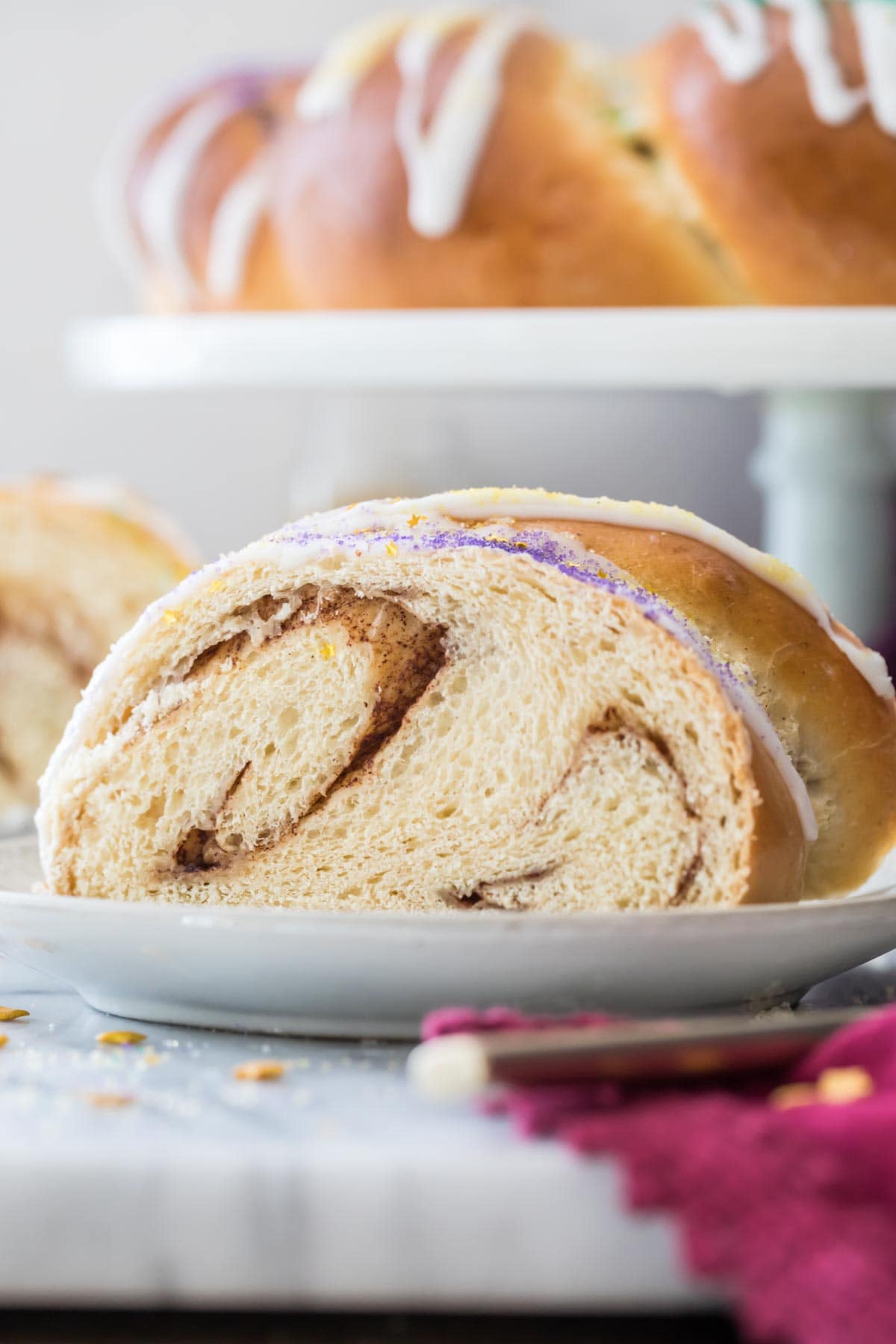 What Is the King Cake Tradition?
Let's talk about the timing of this king cake recipe!
Traditionally, king cake is served on January 6th, the 12th day after Christmas, which is also known as Epiphany or Three Kings Day. This day honors the three kings who brought gifts to baby Jesus. The colorful sugars that decorate a king cake represent the three kings' gifts (more on that below), and the shape represents a king's crown. For those who are wondering why I'm sharing this recipe now, almost a month after Three Kings Day, I have a good reason! King cake is also enjoyed throughout the Carnival season (the days between Epiphany and Lent–happening now!) as well as on Mardi Gras (also known as Fat Tuesday–coming soon!).
As I mentioned, king cake typically has a plastic baby hidden inside the dough. The baby is a newer tradition from the 1950s (at that time people used porcelain babies) and is meant to symbolize baby Jesus. Whoever finds the baby in their slice of cake will receive some sort of reward or duty, depending on what you believe.
I don't personally feel comfortable baking a plastic baby inside my cake (or any plastics in my baked goods, for that matter), but I do include instructions if you wish to. I've also included instructions on how to add it after baking, too. And if you don't already have a baby for your cake, don't worry, because I've included a link in the recipe card so you can buy one.
What You Need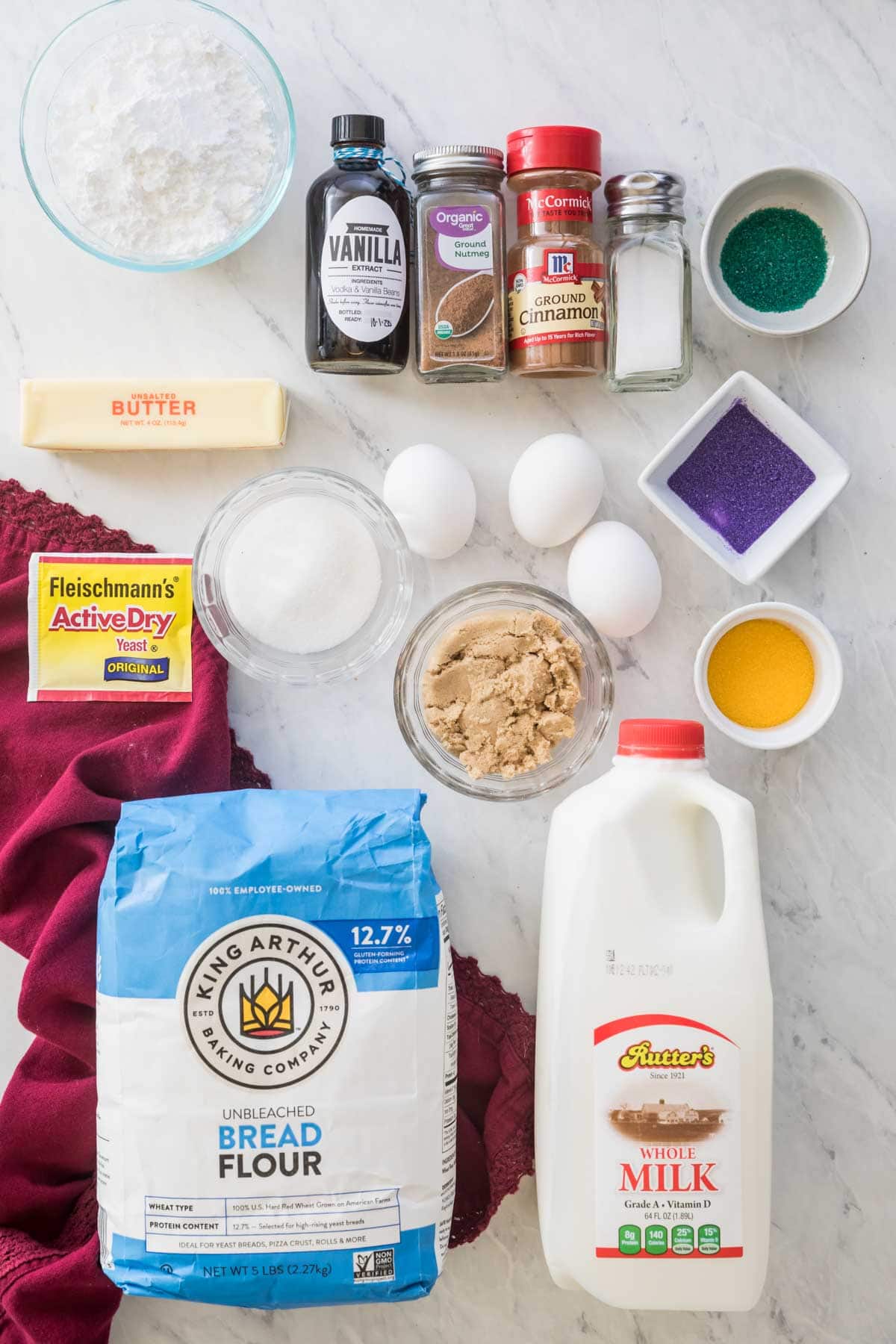 This king cake recipe does involve quite a few steps, but the ingredients are about as basic as you can get. Here are a few of the key players:
Milk. I prefer using whole milk, but any kind should work fine.
Yeast. Use active dry yeast and make sure it's fresh. If your yeast doesn't foam after 5-10 minutes, you'll need to start over.
Granulated sugar. We'll add just a pinch to feed our yeast, then use the remainder in our dough.
Bread flour. Bread flour yields a chewier end result, but all-purpose flour will work in a pinch. As with most yeast doughs, you may need more or less flour than I call for; watch the video in the recipe card for visual cues and read the recipe notes before beginning for helpful tips.
Butter. As with most of my recipes, I recommend you use unsalted butter. If you'd like to read more about my preference, read my post on using unsalted butter vs. salted butter.
Egg + egg yolks. With the milk, sugar, and butter, you already know this is an enriched dough. I enrich it even further with eggs and an additional egg yolk.

Brown sugar.

We'll combine brown sugar and cinnamon for a sweet, slightly spiced filling. I like dark brown sugar for some contrast, but you could use light brown.
Spices.

I like to flavor the bread lightly with cinnamon and nutmeg, which I think adds something extra special to the final cake. You can skip the nutmeg if you're not a fan.

Powdered sugar. For the super simple, foolproof glaze, we'll combine powdered sugar, milk, and vanilla.
Sanding sugar or sprinkles. You can't have king cake without the colorful sprinkles! You'll need purple, green, and either gold or yellow.
Plastic baby. This is optional, of course. I don't add one to my cake, but you certainly can add one to yours!
SAM'S TIP: There are many different ways to braid and twist your dough. I use a simple, attractive method that makes a wreath out of two ropes, but if you have a different technique, feel free to use it!
Remember, this is just an overview of the ingredients I used and why. For the full recipe please scroll down to the bottom of the post!
How to Make King Cake
Warm your liquid either in the microwave or in a saucepan to a temperature between 105-115F, then pour into a large bowl and add your yeast and a pinch of sugar. Stir and let this mixture sit until foamy, about 5-10 minutes. Remember, if your yeast doesn't foam, you'll need to toss it out and start over.
Add the remaining granulated sugar, butter, eggs and yolks, salt, spices, and 2 cups of the flour. Stir this until well combined (it'll be sticky at first, shown in photo 2 above), then add additional flour until the dough is cohesive and starts to cling to itself.
Knead the king cake dough on a lightly floured surface until you have a smooth, elastic dough. If your dough is too sticky to manage you can add additional flour.
Place dough in a large, lightly oiled bowl, cover with plastic wrap, and allow it to rise in a warm place until it is doubled in size, about 1-2 hours.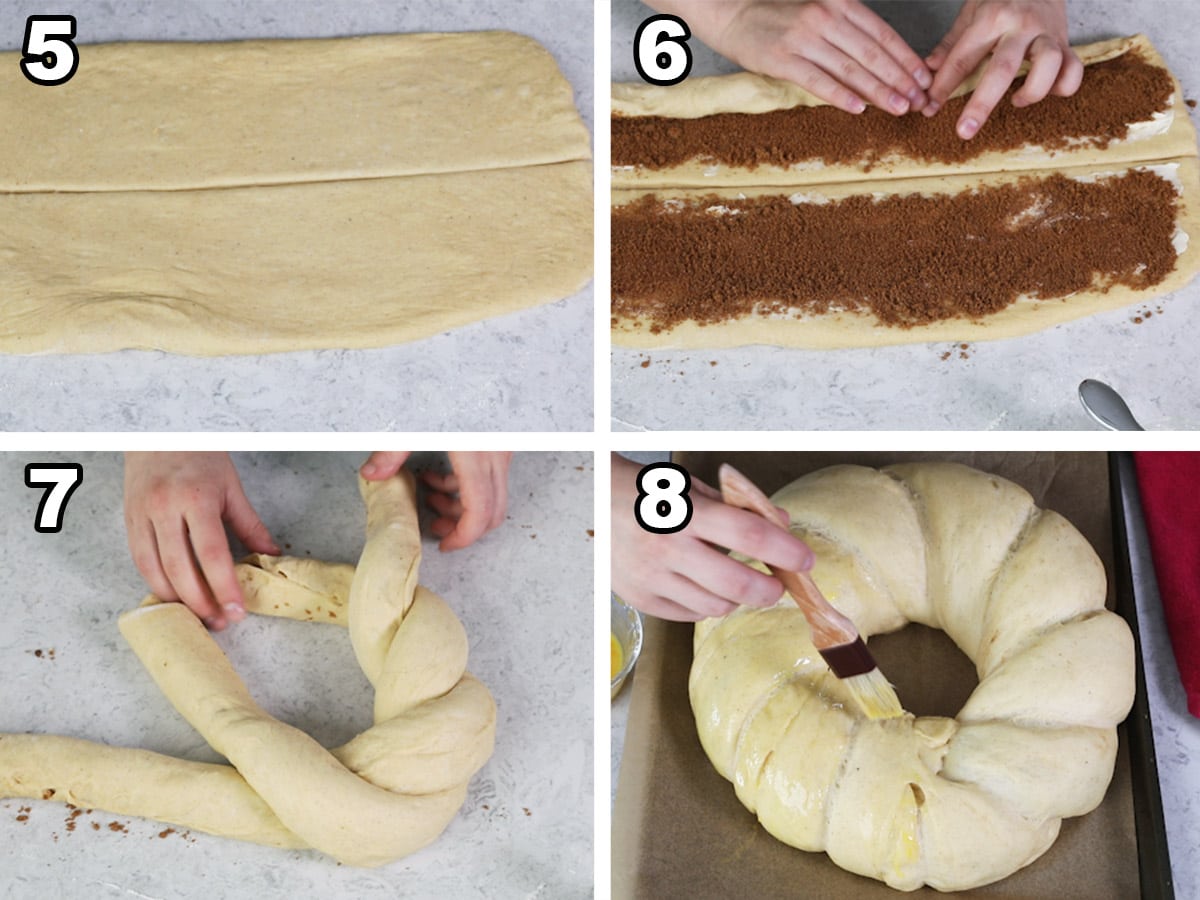 Prepare your filling and soften your butter, then set both nearby. Deflate your dough and place it on a lightly floured surface. Roll it into a 10″ x 20″ rectangle, then cut it in half lengthwise so that you have two pieces.
Spread your butter over both rectangles, leaving a ½″ perimeter. Sprinkle filling evenly over the rectangles, maintaining the perimeter. If you're adding one, place your baby on one of the rectangles, then tightly roll each rectangle lengthwise to form a rope. Pinch the edges to seal.
Twist the two ropes together and them form into a wreath. Transfer the dough to a parchment lined baking sheet and cover it with a towel. Let it rise for another 45 minutes.
Brush the dough with egg wash and bake for 30 minutes or until it is golden brown. When finished, tap your cake and listen for a hollow sound, or use a thermometer to check for 190F in the thickest section. Let the cake cool completely.

Prepare your glaze and drizzle it over the cooled cake.
Immediately sprinkle your colored sugars over the glaze, alternating between colors. Slice and enjoy–and keep an eye out for the baby!
SAM'S TIP: If you don't feel comfortable baking the baby in your cake, you can always add it after baking and before glazing! Simply cut a small hole in the cake after it's cooled (save the bread!), add your baby, then plug up the hole with the piece of king cake that you removed. When you cover your cake with the glaze, the hole will be hidden and the location of the baby will still be a surprise.
Frequently Asked Questions
Why does it mean if you get the baby in king cake?
Different people will argue that finding the baby in your slice of cake means different things: some say it means you have luck and prosperity coming your way, others say it means you have to make the king cake next year, and some say it makes you the king or queen of the day.
What do the colors on a king cake mean?
The decorative colors on king cake aren't just for looks–they also have symbolic meaning. Gold (or yellow) represents power, green represents faith, and purple represents justice.
What flavor is king cake?
The flavor of king cake typically comes from its filling, and a traditional king cake recipe has a cinnamon flavor like the one I'm sharing today. I like to keep my filling simple, but you can get creative with yours! Some people like to use cream cheese as the base of their filling (rather than butter). That would work fine, as would a chocolate or Nutella filling. Chopped nuts or dried fruit can also be added to the filling with no issue.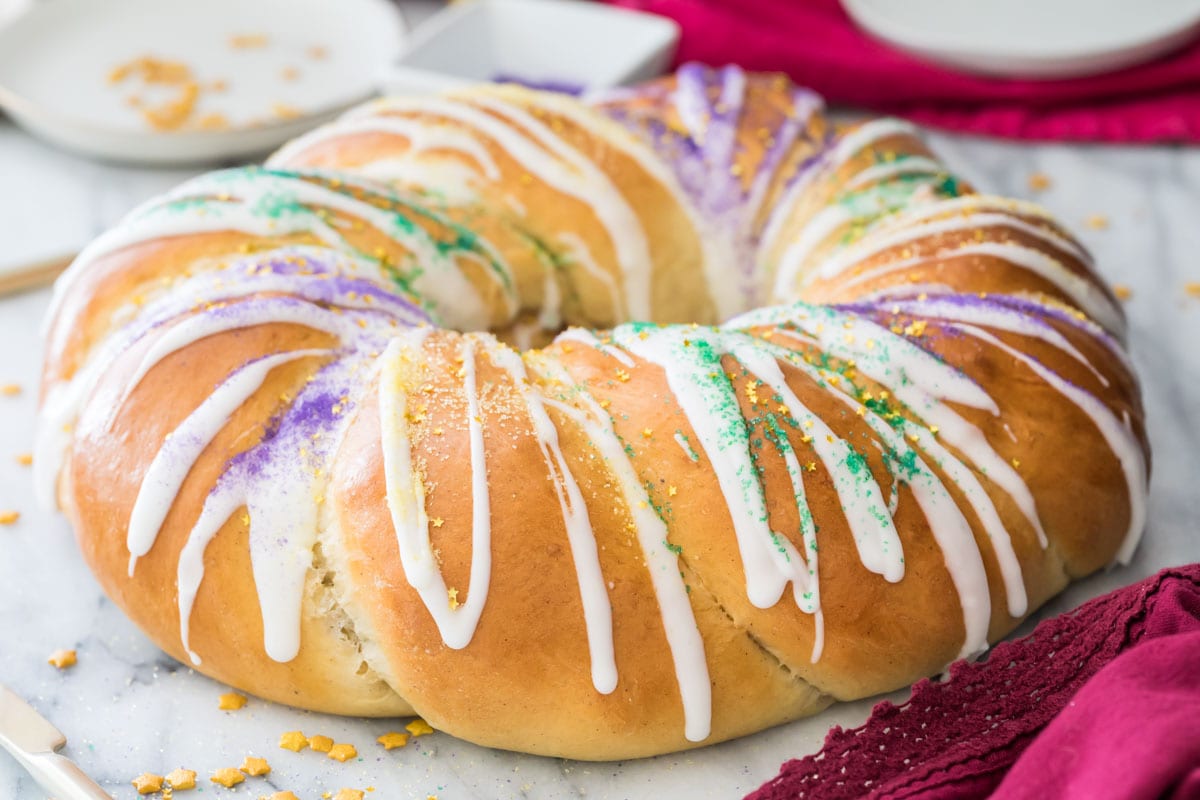 Enjoy!
More French Recipes You Might Like
Let's bake together! I'll be walking you through all the steps in my written recipe and video below! If you try this recipe, be sure to tag me on Instagram, and you can also find me on YouTube and Facebook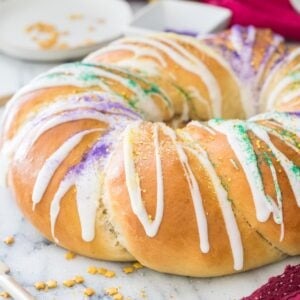 King Cake
Learn how to make a classic king cake! This king cake recipe makes a beautiful, soft bread that is decorated with a simple glaze and colorful festive sprinkles.
Recipe includes a how-to video!
Print
Pin
Rate
Ingredients
1

cup

(

236

ml

)

milk

(I prefer to use whole milk)

⅓

cup

water

2 ¼

teaspoons

active dry yeast

⅓

cup

(

70

g

)

granulated sugar

5

Tablespoons

(

70

g

) unsalted butter

melted

1

large egg

2

large egg yolks

2

teaspoons

table salt

½

teaspoon

ground cinnamon

¼

teaspoon

ground nutmeg

optional

5

cups

(

625

g

)

bread flour

plus additional as needed (625g) (may substitute all-purpose flour, see note)
Filling
½

cup

(

100

g

)

light or dark brown sugar

firmly packed

1

Tablespoon

ground cinnamon

⅛

teaspoon

table salt

4

Tablespoons

(

57

g

) unsalted butter

softened
Egg wash
1

large egg

1

teaspoon

water
Glaze & Topping
1

cup

(

125

g

)

powdered sugar

1-2

Tablespoons

milk

¼

teaspoon

vanilla extract

Green, purple, and yellow or gold sanding sugar or sprinkles
Instructions
Combine milk and water and heat in 20-second increments in a microwave-safe container (I use a glass measuring cup) until the temperature reads between 105-115F (40-46C) with an instant read thermometer (always stir before checking the temperature).

1 cup (236 ml) milk,

⅓ cup water

Pour liquid into a large mixing bowl (or this recipe may be made in the bowl of a stand mixer with the dough hook attachment), add yeast and a teaspoon of the granulated sugar and stir until combined. Allow to sit until yeast is foamy (5-10 minutes). Note that if your yeast does not foam you will need to start over.

2 ¼ teaspoons active dry yeast,

⅓ cup (70 g) granulated sugar

Add remaining granulated sugar, melted butter, egg, egg yolks, salt, cinnamon, nutmeg, and just 2 cups (250g) of flour and stir until all ingredients are well-combined.

5 Tablespoons (70 g) unsalted butter,

1 large egg,

2 large egg yolks,

2 teaspoons table salt,

½ teaspoon ground cinnamon,

¼ teaspoon ground nutmeg,

5 cups (625 g) bread flour

Gradually stir in additional flour until your dough is well-combined and clinging to itself as you mix. It should be slightly tacky to the touch but not so sticky that it's sticking to your fingers. You may not need all 5 cups of flour, or you may need more.

Turn dough out to a clean, lightly floured surface and knead for 5-10 minutes or until you have achieved a smooth, elastic dough. Add additional flour as needed if dough is sticking to your hands (with a stand mixer you will just mix with dough hook on low speed until proper consistency is reached).

Place dough in a clean, lightly oiled large bowl and cover tightly with plastic wrap. Allow to rise in a warm, draft-free space until doubled in size (about 1-2 hours).
Filling & Assembly
Whisk together brown sugar, cinnamon, and salt until combined. Butter should be soft enough to be spreadable, pop it in the microwave for several seconds if needed!

½ cup (100 g) light or dark brown sugar,

1 Tablespoon ground cinnamon,

⅛ teaspoon table salt

Gently deflate dough and turn out onto a clean, lightly floured surface. Roll into a neat 10×20" rectangle and then cut in half lengthwise.

Spread softened butter evenly over the surface of each rectangle, leaving a ½" (1.3cm) perimeter around all sides.

4 Tablespoons (57 g) unsalted butter

Sprinkle butter evenly with filling. If using a plastic baby you would place it somewhere in the rectangle before rolling.

Roll each rectangle lengthwise tightly into a rope and pinch the edges to make a seam.

Twist the two ropes together to form a wreath and transfer to a parchment paper lined baking sheet.

Cover with a towel and allow to rise until increased in size, about 45 minutes.
Baking & Decorating
While dough is rising, preheat oven to 350F (175C) and prepare an egg wash by whisking together 1 egg and a teaspoon of water.

1 large egg,

1 teaspoon water

Once dough has risen, remove towel and lightly brush all over with egg wash. Transfer to preheated oven and bake for 30 minutes or until bread is golden brown and sounds hollow when tapped, or preferably when a thermometer inserted in the thickest part reads 190F (87C). Allow to cool completely before decorating.

Prepare glaze by whisking together powdered sugar, milk, and vanilla extract. Glaze should be thick enough that when it drizzles off your whisk it should hold its shape for several seconds before dissolving back into the rest of the glaze in the bowl (add more milk if it's too stiff and more sugar if it's too thin).

1 cup (125 g) powdered sugar,

1-2 Tablespoons milk,

¼ teaspoon vanilla extract

Drizzle glaze all over cooled king cake then decorate immediately with colored sprinkles, alternating patches of green, purple, and yellow sugar. Slice, serve, and enjoy!

Green, purple, and yellow or gold sanding sugar or sprinkles
Notes
Plastic Baby
King cakes are traditionally baked with a plastic baby inside. I don't like to bake them in mine (baking plastic doesn't appeal to me personally!), but if you'd like to place the baby afterwards you can always cut a small hole in the cake after it's baked and cooled, place the baby, then use the bread you cut out to make a plug and conceal the plastic baby. Cover with glaze and the baby should still be hidden!
Flour
You may substitute all-purpose flour for the bread flour. Note that with yeast recipes the precise amount of flour you will need always tends to vary, as it can depend on so many factors! It's possible that you will not need the full 5 cups of flour, but also that you may need more than is called for. The best way to tell is to go by the texture of your dough, you want a smooth, elastic, slightly tacky dough that isn't sticking to your hands or the surface on which you're kneading. If you would like a visual, please see the video here in the recipe card.
Nutrition
Serving:
1
serving
|
Calories:
401
kcal
|
Carbohydrates:
65
g
|
Protein:
9
g
|
Fat:
12
g
|
Saturated Fat:
6
g
|
Polyunsaturated Fat:
1
g
|
Monounsaturated Fat:
3
g
|
Trans Fat:
1
g
|
Cholesterol:
85
mg
|
Sodium:
440
mg
|
Potassium:
134
mg
|
Fiber:
2
g
|
Sugar:
26
g
|
Vitamin A:
384
IU
|
Vitamin C:
1
mg
|
Calcium:
59
mg
|
Iron:
1
mg
Nutritional information is based on third-party calculations and should be considered an estimate only. Actual nutritional content will vary based upon brands used, measuring methods, cooking method, portion sizes, and more.
Related Recipes