How to make a beautiful loaf of Braided Sweet Bread! This bread is soft & fluffy with just the right touch of sweetness. If you're nervous about baking with yeast I walk you through all of the steps in detail and include a step-by-step video!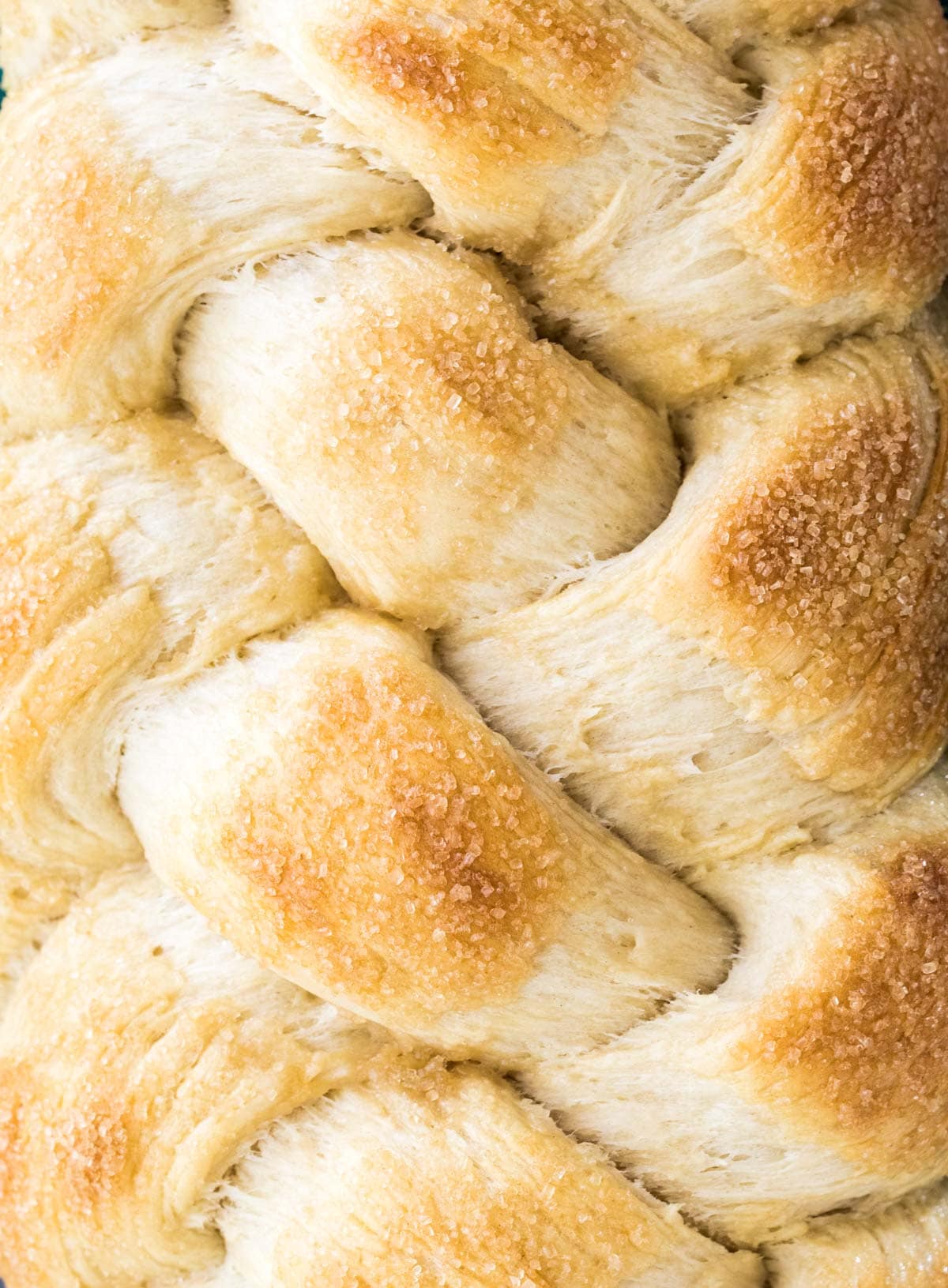 Braided Bread Perfection
There is nothing better than freshly baked homemade bread.
Unless, of course, if you ever-so-slightly sweeten that bread, enrich it with eggs (and extra yolks) and butter, beautifully braid it, and top it off with a crystallized sugar coating.
My braided sweet bread is both extremely simple but also so far from basic. It's tender with just the right amount of gluten-y chew, fluffy with an appropriately subtle sweetness, complex in appearance but surprisingly simple to actually make. Oh, and it will make your house smell amazing.

As someone who used to fear even the sight of a sachet of yeast, let me tell you that if I can handle this recipe, you can too. I've come a long way in my bread baking journey, and what I've learned is that there's not really much to be scared of. Today I'm walking you through all the steps so that your sweet bread comes out just like the pictures. Make sure to watch the how-to video in the recipe card and read through the whole post before beginning, and you'll be well on your way to braided bread perfection. Let's get to it!
What You Need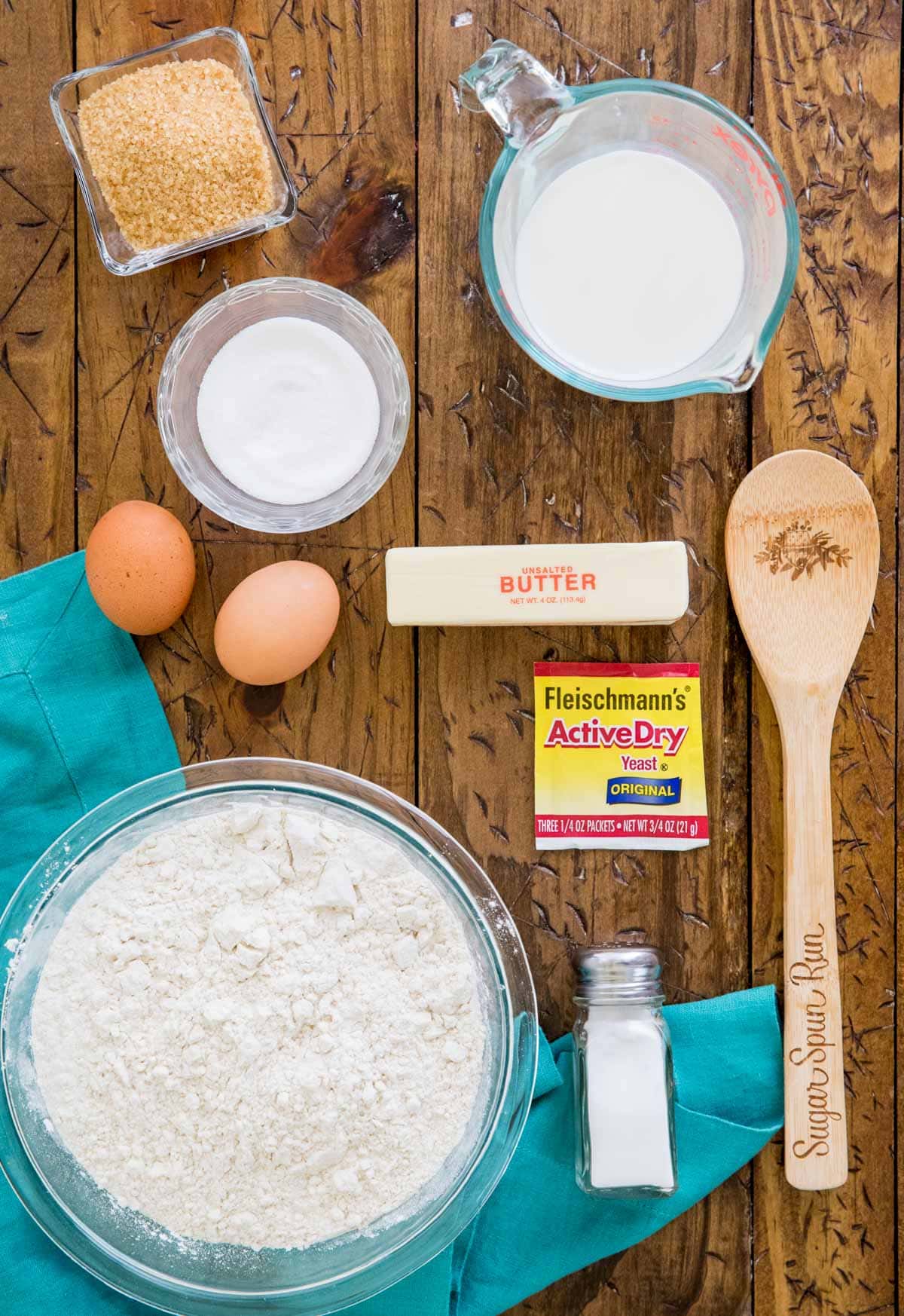 The dough that I use for today's recipe is essentially the same as the one I use for my sticky buns. There's a reason for that, and the reason is that this is one of the best, most tender, softest bread doughs I've ever made. It's delicious, perfectly chewy and enriched with a few key ingredients.
Here's what you need to make it:
Milk & Water. Using milk enriches the bread, makes it more tender and makes it slightly sweeter, while the water helps encourage a fluffier crumb.
Yeast. This can make or break your sweet bread. Make sure it isn't expired and be sure your milk and water are heated to the proper temperature to activate it correctly. If your yeast doesn't foam after 10 minutes, something went wrong and you must start over.
Flour. You can use bread flour or all-purpose, see my FAQ section for more details on this.
Salt. Most importantly this adds flavor to the bread.
Melted butter. This is a key ingredient to enriching the bread dough.
Eggs. We use a whole egg and an extra egg yolk. This extra yolk also helps create a perfectly enriched dough. Save the egg white! We'll use it to brush the top of our bread.
Sugar. I use granulated sugar to sweeten the bread and then coarse turbinado to sprinkle over the top of the bread for a crisp, sweet exterior. If you don't have turbinado sugar, just use additional regular granulated sugar for topping.
Remember, this is just an overview of the ingredients I used and why. For the full recipe please scroll down to the bottom of the post.
How to Braid Bread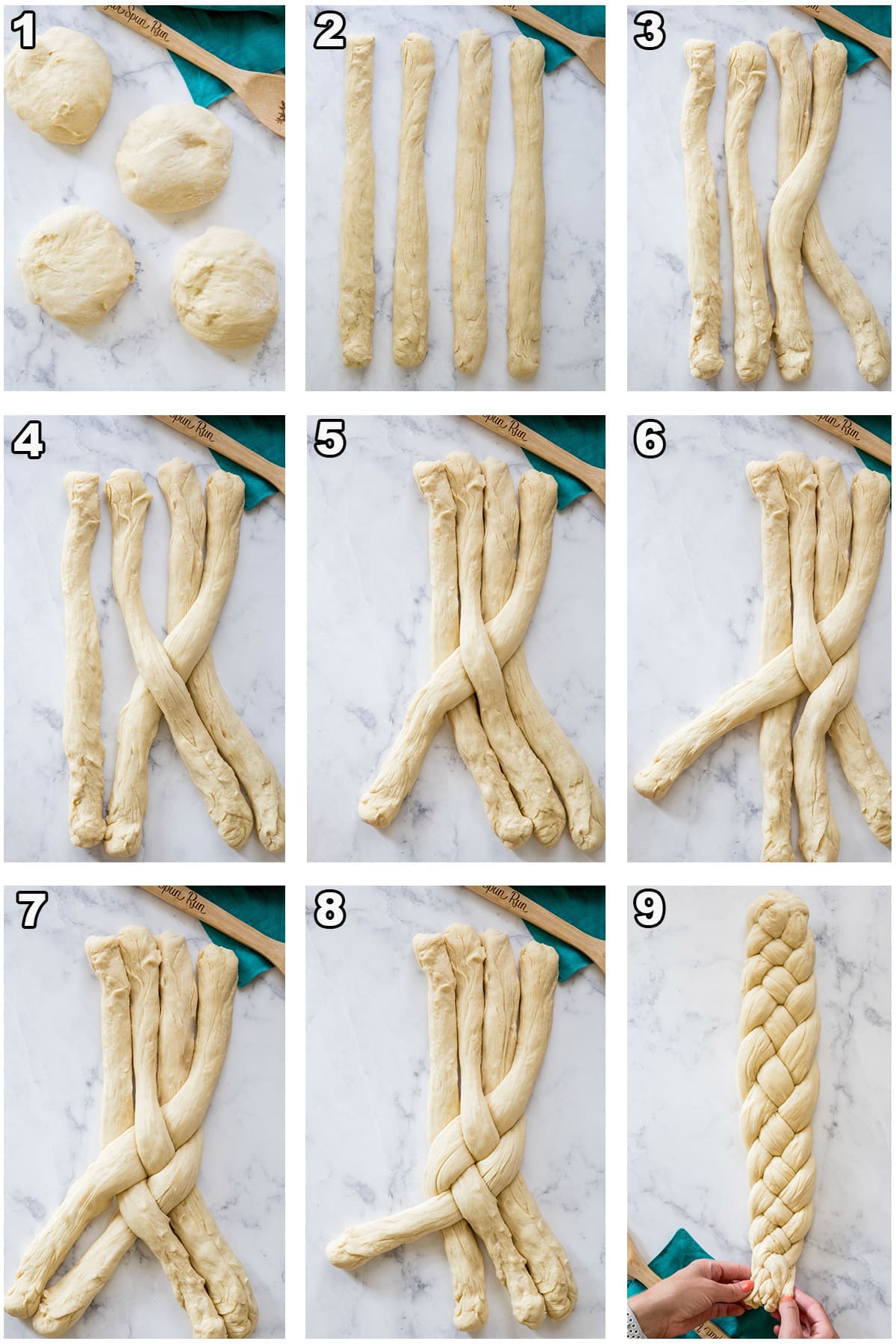 My sister taught me to braid this bread (she spent a few years at a Subway during college) and insisted I do a 4-piece braid (rather than a classic 3-piece) because it's "prettier". I agree with her. While it might seem complex, it's really quite simple. Here's how it's done:
After your dough has risen, gently deflate it and divide into four pieces.
Roll each piece into a 15″ rope. If the dough is stick you can very lightly flour your hands, but don't over-do it. Too much flour makes it difficult to work with the ropes. Arrange the ropes in a row.
Take your rope that's furthest to the right and cross that over the rope immediately to its left.
Now weave that same rope beneath the next rope (second from the left).
Now with that same strand, cross over the rope all the way to the left.
Repeat! Start again with the rope all the way to the right and cross that over the rope directly to its left…
and then under the next rope…
and then over the left-most rope.
Repeat until you reach the end then smoosh those ends together really well and tuck them neatly underneath the bread. You have half of your bread braided at this point, now work from the center and repeat the steps above until you have braided the other half of the bread and tucked the ends.
You'll notice that we start with the center of the bread. This is how I was taught and not only does this make it easier, it also helps make for a more symmetrical bread than if we just started from one end.
Tip: Braid your bread directly on the baking sheet! This is easier than braiding it on your counter and then trying to move it.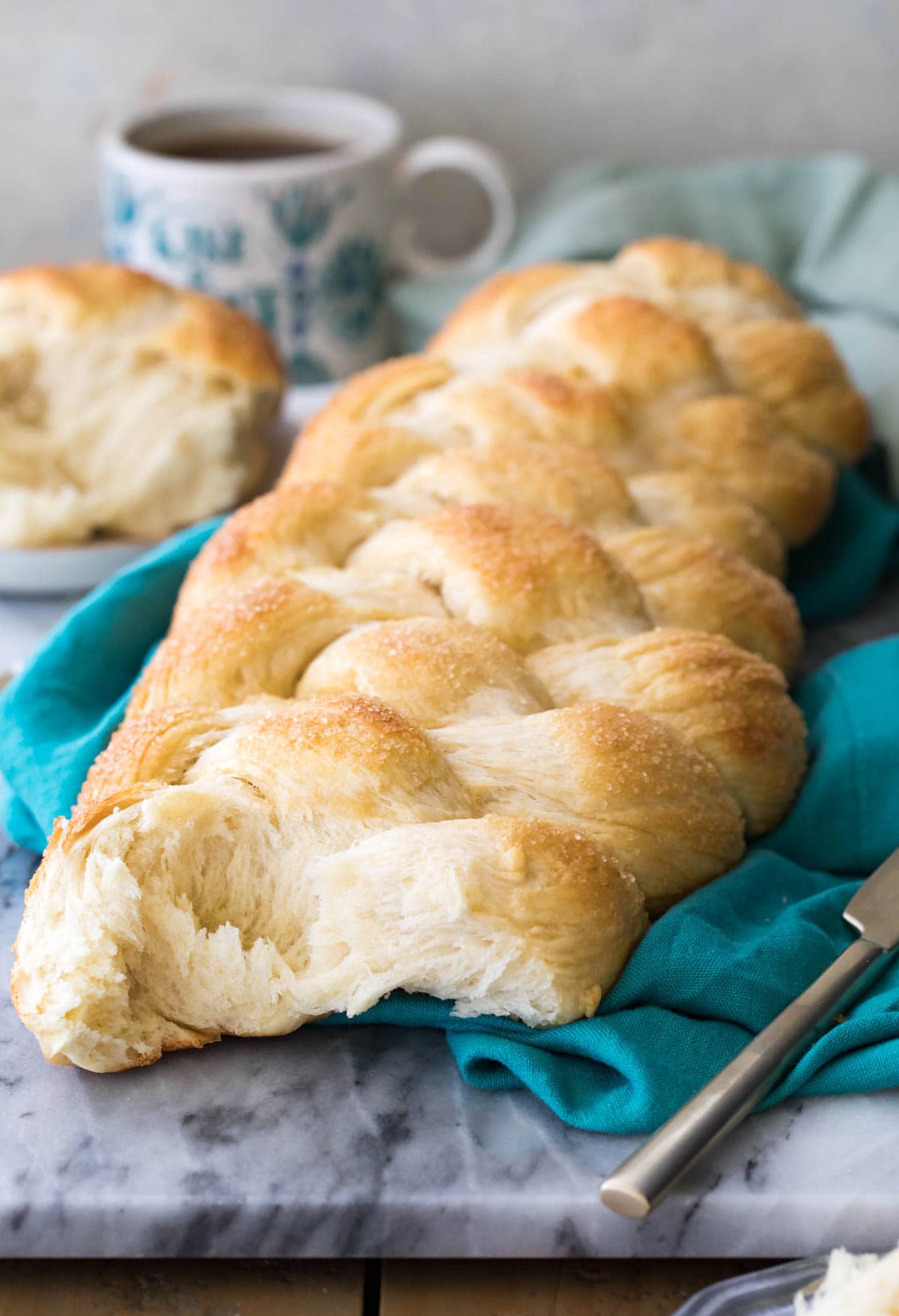 Frequently Asked Questions
Can I use instant yeast?
Yes! If using instant yeast, whisk together the yeast, sugar, salt, and half the flour. Then add your warmed milk and water and stir well, then stir in butter and eggs and then add additional flour as needed.
What kind of flour should I use?
I recommend using either all-purpose or bread flour. Bread flour yields a slightly chewier bread (and good bread should be a little chewy!).
Do not substitute self-rising flour. A portion of the flour could be swapped out for whole wheat flour but you'll need a bit less flour overall as the dough will be more dry.
Here's a little run-down on the differences in the flours, if you're into that sort of thing!
How can I tell if my sweet bread is done baking?
The best way is to use an instant-read thermometer. Insert the thermometer into the center of the bread, it should read 190F (87C) once it's finished baking.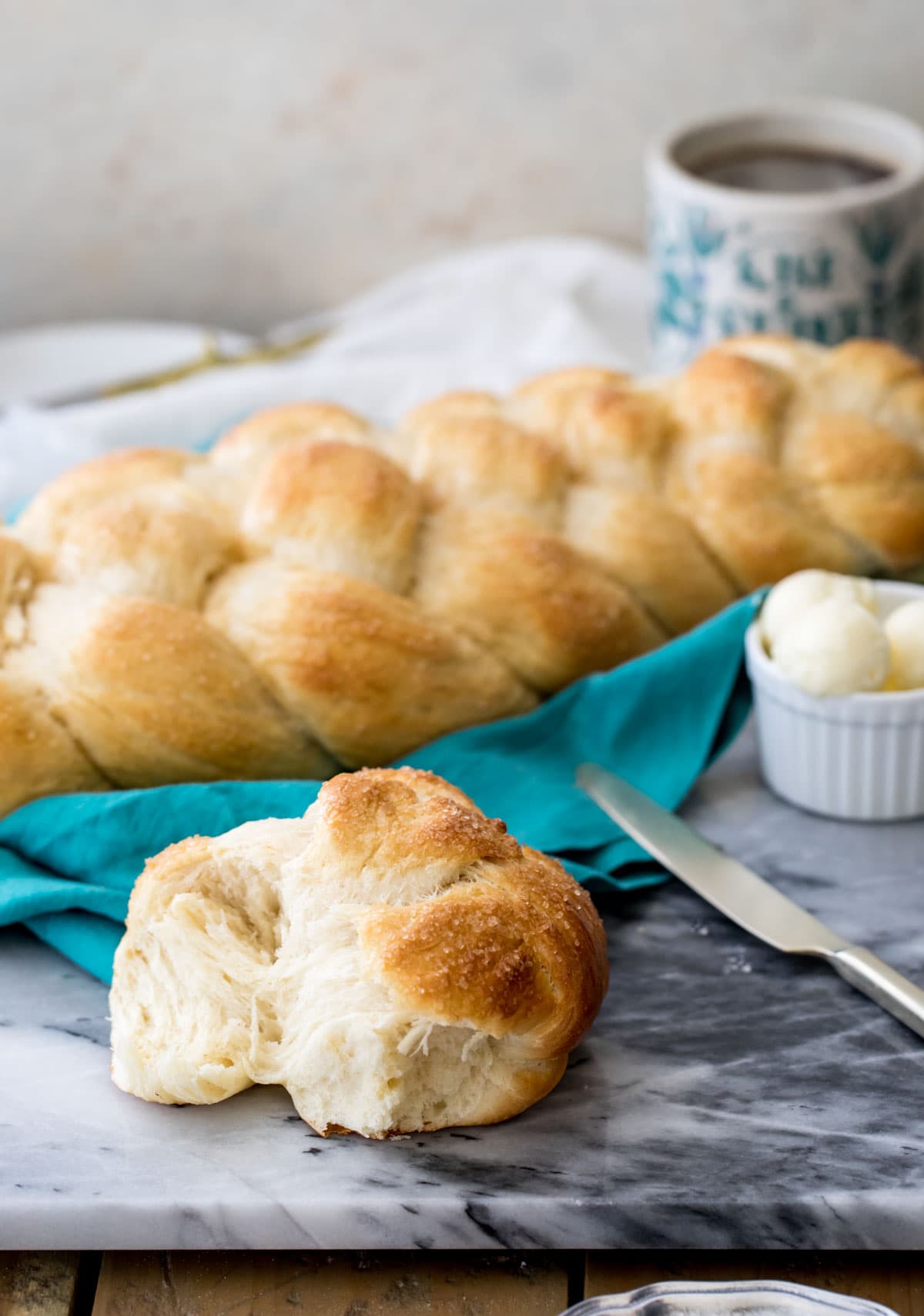 More Recipes You Might Like
Enjoy!
Let's bake together! Make sure to check out the how-to VIDEO in the recipe card!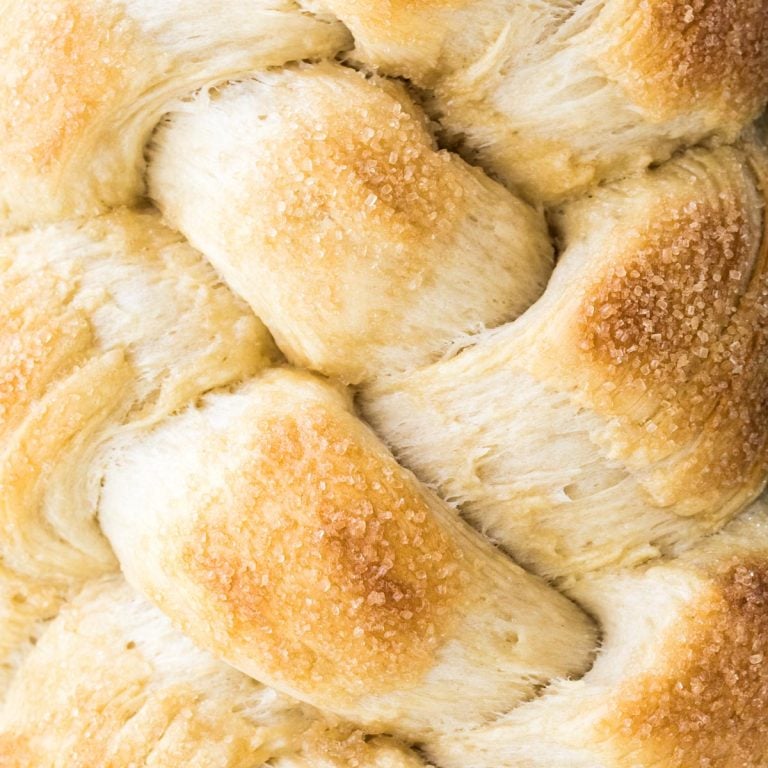 Sweet Bread (Braided Bread)
How to make a beautiful loaf of Braided Sweet Bread! This bread is soft & fluffy with just the right touch of sweetness. If you're nervous about baking with yeast I walk you through all of the steps in detail and include a step-by-step video!
Print
Pin
Rate
Ingredients
1

cup

(

236

ml

)

whole milk

⅓

cup

(

80

ml

)

water

2 ¼

teaspoons

active dry yeast

⅓

cup

(

70

g

)

+ 1 teaspoon granulated sugar

5

Tablespoons

unsalted butter

melted

1

egg + 1 egg yolk

save egg white for brushing top

2

teaspoons

table salt

4 – 5

cups

(

500-625

g

)

bread flour or all-purpose flour¹

coarse sugar or granulated sugar

for sprinkling on top (I use about 3 Tablespoons)
Instructions
Combine milk and water in a heatproof bowl and heat in 30-second increments until mixture reaches a temperature between 105-115F (40-46C). Always stir before temping!

1 cup (236 ml) whole milk,

⅓ cup (80 ml) water

Pour milk mixture into a large bowl or the bowl of a stand mixer and stir in yeast and one teaspoon granulated sugar. Let sit for 5-10 minutes or until a foam cap has formed on the surface (if mixture does not foam you will need to start over).

2 ¼ teaspoons active dry yeast,

⅓ cup (70 g) + 1 teaspoon granulated sugar

Once foamy, add remaining ⅓ cup sugar, melted butter, egg and egg yolk, salt, and 2 cups (250g) of flour and stir well to combine.

5 Tablespoons unsalted butter,

1 egg + 1 egg yolk,

2 teaspoons table salt,

4 – 5 cups (500-625 g) bread flour or all-purpose flour¹

Gradually add additional flour while stirring (if using a stand mixer use a dough hook on low-speed) until dough clings to itself and forms a ball that is pulling away from the sides of the bowl (scrape bowl as needed). You may not use all of the flour indicated, or you may even need more, go by texture (and see the video if you need visual clues)! When ready, the dough should be slightly tacky to the touch but not so sticky that it cant be managed with your bare hands.

If using a stand mixer, stir on low speed with dough hook until smooth and elastic, about 5 minutes. If working by hand, transfer dough to a clean surface and knead until smooth and elastic (about 5-10 minutes).

Lightly oil a large bowl and place dough inside, turning to coat the entire surface lightly with oil. Cover and allow to rise in a warm draft-free place until doubled in size (1-2 hours).

When dough has doubled, gently deflate and divide into 4 even pieces. Roll each into a 15" rope.
To Make the Braid:
Lay the 4 strands beside each other on a baking sheet/cookie sheet (I do not recommend lining with parchment paper). Rather than start from one end of the bread and work to the other, I always start from the center (this helps ensure an even braid). I find it helpful to mentally label these pieces 1, 2, 3, and 4 (with 1 being your piece to the far left and 4 on the far right).

Starting from the center, weave strand 4 over the piece beside it (3), beneath the next one (2) and then over the left-most strand (1).

Repeat this process, always starting with your furthest-right piece, keeping the strands snug.

Once you reach the end, press/smash the ends together tightly and fold underneath the braid. Then turn the baking pan 180 degrees and work from the center to complete the other side, following the same steps as above.

Cover loosely with plastic wrap or a clean towel and allow the bread to rise again for 30-40 minutes in a warm, draft-free place. While it is rising, preheat your oven to 375F (190C).

Once bread has risen again, lightly brush with reserved egg white and sprinkle with coarse sugar (or regular granulated sugar) and bake for 20 minutes or an instant-read thermometer reads 190F (87C). Enjoy!

coarse sugar or granulated sugar
Notes
¹Bread flour will yield a chewier bread, but I've used both flours with great success in this recipe.
Nutrition
Serving:
1
serving
|
Calories:
427
kcal
|
Carbohydrates:
75
g
|
Protein:
13
g
|
Fat:
7
g
|
Saturated Fat:
4
g
|
Trans Fat:
1
g
|
Cholesterol:
28
mg
|
Sodium:
406
mg
|
Potassium:
149
mg
|
Fiber:
3
g
|
Sugar:
7
g
|
Vitamin A:
200
IU
|
Vitamin C:
1
mg
|
Calcium:
42
mg
|
Iron:
1
mg
Nutritional information is based on third-party calculations and should be considered an estimate only. Actual nutritional content will vary based upon brands used, measuring methods, cooking method, portion sizes, and more.